This asparagus & courgette toast is the perfect vegan lunch to keep you full. It's simple, relatively quick (under 30 mins) and super easy. What's there not to love?
This asparagus & courgette toast is:
CRUNCHY AND NUTRITIOUS
VISUALLY GORGEOUS
ENRICHED WITH GOLDEN SESAME SEEDS
ENTIRELY CUSTOMISABLE – feel free to add/remove veggies and seeds of your choice
Not a fan of savoury toast? Check out my Vegan Jam recipe!
I see this as the perfect vegan alternative to scrambled eggs on toast. Moreover, it's also a (hopefully) more interesting take on vegan classics like smashed avocado and hummus on toast. Being a vegan who is allergic to avocado and doesn't particularly like hummus, I'm always on the lookout for fresh new lunch options. This one joins two of my favourite vegetables for a perfectly quick weekday lunch or a lazy weekend brunch.

WHAT IS THE SECRET INGREDIENT? ASPARAGUS & COURGETTE TOAST
The gentle flavour of courgette is the perfect companion to the strong and flavour-packed asparagus tips. To prevent the asparagus from dominating the flavours, I added a secret ingredient – sesame.
By sprinkling roasted sesame seeds on top, you are not only adding crunchiness, but also the rich, nutty flavour. Moreover, the courgette and asparagus are gently fried in a small drizzle of pure sesame oil, brining out the very best of this golden seed.

ASPARAGUS & COURGETTE TOAST – THE BREAD CHOICE IS ALL YOURS 
I choose wholemeal sourdough bread and opted not to toast it this time. Any bread will work fine, although I do recommend sticking to wholemeal to ensure you get that extra little bit of fibre. Alternatively, you can also try it on rye or sunflower seed bread, which will add that extra crunchiness we all love.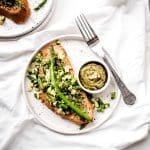 Ingredients
100g asparagus tips (cut in circles)
1/2 courgette (cut in cubes)
3 tbsp of sesame
Seasoning: sea salt, black pepper, garlic
Sesame oil
Green vegan pesto
A sprinkle of nutritional yeast
2 slices of wholemeal bread
Instructions
Roast your sesame seeds in a non-stick frying pan (no oil) – 2 mins on high heat
Set aside to cool
In a non-stick pan warm up a small drizzle of sesame oil and then add the courgette and asparagus
Add seasoning – a pinch of salt, black pepper and garlic powder
Gently fry the vegetables on medium heat (10-15 minutes)
Remove from heat and cut up your bread
Spread green pesto on your slice of bread and then top it off with your greens and roasted sesame
Sprinkle nutritional yeast on top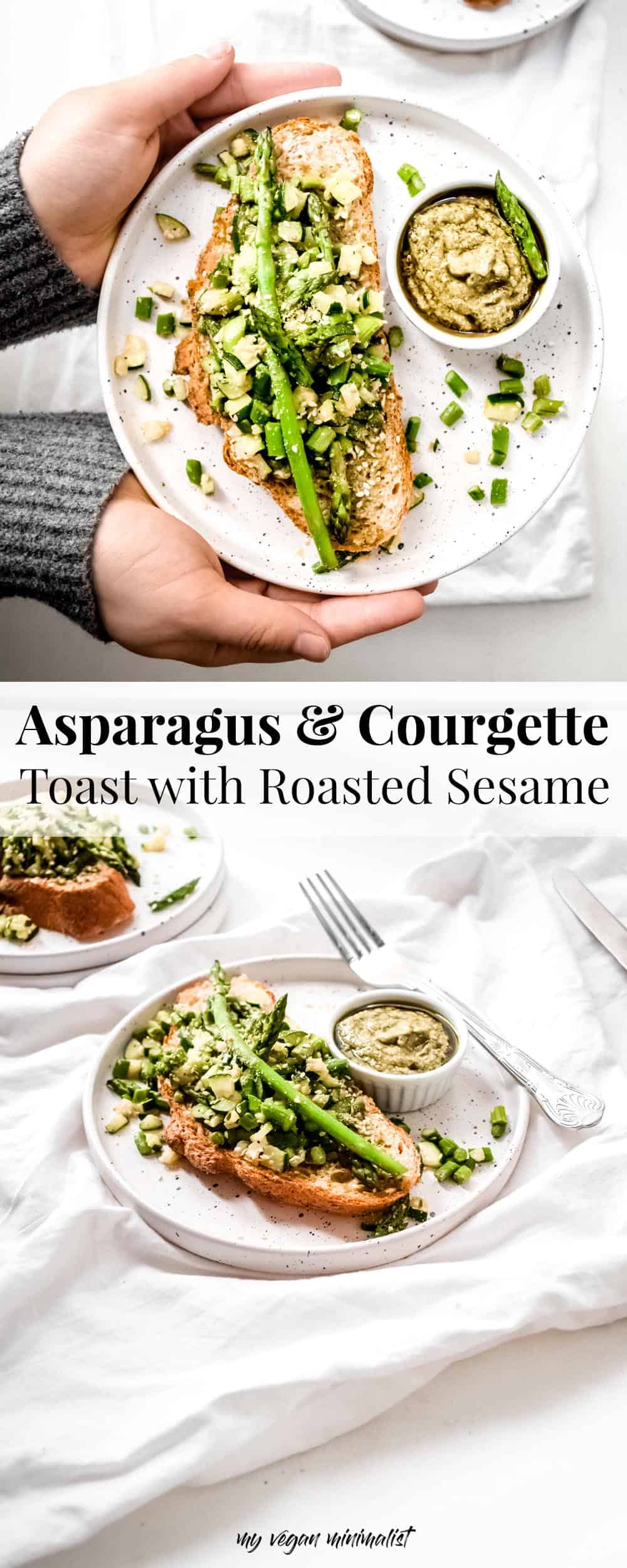 If you've used my recipe, don't forget to tag #myveganminimalist or let me know your thoughts in the comments below ♡