Cajun roasted chickpeas with delightful spicy notes and a few well-deserved shavings of vegan cheese. Talk about a match made in heaven! I've been testing out recipes to bring you the very best cajun roasted chickpeas that are devilishly indulgent, but fully vegan. 

Batch Baking Our Way To Freedom
I've recently become obsessed with the idea of batch baking. What does that mean, you ask? Imagine taking one afternoon every once in a while (say 2 weeks) and devoting it solely to prepping food. What are the benefits?
Massively reduce food waste
Forces you to use up any leftovers
Takes your mind off having to cook on weekdays
Ensures you have amazing homemade snacks when you don't feel like making them
And if that's not enough to win you over, it also makes perfect sense from the environmental perspective. The vast majority of vegan snacks come pre-packaged, with portions being very small, leaving us snack-craving vegans feeling guilty for using so much unnecessary packaging. Making my own, super simple, but at least as delicious as store-bought snacks is my answer!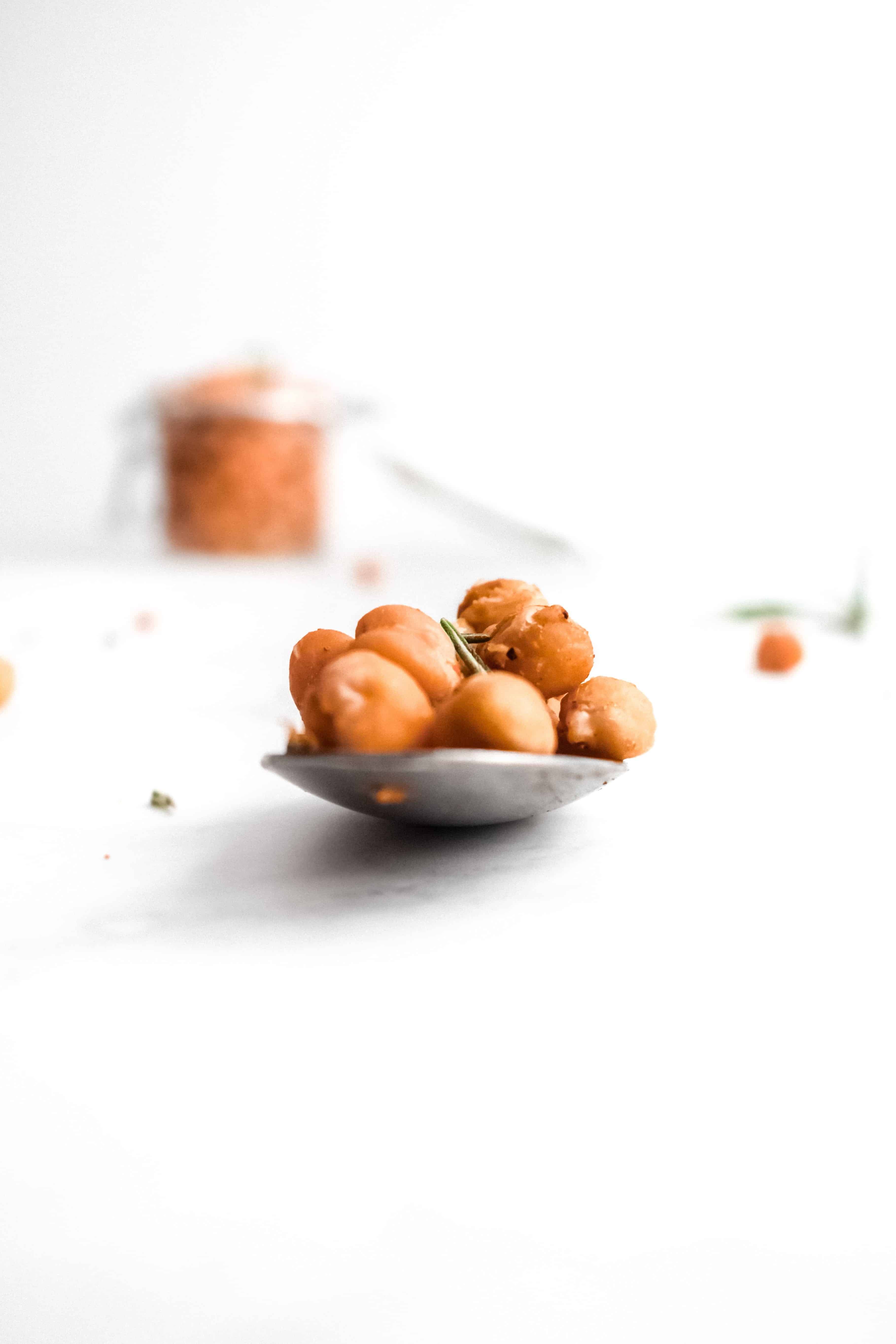 These cajun roasted chickpeas are
The perfect work lunch
A quick and healhy snack
Easily refrigerated
Simply stored
Fail-proof
Perfect for batch making 
I think we've established that these cajun chickpeas work amazingly on their own. However, there's more! They make the most delicious crunchy topping for creamy soups. Moreover, they're a great way of adding protein to your pasta sauces or even risotto, stews and can also be enjoyed as a side dish.
Cajun Roasted Chickpeas – where with the water?
With Veganuary in full swing, you might a vegan newbie desperate for any tip you can get! This aslo means you might now know about the secret powers of aquafaba – the leftover water in every chickpea tin. This often forgotten about ingredient is one of the cheapest and most effective ways of making vegan whipped cream! Just make sure you're using non-salted chickpeas (yes, I've tried what happens if you use those that come in salted water and it's not great!)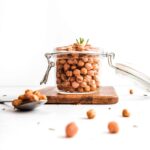 Ingredients
2 cans of chickpeas
1/2 tsp garlic powder
1,5 tsp cajun spice
1/2 tsp paprika
1/2 tsp (or less if preferred) cayenne pepper
4 medium large stalks of rosemary (thinly chopped)
1 slice of vegan cheese of choice (thinly grated)
OPTIONAL: an extra pinch of salt (this will be salty thanks to the cayenne mix and vegan cheese, but feel free to add extra salt)
Instructions
Pre-heat your oven to 180°C (fan oven – otherwise 200°C)
Rinse your chickpeas thoroughly and pat dry.
Don't forget you can use chickpea water (aquafaba) to make desserts!
Sprinkle with all your seasoning and vegan cheese. Toss around.
Roast for 30-35 minutes, remembering to toss around every 10 minutes.
Best enjoyed fresh out of the oven!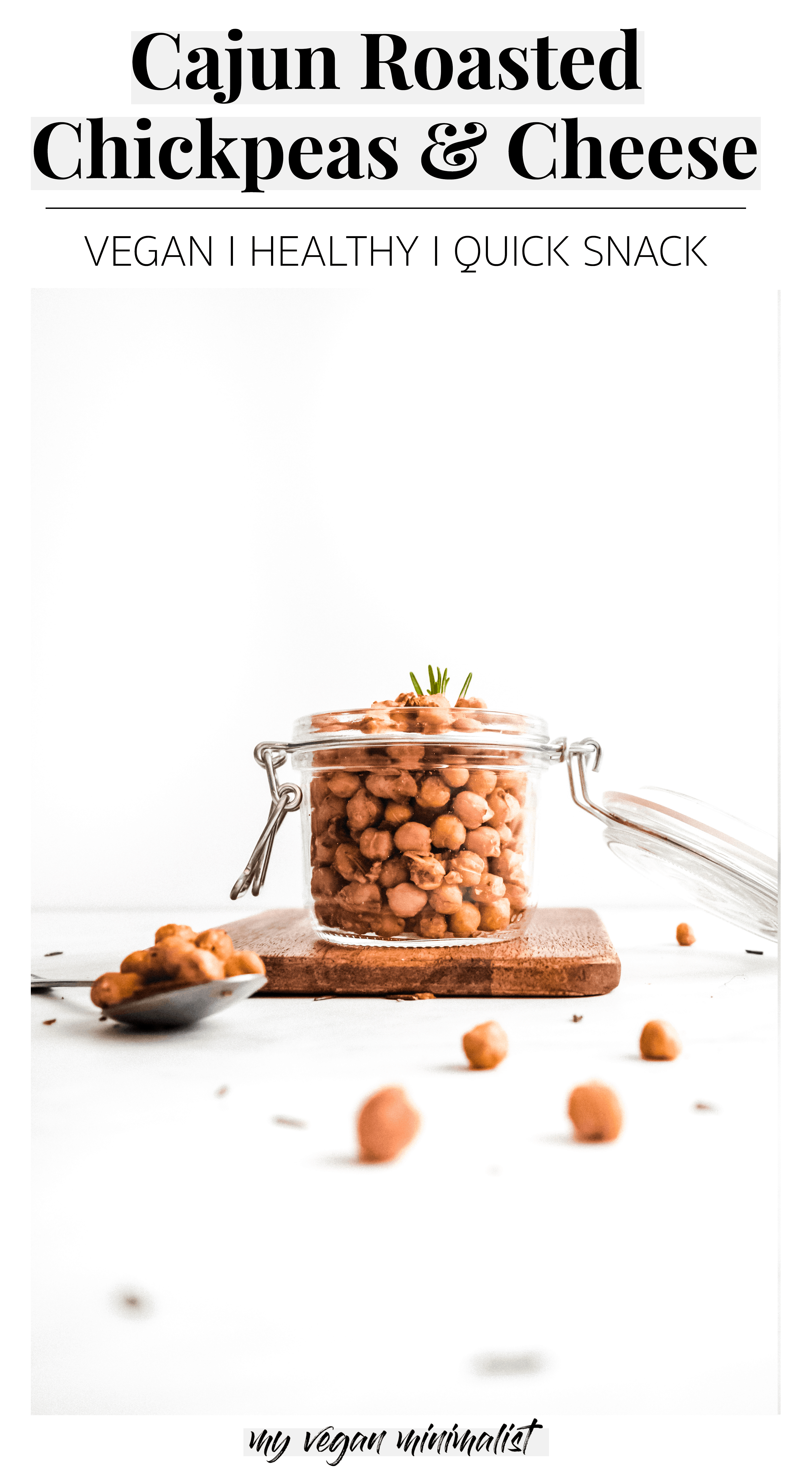 Good luck making these and let me know your thoughts and suggestions in the comments below! I would love to hear more of your snack ideas!
If you're starting out as a vegan or just want to discover simple vegan recipes make sure to follow me on Pinterest, Instagram and Facebook. I've also compiled a list of 90 vegan meals you can download for free here.