Jump to Recipe
This delicious vegan orzo salad is packed with veggies and yet feels like a real treat! Light, crunchy and tender, ready to become your new favourite meal. Oh and it's ready in under 30 minutes, how about that?
Aaaanddd, I'm back! I've had a busy month developing some gorgeous recipes for clients so things have been a bit quiet here lately. In addition to that, I've also been getting involved with local cafes and restaurants, expanding my work into the restaurant photography field. If you don't already, make sure to follow my Instagram for live updates, quick meal ideas and food photography tips!
And yet, I've missed bringing you some healthy vegan recipes here so I'm back with a real summer classic. I've taken the inspiration from my friend and fellow photographer Tamsin from Cupful of Kale who recently shared an amazing vegan orzo salad recipe.
I had absolutely no other choice but to run to the store and get creative myself! Why orzo? Let me explain.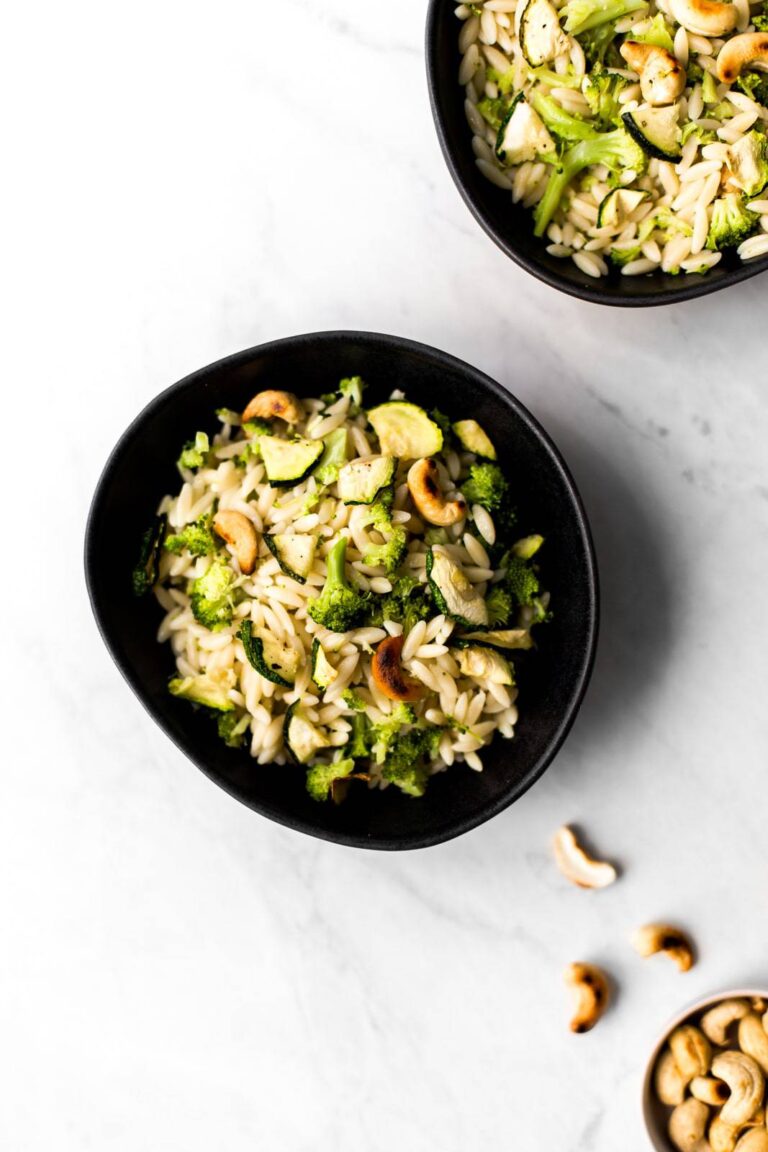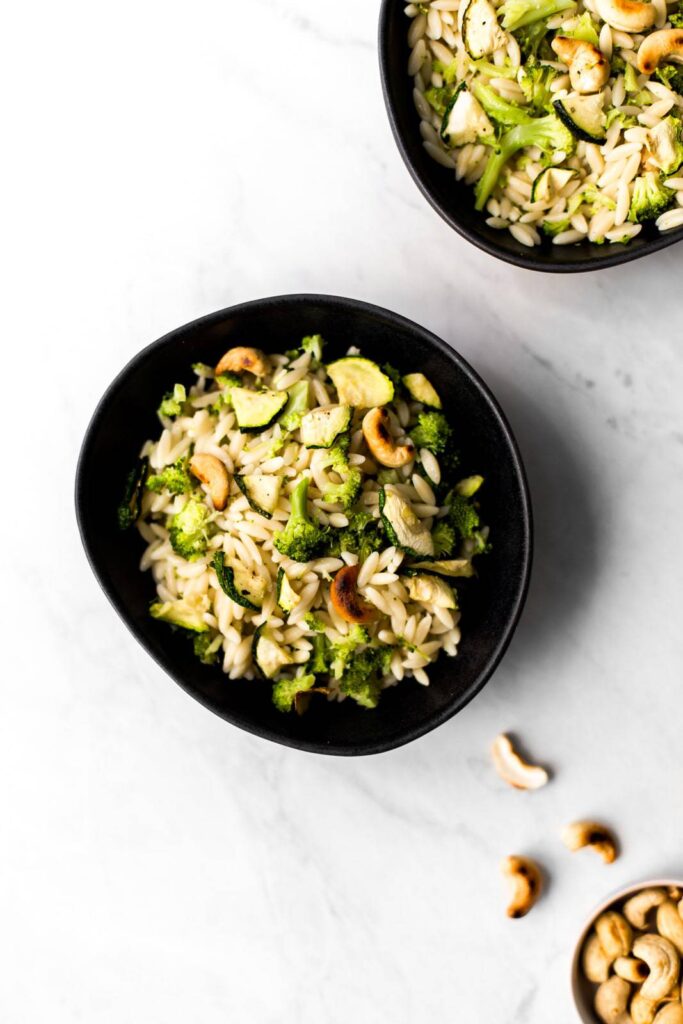 What is Orzo and How To Use It
Orzo is a type of short-cut pasta, resembling a large grain of rice. It's often used in soups like minestrone, but also makes a wonderful dish on its own. You can use it in classic pasta recipes or in salads, stews or even baked dishes.
How To Make Pasta Healthy
Let's be honest, pasta doesn't have a great reputation in the health-conscious community. And yet, that doesn't mean you shouldn't indulge in it every now and again. In fact, by implementing some small changes, your pasta can be both healthy and filling at the same time. Wondering how?
---
Add plenty of veg! Don't be afraid to really go wild on the veg. Whether you combine a range of your favourite veg or just a large portion of your one and only true favourite, don't be afraid to really make it packed with that veggie goodness!
Pick wholemeal pasta. Whole-grain pasta is lower in calories, but higher in fibre and vitamins/minerals (like Manganese, Phosphorus, Copper).
Add protein. Don't just stick to pasta and veggies. Make sure to add a source of protein. Tofu, nuts and certain meat substitutes are a fantastic source of protein.
Swap meat for lentils. I know that if you visited this page, you're probably already vegan or vegetarian. However, if you're not, swapping meat for lentils (especially in bolognese sauce) is the best thing you can do to help make your pasta healthier.
Don't go to crazy on salt. Use a good veggie stock as a base and try not to add ridiculous amounts of salad. Instead, play around with herbs and spices. Whether you use fresh, dried or frozen, you can add a real punch of flavour. This will be especially helpful if you're used to heaps of salt and want to slowly ease into life with less sodium.
This delicious vegan orzo salad is
incredibly easy to make
packed with flavour
cheap and cheerful
ready in under 30 minutes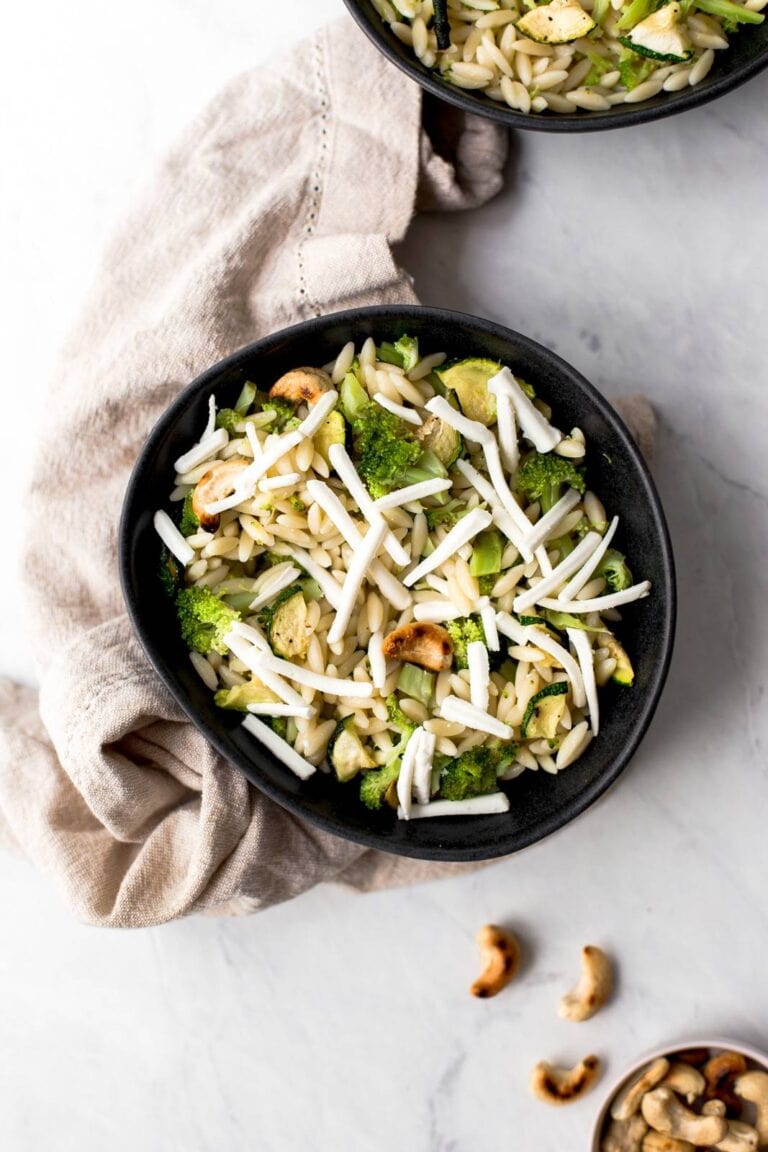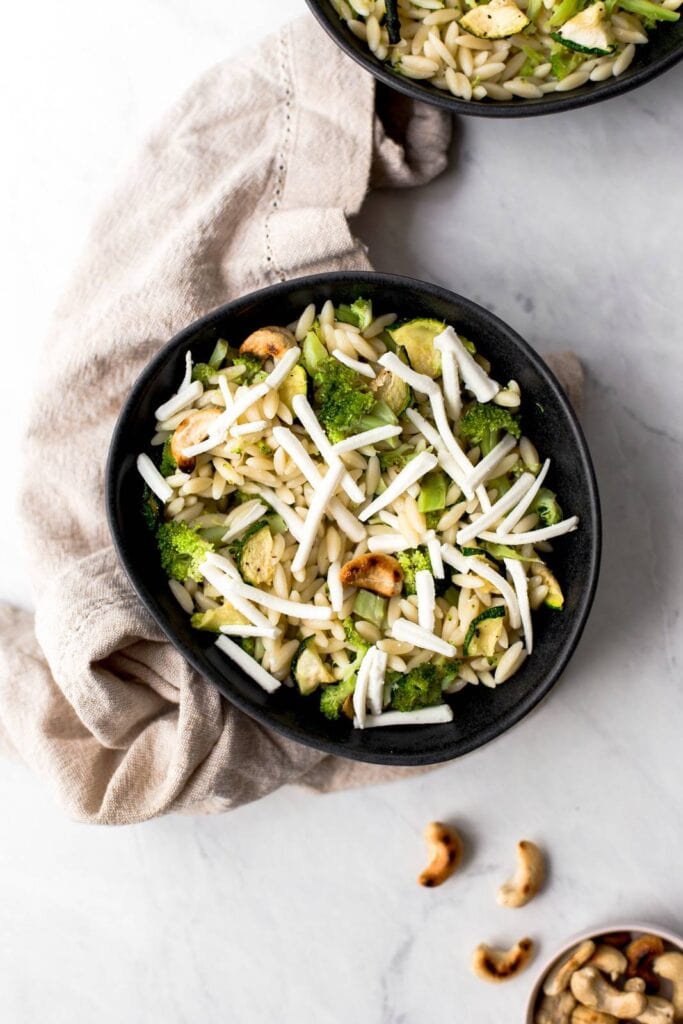 Looking for more easy and healthy vegan pasta recipes? You've come to the right place.
Creamy Basil Pasta – A real winner when it comes to creamy vegan pasta recipes.
Red Pepper Pasta – Have you ever tried peanut butter IN a pasta sauce? Is that a no? You absolutely need to do yourself a favour and try out this one.
Broccoli Pesto Pasta – My favourite pasta recipe EVER. I first made this one back in 2013 and I've been obsessed ever since.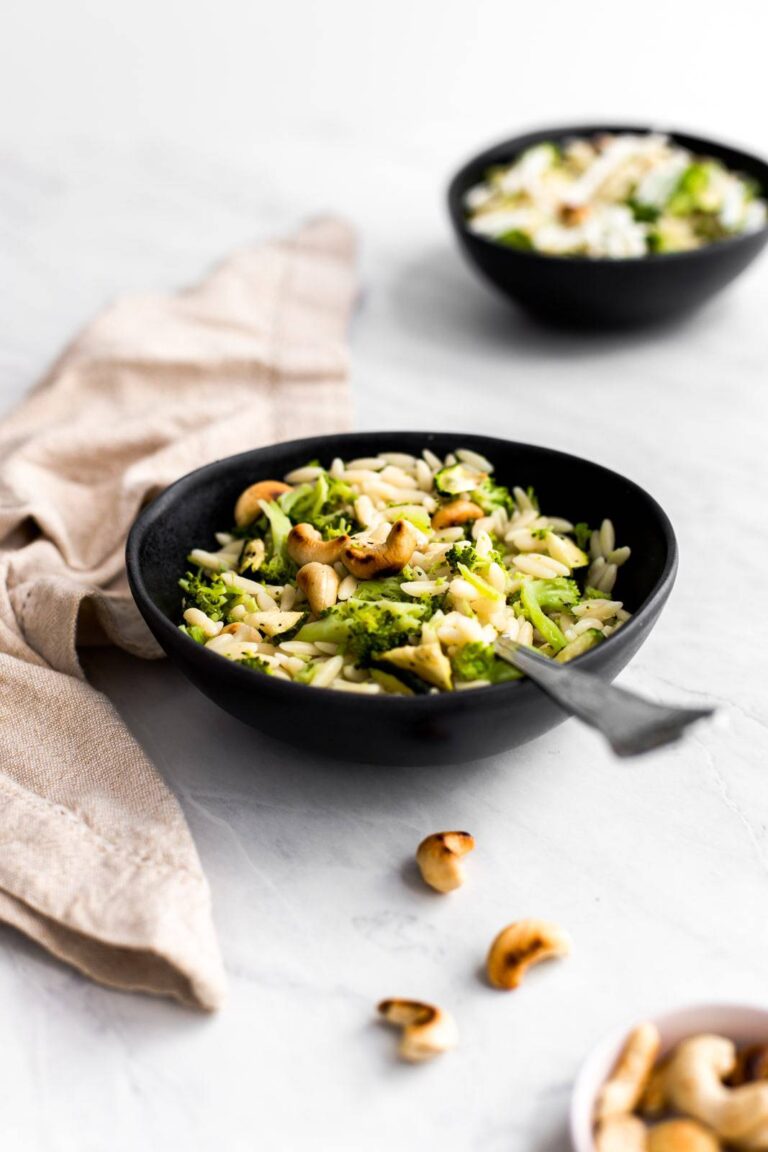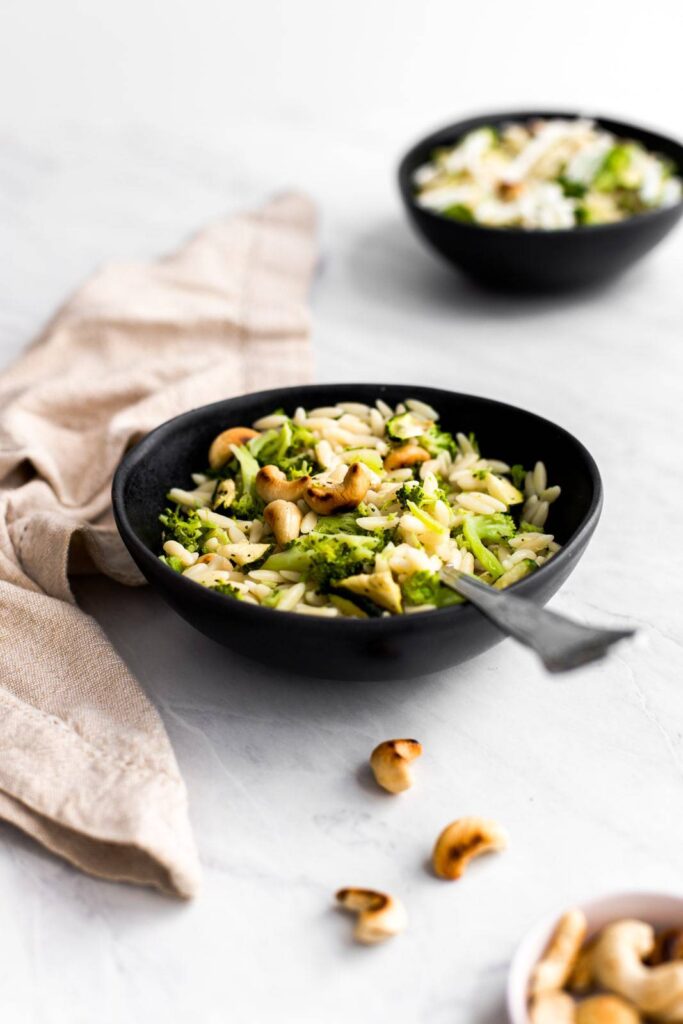 TIPS ON MAKING THIS VEGAN ORZO PASTA
You will need:
1 medium-sized pan: for orzo
1 large pan: for broccoli
Oven: to bake the courgette slices
1 non-stick pan: for cashews
Guess what that means? You can prep it all at the same time! Just simply cut up your veg, bring the water to boil/pre-heat the oven and you're already more than halfway there. All you need to do now is set your timers to make sure nothing gets over-cooked. Believe me, overcooked broccoli is just the worst thing. And that's coming from a huge fan of broccoli!
Once your veg and orzo are almost done, it's time to roast your cashew nuts. This shouldn't take more than a few minutes on high heat, but be careful not to let it burn.
Don't forget you can grab a free vegan booklet containing 90 vegan meal ideas below.


Delicious Vegan Orzo Salad
A healthy pasta dish that works for every ocassion.
Ingredients
250

g

broccoli

⅔

cup

orzo

1

courgette

(medium-sized)

⅓

cup

cashews

2

tsp

lemon juice

1

tsp

olive oil

pinch

black pepper

¼

tsp

salt
Instructions
Wash and cut broccoli into small chunks.

Bring salted water to boil in a medium-sized pan and add broccoli.

Simmer for 15-20 minutes until tender, careful not to overcook.

In the meantime, pre-heat oven to 200°C /392°F (fan oven setting). Slice your courgette, drizzle with oil and season with plenty of salt, pepper and garlic powder.

Bake the courgette slices for 20 minutes. 

In a small pan, bring salted water to boil and add orzo. Cook according to instructions given on the packet.

Roast cashew in a non-stick pan for 3-4 minutes until golden brown.

Combine cooked orzo, broccoli, courgette and cashews in a pan. 

Drizzle with olive oil and lemon juice. 

Add more black pepper, garlic and salt to taste.

Enjoy hot or cold. Store refrigerated in an airtight container for up to 3 days.
Nutrition Facts
Delicious Vegan Orzo Salad
Amount Per Serving
Calories 382
Calories from Fat 117
% Daily Value*
Fat 13g20%
Sodium 345mg15%
Potassium 904mg26%
Carbohydrates 56g19%
Protein 15g30%
Vitamin A 975IU20%
Vitamin C 131mg159%
Calcium 93mg9%
Iron 3mg17%
* Percent Daily Values are based on a 2000 calorie diet.
Made this delicious orzo salad yourself? Don't forget to share on Instagram and tag @myveganminimalist! I'm so excited to see your creations!