Immune-Boosting Pomegranate Smoothie here to bring you a burst of fresh new energy. This delicious pomegranate smoothie is  made using carefully selected immune-boosting ingredients. It's packed with all things healthy and will keep you energised for hours. Moreover, it's the perfect morning smoothie and a refreshing option on warm weekends.
Hello spring. It's that time of the year again. We're so excited to finally bask in the sun for the first time that we tend to get carried away. And as we know, there's always a downside. The evenings are considerably colder than we expect and we end up running around without a coat, then coughing and sneezing the day after. Spring is the season of hay fever, colds, unexpected flu and other unwanted health issues.
But as we all know, spring is also a wonderful time of the year bringing a breath of fresh air. It's my favourite season of the year and I wanted to make sure we're all loaded up on nutrients as we enter the unpredictable early spring weeks. This is why My Vegan Minimalist has been home to some super nourishing recipes lately, such as:
And now, finally, my ultimate immune-boosting pomegranate smoothie!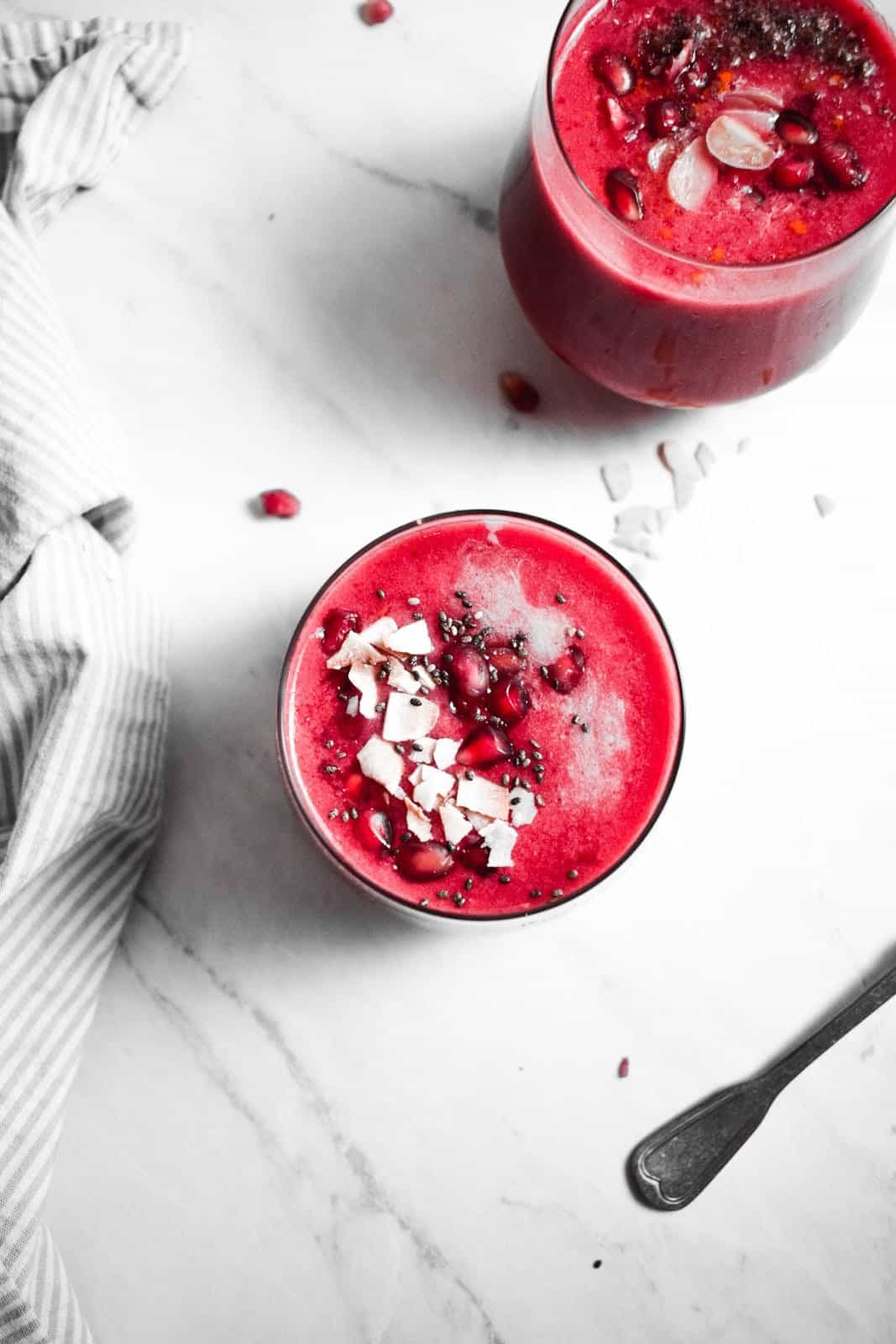 This gorgeous pink smoothie is
packed with vitamins
subtly sweet
instantly refreshing
super good for you
The gorgeously pink smoothie has been my go-to smoothie last summer and I'm determined to bring it again back this spring. It's based on unsweetened almond milk and provides a fresh burst of flavour with:
raspberries
ginger
pomegranate juice
No Banana Smoothie Recipe 
I decided to leave out bananas for this one and focus on berries, coconut and pomegranate. Whilst bananas are a fantastic smoothie base, I find them to be overpowering at times. This easy smoothie recipe is for everyone that isn't a fan of this tropical fruit but still wants to enjoy smoothies. It has a silky smooth and creamy texture, while providing a fresh boost of nutrients.
Benefits of This Pink Pomegranate Smoothie
Wondering why I picked pomegranate for this recipe? I am convinced that pomegranate is an incredibly underrated smoothie ingredient. Its juice not only provides a burst of flavour, it also adds that bright pink colour we all adore. Pomegranates are packed with
antioxidants
vitamins
They're also loaded with anti-inflammatory properties and provide a range of other health benefits.
May help fight joint pain and arthritis
Can help bacterial and fungal infections
May help lower blood pressure
May help improve memory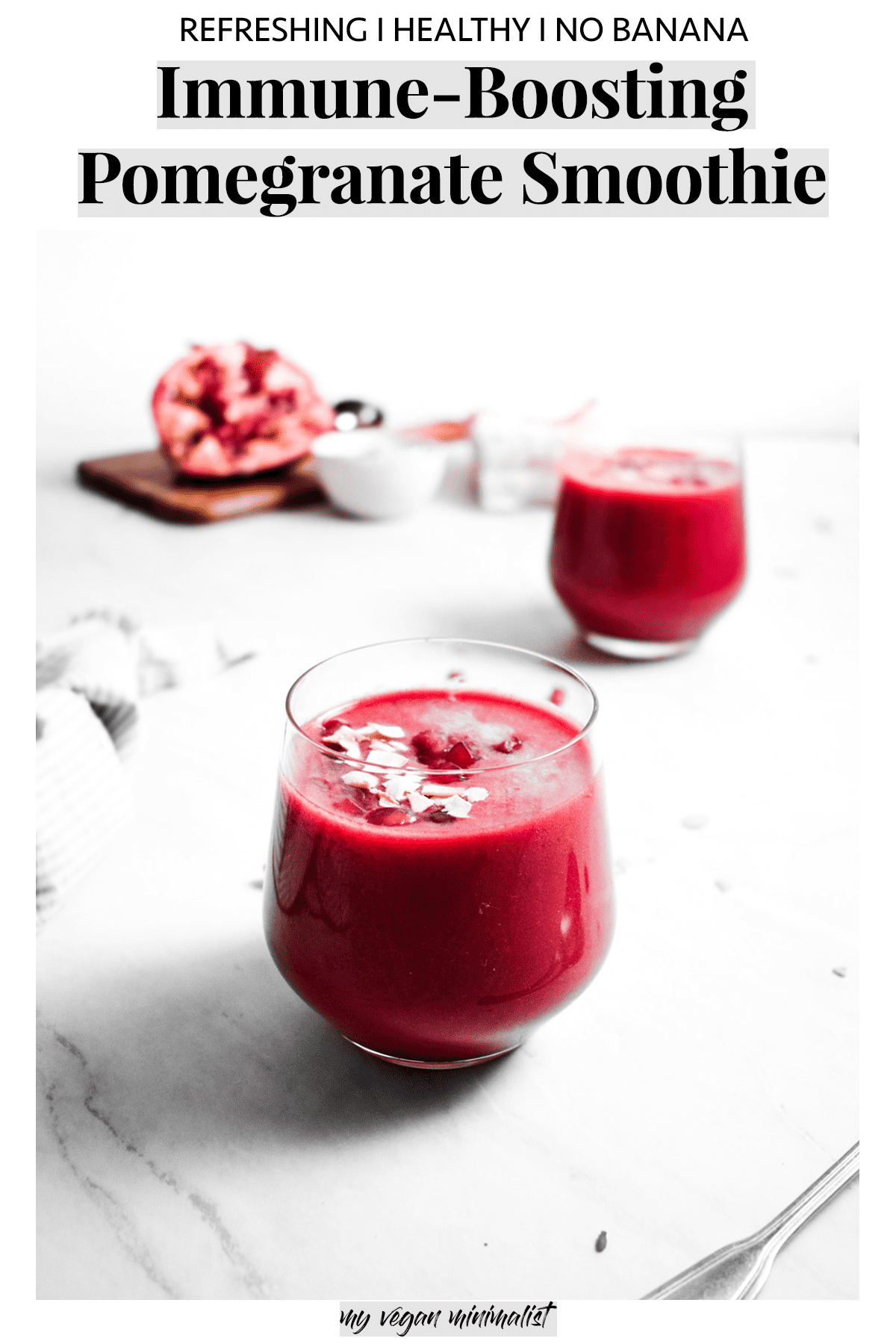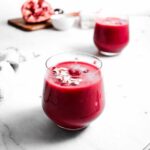 Ingredients
1 apple (I used British Cox apples)

1/2 cup water

1 cup frozen raspberries

1/2 unsweetened almond milk

1 cup pomegranate juice

A very small thumb of ginger

Toppings: pomegranate arils, coconut flakes
Instructions
Blend all ingredients until smooth.
Top off with extra pomegranate arils and coconut flakes.