Jump to Recipe
These super easy Loaded Fries with Salsa & Sriracha are my latest obsession! Bursting with flavour, budget-friendly and super easy.  Loaded fries with salsa & sriracha are the perfect side dish and a fun option for the whole family.
Making My First Homemade Loaded Fries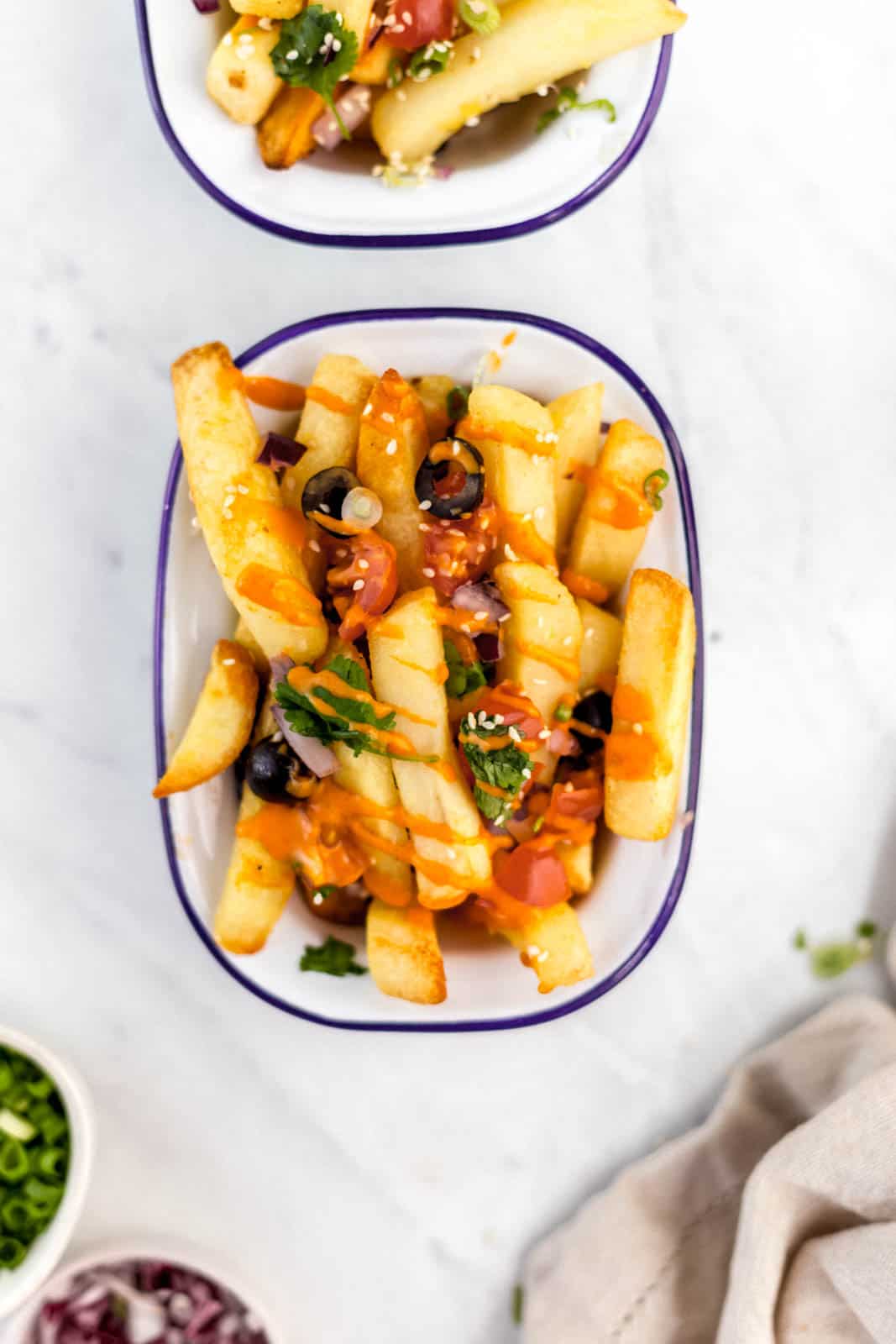 Manchester is home to one of the best and most decadent vegan diners – V Rev. They've got vegan version of every comfort food you can think of – mozarella sticks, chicken or beef burgers, wings, mac and cheese. You name it, they have it. It was at V Rev where I first tried loaded fries (or chips as you would say here in the UK) and absolutely loved them. I've since tried what must be a dozen of loaded fries options all over the country, obviously making me loaded fries royalty *chuckles*
All jokes aside, what put me off making loaded fries at home is seeing a lot of prep word for what would actually be just a side dish. Juggling my blog, freelance photography work, digital marketing consulting and my Etsy shop I'm not the one for time-consuming recipes. I wanted to keep this recipe both super quick as well as affordable. Why would you have to spend lots of money eating out in order to enjoy amazing comfort food?
Lazy Cook's Favourite Loaded Chips?
This, my friend, is the single most lazy-people-friendly loaded fries recipe you've ever come across. Literally anyone with an oven and a pair of hands can make it. It's a super versatile side dish, too. Who doesn't like potato, right? After I shot these photos today I ate it with a side portion of salad at lunchtime and it filled me up for the whole afternoon. Alternatively, you could obviously make these for dinner, too. Pair it with a gorgeous meal salad like my rainbow quinoa salad or if you're not a lover or salads, try it out with your favourite boiled greens and some protein like tofu or tempeh.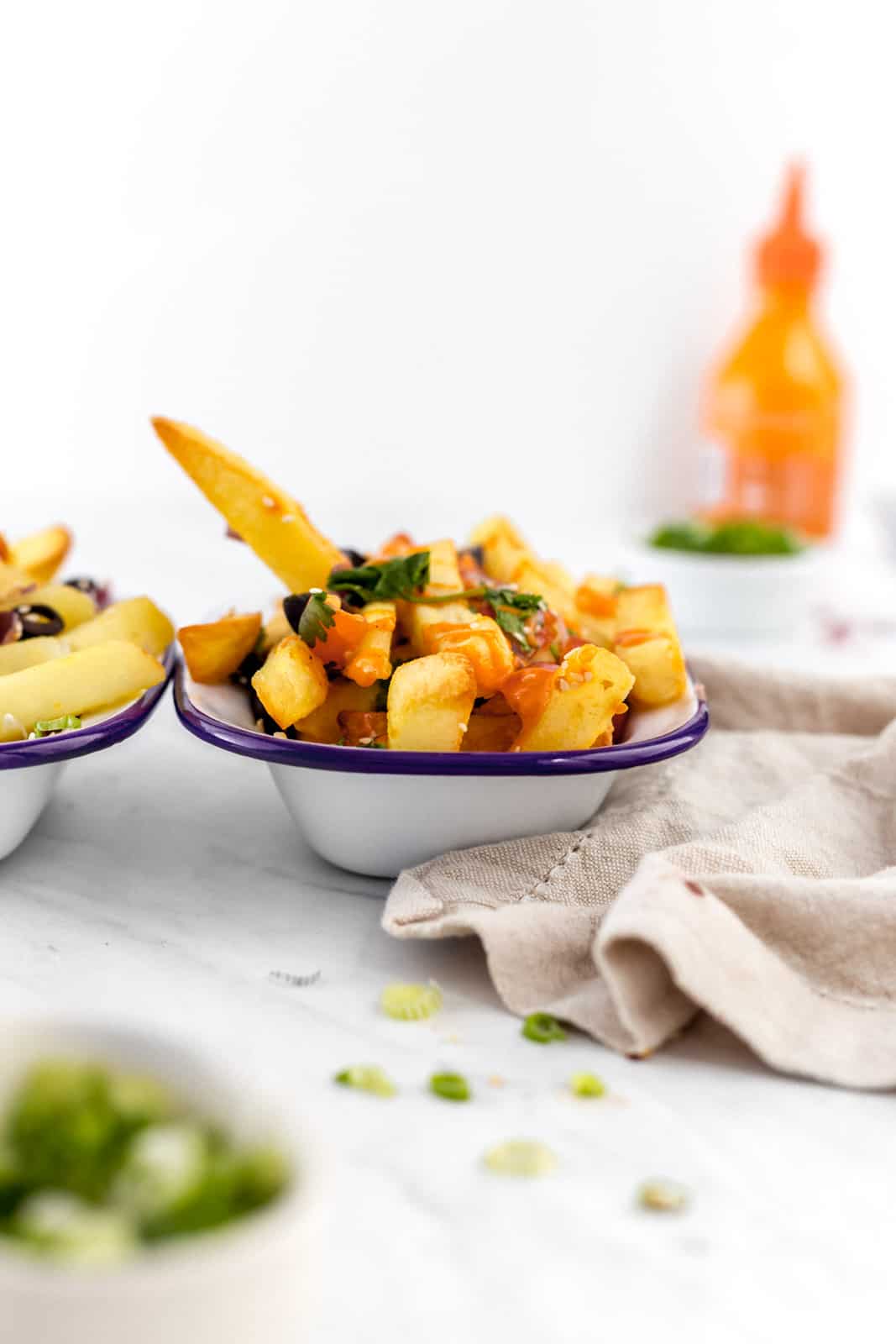 3-element Loaded Fries with Salsa & Sriracha
There are 3 main elements to these loaded chips.
Salsa for freshness and a bit of a flavour kick
Sesame seeds for a crunchy and nutty surprise
Sriracha mayo for the creamy and zingy finish
If you're new to sriracha mayo, you definitely need to get on the bandwagon ASAP. It's the perfect mix of slight spiciness and creaminess. Plus, it's super affordable. The best thing about adding a creamy layer like this is that all our delicious toppings will stick to it. This means that every single bite of your potato will have some of the gorgeously balanced toppings.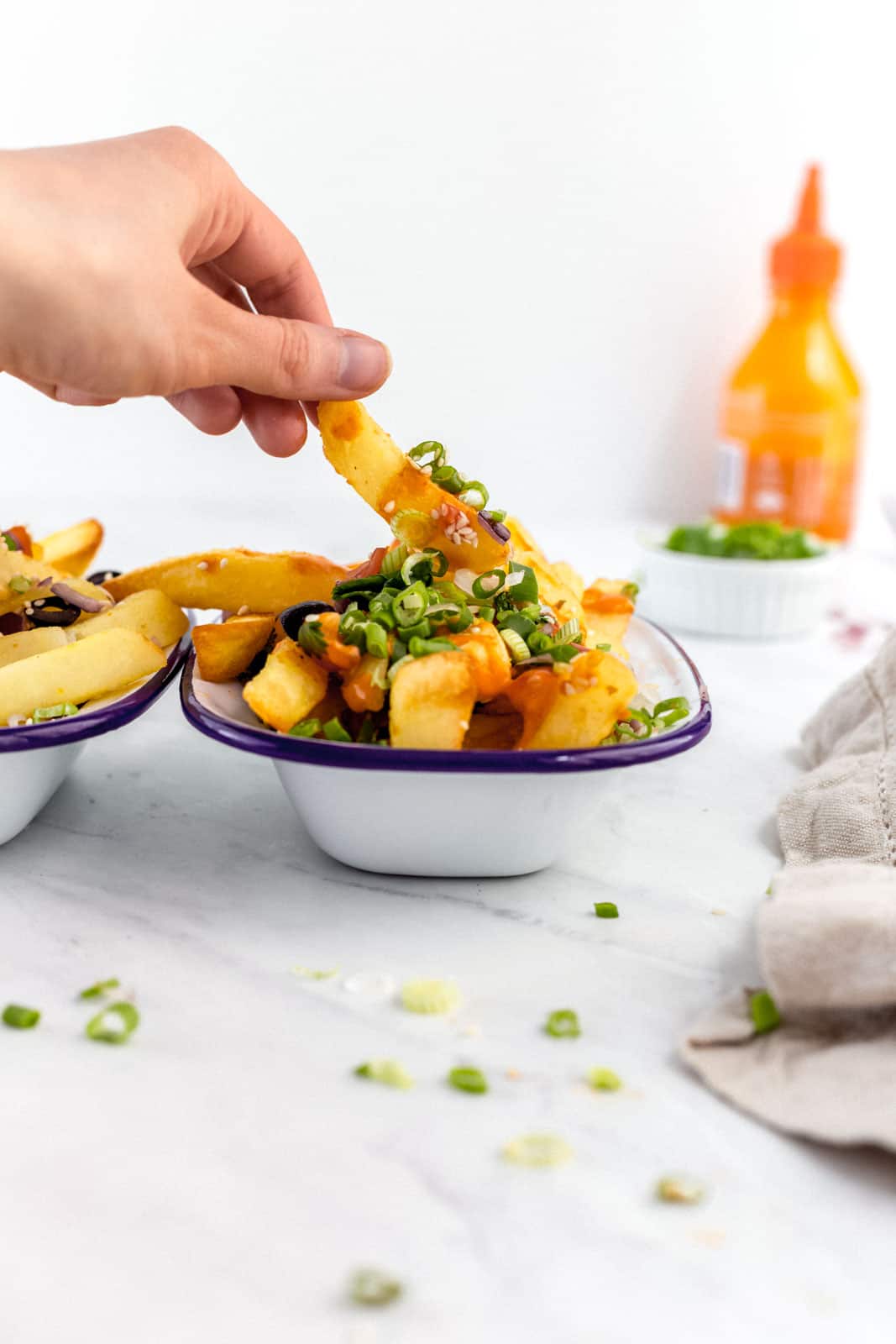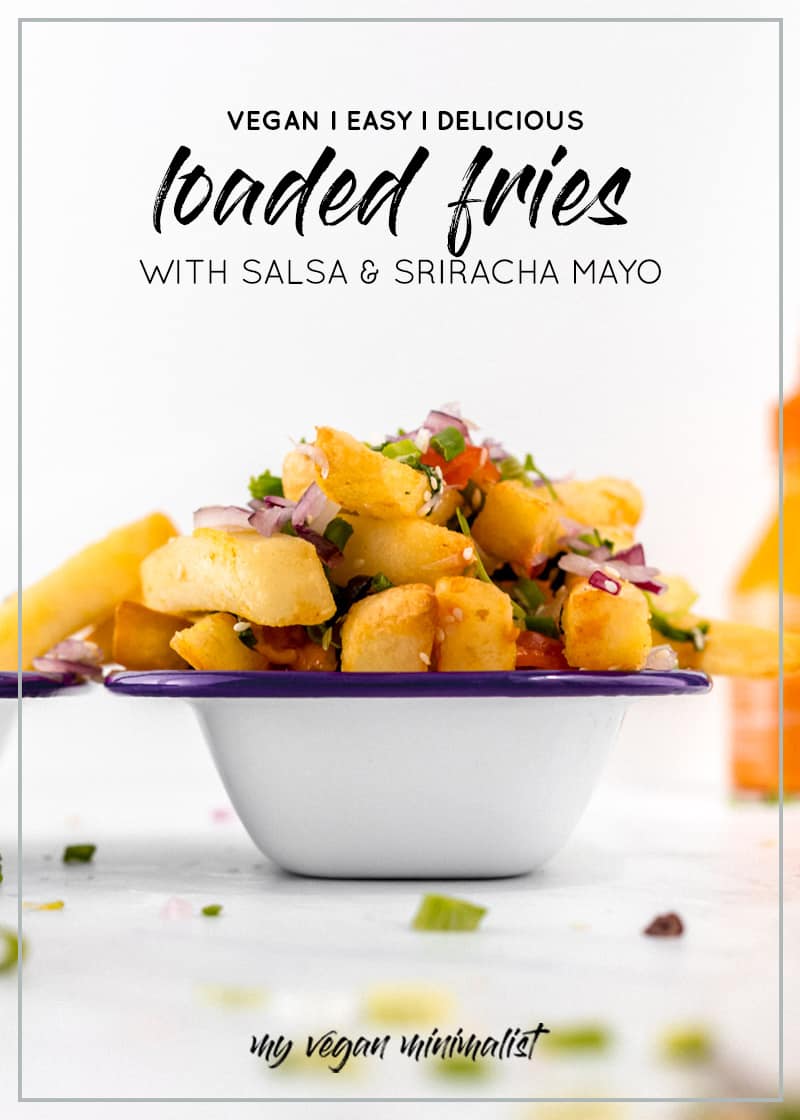 If you're starting out as a vegan or just want to discover simple vegan recipes make sure to follow me on Pinterest, Instagram and Facebook.
---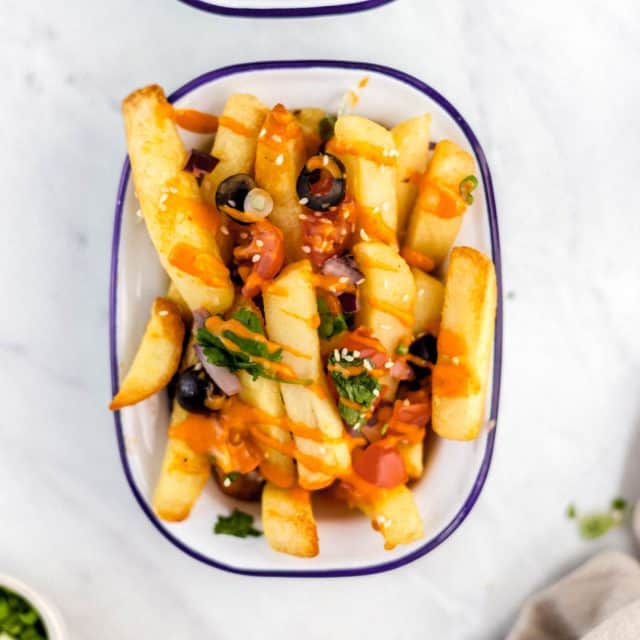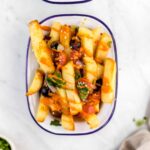 Vegan Loaded Fries
These super easy Loaded Fries with Salsa & Sriracha are my latest obsession! Bursting with flavour, budget-friendly and super easy. 
Ingredients
500

g

frozen chunky chips

10

black olives

6

cherry tomatoes

3

tbsp

coriander

(cut into small pieces)

½

red onion

2

tbsp

sesame seeds

3

spring onions

a.k.a scallions
Instructions
Pre-heat your over to 210°C. 

Add salt, black pepper and garlic granules to taste and bake your chunky cut potatoes for 25-30 minutes. 

 Stir halfway through to ensure baking evenly. In the meantime, prepare your salsa. 

To prepare your salsa, cut tomatoes into small cubes and add red onion and coriander. Stir well. 

Once the potatoes are done (golden brown at the edges), you can start loading them! 

Top the with your salsa, olives, sesame seeds and spring onion. 

To finish it all off, add a generous drizzle of sriracha mayo. Enjoy!  
Nutrition Facts
Vegan Loaded Fries
Amount Per Serving
Calories 127
Calories from Fat 36
% Daily Value*
Fat 4g6%
Sodium 177mg8%
Potassium 702mg20%
Carbohydrates 21g7%
Protein 5g10%
Vitamin A 341IU7%
Vitamin C 31mg38%
Calcium 113mg11%
Iron 6mg33%
* Percent Daily Values are based on a 2000 calorie diet.
Don't forget you can grab a free vegan booklet containing 90 vegan meal ideas below.