At this point, it's clear that we're getting slightly obsessed with Grub's Plant-Powered Sundays. Just a month after moving to Manchester, it's not a matter of whether or not we will attend the food fair at the weekend, but what and how much we'll eat there. Being with just the two of us we can't try out all the dishes, so we usually make a little plan to try as much as humanly possible. We do have an excuse for our enthusiasm though – this very blog post and our dedication to bringing you an entertaining photo review.

Last weekend it was time to revisit my new favourite here in Manchester – Grub's Plant-Powered Sundays! After attending the wonderful, but veerryy busy and crowded Northern Vegan Festival just over a week ago, this tiny vegan fair proved a quiet and cosy experience.
HOT, SAVOURY FOOD
We tried out two dishes by Wholesome Junkies – the hotdog and the cauliflower burger. Their food stall was something that caught our eye at the Northern Vegan Fest last week as well, but this was our first tasting, and oh boy, it did not disappoint! The hotdog (
£6) 

was literally the very best vegan hotdog I've ever tried and this is no exaggeration – it was the perfect combination of savoury and crunchy, with a strong sausage, perfect sauces, fresh bread and just a hint of dill.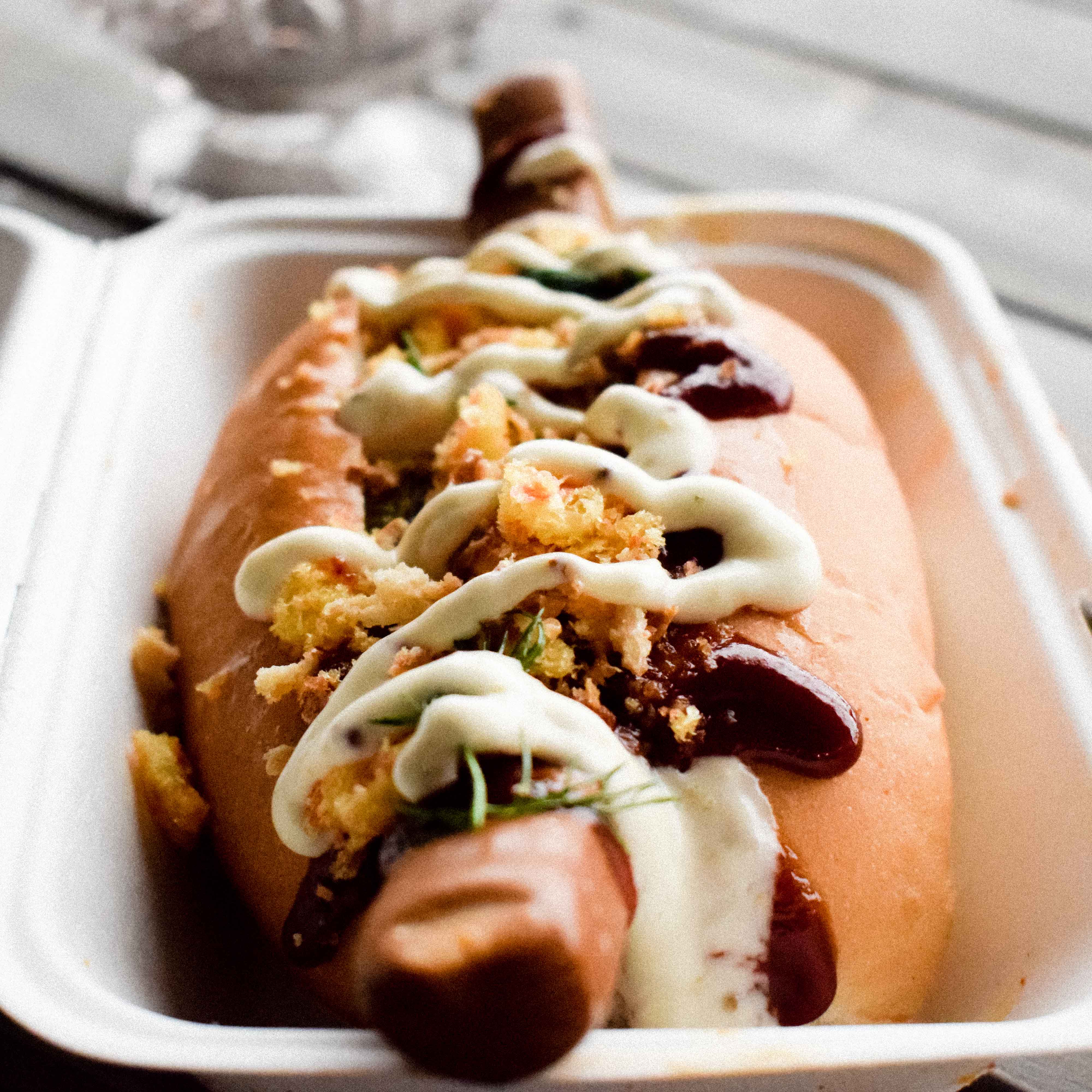 Thinking nothing could possibly top the experience of this vegan hotdog, I tried the cauliflower burger (£6), which turned out to be just as delicious and slightly more filling in comparison.
VEGAN TREATS, SWEETS AND BAKES
Last weekend's sweet food stall was hosted by Drizzle City Bakes and despite having had absolutely stuffed our faces with savoury food, we couldn't go home without trying out some sweet delights. We tried the coffee and walnut cake (£4), as well as the strawberry, basil and black pepper slice (£3). Their daring combination of ingredients definitely won our hearts and we will definitely be looking out for their stall on vegan fairs and festivals throughout the UK in the future. 
As always, there was no entry fee, plenty of dog treats, board games and a lively, homey atmosphere that makes Grub's Plant-Powered Sundays such a unique weekend experience. 
Again, if you're ever in Manchester, make sure to not miss out on this little gem in the heart of the city. There are incredibly well-chosen food options every single weekend and the