Jump to Recipe
This versatile sesame grilled asparagus & broccoli dish is the perfect healthy vegan meal! Serve it as a gorgeous salad, simple side or a light main. Packed with nutrition and ready to give all you plant-based warriors a real boost.
Best Serving Suggestions: Grilled Asparagus & Broccoli
I deliberately left this grilled asparagus dish to be open for various ways of serving. Some of my favourite ways to enjoy it include:
Served with a slice of fresh sourdough bread and topped off with some sriracha mayo.
As a super nutritious side, e.g. with loaded fries.
As a light salad for all those who don't enjoy or have trouble digesting raw, cold salads.
For breakfast with scrambled tofu and a slice of toast
Looking for another pro tip? You know how big dinner parties (e.g. at Christmas, Thanksgiving, Easter, etc) are usually packed with lots of heavy, greasy (and usually meaty) food? This is the BEST healthy dinner party alternative! Of course you can still serve all your usual comfort food. At the same time, just a portion of some gorgeously grilled veg can ensure everyone gets in some health-boosting goodness. Wondering what makes this vibrant dish so healthy?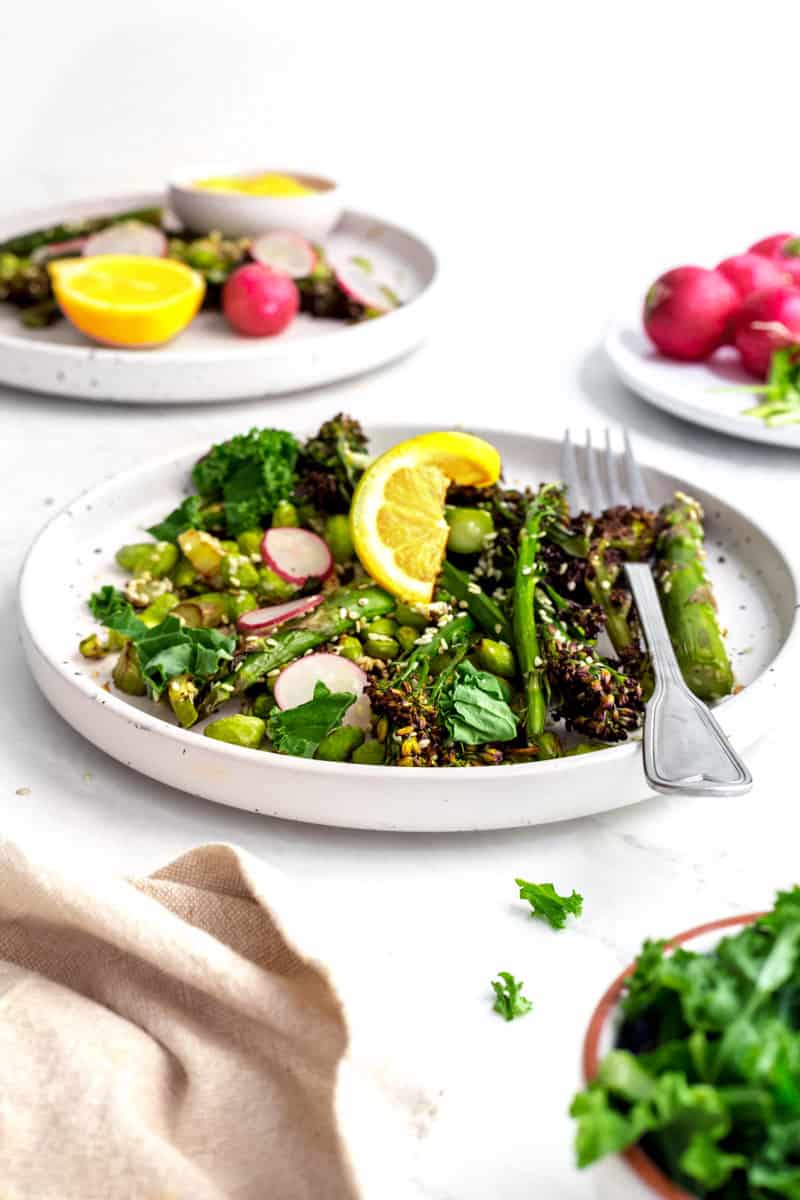 Health Benefits of Asparagus & Broccoli
I love those moments you can just whip out a random fact. The next time someone's talking about nutrition (and let's be honest, that does happen a lot when you're vegan!) you will know that …
Asparagus is super DIVERSE IN NUTRIENTS. It includes vitamin A, C, E, K, folate, potassium, phosphorus. It also contains a bag of micronutrients like iron, zinc and riboflavin.
It's SUPER RICH in antioxidants – and we all need those! Make sure not to let it cook or grill for too long as that can make the antioxidants leech out into water.
Broccoli is a fantastic source of fibre and protein. It also contains iron, potassium, calcium and selenium.
Sesame seeds are truly packed with health-boosting properties. They are rich in protein, may support healthy bones and immune system, as well as reduce inflammation.
Getting in just a small portion can help you stay on top of all your veg needs! If you're looking for a measurable way to check out Dr Greger's Daily Dozen vegan checklist. I stuck a copy of this checklist in my cupboard, ready to remind me of all my veggie needs. Best thing? This dish will tick off FOUR things at once! Have it with a glass of water and you can tick off five!
Broccoli & Asparagus Preparation Tips
Broccoli and asparagus. The two vegetables that spark a lot of love-hate relationships! Next to Brussels Sprouts they are definitely among the most hated veggies. I think the key to making them tasty lies in the preparation. This is why I'm a HUGE fan of grilling! Using sesame oil will add a gorgeous nutty flavour. Moreover, as opposed to boiling or steaming, grilling will ensure a crunchy finish we all love.
I used purple sprouting broccoli for this recipe, but feel free to use standard, green sporting broccoli. Make sure to always start by grilling the broccoli before adding asparagus. Sprouting broccoli needs CONSIDERABLY longer to cook. If you'd like to speed it up, steam your broccoli first and only add it to the grill once it's soft and tender.
I used British asparagus, but you'd be fine using any type of this delicious green vegetable.
This delicious sesame grilled asparagus is
crispy and crunchy
packed with nutrients
super vibrant
incredibly versatile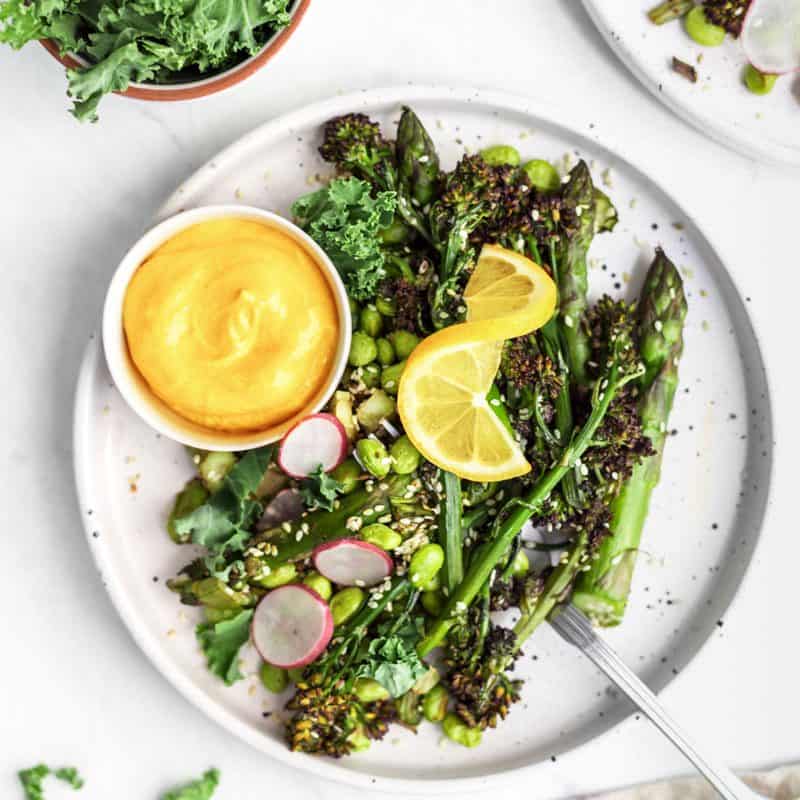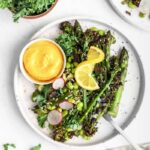 Sesame Grilled Asparagus & Broccoli
Ingredients
150

g

asparagus

100

g

purple sprouting broccoli

2

tbsp

sesame seeds

1

tsp

sesame oil

3

radishes

½

cup

edamame beans

½

juice of lemon

Seasoning: salt, chilli flakes, black pepper, garlic powder
Instructions
Heat up sesame oil in a grill pan.

Add broccoli and grill for 10-15 minutes.

Then add sesame seeds and asparagus.

Grill for further 10-12 minutes. 

In the meantime, boil your edamame beans until soft

Serve with radish slices* (scroll up for Serving Suggestions).

Drizzle with lemon juice. 
Recipe Notes
*I also served mine with a big dollop of English mustard.
Nutrition Facts
Sesame Grilled Asparagus & Broccoli
Amount Per Serving
Calories 298
Calories from Fat 144
% Daily Value*
Fat 16g25%
Sodium 44mg2%
Potassium 716mg20%
Carbohydrates 26g9%
Protein 18g36%
Vitamin A 2899IU58%
Vitamin C 112mg136%
Calcium 311mg31%
Iron 8mg44%
* Percent Daily Values are based on a 2000 calorie diet.
If you're starting out as a vegan or just want to discover simple vegan recipes make sure to follow me on Pinterest, Instagram and Facebook.
---
Don't forget you can grab a free vegan booklet containing 90 vegan meal ideas below.