Jump to Recipe
Vegan chocolate truffles have to be some of the easiest desserts you could possibly make. If you're struggling with vegan baking, definitely give them a go! All you need are 3 ingredient (plus optional toppings), the absolute staples of every vegan cupboard. Cocoa, dates and peanut butter.
I love baking indulgent desserts and these vegan chocolate truffles are the easiest way to do that. Plus, you don't even need an oven!
Thanks to the rich date base and peanut butter, these are a lot like energy balls! They're a perfect little snack on-the-go and do a fab job filling you up for HOURS.
They tick all the boxes for me and this recipe is:
incredibly easy
requires no oven
super rich: just 1 truffle can satisfy my chocolate cravings
fun to make (if you don't mind getting your hand a little bit dirty…)
great for kids and beginner bakers
visually stunning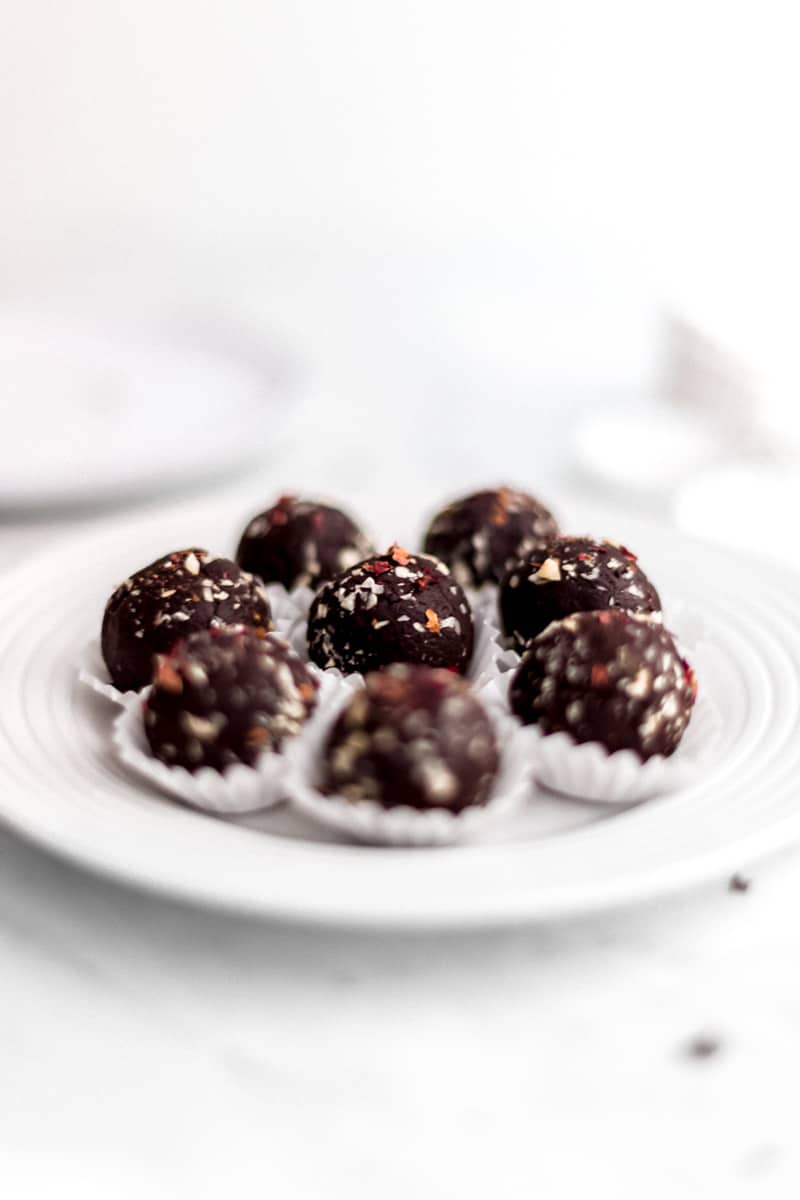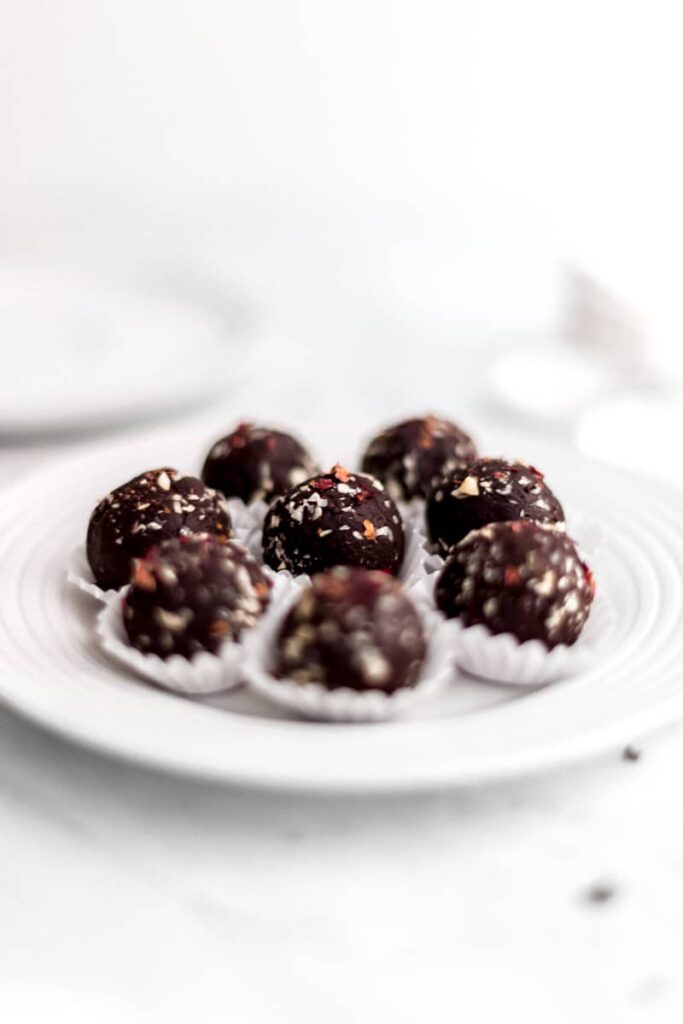 I blame it on my parents …
I would absolutely not be surprised if you accused me of being a chocolate addict! I blame it on my parents. My dad is a huge lover of all things chocolate. He even keeps a 'chocolate box' in the cupboard in our dining room. This chocolate box is basically a paper-lined empty shoe box filled with all things chocolate. I took it 1 step further and delved deep into chocolate recipe creation. Some of my favourites are:
– Easy Double Chocolate Cupcakes
– Peanut Butter Chocolate Brownie
– Peanut Butter Chocolate Cupcakes
P.S. – my dad isn't vegan and he ADORES all of these!
Chocolate Truffles: The Easiest Vegan Dessert?
Perhaps you've tried baking before and found yourself disappointed with the outcome. Vegan bakes can be ABSOLUTELY delicious. However, they definitely require some practise. It took me over half a year of failed attempts to make a vegan brownie I was actually fully proud of! Similarly, I struggled a lot with my first vegan cakes. If you're used to traditional baking with eggs, milk and butter, vegan alternatives can be tricky.
This is exactly why vegan chocolate truffles are such an amazing way to dip your toes into vegan sweets. Even this Wiki page all about chocolate truffles mentions how easy it is to make them vegan!
They are so easy to make vegan and definitely won't disappoint.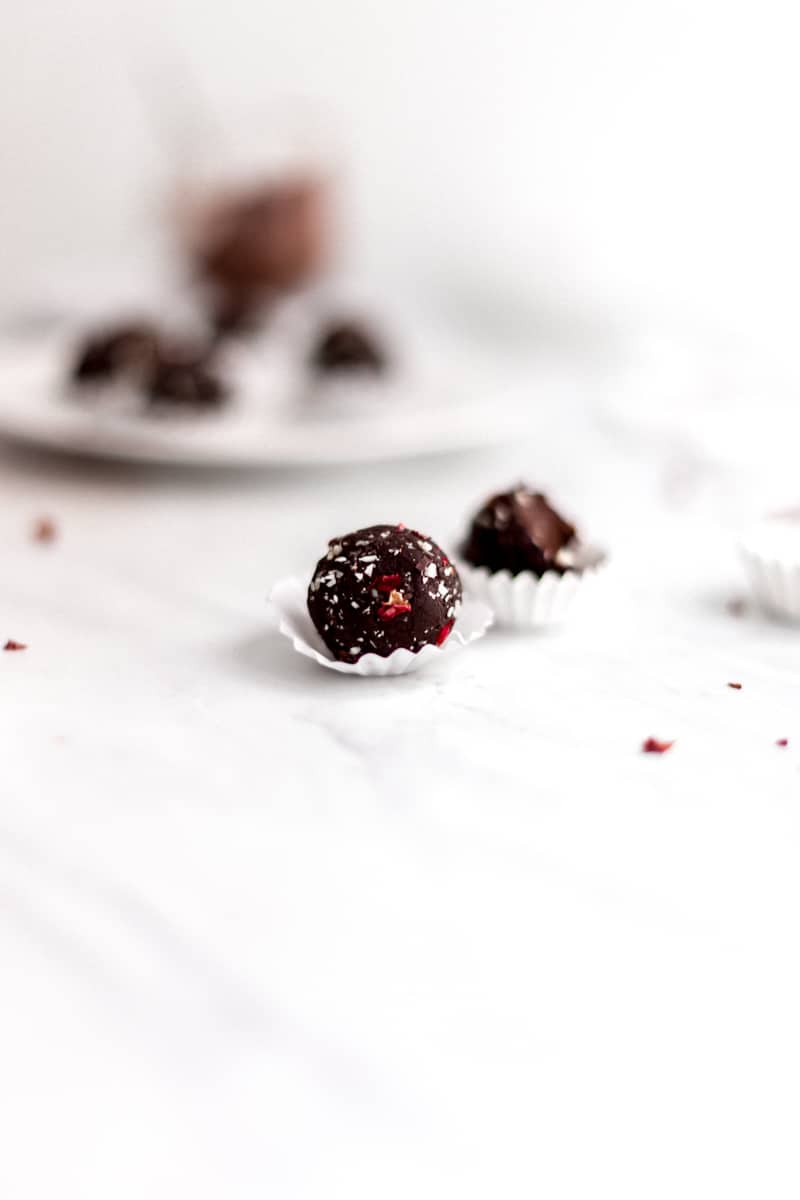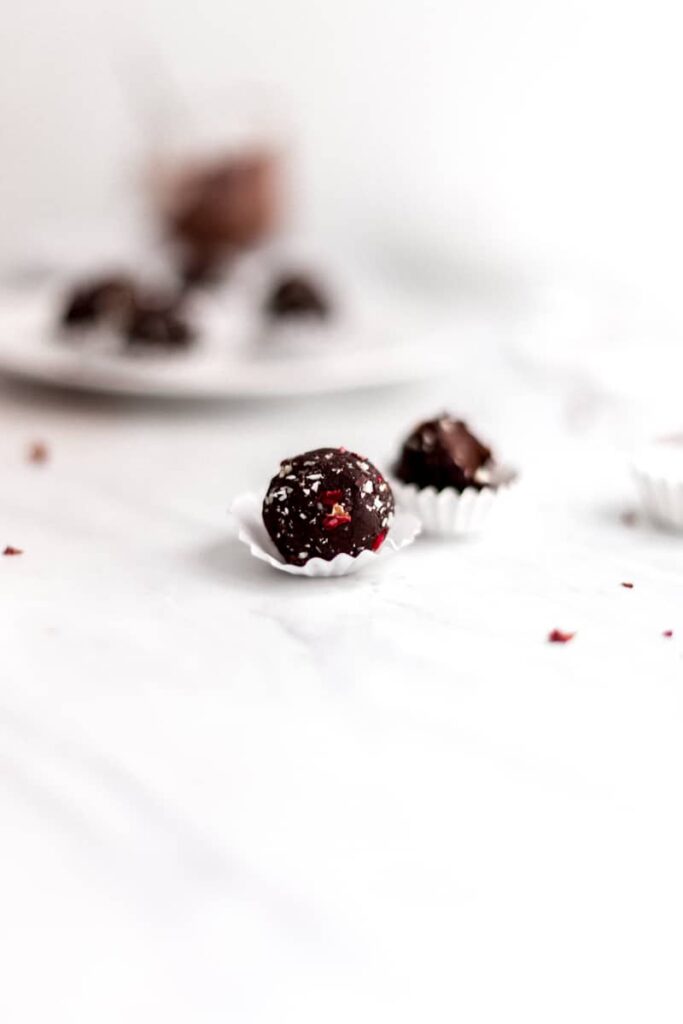 Tips For Making These Vegan Chocolate Truffles
The only kitchen appliance you need for these vegan chocolate truffles is a good old food processor. If you have a high-speed blender, that could work too. You'll give the 3 main ingredients a good whizz until the mixture is really to be rolled. I recommend chilling the mixture for at least 30 minutes to make the rolling easier. If you prefer, you can chill it for a few hours or overnight.
Afterwards, you will need to form equal-shaped balls. Don't worry about making them look perfect! However, if you do want to go that extra mile to impress, weigh the mixture and calculate how much each ball should weight. After that, divide the mixture and weigh individual balls.
I also recommend getting a piece of parchment paper or a large board to make the rolling less messy. You can make these any size you wish so feel free to experiment. Finally, you will need to roll these in rose petals. This will ensure a gorgeous visual effect, but it's completely optional.
Once you've formed the beautiful truffles, it's time to present them in a suitable manner. Truffles are premium dessert that needs to be showcased! I would definitely recommend grabbing some mini cupcake liners to place your truffles in. This will ensure simple, but visually attractive serving, as well as easier eating.
You can then place them on a gorgeous vintage plate, a beautiful silver tray or perhaps a marble board. Serve them with some delicate Earl Grey tea and pretend to be super sophisticated *winks*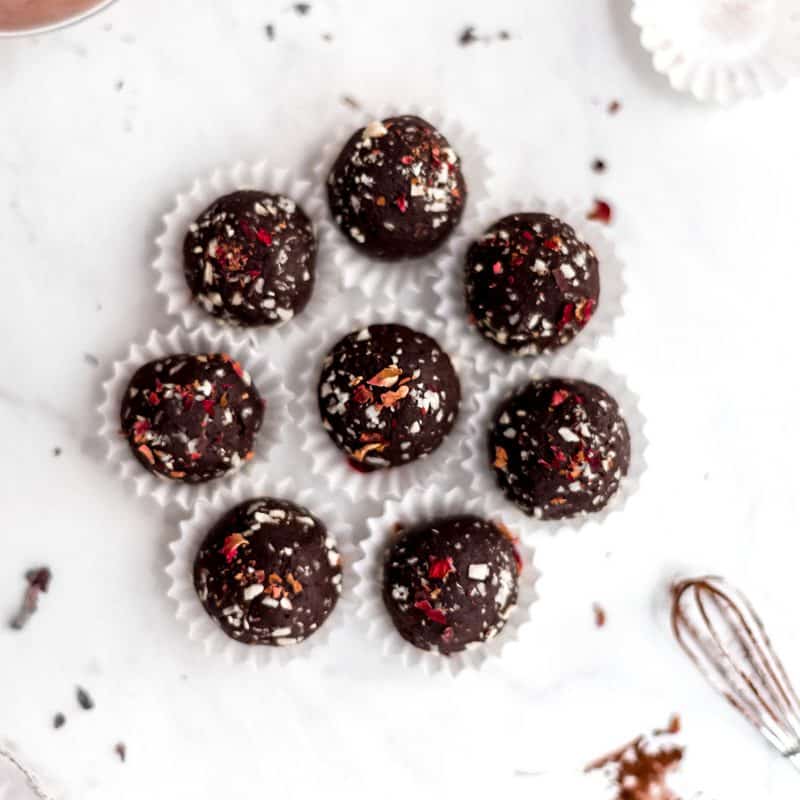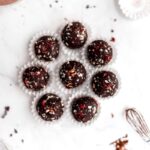 3-Ingredient Vegan Chocolate Truffles
Turn your staple ingredients into drool-worthy vegan snacks.
Ingredients
3

tbsp

peanut butter

15

tsp

cocoa powder

9

medjool dates

Optional toppings: cashew nuts, rose petals
Instructions
Soak your dates in warm water for 10 minutes.

Remove water, add dates to food processor. Add peanut butter and cocoa.

Refrigerate for at least 30 minutes.

Form 8 equal-sized balls.

Roll them in chopped cashews and rose petals (optional)
Nutrition Facts
3-Ingredient Vegan Chocolate Truffles
Amount Per Serving
Calories 114
Calories from Fat 27
% Daily Value*
Fat 3g5%
Sodium 28mg1%
Potassium 255mg7%
Carbohydrates 23g8%
Protein 2g4%
Vitamin A 40IU1%
Calcium 22mg2%
Iron 1mg6%
* Percent Daily Values are based on a 2000 calorie diet.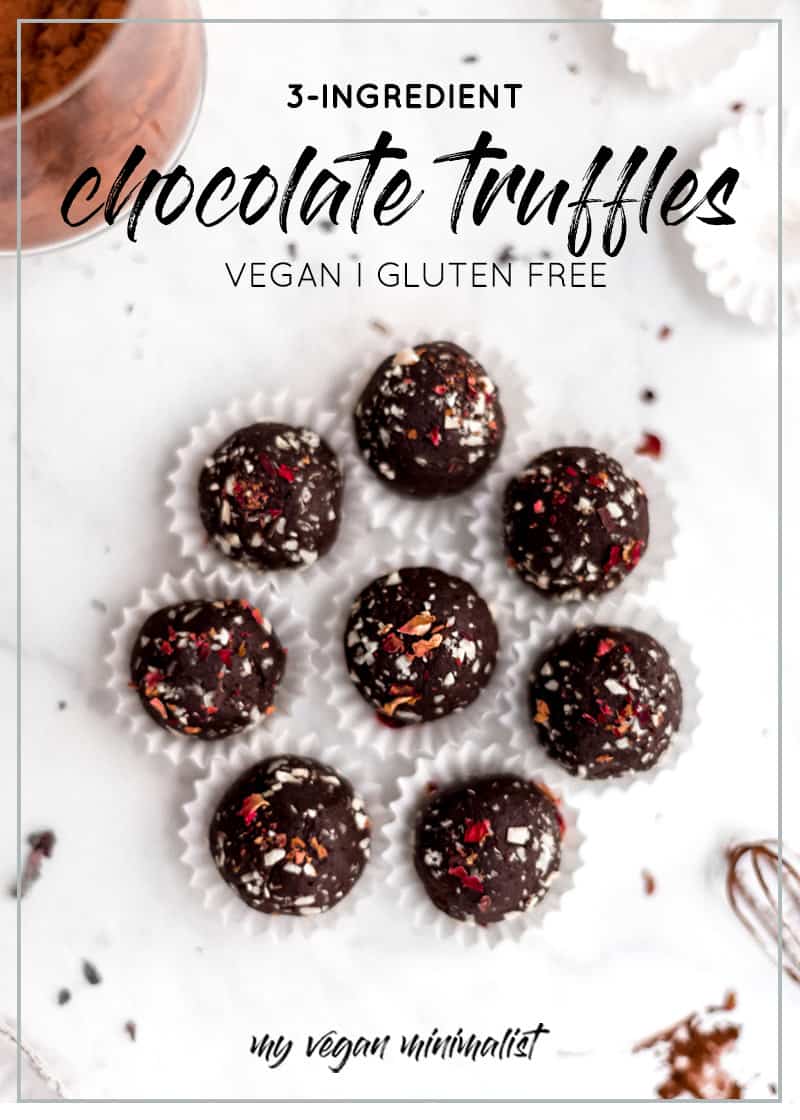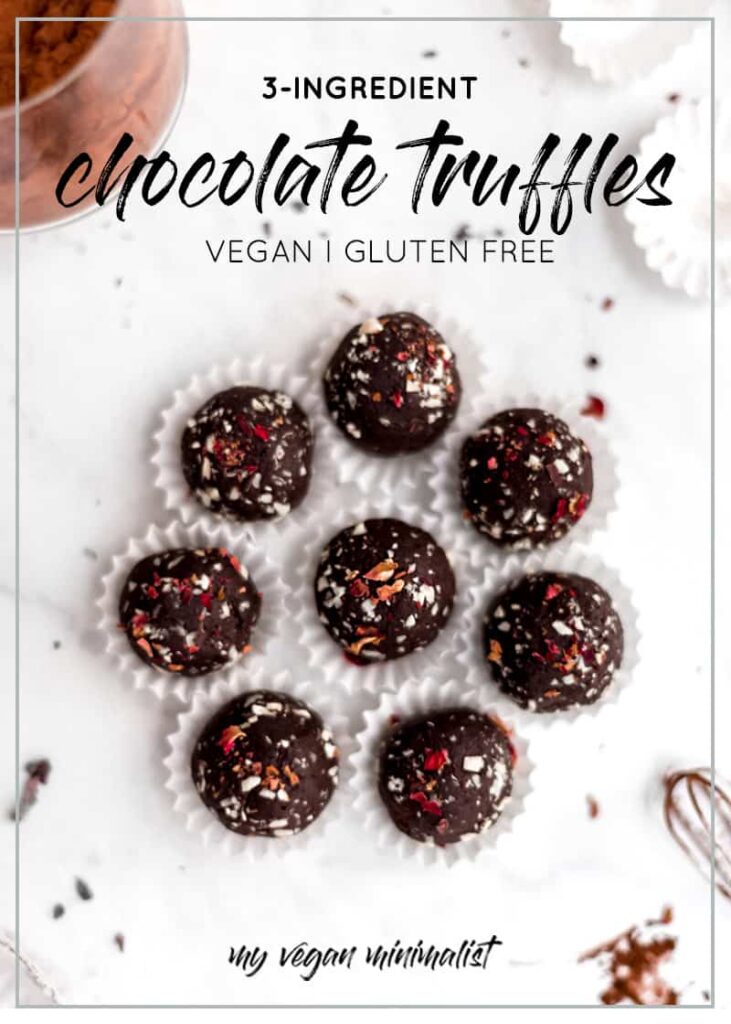 If you're starting out as a vegan or just want to discover simple vegan recipes make sure to follow me on Pinterest, Instagram and Facebook.
Don't forget you can grab a free vegan booklet containing 90 vegan meal ideas below.