Get an exclusive insight into one of Europe's most unlikely vegan capitals – Ljubljana. From sweet to salty, from healthy to greasy – Ljubljana has got it covered!
Ljubljana was the birthplace of my plant-based adventures. It was my hometown during both my transition to vegetarianism and later on to veganism, and my quest to find local eating out places meant I tried out pretty much every single vegan hotspot in town, bringing you this simple guide to vegan Ljubljana. I'm in no way claiming that this is the ultimate guide to vegan Ljubljana, given that there are so many new plant-based places popping up on every corner and I've just recently moved out of the country, making my challenge to keep up with the local vegan scene all that more difficult. Still, this is an overview of some of my absolute favourite places that are definitely worth a visit if you're a fellow hungry travelling vegan!
Let's dive right in!
Many vegans visiting this part of Europe will be completely unaware of the absolutely vast amount of vegan opportunities to eat out. Not only that, a lot of these will be incredibly budget-friendly and their close proximity means you can try out all the biggest hits even on a quick getaway to Slovenia's capital.
LUNCH and DINNER
FOCULUS
This heritage-rich pizzeria in the very heart of Ljubljana's city centre is a long-time favourite among locals, young and old alike. Not only can you enjoy the beautifully serene outside sitting area, the ambience inside is incredibly cosy, homey and brings back the vibe of eternal Italian summer. Foculus is not a strictly vegan or vegetarian pizzeria, but it offers an unparalleled selection of pizzas that can be made vegan on request, as well as its very own tofu vegan pizza that's just too good to miss out on. They use organic flour for the base and you can even choose wholemeal flour at no extra cost. This surprising vegan gem in the heart of Ljubljana is so budget-friendly and if you fancy some feel-good 80's hits in the background (they tend to play VH1 classic alot!) this is your perfect lunch spot! P.S. – feel free to pack your leftovers or ask for a doggy bag!
MOY SUSHI
For lovers of Japanese cuisine, Moy Sushi is a fantastic place with plenty of vegan option on the menu. While slightly more expensive than the rest of our vegan hotspots on the list, Moy Sushi is the right place to go when celebrating a special occasion or wanting to treat yourself to a memorable night out. Just like Foculus, it's located right in the centre of Ljubljana and offers several vegan makis, miso soup and the single most delicious mixed salad with seaweed and sesame dressing.
ORGANIC GARDEN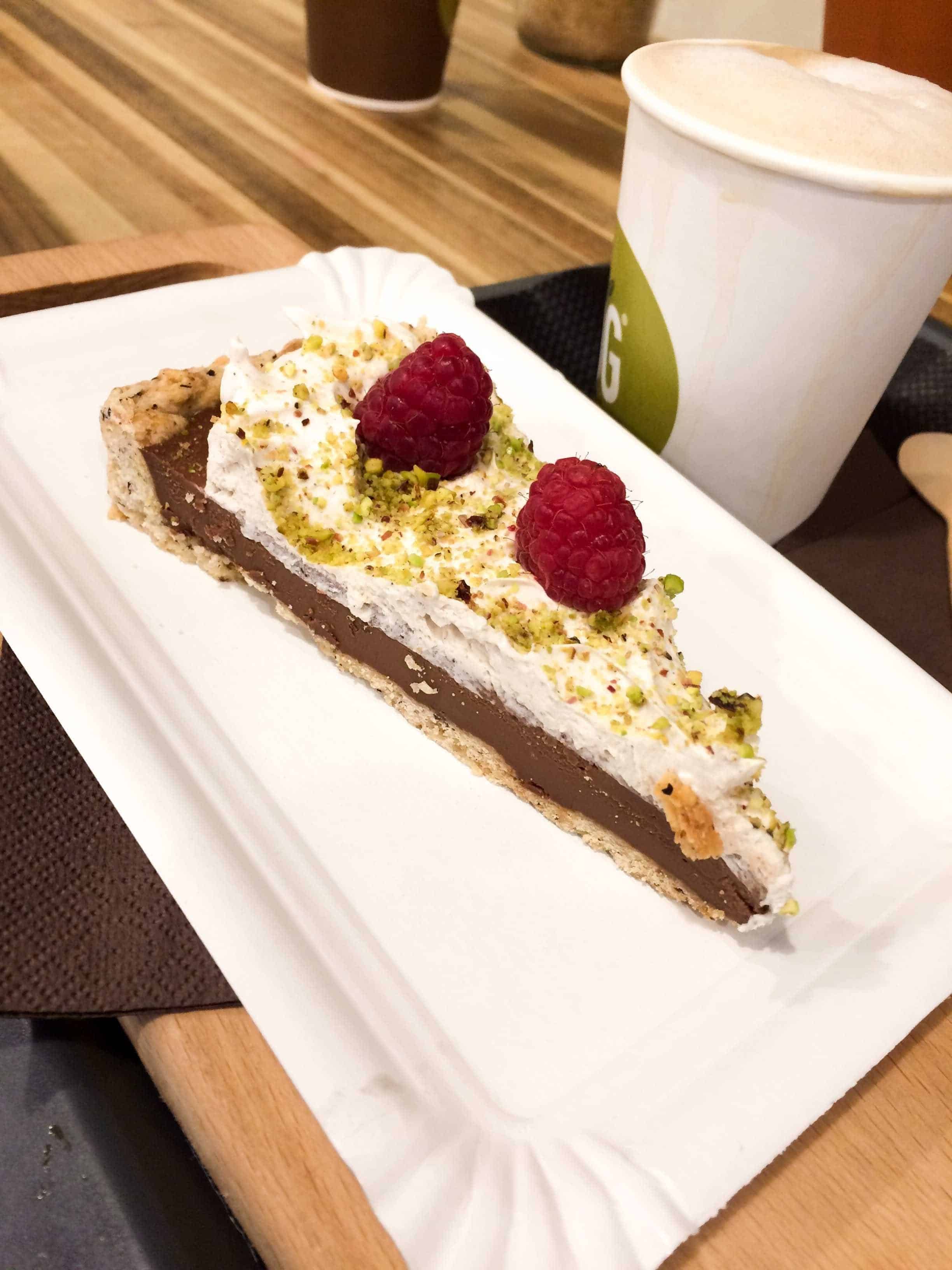 This upcoming and trendy bar in one of Ljubljana's busiest streets just a few hundred meters away from the City Hall is breaking the milestone on social media – their highly popular, naturally coloured burgers are definitely all over Instagram at the moment. This is a perfect place for a very quick stop (special coffee), delicious refreshment (they make the best basil lemonade) or a sweet delight (super chewy vegan brownies). Their frozen section offers the incredibly popular local, vegan and organic ice-cream Indy&Pippa. 99% of their offer is vegan, with the exception of fish burger.
LOVING HUT
Loving Hut, just opposite the main bus and railway station in Ljubljana, could easily be crowned the local vegan's favourite. This buffet bar offers a stunning selection of all things vegan – think soups, salads, Asian-inspired mains, veganised versions of traditional Slovenian desserts, buckwheat pancakes, ice-cream, pizzas, bureks, hot dogs, gyros, and even a small refrigerated section of vegan cheeses and meat substitutes. The only slight drawback of this versatile vegan hotspot is the fact that its buffet section very quickly becomes lukewarm, especially if you're taking extra long putting together your meal. Another thing to keep in mind is that a lot of their dishes are made using palm oil, which is a major drawback from an environmental perspective. Other than that, this is the absolute mecca of all things vegan – you will even be able to find traditional Slovenian and Balkan food.
GOVINDA'S
Govinda's is the second plant-based buffet on our list – it's officially vegetarian, but all the dishes are marked with allergens and usually just a few include dairy or eggs. Their speciality lies in delivering vegan Asian cuisine that's very friendly to European taste buds – toned down on the spices front. You'll also be able to pick up some unique vegan desserts while enjoying a relaxed atmosphere in a quiet neighbourhood.
ZAŽIV VEGAN
Terrific new vegan restaurants and my absolute favourite place to eat out in Ljubljana. Zaživ offers 100% vegan menu and every single dish shows just how much preparation and thought have gone into making them. It's a real vegan gem that caters to a wider audience with their 4 burgers, which you simply just can't afford to miss out on! Moreover, it's super affordable and despite its location being slightly off the beaten track in terms of tourists' favourite spots, Zaživ is absolutely
 SWEETS and SNACKS
VIGO
Plenty of traditional Italian, water-based gelato to choose from. The generous portions and serene upstairs sitting area with a stunning view will win over even the most demanding vegan.
ZVEZDA
Similar to Cacao, Zvezda is a trendy and popular coffee break place with two separate locations in the heart of Ljubljana. Apart from the rich vegan sorbets, you can treat yourself to delightful vegan or raw cakes and
CACAO
Plenty of vegan sorbets to choose from in one of Slovenia's most famous and celebrated ice-cream cafes. Don't miss out on their dark chocolate ice-cream and enjoy the buzzing atmosphere along the river Ljubljanica.
PRESNICA
Presnica began its journey selling high-end kitchen appliances, but has turned into a small haven for all (raw) vegans out there. You can clearly see that a whole lot of love goes into handmaking all their incredible food – from detox smoothies to raw cakes and sweets of all sorts to absolutely irresitable homemade Nutella spread. This tiny place in Ljubljana's main square is full of unique items you won't find elsewhere.
BACKWERK
You might know Backwerk from other European countries and wonder why I included it on this list. As it turns out, the vegan selection in the Slovenian Beckwerk branch is pretty surprising – you can go for the local favourite: vegan spinach burek or go for one of their tofu or falafel wraps, savoury snacks or delicious, fresh bread rolls. Conveniently located just outside Ljubljana's busiest bus station Bavarski dvor, this is a great little lunch place that won't break the budget.
This rounds up my little review of some of my favourite plant-based munching spots in Ljubljana. I'll be updating this list regularly, so do let me know about any places I might have missed out on in the comments!