This vegan pear cake is light, fluffy and super moist. It's the perfect cake for beginners, looks beautiful and has a delicious hint of cinnamon, maple and lemon.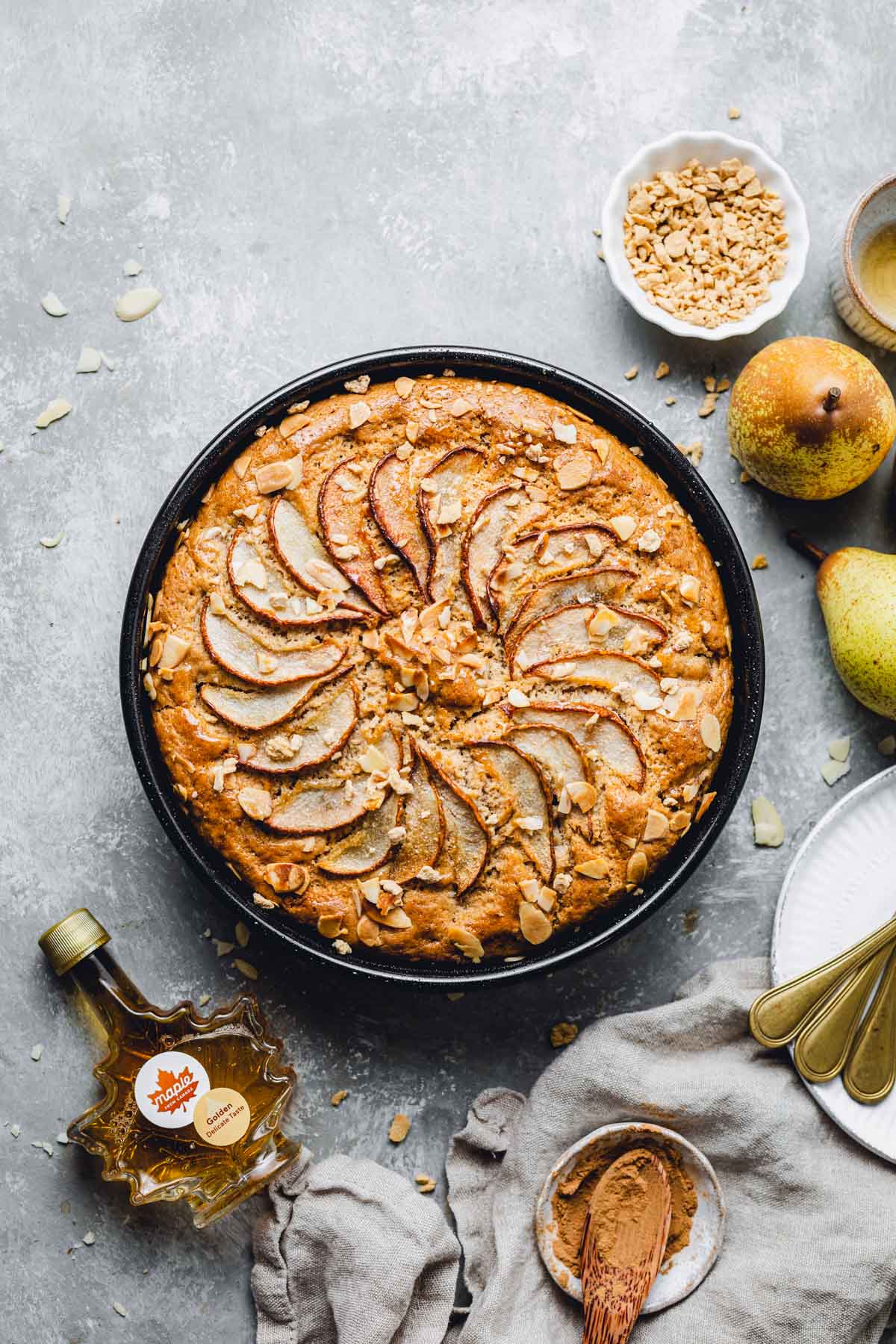 Disclosure: This recipe post is part of a paid collaboration with Maple from Canada UK. All opinions expressed are my own.
Why choose this recipe
It's the perfect cake for beginner bakers
Undetectably vegan
Super fluffy and moist inside
Foolproof recipe
Easily accessible & staple ingredients
Full step-by-step photo guide below
The Ingredients
Below are the ingredients you will need to bake this delicious vegan pear cake.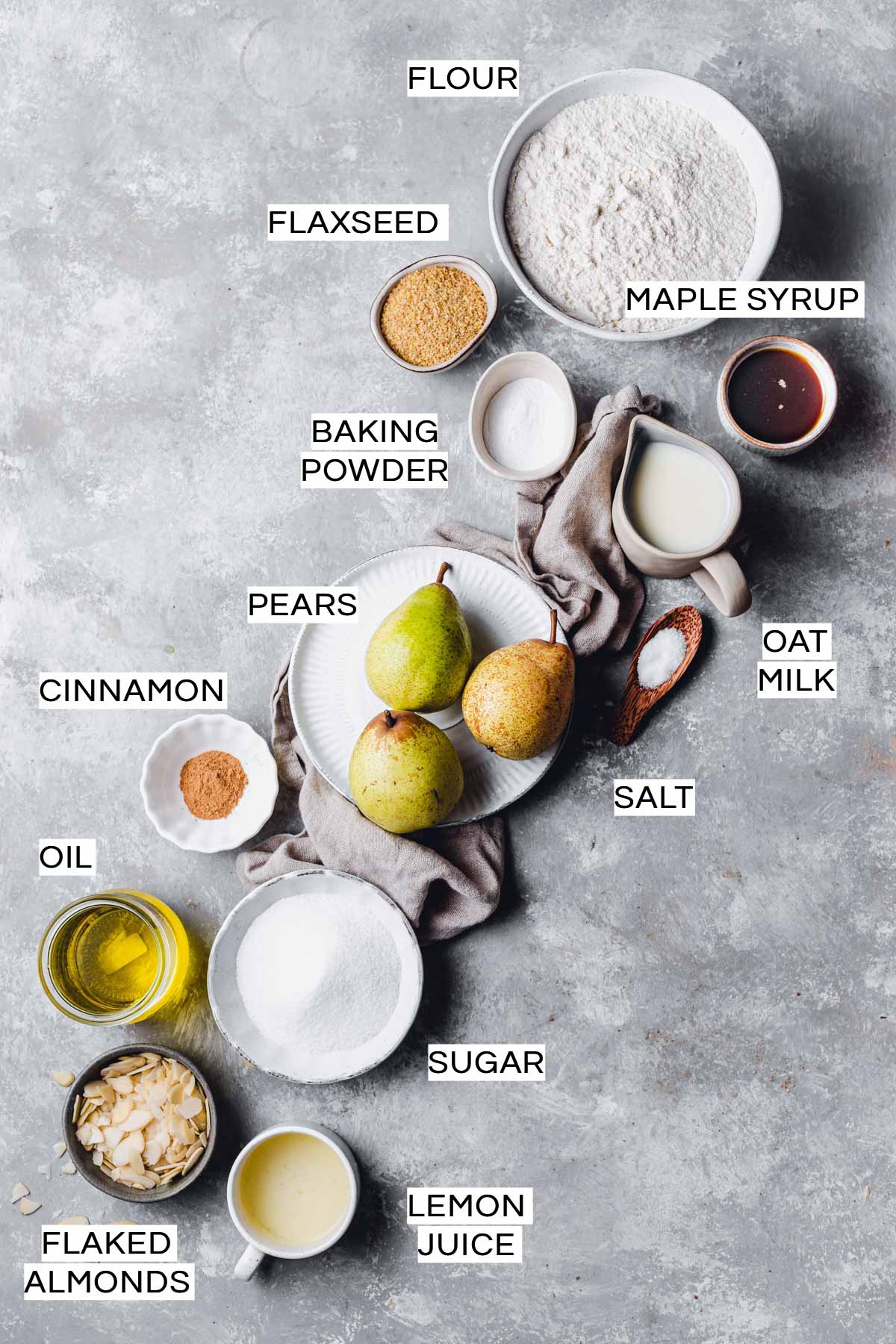 A few ingredient notes before we dive in:
Oat milk: this can be substituted for any other plant milk.
Flaxseed: make sure to use ground flaxseed. We will use this to create a vegan 'egg'.
Pears: use any variety of pear that you like. Do not worry if the pears aren't completely ripe yet. They will soften up and become sweeter when baked.
Maple syrup: a crucial ingredient that will add a rich, sweet flavour to your cake.
Step-by-step Instructions
This cake is super easy and fun to make. To make things even simpler I've got an easy visual guide for you below.
For full instructions and ingredients list for this dairy free pear cake, scroll down to the recipe card at the bottom of this page.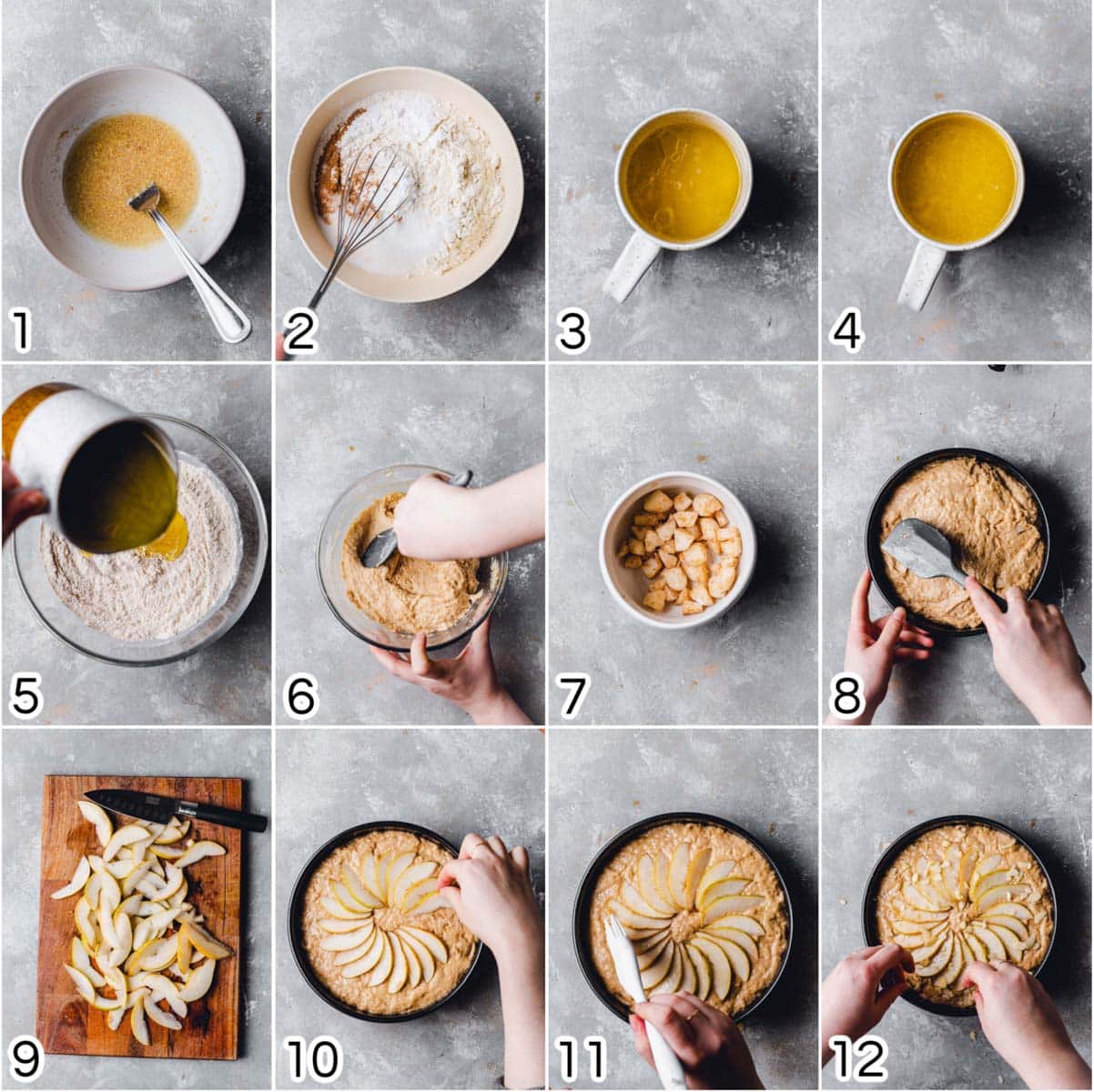 1. Combine flaxseed and water to make a vegan 'egg'. Set aside.
2. Combine all your dry ingredients.
3. Combine oil, milk, maple syrup and lemon juice.
4. Add flax egg to your wet ingredients.
5. Slowly pour your wet mixture into the centre of your dry mixture.
6. Mix gently until no more flour can be seen. Do not overmix.
7. Cut a pear into cubes and coat in flour and cinnamon. Add to your batter.
8. Pour the batter into a lined cake tin. Even out the top.
9. Slice a pear into thin slices.
10. Decorate the cake with pear slices.
11. Brush the top with maple syrup.
12. Sprinkle with flaked almonds.
Bake for 55-60 minutes.
Expert Tips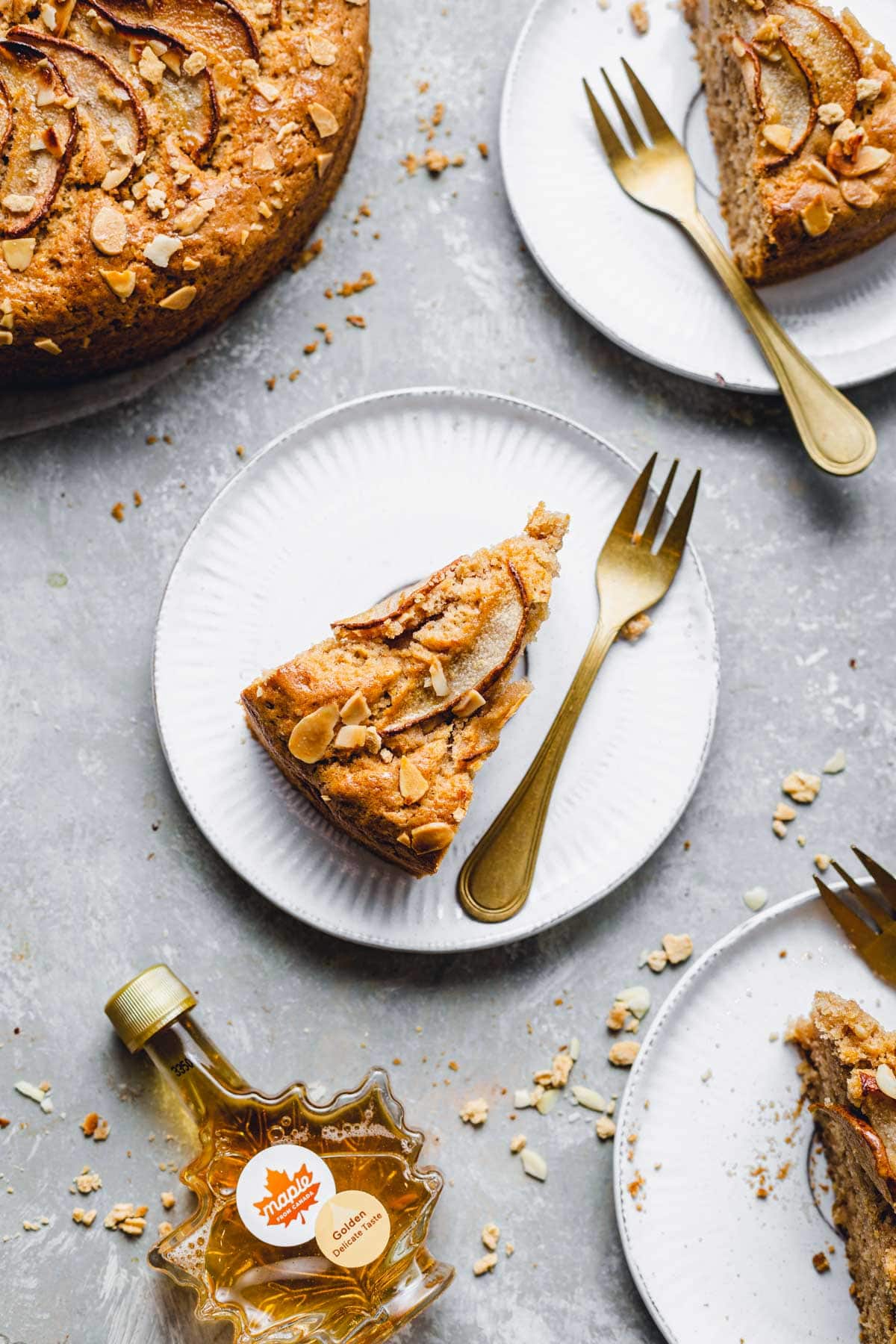 1. Your vegan 'egg'
The vegan egg is a crucial part of this recipe. The cake simply won't work without it.
To make it all you need to do is combine ground flaxseed with boiling hot water. This last detail is super important! Make sure your water really is super hot. If it's not hot enough, the flaxseed won't set well.
Who knew making your own vegan 'egg' could be that simple, right?
2. Do not overmix
Remember to never overmix your batter. This tip goes for all cake recipes, not just this one.
You will need to be quick and gentle when making your batter. Simply combine the wet and dry mixtures until no more flour specs can be seen and then stop.
The more you mix, the less fluffy and airy your cake will end up being.
3. The golden glaze
Last but not least, I'm sharing my all-time favourite tip to make your cake look gorgeous, golden and shiny!
You will need to brush it with maple syrup before the bake and then again for the last 5 minutes of baking. This will create not just a stunning golden glaze but bring out a rich sweet flavour that perfectly complements the pear. It really is the perfect combo!
I've used my favourite maple syrup from Maple from Canada UK. It's unrefined, unprocessed, and available in several different grades (golden, amber, dark & very dark). I've previously used their maple syrup in my vegan pumpkin rolls recipe which is still one of my personal faves!
FAQs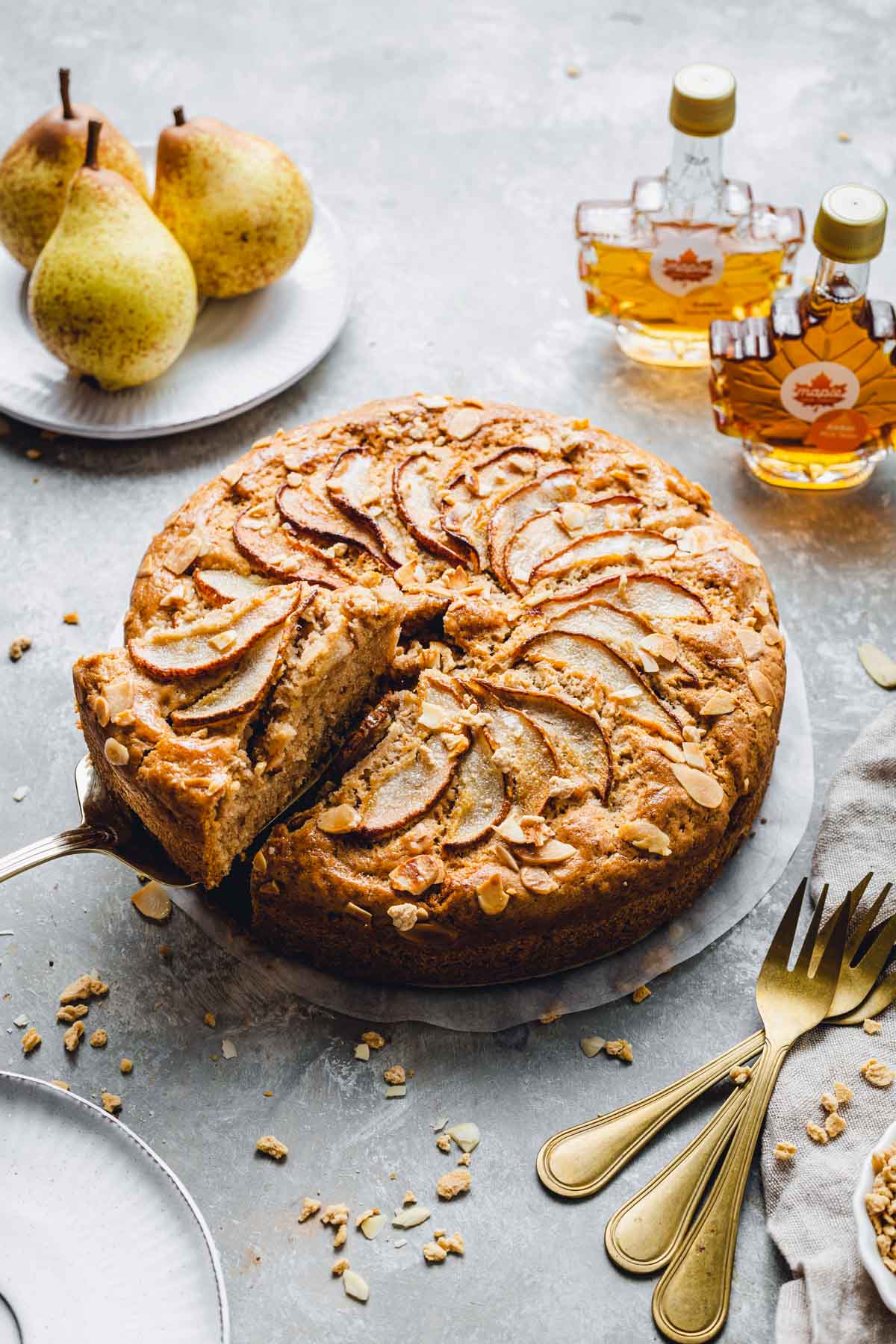 How do I check my cake is baked?
Simply insert a wooden skewer in the middle of your cake. If it comes out clean, the cake is baked. If it doesn't come out clean, pop it back in for 5 minutes and check again.

How do I slice the pear?
Make sure you slice them very thin. Here's a handy video that shows you how.
How to prevent a dense cake?
First, ensure you've added your baking powder.

If you have you might have overmixed your dough which means the texture will stay tight and feel heavy.

Secondly, if the cake is underbaked it might lose some of the rise from the baking powder which will make it more dense.

Bake a little longer in the oven if the cake is still warm. If not leave as is and bake a little longer next time.
How do I store my cake?
First, let it cool completely. Then store in an airtight container and eat within 4-5 days.
Can I freeze my pear cake?
Sure. Simply let it cool completely, then cut into slices. Pop them in an airtight container and freeze. Eat within 2 to 3 months.
How do I slice my cake?
Make sure to wait until it cools down. This will make it a lot easier to cut.

Then use a sharp knife and cut into slices of your desired size. I find that a simple bread knife works very well.
Can I make this into a loaf cake?
Yes, absolutely. You can bake a vegan pear loaf cake using the exact same recipe. Simply just pour the batter into a lined loaf tin and bake for the same amount of time.
What size cake tin did you use?
I used a 20cm (8 inch) cake tin.
Missing any ingredients?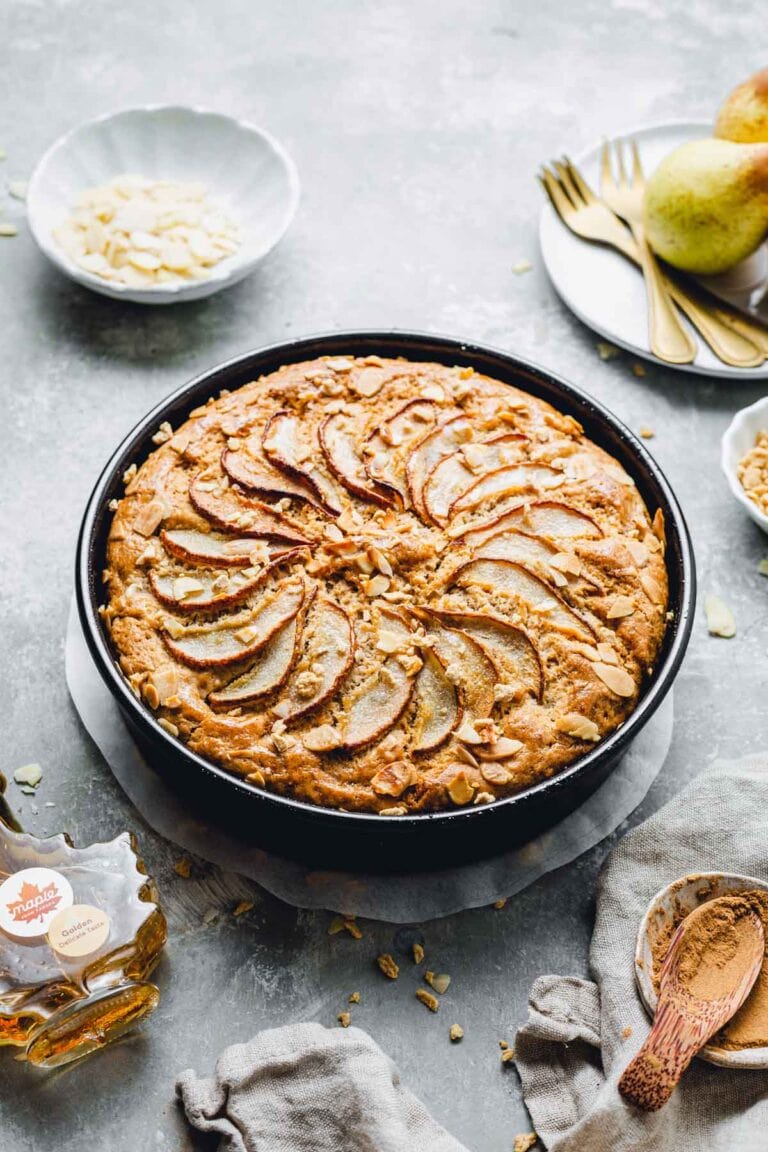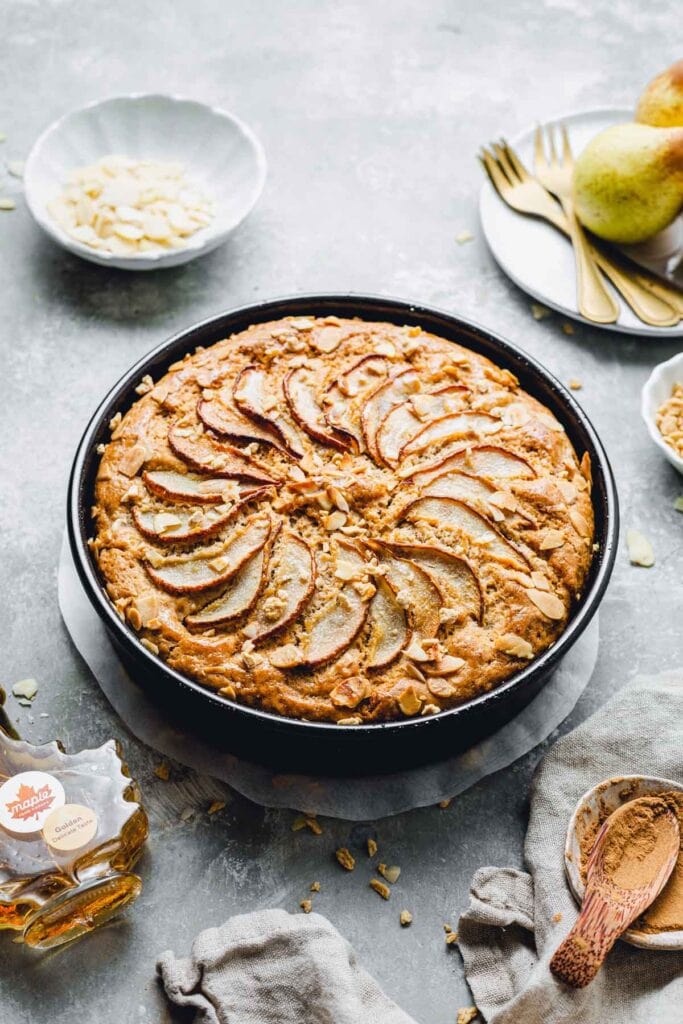 Below are some of my ideas on how you could substitute certain ingredients in this cake:
Olive oil – Can be substituted for any light vegetable oil (such as sunflower or rapeseed). Do not substitute for coconut oil as this will completely change the batter.
Oat milk – Use any plant milk you have on hand such as almond, soy, hemp, etc. I used unsweetened oat milk in order to avoid any extra sugars. Avoid using coconut milk as the taste wouldn't complement the other flavours in the cake.
Sugar – Choose white caster sugar for best results. In the US, caster sugar is sometimes called superfine sugar or baker's sugar. If desired, you can substitute it for brown sugar, but this might make the texture less fluffy.
Any other ingredients you're missing at the moment? Get in touch via the comments below and I'll see if I can find a good substitution for you!
Looking to try more similar recipes? You will love my:
Or you can check out my full desserts section here.
If you stuck with me until the end, thank you so much! Feel free to ask any questions or leave your feedback on my vegan pear cake in the comments section below. Reading your feedback and hearing about your remakes never fails to make my day!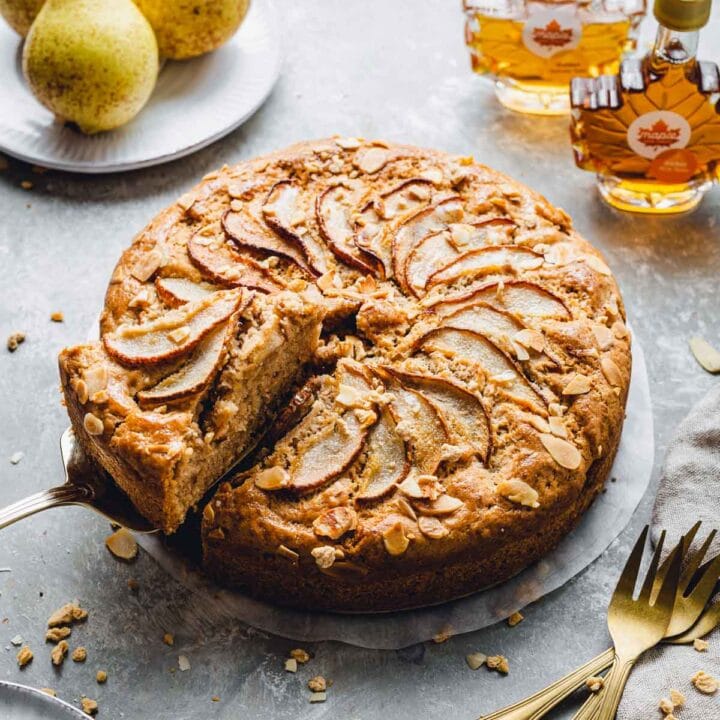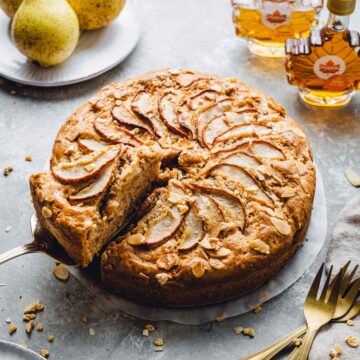 Vegan Pear Cake
Super airy, moist & delicious vegan pear cake with a hint of cinnamon, lemon and maple.
Print
Pin
Rate
Equipment
20cm (8 inch) Round cake tin

Baking paper

Measuring scales or cups
Ingredients
FOR THE CAKE
3

tbsp

flaxseed

ground

100

ml

boiling hot water

300

g

plain white flour

equals 2 cups

90

g

caster sugar

½

tsp

salt

2

tsp

cinnamon

ground

3

tsp

baking powder

140

ml

olive oil

120

ml

unsweetened oat milk

equals ½ cup

3

tbsp

maple syrup

I used amber maple syrup

1

tbsp

lemon juice

1

pear

skin removed
TO COAT THE PEAR CUBES
1

tsp

cinnamon

ground

1

tsp

plain white flour
TO DECORATE
1

pear

sliced

2

tsp

maple syrup

I used golden maple syrup

1

tbsp

flaked almonds
Instructions
FOR THE CAKE
Pre-heat your fan oven to 338°F / 170°C. Heat to 374°F (190°C) if you're not using a fan setting.

Add flaxseed and boiling hot water to a small bowl. Stir and set aside. This will create a flax egg.

Combine flour, sugar, salt, cinnamon and baking powder in a large bowl.

In a second bowl whisk together oil, milk, maple syrup and lemon juice.

Add your flax egg to your oil mixture and mix well.

Slowly pour the oil mixture into the centre of your flour mixture.

Mix until no more flour specs remain, but do not overmix.

Remove the pear skin. Then cut your pear into small cubes. Coat them in flour & cinnamon (see the section 'To Coat The Pear Cubes').

Add the pear cubes to your mixture and stir gently.

Line the bottom of a round cake tin with a layer of baking paper. Brush the sides with a layer of oil.

Pour your mixture into the loaf tin and smooth out the top using a silicone spatula.

Decorate with slices of pear, then brush pear slices with maple syrup and top cake off with flaked almonds.

Bake at 338°F / 170°C (fan oven setting) for 50-55 minutes.

Quickly remove from the oven and brush the entire top with a layer of maple syrup.

Bake for another 5 minutes or until a wooden skewer inserted in the middle comes out clean.

Once baked, let cool completely. Top off with another layer of maple syrup and maple flakes if desired.
Notes
See the step-by-step photos in the blog post above as your visual guide.
This recipe has been tested using weight measurements (not cups). As always, I strongly recommend using weight measurements (both EU and US weights are stated in the recipe card). Cups vary in size and are thus considerably less exact.
Make sure to not overmix your batter. Overmixing will create a rubbery instead of crumbly and light texture.
Use a wooden or metal skewer inserted in the middle of your cake to check if it's baked. If your skewer comes out clean, the cake is baked. If you don't have a skewer, use a thin knife or a chopstick.
The skewer didn't come out clean? Bake for another 5 minutes and test again.
Store in an airtight container for 4-5 days.
Want to freeze the cake? Slice, place in an airtight container and freeze. Eat within 2 to 3 months.
Nutrition
Calories:
326
kcal
|
Carbohydrates:
43
g
|
Protein:
4
g
|
Fat:
16
g
|
Saturated Fat:
2
g
|
Sodium:
125
mg
|
Potassium:
247
mg
|
Fiber:
3
g
|
Sugar:
16
g
|
Vitamin A:
25
IU
|
Vitamin C:
2
mg
|
Calcium:
96
mg
|
Iron:
2
mg