Jump to Recipe
This turmeric smoothie bowl is ready to become your new favourite breakfast. Packed with nutrients and minerals to give you a much-needed health boost after the long winter. Plus, it's super easy and put together within just a few minutes.
Turmeric Smoothie Bowls – Worth The Hype
There are so many trending health foods (and superfoods) out there. This year alone we've had the celery juice craze and the CBD oil hype promising miracle cures. I've worked in digital marketing for over 5 years, so I'm not the one to get easily excited about every new food trend. And yet, it's perfectly human to want to try these things out yourself. After all, how else will you judge whether or not they're beneficial to you?
It's double-edged trying to describe emerging turmeric food options as a hype. We're obviously talking about an ancient Ayurvedic spice that has been used for centuries, so it's anything but new. And yet, turmeric has definitely experienced a recent boost and seems to be around us just about anywhere.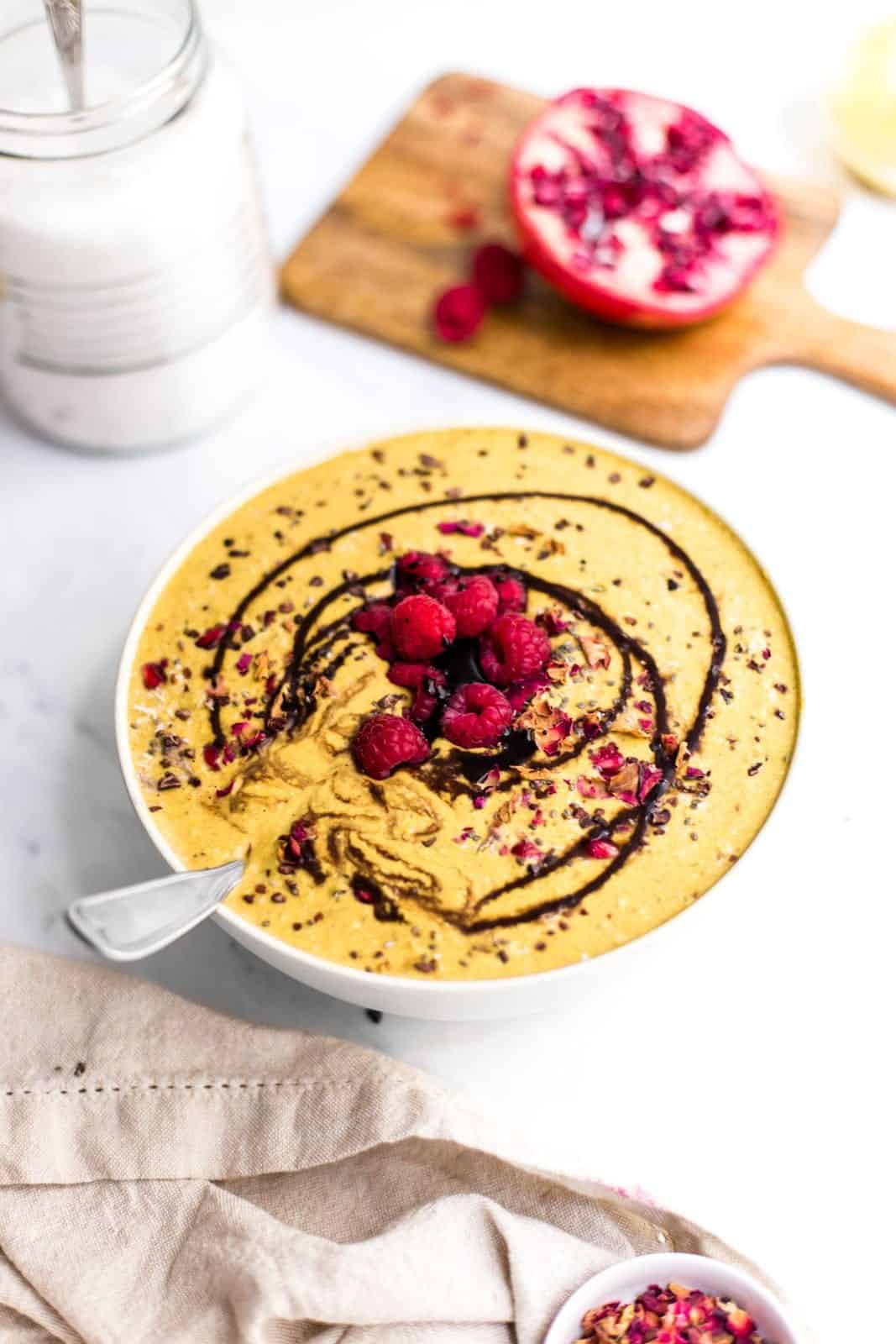 What Are The Health Benefits of Turmeric
Turmeric is a super powerful anti-inflammatory herb with many uses and benefits. Its main active ingredient is curcumin, a strong compound with anti-inflammatory & antioxidant properties. I've explored this fantastic ingredient before in my Ayurvedic Ginger & Turmeric Tea and my love for it kept growing ever since. It was first used as a dye, before becoming a folk medicine in Southeast Asia. 
Its vibrant yellow colour is a great indicator of just how powerful it is. This ancient plant has been used to help treat everything from headaches and heartburn to irritable bowel syndrome, menstrual problems and even depression (WebMD). You can read more about the benefits and limitations of turmeric here.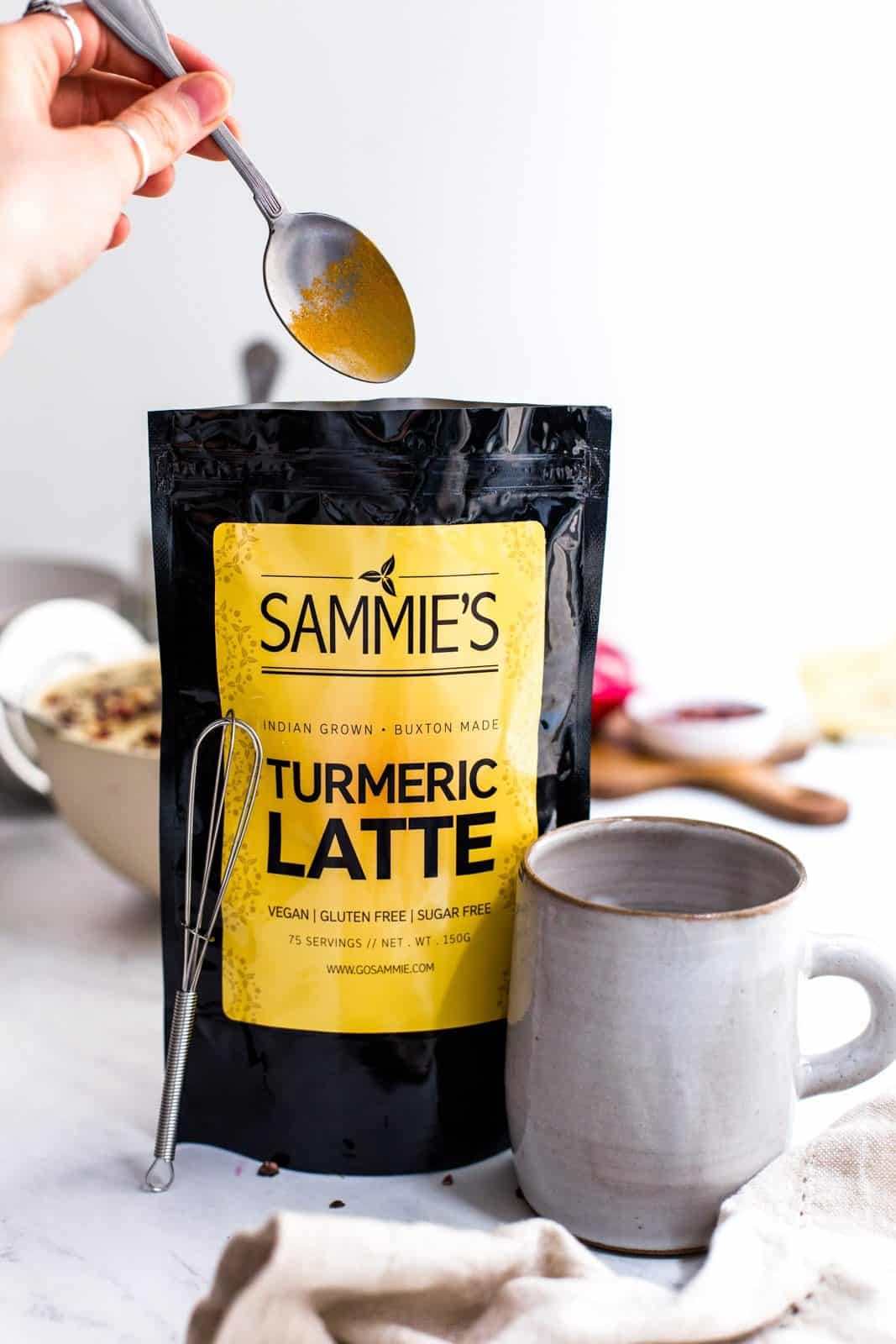 How To Make A Barista Vegan Latte At Home
I'm absolutely sure we've all been there. You got to your favourite cafe and order a drink that tastes like a hug in a cup. It's got everything you ever wanted – the warmth, the perfect consistency, the subtle sweetness and the thirst-quenching flavour. If you're based in a big city, chances are you've had to pay over £3 for it (and possibly an extra fee for choosing the plant-based milk option – I am furious...). In an attempt to save those pennies you decide to recreate it at home instead. You look up the recipe, follow it to the dot and then … It tastes NOTHING like the turmeric/chia/pumpkin/matcha/etc latte you tasted in the cafe.
At least that was until my local friends over at Sammie's came up with their outstanding mixes. Their story resonated with me right away – not only is this a local brand, but they actually own a lovely cafe too. Who would be a better person to create a delicious latte mix?
Their golden turmeric latte mix is
VEGAN
GLUTEN FREE
SUGAR FREE
The main ingredient, turmeric, is sourced in Amritsar on the edge of the India-Pakistan border. Later, the mix is carefully created and packed in Buxton, UK.
Instead of going for just a simple drink, I wanted to create something different and came up with this smoothie bowl. The fragrant turmeric is the perfect companion to sweet fruits like mango and banana. I also added oats to make it that extra bit filling! By using Sammie's Turmeric Mix I instantly got the perfect combination of all the spices needed to create a rich flavour. 
Grab your blender and let's make the best smoothie bowl you've ever tasted!
If you're starting out as a vegan or just want to discover simple vegan recipes make sure to follow me on Pinterest, Instagram and Facebook. 
Disclosure: this post was sponsored by Sammie's. Thank you so much for supporting the brands that help make My Vegan Minimalist possible. All opinions are my own.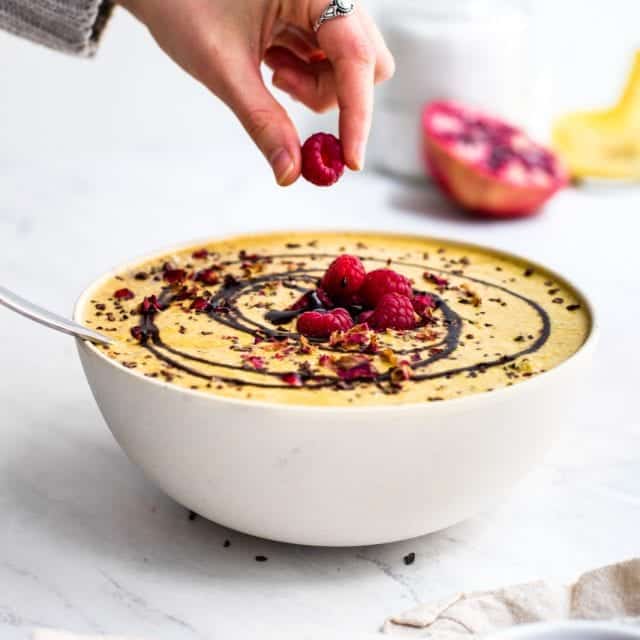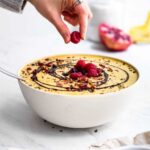 Turmeric Smoothie Bowl
Ingredients
2

bananas

ripe

1

cup

frozen mango chunks

1

tbsp

peanut butter

400

ml

unsweetened almond milk

2

tsp

Sammie's Turmeric Latte Mix

⅔

cup

oats

OPTIONAL TOPPINGS: fresh raspberries, cocoa nibs, shredded coconut, chia seeds, rose petals and vegan chocolate sauce
Instructions
Add all your ingredients to a high-speed blender. Blend until smooth. 

Transform to a bowl and top off with all your favourite toppings.

 Enjoy fresh or store in an airtight container in a fridge for max. 1 day.
Nutrition Facts
Turmeric Smoothie Bowl
Amount Per Serving
Calories 332
Calories from Fat 81
% Daily Value*
Fat 9g14%
Sodium 300mg13%
Potassium 711mg20%
Carbohydrates 60g20%
Protein 9g18%
Vitamin A 968IU19%
Vitamin C 40mg48%
Calcium 269mg27%
Iron 2mg11%
* Percent Daily Values are based on a 2000 calorie diet.
---
Don't forget you can grab a free vegan booklet containing 90 vegan meal ideas below.