This vegan Eton Mess cake is the ultimate treat for all lovers of indulgent desserts. It's moist, bursting with flavour and ready to give you that fresh, fruity hit.
What's more, this crowdpleaser doesn't require you to be the next Great British Bake Off superstar. In fact, it's ​very straightforward. ​I'll break down the process into ​a few simple steps to make it beginner-friendly.
Three layers of Victoria sponge ​are assembled and separated by ​vegan buttercream icing before being topped of by crushed pieces off ​fluffy meringue and a good handful of forest fruit. It's a cake that's suitable for all occasions ranging from birthdays, family gatherings, national holidays and even picnics in the park.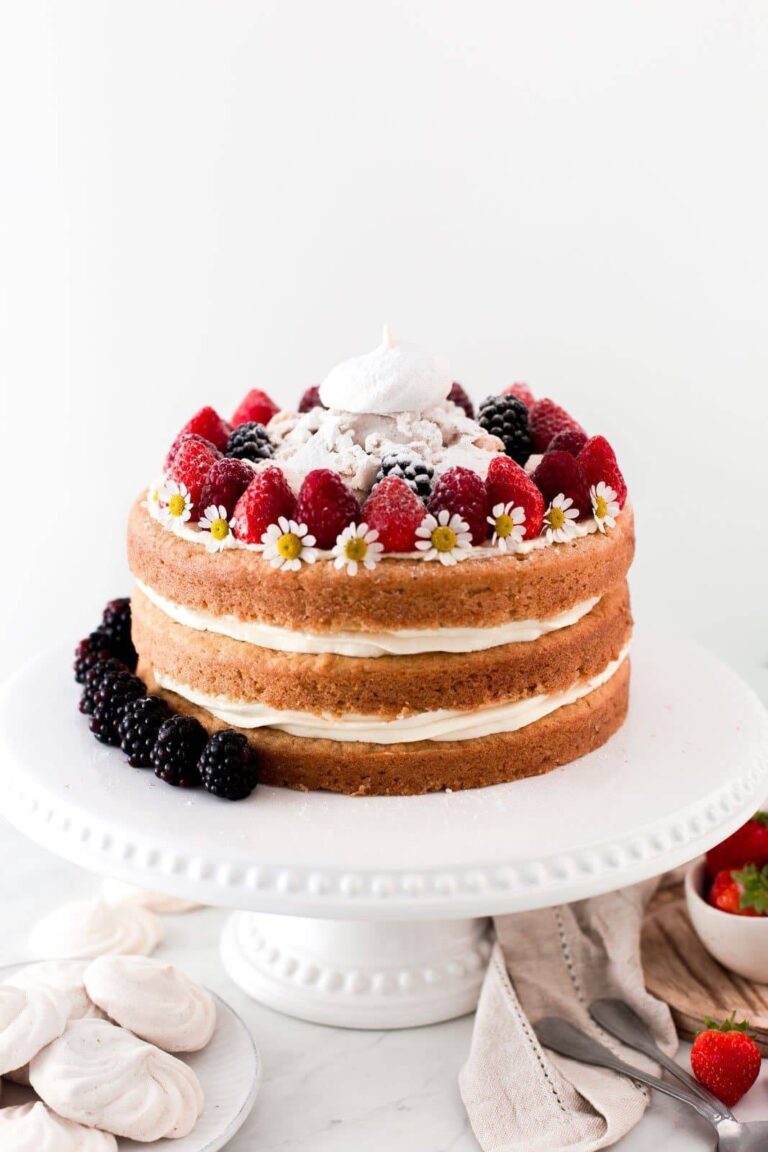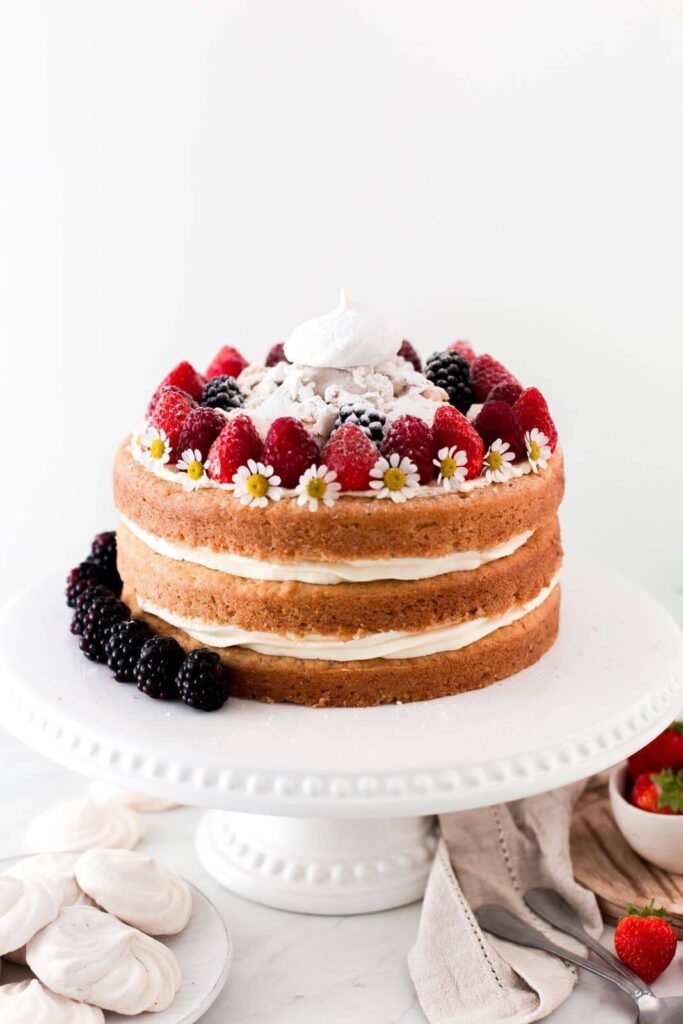 This vegan Eton Mess cake is
Rich in flavour
Perfectly moist
Sweet and fruity
Super duper easy
Gently coconutty Relevant all year around
What Is Eton Mess - Origins and Variations
If you're based in the UK, you're probably very familiar with the classic English Eton Mess.
However, my audience here is super diverse and having grown up in Slovenia, I know from experience that Eton Mess isn't a very popular dessert outside the UK. In fact, I think most people have no idea what it is. So - what is Eton Mess and what makes it so special?
According to ​Wikipedia​, Eton Mess is a traditional English dessert consisting of three essential parts: strawberries, broken meringue and ​whipped double cream​. It's usually served in beautiful dessert glasses and dates all the way back to the 19th Century. There are several stories of how this classic dessert got its name. If you're feeling particularly curious, you can read the full story​ here.
Over the years it has been rediscovered in several ways. You can find Eton Mess cakes, cheesecakes, freakshakes, ice cream and to make things even more exciting, I'm now bringing you the ​ultimate vegan Eton Mess Cake.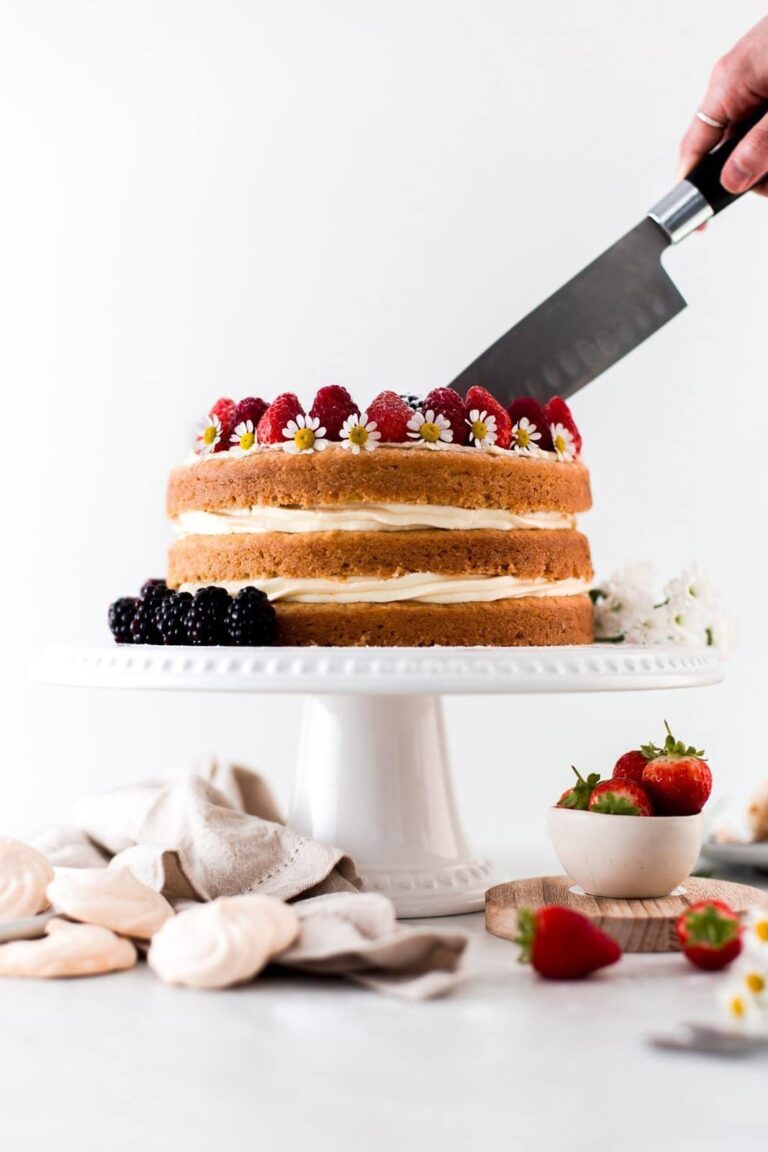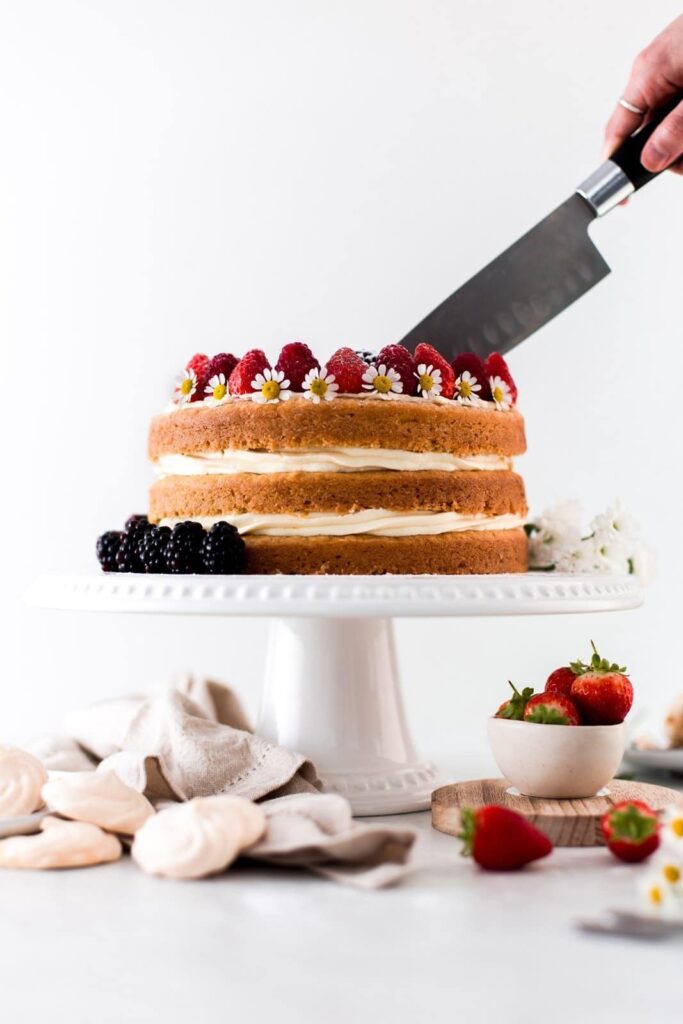 Traditional Cake Made Vegan
I might have removed some of the more traditional elements of Eton Mess. Ooops, I basically removed ALL dairy and let's not pretend that was an accident. And yet, I still wanted to ​stay close to tradition​. Something about baking elaborate desserts and enjoying them in a gorgeous setting just screams 'vintage' to me. It reminds me of period dramas (Downton Abbey, anyone?) and classic feel-good movies.
In light of that, I made this entire recipe using baking tools from the vintage-inspired ​Tala Originals Indigo and Ivory range​. This range is a ​beautiful tribute to traditional kitchens well before the times of smartphones, smart fridges, and the internet. It's ​classy, sturdy and durable​, not to mention visually stunning.
The Tala ​mixing bowl ​is much larger than average, which certainly comes in handy when you're making a 3-tiered cake! When preparing my vegan Eton Mess cake I was amazed by how INCREDIBLY EASY it is to ​get the bowl clean. Despite having used flour, sugar and vanilla extract, known for their (annoyingly) sticky properties, I managed to get it clean literally within seconds. For someone who is developing recipes what feels like 24/7, this is a huge perk. Find the bowl here!
And last but definitely not least, the entire range is absolutely gorgeous. I know all you food photographer out there are always on the hunt for the next prop that will take your photos to unprecedented new levels of beauty and if you ask me, you can't beat the Indigo and Ivory range.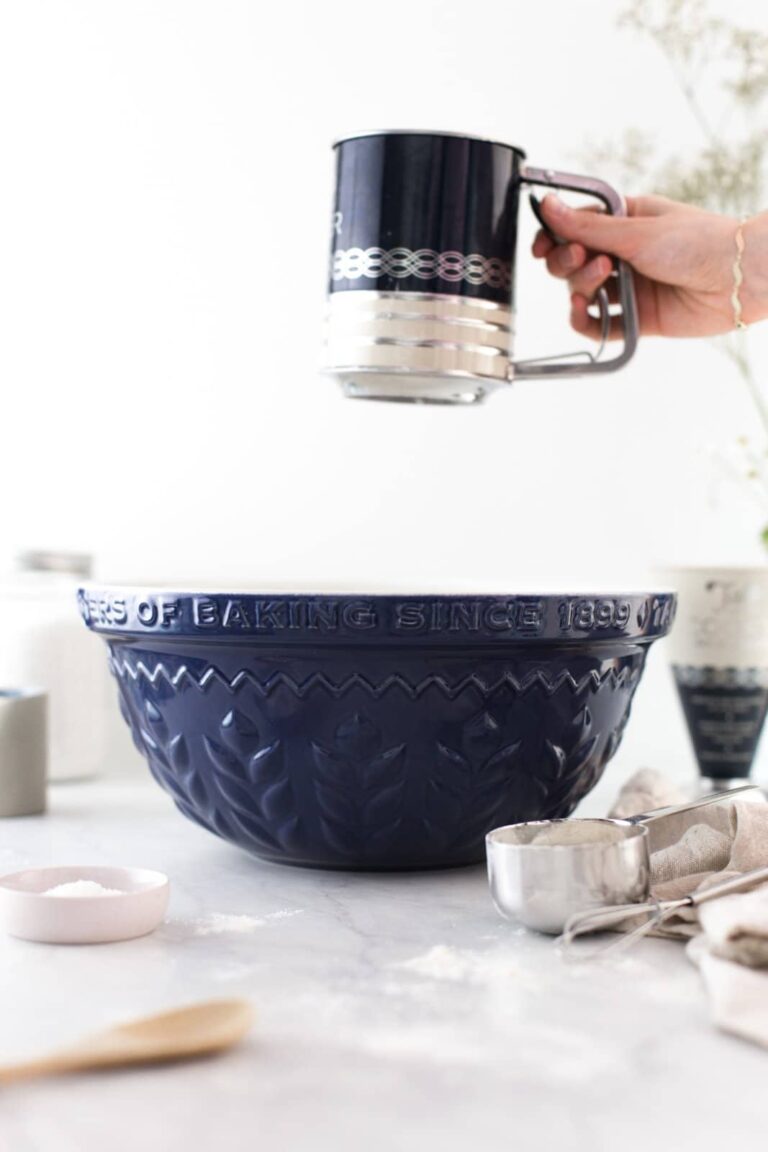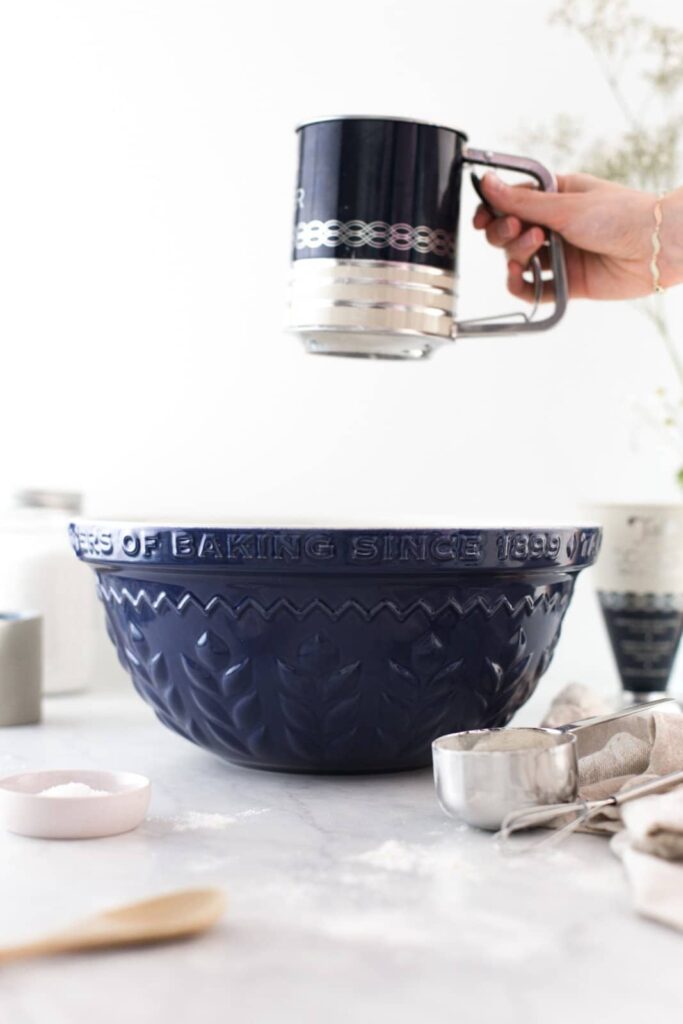 How To Make A Vegan Eton Mess Cake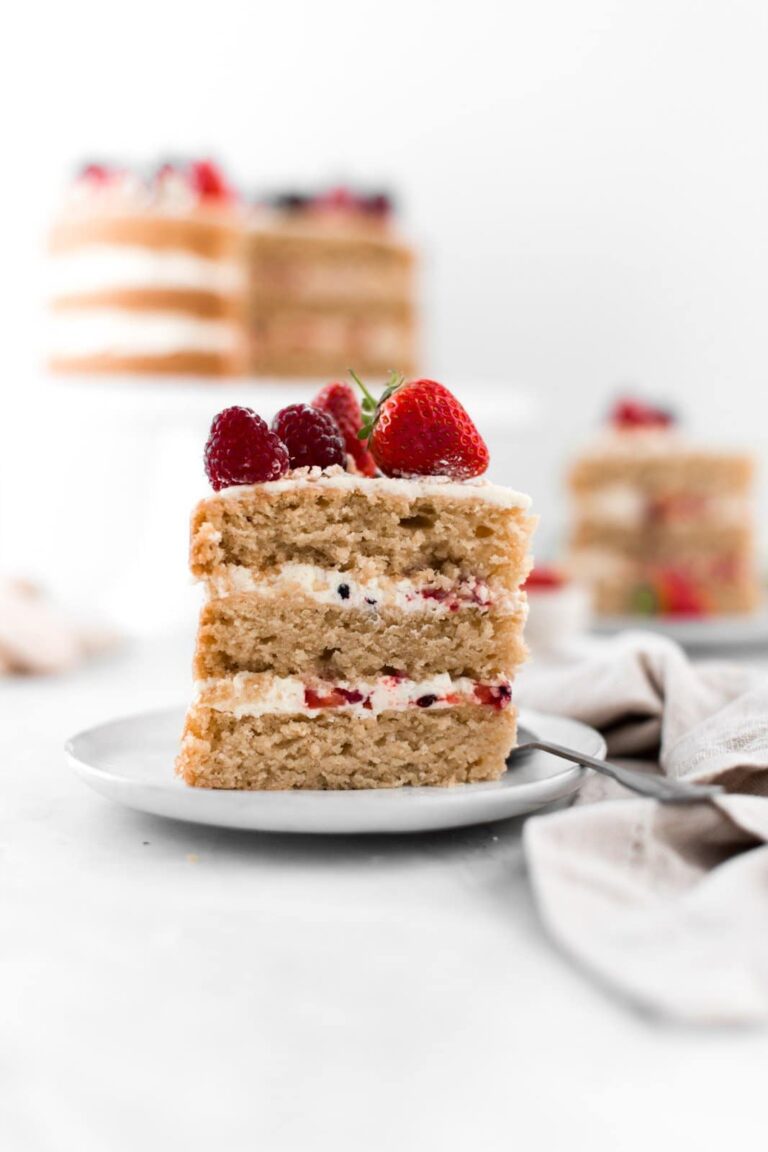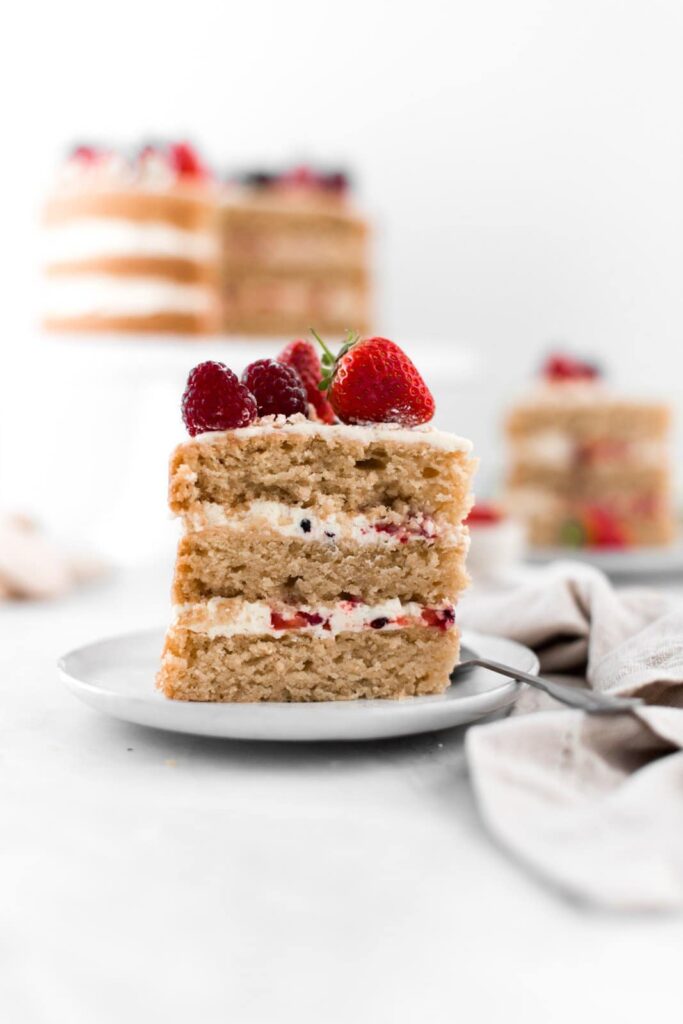 I know you're thinking when you see a recipe like this. Oh my god, this looks amazing, but I could never make this myself. Guess what? I'm willing to bet my favourite camera lens (!) that ​even beginner bakers could take this recipe and nail it.
There are 3 steps to making the perfect vegan Eton Mess cake:
-  1. THE CAKE ​this very easy Victoria Sponge cake is ​every beginner baker's dream.Staple ingredients, short baking times and a very straightforward process will makeyou want to bake it over and over again!
-  2. THE FILLING: This is easy, too! If you ever made cakes or cupcakes before, you willknow that icing is not a big deal. Unlike cupcakes, this vegan Eton Mess doesn't require any fancy icing, making it the perfect cake for anyone taking their first steps to buttercream perfection.
-  3. THE MERINGUE: Pieces of fluffy meringue will be scattered all around the top layer of our Victoria sponge. The key ingredient here is chickpea water or aquafaba which serves as egg white replacement.Now that we've got down the basics, it's time to cover all the hottest tips that will take your bakes from utter mess to Eton Mess in no time!
Tips For The Perfect Vegan Meringue and Eton Mess
Save yourself from future annoyance by reading all these tips carefully BEFORE making the cake.
- WHY DID MY ICING SPLIT (OR CURDLE)? ​This is a very common problem when baking with vegan butter. The reason for that is the lower fat and higher levels of water compared to dairy butter. If your icing splits or curdles, use the hairdryer trick! (it really works!) Mix the buttercream again whilst heating up the bowl with a hairdryer.
- WHY IS MY MERINGUE SO STICKY?​ You didn't bake it for long enough! Make sure to pop it back into the oven just until it starts colouring slightly.
- WHY IS MY CAKE HARD AND FLAT? ​You overwhipped your cake batter. Doing so will overwork its gluten and leave your cake hard as stone. Make sure to always mix your cake batter until all the ingredients are just combined and stop immediately after.
- WHAT IS THE BEST SIZE TIN FOR A LAYERED CAKE? ​To make the Victoria sponge, I recommend using the Tala Performance Non-Stick ​20cm​ sandwich cake pan.
- WHY IS MY MERINGUE TOO SOFT? ​As soon as meringue touches anything remotely moist or wet, it instantly starts becoming soft. This is simply how meringue works, which is why I wholeheartedly recommend decorating the cake with smashed meringue pieces STRAIGHT before serving. Letting them touch the buttercream icing for too long will result in a soft, chewy meringue.
With all the best tricks up our sleeve, let's put on our aprons and make this gorgeous showstopper.
Disclosure: This post was sponsored by Tala. Thank you so much for supporting the brands that help make My Vegan Minimalist possible and thank you to my lovely friends at Tala for choosing to work with me. All opinions are my own.
🍴Recipe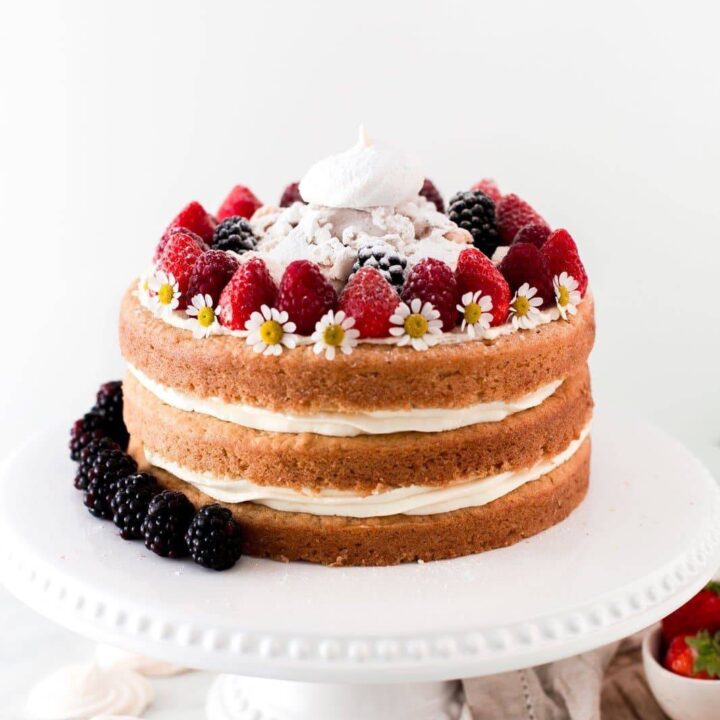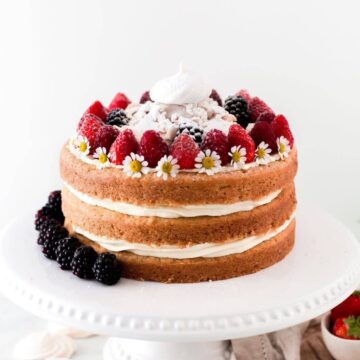 Vegan Eton Mess Cake
Celebrate special occassions like royalty with this vegan Eton mess cake.
Print
Pin
Rate
Ingredients
FOR THE MERINGUE
1

can

aquafaba

(liquid from chickpeas)

¼

teaspoon

cream of tartar

125

g

powdered sugar

½

teaspoon

vanilla extract
FOR THE CAKE
400

ml

soya milk

1

tablespoon

apple cider vinegar

350

g

vegan butter

(i used Pure Soya Based Spread)

250

g

caster sugar

550

g

self-raising flour

1

tablespoon

bicarbonate of soda

1,5

tablespoon

vanilla extract

¼

teaspoon

salt
FOR THE FILLING
zest of 2 lemons

350

g

powdered sugar

200

g

vegan butter

1

can

full-fat coconut milk

(only use the CREAM from a can of coconut milk, not the liqiuid)

200

g

mixed berries
Instructions
FOR THE MERINGUE
Chill the can of chickpeas in the fridge for at least ½ hour.

Once chilled separate the chickpeas from the liquid and save the chickpeas for another dish.

Pour the liquid in a large bowl an add the cream of tartar.

Whisk until soft peaks form about 5 minutes in, add the vanilla and start adding the powdered sugar 1 tablespoon at a time.

Keep whisking for another 3-5 minutes until the mixture becomes glossy and you get stiff peaks that stay up in the mixture.

The mixture is now ready to pipe into small discs (about 3cm discs). Line a baking tray with baking paper and space your discs at least 1 cm apart, they will puff a bit but will not run if the mixture was stiff enough.

Bake for 1 ½ – 2 hours on 130 Celsius, when baked let the meringue cool in the oven completely, propping the oven open slightly to let steam escape. You want to dry the meringues out as much as you can so they're nice and crispy.
FOR THE CAKE
Preheat your oven to 160 degrees Celsius (356 degree Fahrenheit)

Add the vinegar to the almond milk (you can also use soy milk) to make your butter milk and set aside

Cream butter and sugar together and whisk until light and fluffy.

Add butter milk and vanilla and give the mixture a quick stir.

Sift in the flour, bicarbonate and salt and mix until combined, but do not over whisk as it will build up the gluten in the flour and take away the lovely crumbly texture of the sponge.

Grease the three tins with dairy free spread or oil then line with a piece of balking paper on the base.

Divide your cake mixture equally between the three pans (about 500g per mixture)

Bake for 30-35 minutes until golden brown and a wooden skewer comes out clear.

Let the cakes cool in the pan fully before assembling your cake.
FOR THE FILLING
Chill a can of full fat coconut cream for at least 24 hours in the fridge, your cream (fat) will then separate from the liquid.

Remove the fatty layer, or "cream" from the coconut milk and let come to room temperature

Make sure the vegan butter is room temperature.

Whisk together the butter, sugar, lemon zest until light and fluffy.

Chop up a two handfuls of berries, we used a bit of everything and set aside (this will be used when you assemble you cake.
Assembling your cake
Place your first layer on a flat dish

Spread a thing layer of the buttercream over the sponge and then pipe a line of icing on the edge of the sponge. You should now have space in the middle surrounded by a ring of icing.

Scatter a handful of berries in middle of your cake and level the icing layer our with a bit more buttercream. You want a generous layer of tangy fruit in here to balance out the sweetness of your icing and cake.

Repeat this process for the next layer.

For the top sponge spread a light layer of buttercream on the top and decorate liberally with fruit and you meringues.
Nutrition
Calories:
759
kcal
|
Carbohydrates:
98
g
|
Protein:
7
g
|
Fat:
38
g
|
Saturated Fat:
14
g
|
Sodium:
641
mg
|
Potassium:
195
mg
|
Fiber:
2
g
|
Sugar:
62
g
|
Vitamin A:
1889
IU
|
Vitamin C:
3
mg
|
Calcium:
61
mg
|
Iron:
2
mg
Disclaimer: The nutritional information above is calculated automatically. The author of this post cannot guarantee 100% accuracy of this data.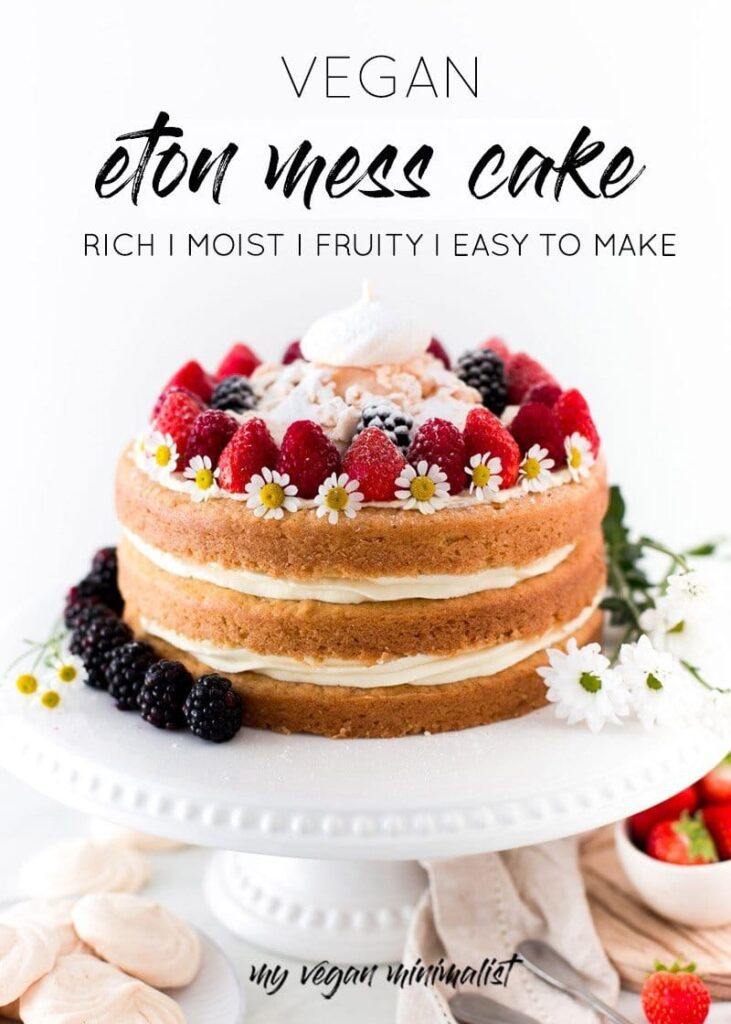 ---
Don't forget you can grab a free vegan booklet containing 90 VEGAN MEAL IDEAS below.