This healthy vegan soft tofu scramble comes together in 15 minutes using just 6 easy ingredients. Silken tofu is brightened by sweet paprika powder, garlic & black pepper. Paired with black salt and a scattering of nutritional yeast.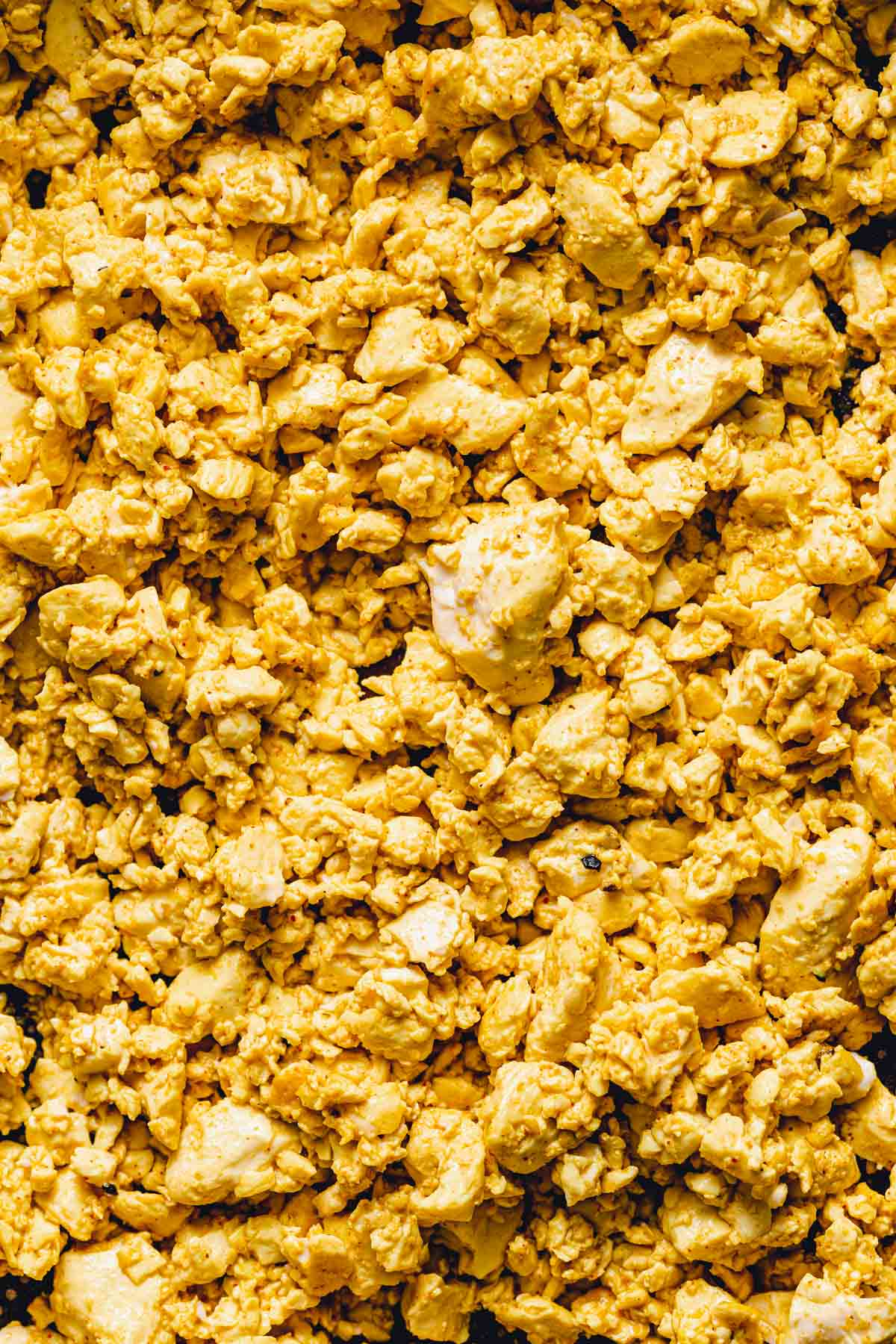 Jump to:
Why This Recipe Works
Trying out veganism and finding it hard to give up eggs? Then you NEED to try this soft tofu scramble.
Vegan, gluten-free & oil-free
Packed with protein and low in fat
100% beginner-friendly
The perfect healthy meal prep idea
Simple ingredients turned into a flavour-packed meal
A great breakfast, light lunch or even dinner
The perfect balance of seasoning (garlic powder, turmeric, paprika & black pepper)
Plus, it includes step-by-step photos & video to guide you through!
The Ingredients
You'll need the following ingredients to make your soft tofu scramble.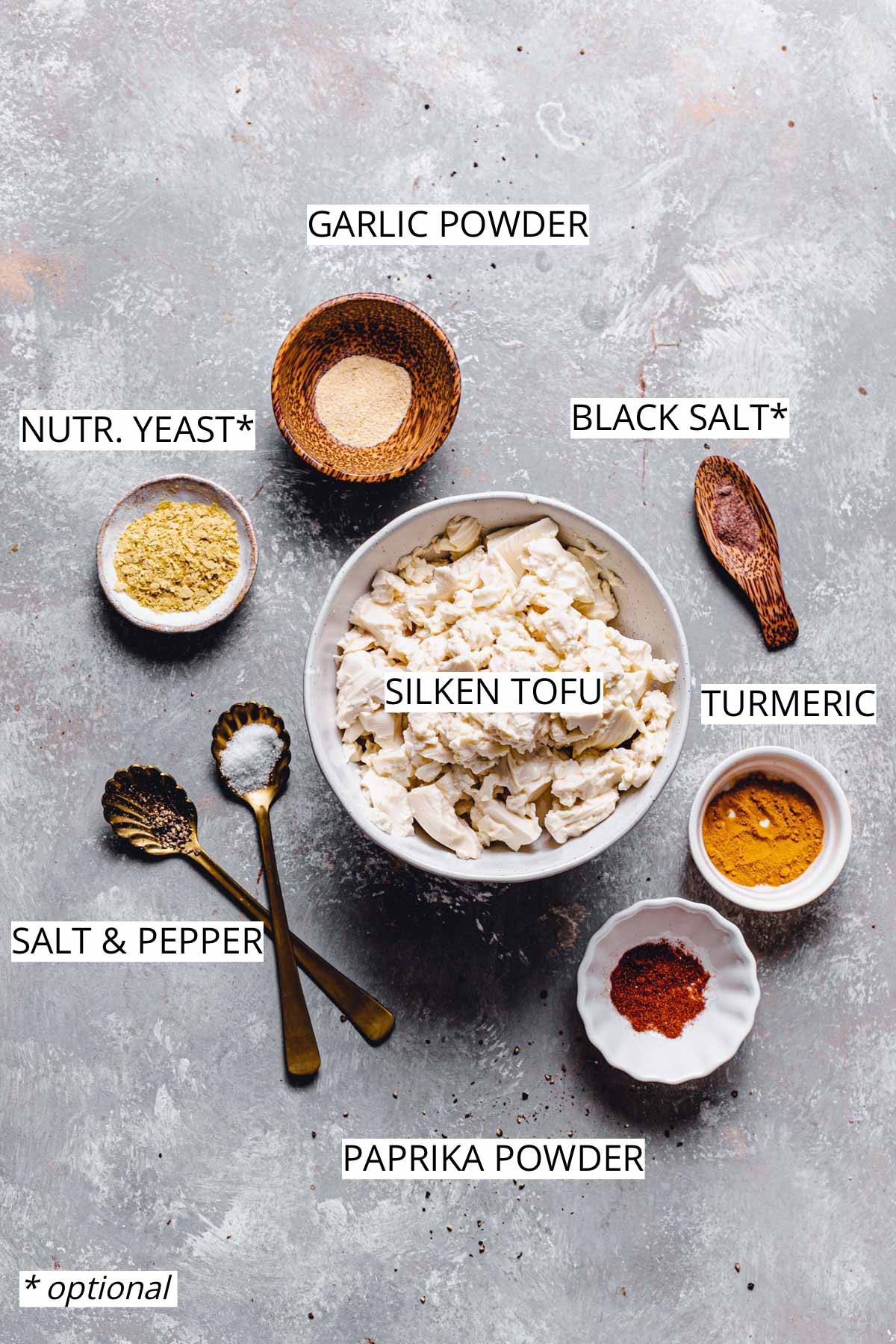 Ingredient Notes
Silken tofu (or soft tofu) - silken and soft tofu are not technically the same, but they will both work super well in this recipe. I used silken tofu.
Black salt (kala namak) - tastes like eggs and enhances the flavour. Not a necessity in this scramble, but highly recommended if you want to achieve the egg-like flavour.
Nutritional yeast (nooch) - find it in large supermarkets or specialised health stores (like Whole Foods, Trader Joe's, Holland & Barrett). Highly recommended, but can be left out. 

How to prepare soft tofu: Step-by-step
This recipe is super easy, but in case you want a little overview, check out the image collage below.
PS - If you're looking for detailed instructions with exact ingredients make sure to scroll down to the bottom.
If you're more of a visual learner, don't miss out on the video either!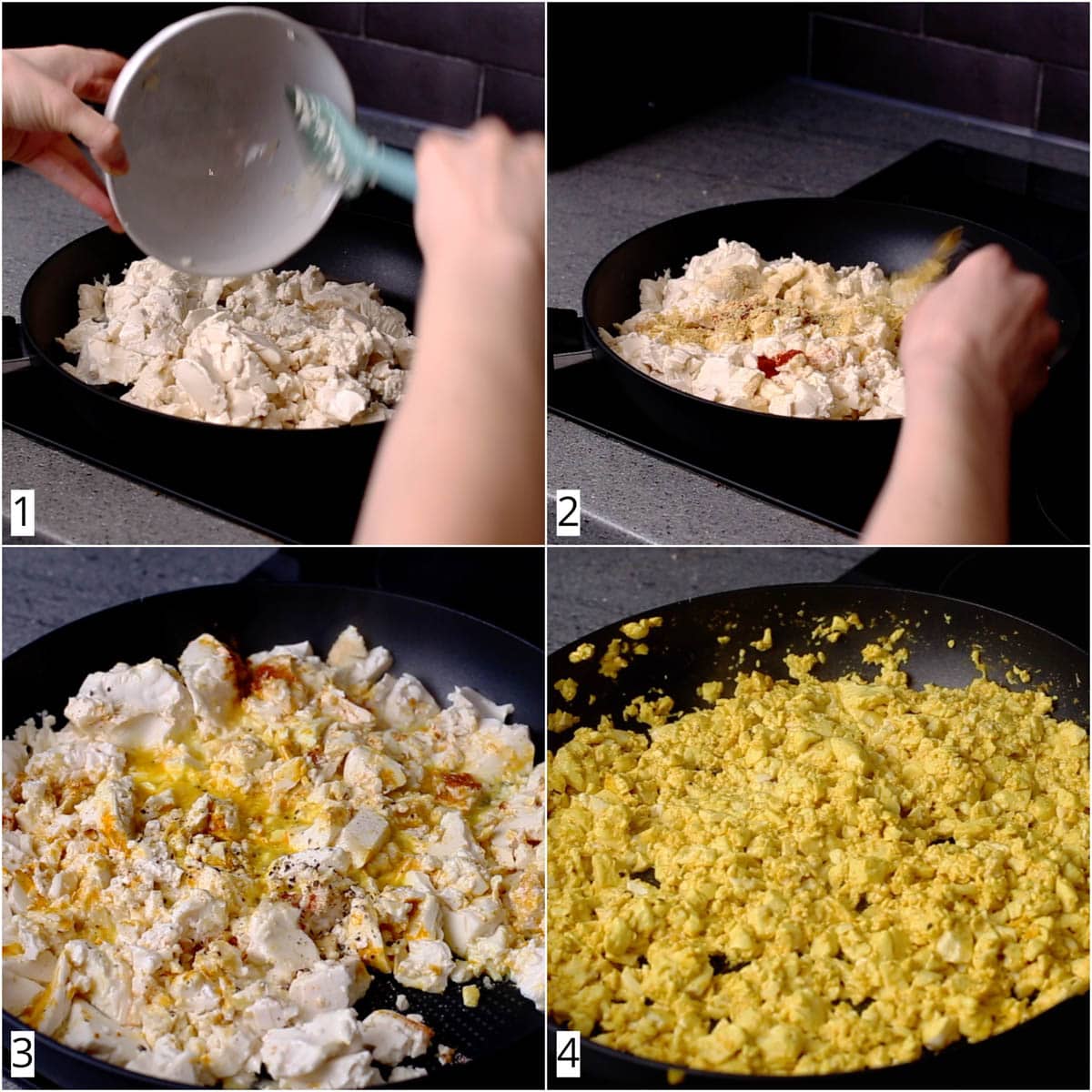 Cut tofu into cubes (or crumble it up) and add to a pan.
Add all your seasoning (except from black salt) and stir.
Keep frying gently and stir regularly.
Once all the liquid is gone and the tofu looks slighlty crispy on the outside, remove from heat.
Sprinkle with black salt and enjoy!
To store - Silken tofu scramble can be placed in an airtight container and kept in the fridge for up to 3 days.

Pro Tips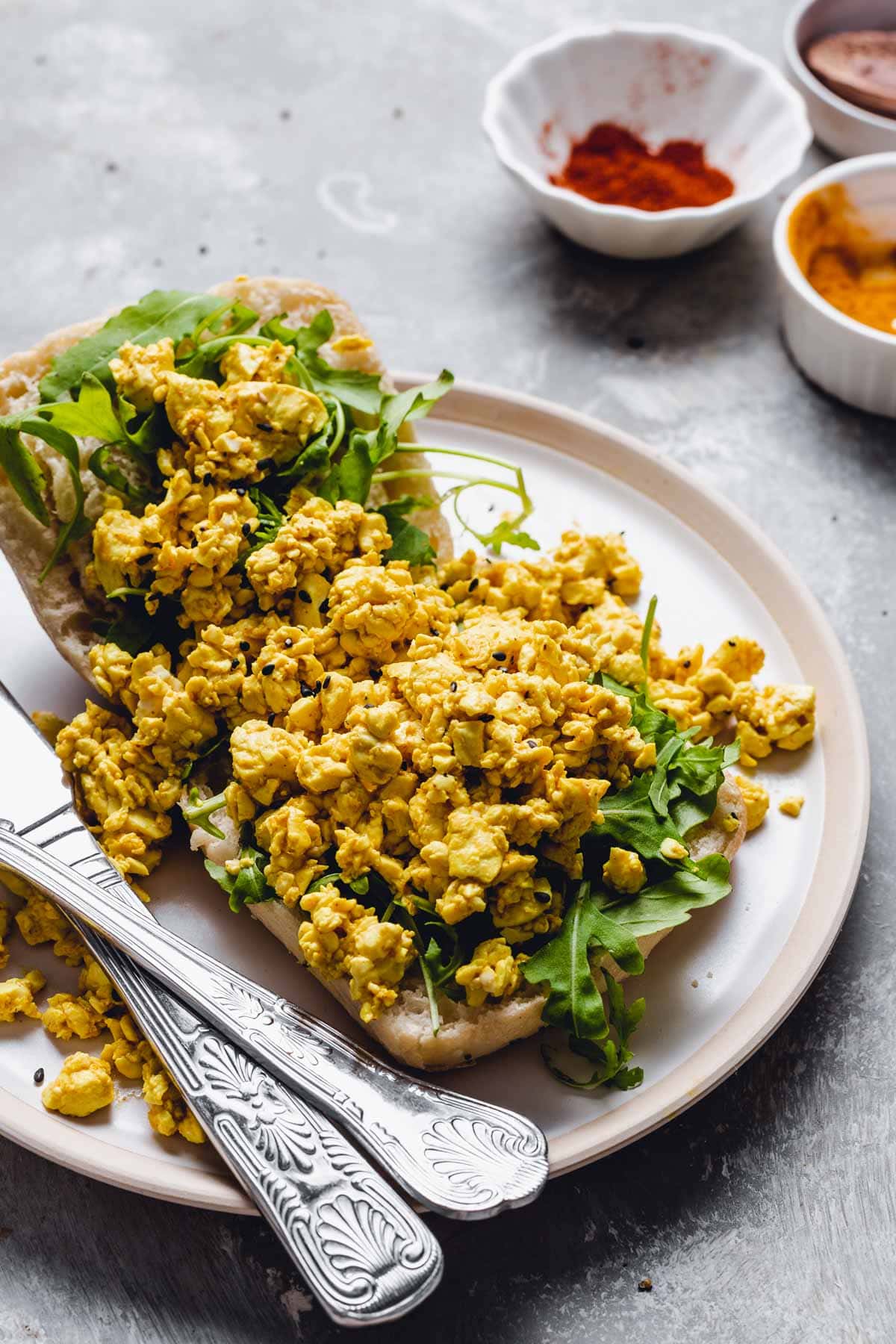 When frying tofu, make sure NO pools of liquid remain. You want all the liquid to evaporate.
If you're not using a non-stick pan I recommend adding ½ tablespoon of oil before adding tofu.
Turmeric can have a slightly bitter aftertaste - if you're not a fan, use less or avoid altogether.
Don't forget to adjust other seasoning to taste too - especially salt.
Sprinkle black salt on top of your tofu at the very end, straight before serving. Cooking black salt can reduce its flavour.
Cut your tofu into larger pieces or crumble it in your hands - this is entirely up to you depending on whether you want larger chunks or small bits. 
FAQ
Can you scramble firm tofu?
Yes, you can absolutely scramble firm tofu. 

Using firm instead of soft tofu won't affect the flavour of this dish much, but it will impact the texture.

You can technically use firm tofu, but keep in mind the end dish will have a slightly rubbery consistency compared to the silky soft texture we're aiming for. 
How long to cook tofu scramble?
This egg tofu scramble shouldn't take more than 15 minutes on medium-high heat.

You'll want ALL the liquids to evaporate, giving it a slightly crisp finish while remaining silky, almost buttery on the inside. 

Keep in mind that different pans and hobs might take longer/shorter. 
How to make scrambled silken tofu taste like real eggs?
The key is in adding black salt. Reserve it until the end and sprinkle on top before serving. 
Alterations
Firm tofu - see FAQ above. 
Oil or vegan butter - although this recipe is oil-free, you can add oil/butter if you prefer. I find that light olive or hemp oil works best! 
Dry parsley/chives/thyme/basil - these are all the various herbs you can use to add a little extra oomph to scrambled silken tofu.
Salt flakes - can be sprinkled on top to give it a slight crunch and that ultimate savoury oomph.
Serving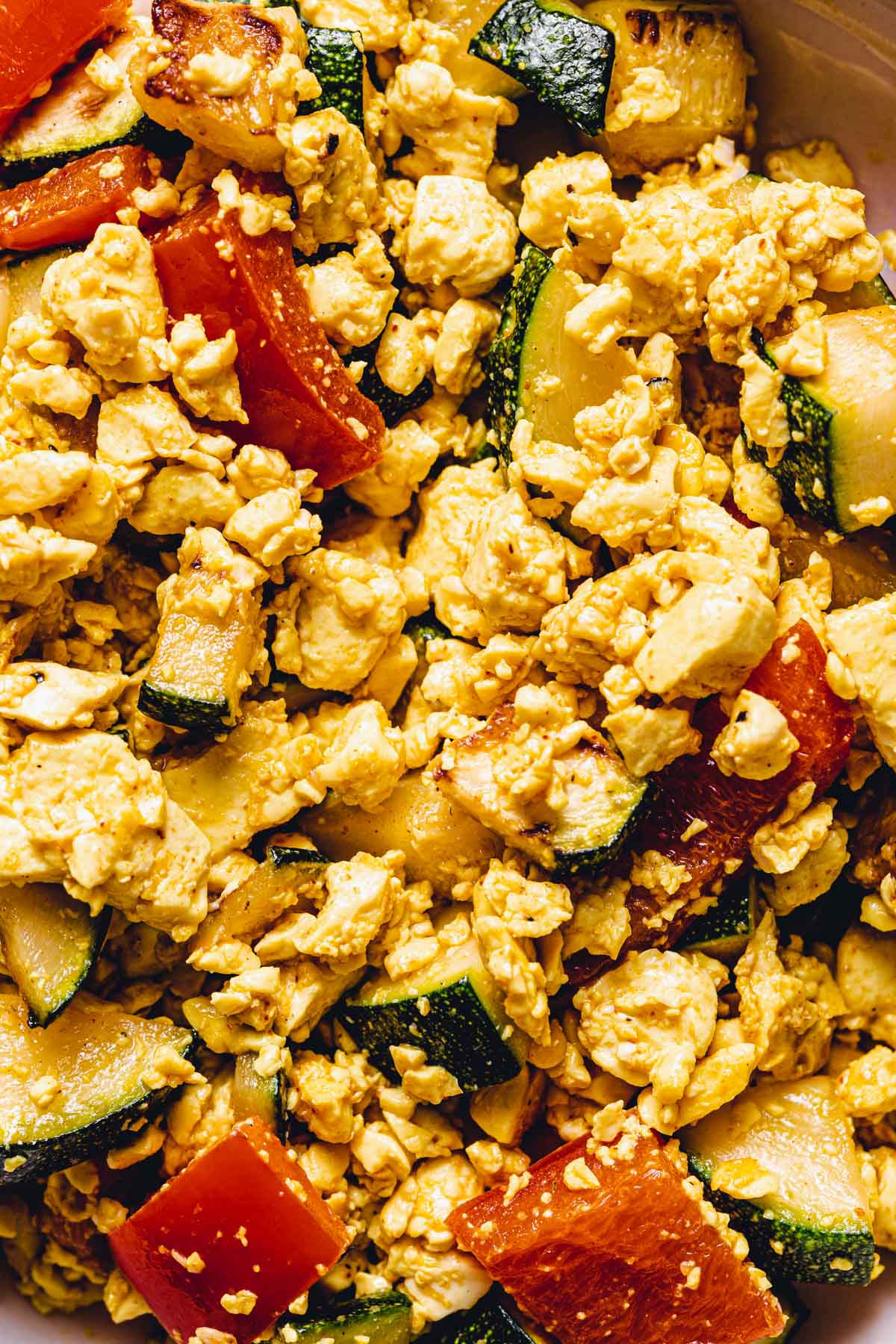 Enjoyed my tofu egg scramble? Discover my other tofu-inspired recipes:
That's it! Thank you for following along - any questions just let me know in the comments. I LOVE to hear your reviews so make sure to leave them in the comments below. 
Recipe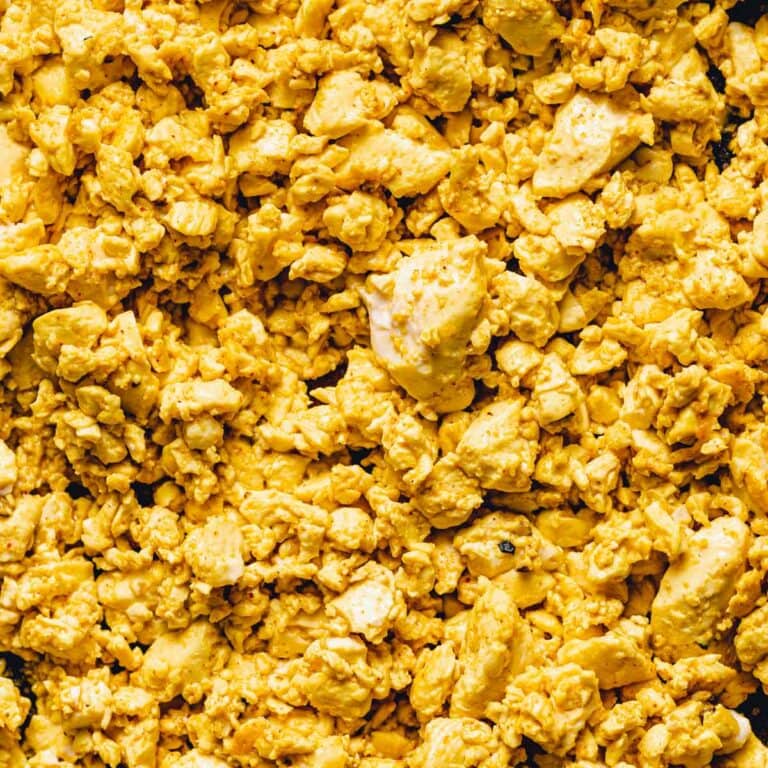 Vegan Soft Silken Tofu 'Egg' Scramble
A healthy vegan soft tofu scramble made in 15 minutes using silken tofu and simple seasoning. The perfect egg scramble alternative!
Print
Pin
Rate
Ingredients
12

oz

silken tofu

equals 300g (1 block of tofu)

1

teaspoon

garlic powder

¼

teaspoon

turmeric powder

or more if desired

½

teaspoon

sweet paprika powder
black pepper

to taste

sea salt

to taste

1

tablespoon

nutritional yeast

optional

1

sprinkle

black salt

optional
Instructions
Cut tofu into cubes or crumble it up in your hands. 

Add tofu to a hot (preferably non-stick) pan. No need to use oil, but feel free to do so.

Keep the pan on medium-high heat. Stir the tofu and add all the seasoning (garlic powder, black pepper, turmeric, paprika, sea salt, nutritional yeast) - leave black salt until the end!

1 teaspoon garlic powder,

¼ teaspoon turmeric powder,

½ teaspoon sweet paprika powder,

black pepper,

sea salt,

1 tablespoon nutritional yeast

Keep frying gently until all the small pools of liquid are gone. There should be no visible liquid in the end.

Once the tofu is slightly crispy on the outside, remove from heat.

Sprinkle with black salt (optional) & stir before serving. 
Video
Notes
Cut your tofu into larger pieces or crumble it in your hands - this is entirely up to you depending on whether you prefer larger chunks or small bits. 
Tip 1 - When frying tofu, make sure NO pools of liquid remain. You want all the liquid to evaporate.
Tip 2- If you're not using a non-stick pan I recommend adding ½ tablespoon of oil before adding tofu.
Tip 3 - Turmeric can have a slightly bitter aftertaste - if you're not a fan, use less or avoid altogether.
Adjust - Don't forget to adjust other seasoning to taste too - especially the salt levels.
To serve - Sprinkle black salt on top of your tofu at the very end, straight before serving. Cooking black salt can reduce its flavour
Nutrition
Calories:
117
kcal
|
Carbohydrates:
9
g
|
Protein:
10
g
|
Fat:
5
g
|
Saturated Fat:
1
g
|
Polyunsaturated Fat:
3
g
|
Monounsaturated Fat:
1
g
|
Sodium:
785
mg
|
Potassium:
430
mg
|
Fiber:
2
g
|
Sugar:
2
g
|
Vitamin A:
249
IU
|
Vitamin C:
1
mg
|
Calcium:
59
mg
|
Iron:
2
mg