What if I told you there was a healthy full English vegan breakfast that requires no frying whatsoever? What if I told you that it was so delicious you won't even miss the standard fry-up? I've paired my love for English pub food with my passion for healthy cooking. The result? A vibrant, colourful breakfast that fills you up and nourishes from the inside.
And what's best? This super healthy full English vegan breakfast is
incredibly easy
diverse in nutrients
warming, crunchy and filling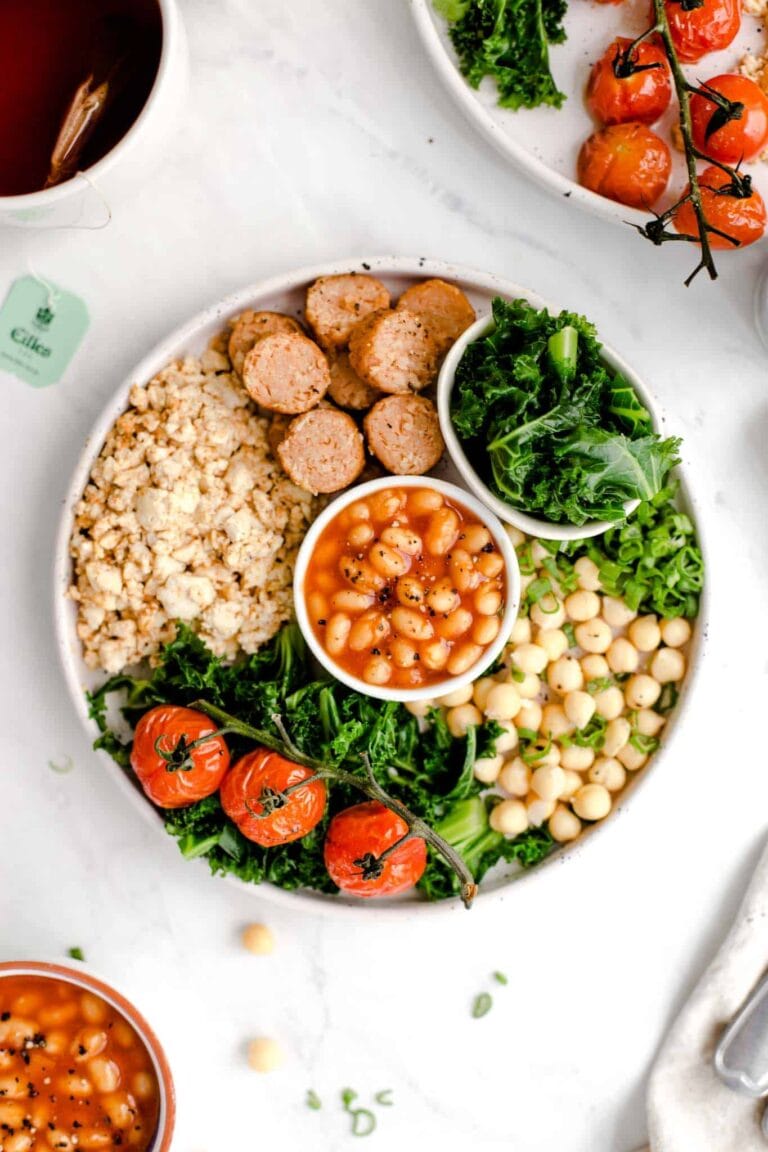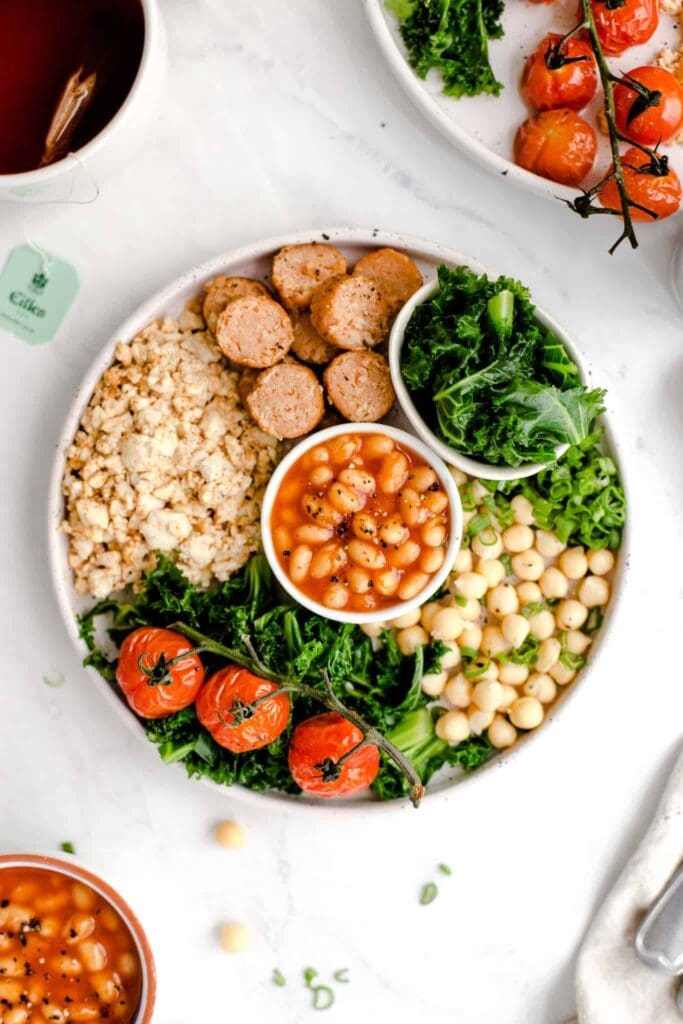 The Comfort Breakfast You NEED To Taste
Full English breakfast is the ultimate comfort food. It's traditionally super heavy and salty, characterised by incredibly large portion sizes. It's usually big on bacon, heavy on eggs and packed with calories. More often than not it's consumed in a pub accompanied by your best mates and followed by a couple of pints. Not particularly the healthiest way to start your day, right?
I personally adore the full English breakfast. Ever since my early teens I've been dreaming of moving to the UK. Fry-up was just not a thing in Slovenia where I grew up, which added to my fascination with this classic pub dish. If you're native English you might find a full breakfast a bit of a boring, standard and old-school way to kick off your day, but for me it represented so much more.
After going vegan, I was determined to continue my love affair with this classic dish and put my own little spin on it. We're already pretty big on lavish desserts here at My Vegan Minimalist, which is why I've recently been trying to bring you some more nutrient-dense dishes too. With a couple of tricks here and there, it's super easy to make a delicious full English vegan breakfast. But how about making it healthy?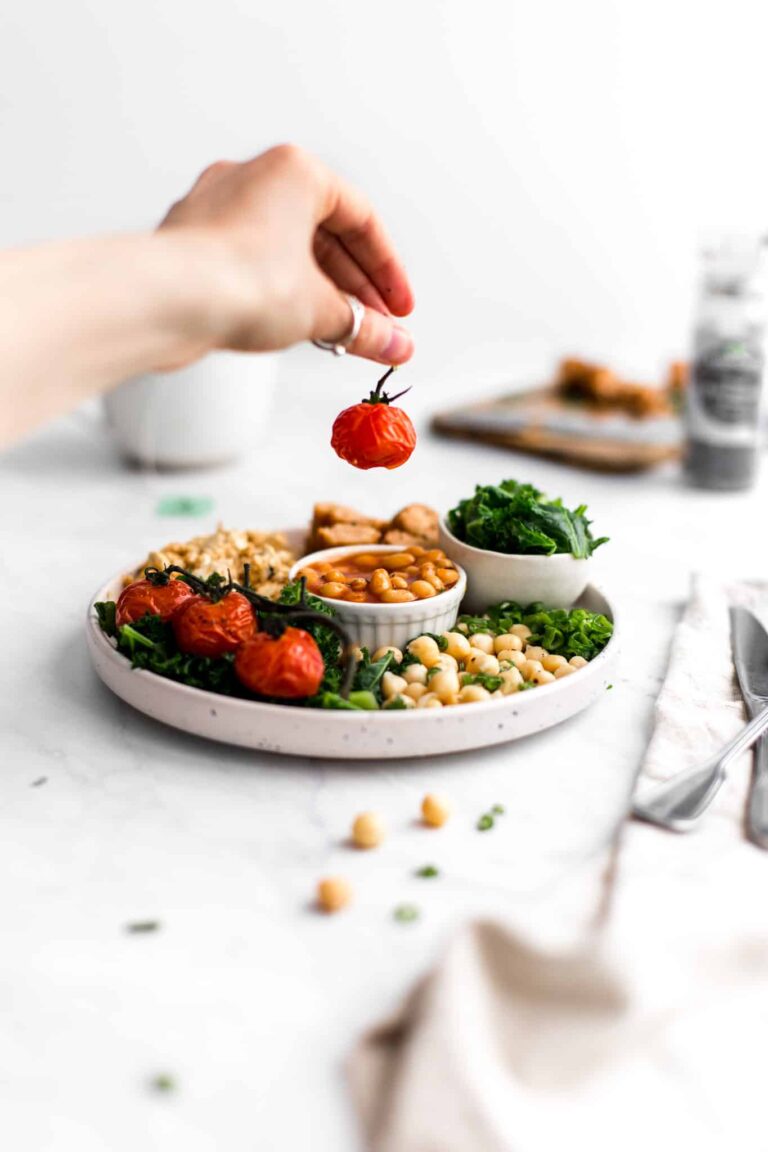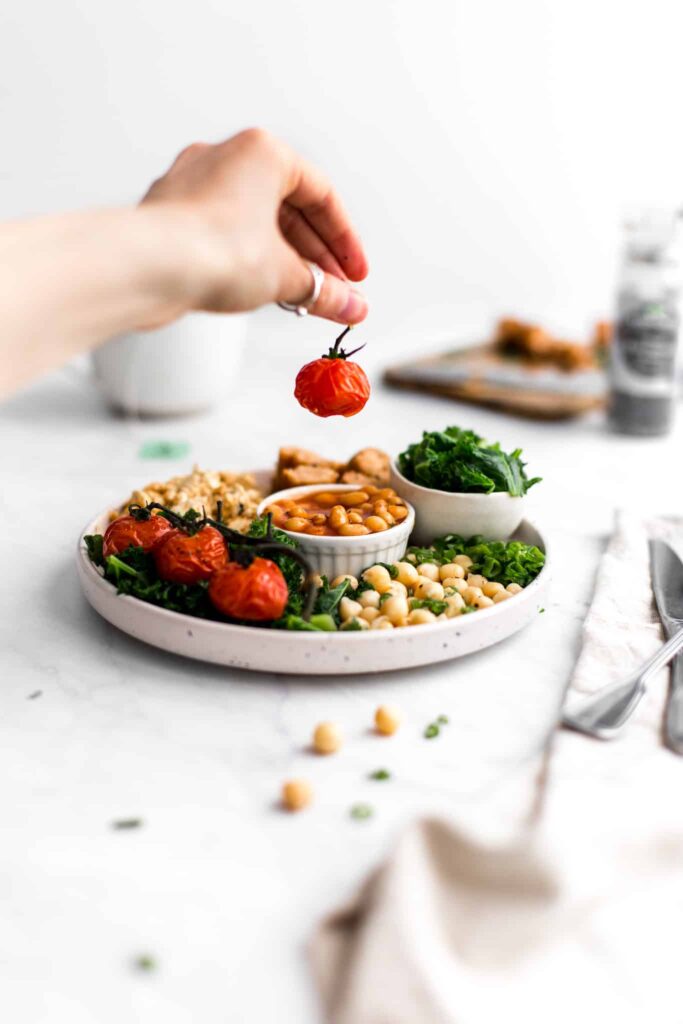 Full English Vegan Breakfast Recipe - The HEALTHY Edition
Healthy is a bit of a vague term that's being thrown around so carelessly these days. Let me first outline what exactly I have in mind. This full vegan English brekkie is:
SUPER LOW IN SALT
CONTAINS 3 DIFFERENT SOURCES OF PROTEIN (TOFU, CHICKPEAS, BEANS)
RICH IN VITAMINS THANKS TO KALE AND SPRING ONION
VERY LOW IN SATURATED FAT
AND - REQUIRES NO FRYING WHATSOEVER
It makes for a super versatile dish that's colourful, filling and so delicious. I like to serve mine with a side portion of pita bread or wholemeal toast. Of course, you can't forget about 1 thing that brings it all together - a mug of your favourite tea (or coffee). If you're feeling to warm, why not try out my refreshing plant-based smoothies or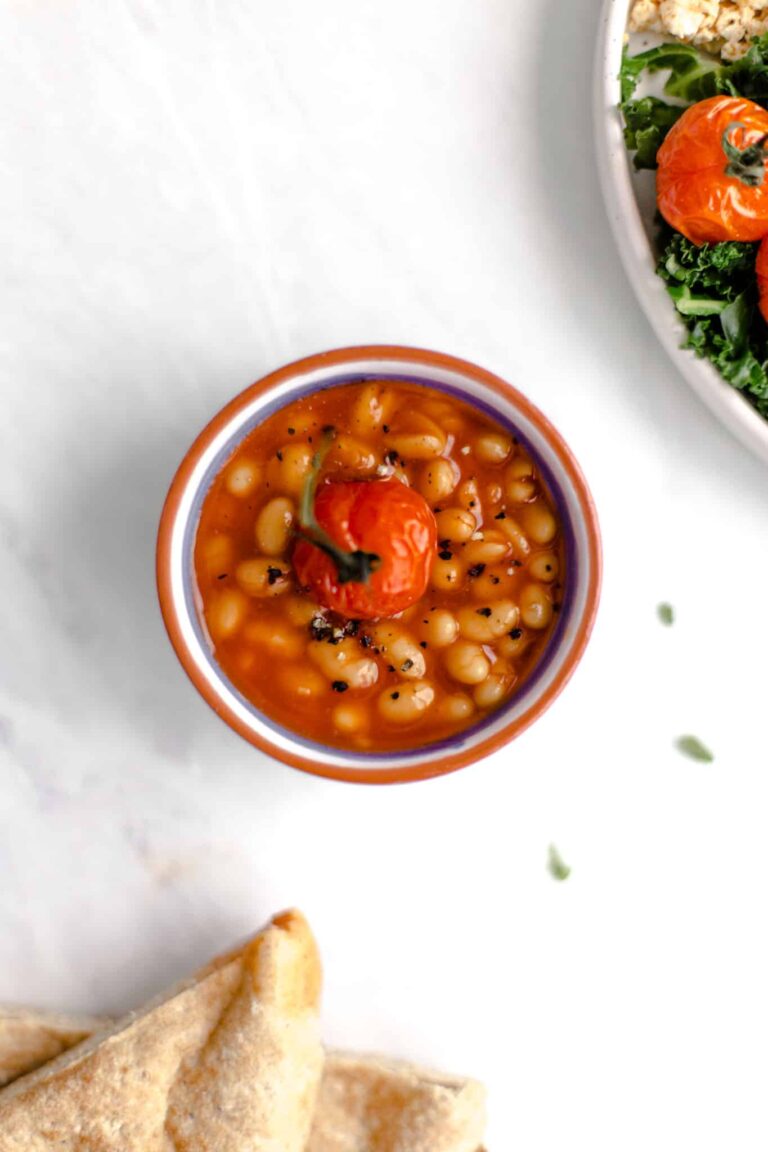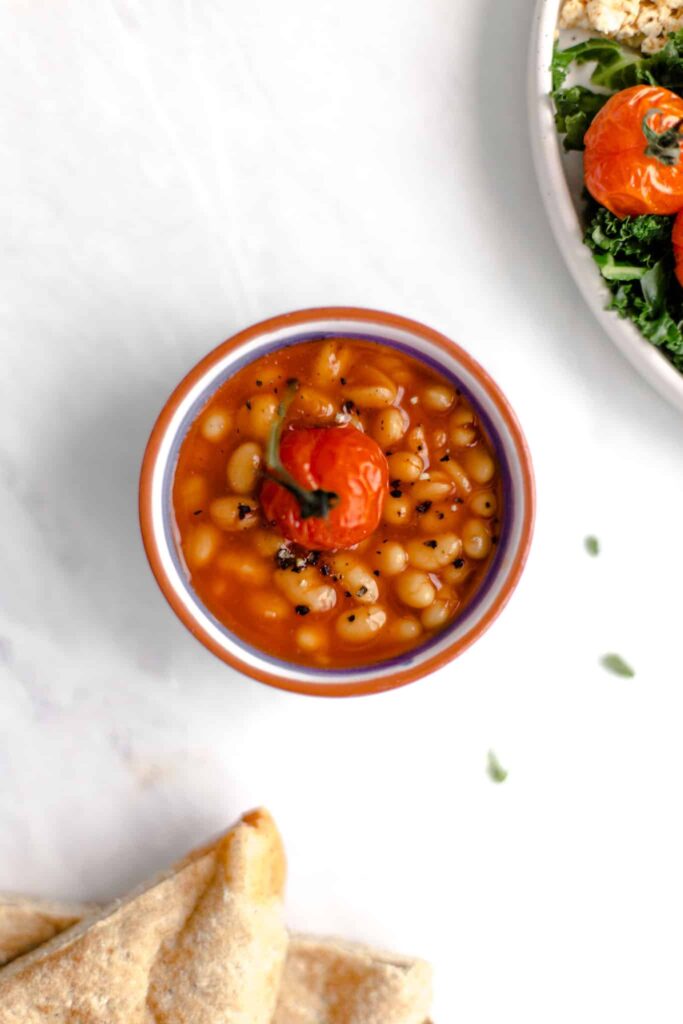 And before you ask – I didn't include mushrooms in this one as I personally can't stand them, but feel free gently sauté some before adding them to this big vegan breakfast.
PRO TIP – I'm not sure if I'm allowed to say that without native Brits going absolutely mad, but full English breakfast makes a FANTASTIC brunch! For anyone that finds big breakfasts a big difficult to digest early in the morning, this is a great option.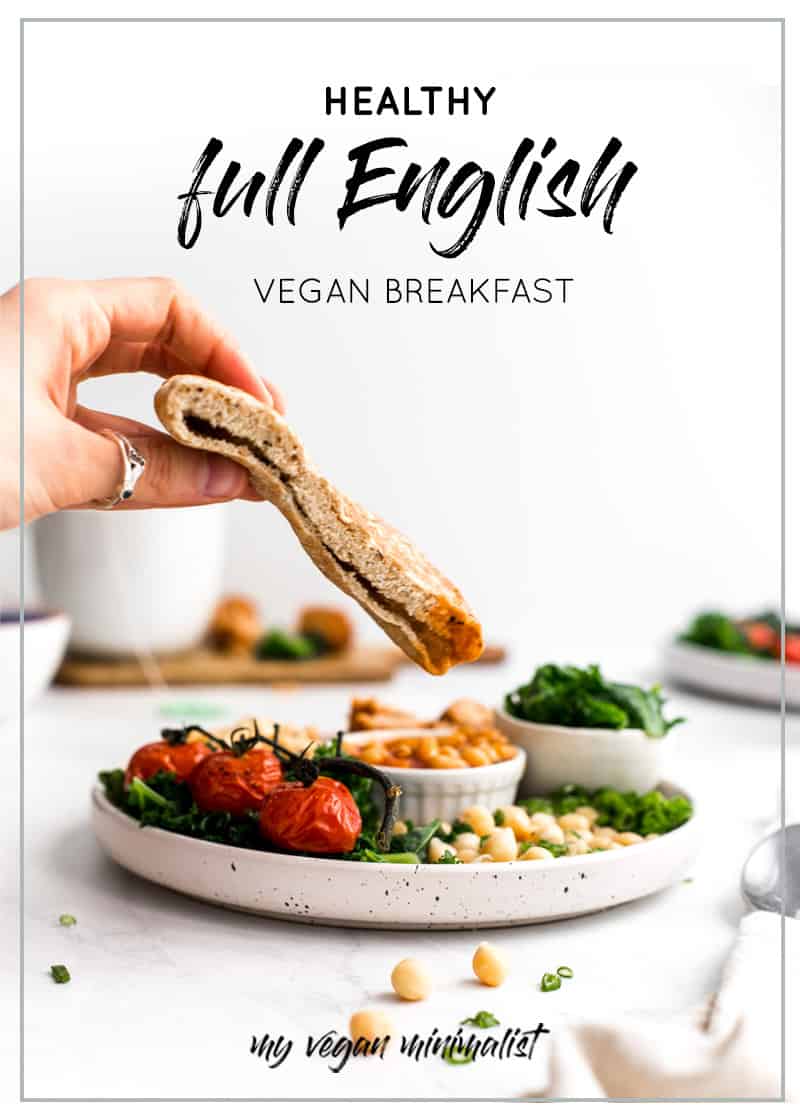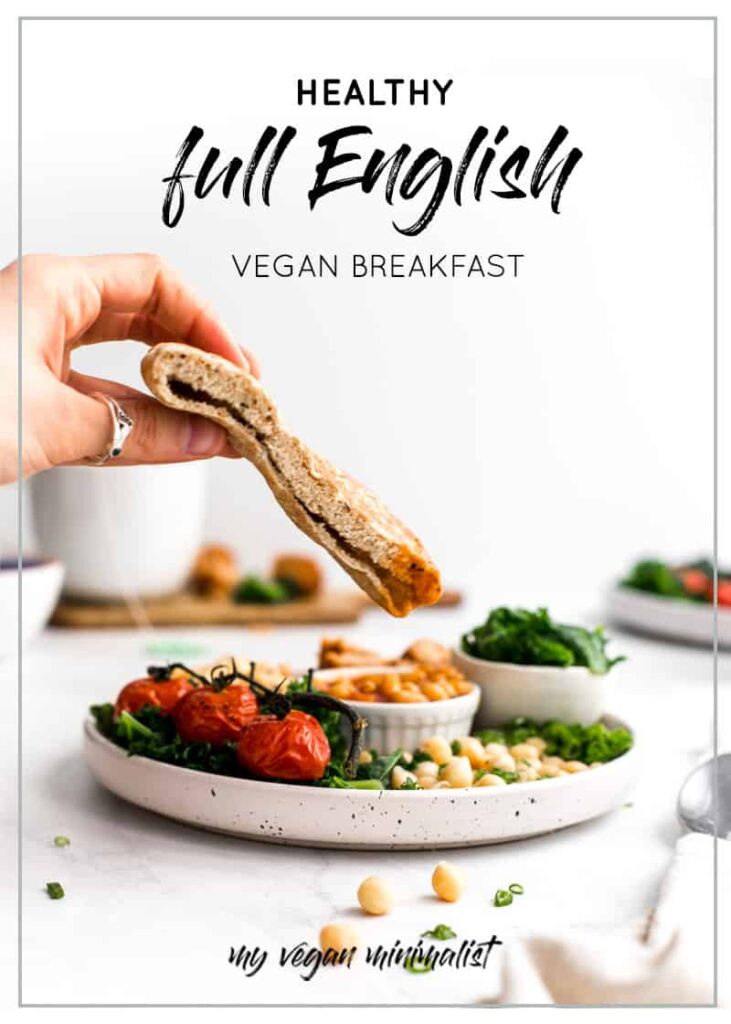 Looking for more vegan breakfast ideas? You've come to the right place! A great breakfast is a fab way to kick off your day. Regardless of whether you like sweet or savoury, I've got breakfast options for everyone.
If you're starting out as a vegan or just want to discover simple vegan recipes make sure to follow me on Pinterest, Instagram and Facebook.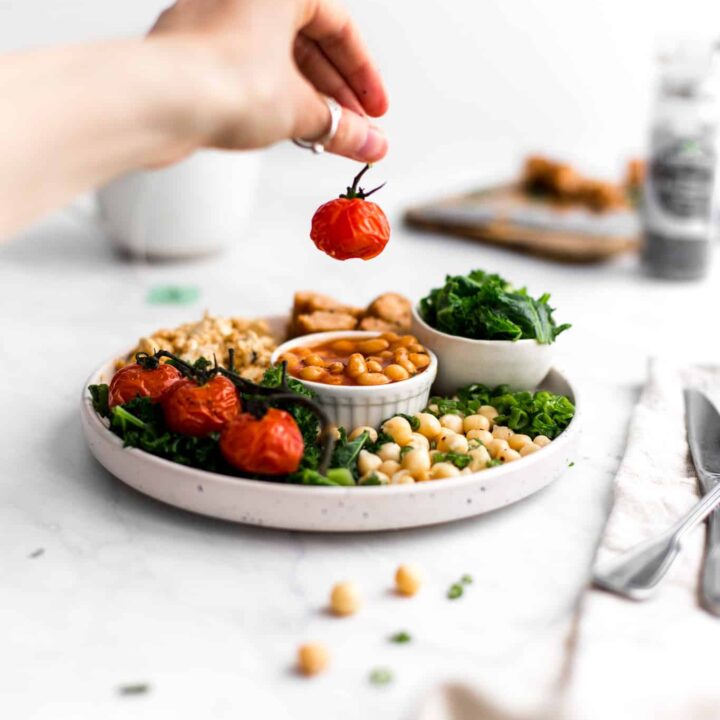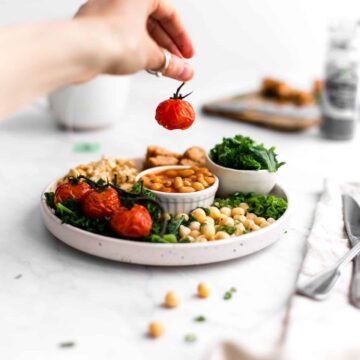 Healthy Full English Vegan Breakfast
Get ready to have the breakfast of all your dreams.
Print
Pin
Rate
Ingredients
2

stems

cherry tomatoes

(on the vine)

3

vegan sausages

(I used Linda McCartney's veggie sausages)

2

cups

kale

350

g

tofu

I used firm silken tofu

1

can

beans in tomato sauce

½

can

chickpeas

2

scallions

a.k.a. spring onions

1

tsp

olive oil

Seasoning: Cajun spice mix, salt, black pepper, garlic powder, paprika
Instructions
Pre-heat oven to 180°C / 356°F (fan oven). Place sausages and cherry tomatoes on a baking tray. Season tomatoes with salt, black pepper and a tiny drizzle of olive oil (optional). Bake both for 15 minutes.

In the meantime, steam kale over a boiling pan of water (or just boil). Steaming is the healthier option as some of the nutrients might leak into water. Make sure to season it with a generous pinch of salt.

Drain and press the tofu to remove all water. Heat up a non-stick pan and crumble up the tofu. Add plenty of seasoning – generous amounts of Cajun spice, black pepper and garlic. Add paprika powder and salt to taste. Gently cook on medium heat for approx. 10 minutes.

In a separate pan warm up your beans in tomato sauce.

Serve with chopped up spring onions and chickpeas. Don't forget to check out my recipe for the most delicious Cajun spiced chickpeas.
Nutrition
Calories:
202
kcal
|
Carbohydrates:
11
g
|
Protein:
19
g
|
Fat:
10
g
|
Saturated Fat:
1
g
|
Sodium:
35
mg
|
Potassium:
362
mg
|
Fiber:
2
g
|
Sugar:
1
g
|
Vitamin A:
6813
IU
|
Vitamin C:
83
mg
|
Calcium:
328
mg
|
Iron:
3
mg
Don't forget you can grab a free vegan booklet containing 90 vegan meal ideas below.