These almond milk crepes are paper-thin and fail-proof. Perfect for beginners, made in 15 minutes using just 5 simple ingredients. These are not just easy but also so delicious.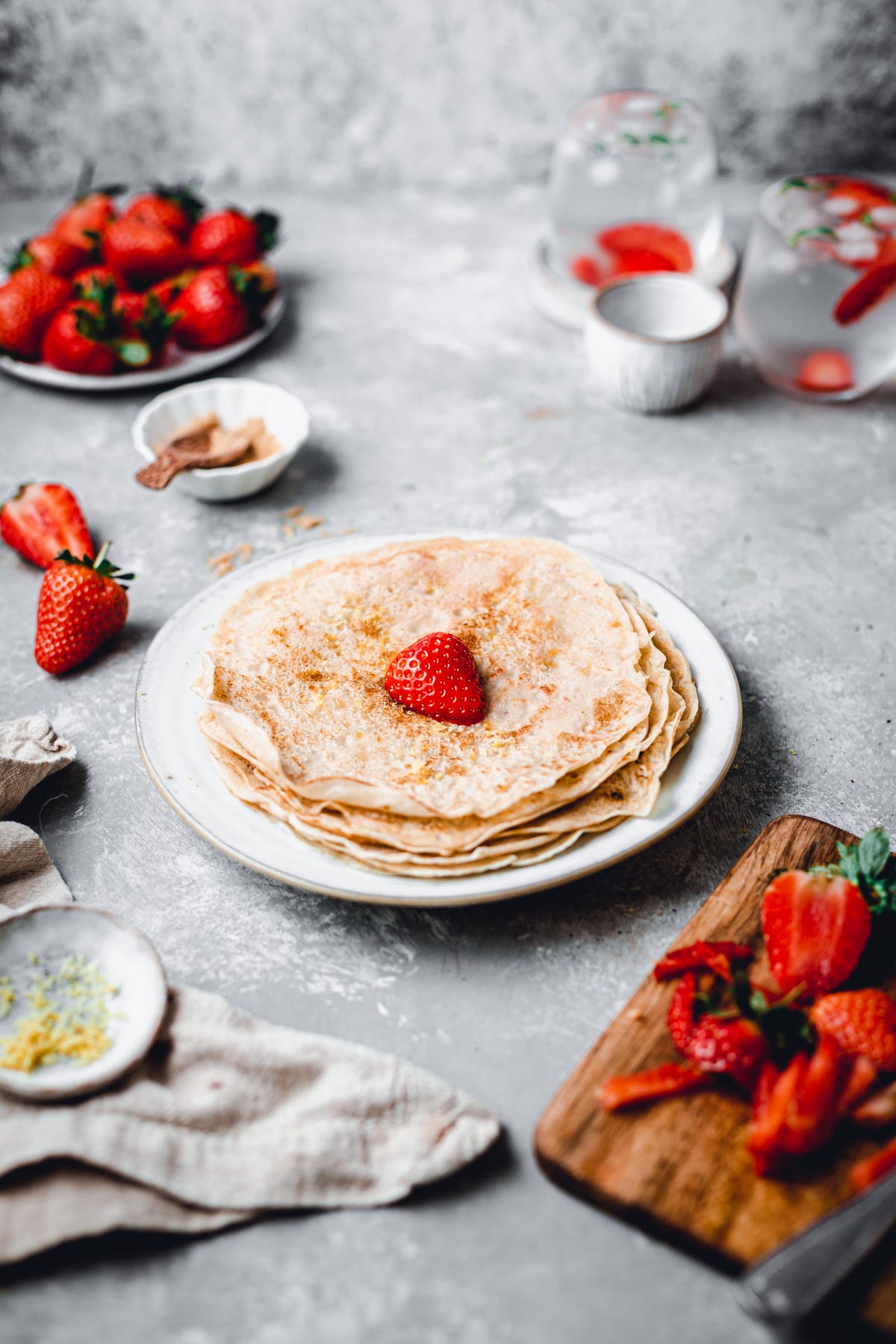 Jump to:
💌 Why I Love These
They're SUPER easy to make
You only need 5 staple, basic ingredients
Can easily be customised
Countless toppings options
You don't need any special equipment
You don't need a crepe pan
They take just 15 minutes to make
And if that's not enough, this recipe also gives you step-by-step process images below!
🌱 Ingredients
These are the ingredients you'll need to make your dairy-free almond milk crepes.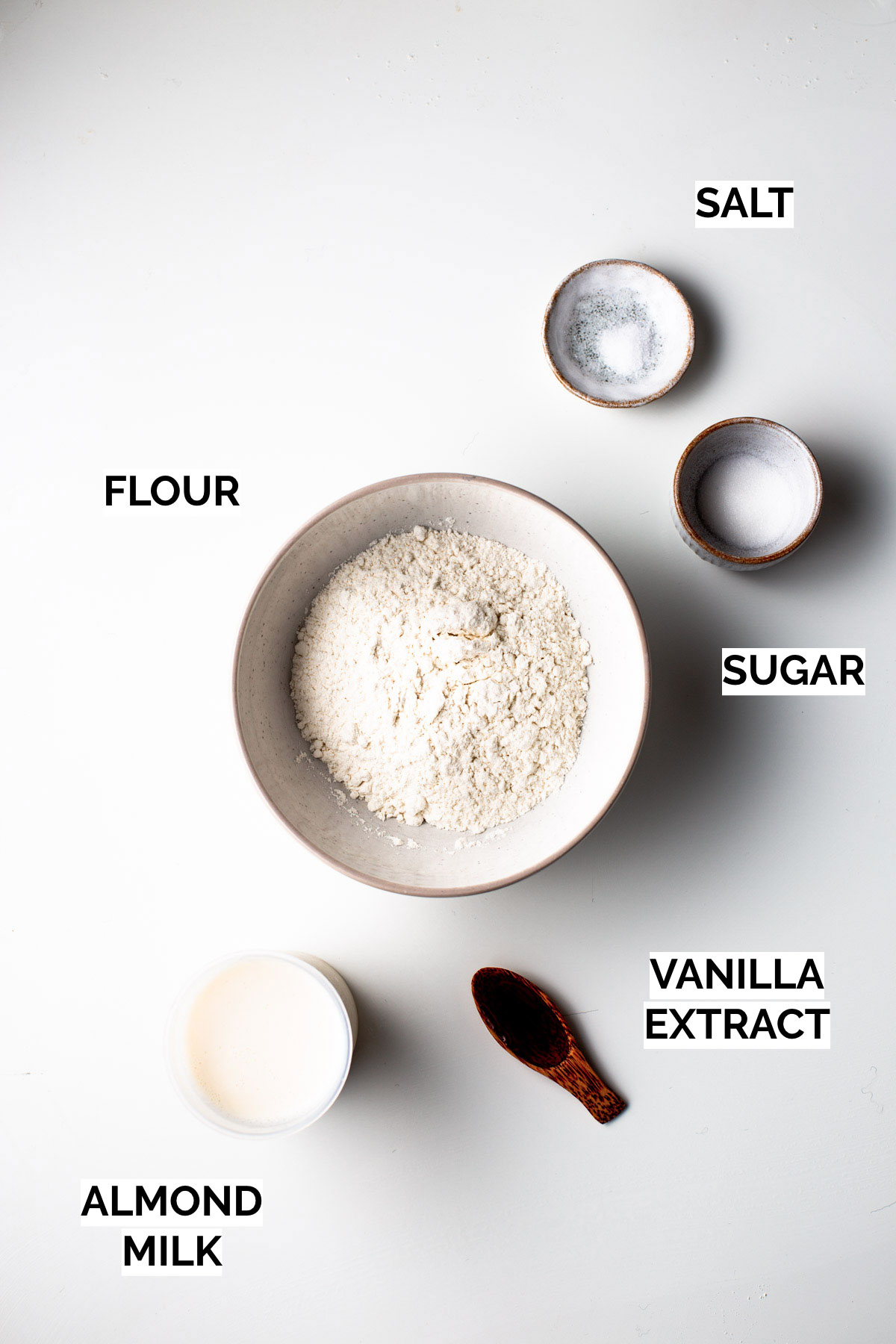 Ingredient notes:
Vanilla extract: I used liquid vanilla extract which is the most affordable option. You can usually find it next to other essentials in the baking section of the supermarket. Can be substituted for another flavour extract (such as almond extract, orange extract, etc).
Flour: Feel free to experiment with flour. I used 100% plain white flour or a combination of plain white and wholemeal flour before.
In addition to the above, you'll also need a tiny amount of olive oil (or other light oil) to grease the pan.
In terms of equipment, you'll just need a non-stick pan and measuring cups or scales.
⏲️Step-by-step Photos
This is a simple visual guide to making our vegan crepes.
P.S. - You can find the exact measurements and detailed instructions in the recipe card at the bottom of this page.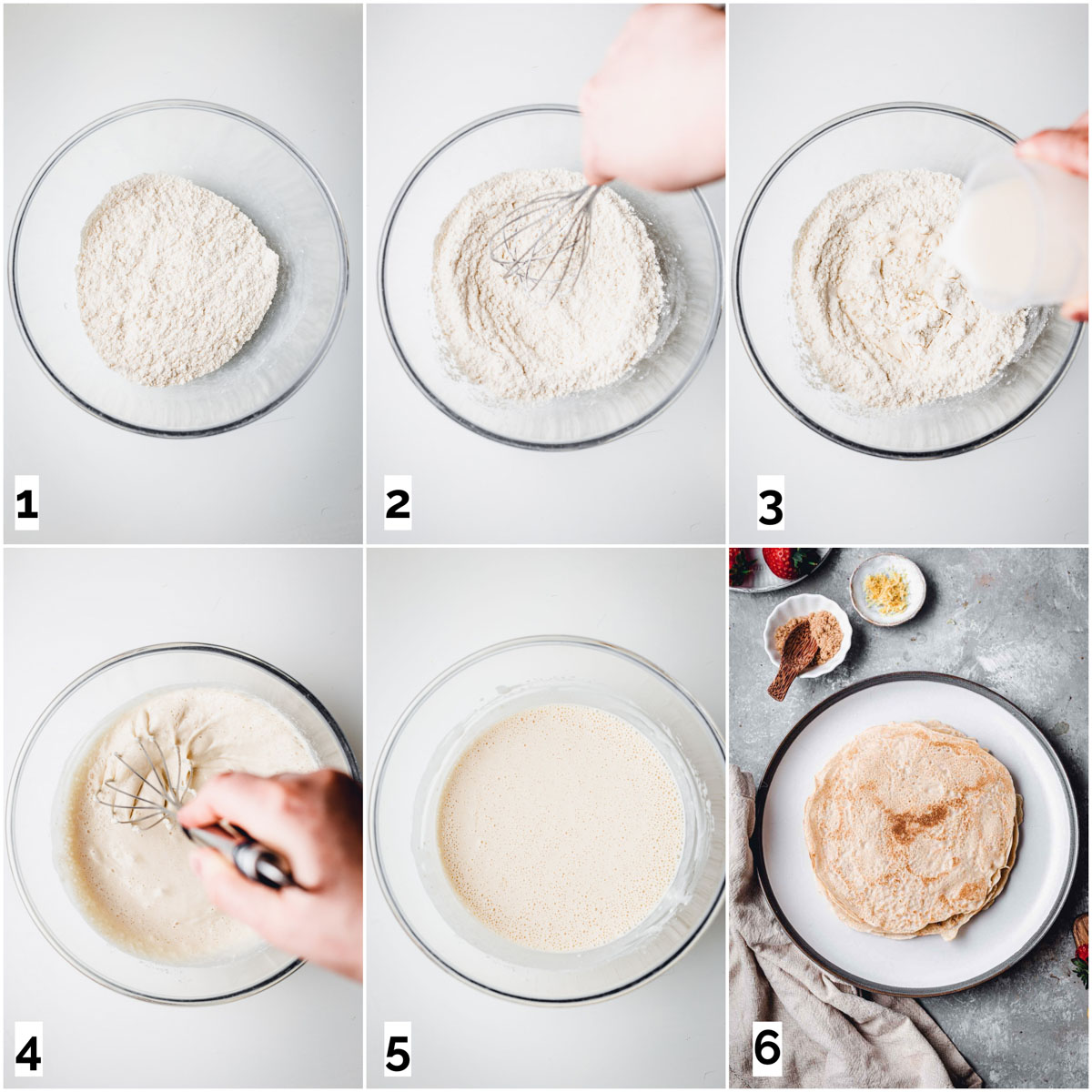 Add all your dry ingredients to a large bowl.
Whisk well.
Pour in your wet ingredients (almond milk and vanilla extract).
Whisk until smooth.
Your batter is done! Pour ¼ cup of crepe batter into an oiled pan and cook for approx. 30 seconds on each side.
When done, top off with toppings of your choice.
That's all - literally one of the easiest recipes you could possibly make.
💡 Expert Tips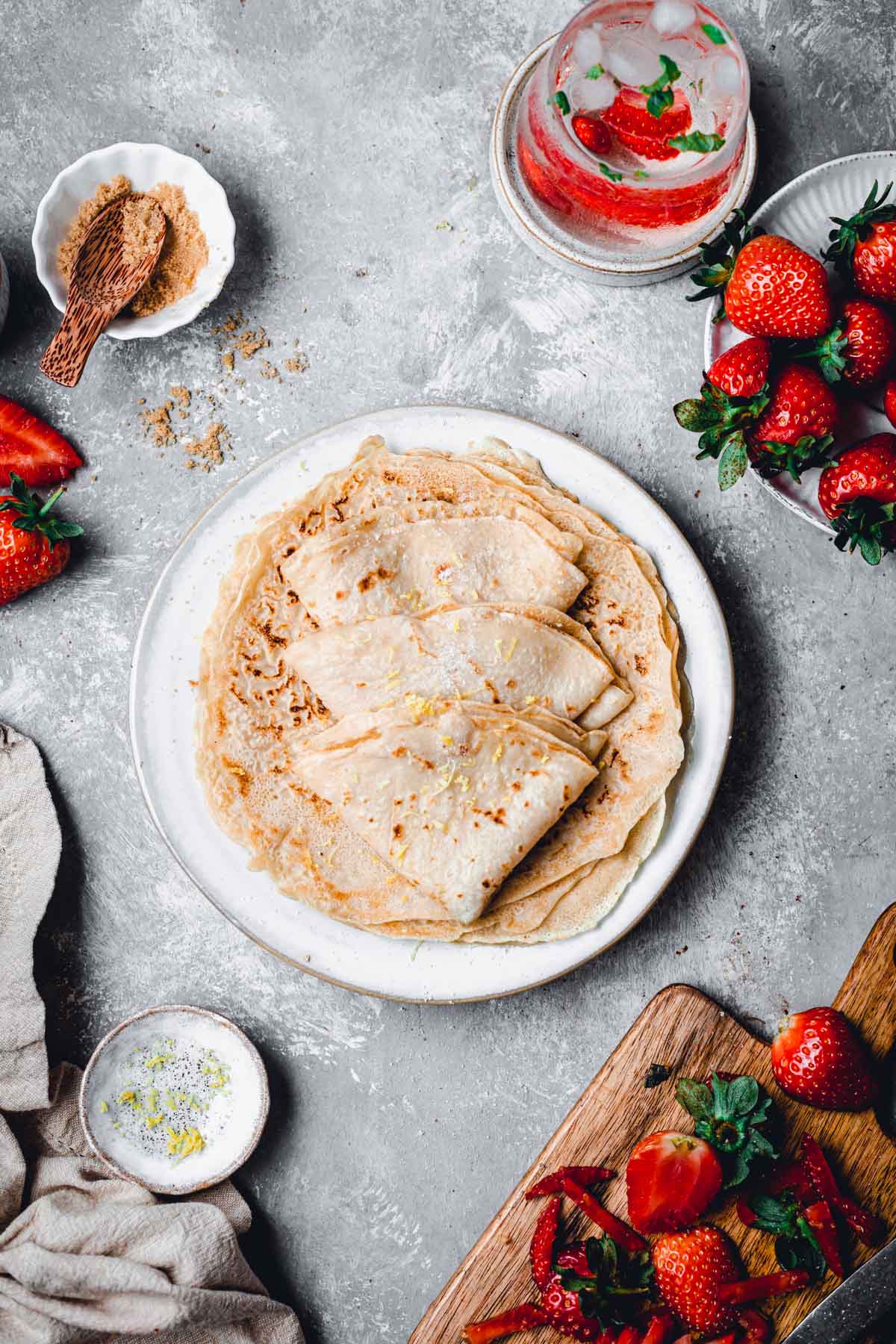 1. Use oil (not butter)
Traditional crepes are cooked in melted butter. However, this can make your job considerably harder as butter tends to burn fast. Instead, use neutral-tasting, light oil such as light olive oil or sunflower oil.
2. Swirl immediately
When you add batter to a hot pan, make sure to tilt the pan immediately - as soon as the batter touches the pan. This way you'll be able to swirl the batter around to create a perfectly round crepe shape.
If you wait, your crepe will start to stick to the pan and you won't be able to swirl anymore.
3. Extra tip: Blend your batter
Blending is usually recommended for non-vegan crepes. Seeing as our crepe recipe contains no eggs, you should have no difficulty getting a smooth mixture without blending.
If you're in a hurry or don't have a blender, don't worry at all. Your batter will still turn out fine. In fact, I didn't use a blender when making the crepes you see on my images and they've turned out really well.
However, if you're really trying to impress someone with your almond milk crepes, then go ahead and blend the batter. It isn't strictly necessary, but it definitely won't hurt.
Blending the batter will help create a smooth and perfectly even batter.
❓ FAQ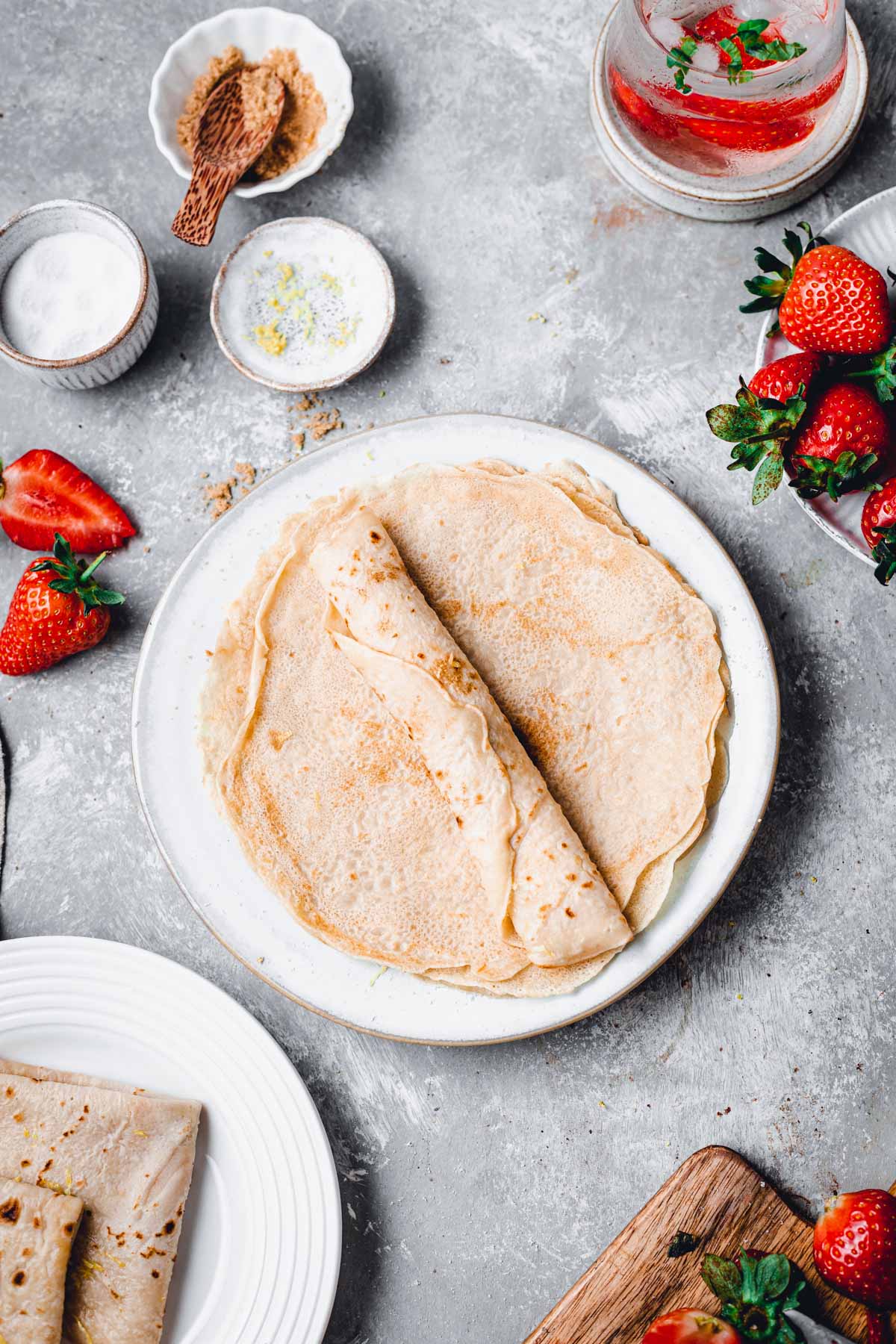 Why are my crepes crispy?
There could be a few reasons why your crepes turned out crispy.

First and foremost, you might have cooked them too long.

Secondly, your pan might have been too hot, causing the batter to become hard and crispy. 

I've always used this tip by Nigella to determine whether or not my pan is too hot. If your batter becomes hard and sticks to the pan as soon as you pour it in, then your pan is too hot. 

If you're able to form an even thin layer when you tilt the pan, then your pan is the perfect heat.
How do you flip a crepe without breaking it?
There are two options. 

You can either use a flat spatula or the 'flick' method.

Above anything, you need to be careful not to flip them too early. This will cause them to break.

Wait until the edges have started to brown softly and curl upwards.

If in doubt, watch this video that shows how to flip them easily. 
How thin should crepes be?
Crepes should be very thin, practically as thin as possible.

This means that your batter will need to be runny and thin too.

When it comes to crepe batter, there's practically only one rule. The thinner, the better.
Are pancake batter and crepe batter the same thing?
They might look similar, but they're not the same thing at all.

A pancake batter will always contain a raising agent such as baking soda or baking powder.

This will help create a fluffy, bulkier result. 

Similarly, pancake batter is usually considerably thicker in comparison. 
🥞 Serving
Plain crepes can be delicious, but you'll probably want to serve them with a few toppings.
Here are some of my suggestions of what to serve with your crepes:
Sugar and strawberries
Apple curd and cinnamon
Chocolate paste (or just melted chocolate) and shredded coconut
Whipped vegan cream and raspberries
Brown sugar and lemon peel
Your favourite jam
If you've enjoyed my almond milk crepes recipe, I invite you to check out my other favourite vegan breakfast food.
You won't want to miss out on oat milk pancakes, blueberry oat muffins or the best vegan waffles. Or check out my entire recipes section here.
📦 Storing and Freezing
To store, place in an airtight container and store in the fridge for up to 3 days.
To freeze, place in an airtight container and freeze for up to 2 months.
When you're ready to serve them, remove them from the freezer and let them thaw at room temperature.
🍴Recipe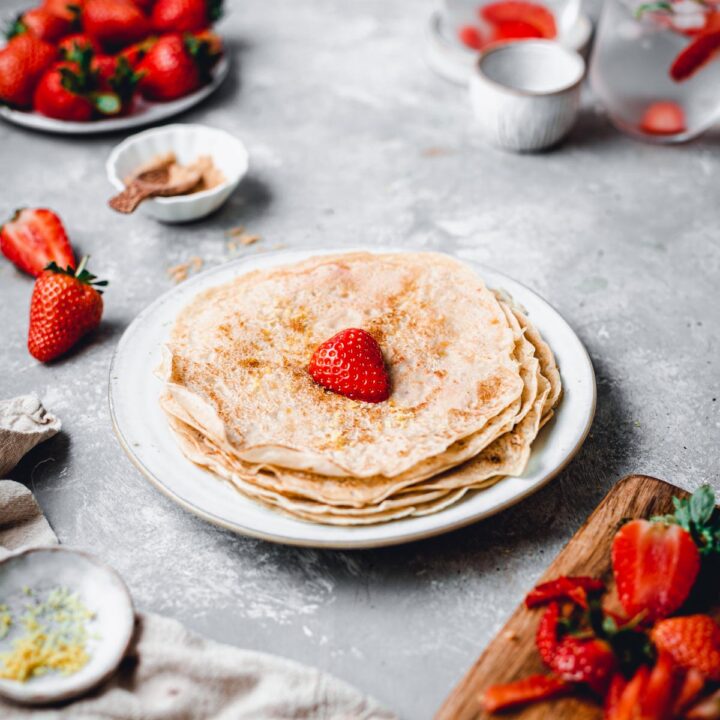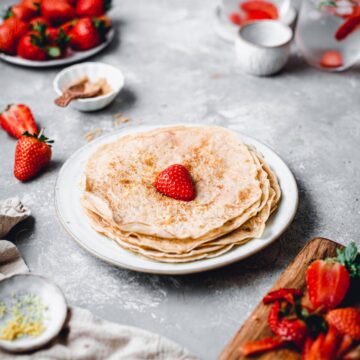 Crepes with Almond Milk (Vegan & Dairy-Free Thin Pancakes)
Paper-thin, super easy and quick almond milk crepes you can't mess up!
Print
Pin
Rate
Equipment
Measuring cups or scales

Non-stick pan
Ingredients
Crepe batter
¾ cup + 3 tbsp

(

150

g

)

plain white flour

¼

teaspoon

(

0.25

teaspoon

)

salt

½

tablespoon

(

0.5

tablespoon

)

sugar

1¼

cup

(

300

ml

)

almond milk

unsweetened

1

teaspoon

vanilla extract
To grease the pan
1½

tablespoon

(

1.5

tablespoon

)

light olive oil
Instructions
First, whisk together all your dry ingredients (flour, salt, sugar) in a medium-sized bowl.

In a separate cup, mix almond milk and vanilla extract.

Pour your wet mixture over your dry mixture and mix well.

Grease a non-stick pan with oil and heat it up on medium-high heat. Use approx. ¼ teaspoon of oil per crepe.

Pour in ¼ cup of your crepe mixture and immediately swirl around to coat the base evenly.

Cook for approximately 30 seconds on each side (the first few might take a little longer).

Once your first crepe is cooked, grease the pan again and repeat the process.

When you've used up all your batter and cooked all the crepes, top off with toppings of your choice (serving suggestions above).
Notes
Don't be tempted to use (vegan) butter to grease your pan. Doing so will make your crepe burn much faster.
The moment you start pouring in the batter, make sure to tilt the pan immediately to swirl the batter around.
If you notice the crepe burning, immediately turn down the heat.
Don't worry if the first couple of crepes turn out a little bit less perfect - that's completely normal.
To store, place in an airtight container and store in the fridge for up to 3 days.
To freeze, place in an airtight container and freeze for up to 2 months.
Nutrition
Calories:
135
kcal
|
Carbohydrates:
20
g
|
Protein:
3
g
|
Fat:
4
g
|
Saturated Fat:
1
g
|
Sodium:
163
mg
|
Potassium:
27
mg
|
Fiber:
1
g
|
Sugar:
1
g
|
Calcium:
64
mg
|
Iron:
1
mg
Disclaimer: The nutritional information above is calculated automatically. The author of this post cannot guarantee 100% accuracy of this data.