Meet my no-fail vegan stew and dumplings. Packed with flavour, affordable and quicker than regular stew.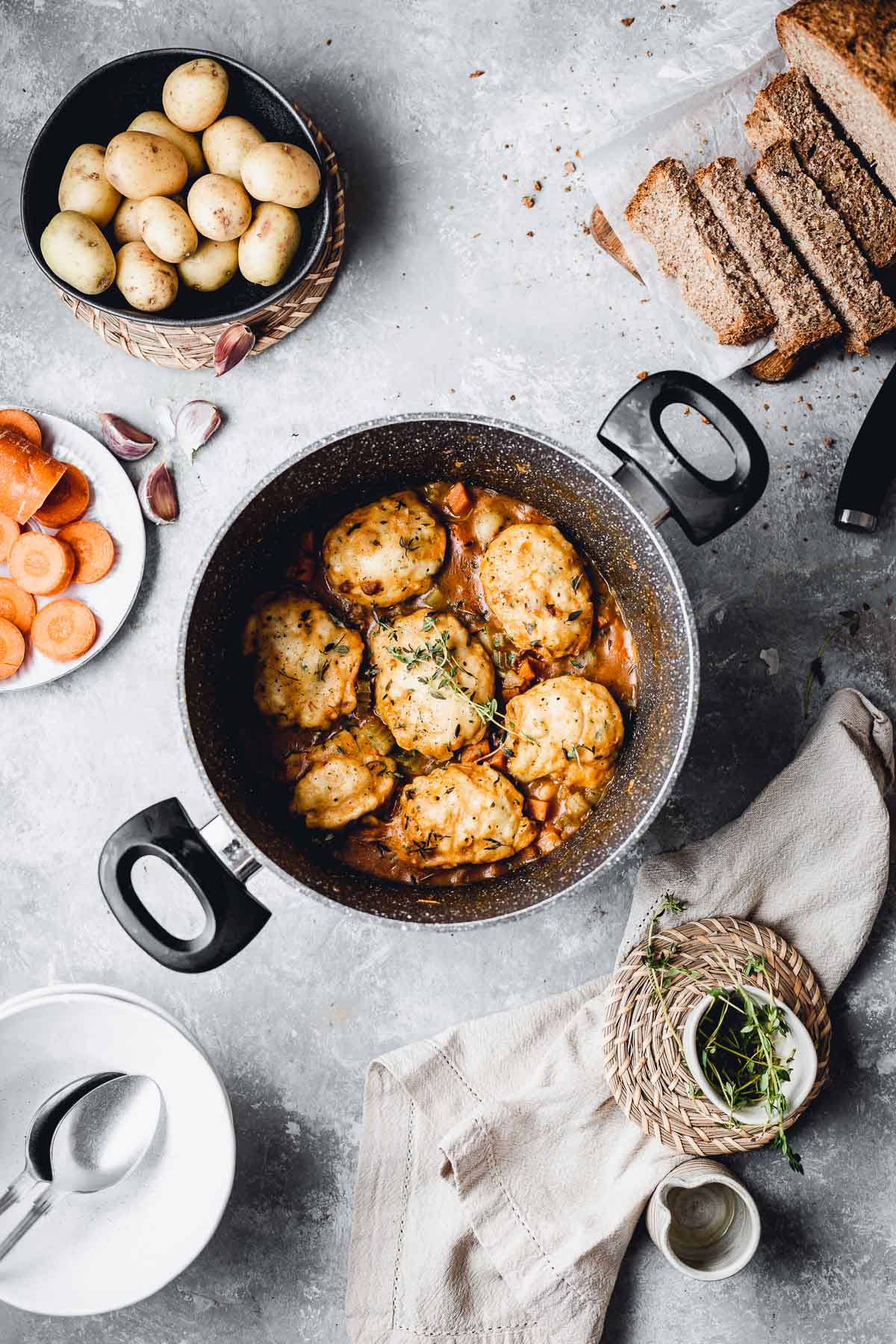 Disclosure: This recipe post was created in collaboration with EURASYP, ​the European Association for Specialty Yeast Products​. All opinions expressed are my own.
What Makes This Recipe Great
- It's super​ easy.
- Way​ faster ​than regular stew - no need to cook any meat.
- Packed ​with ​flavour​ thanks to my secret ingredient.
- You can ​customise​ it with veggies of your choice.
- You'll get in ​several portions​ of veggies.
- It's ​cheap as chips​, using only staple ingredients.
- Popular with ​young and old ​alike.
- The dumplings are ​super soft and chewy​. And don't say you haven't been warned - you won't want to share this one with anyone!
Making Vegan Stew with Dumplings
Ever wondered what goes into a vegan stew? Here it comes!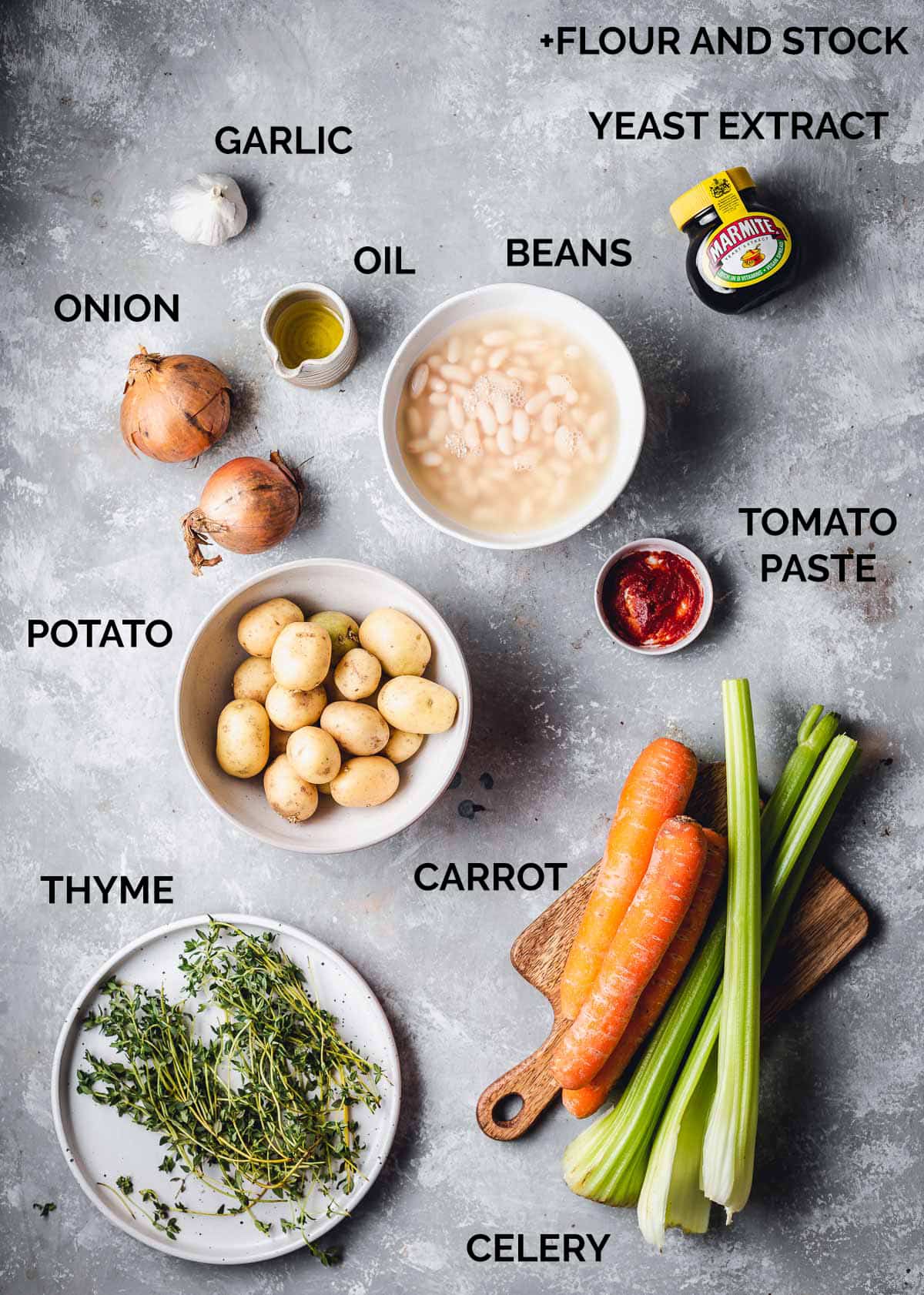 - Yeast Extract: my secret ingredient to make this stew super savoury, rich and flavourful. Don't mistake with nutritional yeast.
- Beans: If you like the starchy, bean flavour you can use the liquid from a can of beans too. Or you can simply just drain the liquid and use beans only.
In terms of equipment, you won't need anything fancy. I recommend a good, medium-sized or large cooking pot, preferably a non-stick one.
As always, it will be handy to have proper measuring spoons, but you can use regular spoons if preferred.
1. How To Make the Stew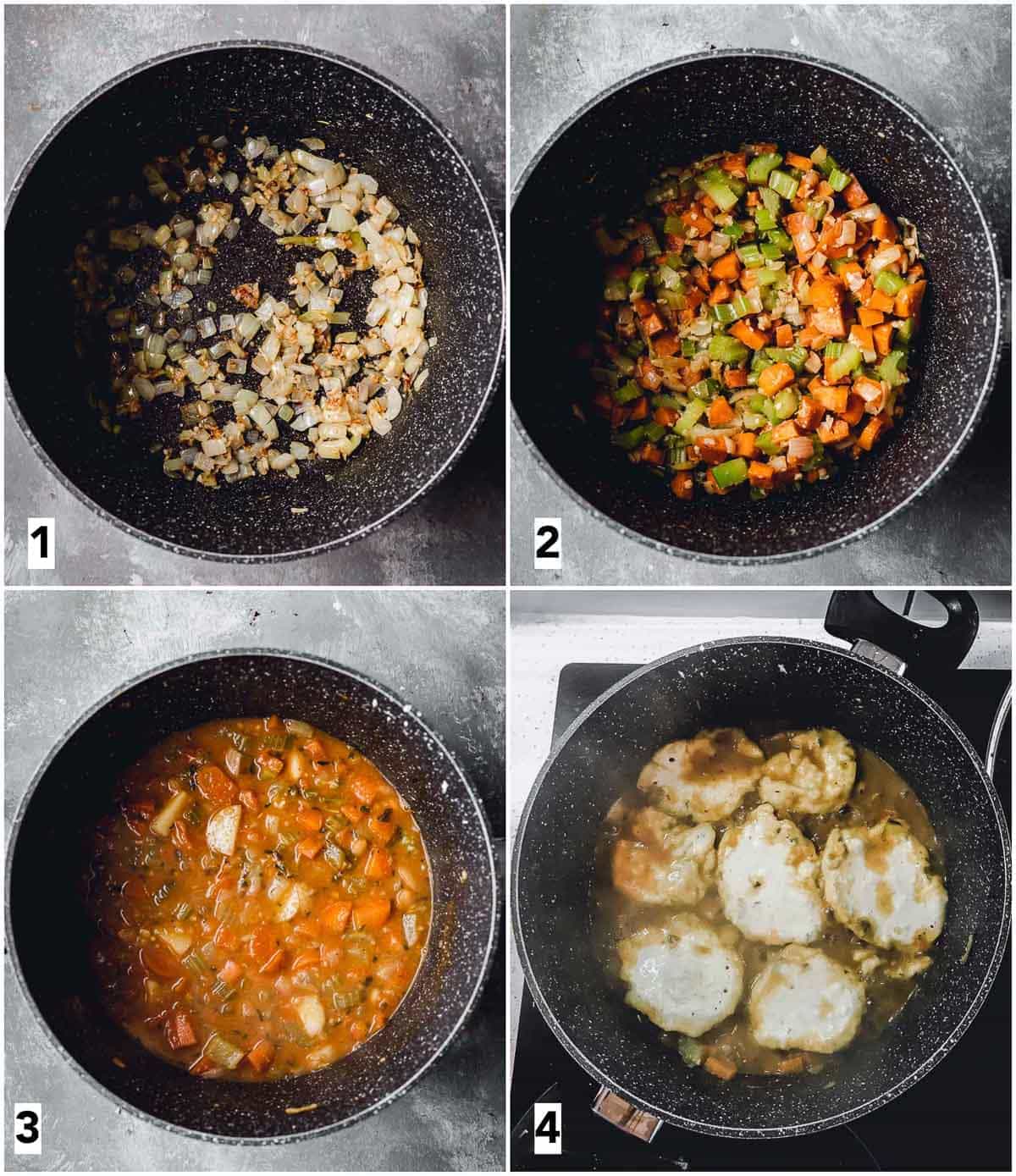 Gently fry your garlic and onion.
Then add carrots and celery and fry for further 15 minutes.
Add vegetable stock, yeast extract, tomato paste, beans, potato and seasoning. Simmer for another 20-25 minutes. Add your cornstarch thickener halfway through.
In the meantime, make your dumplings (full instructions below). Add dumplings to the pan and cook uncovered for 8 minutes, then cover and cook for 12 minutes. Don't forget to stir the bottom ocassionally.
2. How to Make Vegan Dumpling Dough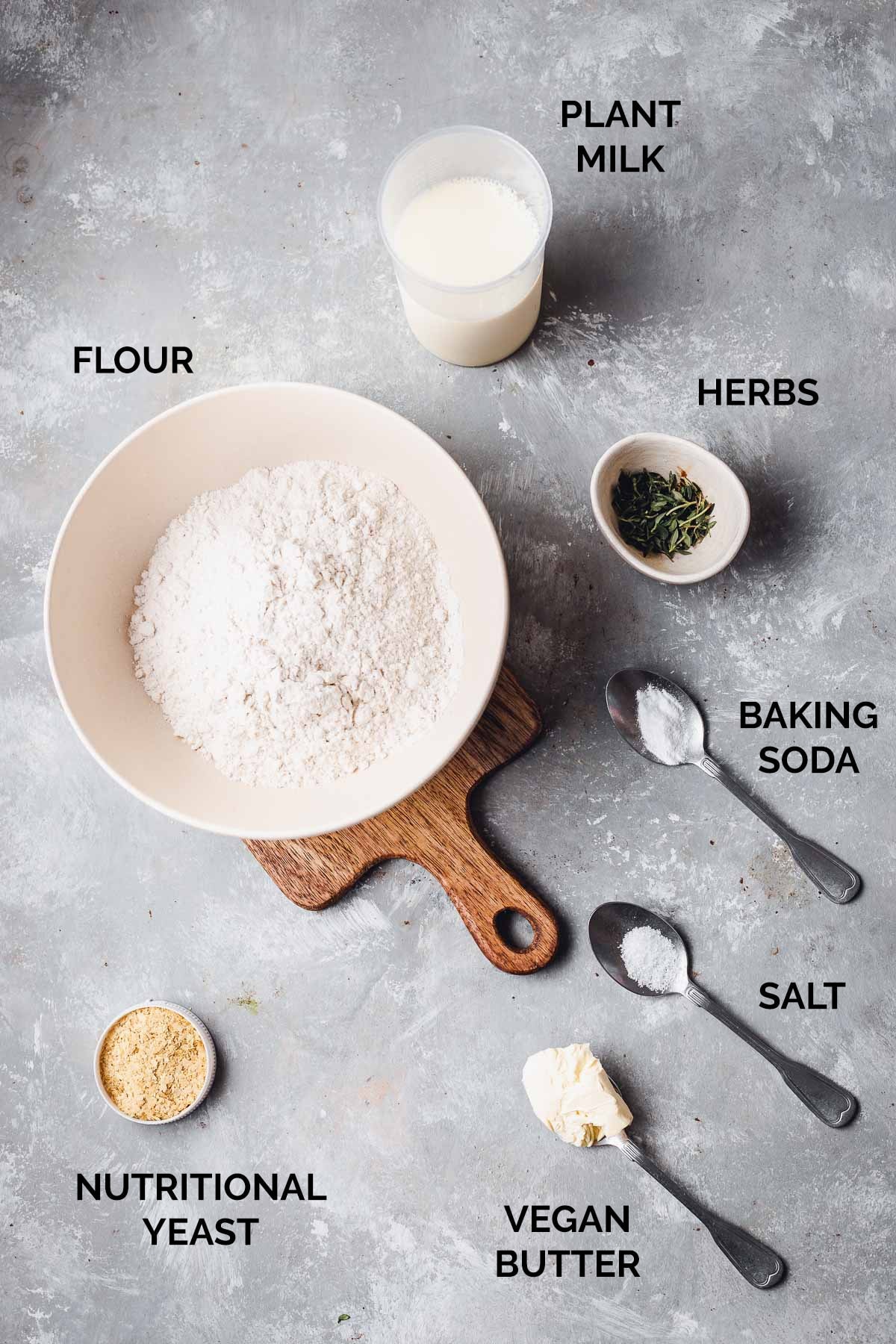 Wondering how to make vegan dumplings from scratch? You'll be pleased to know it's actually super easy. This recipe is pretty forgiving so even if you're a complete cooking novice, you should have no issues.
There's a reason why these are often called 'drop dumplings'. You simply just make the dough and then drop it on top of a simmering stew. Here are the steps you'll need to take: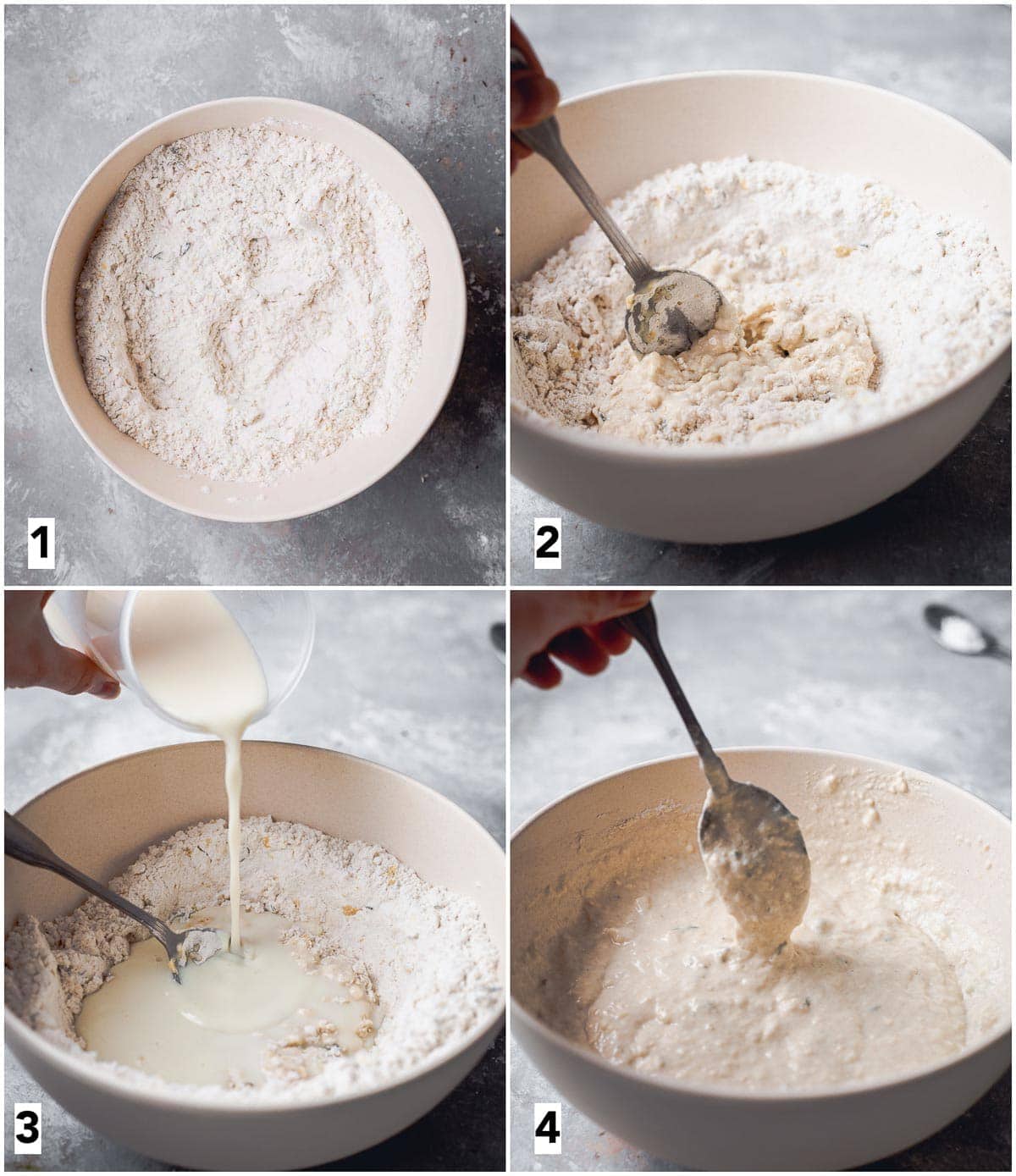 Combine all your dry ingredients.
Then add in vegan butter (room temperature, but not melted) little by little. Make sure to really rub the butter into the flour mixture using a spoon.
Last but not least, add your plant milk little by little. Mix well. Don't worry if some lumps remain.
If you want your dumplings to be really big like mine, use a 1⁄8 cup measuring cup. If you prefer smaller, just use a tablespoon. Drop the dough on top of the simmering stew. Preferably, place it on top of vegetables to prevent it from sinking. Then, as stated above, cook for 8 minutes uncovered and further 12 minutes covered.
Vegan Stew: F.A.Q.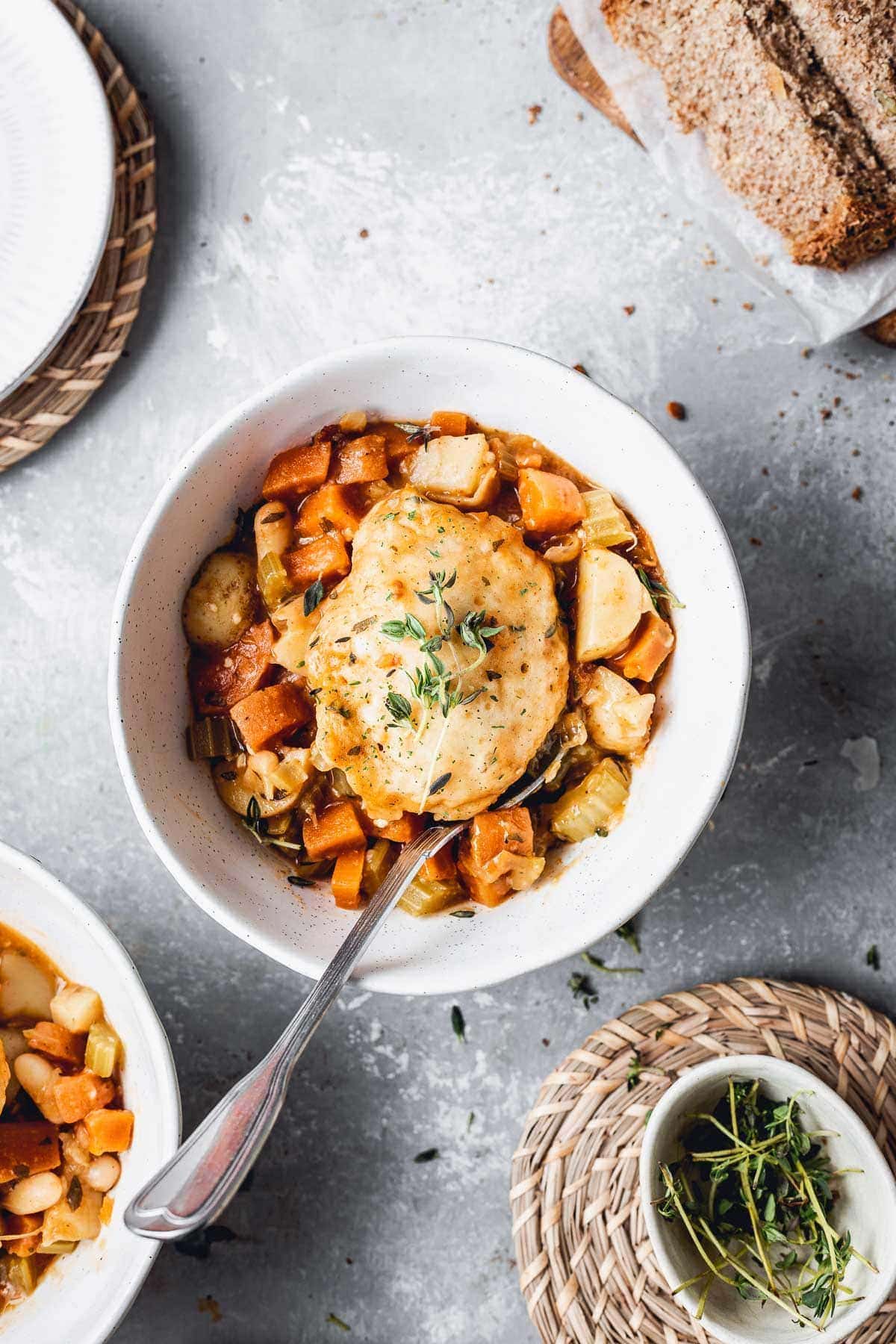 How to make a stew more flavourful?

It's ALL in the herbs, spices and my secret ingredient. Let's break it down.

Herbs-wise you will want to really stock up on thyme and not be shy to use parsley. In terms of spices, you will need a good teaspoon of paprika powder, plus some delicious black pepper.

Last but certainly not least, you will need yeast extract. This is not to be confused with nutritional yeast.

This is a crucial ingredient that adds a special 'oomph'. It's super savoury, salty and provides a real punch that vegan stews tend to miss from time to time.

Having not added any meat or meat substitutes, yeast extract will help add that hearty, salty, rich and deep flavour.
How do I fix a thin stew?
Add more flour. You can use either regular plain flour or cornflour. You will want to make sure your flour is dissolved in some liquid BEFORE you add it to your stew. Wondering how to do that?

Grab a tablespoon of flour and cover it with just enough water to make it into a smooth paste. Stir until no lumps remain.

Then slowly pour into your stew and keep stirring. You should see your stew thickening up in a few minutes. Don't add more than a tablespoon of flour at a time.

Alternatively, you could also use arrowroot powder and dissolve it in water.
How to prevent vegetables from sticking to the pan?
Make sure to always keep an eye out on the bottom of your pan. If you see any vegetables sticking to the bottom, add a splash of water and immediately scrape the bottom with a silicone spatula.

Make sure to gently stir the bottom of your stew even whilst your dumplings are in the pan.

If you're using a non-stick pan, never scrape with a metal utensil as they tend to ruin the non-stick coating.
Expert Stew Tips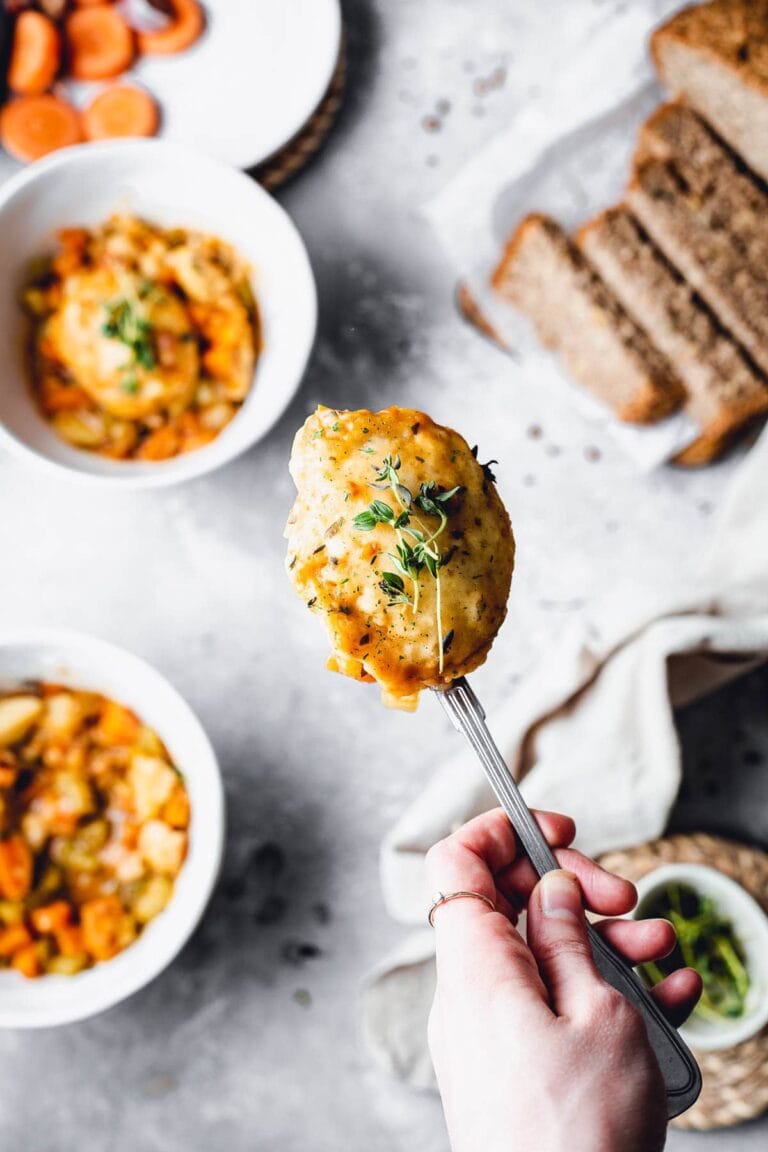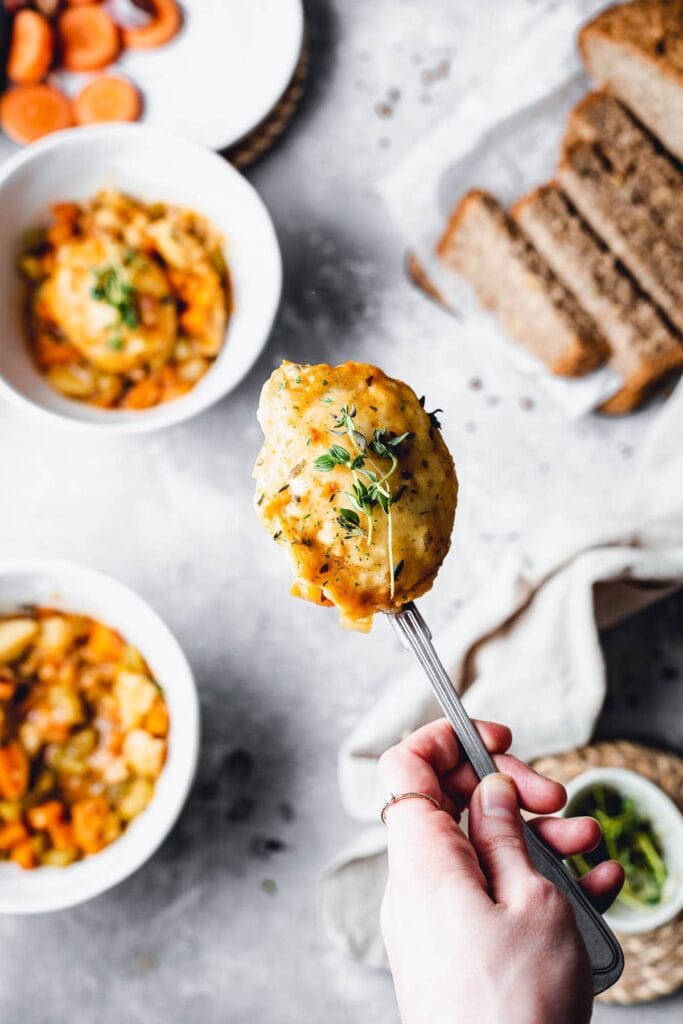 What side dishes go with stew?
The first thing that comes to mind are creamy mashed potatoes. They're the perfect soft addition to your hearty stew and you can use regular or sweet potato. Another great simple side dish is bread. If you prefer something crunchier, you could top off your stew with croutons.
Seeing that our stew is already served with dumplings, you might go for a lighter side dish. Why not try a delicious green salad or a crunchy grated carrot & cabbage salad. You could also simply top it off with a dollop of yummy vegan yoghurt.
Just like my​ vegan pot pie​, this hearty stew goes well with a big portion of long green beans. As you can see, the options are endless.
Can you make this stew ahead of time?
You most definitely can! Simply let it cool down completely, transfer to an airtight container and store in a fridge for 2-3 days. The stew itself can be stored for longer, even up to 5 days.
This is why if you're making a stew and want to save it for as long as possible, I recommend making the dumplings later on.
If you're a fan of hearty dishes like this one, you won't want to miss my vegan pot pie. Or you could try out my baked vegan mac & cheese, savoury vegan muffins, roasted red pepper pasta or vegan scrambled egg.
🍴Recipe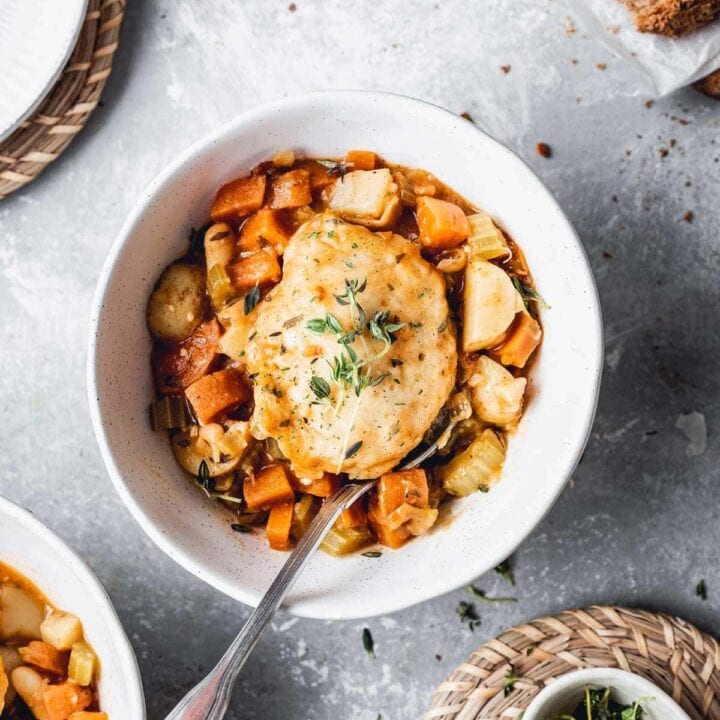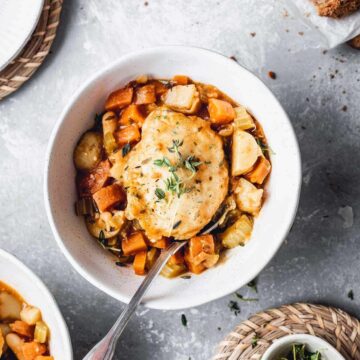 Vegan Stew and Dumplings
Vegan stew and dumplings are the perfect comfort meal. Easy, quick and affordable.
Print
Pin
Rate
Equipment
Large cooking pan

Kitchen scales

Measuring spoons
Ingredients
FOR THE STEW
1

tablespoon

olive oil

6

cloves

garlic

1

onion

2

carrots

3

celery stalks

½

can

canellini beans

washed and drained

150

g

(

5.29

oz

)

potato

about ½ a large potato

550

ml

(

2.32

cups

)

vegetable stock

1

tablespoon

thyme

2

tablespoon

tomato puree

2

teaspoon

yeast extract

1

teaspoon

paprika powder

1

teaspoon

parsley

1

teaspoon

black pepper

1

teaspoon

onion powder

2

tablespoon

cornflour

mixed with 2 tablespoon water

optional: extra vegetable stock or water
FOR THE DUMPLINGS
120

g

(

4.23

oz

)

plain white flour

¼

teaspoon

salt

1

teaspoon

baking powder

1

tablespoon

thyme

or other herb like parsley and chives

1,5

teaspoon

nutritional yeast

1

tablespoon

vegan butter

1

tablespoon

onion powder

130

ml

(

2.2

floz

)

unsweetened soy milk

or other unsweetened and unflavoured plant milk
Instructions
Wash and chop all your vegetables.

Warm up olive oil in a large cooking pan. Add chopped onion and crushed garlic. Gently fry for 5 minutes.

Add carrots and celery and gently fry on low heat for another 15 minutes until softened.

Then add all remaining ingredients except cornflour. Bring to a boil and simmer for 15 minutes. Keep an eye out on the bottom of the pan to make sure your veggies don't stick to the bottom.

After 15 minutes of simmering, it's time to thicken your stew. Dissolve 2 tablespoon of cornflour in 2 tablespoon of water. Add to your stew. Stir well and keep simmering until your vegetables have cooked thoroughly - about 15 to 20 more minutes.

Don't forget to stir the bottom of the pan occasionally to prevent vegetables from sticking to the bottom. You will also need to add a splash of water to your stew if it gets too dry.

In the meantime, use a separate bowl to make your dumplings. Combine all your dry ingredients (flour, salt, baking powder, nutritional yeast and herbs).

Little by little, add vegan butter. Make sure your vegan butter is at room temperature as this will help it dissolve better. Try to mix in your butter with your dry ingredients as much as possible, using a spoon to press the butter against the bowl's edge. Then add your unsweetened plant milk and stir well.

Using a spoon or a measuring cup, scoop out your dumpling mixture and add to your simmering stew. I usually use a ⅛ measuring cup which will create 6 dumplings (as original recipe is written - adjust if you've altered the batch size).

Place your dumplings on top of the vegetables in order to prevent them from sinking. Cook for 8 minutes uncovered, then add some more water to your stew (100-200ml - adjust if making a bigger/smaller batch than original recipe) and cook covered for 12 minutes.

Make sure to gently stir the stew around your dumplings to prevent it from sticking to the bottom of the pan. Don't be afraid to move the dumplings around if you need to.

Once your dumplings have cooked thoroughly (you will notice they've become hard and changed colour), serve your stew with some extra fresh thyme.
Notes
The beauty of this stew is that it's super easy to customise. If you're missing any vegetables, simply swap them for something else. You can swap potatoes with sweet potatoes, beans with lentils or chickpeas, thyme with any other herb of choice etc.
You can swap cornstarch for plain flour.
To make this dish gluten-free, use gluten-free plain flour for your dumplings batter.
Make sure to keep an eye out on the bottom of your pan. Scrape the bottom well with a silicone or wooden spatula from time to time to prevent anything from sticking and burning.
If your vegetable stock and water have largely evaporated, simply add more water or stock.
Gently brush the dumplings with a little bit of stew whilst they're cooking - this will add a beautiful golden colour.
Don't be in too much of a hurry! There's nothing worse than spending time and effort on a delicious stew only to realise you haven't cooked the veggies thoroguhly. Allow time to cook completely, adding more water if needed and tasting your vegetables before removing from heat.
Nutrition
Calories:
499
kcal
|
Carbohydrates:
84
g
|
Protein:
13
g
|
Fat:
13
g
|
Saturated Fat:
2
g
|
Sodium:
1637
mg
|
Potassium:
792
mg
|
Fiber:
8
g
|
Sugar:
6
g
|
Vitamin A:
1965
IU
|
Vitamin C:
29
mg
|
Calcium:
246
mg
|
Iron:
7
mg
Disclaimer: The nutritional information above is calculated automatically. The author of this post cannot guarantee 100% accuracy of this data.