Jump to Recipe
Simper and super quick vegan red pepper pasta. Creamy, packed with nutrients and so easy you could make it with your kids. It keeps well in a refrigerator, making it the perfect meal prep option.
This is for lovers of creamy pasta sauces that don't actually want to use cream.
Regardless of your skill level, this pasta will be a true cooking triumph. Whereas I love setting myself up for a complicated challenge, there are days when you just need something super simple. This delicious recipe is a lifesaver for all those days I'm in a huge hurry, but still want to eat something healthy.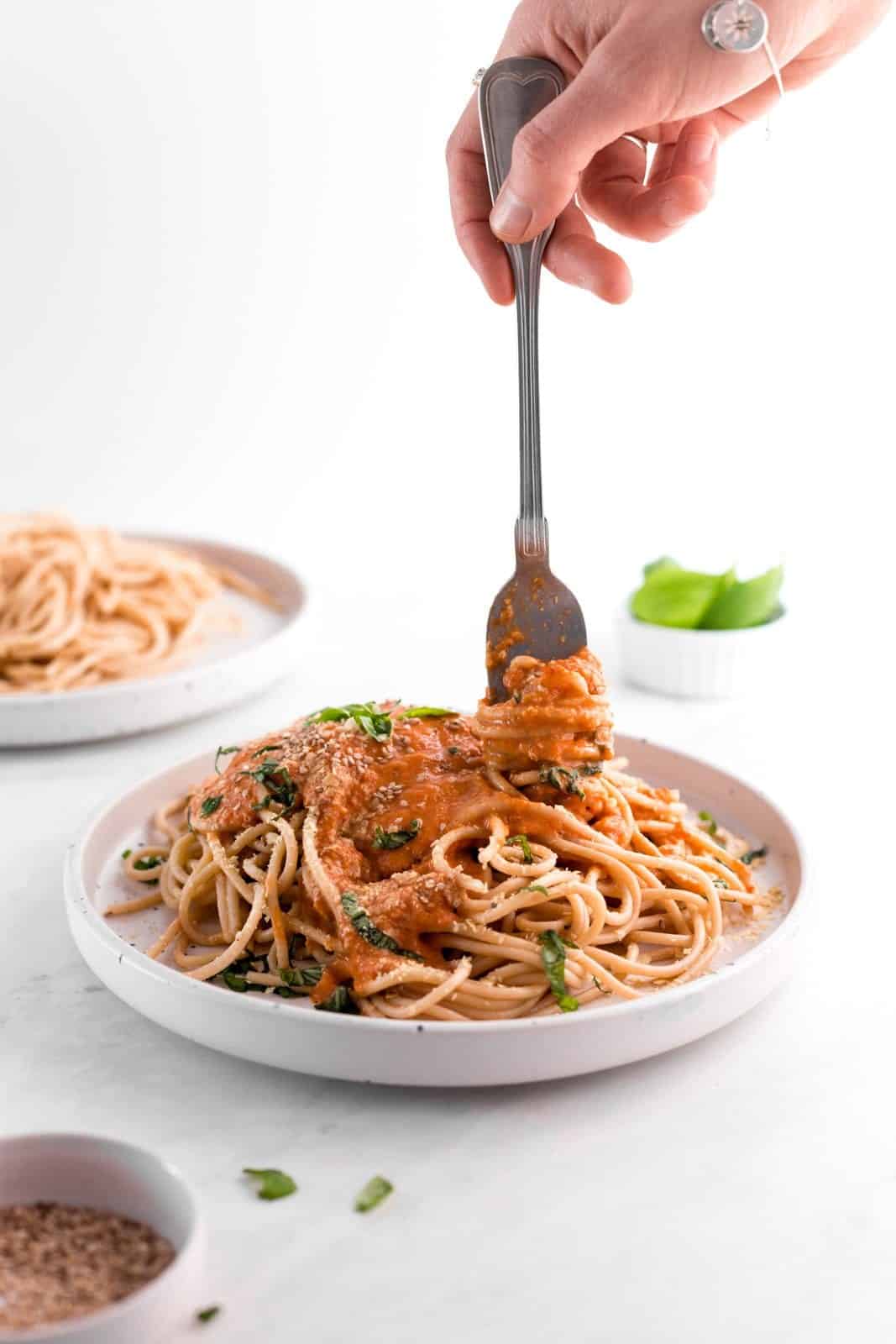 No-Cream Creamy Pasta Sauce? YES Please!
There are plenty of reasons why you might be looking for no-cream alternatives. You might find cream too heavy or perhaps you simply can't find a vegan version in your area. Of course, you might also want to switch out cream in an attempt to eat healthier food. Depending on where you live, vegan cream can be expensive or you might simply not like the taste. But no need to worry – with a few tricks up your sleeve you can still enjoy the creamiest pasta sauces without ever using any cream!
This vegan red pepper pasta is
filled to the brim with vitamins (vitamin A, B6, C, E, K1)
rich in potassium and folate
IN-CRE-DIBLY simple
approved by my entire (non-vegan) family
super creamy
dangerously addictive
Read more nutritional info on bell peppers here.
A Lazy Gal's Vegan Red Pepper Pasta
There's not many times I can say a recipe was born out of laziness. I try to keep my recipes super simple, but most of them require conscious efforts to come up with something completely unique and require me to carry out various re-tests. But pure old laziness was the cradle of this vegan red pepper pasta.
I'm juggling loads of projects at the same time and I need quick and effective meals. Something super easy, but really delicious and very importantly – something that will actually fill me up! I always use wholemeal pasta and I'd definitely recommend it if you're struggling to feel full hours after a meal. To make things even more filling and nutritious, I relied on a secret ingredient …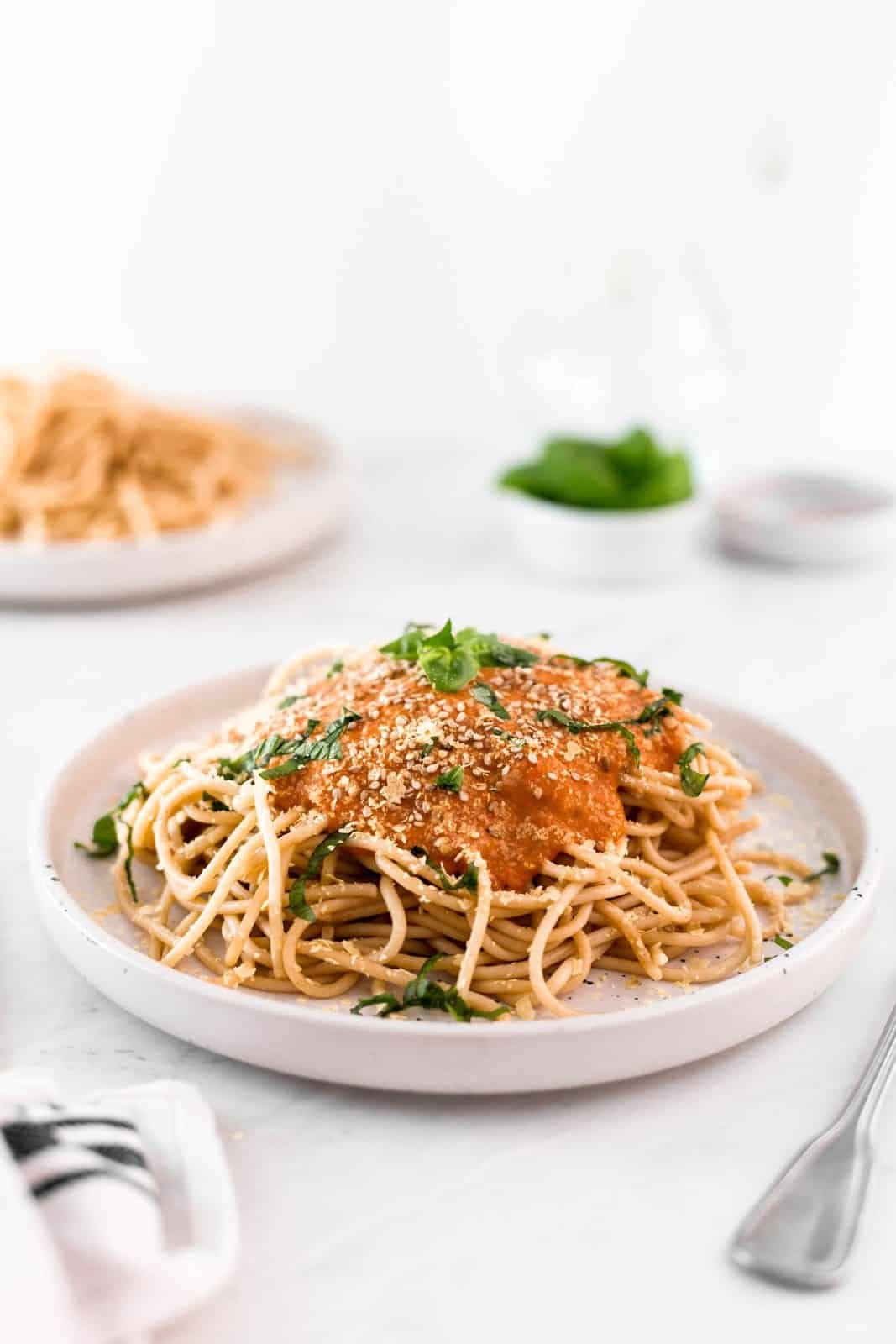 Secret Ingredient Revealed – Peanut Butter!
I know what you're thinking – is she actually going to add peanut butter to pasta sauces now? Oh yes! Believe me, it's been tried and tested on multiple occasions and you need to give it a go yourself. Adding peanut butter to my pasta sauce has totally revolutionised my cooking. Big disclaimer – you need to use 100% peanut butter (with no sugar added) and go for SMOOTH, not crunchy. Many big supermarkets now sell their own natural peanut butter (Aldi does too and it's super cheap!). You can also find it in every healthy food shop like Holland & Barrett. If you've got a good food processor you can even whip it up yourself! Peanut butter not only adds a gorgeous creamy texture, but also adds a real punch of flavour. It's also packed with nutrients, so you can't really say not to that, right?
Peanuts are SUPER rich in
vitamins and minerals (copper, manganese, phosphorus, biotin, magnesium and SO much more)
bioactive plant compounds and antioxidants (reservatrol, isoflavones, phytic acid, phytosterols)
protein and healthy fats!
Enough rambling – if you liked this recipe, don't forget to leave a review or comment below. I'm so intrigued to hear about your takes on this super duper easy pasta!
If you're starting out as a vegan or just want to discover simple vegan recipes make sure to follow me on Pinterest, Instagram and Facebook. I've also compiled a list of 90 vegan meal ideas you can download for free here.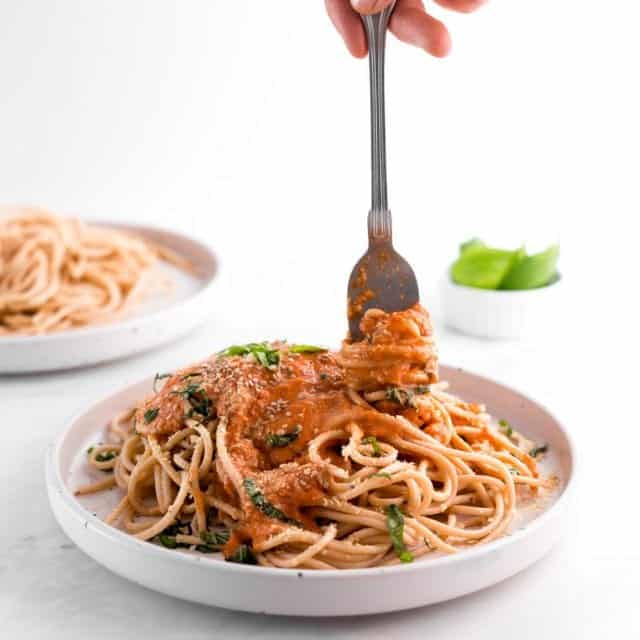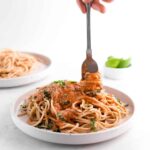 Vegan Red Pepper Pasta
Super creamy red pepper pasta to satisfy all your cravings.
Ingredients
280

g

grilled red peppers

170g drained weight

½

tsp

garlic powder

3

tbsp

nutritional yeast

1

tbsp

peanut butter

use peanut butter containing only 100% peanut (no added salt, oil or sugar)

½

cup

almond milk

unsweetened

360

g

wholewheat pasta

A pinch

of salt and pepper
Instructions
Rinse grilled peppers and add to a pan.

Add nutritional yeast, peanut butter, almond milk and seasoning (salt, pepper, garlic). 

Then, simply whiz using a hand blender or transform to a blender and blend until smooth.

Heat the blended pepper sauce on medium heat for 3-5 minutes just until it starts to bubble. 

In another large pan, bring salted water to the boil and cook your favourite pasta.

Pour hot sauce over your boiled pasta and enjoy!

Serve with fresh chives or basil, sesame seeds and a sprinkle of vegan cheese.
Nutrition Facts
Vegan Red Pepper Pasta
Amount Per Serving
Calories 1541
Calories from Fat 144
% Daily Value*
Fat 16g25%
Sodium 277mg12%
Potassium 1919mg55%
Carbohydrates 301g100%
Protein 72g144%
Vitamin A 8767IU175%
Vitamin C 358mg434%
Calcium 314mg31%
Iron 16mg89%
* Percent Daily Values are based on a 2000 calorie diet.
Jump to Recipe