Say hello to my vegan pot pie. This is a true crowd-pleaser that simply cannot disappoint.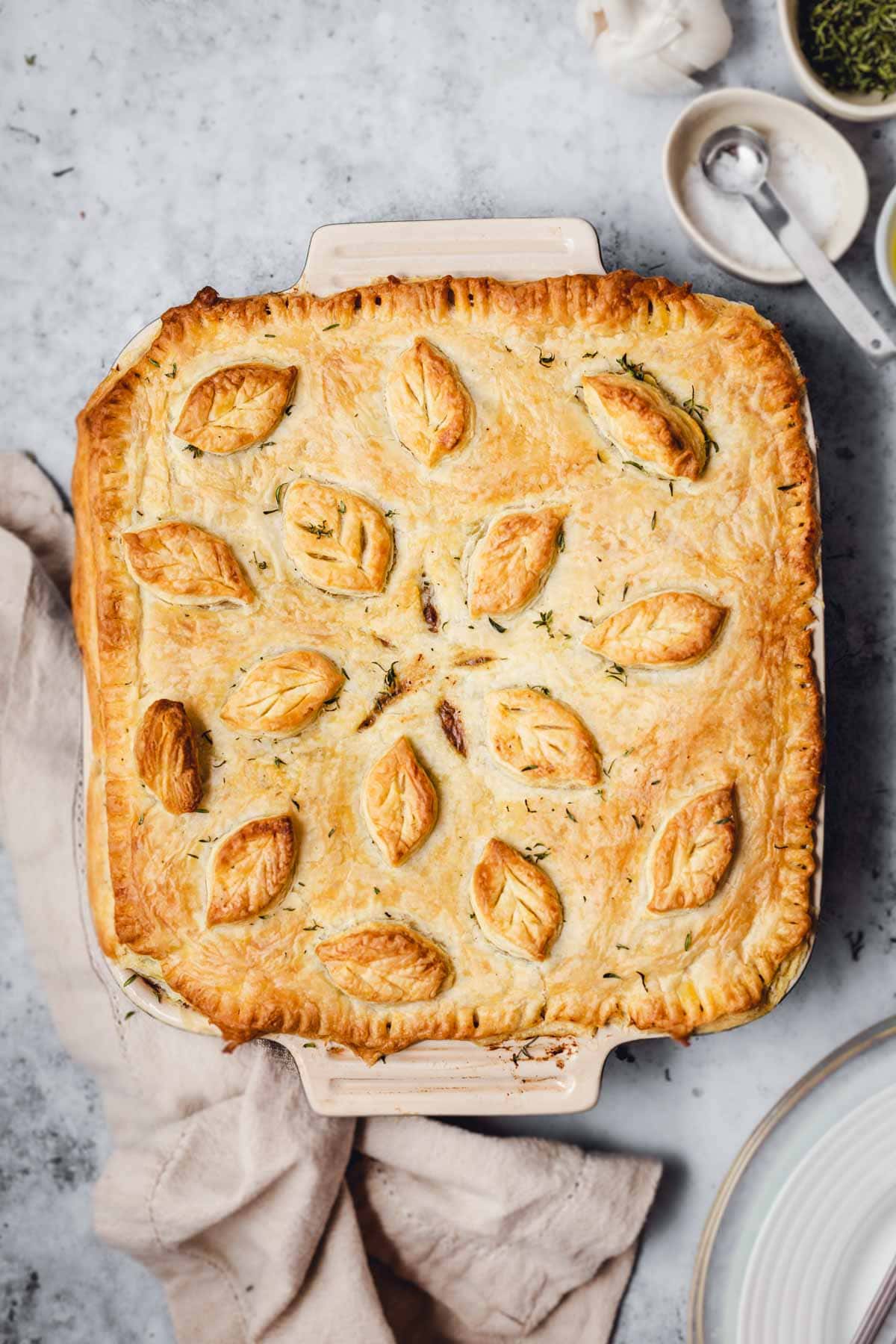 Why Choose This Pie
It's super comforting
Great festive meal
Packed with veggies
Contains a secret portion of protein
Easy to make
Budget-friendly
It's one of the recipes that simply just works. This is why I'm convinced you'll like it and succeed in making it. I've made this veggie pot pie dozens of time in the past year and the recipe has now been tweaked to perfection.

The Ingredients
To make your delicious veggie pot pie, you will need the following ingredients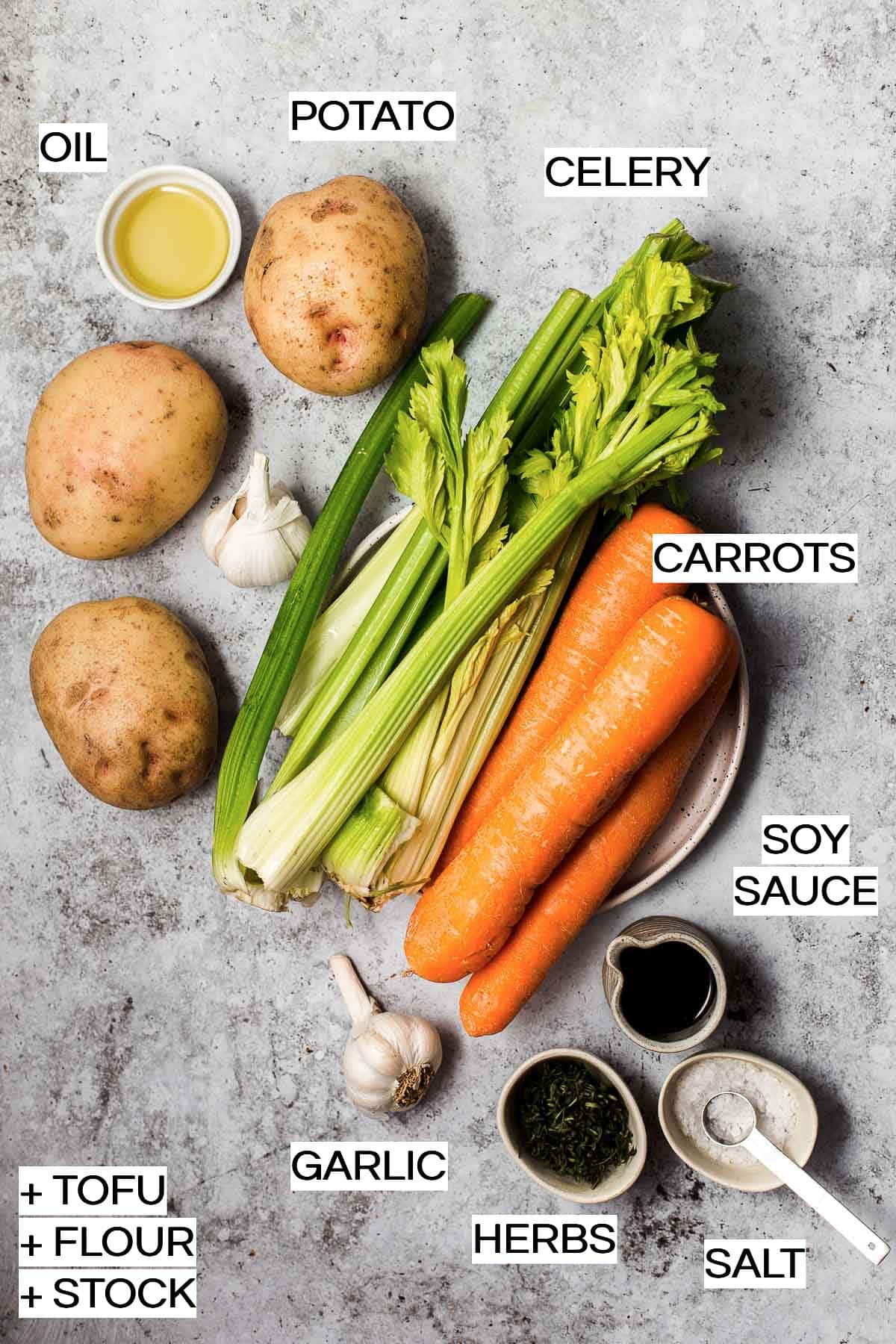 A couple of notes about the ingredients:
Tofu: I used firm silken tofu which works best. If that's not available to you, feel free to choose another type of tofu like firm tofu.
Oil: I enjoy using sesame oil in this recipe, but this can be substituted for another vegetable oil such as oil or sunflower.
Herbs and spices: I used garlic powder, thyme, salt & black pepper.
In terms of equipment you will also use an overproof dish. Any shape will do, but I used a rectangular dish (I used a 22cm wide and 20cm long rectangular Le Creuset dish -).
Step-by-Step Photos
Making a pot pie from scratch can sound scary. But fear not, with a few tricks, you can nail it from the first try. I included step-by-step photos below to help you along the way.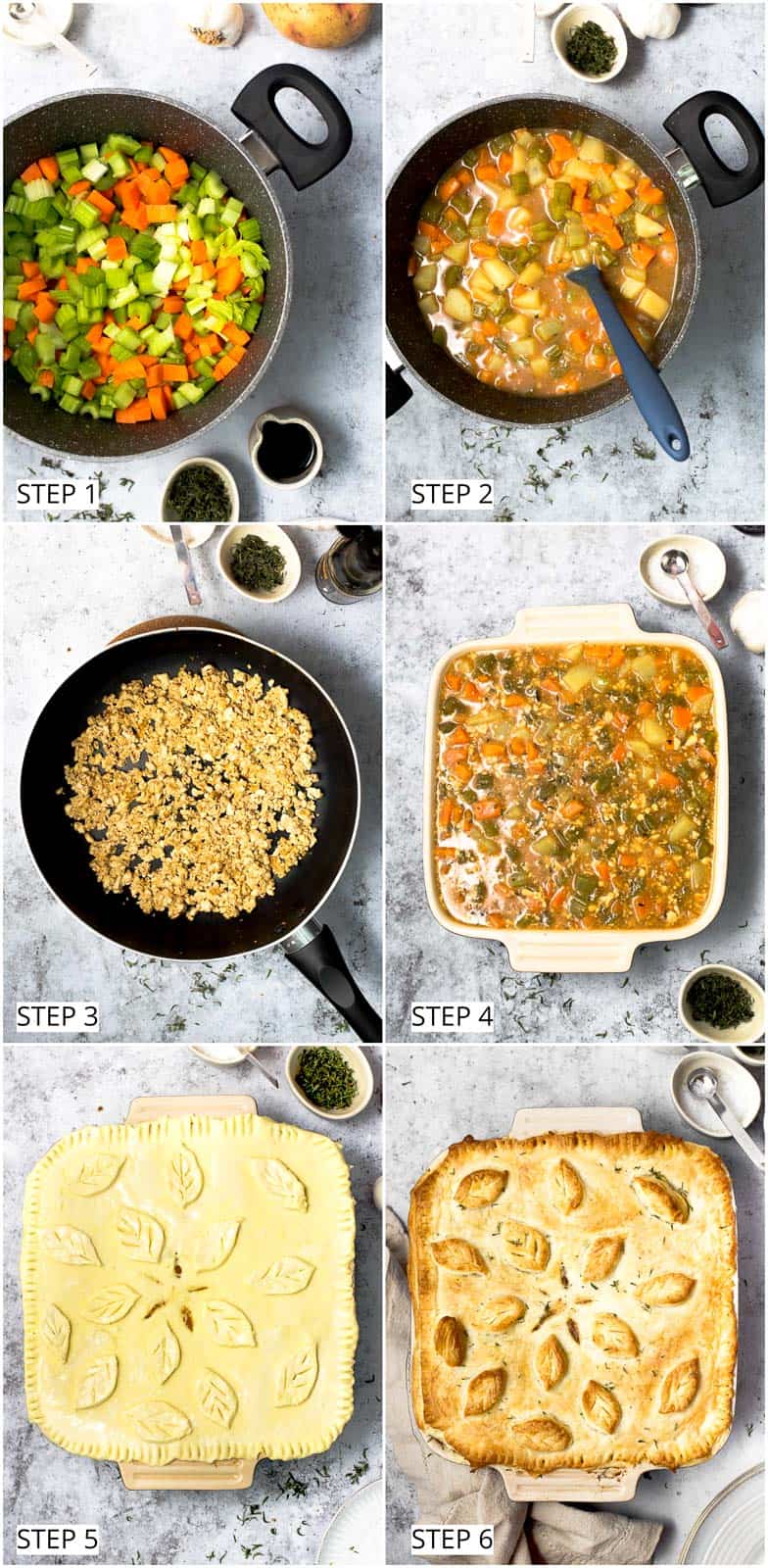 These are the 6 easy steps:
Gently fry the veggies
Then add vegetable stock and simmer until just tender
In the meantime, gently fry the tofu
Transfer the filling and tofu to an ovenproof dish
Cover your filling with puff pastry
Bake at 180°C / 356°F for 25 minutes.
How To Make The Filling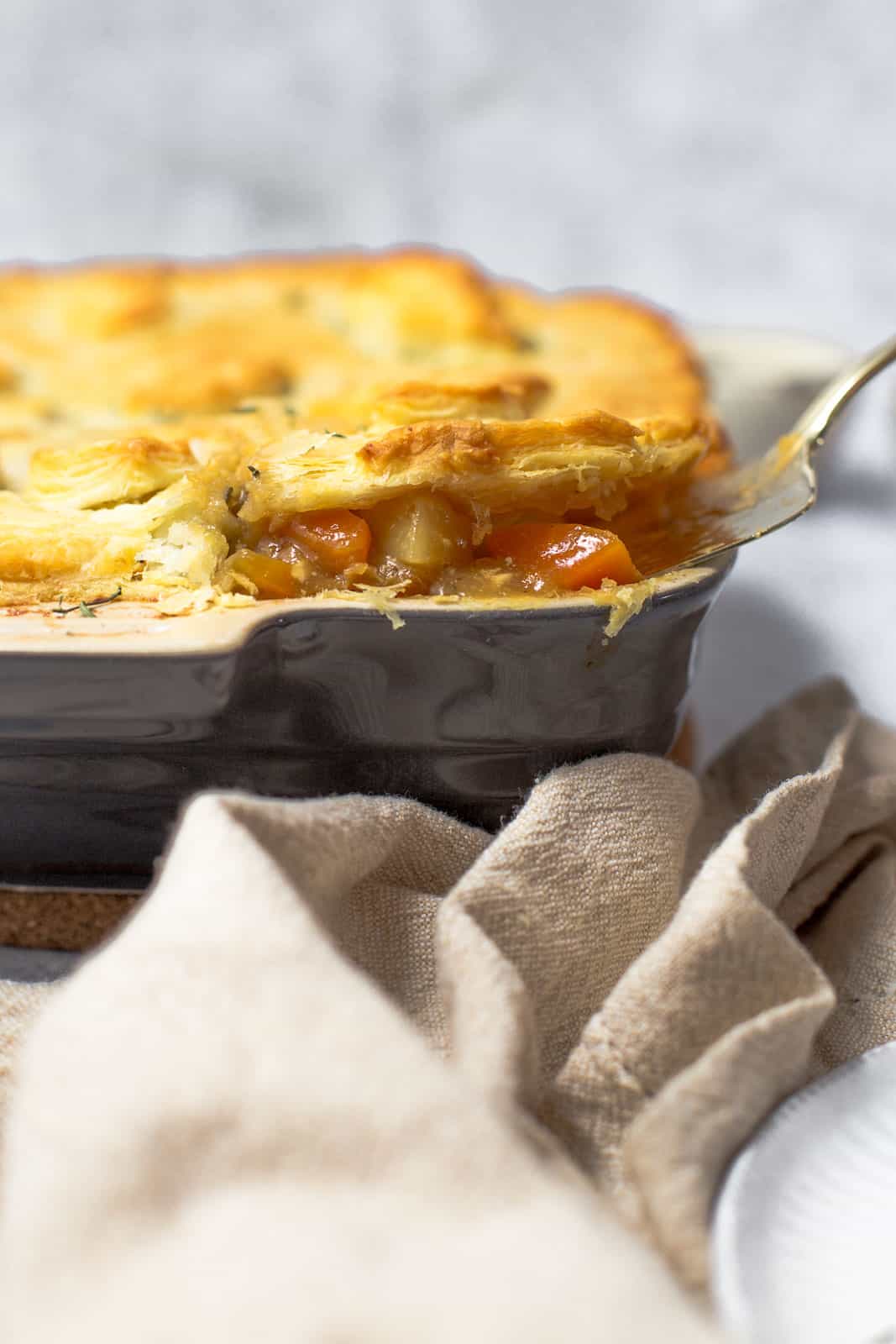 The filling is the heart of every pie. This means it needs to be bursting with flavour. But hey, it doesn't mean it's difficult to make.
We'll stick to veggie staples like celery, potato and carrots to keep it super budget-friendly. Then we'll throw in plenty of seasoning and a few secret ingredients to make it extra drool-worthy.
I know you like a detailed step-by-step breakdown so here it is:
1. Heat up a tablespoon of oil and crush in 5 cloves of garlic. Add celery cubes and carrots and fry gently. P.S. - garlic burns fast, watch out!
2. When you've been frying for about 7 minutes, add just enough vegetable stock to cover all your ingredients (approx. 900 ml, but might be less depending on the size of your pan). Bring to boil. Then add potato cubes.
3. Now it's time to go herb-wild! Add thyme and soy sauce. Optional: Add more black pepper, garlic powder and salt to taste.
4. Simmer for approx. 20 minutes minutes or until carrots and potatoes are tender, but not overcooked. Depending on the size of your pan, there might still be a lot of liquid in the filling. Don't worry about that. You can leave it as it is or let it simmer out if you prefer a drier version.
5. That's it! You've made your delicious vegetable filling. Told you it was easy!
Now it's time to fry our tofu before we pop it all in the oven and wait.
Expert Tips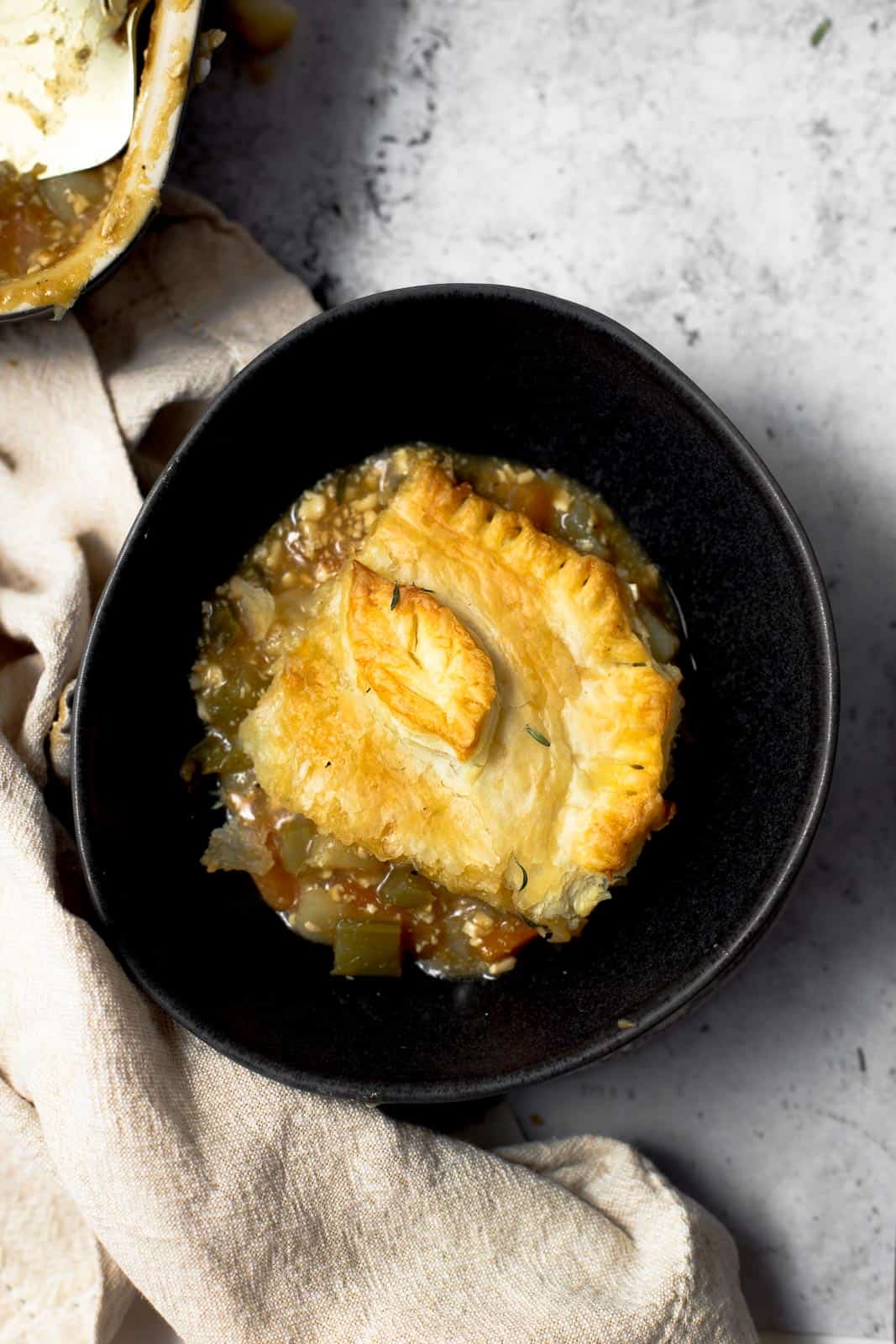 1. Save Time with Puff Pastry
I'm a big fan of making life easier for myself so, naturally, I stuck to store bought puff pastry.
Whether you're making this for a large family occasion, a small festive gathering or just as a weekend treat, I strongly recommend choosing pre-made puff pastry.
It will cut down significantly on the prep time and ensure maximum consistency of your bake. PS - You can use the extra time to prepare a quick dessert!
2. Brush Your Pastry
Before popping your dish in the oven, grab a tablespoon of unsweetened almond milk. Use a wooden or plastic brush to gently brush all over the puff pastry.
This will help create a crunchy golden crust that's simply to die for. Make sure you really spread it throughout the whole pie.
3. Experiment & Customise
Above all, this recipe is destined to become your new holiday special. It allows for a little bit of messiness and a whole lot of cooking inexperience. In other words, literally anyone with basic cooking skills can make it.
Chopped the veggies too big? No problem, they'll have plenty of time to cook.
Added a bit too much water? No worries, it will simmer away.
Finding it hard to handle a lot of cooking at the same time? No problem,
Moreover, this means you can customise the pot pie in many ways! For instance, you could add any veg of choice or substitute tofu for vegan mince, chicken or seitan.
Looking for more hearty vegan recipes? I recommend my vegan stew and dumplings or my baked mac and cheese.
Last but not least, check out the delicious sister recipes to my vegan pot pie! You won't want to miss out on delicious pesto Christmas rolls from Rebecca Greentree or these FAB cranberry chocolate chip cookies from Short Girl Tall Order. Show them some love!
🍴Recipe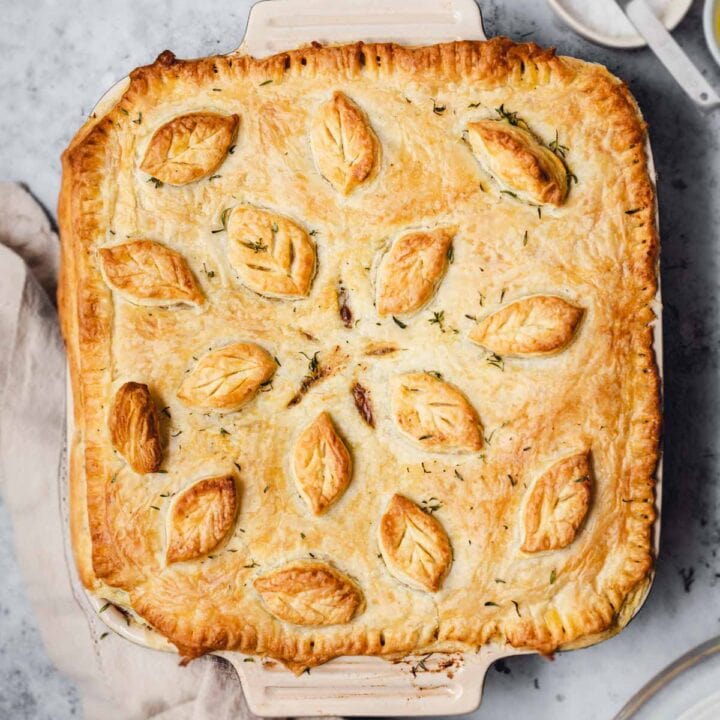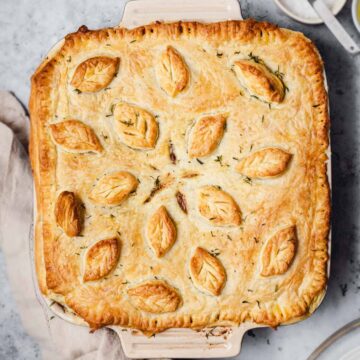 Simple Vegan Pot Pie
This simple vegan pot pie will become your new festive favourite.
Print
Pin
Rate
Ingredients
FOR THE FILLING
1

tablespoon

olive oil

4

cloves

garlic

2

carrots

(the equivalent of 275g of carrots)

450

g

celery

2

large white potatoes

(the equivalent of 485g of potatoes)

½

teaspoon

thyme

900

ml

vegetable stock

⅙

teaspoon

black pepper

4

tablespoon

soy sauce

4

tablespoon

plain white flour
FOR THE TOFU
350

g

tofu

I used firm silken tofu, but any tofu will do

1

teaspoon

sesame oil

or other oil

1

tablespoon

soy sauce

¼

teaspoon

thyme

1

teaspoon

garlic powder

⅛

teaspoon

salt

⅛

teaspoon

black pepper
FOR THE PUFF PASTRY
230

g

ready rolled puff pastry
Instructions
FOR THE FILLING
In a large non-stick pan, heat up olive oil, then add crushed garlic, carrot cubes and celery chunks.

Fry for approx. 7 minutes just until slightly softened.

Add vegetable stock and let it simmer to a boil.

Add potato (cut into cubes), thyme, black pepper and soy sauce.

Slowly sprinkle in 1 tablespoon of flour at a time. Stir it in straight away to prevent it from forming large clumps. Do not worry about small clumps as these will dissolve during cooking.

Let simmer for approx. 20 minutes with the lid slighly open, stirring occassionaly.

When potatoes and carrots are tender, but not overcooked, remove from heat.
FOR THE TOFU
Heat up sesame oil in a non-stick pan.

Open and drain your tofu, then crumble it up and add to the hot pan. Stir.

Add soy sauce, salt, pepper, ¼ teaspoon of thyme, garlic powder.

Lightly fry for approx. 10 minutes until all the water has evaporated and you're left with egg-like tofu.

Add tofu to your vegetable filling.
FOR THE PUFF PASTRY
Transform your vegetable filling (including tofu) to an ovenproof dish.

Pre-heat the oven to 180°C / 356°F.

Even out the surface using a flat spatula.

Fold out your ready-made puff pastry and use it to cover the entire pie dish.

Use a fork to press down the puff pastry onto the sides.

Use any leftover puff pastry for decoration e.g. cut out small leaves using a knife.

Bake at 180°C / 356°F for approx. 25 minutes.
Nutrition
Calories:
265
kcal
|
Carbohydrates:
33
g
|
Protein:
15
g
|
Fat:
9
g
|
Saturated Fat:
1
g
|
Sodium:
1000
mg
|
Potassium:
899
mg
|
Fiber:
6
g
|
Sugar:
6
g
|
Vitamin A:
6080
IU
|
Vitamin C:
19
mg
|
Calcium:
205
mg
|
Iron:
6
mg
Disclaimer: The nutritional information above is calculated automatically. The author of this post cannot guarantee 100% accuracy of this data.
Thank you for sticking with me to the end! I can't wait to hear all about your vegetable pie creations!