Bringing you the best vegan waffle recipe to satisfy all your comfort food cravings. It's beginner-friendly and can be served as breakfast or a snack.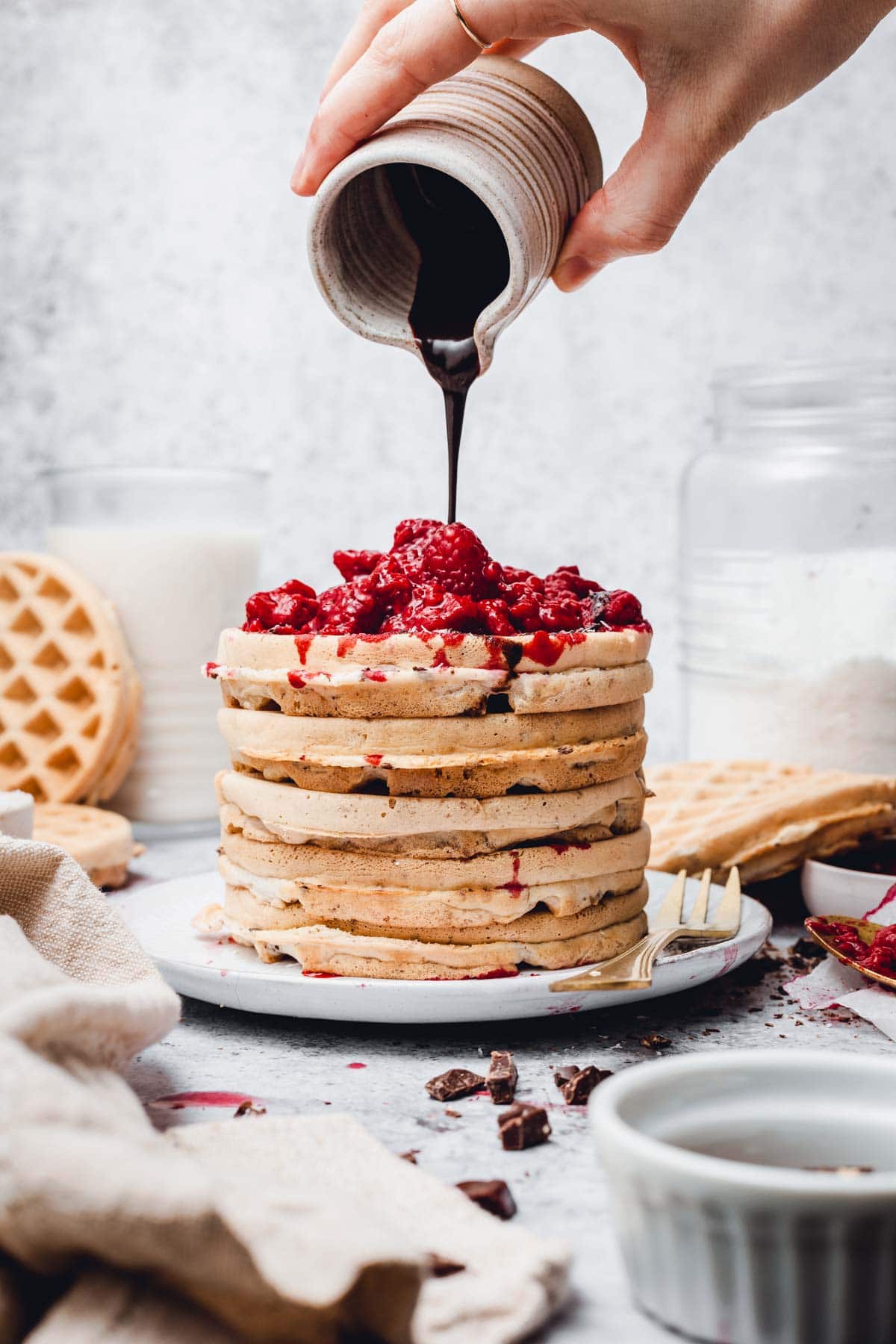 Why Choose This Recipe
Crunchier than your average waffle.
They have a pillowy, soft and airy inside.
Super easy to customise according to taste
They're served with the most delicious fresh raspberry sauce (optional)
Last but not least, they're entirely beginner-friendly.
Do I hear you screaming YES to all of these? Then let's make sure you nail the recipe in your very first try. Let's have a look at my top tips below.
The Ingredients
To make your new favourite vegan waffle you will need the ingredients in the image below: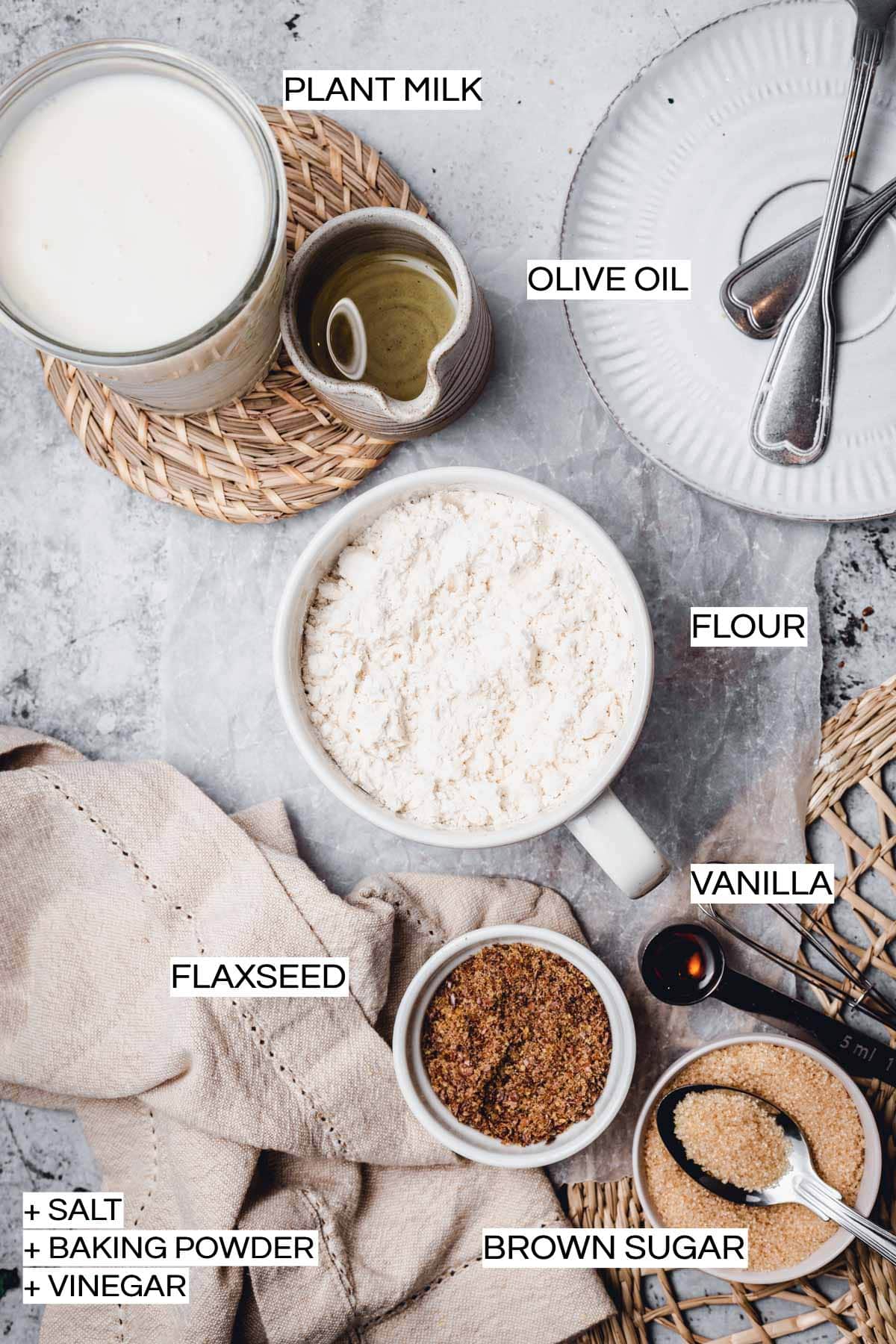 A few notes about the ingredients:
Plant milk: any unflavoured plant milk such as soy, almond, coconut, oat, etc. will work.
Flour: I've used plain white flour, but feel free to substitute for wholemeal or other type of flour.
Brown sugar: to make this recipe sugar-free, use stevia instead of sugar.
Vinegar: use apple cider or white wine vinegar.
Step-by-Step Guide
This is a quick visual guide to your waffle recipe. Find all measurements and in-depth instructions in the recipe card below.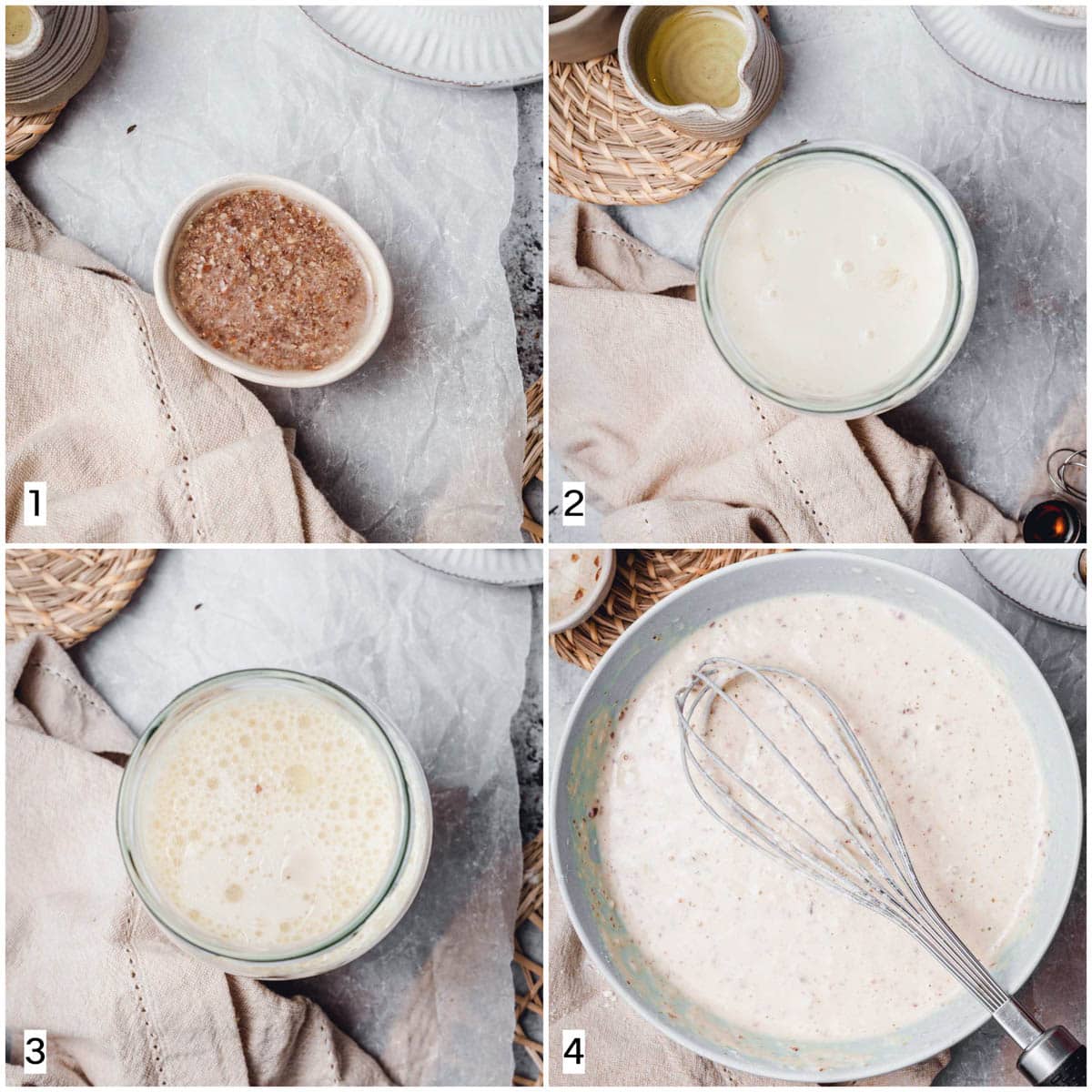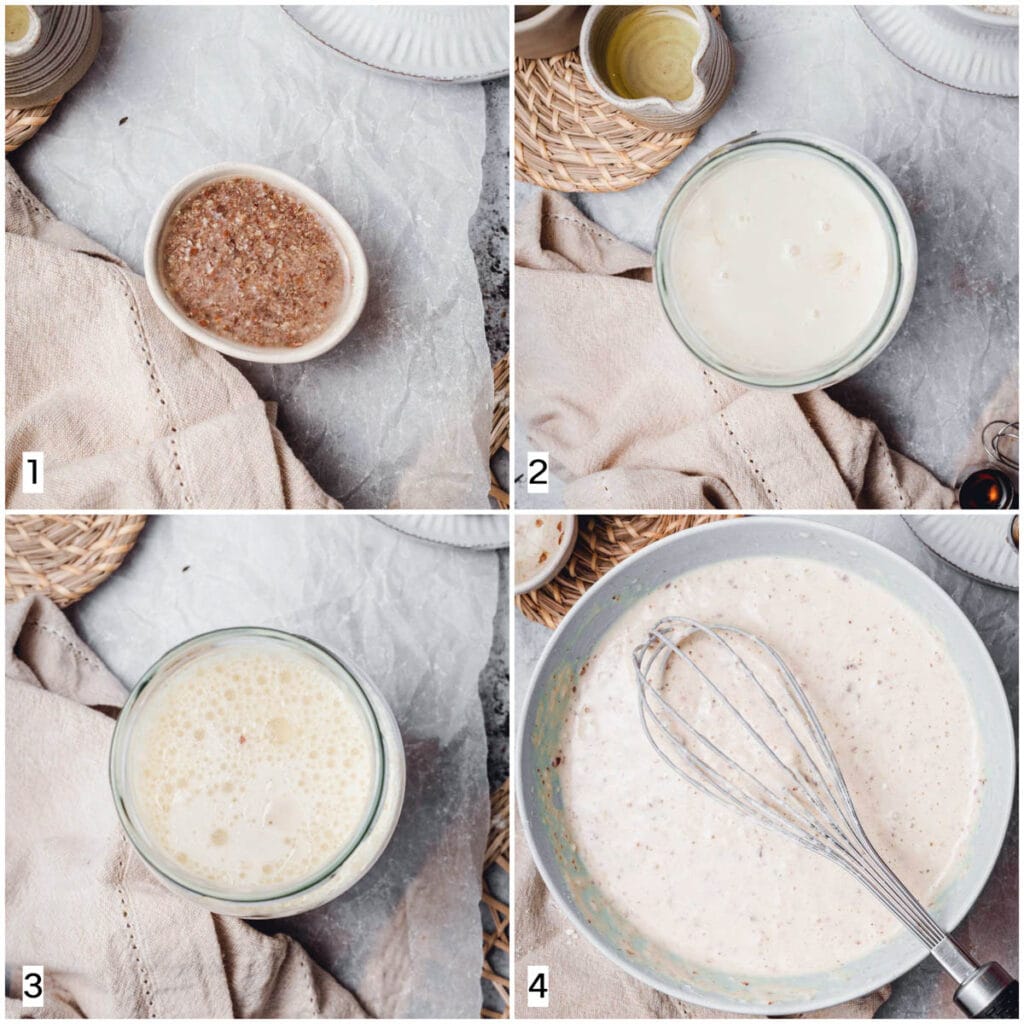 1. Make your flax egg by combining ground flaxseed and boiling hot water. Stir and set aside for 5-10 minutes.
2. Combine almond milk and vinegar. Stir thoroughly and set aside.
3. Add flour, baking powder, salt and sugar to a medium-sized bowl. Mix well. Return to your wet mixture and add oil, flax egg, and vanilla. Mix well.
4. Pour your wet ingredients over your dry ingredients. Mix until combined, careful not to overmix.
Cook on a preheated waffle iron according to instructions given by your waffle maker. I cooked my small waffles for 8 minutes per waffle.
Once cooked, serve with fresh raspberry sauce (recipe below) and eat straight away. Alternatively, let cool and toast the waffle later just before serving.
Aaandd, bon appetit!
Expert Tips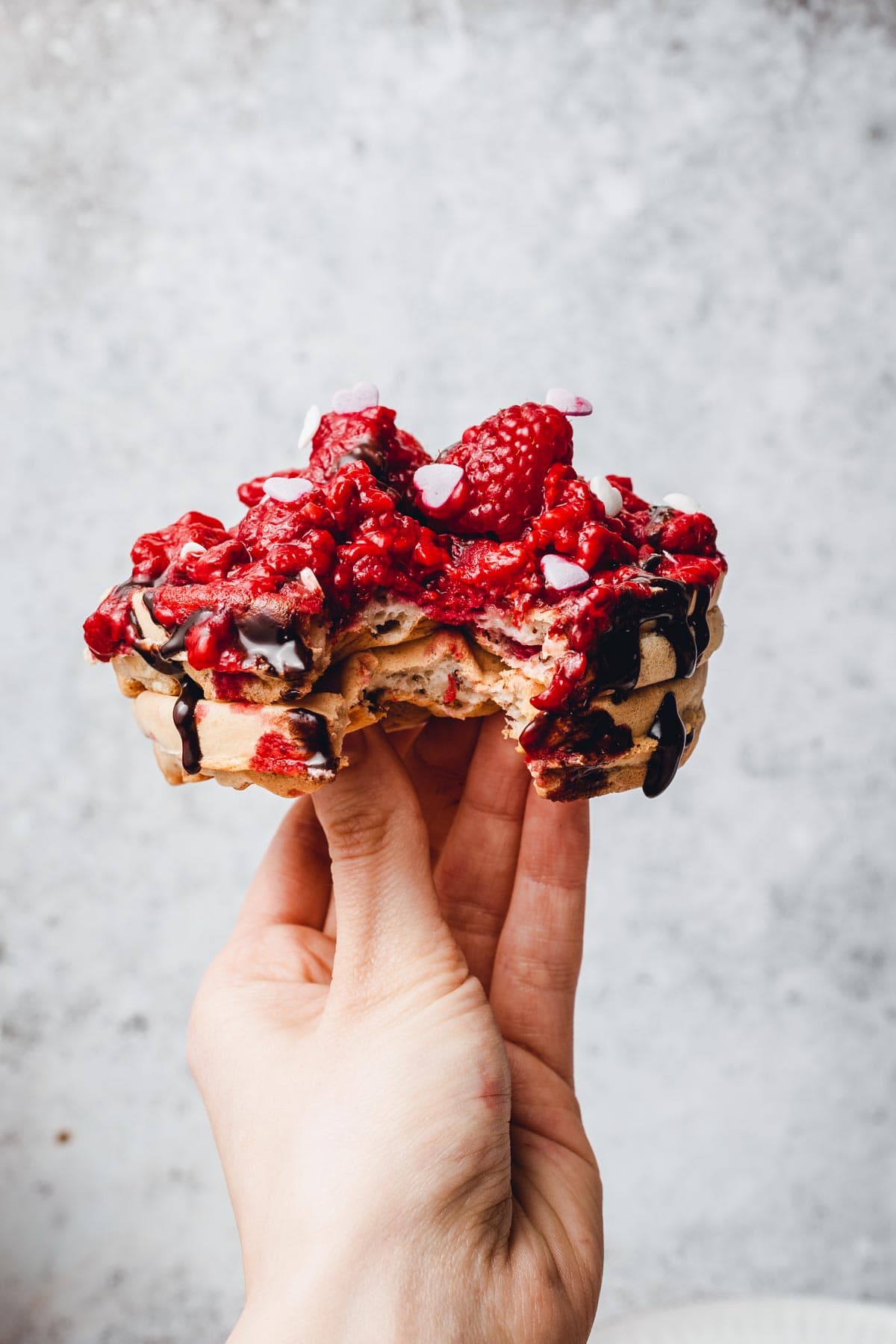 1. Don't use bread flour
When making this recipe, always use the right type of flour. But which one, I hear you ask? Stick to old and trusted all-purpose, plain flour! Never go for strong bread or pastry flour. You can, however, experiment with wholemeal or oat flour.
Feel free to add some wholemeal flour, but try not to ONLY use wholemeal. A ratio of 1:1 should work fine (half plain flour, half wholemeal flour).2. Do not overmix
2. Never over-whisk your batter.
Overwhisking will create dense, hard to chew waffles. Read more about why it's important not to over-whisk your batter here.
Serving Suggestions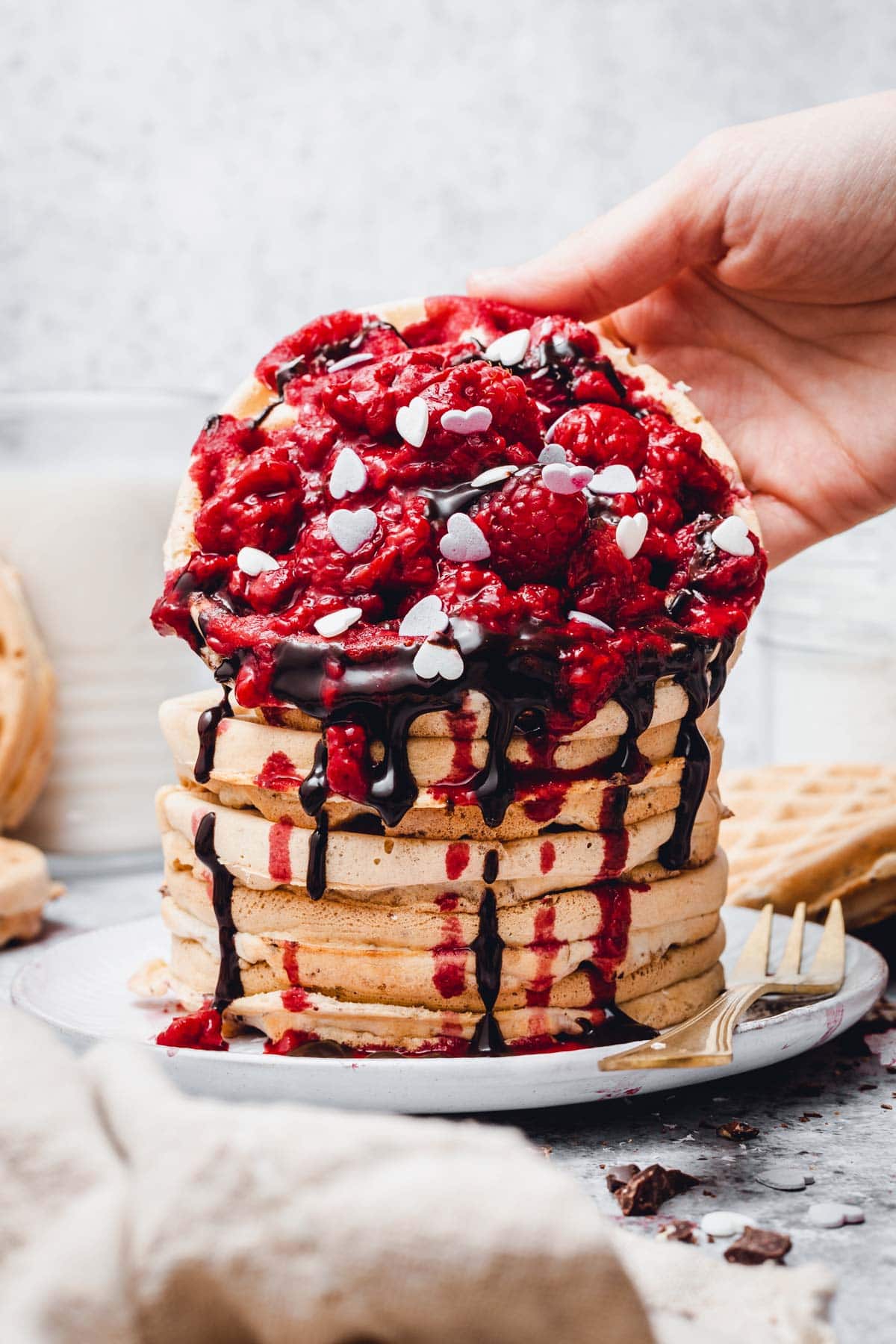 I encourage you to try out my delicious homemade raspberry sauce. However, you might be looking for other serving suggestions. Below are my top tips:
The Classic. Golden, maple or agave syrup, a cupful of fresh berries and some melted dairy-free butter.
Go savoury! Omit the sugar when baking these and serve with some crunchy vegan chicken and chips! Yum.
Ice it up. Serve with a scoop of your favourite ice cream and a drizzle of agave syrup.
Go bananas! You absolutely can't go wrong with bananas. Serve your waffles with vegan chocolate spread, banana slices, and some chopped up roasted nuts.
F.A.Q
This part is dedicated to solving the most coming waffle mistakes. Let's get straight to them.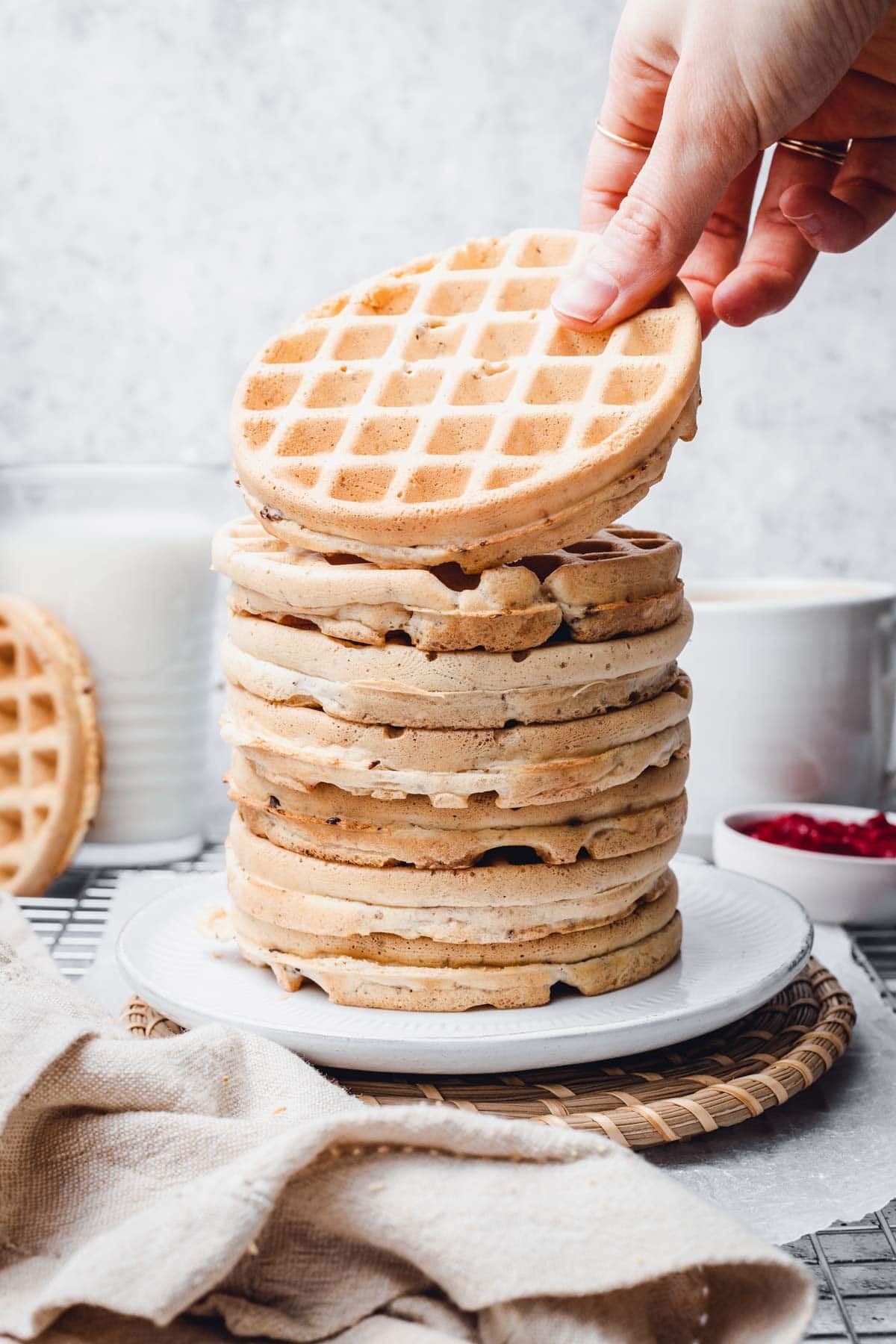 Why do my waffles have a tough and dense texture?
You've overworked your batter. Doing so will over-develop the gluten and leave you with a  hard, dense waffle. Make sure to treat your batter gently and whisk until all ingredients are just combined.
Can I store these for later?
Yes. You can store your waffles in an airtight container at room temperature for 3-4 days.
I didn't eat all the waffles at once and they've now gone soft. How do I fix that?
That's an easy one! It's perfectly normal for your waffles to become soft and chewy even if you've stored them in an airtight container. All you need to do now is pop them in your toaster and bam, you've got yourself a perfectly crispy waffle (but with a soft, pillowy inside!).
For more delicious vegan desserts like this, make sure to check out my almond milk waffles, vegan orange cardamom buns, chocolate shortbread cookies or peanut butter brownie. Or check out my entire vegan desserts section here.
The form you have selected does not exist.
🍴Recipe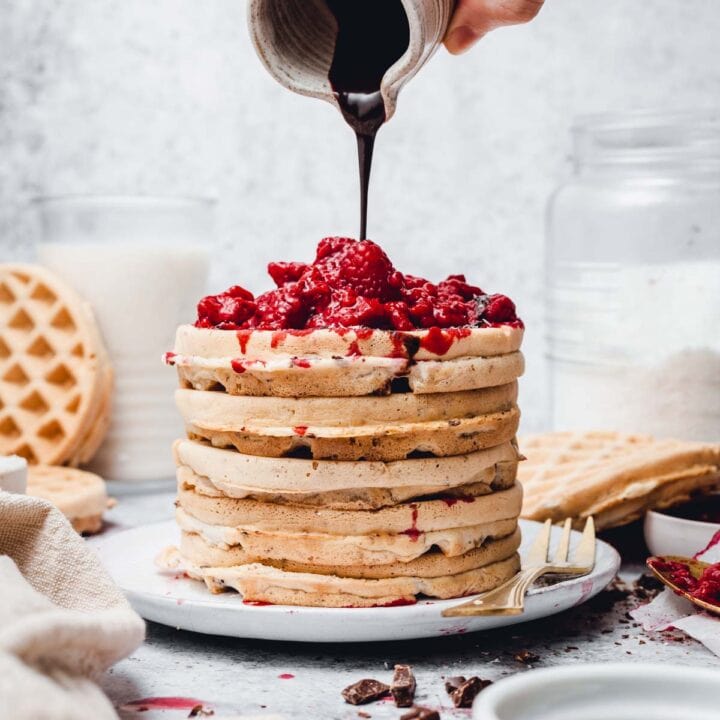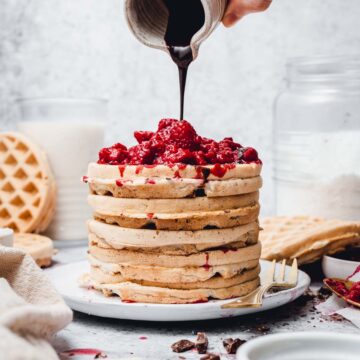 The Best Vegan Waffle Recipe
These crunchy, gorgeous, tempting vegan waffles are the very definition of vegan comfort food. 
Print
Pin
Rate
Servings:
9
small waffles
Equipment
Measuring cups or scales

waffle maker
Ingredients
FOR THE WAFFLES
350

ml

unsweetened almond milk

equals 1.5 cup

200

g

plain white flour

equals 1.5 cup

2

tablespoon

olive oil

1

tablespoon

apple cider vinegar

or substitute for a different type of vinegar

1

tablespoon

baking powder

2

tablespoon

ground flaxseed

½

teaspoon

salt

2

tablespoon

sugar

1

teaspoon

vanilla extract
FOR THE RASPBERRY SAUCE
125

g

frozen raspberries

equals 1 cup

3

tablespoon

cocoa nibs

2

tablespoon

coconut flakes

20

fresh raspberries
Instructions
FOR THE WAFFLES
Preheat your waffle iron.

Combine the flax seed and 3 tablespoon of hot water in a small bowl to make a flax egg. Set aside.

Combine the almond milk and apple cider vinegar in a measuring cup, stir thoroughly and set aside.

Add the flour, baking powder, salt, and sugar to a medium bowl and mix well.

Return to your almond milk mixture and add in the oil, the flax mixture, and the vanilla. Mix well.

Pour your wet mixture over your dry ingredients and mix until few lumps remain (but don't over whisk).

Cook the waffles according to your waffle maker's instructions - I cooked my mini waffles for 8 minutes per waffle.

Eat right away, or let cool and toast later.
FOR THE RASPBERRY SAUCE
Heat up your frozen raspberries in a pan for 3-5 minutes until they start to disintegrate.

Add cocoa nibs and coconut flakes.

Drizzle over your waffles along with the sweetener of your choice.

Sprinkle with fresh raspberries.
Notes
Use the step-by-step photos above as your visual guide.
This recipe has been tested using weight measurements (not cups). I recommend using weight measurements (both EU and US weights are stated in the recipe card). Cups vary in size and are thus considerably less exact.
Feel free to substitute almond milk for any other plant milk.
Similarly, feel free to substitute white flour for other flours. Keep in mind the results might differ from the original recipe. 
If you prefer a sugar-free version, substitute sugar for stevia. Two tablespoons of sugar equal ½ teaspoon of powdered stevia extract. 
Mix until all your ingredients are just combined, careful not to overmix. 
Wait until your waffle maker is fully hot before adding your first batch.
Store in an airtight container at room temperature for 3-4 days.
If serving later, make sure to toast your waffles just before serving. 
Nutrition
Calories:
170
kcal
|
Carbohydrates:
24
g
|
Protein:
4
g
|
Fat:
7
g
|
Saturated Fat:
2
g
|
Sodium:
183
mg
|
Potassium:
211
mg
|
Fiber:
3
g
|
Sugar:
4
g
|
Vitamin C:
5
mg
|
Calcium:
117
mg
|
Iron:
1
mg
Disclaimer: The nutritional information above is calculated automatically. The author of this post cannot guarantee 100% accuracy of this data.