Simple vegan shortbread cookies with chocolate chunks and dusted sugar. These quick and simple cookies will satisfy all your sugar cravings instantly. They're rich and flavourful, but the real star of the show is their gorgeous texture. They say a picture can tell a thousand words, but it can't convey just how amazing these taste when you bite into them.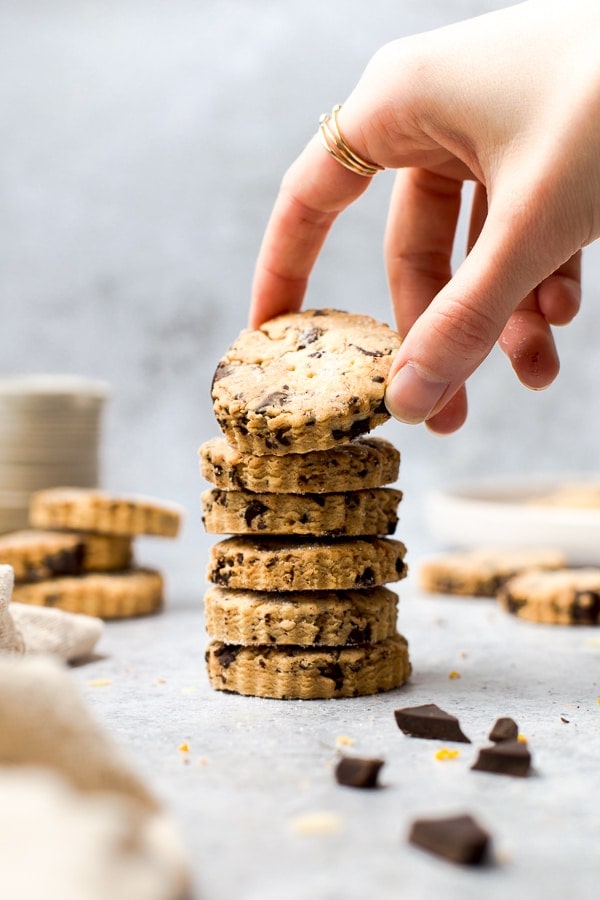 Why are these vegan shortbread cookies so great ?
IT'S THE EASIEST BAKE. Not all of us are star bakers. If you're on the lookout for a quick and easy vegan cookie, look no further. Plus, you need no fancy ingredients or kitchen accessories.
THE CRUNCHIEST TEXTURE. Shortbread is all about texture. These are snappy, crunchy, buttery and oh so tender.
THAT RICH PUNCH OF CHOCOLATE. You know the feeling when you bite into something and you just need to close your eyes to savour that moment to the max? That is exactly what happens when you bite into these badass treats.
IT'S A PERFECT BASE. These are the ideal base for many shortbread varieties. You can dip them in melted chocolate, swirl them with peanut butter or caramel, and sprinkle with your favourite toasted nuts. Possibilities are endless!
Now that it's decided you simply need to make these choco treats, let's have a look at some tips. You will thank me later!
THINGS TO KEEP IN MIND WHEN MAKING THESE COOKIES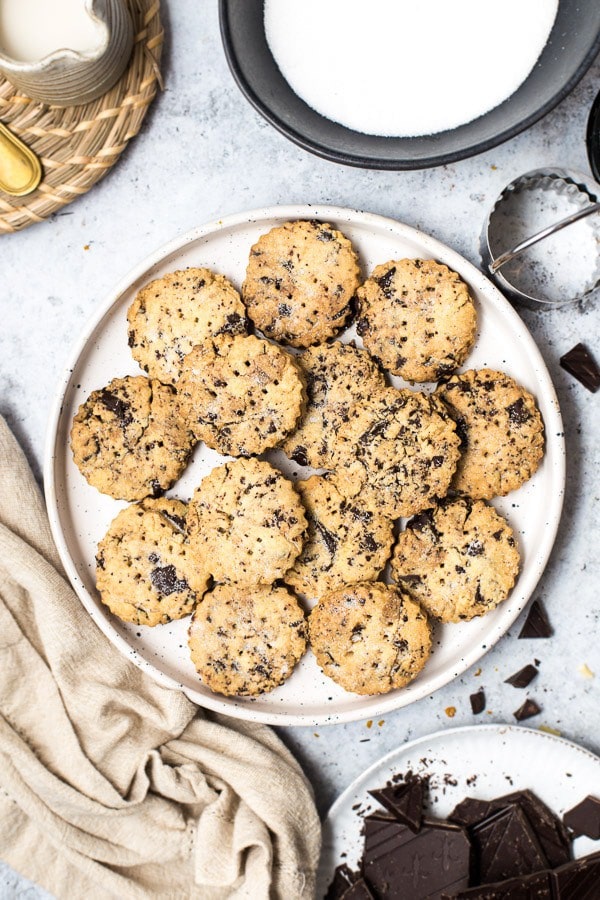 Just like I mentioned above, this is a really easy recipe. However, this doesn't mean some tips wouldn't come in handy. Here are my top tips:

Do not knead too much. This is one of the most common mistakes. If you knead your dough for too long, you will be left with a tough cookie, not a buttery, crumby shortbread.
Pick a good-quality dark chocolate for the best flavour. If you're going to splurge on one ingredient, let it be dark chocolate. In fact, I encourage you to do that. It will pay off for sure and before you ask, yes, you can absolutely taste the difference. That being said, you don't need to break the bank with a £10 bar. Simply just pick something decent.
Precision is everything. There's only 1 part of this recipe that really requires precision. It's the baking time. Be aware that just a few minutes too long or too short can make a difference. Stick to the baking temperature and time given below and you should be fine.
GOOD NEWS? YOU ONLY NEED 6 INGREDIENTS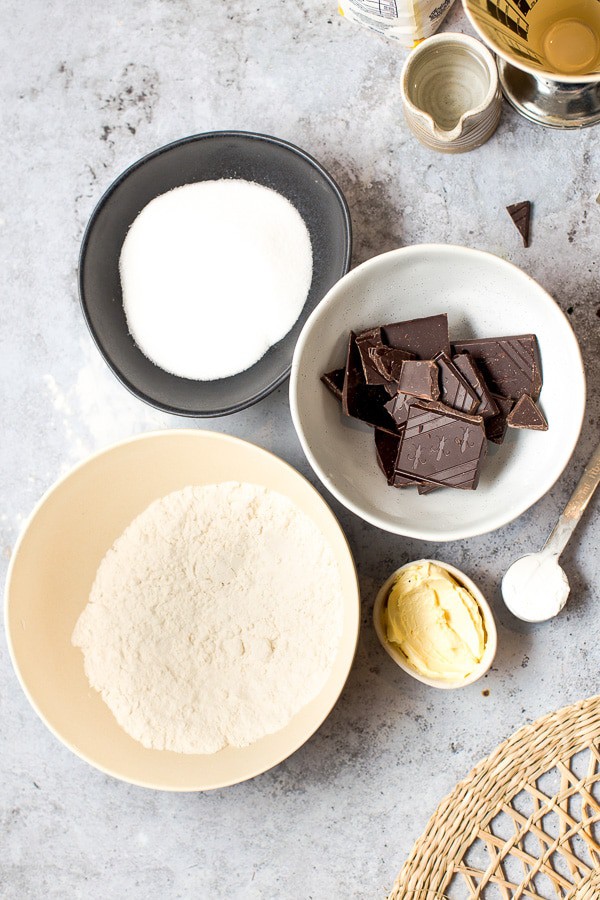 To make these vegan shortbread biscuits you will need the following ingredients.

Dairy-free butter
Caster sugar
Dark chocolate
Cornstarch
Plain white flour
Vanilla essence
That's it! These 6 vegan staples will transform into a buttery perfection in no time. Nothing fancy, nothing expensive and nothing difficult.

Before we jump straight in with our vegan shortbread biscuits - if you're enjoying this recipe or my food photography, subscribe to my newsletter below and instantly receive printable 90 Vegan Meal Ideas straight to your inbox!

HOW DO YOU MAKE VEGAN COOKIES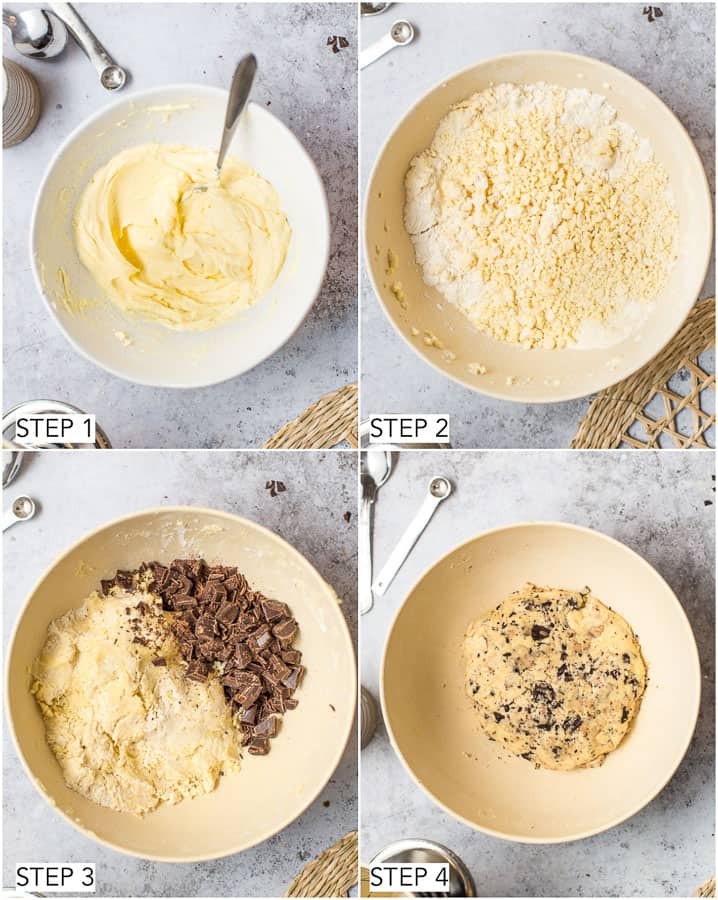 Let me take you through making these. These step-by-step instructions will be your virtual guide through the process of baking.
1.First, we cream the dairy-free butter, sugar and vanilla essence.
2. Secondly, we sieve in our flour and cornstarch. We then mix with a mixer until crumbly consistency as shown on photo 2. Crucial to this recipe – do not overwork/overmix your batter.
3. Time to chop up chocolate and add to mixture.
4. Knead the mixture just until the dough and chocolate come together as shown on photo 4. Do not over-knead.
After you've completed the first 4 steps, it's time to cover your dough in cling film, set aside in fridge for at least 30 minutes. This will relax the gluten, thus preventing it from becoming chewy and tough. In the meantime, I encourage you to relax as well and make a lovely cuppa!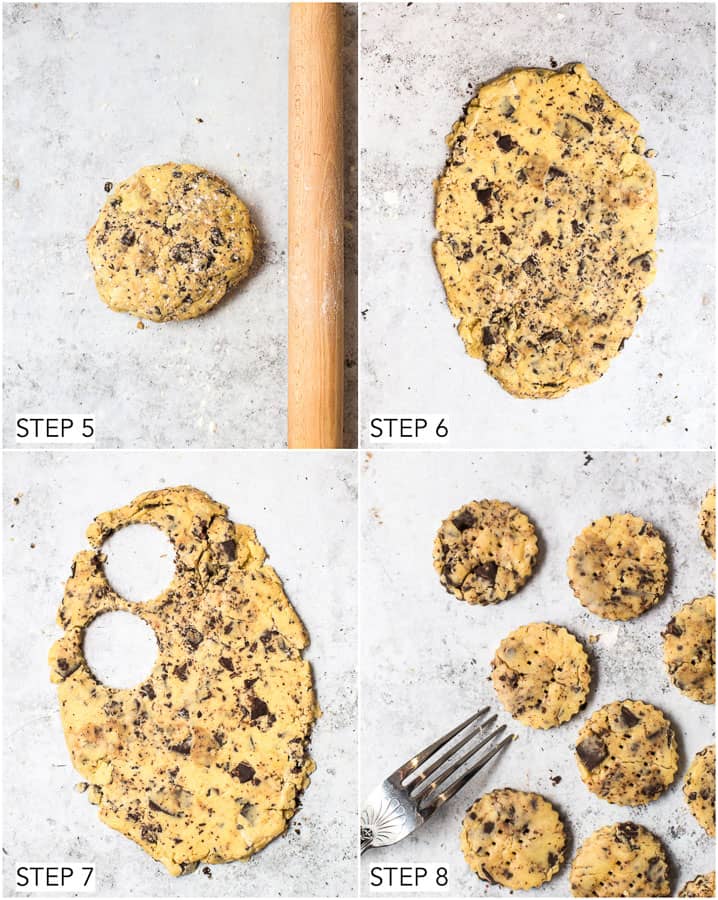 5. Remove the dough from the fridge and dust with a little bit of white flour. This will make the rolling process easier.
6. Roll out the dough until it measures approx. 1 cm in thickness.
7. Use a cookie cutter to cut your biscuit shapes.
8. Use a fork to make small holes into your cookies as shown on photo 8.
AND we're almost there! Pre-heat the oven to 160°C fan setting (or 180°C for regular setting). Place biscuits on parchment paper, sprinkle with caster sugar and bake at 160°C for 35 minutes.

SHORTBREAD VS SUGAR COOKIES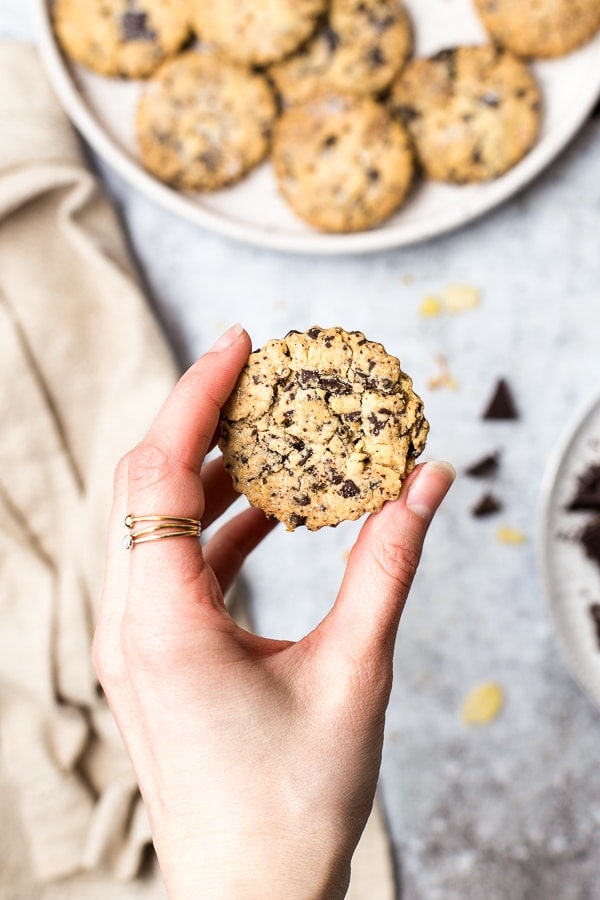 Not familiar with shortbread biscuits? In comparison with sugar cookies, shortbread is dense, crumbly and has a non-chewy inside. It normally bakes at a lower temperature and has the highest ratio of butter-to-flour.

One of the best things about shortbread is its crumbly, tender and crispy texture.

Wondering how to achieve that? When mixing your ingredients, you want to combine them just enough to bind everything into a dough. Be careful NOT to knead or overwork it! If you knead the dough, you will be left with a tough cookie and not a crumbly shortbread.

However, if you are still on the lookout for a chewy, gooey alternative, why not try out my BestofVegan-featured Chocolate Chip Cookies!

Additionally, you can find out all about different types of cookies here.

HELP! MY SHORTBREAD IS TOO CRUMBLY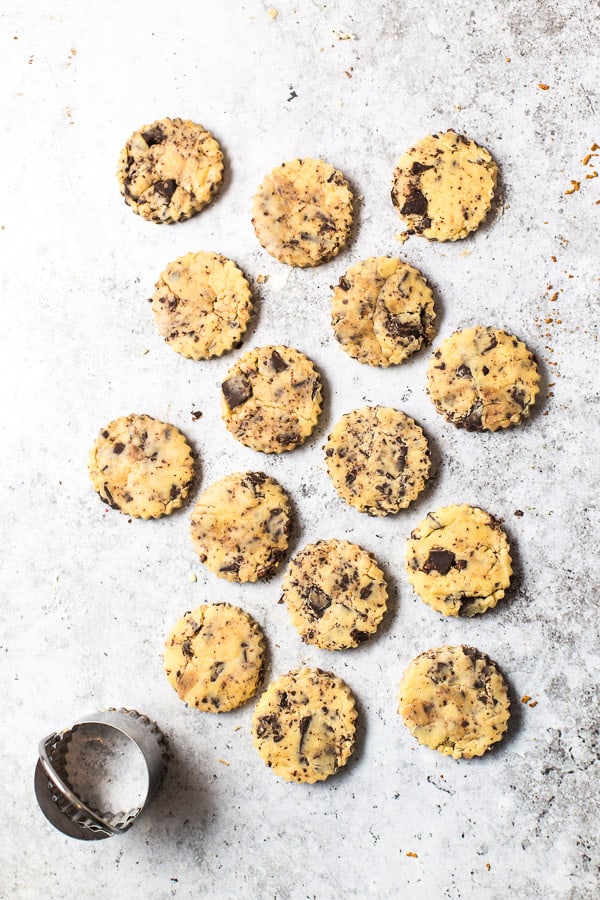 As we've learnt above, shortbread is the crumblier alternative to sugar cookies. However, there is such a thing as too crumbly. You know, when the dough absolutely won't stick together and simply just crumbles between your fingers.

The best way to solve this is to add more (dairy-free) butter. Be careful to only add a tablespoon or so at a time.

For more delicious vegan dessert like this, make sure to check out my:
This just about wraps it all up! As always, if you have any trouble making my vegan shortbread cookies, simply comment down below or message me directly on Instagram. I'll be sure to help you out in case you get stuck!

---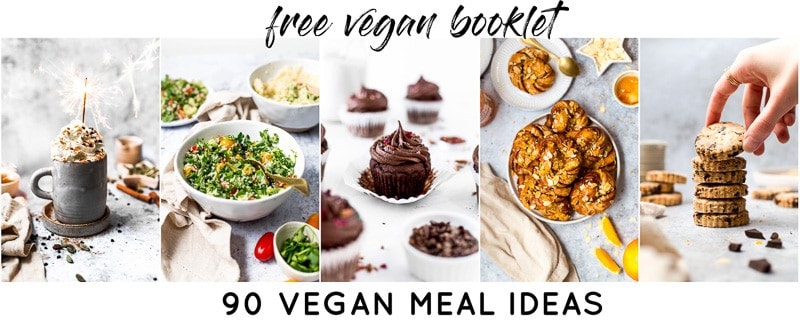 Don't forget you can grab a free vegan booklet containing 90 VEGAN MEAL IDEAS below.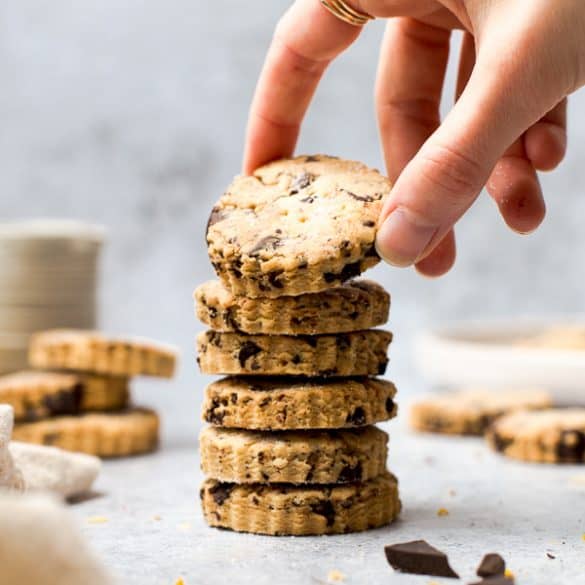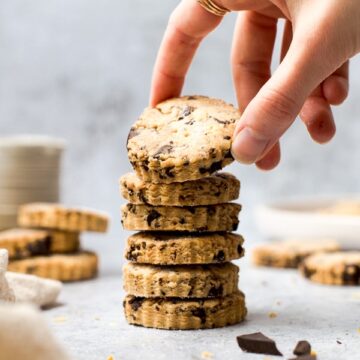 Vegan Shortbread Cookies with Chocolate
Crunchy, chocolatey and irresistible. Best of all? They're beginner-level easy!
Print
Pin
Rate
Ingredients
195

g

dairy-free butter

I used Vitalite

65

g

caster sugar

100

g

dark chocolate

I used 70% cocoa dark chocolate

85

g

cornstarch

200

g

plain white flour

do not use strong flour

½

tsp

vanilla essence
Instructions
Cream dairy-free butter, sugar and vanilla essence.

Sieve in flour and cornstarch.

Mix with a mixer until crumbly consistency. Crucial to this recipe – do not overwork/overmix your batter.

Chop up chocolate of choice and add to mixture.

Cover dough in cling film, set aside in fridge for at least 30 minutes. This will relax the gluten, thus preventing it from becoming chewy and tough.

Pre-heat your oven to 160°C/320°F (fan oven. Set to 180°C/356°F for regular oven setting)

Roll out your dough until 1 cm thick and cut out your shortbread / cookie shapes with a cookie cutter.

Place biscuits on parchment paper, sprinkle with caster sugar and bake at 160°C for 30 minutes.
Notes
P.S. – 30 minutes might initially sound a little bit long for tiny biscuits, but this is needed because of the extra moisture in dairy-free butter.
Nutrition
Calories:
138
kcal
|
Carbohydrates:
13
g
|
Protein:
1
g
|
Fat:
9
g
|
Saturated Fat:
2
g
|
Cholesterol:
1
mg
|
Sodium:
59
mg
|
Potassium:
39
mg
|
Fiber:
1
g
|
Sugar:
4
g
|
Calcium:
4
mg
|
Iron:
1
mg