This easy double chocolate vegan cupcake is a dish you absolutely need in your dessert recipe book. Easy and beginner-friendly. Moreover, it only uses staple ingredients and requires no fancy appliances. It's a classic vegan dessert that will leave your friends and family claiming they would "never think this was vegan". 
First & Foremost – Big Announcement
I won't bore you with details, because I know you're here to grab the recipe and get baking. So, here's the news – I'm nominated for two 'One Bite Vegan' Awards! This is the first time I've been among nominees for a big vegan award and I'm absolutely thrilled. If you'd like to vote for me in the 'Best Food Photography' and 'Best Vegan Baking & Sweets' categories, then go ahead! P.S. – by voting you get the chance to win a Vitamix Ascent Series A2500, valued at over $500! How brilliant is that?!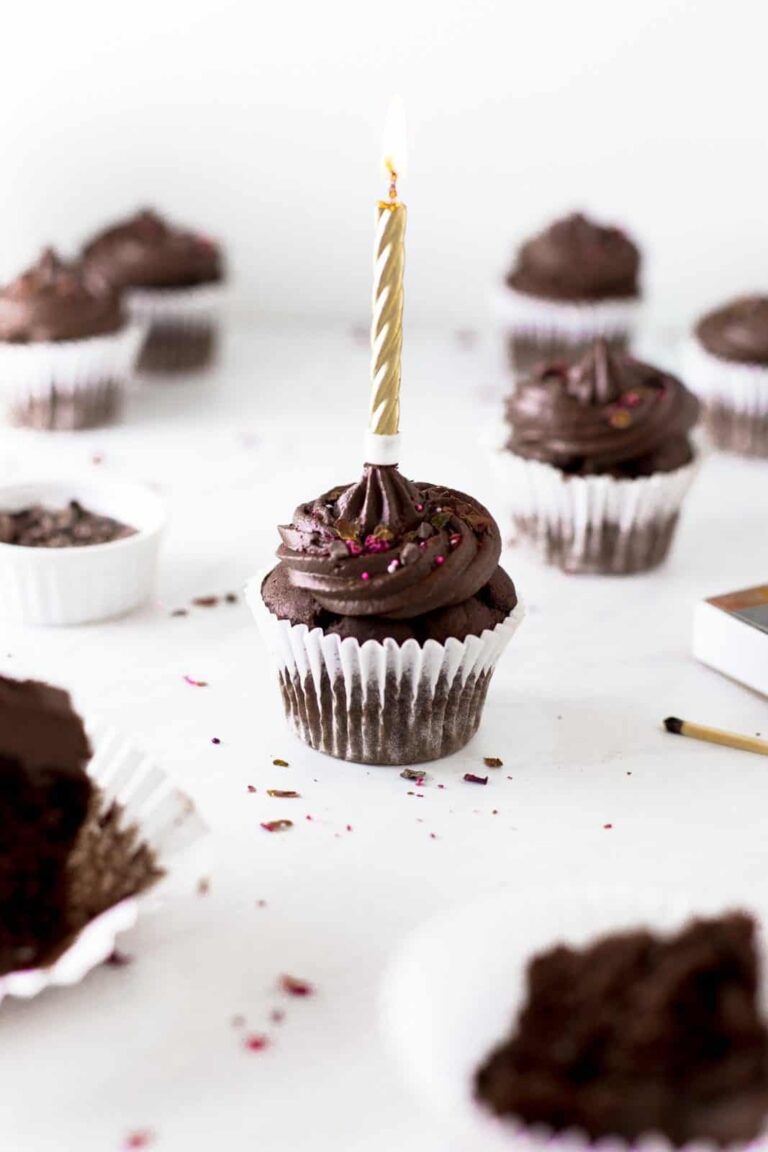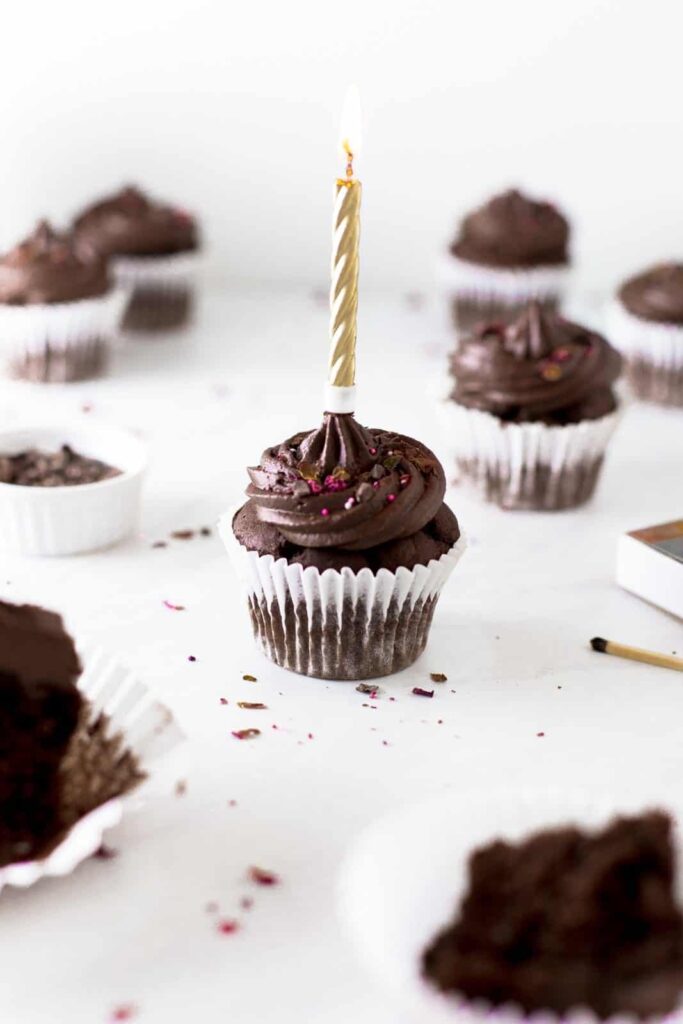 Super Easy Vegan Chocolate Cupcake
Let's get back to why you're here for – to bake the most amazing vegan cupcakes! What I love about this recipe is that it literally only requires basics. You will need staples like cocoa, non-dairy milk, butter, flour and sugar, but that's pretty much it! Making an easy double chocolate vegan cupcake is a piece of cake (see what I did there?).

These Easy Vegan Chocolate Cupcakes  are
incredibly easy
rich in flavour
soft and fluffy
budget-friendly
simply delicious
Vegan and lover of chocolate? Yay, we must be friends! I've got lots more in store for you!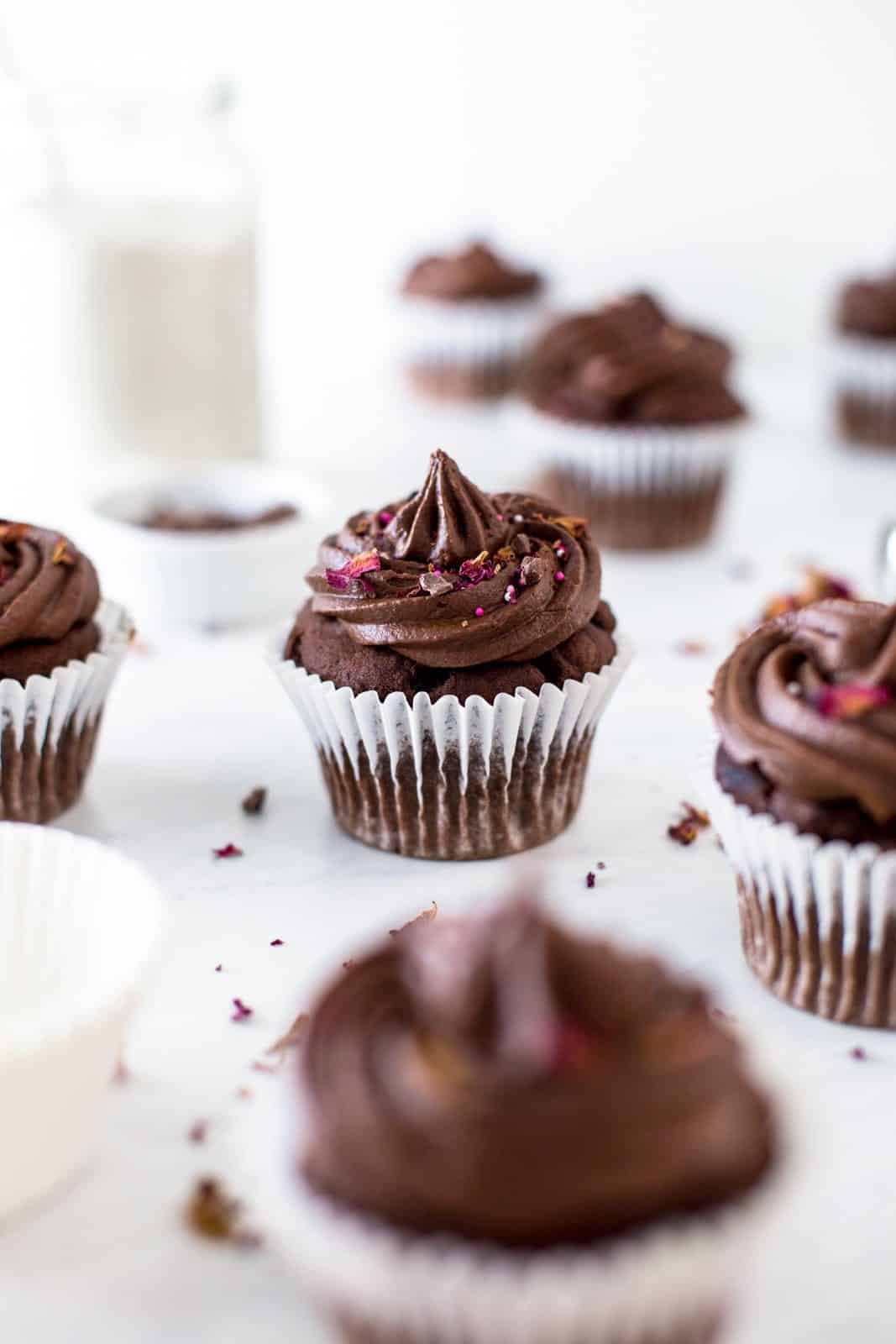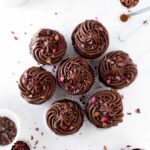 Ingredients
FOR THE CUPCAKE
225 ml unsweetened almond milk
3 tsp vinegar
115g vegan butter (melted)
1/2 cup white sugar
1 cup plain flour
3 tsp baking powder
5-6 tbsp unsweetened cocoa powder
FOR THE ICING
90g butter
150g icing sugar
1/4 teaspoons vanilla
3 tablespoobs cocoa
1/2 teaspoon almond milk
Optional toppings: pink hundreds and thousands, cocoa nibs, rose petals
Instructions
TO MAKE THE CUPCAKES:
Create sour milk by whisking together almond milk and vinegar.
In a separate bowl, add melted butter and sugar, and mix well.
Then add your sour milk mixture.
Finally, sift in your dry ingredients (flour, baking powder and cocoa)
Whisk until combined, but be careful not to overwork.
Spoon your cupcake mixture into lined cupcake tray, about 3/4 full.
Bake at 180 (fan oven) for 20-25 minutes.
TO MAKE THE ICING:
Whisk together all your ingredients until smooth.
Pipe onto cupcakes and enjoy!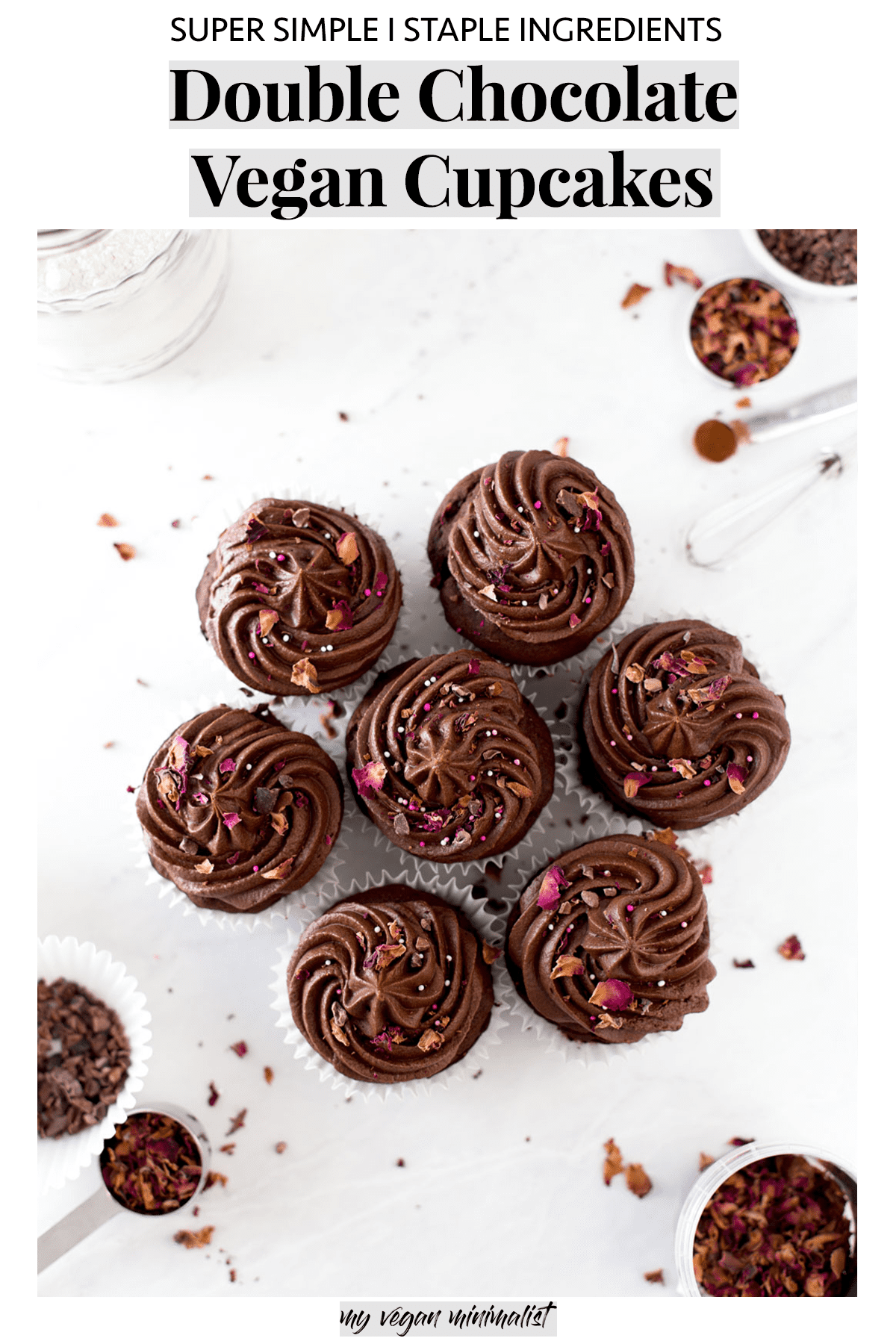 If you're starting out as a vegan or just want to discover simple vegan recipes make sure to follow me on Pinterest, Instagram and Facebook. I've also compiled a list of 90 vegan meal ideas you can download for free here.