Jump to Recipe
Hello, indulgence! When the perfect flavour meets extra soft texture. This vegan chocolate & coconut mousse is absolutely packed with flavour. Easy, quick, delicious and low in sugar. It's based on coconut and dark chocolate, while also being fully customisable.
The chocolate dessert of my dreams
It wasn't until I reached the age of around 12 that I first tasted chocolate mousse. I was always a fussy easter (still am) so when my mum realised I LOVED chocolate mousse, she absolutely wouldn't stop buying it. 
My love for decadent chocolate mousse grew even stronger in my early 20s. My girlfriend introduced me to the dessert of my dreams – chocolate mousse with little pieces of brownie fudge. Talk about perfection!
When I eventually became vegan a few years later, my love for mousse was set aside. It was still early days so vegan food options in supermarkets didn't stretch very far. If I wanted to eat mousse, it was clear that it was my task to perfect a recipe that would reignite my past love. This vegan version of a classic chocolate mousse is the result.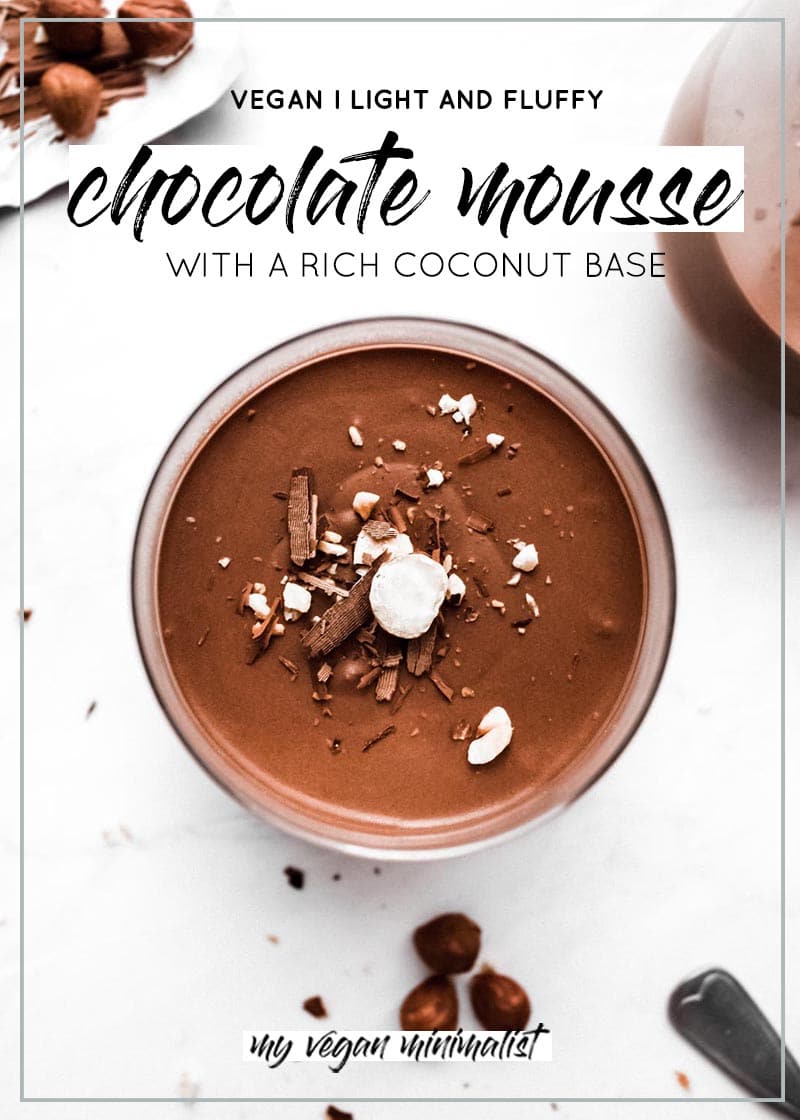 This vegan chocolate & coconut mousse is
light and fluffy,
decadent,
low in sugar,
rich,
airy and melts in your mouth.
Will looked horrified. "What kind of monster could possibly hate chocolate?"
― Cassandra Clare, Clockwork Angel
No avocado vegan chocolate mousse
Similarly, to my peanut butter & chocolate brownie recipe, this one took a while to figure out. If you've seen any other vegan mousse recipes, you will know that a vast majority of them are based on avocado. Whereas I appreciate the health benefits of avocado fat, I am allergic to it so using it as a vegan mousse base was out of the window. Instead, I decided to use coconut milk (works with both normal and reduced fat coconut milk). This not only serves as a fantastic base, but also adds subtle coconut flavour.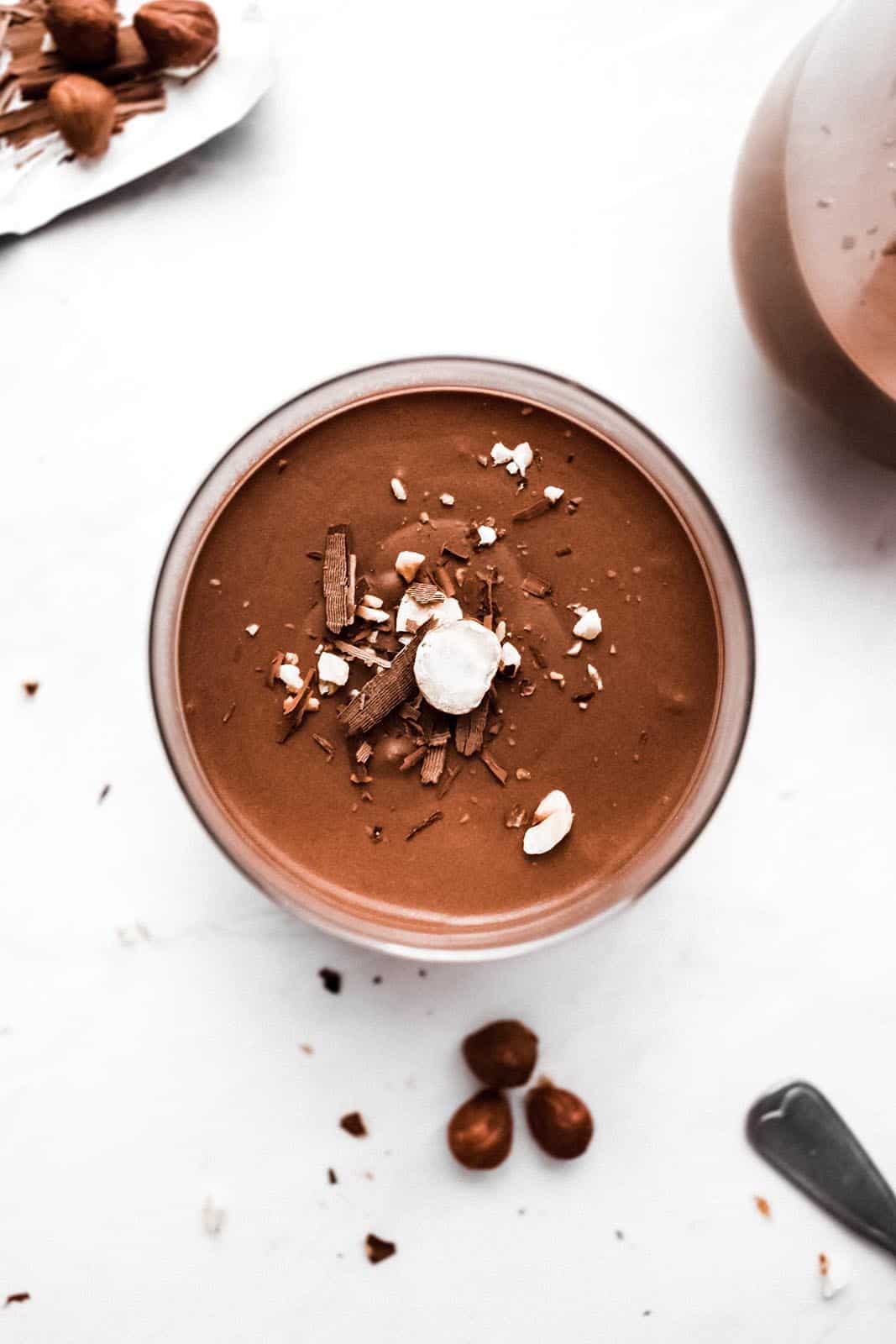 How To Perfect Vegan Chocolate Mousse
You've been warned. When it comes to any vegan chocolate mousse, practise makes perfect. Are you organising a big dinner party or thinking of surprising your partner with this mousse for Valentine's day? Or perhaps making this for an avid chocolate lover's birthday party? Make sure the big occasion won't be the first time you're trying out this recipe. I know this is a very generic advice that could be applied to anyrecipe (but admittedly not a rule I always adhere to …) Nevertheless, making vegan chocolate mousse can be a tricky business.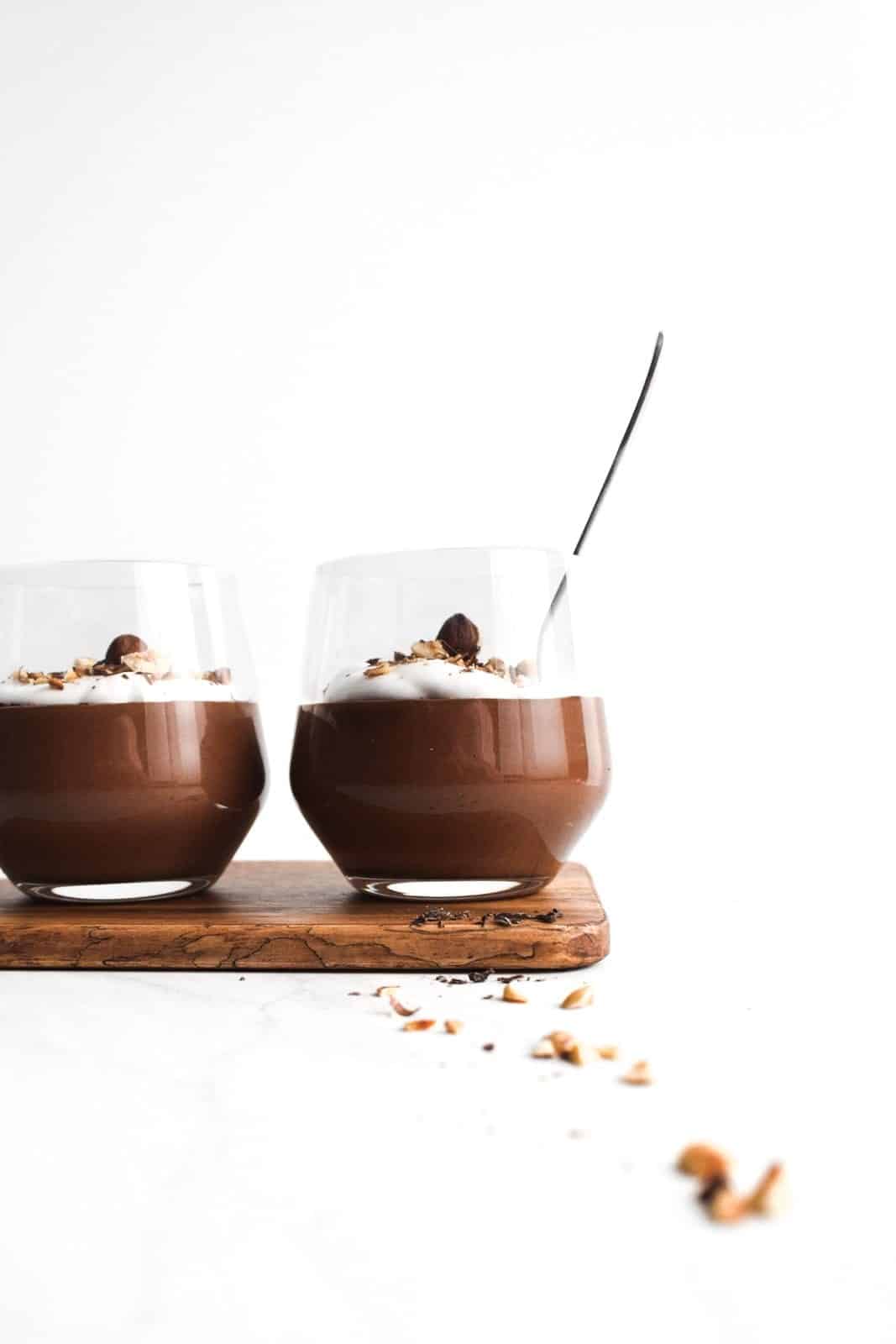 Looking for more vegan dessert inspiration? Why not try out my extra decadent rose hot chocolate or treat yourself to my ultimate vegan shortbread biscuits.
If you're starting out as a vegan or just want to discover simple vegan recipes make sure to follow me on Pinterest, Instagram and Facebook. I've also compiled a list of 90 vegan meal ideas you can download for free here.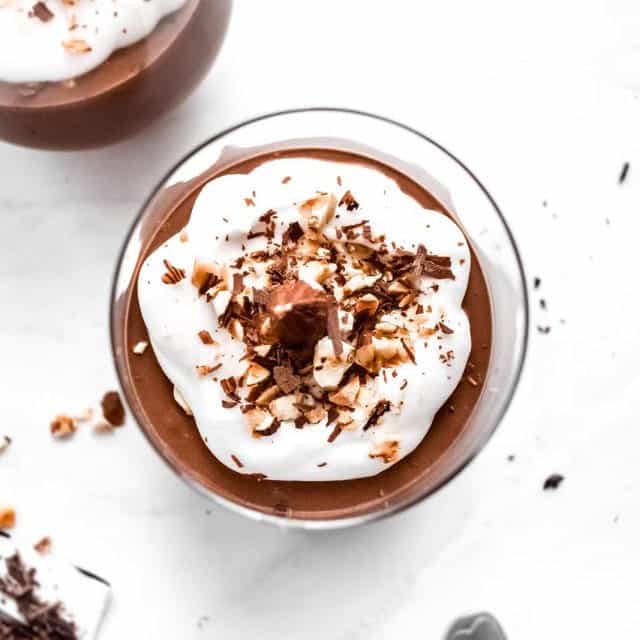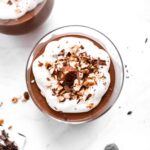 Vegan Chocolate & Coconut Mousse
Indulge in this gorgeously creamy, perfectly sweet vegan chocolate mousse.
Ingredients
150

g

dark chocolate

I used 70% cocoa dark chocolate

¾

cup

coconut milk

1

cup

water

1

cup

icing sugar

1

tsp

vanilla essence
Instructions
Pour coconut milk, chocolate and water in glass bowl. 

Place glass bowl above boiling pan of water (the bowl shouldn't be touching the water, so make sure to pick a small plan and a big bowl).

Melt the chocolate in the coconut and water mixture and stir to form a smooth mixture. 

Add sugar and vanilla essence and mix. 

Optional: now is also the time to add any additional flavourings you might want such as orange or almond essence. 

Place your hot bowl in ice cold water and whisk mixture until you can see soft rings through the mixture as you mix.

 Place in glass jars and set in the fridge to cool.

The longer you refrigerate it for, the more your mousse will set. I usually refrigerate it overnight before serving, but that is not necessary. 

Serve with whipped coconut cream, dark chocolate shavings and toasted hazelnut pieces.

CAUTION: do not over whip! If you over-whip the mixture it will become grainy (the chocolate becomes so hard that it separates from the water). If, however, you have overwhipped it and are left with a grainy texture, there is still a way to save it. Simply heat it above a hot bowl again and melt your mixture again.  
Recipe Notes
Important! Please keep in mind that this is a very low sugar mousse option. I have used 70% dark chocolate, which creates a gorgeously rich, but not overwhelmingly sweet mixture. Make sure to add more icing sugar or use chocolate with less cocoa solids if you're hoping for a sweet mousse!
Nutrition Facts
Vegan Chocolate & Coconut Mousse
Amount Per Serving
Calories 342
Calories from Fat 180
% Daily Value*
Fat 20g31%
Cholesterol 1mg0%
Sodium 13mg1%
Potassium 289mg8%
Carbohydrates 39g13%
Protein 3g6%
Vitamin A 12IU0%
Vitamin C 1mg1%
Calcium 28mg3%
Iron 5mg28%
* Percent Daily Values are based on a 2000 calorie diet.
Don't forget you can grab a free vegan booklet containing 90 VEGAN MEAL IDEAS below.