Oat milk hot chocolate ready to blow your tastebuds away. This easy 5-minute vegan hot cocoa is the perfect dairy-free treat that will instantly lift up your mood. Plus, it's based on a super-secret, deluxe traditional paste that has been used for decades to make rich, old-school hot chocolate.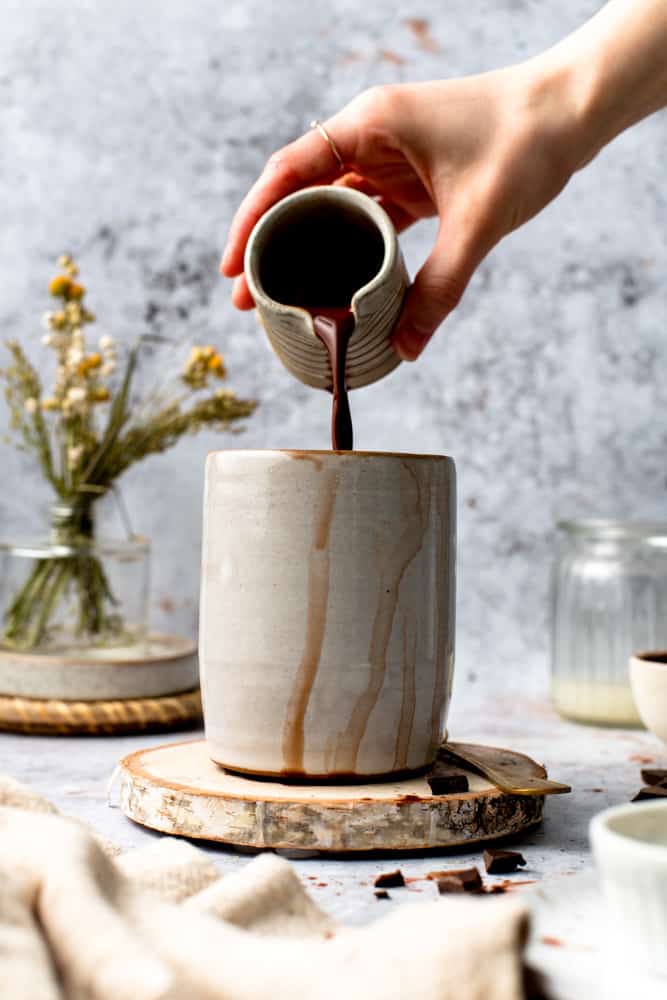 Ready to jump right in?
Why choose this recipe
Why pick this one among the sea of other vegan hot cocoa recipes? Well, let me tell you, it is:

Based on a SECRET & DELUXE TRADITIONAL PASTE. And no, you don't need to buy this paste in a fancy shop! You will make it yourself in literally just 2 minutes. It's the perfect, rich, chocolatey, subtly sweet paste.
Slightly ADDICTIVE. I'm sorry, but the truth needs to be told. I developed this recipe without realising what a delicious monster it would turn into. The combination of brown sugar and agave syrup is heavenly. You'll be wanting more and more, so don't say you haven't been warned.
Super duper EASY. It's simple, but fun to make! You will create a gorgeously rich chocolate paste that will serve as a base. It's an easy, but delightful process.
The perfect hot chocolate RECIPE FOR ONE! It's the one recipe you need for a cosy alone time on the sofa. All you need is to get a blanket, wrap up and open a good book. Your self-care routine is complete. Of course, you can also adjust the portion size in the recipe card below if you're making this for more people.
Made of STAPLE VEGAN INGREDIENTS. Nothing fancy, just some plant based milk, cocoa and sweeteners (sugar + agave syrup). If you're someone that loves baking or even just occasionally making some sweet vegan treats, you'll probably have these ingredients in your kitchen cupboard already!
And if that doesn't convince you, you'll also be getting step-by-step photos to make sure you NAIL the recipe right away!

Whether you're looking for the best lactose free hot chocolate

The Ingredients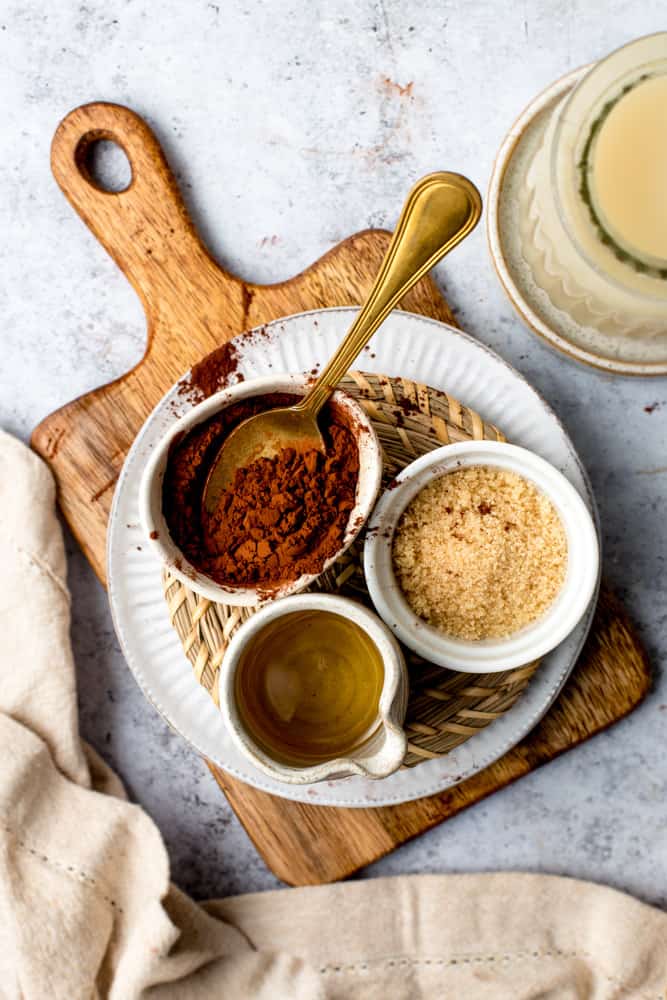 Want to make this super cosy no milk hot chocolate? You will need 4 ingredients only:

Oat milk (shocking!)
Cocoa powder
Sugar (I used brown sugar)
Agave syrup
That's it!

I suggest choosing unsweetened oat milk (I used Oatly), since we're adding our own delicious combo of sweeteners. However, if you're someone that prefers their hot drinks really sweet, don't be afraid to go for a sweetened version.

Before we jump straight in with our milk free hot chocolate - if you're enjoying this recipe, subscribe to my newsletter below and instantly receive printable 90 Vegan Meal Ideas straight to your inbox!

Step-by-step Photos
Never made dairy free hot chocolate before? No problem!

Let's dive straight into the nitty-gritty!
1. Make a paste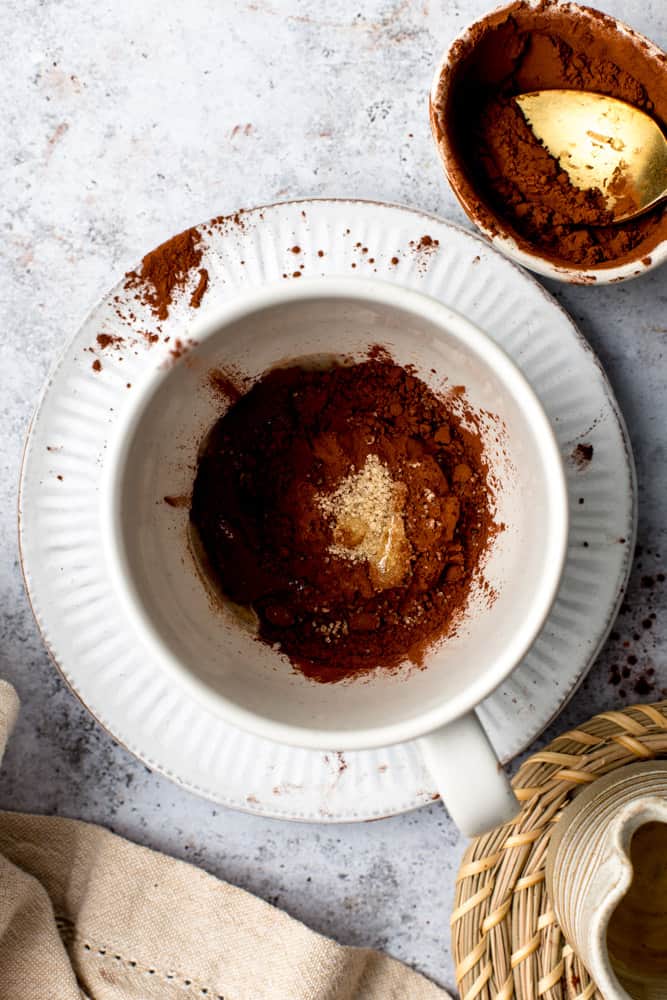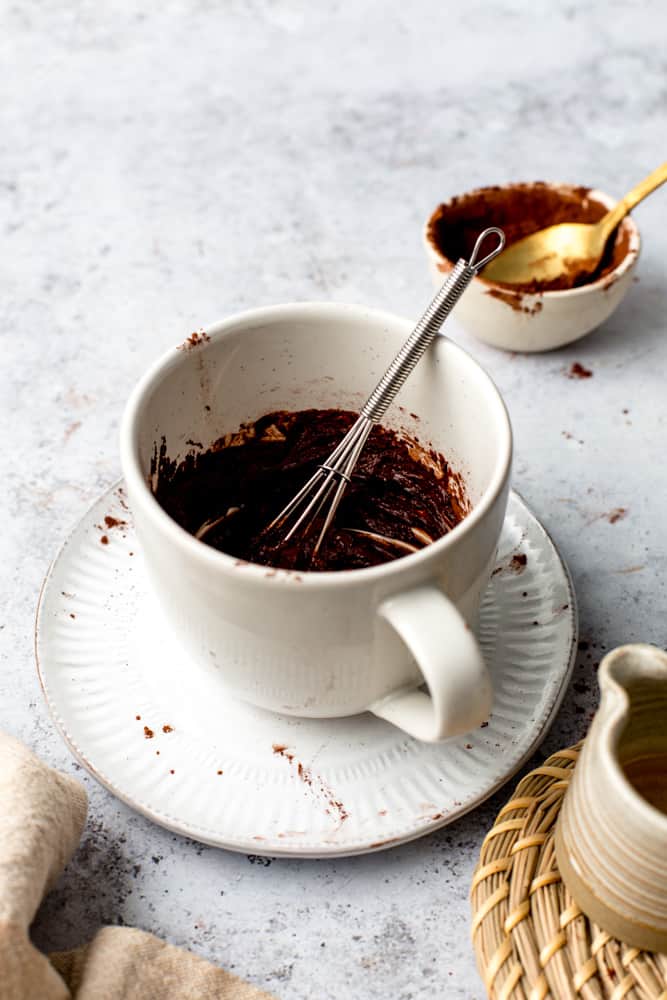 Grab a small bowl and combine 2 tablespoon cocoa, 1 teaspoon sugar and 1 teaspoon of agave syrup. Stir well, then slowly add 2 tablespoon of oat milk. This will create the base for our recipe - the paste. You will want to grab a small whisk (or just a fork) and stir vigorously until your paste is completely smooth.
2. Optional step
Do yourself a favour and dip your finger into this rich, delicious paste! Just be careful not to eat it ALL, because we'll be needing it for later!
3. Add oat milk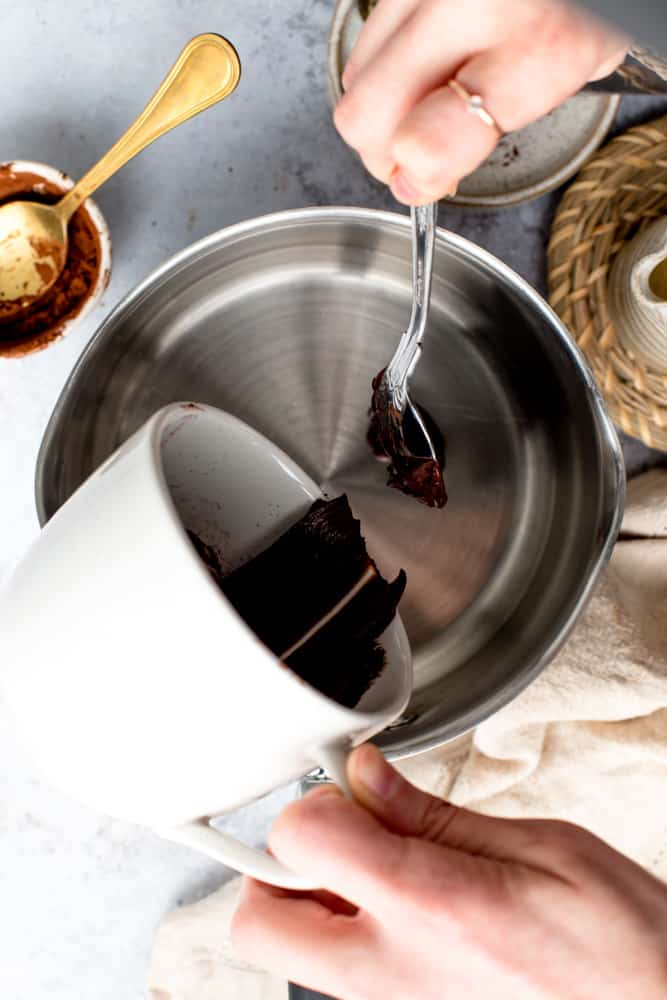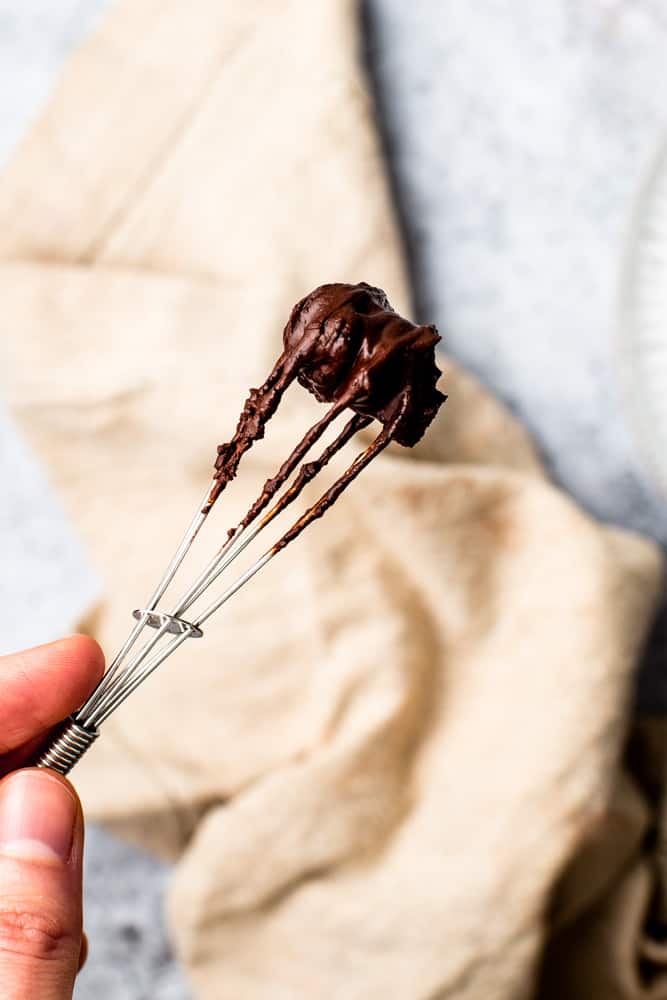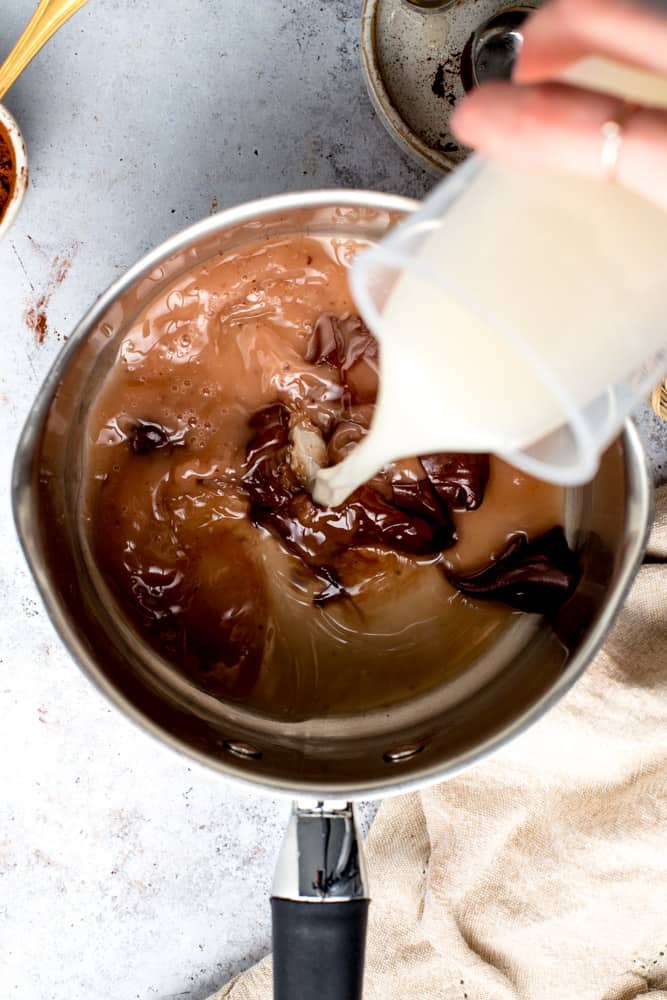 Now it's time to transfer your paste to a medium-sized pan and add 200ml oat milk. Tip: Depending on your bowl it might be a bit difficult to transfer your paste to a pan as it tends to stick to the sides of the pan. To make things easier, you can pour your milk straight to the bowl and whisk it all up in your bowl before transferring to the pan.
4. Heat up
Heat your hot cocoa on medium-heat for about 4-5 minutes until you can see steam coming out of your pan. Stir occasionally. Ta-daa! If you want it extra foamy, use a whisk or an electric whisk. Your delicious vegan treat is now ready!
Super quick, easy and doesn't require any fancy ingredients.

Expert Tips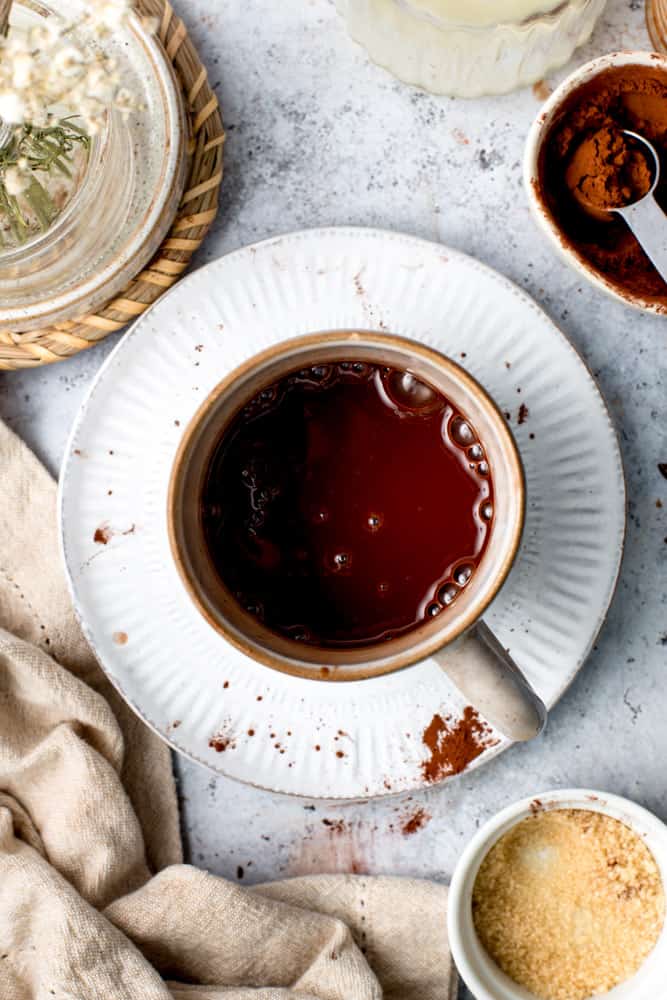 Want to make things eeeeeven better? Have a little look!

Make it in a LARGE batch. Why not mix all your ingredients (except oat milk) ahead of time and store in a little jar or airtight container. Anytime you feel like hot chocolate, you can just add milk, warm it all up and BAM, here you go! Instant vegan hot chocolate mix is here ready for you!
TOP IT UP LIKE CRAZY. Go ahead, treat yourself to the FULL experience. Add some vegan whipped cream, sprinkles, marshmallows or even booze if that's your thing!
GET DIPPING. One of the best ways to serve this is with other delicious vegan treats. Grab your favourite cookie or biscuit and get dipping! PRO TIP: Dip it in my heavenly vegan shortbread or the classic choc chip cookie!
Is cocoa powder dairy-free?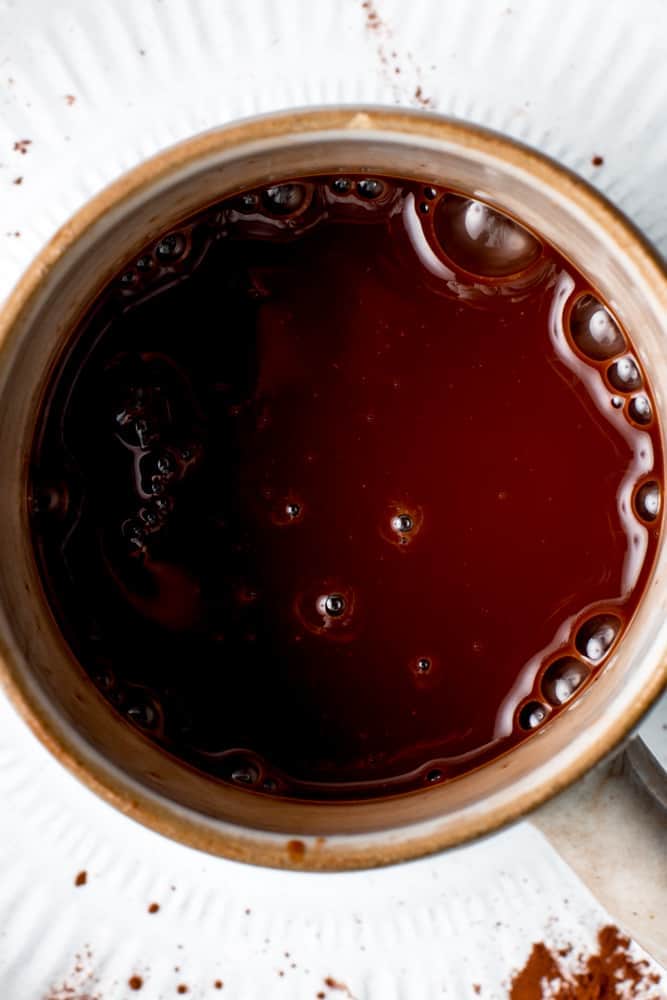 This is a bit of a tricky one, so let's get into it.

The short answer is yes. At least most of the time. I tried several brands of cocoa from Britain's main supermarkets and never came across one that wouldn't be dairy free. Cocoa powder itself should only contain cocoa on the ingredient list. No other ingredients, just cocoa.

However, what might confuse you are the words 'might contain traces of milk' often printed on the packaging. What does that mean? Is cocoa still dairy free?

To put it simply, it means that the factory that produces your cocoa also produces items that contain milk. Despite their best efforts, it could mean that a tiny amount of milk could still be present on the production line and thus possibly make it into your cocoa. The risk of that happening is low, so the text is mainly there to legally protect the manufacturer in the event that someone has an allergic reaction. You can read more about the reasoning behind the 'may contain traces' text over on Live Kindly.

To sum up, cocoa powder is vegan, but not always suitable for allergy sufferers!

For more delicious vegan desserts like this, make sure to check out my:
This just about wraps up my oat milk hot chocolate recipe! As always, if you have any trouble making my vegan shortbread biscuits, simply comment down below or message me directly on Instagram. I'll be sure to help you out in case you get stuck.
🍴Recipe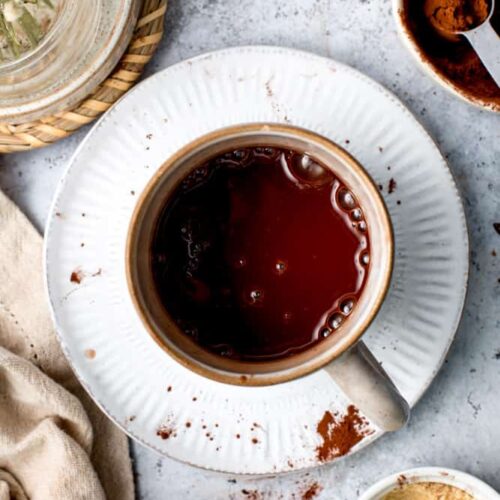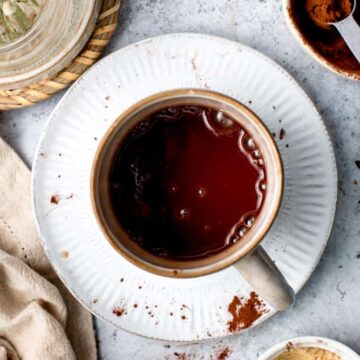 Oat Milk Hot Chocolate
Easy, 1-portion oat milk hot chocolate you can whip up in minutes.
Print
Pin
Rate
Ingredients
2

tablespoon

cocoa powder

1

teaspoon

sugar

I used brown sugar

1

teaspoon

agave syrup

or another sweetener

200

ml

(

1

cup

)

oat milk

plus extra 2 tsp of oat milk for the paste
Instructions
Combine cocoa, sugar and agave syrup in a mug. Stir well, then slowly add 2 tablespoon of oat milk. This will create the base for our recipe – the paste. Grab a small fork or spoon and stir vigorously until your paste is completely smooth. 

Pour 200ml (1 cup) of oat milk over your paste. Mix well using a fork or a spoon.

Transfer to a pan and heat up your hot cocoa on medium heat for about 4-5 minutes until you can see steam rising from your pan.

Optional: if you want your hot chocolate to be extra bubbly, use an electric milk frother to froth it up.

Serve in a mug with all your favourite toppings such as mini marshmallows or whipped coconut cream (recipe in Notes)
Notes
Use any type of sugar you like best (such as coconut sugar, white sugar, dark or light muscovado sugar).
If desired, agave syrup can be substituted for maple syrup or another sweetener.
If you're looking for a

no sugar

variation, use stevia instead of sugar. Remember to lower the amount of stevia in the recipe (1 teaspoon of sugar equals about 1 pinch of stevia).
When heating up your hot chocolate, stay alert to avoid burning it.
Make a delicious whipped cream topping using 1 can of full-fat coconut milk (refrigerated overnight and drained to only include the

solid

part that forms on top). Simply mix the solidified coconut milk using an electric mixer for 4-5 minutes until fluffy.
Nutrition
Calories:
171
kcal
|
Carbohydrates:
36
g
|
Protein:
5
g
|
Fat:
4
g
|
Saturated Fat:
1
g
|
Sodium:
98
mg
|
Potassium:
265
mg
|
Fiber:
5
g
|
Sugar:
9
g
|
Vitamin A:
416
IU
|
Calcium:
305
mg
|
Iron:
3
mg
Disclaimer: The nutritional information above is calculated automatically. The author of this post cannot guarantee 100% accuracy of this data.