Jump to Recipe
Introducing the best vegan chocolate chip cookies. Best enjoyed straight out of the oven, so make sure to gobble it up fresh! This vegan cookie is crunchy on the outside and super gooey in the middle. This is a real must-try, if I may say so myself!
How To Make The Best Easy Vegan Cookies
I'm all about easy recipes. Sometimes the simplest recipes produce the best dishes. Need proof? Look no further than my 3 popular dishes:
Back to the matter at hand. These simple vegan chocolate chip cookies are the definition of no-fuss baking. Straightforward, easy and quick. 9-minute baking time? Sign me up.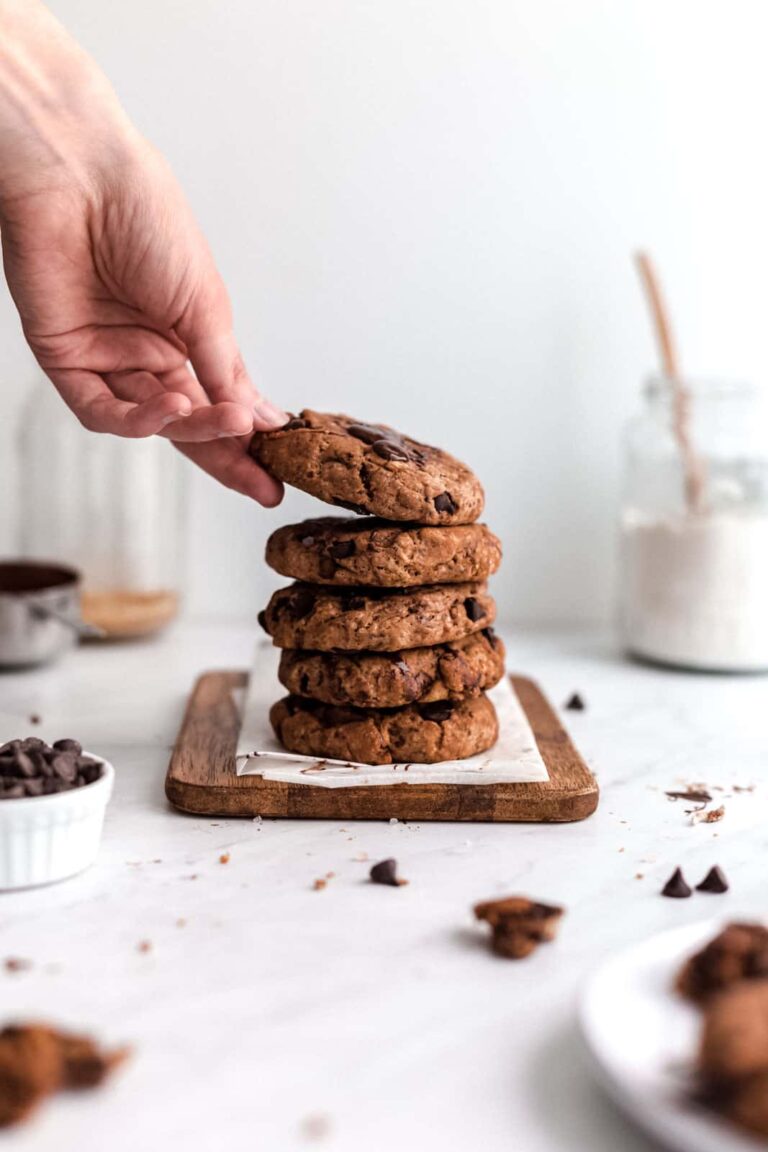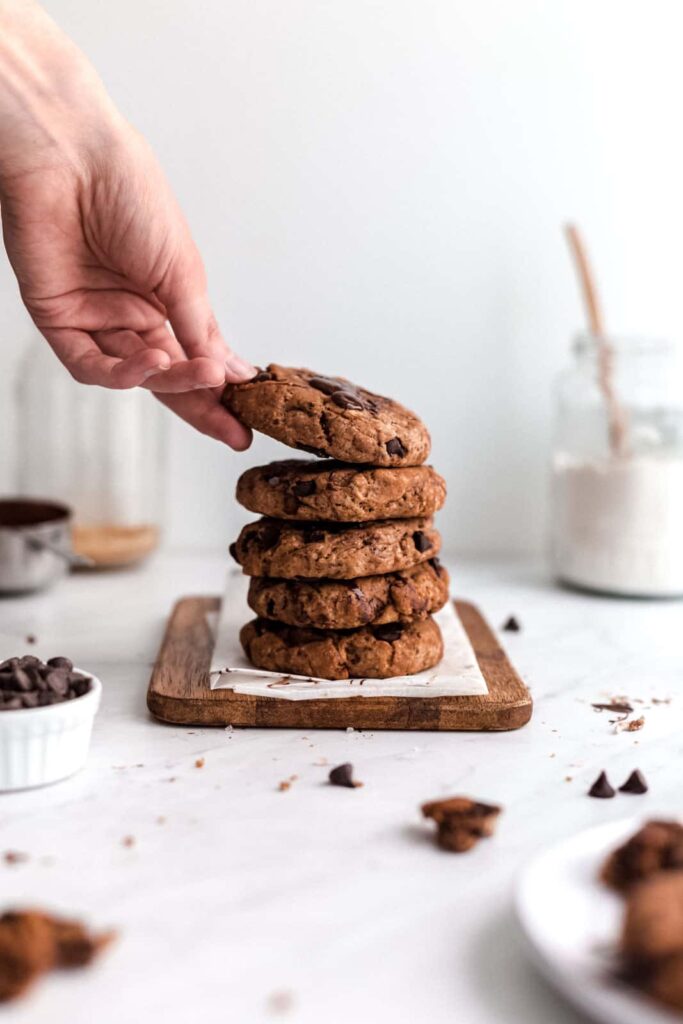 What You Will Need
To be frank, you won't need much more than a pair of hands and an oven. No fancy baking equipment that will blow your budget is needed. Although to be completely fair, a good metal whisk wouldn't go amiss.
But what about the ingredients, you ask? Well, I promised to keep it dead easy. Plus, these vegan chocolate chip cookies are dirt cheap. They're easy, affordable and quick. Do I hear your belly making gurgling noises?
Veganism is often perceived as a very expensive lifestyle. I'm here to put a big fat stop to that. Of course, I'm not saying I can single-handedly stop supermarkets from overcharging you for vegan chocolate. Nor can I stop cafes from bringing in that irritating 50p charge for plant-based mylks. BUT, I do sure love to keep my recipes affordable. This is exactly why I limited the ingredients for these vegan cookies to bare essentials.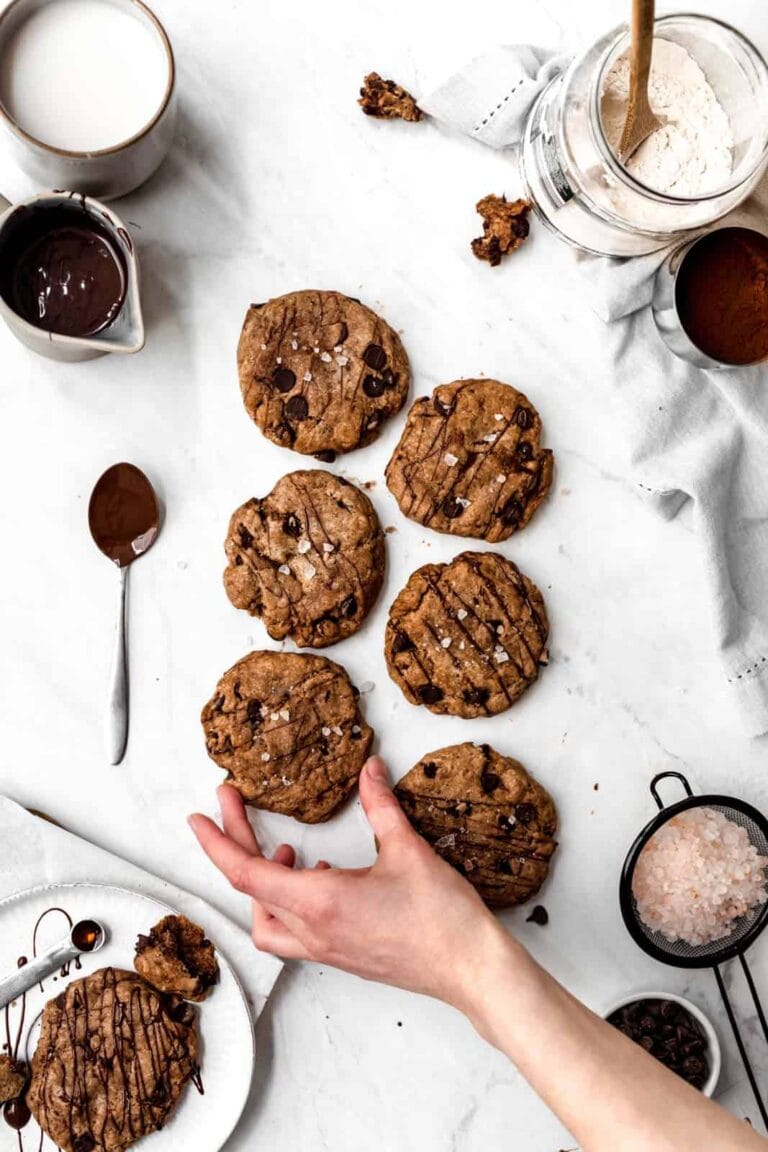 ALL YOU NEED IS:
flour
sugar (any type of sugar will do – I used a combination of white and brown sugar)
vegan butter or margarine
baking soda
salt
chocolate chips (you should be able to find them easily here in the UK – they sell vegan ones in Aldi. If you can't find them and want to go even cheaper, just cut up some chunks of dark chocolate)
ground flaxseed.
Keeping It SIMPLE – Vegan Chocolate Cookies
Enter the one ingredient that (literally) brings it all together – ground flaxseed! If you're into vegan baking, you NEED this in your cupboard. It's a super cheap replacement for eggs!
All you need to do is mix it with a little bit of warm water and wait for it to set. This will create a rather amusing jelly-like mixture. Flaxseed eggs work super well in a variety of vegan dishes from cakes to brownies and even bread.
I'm in no way pretending that this is a happy recipes. However, it's worth mentioning that flaxseed is also a FAB source of nutrients. It's packed with Omega-3s and fibre. A longitudinal study found that it also helps reduce total and LDL-cholesterol in blood. I love adding flaxseed to my cereal or porridge. It doesn't really have a particular flavour, but will make sure you get in some extra nutrients.
Adding That Extra 'Oomph'
Want to give these vegan chocolate chip cookies an extra boost? I love sprinkling them with some big chunks of pink Himalayan salt. Alternatively, you can pour over some melted chocolate.
They also go particularly well with my chocolate peanut butter milkshake or dipped in my 3-ingredient hot cocoa.
Keep these simple vegan chocolate cookies in an airtight container. They're best enjoyed fresh, but can keep for up to 4 days.
Ready to treat yourself to the best vegan chocolate chip cookies EVER? Put on your apron and let's dive right in! You'll be smothering your hands in gooey chocolate chips before you even know it!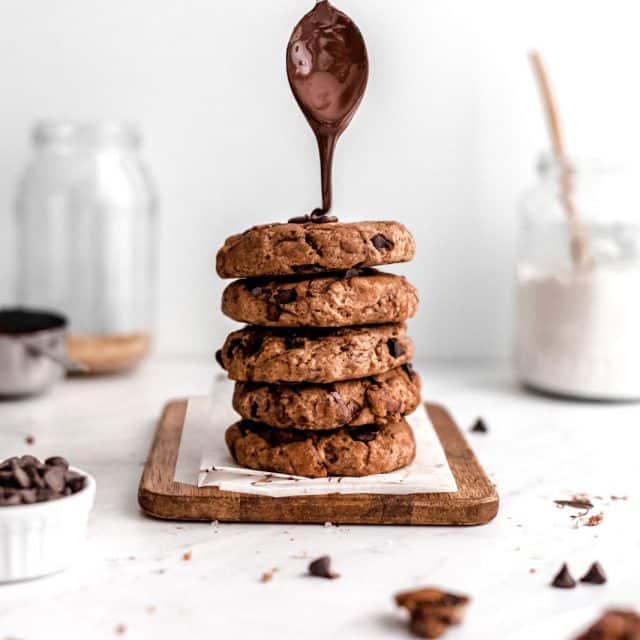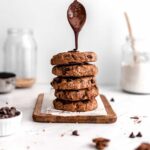 Vegan Chocolate Chip Cookies
The best vegan chocolate cookies ready in just under 10 minutes. Let's dig right in!
Ingredients
1¼

cup

plain white flour

½

cup

vegan butter

⅓

cup

white sugar

⅓

cup

brown sugar

1

tsp

baking soda

½

tsp

salt

½

tsp

vanilla essence

100

g

dark chocolate chips

1

tbsp

ground flaxseed

combine with 3 tbsp of boiling water to create a 'vegan egg)
Instructions
Make a flaxseed egg (by mixing ground flaxseed and boiling water). Set aside.

Mix butter and sugar (no need to melt the butter, just grab a whisk and mix until completely smooth)

Add flaxseed egg and vanilla essence. 

Sieve dry ingredients (flour, baking soda and salt) together. Make sure all dry ingredients are sieved and mixed well before adding them to the mixture. This will ensure even distribution of baking soda.  

Add all your dry ingredients to your mixture. 

Fold in chocolate chips, mix well and form cookies (8 to 9).

Bake for 9 minutes at 180°C (356°F) – fan oven setting. 
Nutrition Facts
Vegan Chocolate Chip Cookies
Amount Per Serving
Calories 261
Calories from Fat 108
% Daily Value*
Fat 12g18%
Sodium 347mg15%
Potassium 106mg3%
Carbohydrates 35g12%
Protein 3g6%
Vitamin A 479IU10%
Calcium 45mg5%
Iron 1mg6%
* Percent Daily Values are based on a 2000 calorie diet.
---
Don't forget you can grab a free vegan booklet containing 90 vegan meal ideas below.