Bakery-worthy vegan matcha cookies. These are gooey and moist, whilst crunchy on the outside. Super easy and fail-proof.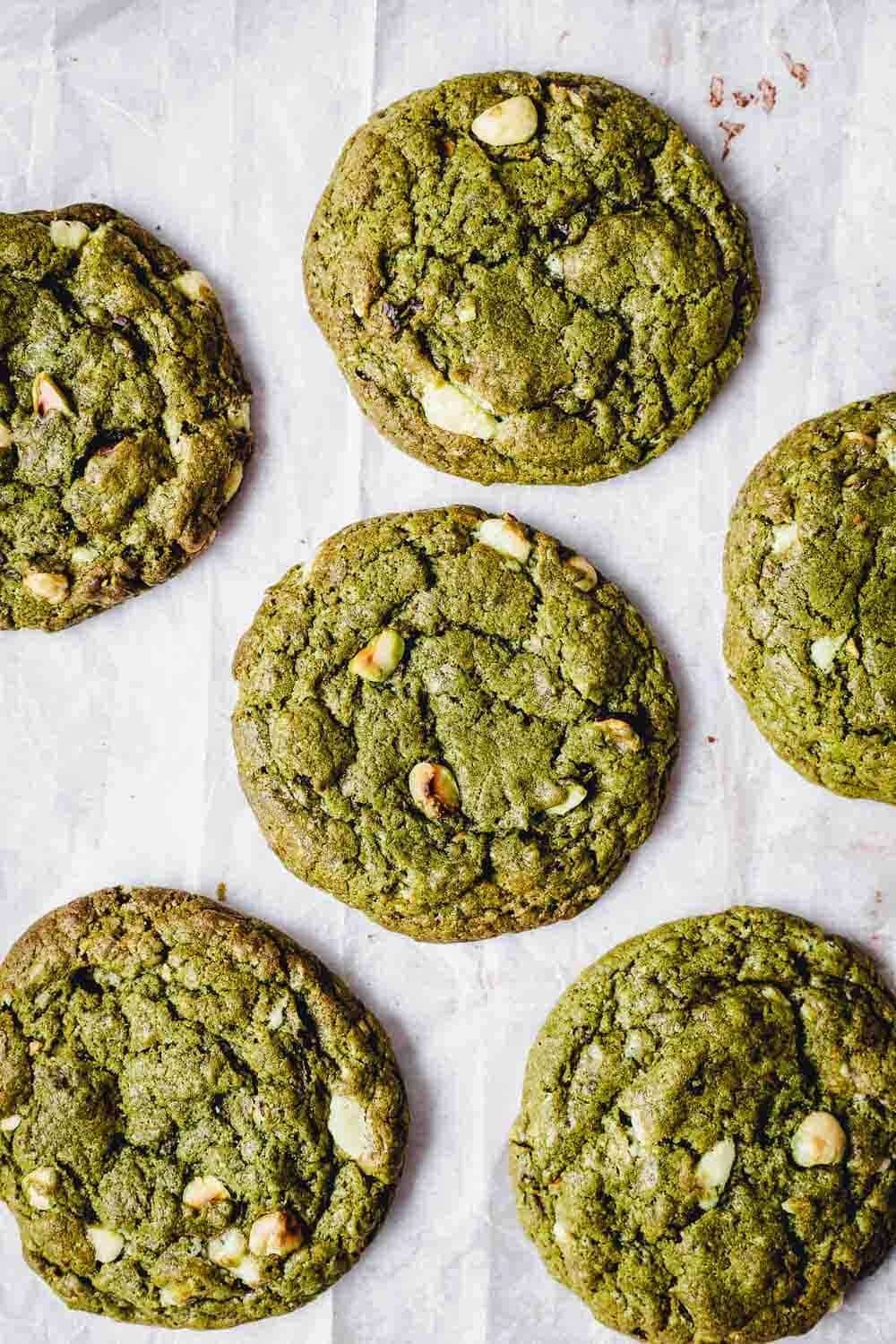 Why this recipe works
Wondering why I'm so enthousiastic about this recipe?
Easy and forgivable recipe, you can't go wrong really.
The texture is perfect, crunchy on the outside and soft on the inside
The white chocolate and matcha combo is heavenly!
You can customise this base recipe to your hearts content. How? Add any spices or flavourings that you think will work well with matcha.
It is perfect when dipped into my oat milk latte or hot chocolate.
This recipe is packed with helpful tricks and tips that will help you make the most delicious cookies.
What goes into this recipe
These are the ingredients you will need: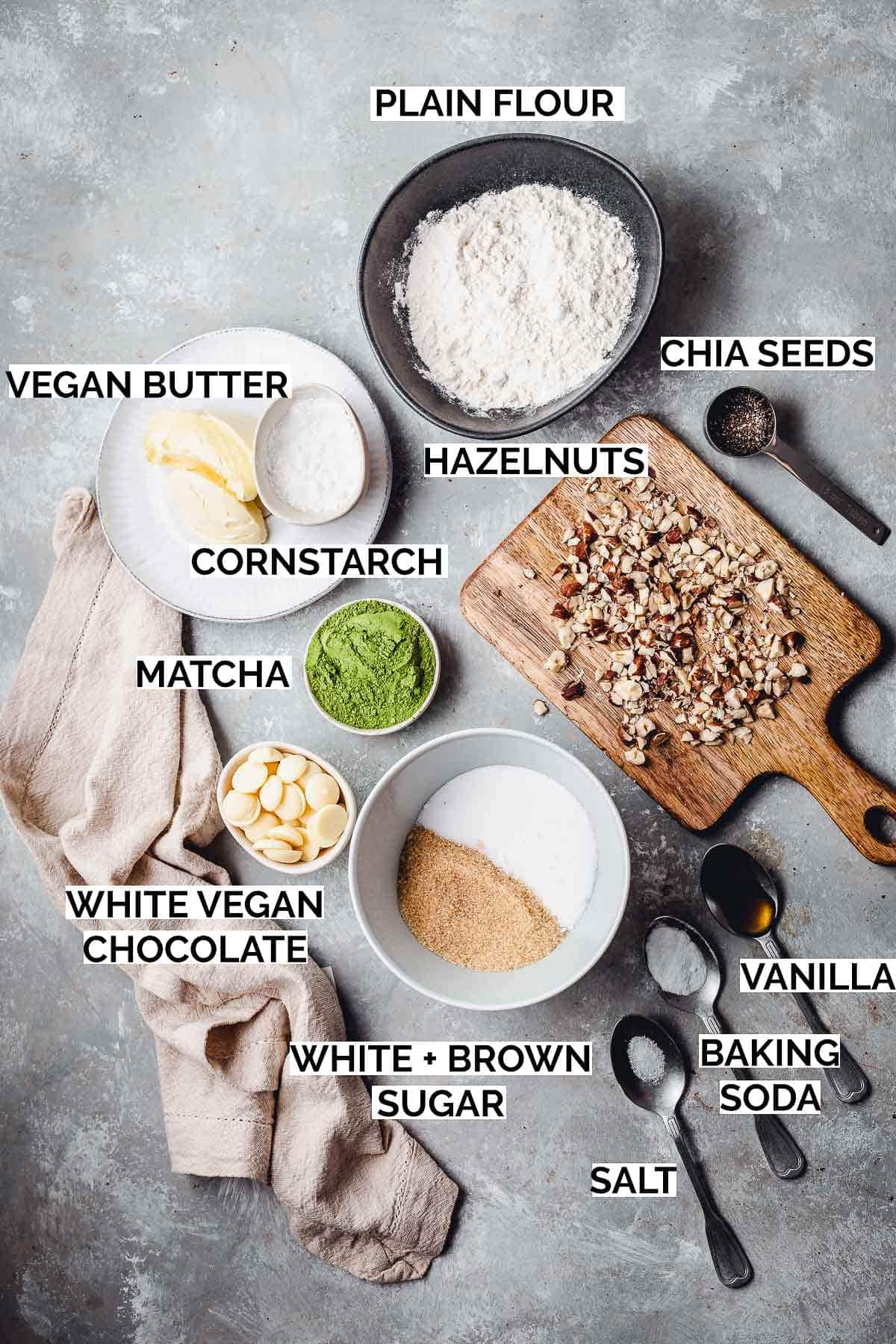 White chocolate: I know it can be tough to get vegan white chocolate in some places, so don't sweat it if you can't find it. You can easily substitute it for vegan milk chocolate. I would avoid dark chocolate, because you'll then have two bitter elements: matcha and dark chocolate.
Vanilla: I used liquid vanilla extract, the most affordable version.
Hazelnuts: They'll need to be roasted. You can easily roast them yourself in a non-stick pan for 4-5 minutes until they turn golden brown.
To make this recipe you will also need the following equipment:
Baking tray and paper
Kitchen scales
Measuring cups and spoons
Recipe Step-by-step Instructions
This is how you make my vegan matcha cookies - it honestly couldn't be any easier.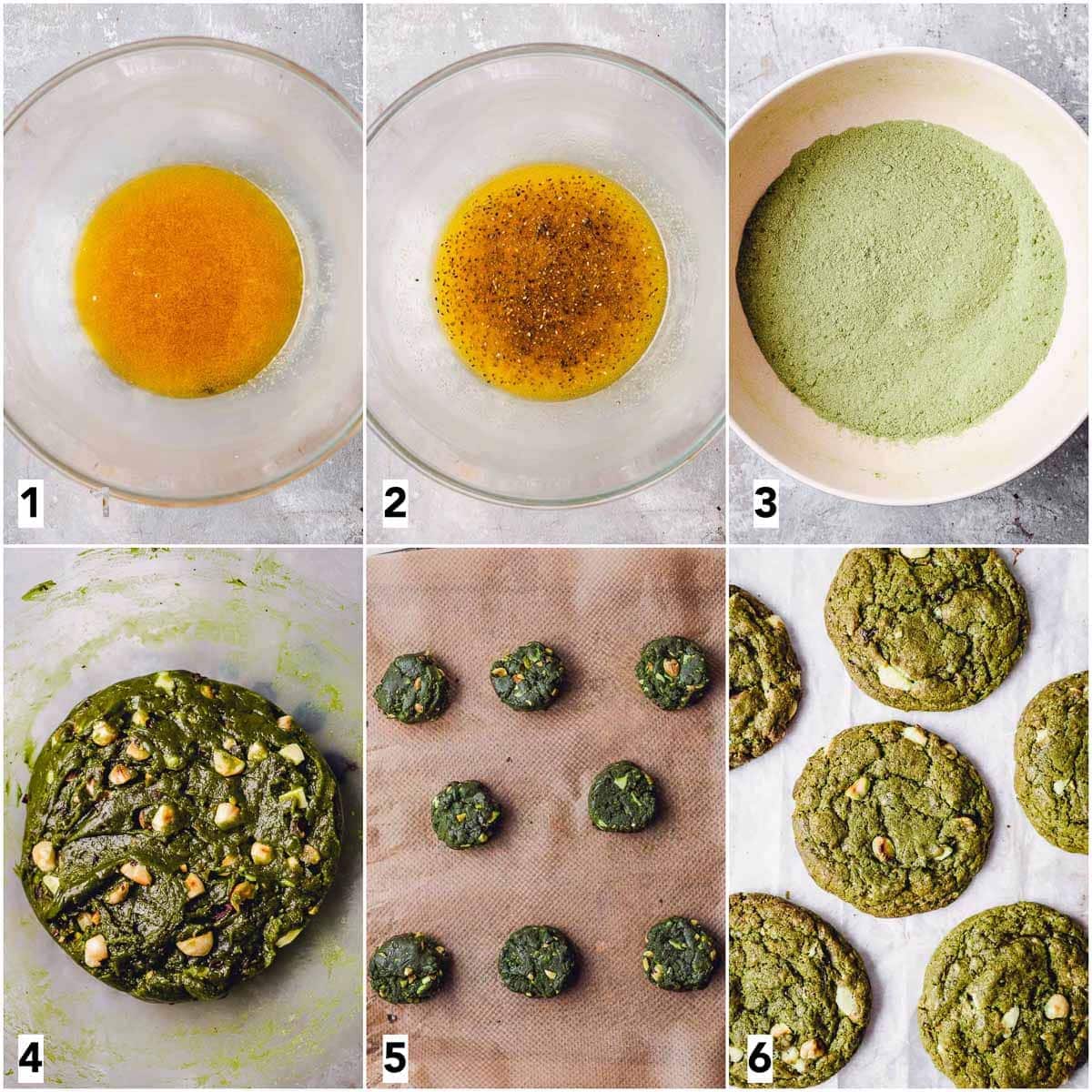 Combine chia seeds and water in a small bowl to create a chia egg. In a different bowl, combine melted butter and sugars.
Add the vanilla and chia egg to your butter mixture. Stir well until sugar has partly dissolved.
In a different bowl, combine all your dry ingredients - flour, cornflour, baking soda, salt and matcha powder.
Combine wet and dry mixtures in a bowl. Then fold in chopped nuts and chopped white chocolate. Place in a large bowl, cover with clingfilm and let rest in the fridge for 1 hour.
Scoop the mixture into 8 equal-sized balls.
Bake for 10-12 minutes at 180°C/356°F (fan oven) and let cool on your baking tray. Enjoy!
My Top Tips
I really want you to nail this recipe in your first go. Best way to do that? Read these tips below - they will really help you out!
Always melt your vegan butter
Melting your butter ensures the sugars can dissolve into the warm butter. This will create that distinct caramelly flavour and chewy texture. Plus it will help make your dough a little wetter so it will be easier to mix.
Combine white and brown sugar
Each sugar has its own function in this cookie so you need both. White sugar for a crispy outside and the brown sugar for a chewy texture and rich, almost caramelly flavour.
Chill the dough for at least an hour
Refrigerating your dough ensures the flavours settle and combine, whilst gluten in your dough slackens, creating a chewy (but not rubbery) texture.
It is also helps the cookie dough firm up as the butter cools down. It will help prevent your cookies from running and going flat when you bake them. Read more about the importance of chilling dough here.
Don't bake until hard
Make sure to bake until the edges are crisp, but the middle of the cookie is still soft. When I just started baking, I never knew that cookies had to be soft when taken out of the oven. Make sure you keep that in mind. Once they cool down and the butter firms up again, your cookie will become firm.
Vegan Matcha Cookies: FAQs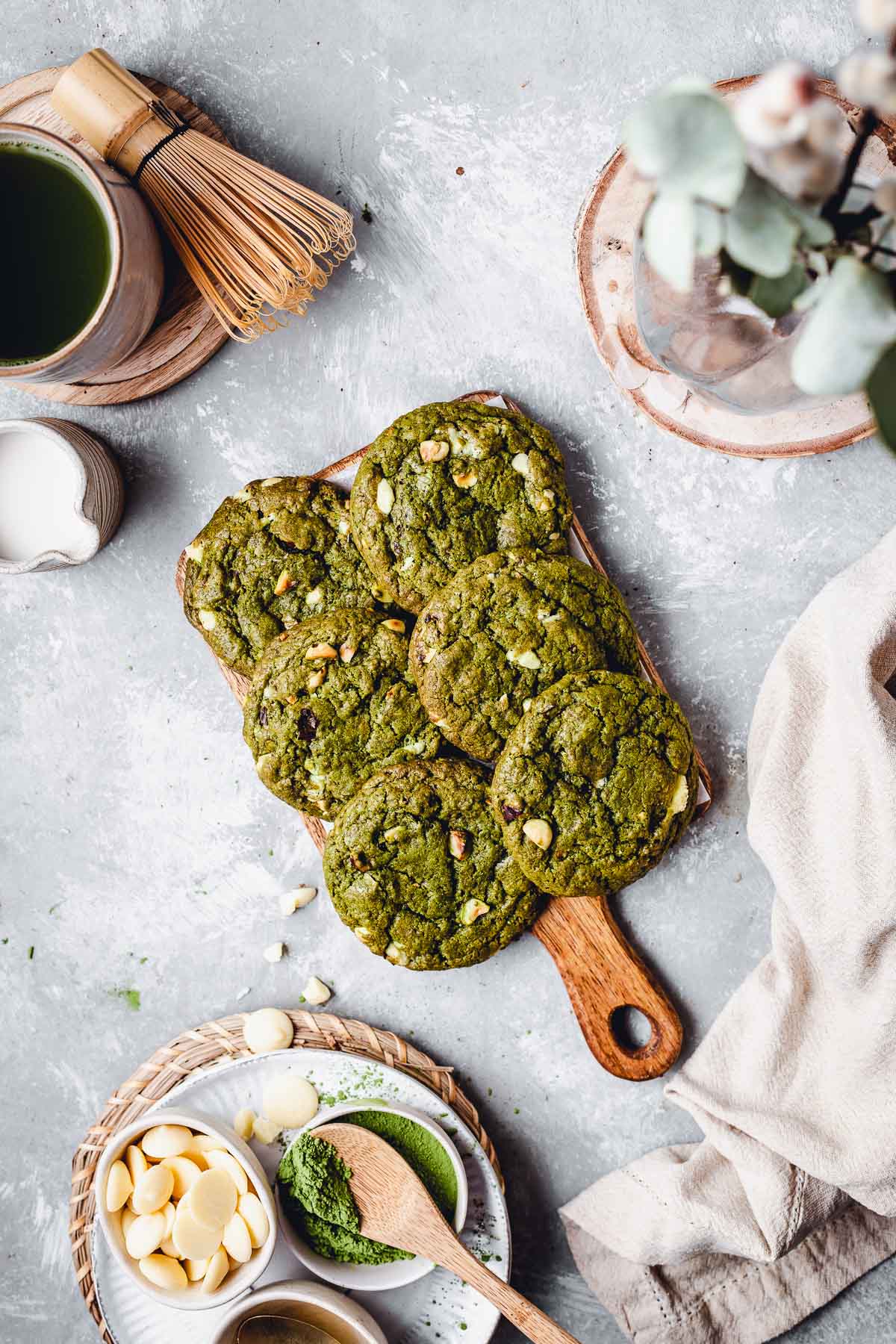 How do I store my cookies?
Store these cookies in a cookie jar or tin, or in an airtight container for up to 5 days. If they get a little dry, pop them into the microwave for 10-20 seconds and they will be lovely, gooey and melty again.
Can I freeze these cookies?
If you want to make the dough in advance or save leftovers it's best to leave the dough unbaked. After you have let the dough rest in the fridge for an hour you can scoop your cookie dough balls onto a small baking tray (or flat plate) and put the tray in the freezer.

Once completely frozen, transfer balls from the tray into an airtight or bag container to further store in the freezer until you're ready to bake them.

When you bake the frozen cookie add, 3-5 minutes to the baking time and they'll be as delicious as the day you made the dough. This dough will keep in your freezer for approx. a month.
Why is my cookie dough too slack?
The dough might not have stiffened up enough in the fridge yet so refrigerate for a bit longer and you should be able to scoop out perfect little balls.

An ice cream scoop is perfect for scooping the cookie dough into even balls. If it remains slack after 1,5 hours, try adding a teaspoon of flour to firm up your dough.
Why is my cookie dough so firm?
Don't worry if the cookie dough seems a lot firmer when you take it our of the fridge. This means the fridge has done its job and has hardened the vegan butter which we had melted for the recipe earlier. If it becomes difficult to scoop, simply let it stand at room temp for 5 -10 minutes to soften a bit.
Why have my cookies gone very flat after baking?
It is likely your dough was not cold enough or contained too much liquid. The good news is that the cookies will still taste great. To prevent them from flattening next time check the dough is firm enough to form a ball before baking and, if not, refrigerate for longer. You could also add a teaspoon of flour.
Possible Ingredient Substitutions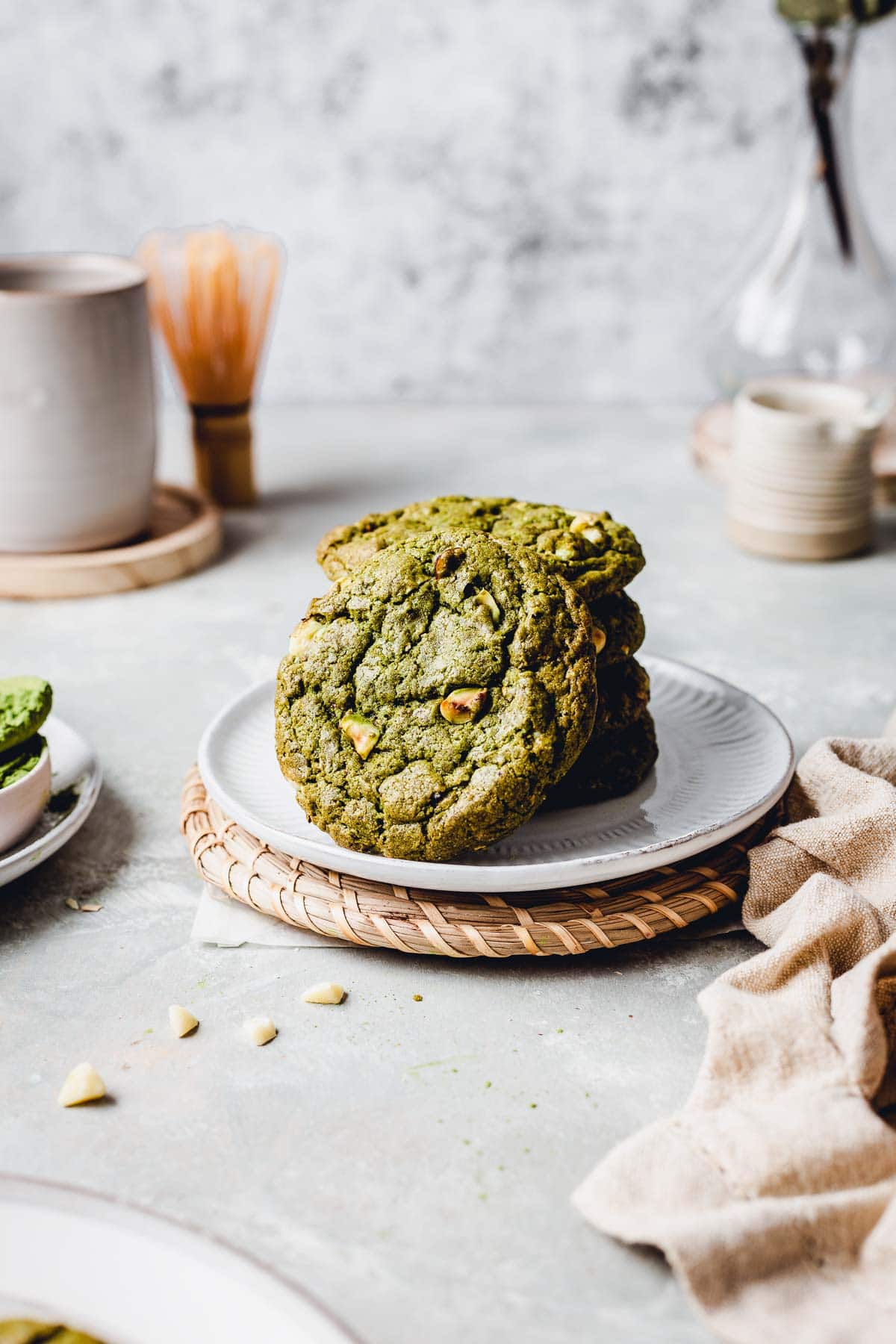 Don't have all the ingredients in the cupboard or just want to experiment a little? Here are my tips on how to substitute some main ingredients of this fail proof cookies.
SUGAR – the muscovado sugar creates the caramelly chewy flavour so if you can keep that in but you can easily vary the ratio between the white and brown sugar. I used light brown sugar and white caster sugar but you can use any white sugar or brown sugar. Overall the more white sugar the more crispy the cookie will be, the more brown sugar the more caramelly and chewy it will be.
BICARB – If you only have baking powder at home no need to worry, you can substitute the baking soda for baking powder, this will result in a slightly lower rise and less crack on the cookie but should not affect the taste.
CHIA SEEDS – If you don't have chia seeds you can use flaxseeds to make your egg. Alternatively, you could try an egg replacer (make sure it is thick and not watery as that will create a cakey and not chewy cookie). Make sure to use the same amount (weight) to replace your chia egg.
ALTERNATIVE FLAVOURS – You can substitute the nuts and chocolate for any dry fillings, for instance if you want a more chocolatey flavour you can add some milk, if you prefer a different type of nut try almonds or pecans.
Any other ingredients you're missing at the moment? Get in touch via the comments below and I'll see if I can find a good substitution for you!
If you liked my vegan matcha cookies, you'll also love my double chocolate chip cookies, blueberry oat muffins, banana bread or chocolate shortbread. You can also browse all my vegan desserts here.
🍴Recipe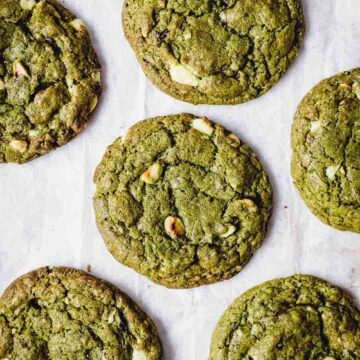 Vegan Matcha Cookies
Yummy vegan matcha cookies with white chocolate and the perfect crunch.
Print
Pin
Rate
Equipment
Baking tray and paper

Mesuring scaled and cups
Ingredients
½

tablespoon

chia seeds

35

g

(

1.23

oz

)

white sugar

35

g

(

1.23

oz

)

brown muscovado sugar

65

g

(

2.29

oz

)

vegan butter

I love using Vitalite

½

teaspoon

baking soda

½

teaspoon

vanilla extract

1

tablespoon

(

1½

tablespoon

)

matcha

important - LEVEL tablespoon: not heaped

5

g

(

0.18

oz

)

cornflour

or cornstarch as it's known in the US

75

g

(

2.65

oz

)

plain flour

¼

teaspoon

salt

25

g

(

0.88

oz

)

hazelnuts

roasted

25

g

(

0.88

oz

)

white vegan chocolate
Instructions
Combine 1 ¼ tablespoon of boiling water with chia seeds to make a chia egg. Stir very well, then set aside for later. In the meantime, melt the butter in a large mixing bowl and add in the brown and white sugar. Mix the butter and sugar mixture until it thickens slightly and sugar has partly dissolved.

Add the vanilla and chia egg to the butter mixture and stir.

In a separate bowl mix together the flour, bicarb, corn starch, salt, and matcha powder.

Gradually add the flour mixture to your butter mixture and stir with a spatula until just combined. Chop your hazelnuts and white chocolate and fold into the matcha cookie dough.

Cover your bowl with clingfilm and let the dough rest in the fridge for at least an hour.

After an hour, scoop the mixture into 8 equal balls and place on a baking tray.

Bake for 10-12 minutes at 180°C/356°F (fan oven) and let cool on baking tray. If not using a fan oven, bake at 200°C/392°F.
Notes
Don't forget to MELT your butter!
Use BOTH white and brown sugar for optimal results.
Don't be tempted to bake straight away before refrigerating. This is an important part of the recipe so don't skip it.
Don't think you need to bake the cookies until they're hard. Bake until the edges are crisp, but the middle is still soft. This way you'll get a gooey, rich, moist cookie.
This recipes makes 8 cookies.
Nutrition
Calories:
150
kcal
|
Carbohydrates:
17
g
|
Protein:
3
g
|
Fat:
7
g
|
Saturated Fat:
2
g
|
Sodium:
205
mg
|
Potassium:
37
mg
|
Fiber:
1
g
|
Sugar:
9
g
|
Vitamin A:
451
IU
|
Vitamin C:
1
mg
|
Calcium:
13
mg
|
Iron:
1
mg
Disclaimer: The nutritional information above is calculated automatically. The author of this post cannot guarantee 100% accuracy of this data.