These vegan oatmeal cookies with peanut butter are my go-to sweet snack. They're super easy and have two flavour options, cranberry and chocolate.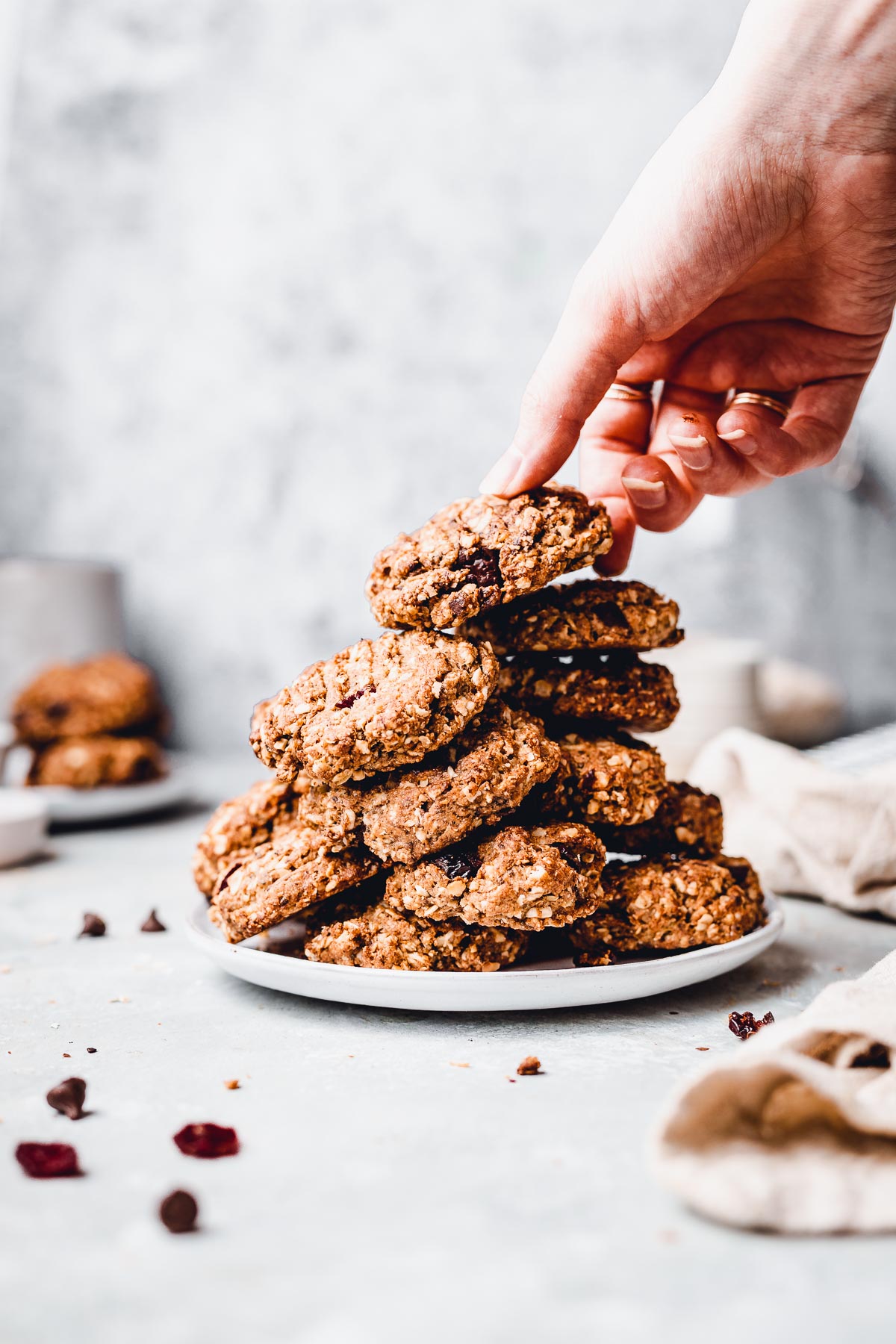 What makes this recipe great
Want that crunchy, golden, textured vegan oatmeal cookie to curb all your sweet cravings? Then you've come to the right place.
They're super duper easy - perfect for beginner bakers and kids!
You can customise the base recipe with 2 flavour additions: chocolate or cranberry!
You can take the customising even further: make these with raisins, white chocolate or nuts!
The texture is absolutely spot on!
One of the main ingredients is peanut butter - need I really say more?
This recipe is PACKED with helpful tricks and tips that will help you become a better baker!
Are you ready to make a batch of cookies that will transform your kitchen into a small-batch bakery? Here we go.
Ingredients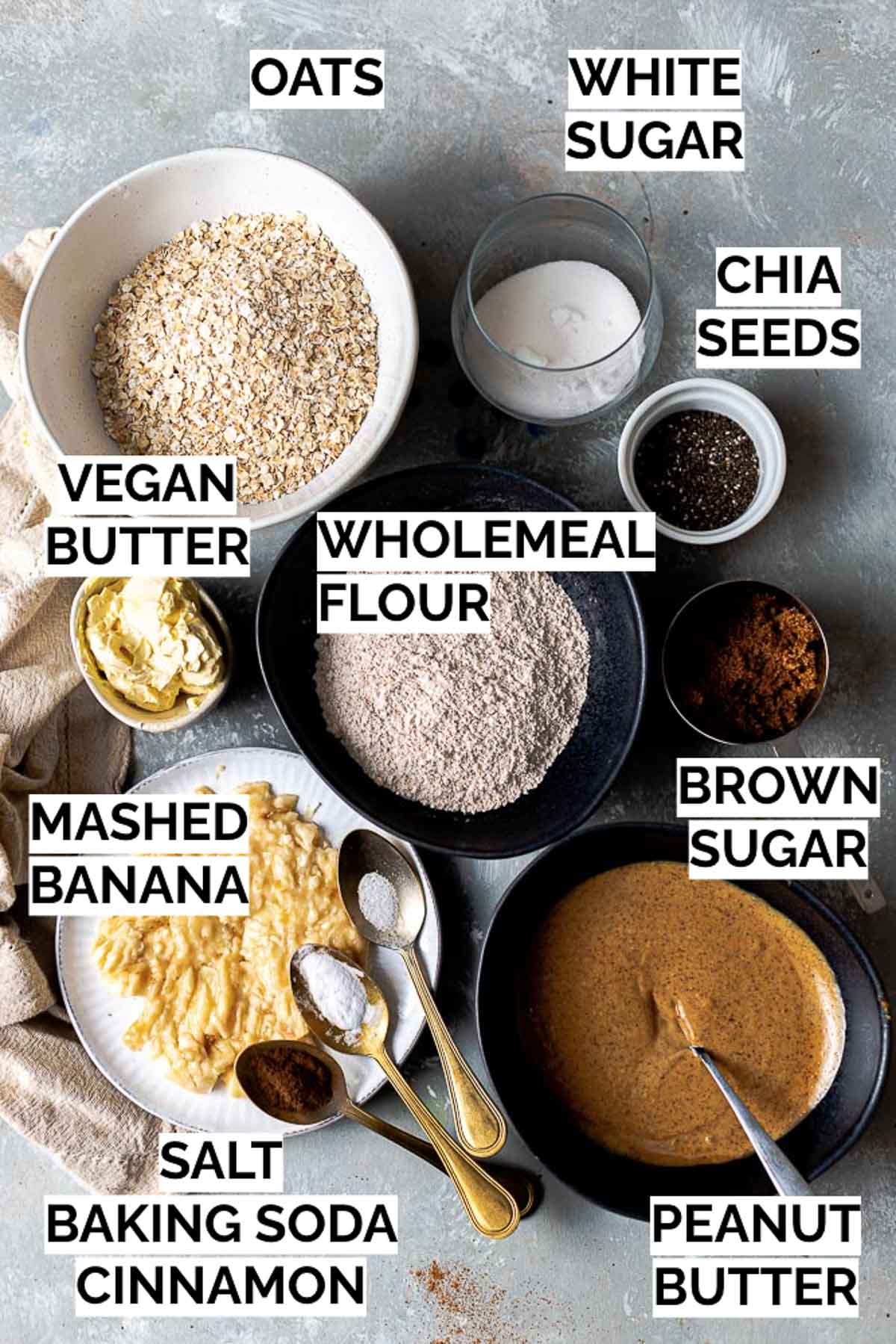 Wholemeal flour. You can experiment with different flours if desired (scroll down for more possible ingredient substitutions).
Cinnamon. Can be substituted for other dry spices.
Chia seeds. In combination with boiling hot water, this will serve as our DIY vegan egg.
Vegan butter. I always recommend Vitalite, but you can use any vegan butter you have on hand.
Peanut butter. I used 100% natural peanut butter. Crunchy or smooth, it both works well. You could even substitute for other nut butters.
Optional, but highly recommended toppings: chocolate chips, cranberries, hazelnuts. Read more about possible toppings below.
You can see that quite a few of these are absolute staples of vegan baking, making these cookies not only easy but also affordable.
And what's more, you can make them gluten free too! Simply just sub for gluten free oats and flour.
You will also need the following equipment:
Parchment/baking paper
Bowls to make the batter in
Kitchen scales
Cooling rack (optional)
Step-by-step Guide
One of the reasons why I adore this recipe is because of how simple it is. No fuss, no mess and no fancy equipment needed. Here's how it goes: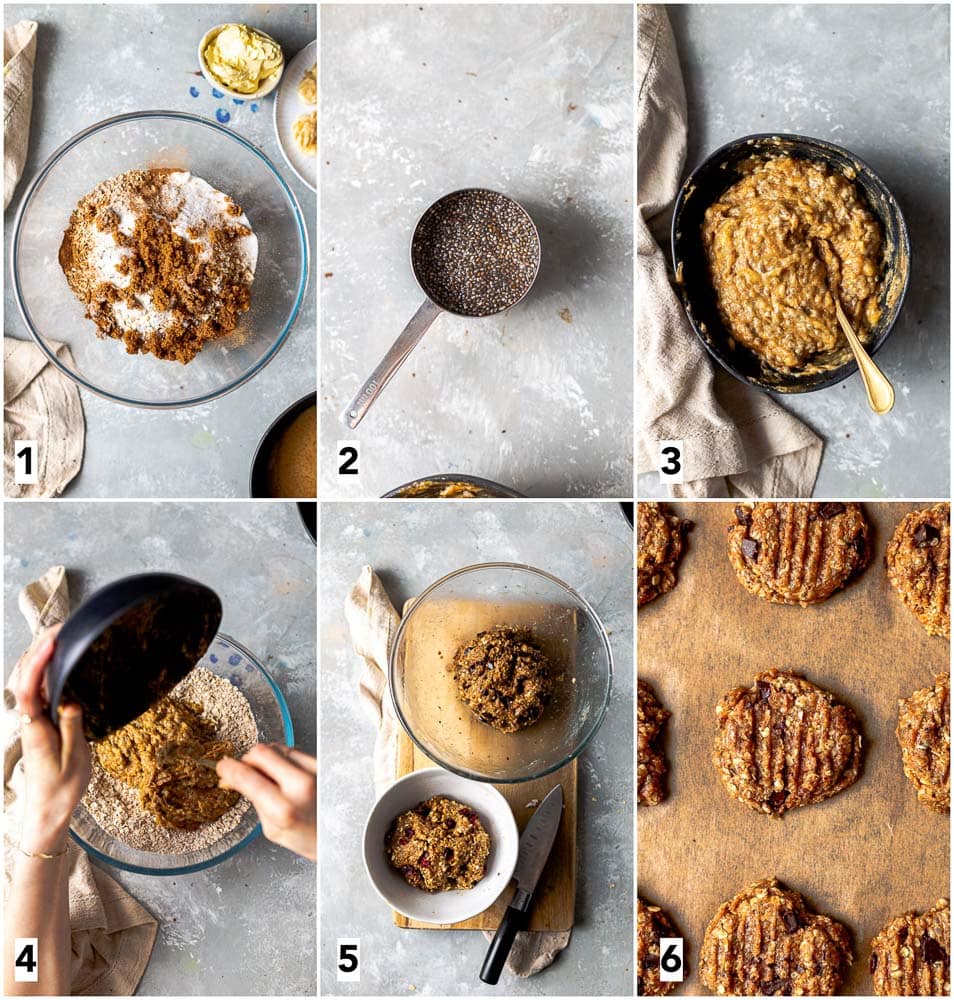 Combine all your dry ingredients.
Make a chia egg by combining chia seeds and boiling hot water.
Mix your wet ingredients.
Combine wet and dry mixtures.
Decide on flavour add-ons and add your add-on flavours to the dough. I divided this cookie dough into two mixtures: one with cranberries and one with chocolate chips.
Line a baking sheet and form cookies. Bake and enjoy!
My expert tips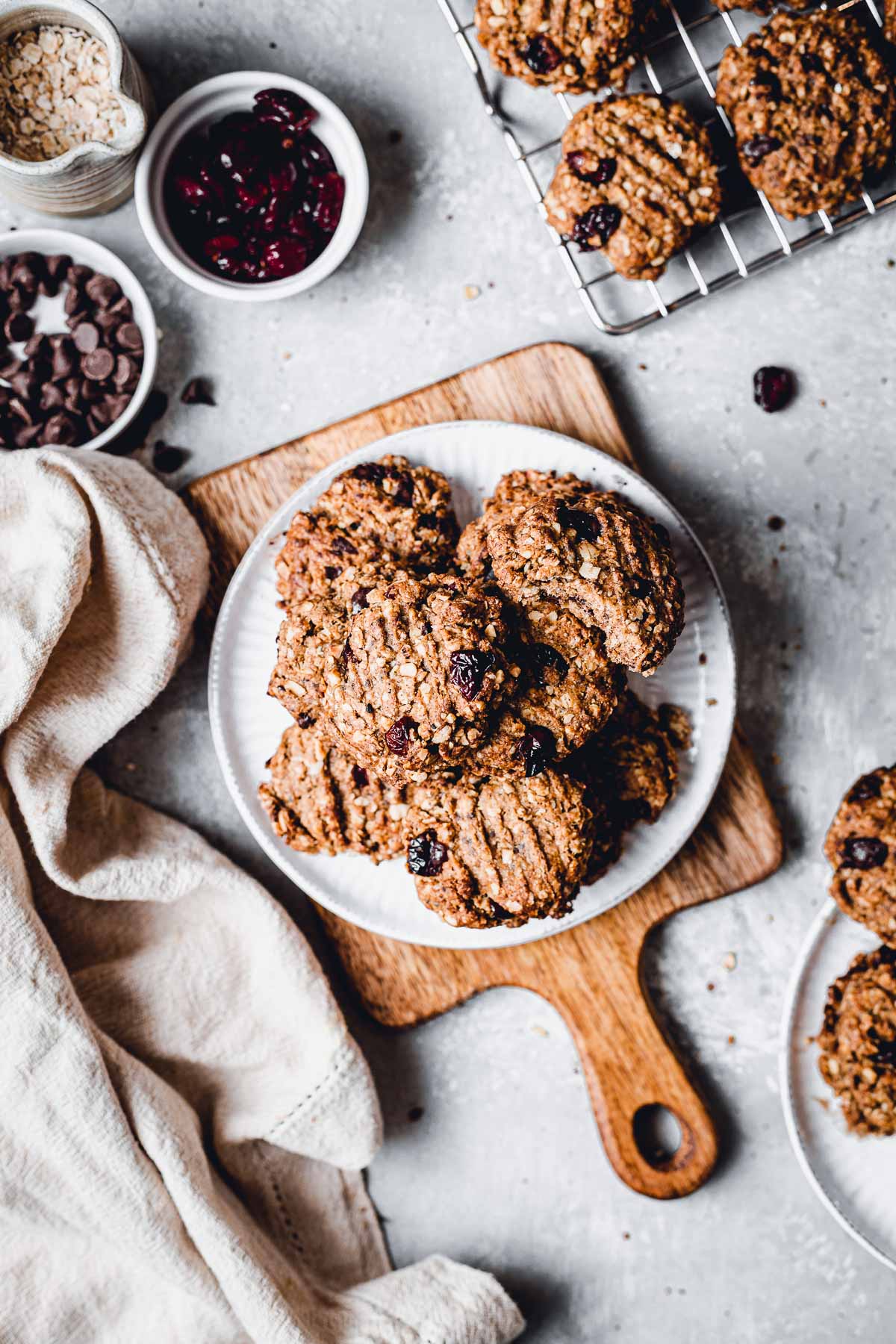 I really want you to nail this recipe in your first go. Best way to do that? Read these tips below - they will really help you out!
1. Chewy texture
An important thing to keep in mind when making these cookies is their final texture. We want our mixture to be dense. This will make a dense, crunchy cookie. If your mixture is very elastic and wet, it won't bring you the same results.
2. Know how to fix dry mixture
Did you add all the ingredients, mix well and still think your mixture is too dry to mix? To fix this, you can add 1 teaspoon of plant milk at a time and mix again. However, don't go overboard when adding your milk. As mentioned above, we want the mixture to be very dense, not super wet.
3. Shape before baking
As opposed to chocolate chip cookies, oatmeal cookies won't change their shape whilst in the oven. This means that you need to press them down into their final shape before placing them in the oven.
You can do so easily by pressing them down with a spoon or a fork to get that rustic looking oatmeal cookie look.
Possible Ingredient Substitutions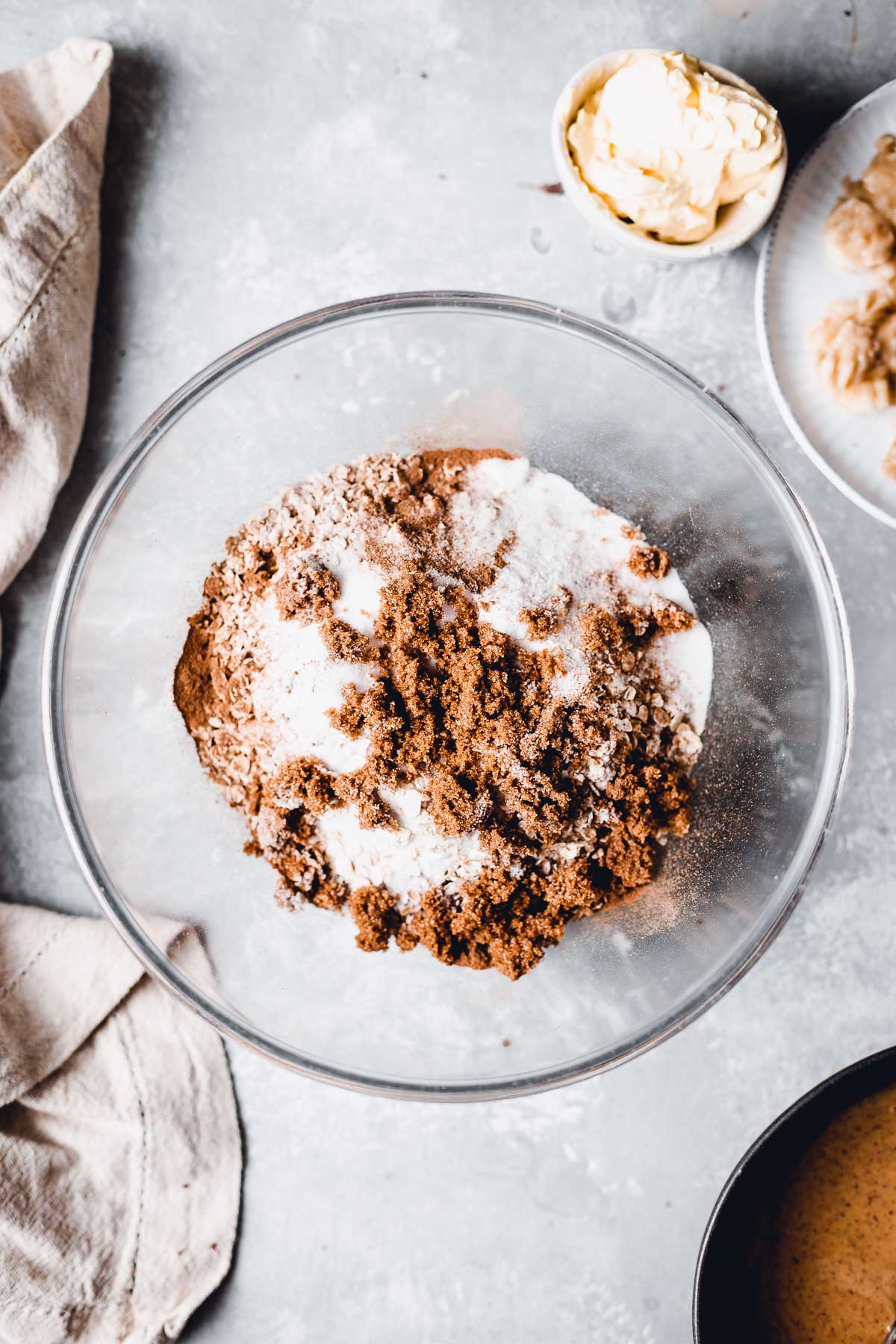 Don't have all the ingredients in the cupboard or just want to experiment a little? Here are my tips on how to substitute some main ingredients of these oatmeal cookies.
Cinnamon. Instead of cinnamon, you can use any other dry spice you want. Some good alternatives are cardamom, nutmeg, allspice and ginger.
Chia seeds. If you'd like to do more vegan baking (and cooking), I really recommend stocking up on chia seeds. They serve as one of the best DIY alternatives for eggs. However, if you don't currently have them at home, you can easily substitute them for flaxseed. Simply just follow the same recipe for making a vegan egg, but instead of chia seeds use flaxseed.
Flour. I've tested this recipe several times and believe wholemeal flour works best. However, you can definitely experiment here a little. Why not try using spelt, chickpea, oat or white flour.
Peanut butter. You can use any other nut butter you have at home. My favourite alternatives are almond and cashew butter. Or, even make your own nut butter from scratch - if you've got a food processor, it's really not difficult.
Any other ingredients you're missing at the moment? Get in touch via the comments below and I'll see if I can find a good substitution for you.
FAQ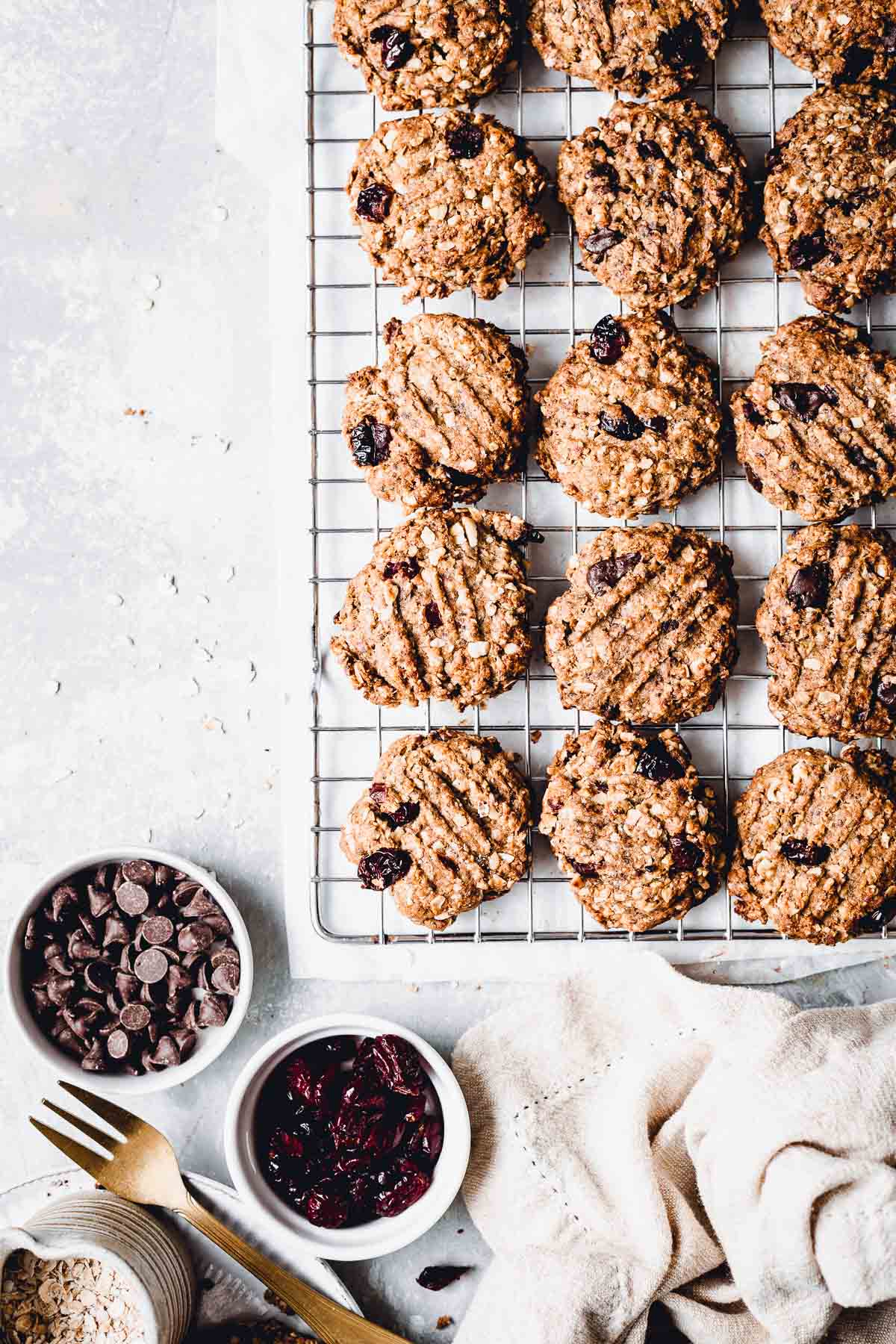 How to store oatmeal cookies?
You'll first want them to cool down completely. Never store hot cookies in a closed-off container. 

Once cool, you can add them to an airtight container and store for 4-5 days. Make sure the container is closed properly and kept at room temperature. Remember these will be best when fresh and will become softer as time goes by.

When storing in an airtight container, I like to use a piece of baking paper under the cookies. Depending on the container material, this will help make sure the cookies don't stick to the sides of your box.
Can you freeze oatmeal cookies?
Short answer: yes,, absolutely! 

In fact, even better, you can store both the cookie dough and the final cookie. Here's how to do it.

Shape little cookie dough balls. Place them on a lined baking sheet and place in the freezer for approx. 2 hours until completely firm.

Then, transfer to a container (make sure it's freezer friendly!) or a freezer bag. You can store them in the freezer for approximately 1 month.

Once you're ready to bake them, let them thaw gently. They'll need to be at room temperature before baking. Once they've reached room temperature, bake them according to instructions, perhaps leaving them in the oven for about a minute longer.

More tips on freezing cookie dough can be found here.

Did you know you can also freeze the baked cookies? This is super handy for when you've made a large batch and only then realise you won't be able to eat them all. 
Enjoyed my vegan oatmeal cookies? Discover my desserts section or try out other cookie recipes from my blog:
The form you have selected does not exist.
🍴Recipe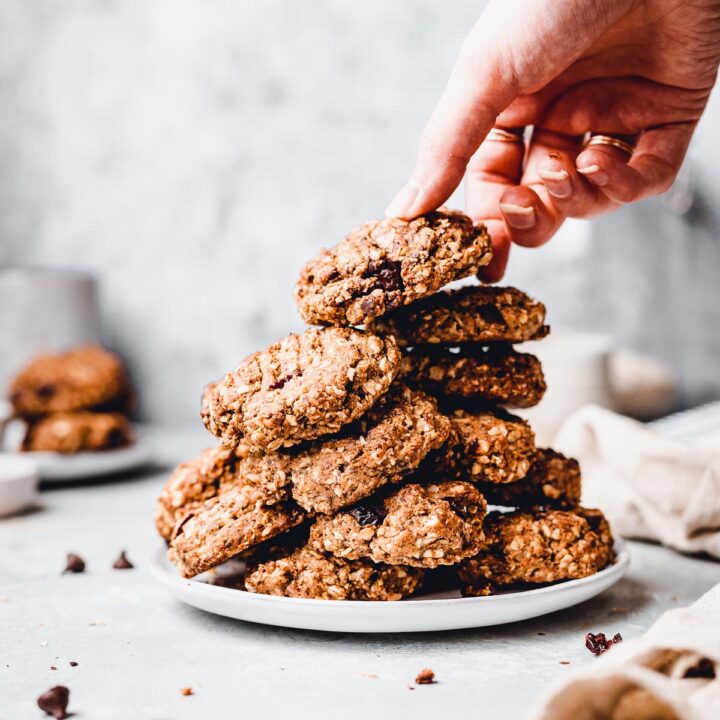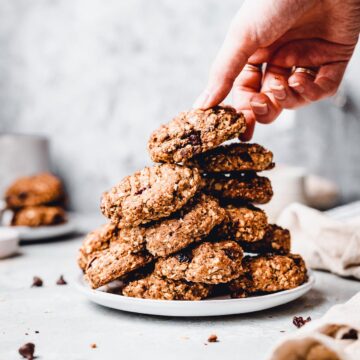 Vegan Oatmeal Cookies
Easy vegan oatmeal cookies that are baked within 10 minutes!
Print
Pin
Rate
Ingredients
COOKIES
130

g

(

4.59

oz

)

oats

(any oats are fine)

75

g

(

2.65

oz

)

wholemeal flour

½

teaspoon

baking soda

¼

teaspoon

salt

½

tsp

cinnamon

30

g

(

1.06

oz

)

brown sugar

45

g

(

1.59

oz

)

white caster sugar

(equals about ¼ cup)

1

tablespoon

chia seeds

55

g

(

1.94

oz

)

vegan butter

125

g

(

4.41

oz

)

natural peanut butter

(equals about half a cup)

1

banana

mashed up
TOPPINGS
25

g

(

0.88

oz

)

chocolate chips

15

g

(

0.53

oz

)

cranberries

1½

tablespoon

hazelnuts

chopped
Instructions
Combine all your dry ingredients: oats, flour, baking soda, salt, cinnamon, brown and white sugar.

Mix well using a fork or a whisk. Set aside.

Make a chia egg by combining 4 tablespoon of boiling hot water and 1 tablespoon of chia seeds. Stir well until no lumps remain. Put aside to set for 5 minutes.

Mix all your wet ingredients: vegan butter, peanut butter, mashed up banana and chia egg.

Pour your wet mixture oven your dry mixture and mix well using a fork or a silicone spatula.

Decide on your toppings/flavour addition: I recommend dark chocolate chips for one half and cranberries and chopped hazelnuts for the other half of your batter. 

If you're making two different flavours, split your mixture in half. Fold in dark chocolate chips for one half of your mixture and fold in cranberries + chopped hazlenuts for the second half of your mixture. 

If you're just making one flavour, no need to split the mixture - simply just double the amount of toppings you see written in the Ingredients part above. 

Line a baking sheet with baking paper and measure out your cookies: I I used a ⅛ measuring cup for each cookie. This mixture should make approx. 20 cookies.

Press down the cookies using a fork to create 4 parallel lines across the middle as seen in the step-by-step instruction photos above. 

Bake at 375°F / 190°C (fan oven) for 10-12 minutes. If not using a fan oven, bake at 392°F / 200°C.
Notes
Make sure your mixture is dense, not too wet and elastic.
If your mixture is too dry, add 1 teaspoon of plant milk at a time and mix again. However, don't go overboard when adding your milk.
Nutrition
Calories:
87
kcal
|
Carbohydrates:
14
g
|
Protein:
2
g
|
Fat:
3
g
|
Saturated Fat:
1
g
|
Cholesterol:
1
mg
|
Sodium:
76
mg
|
Potassium:
68
mg
|
Fiber:
2
g
|
Sugar:
5
g
|
Vitamin A:
112
IU
|
Vitamin C:
1
mg
|
Calcium:
12
mg
|
Iron:
1
mg
Disclaimer: The nutritional information above is calculated automatically. The author of this post cannot guarantee 100% accuracy of this data.