My almond milk waffles are crunchy on the outside but fluffy on the inside. So easy, made within minutes, and completely beginner-friendly.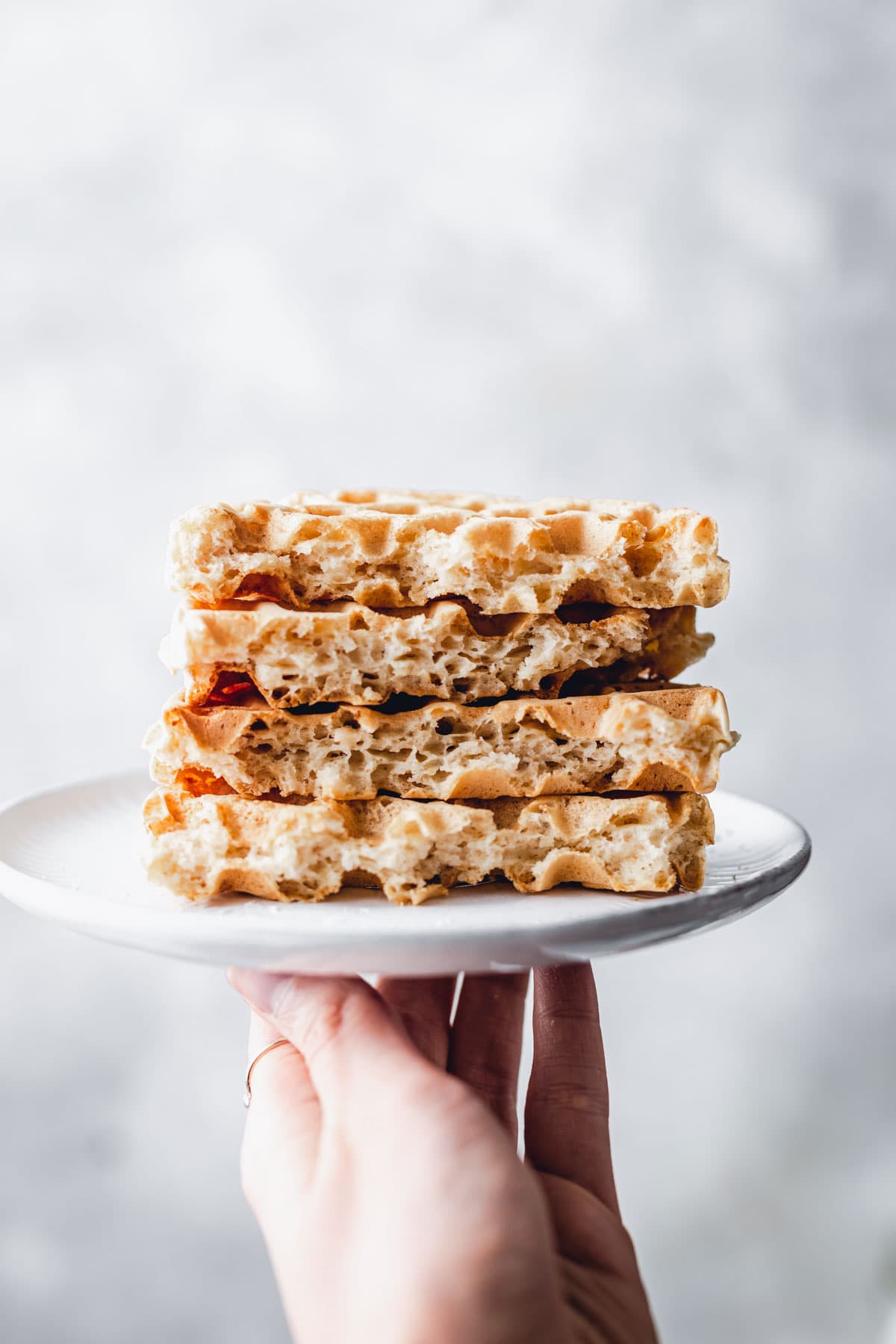 Why You Should Try These
They're so easy to make
Super crunchy outside
Airy, fluffy and soft inside
Can be stored for later
Low in sugar (or with zero sugar if using stevia)
Can be made in larger batches
You'll get an extra tip on how to keep them fresh
The Ingredients
Ready to make your almond milk waffles? You'll only need the following ingredients.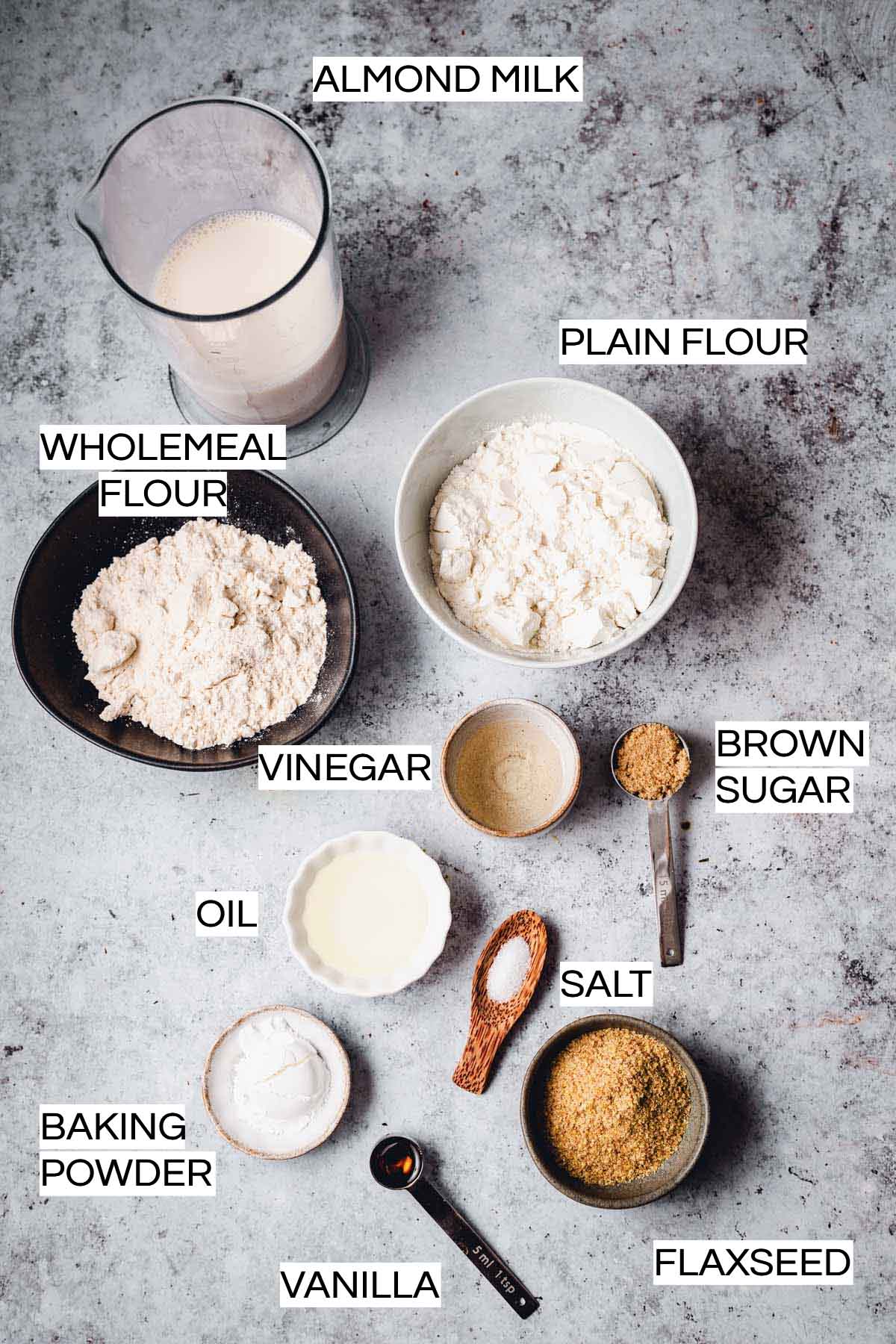 A couple of notes regarding the ingredients.
Flaxseed: you will need ground flaxseed. Alternatively, buy whole flaxseed, but make sure to grind them in a blender before baking.
Oil: I used olive oil. Feel free to use any light oil such as sunflower or rapeseed oil.
Vinegar: I use either apple cider vinegar or white wine vinegar.
Brown sugar: can be substituted for a different type of sugar or stevia.
Step-by-step Photos
Find my handy visual guide below. Exact measurements and in-depth instructions are found at the bottom of this page.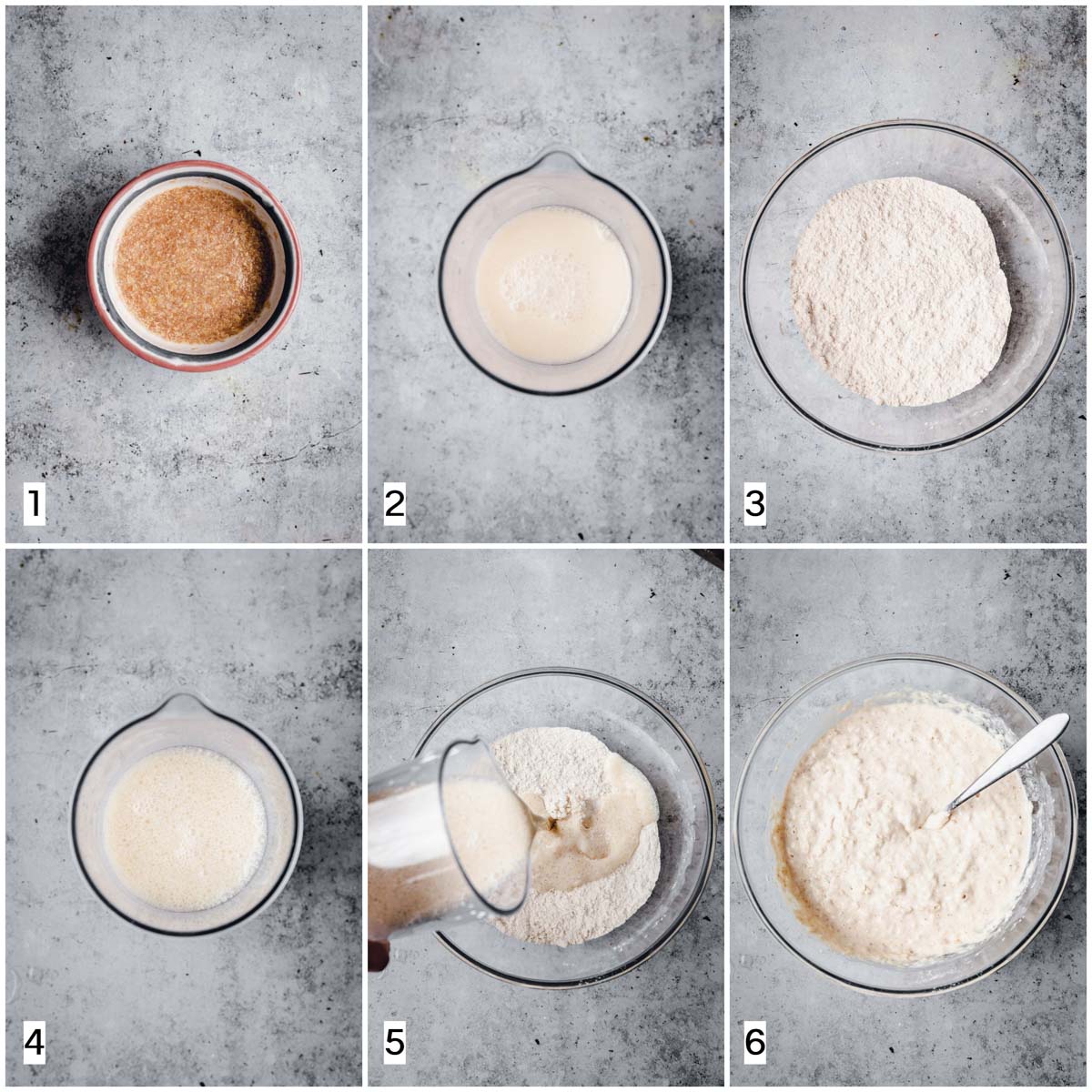 Make your flax egg and set aside.
Mix vinegar and almond milk in a cup.
Combine all your dry ingredients in a separate bowl.
Add oil, flax egg, and vanilla extract to your almond milk mixture.
Pour your wet ingredients over your dry ingredients and mix.
Cook on a preheated waffle iron for 8 minutes.
Expert Tips
1. Do not overmix
You want your waffles to be crunchy while also being soft and airy on the inside. This can only be achieved by not overmixing your batter.
In practice, this means that as soon as there are no more flour specs left in your mixture, stop mixing immediately. All your ingredients need to be just combined, but not mixed or stirred for too long. 
Overmixing will develop the gluten and your waffles will become tough and chewy. Read more about overmixing here.
2. Use the right flour
I used a mix of wholemeal and plain white flour. Whilst you are free to experiment with different types of flours and different ratios, I do encourage you to avoid using strong white bread flour. This will make your waffles tough, dense, and not airy. 
3. Heat up your waffle maker properly
This might seem obvious, but it's worth mentioning just in case. Always make sure your waffle maker is fully hot before adding the batter.
You can usually tell when it's ready when the light on the waffle maker goes off or on (depending on the waffle maker).
4. Toast it later
One of the reasons I'm so enthusiastic about these waffles is that you can make them in a batch and store for later. This way you'll have breakfast, lunch, or a snack ready whenever you feel like it with zero effort.
All you have to remember is to use my expert tip on how to keep them fresh. Your waffles might become slightly soft and soggy when stored for longer than a day so always remember to pop them in your toaster before serving. 
This way the waffles will be both hot and crunchy - a winning combination!
FAQs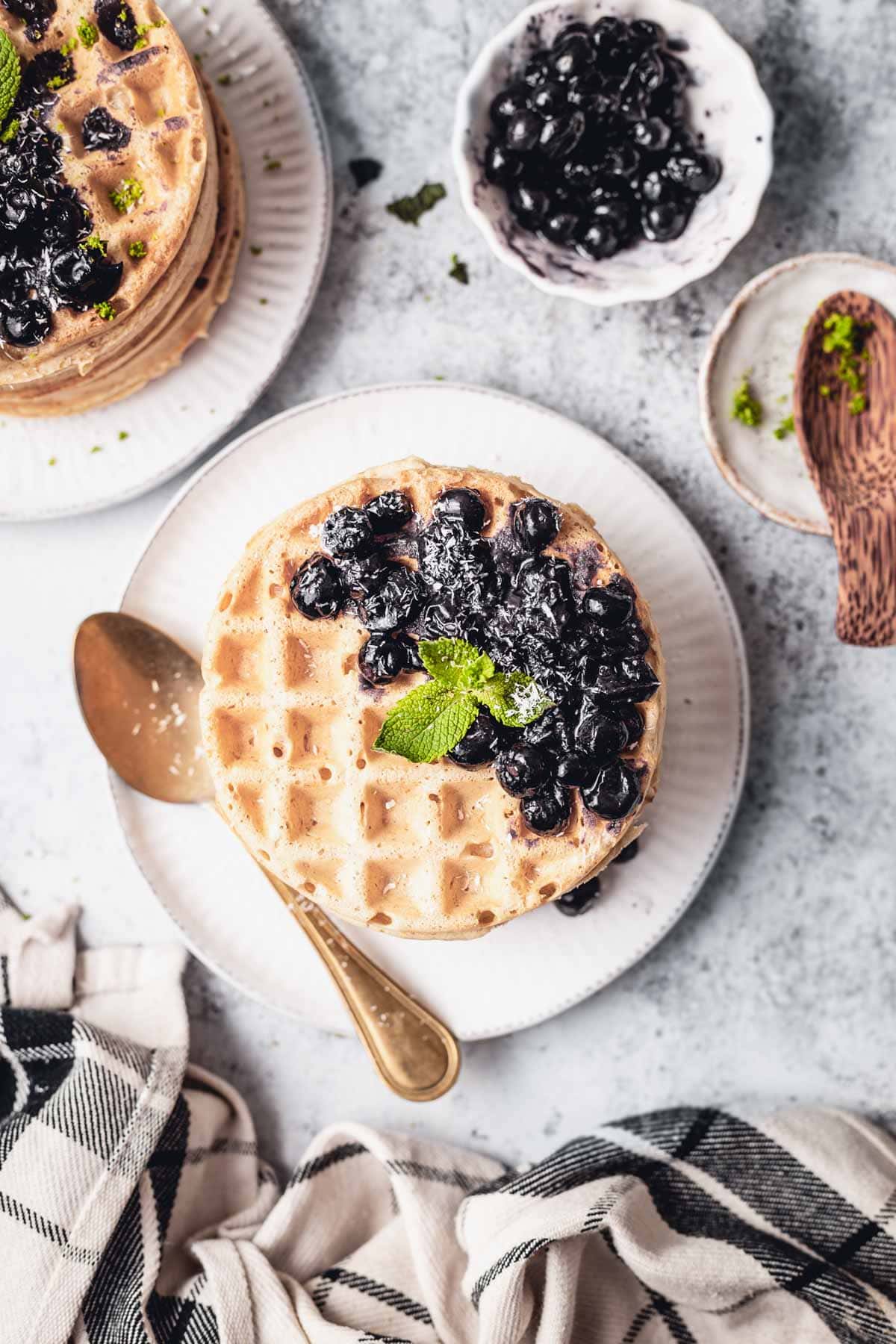 Do I need to grease the waffle maker?
This will depend on your waffle maker, but I personally never grease it myself.
Should waffle batter be thick or thin?
It should be somewhere in between. Definitely not too watery, but also not so thick that you wouldn't be able to pour it onto your waffle maker.
How do I tell if my waffles are done?
Your waffle is done when it's golden brown in colour and the outside is crunchy as opposed to soft.
Why are my waffles soggy?
Make sure you use a cooling rack to cool your waffles on. If using a plate, the waffles will become soggy.
Can I store these for later?
Yes, simply pop in an airtight container and store at room temperature for 3-4 days. Remember to use our expert tip (a.k.a. toasting your waffles) when serving.
If you enjoyed my almond milk waffles recipe, why not try my other delicious vegan breakfast options. Some of my favourites are my savoury vegan muffins, blueberry scones, oat milk pancakes and blueberry knot buns. Check out my full desserts section here.
Enjoyed this recipe? I would love to hear your comments and reviews below!
The form you have selected does not exist.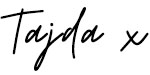 🍴Recipe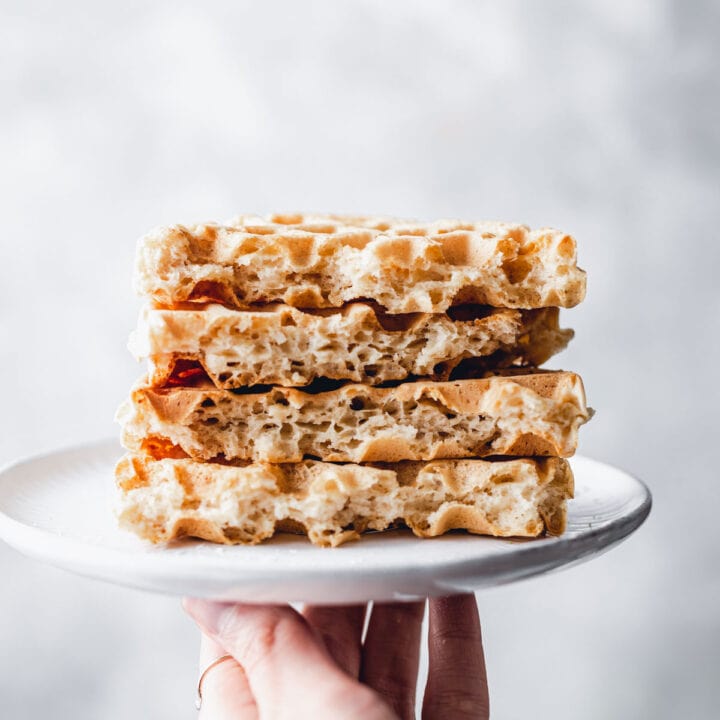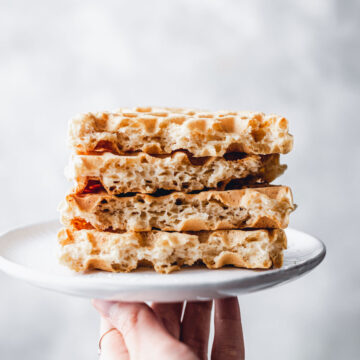 Almond Milk Waffles
Super easy vegan almond milk waffles that are crunchy on the outside and fluffy on the inside.
Print
Pin
Rate
Servings:
9
small waffles
Equipment
Measuring cups or scales

waffle maker
Ingredients
FOR THE WAFFLES
2

tablespoon

ground flaxseed

330

ml

(

1.5

cups

)

unsweetened almond milk

equals 1.5 cup

1

tablespoon

apple cider vinegar

or substitute for a different type of vinegar

160

g

(

5.64

oz

)

plain white flour

equals 1 cup

75

g

(

2.65

oz

)

wholemeal flour

equals ½ cup

1

tablespoon

baking powder

¼

teaspoon

(

½

teaspoon

)

salt

2

tablespoon

brown sugar

or another sweetener½

2

tablespoon

olive oil

or other light oil

1

teaspoon

vanilla extract

optional
Instructions
FOR THE WAFFLES
Combine ground flaxseed and 3 tablespoon of boiling hot water in a small bowl to make a flax egg. Mix well and set aside.

Combine almond milk and apple cider vinegar in a measuring cup, stir thoroughly, and set aside.

Add flour, baking powder, salt, and sugar to a medium-sized bowl and mix well.

Return to your almond milk mixture and add in oil, the flax mixture, and vanilla. Mix well.

Slowly pour your wet mixture over your dry ingredients. Stir until few lumps remain (but don't overmix).

Cook the waffles according to your waffle maker's instructions - my small waffles took 8 minutes per waffle.

Serve with fresh fruit, chocolate sauce, maple syrup or other toppings of your choice.
Notes
Use the step-by-step photos above as your visual guide.
This recipe has been tested using weight measurements (not cups). I recommend using weight measurements (both EU and US weights are stated in the recipe card). Cups vary in size and are thus considerably less exact.
If you prefer a sugar-free version, substitute sugar for stevia. Two tablespoons of sugar equal ½ teaspoon of powdered stevia extract. 
Mix until all your ingredients are just combined, careful not to overmix. 
Wait until your waffle maker is fully hot before adding your first batch.
Store in an airtight container at room temperature for 3-4 days.
If serving later, make sure to toast your waffles just before serving. 
Nutrition
Calories:
151
kcal
|
Carbohydrates:
24
g
|
Protein:
4
g
|
Fat:
5
g
|
Saturated Fat:
1
g
|
Sodium:
179
mg
|
Potassium:
203
mg
|
Fiber:
2
g
|
Sugar:
3
g
|
Calcium:
113
mg
|
Iron:
1
mg
Disclaimer: The nutritional information above is calculated automatically. The author of this post cannot guarantee 100% accuracy of this data.