These vegan blueberry cinnamon knot rolls with a golden apricot glaze are soft, bouncy and super easy to make. The perfect show-stopper recipe for beginners finished off with a hint of lemon, cinnamon and apricot.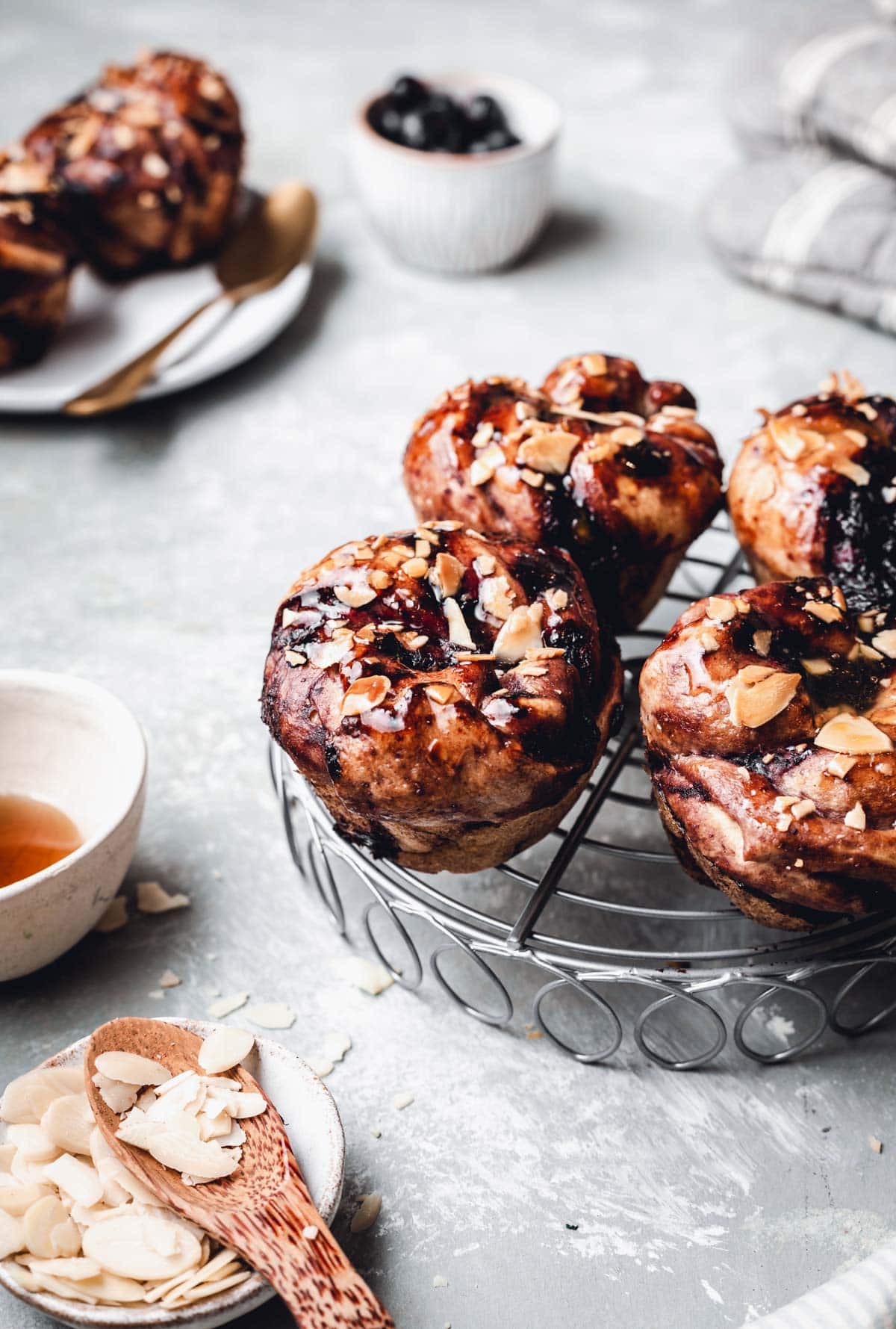 Jump to:
Why You Need To Make These
They're so incredibly easy
Everyone will be impressed by them
You can customise them easily
They use cheap, cupboard staple ingredients
No need for any special tools or equipment
Perfectly shiny glaze
Learn tips that will make you an overall better baker
Plus, I've got step-by-step photos for you to make sure you get these right in your first go!
Ingredients
You'll find the ingredients you need for your vegan blueberry buns listed in the image below.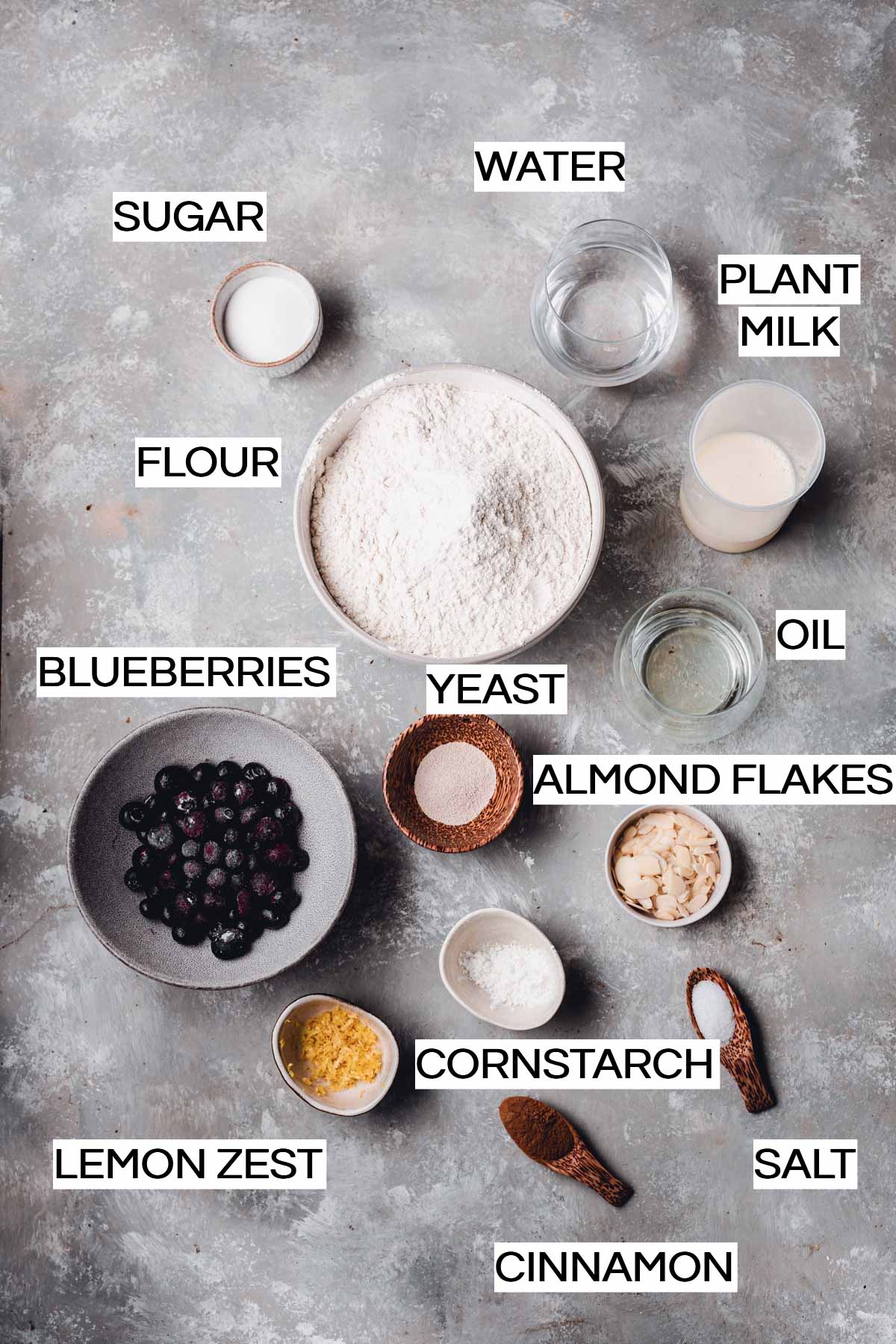 First, some notes about the ingredients:
Plant milk: feel free to use any plant milk such as soya, almond, oat, etc.
Flour: for best results, use strong white flour (also known as bread flour).
Blueberries: I recommend frozen blueberries.
Almond flakes: can be substituted for different nuts, just make sure they're cut quite thin.
Cinnamon: can be left out or substituted for a different spice like cardamom, mixed spice, pumpkin pie spice, etc.
In terms of equipment, you won't need anything special, but the following will come in handy:
measuring cups or scales
rolling pin
muffin tray
Step-by-step
To make things even easier for you, I created a simple visual guide below. These step-by-step photos will be your helping hand during the process.
Friendly tip - For exact measurements and a more detailed guide, check out the recipe card at the bottom of this page.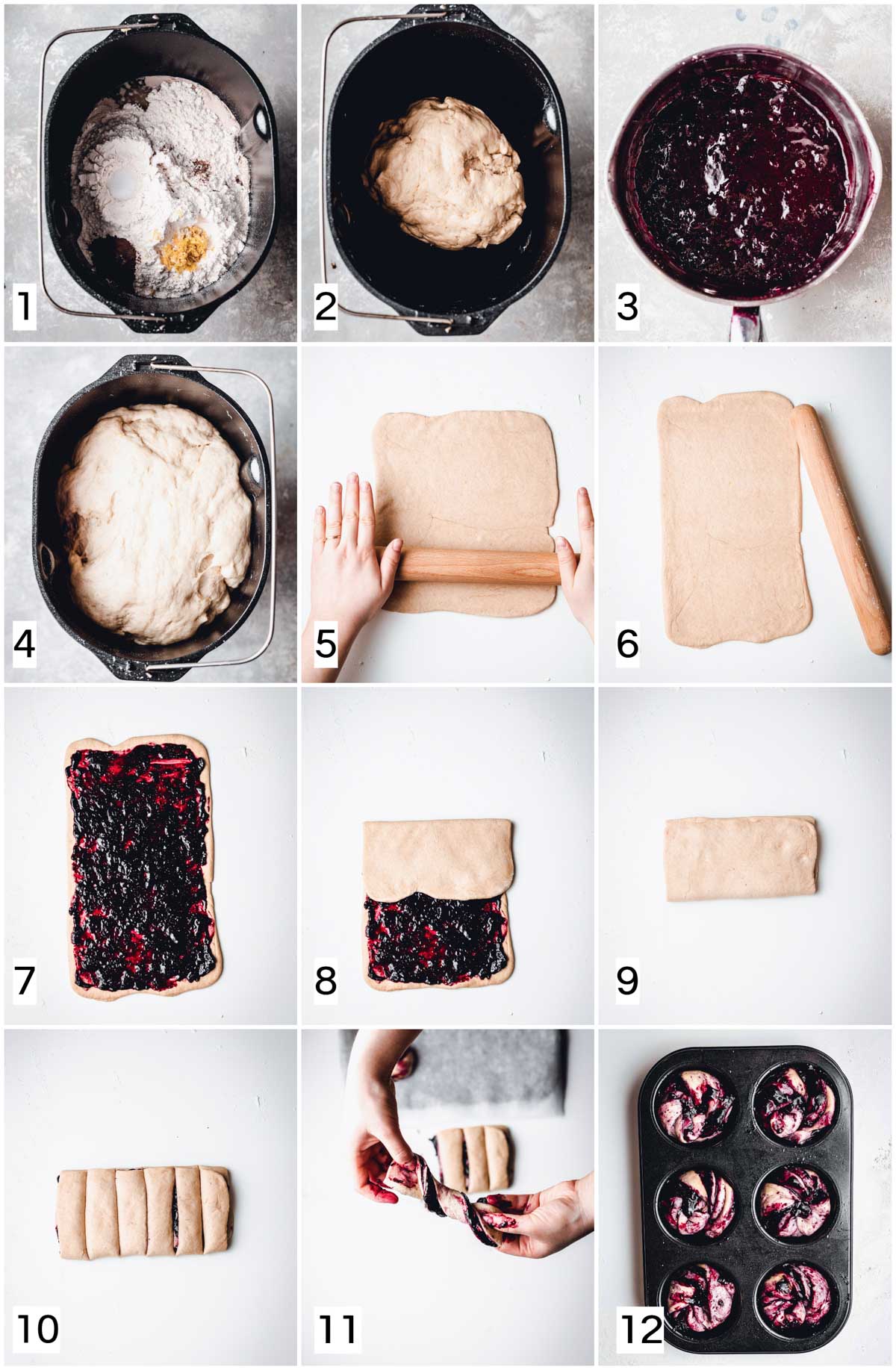 1. Combine all dough ingredients and knead for approx. 10 minutes
2. Then cover the dough with a damp cloth and let rise for 1 hour (until doubled in size)
3. In the meantime, prepare your simple blueberry filling in a small pan.
4. The dough has now doubled in size. Knock it back to get it ready for rolling (see tips below).
5. Start rolling out the dough.
6. Your dough is rolled out (approx 0.5 cm/0.2 inch thick) and ready to be filled.
7. Spread your blueberry filling evenly across the dough.
8. Fold the upper third of your dough downwards.
9. Fold the lower third of your dough upwards to create a dough 'pocket'.
10. Cut into 6 equal stripes.
11. Roll into a simple knot of your choice (scroll down for tips on knot techniques)
12. Place the rolls into a greased muffin tin. Brush each roll with milk, cover and let rise again for 45 minutes. Then brush again, sprinkle with nuts and bake.
Bake for 20-25 minutes at 356°F / 180°C (fan oven).
When ready to serve, glaze with apricot jam glaze and serve with a sprinkle of lemon peel if desired.
Expert Tips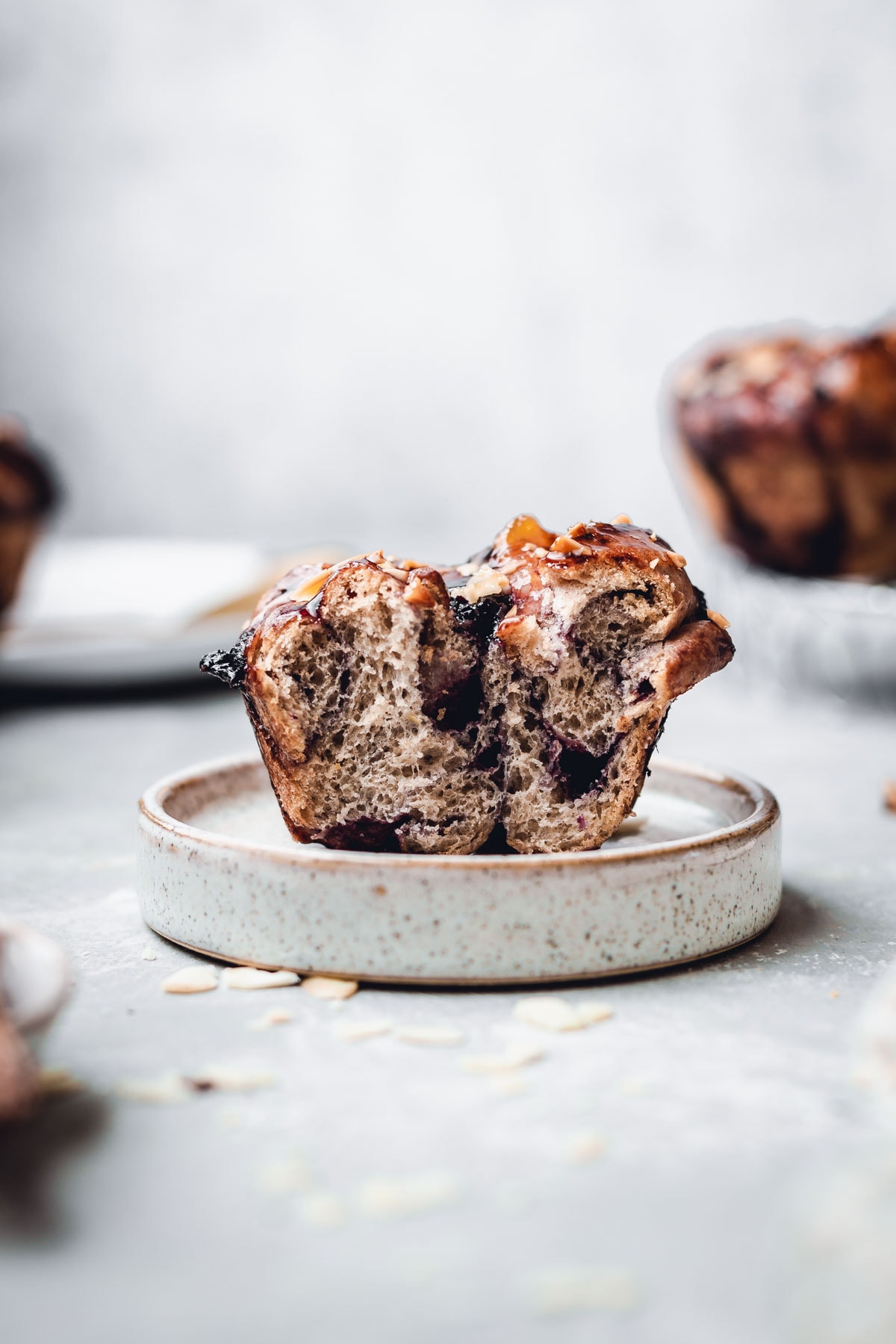 Don't skip these tips - read them before baking to avoid any potential mistakes.
1. Use bread flour
This is super important. Using bread flour will bring you the best results - a soft and bouncy roll.
2. Wait it out
Want to rush through the baking process and shorten the rise time just a little? I encourage you not to do that.
If you want the best results, make sure you follow the two rising (proving) instructions to the dot.
Don't be tempted to think, 'oh well, rising for 10 minutes less can't make that much of a difference'. Trust me, your taste buds will thank you for your patience later!
3. Dust it well
As part of this recipe, you'll need to roll out your bread dough (step 5 and 6 in the pictures above). Make sure you've dusted the working surface with plenty of flour.
There's nothing worse than trying to roll out your perfect dough and then having it stick to the surface because you haven't used any flour.
4. Get messy
Don't be afraid to get messy! The blueberry filling is moist and it's meant meant to leak out into your dough. This is how you'll get the beautiful marbled effect.
Yes, your hand will get dirty and you might have to spend an extra 5 minutes cleaning, but oh it's just so worth it! 
FAQ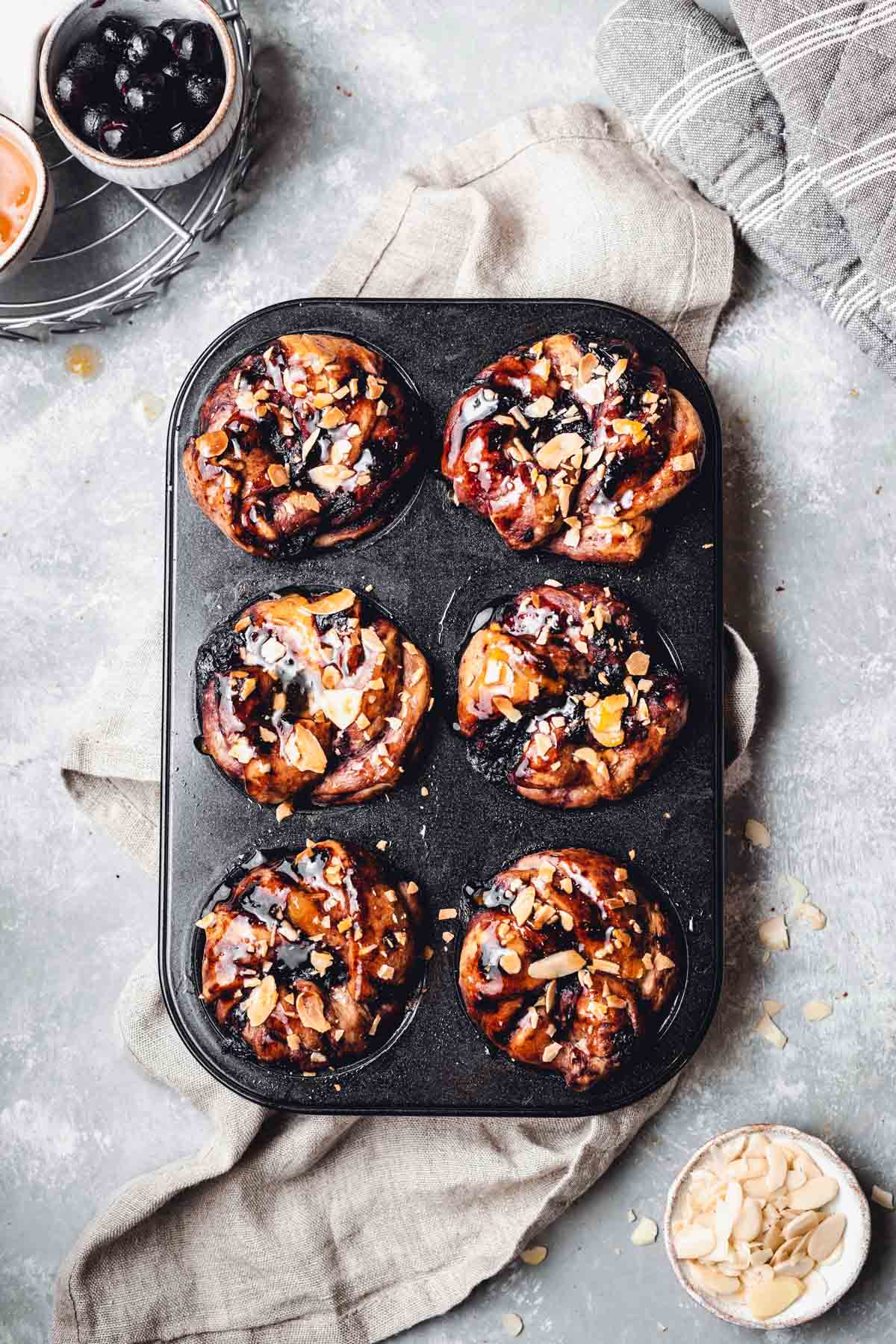 I can't get the dough into the knot shape shown on your photos.
Any kind of knot shape is completely fine and will work just as well.

You can simply just shape it into any type of knot you find easiest. 

If you're really looking to experiment with shapes, I recommend this YouTube video to help you perfect the knot technique (spoiler - it's not as hard as it looks).

Overall, just remember these's no need at all to stress over the knot shape. There are tons of knot bun tutorials online and you can use any of them.
My buns are dry - how to fix them?
When baked according to instructions, these should turn out perfectly moist. 

However, if you're experiencing this issue, there's still a way to fix them. You can do that in two ways.

First, pop them in the microwave for about 30 seconds. This will soften them and help release some moisture. 

Secondly, make sure you glaze them with plenty of your apricot (or other fruit) glaze. 
How to fix dry dough?
Simply add 1 teaspoon of water at a time to your dough.

Keep adding until the dough sticks together and forms into a perfect dough ball.
How to fix sticky dough?
Just add 1 teaspoon of flour at a time. This will make it less sticky and easier to shape.
Can I make a smaller or bigger batch of this recipe?
Yes, absolutely.

You can use the handy recipe card below to choose the number of portions you're making. This will automatically adjust the ingredient measurements.

Storing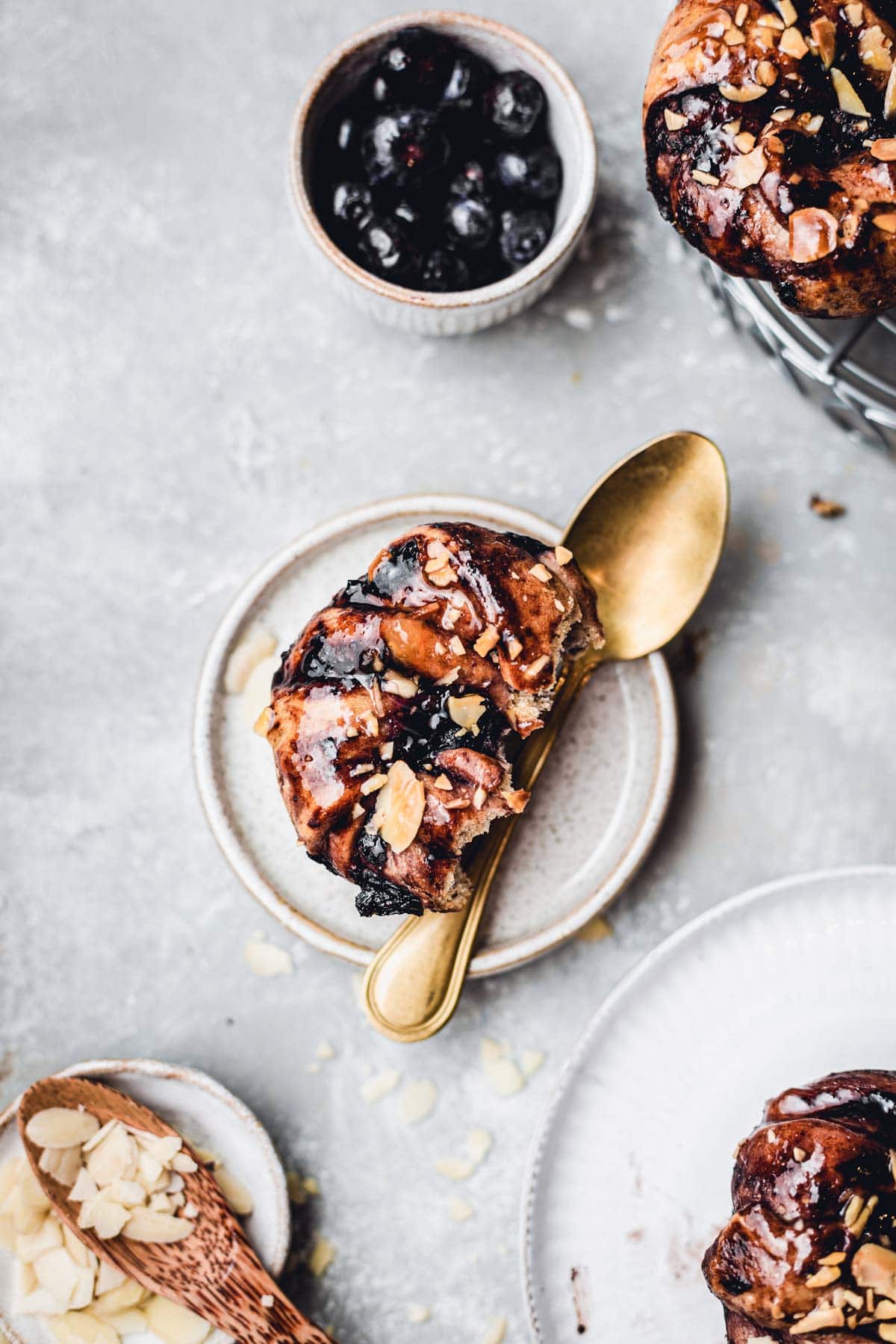 You can easily store these delicious buns for later.
Simply pop them in an airtight container and store at room temperature for about 2 to 3 days. 
As a reminder, I do want to encourage you to try and eat these (or share with others) on the first day of baking. They will be by far the most delicious when fresh. 
You can technically store these for longer than 2-3 days but, again, their quality will deteriorate as time goes by.
Remember, if you're storing for later, you'll also want to leave out the glaze. You'll want to add the glaze straight before serving as opposed to before storing.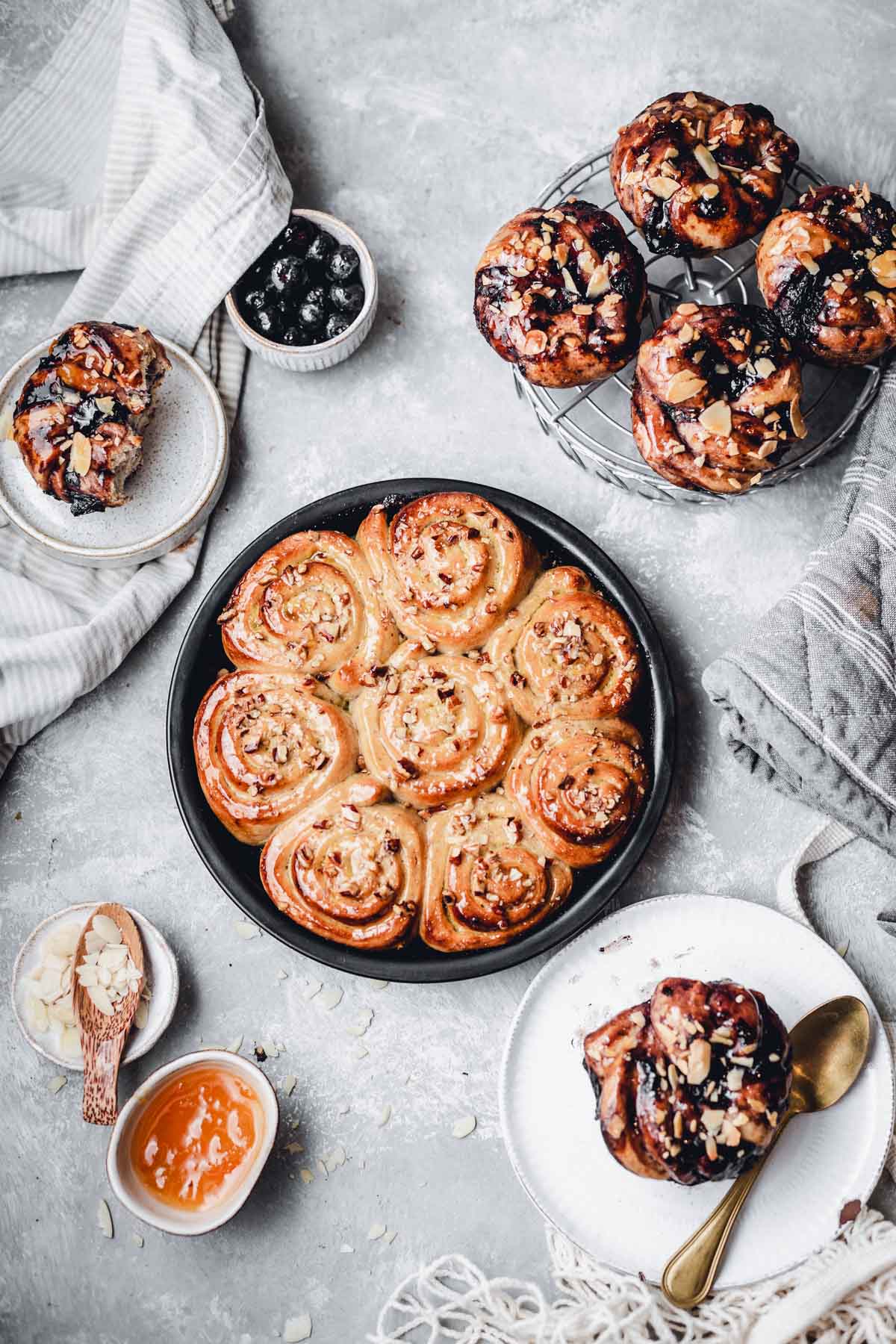 If you liked my vegan blueberry knot rolls, I have good news for you! My lemon curd rolls and orange cardamom buns use the exact same dough recipe - super delicious and easy to follow. For more baking inspiration, you can also check out my full desserts section here.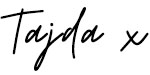 🍴Recipe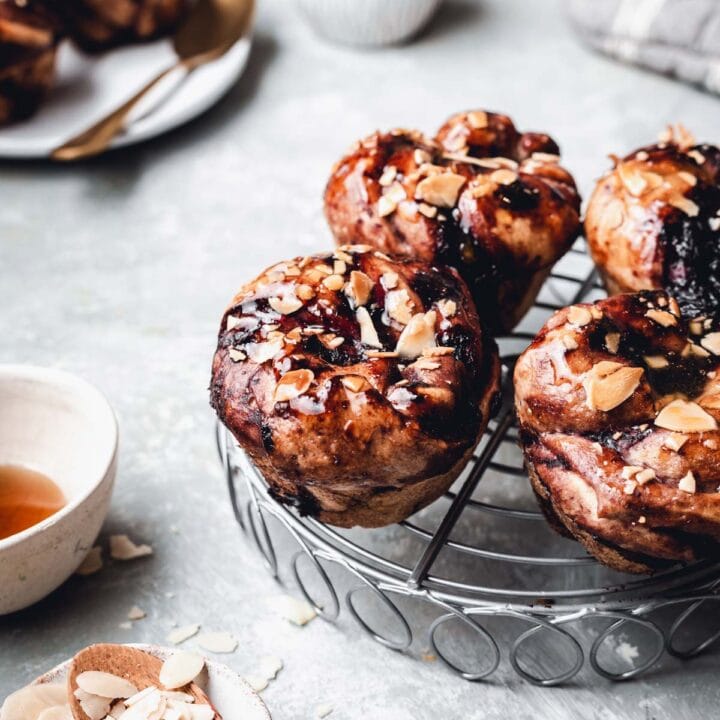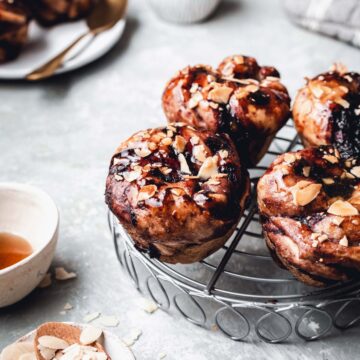 Vegan Blueberry Cinnamon Knot Rolls
Soft and bouncy vegan blueberry knot buns, perfect for beginner bakers.
Print
Pin
Rate
Equipment
Measuring cups or scales

Rolling Pin

Muffin tin
Ingredients
FOR THE DOUGH
¼

cup

(

60

ml

)

water

3

tablespoon

(

50

ml

)

plant milk

use almond, soy or other plant milk

½

teaspoon

white sugar

caster sugar

½

sachet dry yeast

half a sachet equals 3,5g

2

tablespoon

(

30

ml

)

oil

any light oil such as olive or sunflower

1¼

cup

(

200

g

)

bread flour

also called strong white bread flour

1

teaspoon

cinnamon

optional

1

teaspoon

lemon zest

½

teaspoon

salt
FOR THE BLUEBERRY FILLING
1

teaspoon

lemon zest

1

teaspoon

cornstarch

9

teaspoon

water

¾

cup

blueberries

frozen

½

cup

(

100

g

)

sugar

1

pinch

cinnamon
FOR THE GLAZE
3

tablespoon

apricot jam

3,5

teaspoon

water or orange juice
TOPPINGS
1

tablespoon

flaked almonds

2

teaspoon

plant milk

for glazing

2

teaspoon

lemon zest

to sprinkle on top when serving
Instructions
FOR THE DOUGH
Add warm milk and water to a large mixing bowl. Stir.

Add the remaining dough ingredients in this order: sugar, yeast, oil, four, cinnamon, lemon zest, salt. Make sure the salt isn't touching the yeast.

Combine the ingredients into a dough and knead for approximately 10 minutes (by hand or in a breadmaker) to create an elastic, loose ball of dough.

Cover with a damp cloth and let rise at room temperature for 1 hour until doubled in size.

In the meantime, prepare your easy vegan blueberry filling (see below).

Sprinkle plenty of flour onto a clean, flat surface.

Remove your dough from the bowl/pan and knock it back (knock it down forecfully with your fist or knead for about 30 seconds). This will help get rid of excess air that was formed during the rising period.

Once you've knocked it back, use a rolling pin to roll out your dough until it measures approx. 0,5 cm in thickness (this is the equivalent of 0,2 inches)

Use a knife or spoon to spread with the blueberry filling.

You will now need to fold your dough. Take the top third of your dough and carefully pull it over the second third.

Finally, pull the lower third of your dough over the second third to create a dough 'pocket'. Press down the top side gently.

Cut dough into 6 equally-sized stripes.

Now is the time to form your knots. Hold one strip of dough, one hand at each end. Very gently stretch the strip length-wise to create a longer more compact strip of dough.

Hold the left end still whilst twisting the right end of the dough three times. Keep hold of the left end of the dough and wrap the right end around the back of your fingers.

Keep moving the right end to fold all the way around and over your left end of the dough.

Finally, push the right end under the left to make your knot. Place all your buns in a greased muffin tin.

Brush them over with milk, cover in cling film and let rise for at least 45 minutes. Ensure that your cling film is NOT touching the buns.

When the second rise is over, pop the buns into the oven and bake for 20-25 minutes at 356°F / 180°C (fan oven) until golden brown on the outside.
FOR THE BLUEBERRY FILLING
Add all your ingredients to a small pan.

Heat up slowly on low to medium heat until all your sugar dissolves and the blueberries have largely fallen apart.
FOR THE GLAZE AND TOPPINGS
To create your apricot jam glaze, simply combine apricot jam with water or orange juice.

Transfer to a pan and heat up until desired consistency. Serve your buns with fresh apricot jam glaze and top off with lemon zest if desired.
Notes
Use the step-by-step photos above as your visual guide.
This recipe has been tested using weight measurements (not cups). I always strongly recommend using weight measurements (both EU and US weights are stated in the recipe card). Cups vary in size and are thus considerably less exact.
For best results, make sure to use strong white bread flour.
Make sure your salt isn't touching the yeast before you start kneading. To do so, create a small well in your flour. Then add salt to the well.
Don't alter the rise time: make sure you wait for a full hour for the first and full 45 minutes for the second rise.
When rolling out your dough, make sure to coat your work surface liberally with flour.
Don't stress out about the knot shape: simply create any type of knot that's easiest to you. There are tons of YouTube videos showing how to do that.
Do not overbake: this will result in a dry bun.
You can store these for later in an airtight container for 2-3 days at room temperature.
If you want to store the rolls for later don't glaze them yet. Only glaze when serving.
Nutrition
Calories:
257
kcal
|
Carbohydrates:
48
g
|
Protein:
4
g
|
Fat:
6
g
|
Saturated Fat:
1
g
|
Sodium:
211
mg
|
Potassium:
48
mg
|
Fiber:
2
g
|
Sugar:
21
g
|
Vitamin A:
20
IU
|
Vitamin C:
4
mg
|
Calcium:
21
mg
|
Iron:
1
mg
Disclaimer: The nutritional information above is calculated automatically. The author of this post cannot guarantee 100% accuracy of this data.