Vegan peanut butter chocolate brownies you will gobble up before you know it! These enticing brownies are rich in cocoa and topped with peanut butter and crispy pecan nuts. Sprinkle them with a dash of pink Himalayan salt to enrich the velvety flavour. 
Growing up, chocolate brownies were one of the weekly classics in my household. My mum is a huge baking enthusiast and an incredible cook, but not vegan, so trying to veganize her aaamaazing brownies was quite a task.

I've been trying to bake the perfect vegan brownie for longer than I'm willing to admit. How do I make sure my brownie isn't too crumbly and dry? How to make it chewy in the middle? And how to find the perfect cocoa:sugar ratio? You might have been wondering the same before which is why I'm so delighted to finally bring you a chocolate brownie recipe I am wholeheartedly proud of.
This vegan peanut butter chocolate brownies are
incredibly indulgent
perfectly moist
beautifully nutty
crunchy on the top
fabulously delicious
P.S. – They are also the perfect dessert to make when hosting your non-vegan friends. These easy and fail-proof dessert recipes are becoming quite a trend here on My Vegan Minimalist.
What is the secret ingredient?
The secret winner of our vegan chocolate brownie is the flaxseed egg – a vegan baking classic. This will prevent your brownie from becoming too dry and crumbly, while not interfering with the taste.
Before you dive into it …
My vegan peanut butter chocolate brownies are super easy to customise. Not a fan of peanut butter? Leave it out or substitute it for almond butter! Not a fan of pecans? Why not try using hazelnuts, brazil nuts or peanuts.
Once made, keep refrigerated in an airtight container for up to 5 days.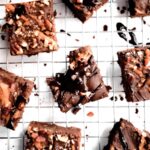 Ingredients
- 150g of dark chocolate
- ¾ cup of self-raising flour
- 2 heaped teaspoons of cocoa powder
- 2/3 cup of sugar
- 2 tsp of vanilla essence
- 1 cup of almond milk
- 100g of pecans
- 2 tbsp of peanut butter
- 2 flaxseed eggs (2 tbsp of ground flaxseed and 6 tbsp of water)
- 5 tbsp of oil
- ½ tsp of salt
- Toppings: a pinch of pink Himalayan salt (optional), ½ cup melted chocolate (optional)
Instructions
Melt chocolate over a simmering pan of water or in the microwave until completely melted. Set aside to cool. Combine 2 tbsp of ground flaxseed and 6 tbsp of water to make your two flaxseed eggs and put aside to set. Mix together oil, vanilla, and almond milk. Sieve and combine dry ingredients in a separate bowl. Add the oil mixture and flaxseed egg first and then add melted chocolate. Roughly chop your pecans and stir them into the brownie mixture. Drizzle with peanut butter. Bake in a lined tin at 180° for 20 minutes (fan oven – otherwise, bake at 200°) Optional, but highly recommended: when baked, drizzle with melted chocolate and sprinkle with a pinch of pink Himalayan salt  
Notes
Don't worry if the mixture is too thick. Simply add some almond milk (1tbsp at a time) to slacken it.
Looking for more vegan recipes inspiration? Make sure to also follow along on my Pinterest, Instagram and Facebook.