Simple 3 ingredient vegan pancakes that you can make in under 20 minutes. Refined sugar free, versatile, failproof and approved by vegans and non-vegans alike.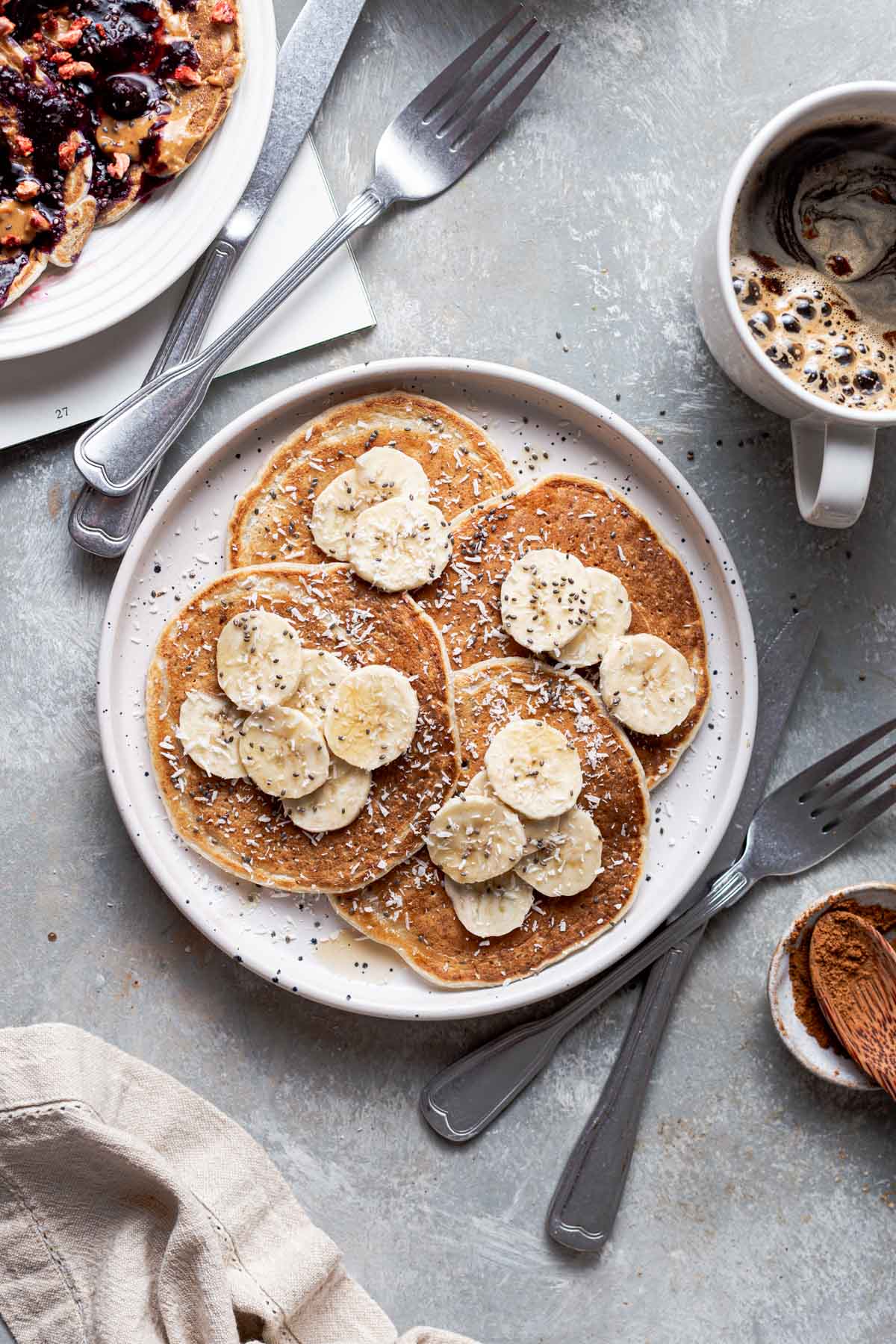 Jump to:
Why this recipe just works
The easiest pancakes you'll ever make - 3 ingredients only
No fancy equipment needed
Refined sugar free
Tried and tested a dozen of times to get the perfect proportions
Lovely banana flavour
Pairs so well with my DIY apple curd
Incredibly versatile
An ideal way to use up those overripe bananas
PS - They're also a great light alternative to my fluffy oat milk pancakes.
Ingredients
To make these 3 ingredient vegan banana pancakes you will need the following.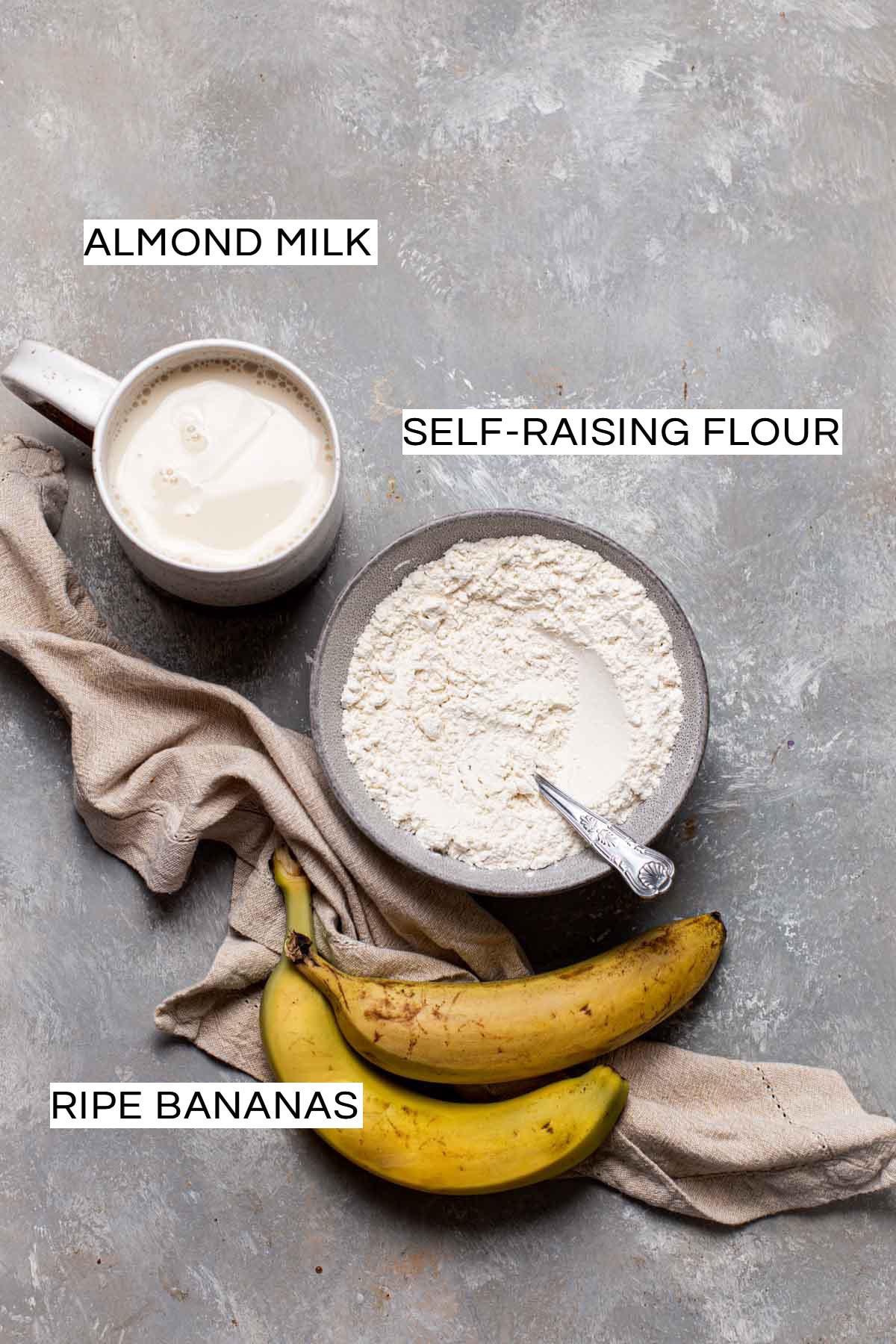 A Few Notes About The Ingredients
Flour – use plain flour, sometimes called all-purpose flour. Avoid using bread flour. In order to give the pancakes some airiness, I used plain self-raising flour.
Bananas - make sure to use ripe bananas for their sweet flavour and to make it easier to mash.
Step-by-step photos
Below is a quick visual guide to making these delicious vegan banana pancakes. If you're looking for detailed instructions and exact ingredients you can find them at the bottom of this blog post.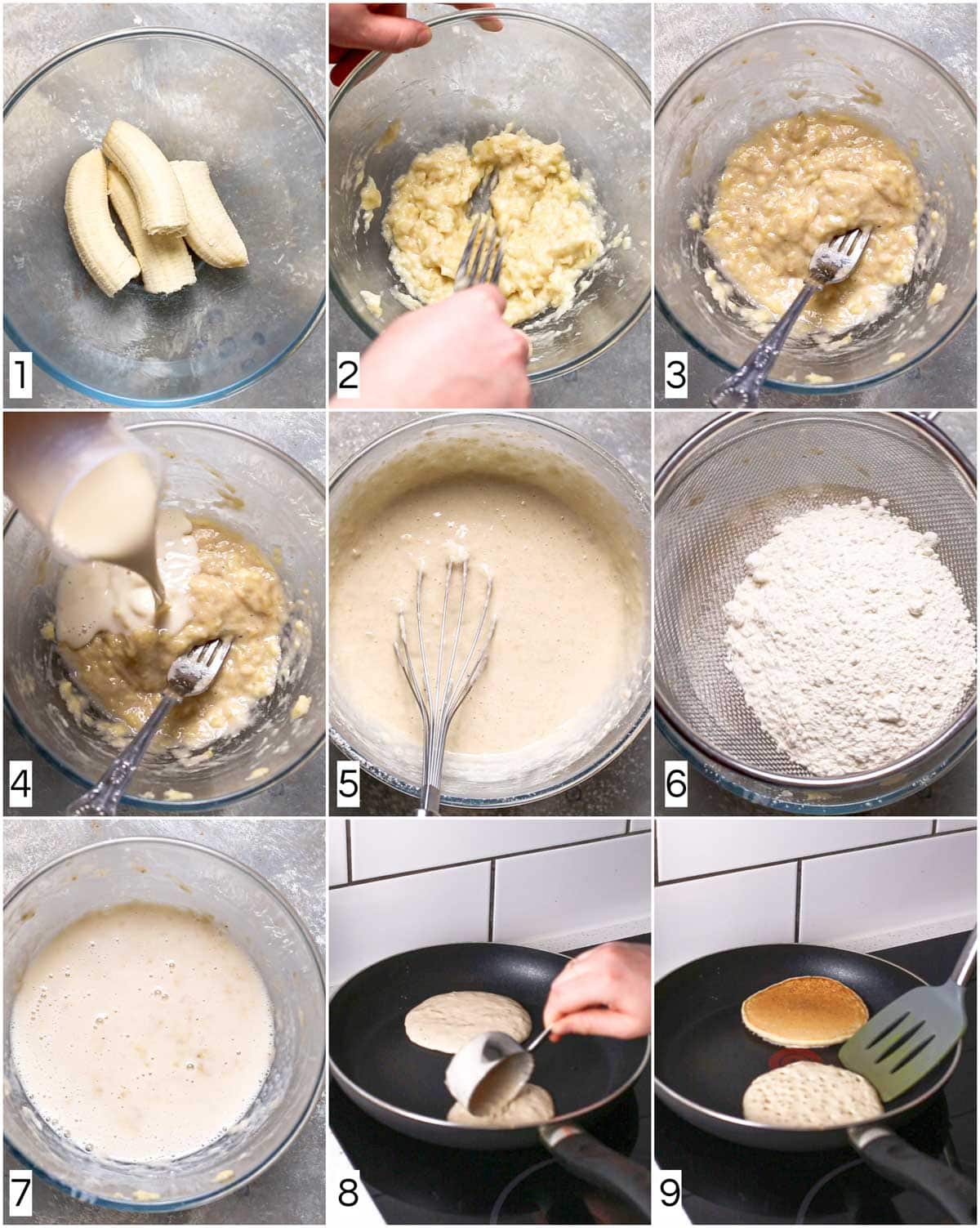 Place your bananas in a large bowl.
Use a fork to mash them.
Make sure to keep mashing until they're as soft & smooth as possible.
Add milk to the mashed bananas.
Mix well.
Sieve flour into the banana milk mixture.
Mix until flour is fully combined, but do not overmix.
Heat up a frying pan on medium heat (with a ¼ teaspoon of oil if using). Pour in ¼ cup of batter per pancake and fry for 1-2 minutes.
Flip the pancake when well browned on the bottom and bubbly on the top.
Fry for another 1-2 minutes until golden brown on both sides. And that's it!
Expert Tips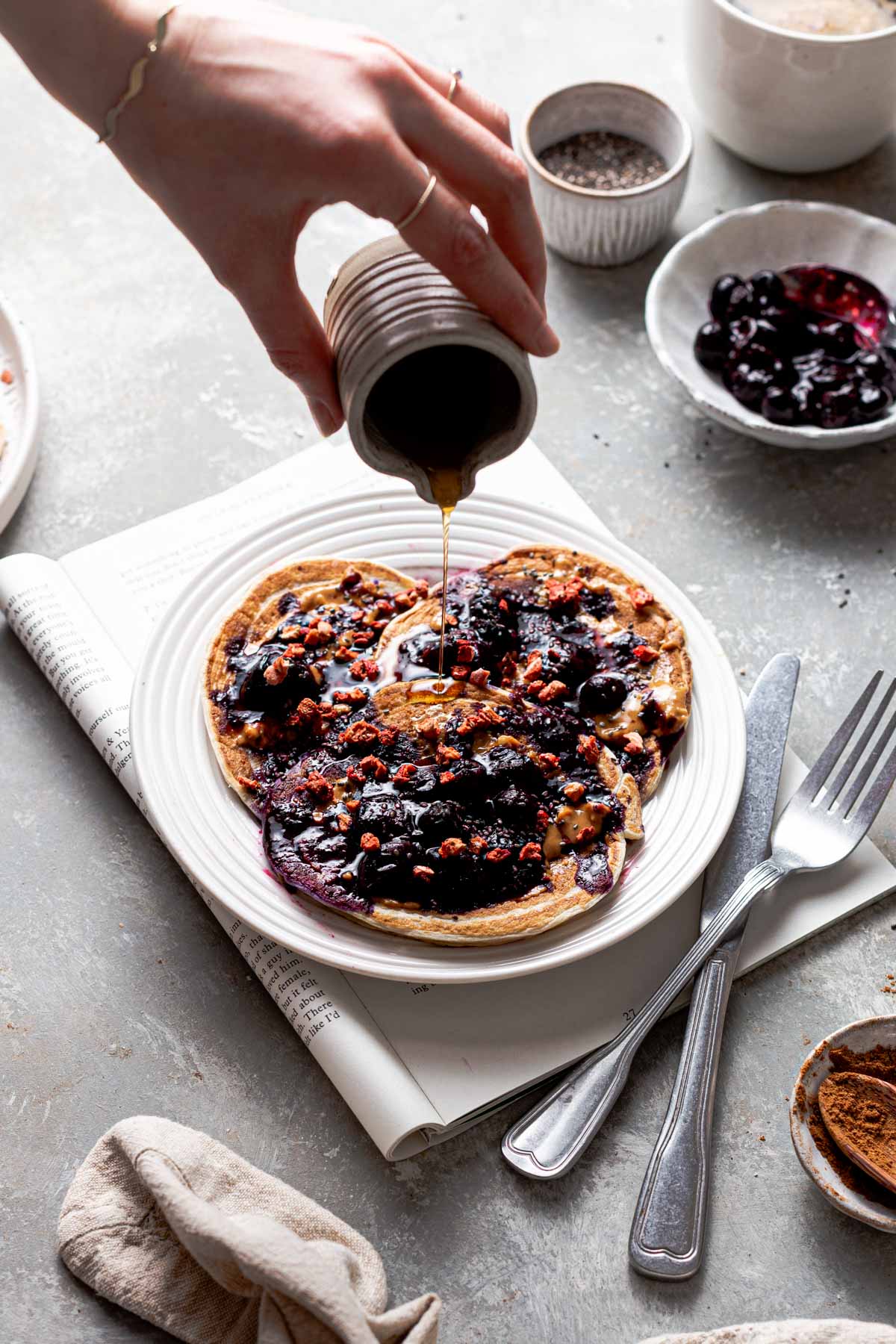 Mash the banana well
If the banana is too bulky you won't be able to make the lovely flat round pancake shape. Plus, the sweet banana flavour will not run through the pancakes evenly.
Don't overmix
Make sure the pancake mixture is mixed well, and the flour is well incorporated. However, don't keep mixing as this will toughen your pancakes.
The more you mix the batter, the more gluten will develop in it. As a result, your pancakes won't be soft and fluffy, but more bread-like.
Avoid flipping the pancakes too much
Make sure you cook the pancakes until the bottom is browned and then flip. This will give the most even colour.
If you flip them several times they might not brown as evenly or even rip when you flip. To put it simply, less flipping means less chance of an error.
How To Flip Your Pancakes
Wondering how to get those perfectly flipped pancakes? After all, flipping them well makes them look even and gorgeous so you definitely want to get it right.
Use a flat spatula large enough to fit under the majority of the pancake. A large and flat spatula will make the flipping a whole lot easier.
Make sure your flip is swift and quick.
If you're struggling, remember that smaller pancakes are easier to flip.
Wait until the bottom is cooked well (notice the bubbling on top)
Adding just a little bit of oil to your pan can be helpful. I use just a quarter of a teaspoon and then brush it evenly across the pan.
Bake one at a time until you master your flip. You don't want to know how many times I've flipped a pancake onto another pancake in the pan when frying more than one.
If you need more help, check out this lovely article for some more tips on how to flip pancakes.
FAQ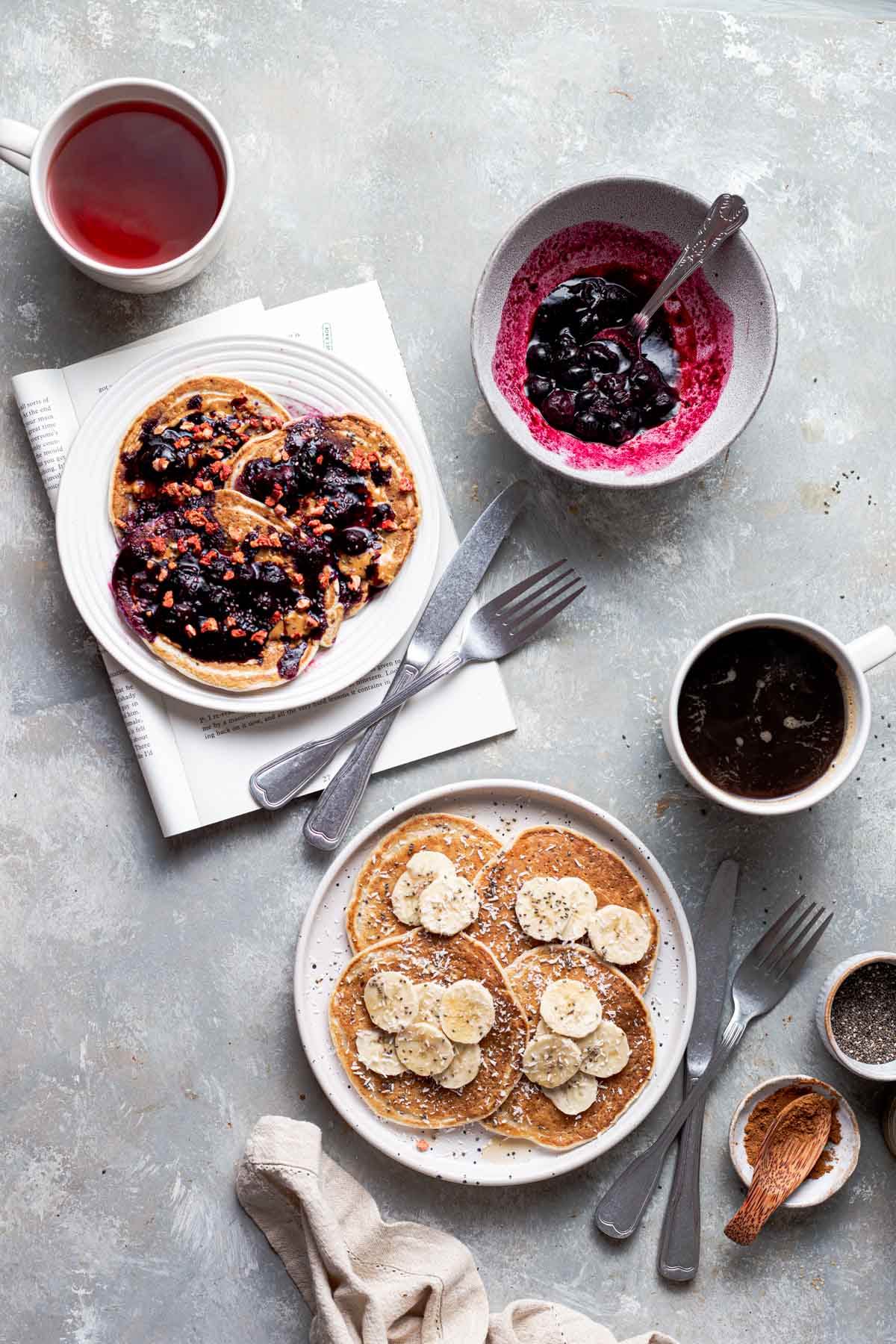 Why do my pancakes keep sticking to the pan?
If this happens, make sure to use (more) oil. Especially some older pans will need a little bit of extra oil or vegan butter to make sure the pancakes don't stick.

Add ½ or ¼ teaspoon of oil just before pouring in the batter and it should do the trick.
How do I store them?
Store in an airtight container in the fridge for up to 5 days.
How long do pancakes stay good?
When refrigerated, they stay good for 5 days. Make sure they're placed in an airtight container.

In the freezer, they keep good for 2 months. Again, keep them in an airtight container or a freezer bag.
Can I freeze them?
Yes! These pancakes can be frozen and kept up to two months.

When you freeze these pancakes you'll need to separate them with a sheet of baking paper to prevent them from sticking together and becoming one clump of pancakes.

Freezing them like this will also help taking out a portion of pancakes at a time when you are ready to eat them.

Then, let the pancakes defrost naturally or defrost in the microwave to eat.

You could event fry the defrosted pancakes in a pan for 1 minute on either side to crisp them up a bit. 
My pancakes aren't as brown as the ones on your pictures.
If you take them out before they're properly cooked through, they will have a light beige colour. To solve this, make sure to cook them for a little bit longer until golden around the edges.
Substitutions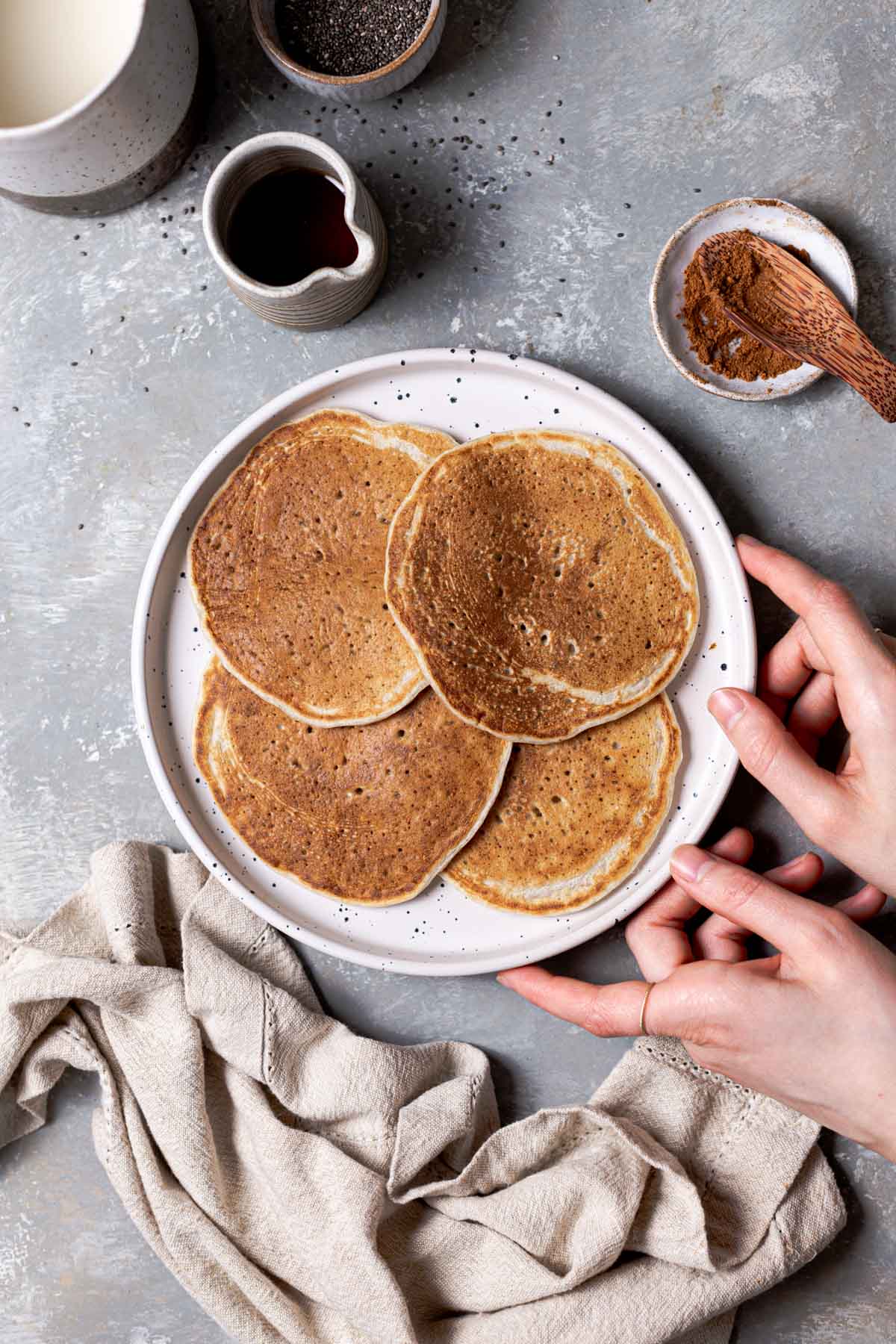 As this is such an easy recipe, there's not a lot you can substitute. However, here are my ideas on what to do if you don't have the exact same ingredients.
Flour: you can use a plain flour with some baking powder. This will create self-raising flour. You can also mix wholemeal flour with baking powder if you'd like to make a wholemeal version. For best results, remember to keep a 1:1 ratio of wholemeal to plain flour (use half wholemeal and half plain, but not more than half wholemeal).
Almond milk: any plant-based milk will work in this recipe so feel free to use whatever you have on hand.
Topping suggestions
Classic lemon and sugar: top the pancakes with caster sugar (or any sugar you have at hand) and add a squeeze of lemon juice over the top. So simple but delicious and pairs well with the banana flavour.
Fruit curd or jam: I love topping these with my homemade 5-ingredient apple curd.
Peanut butter, blueberries and chia seeds – a healthy option perfect for a colourful and filling breakfast.
Banana and maple syrup -  for all the banana lovers out there, amp up the banana flavour with some extra slices and added sweetness with a drizzle of maple syrup.
Vegan chocolate spread, banana and roasted hazelnuts -  the ultimate decadent pancake, if you manage to find a vegan Nutella or you can make one yourself this is a definite crowd pleaser. Made for an incredible Sunday breakfast.
This wraps it all up! If you're looking for more vegan breakfast ideas check out my vegan waffles, almond milk waffles, almond milk crepes or blueberry oat muffins.
PS - Seeing and hearing about your remakes of my recipes is by far my favourite part of being a food blogger so you're very much invited to share your remakes!
🍴Recipe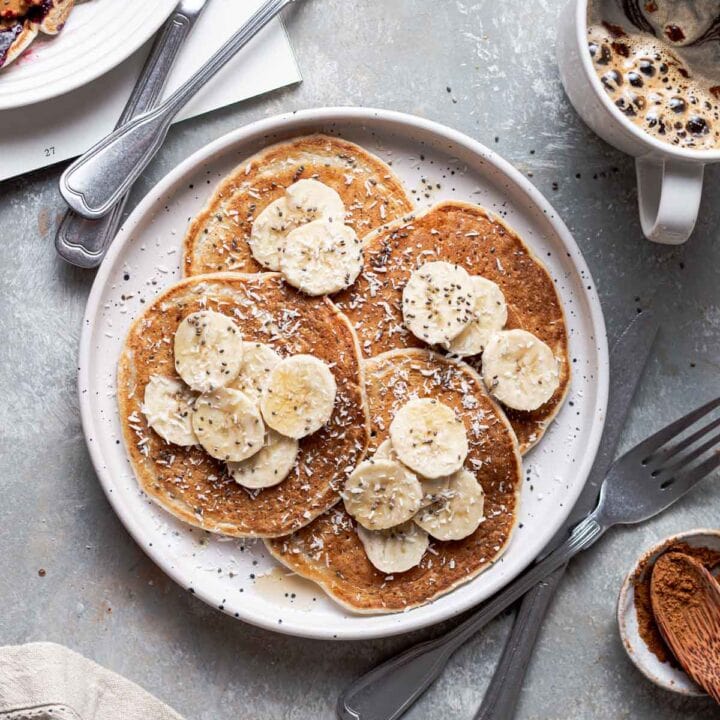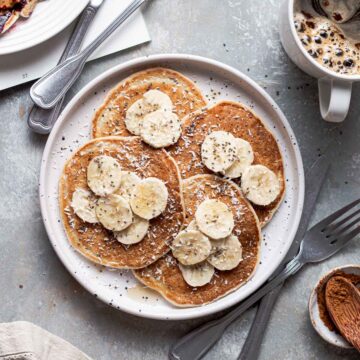 3 Ingredient Vegan Pancakes
You won't believe how good this 3-ingredient vegan pancake tastes. Super versatile & easy to make.
Print
Pin
Rate
Equipment
Measuring cups or scales

Fork

Pan (preferably non-stick)

Flat spatula (for flipping)

Sieve
Ingredients
PANCAKES
2

medium-sized ripe bananas

1¼

cup

(

300

ml

) almond milk

unsweetened

1

cup

(

125

g

) self-raising flour
FOR COOKING
¼

teaspoon

(

0.25

teaspoon

) olive oil

optional, for greasing the pan
Instructions
In a large bowl mash the bananas with a fork. Try to get them as smooth as possible, but don't worry if a few bits remain.

Pour milk on top of the mashed bananas and whisk well.

Sieve flour into the banana milk mixture. Then whisk until flour is fully combined.

Heat up a frying pan on medium heat (with a ¼ teaspoon of oil if using).

Pour in ¼ cup of batter per pancake and fry for 1-2 minutes.

Flip the pancake when well browned on the bottom and bubbly on the top. Fry for another 1-2 minutes until golden brown on both sides.

To serve, stack pancakes or lay separate and top with your favourite toppings.
Notes
This recipe makes between 12 and 14 pancakes (depending on the size). I like to serve it in stacks of 3-4. 
Mash the bananas well, making sure to get them as smooth as possible.
Don't overmix the batter.
Make sure you cook the pancakes until the bottom is browned and then flip. This will give the most even colour.
Use a flat, long spatula to flip.
Try not to flip them several times as this can make them break.
If you're having issues flipping the pancakes, make them smaller.
Nutrition
Calories:
279
kcal
|
Carbohydrates:
57
g
|
Protein:
8
g
|
Fat:
3
g
|
Saturated Fat:
1
g
|
Sodium:
132
mg
|
Potassium:
335
mg
|
Fiber:
4
g
|
Sugar:
10
g
|
Vitamin A:
51
IU
|
Vitamin C:
7
mg
|
Calcium:
132
mg
|
Iron:
1
mg
Disclaimer: The nutritional information above is calculated automatically. The author of this post cannot guarantee 100% accuracy of this data.