Fresh spinach and herbs make for mighty delicious super green crepes. These thin green pancakes are vegan & packed with good-for-you veg. Soy sauce adds a depth of flavour, and basil a kick of brightness. Plump tomatoes, juicy asparagus & earthy hemp seeds add a delicious crunch. A simple weeknight meal, light lunch, or breakfast made in 10 minutes!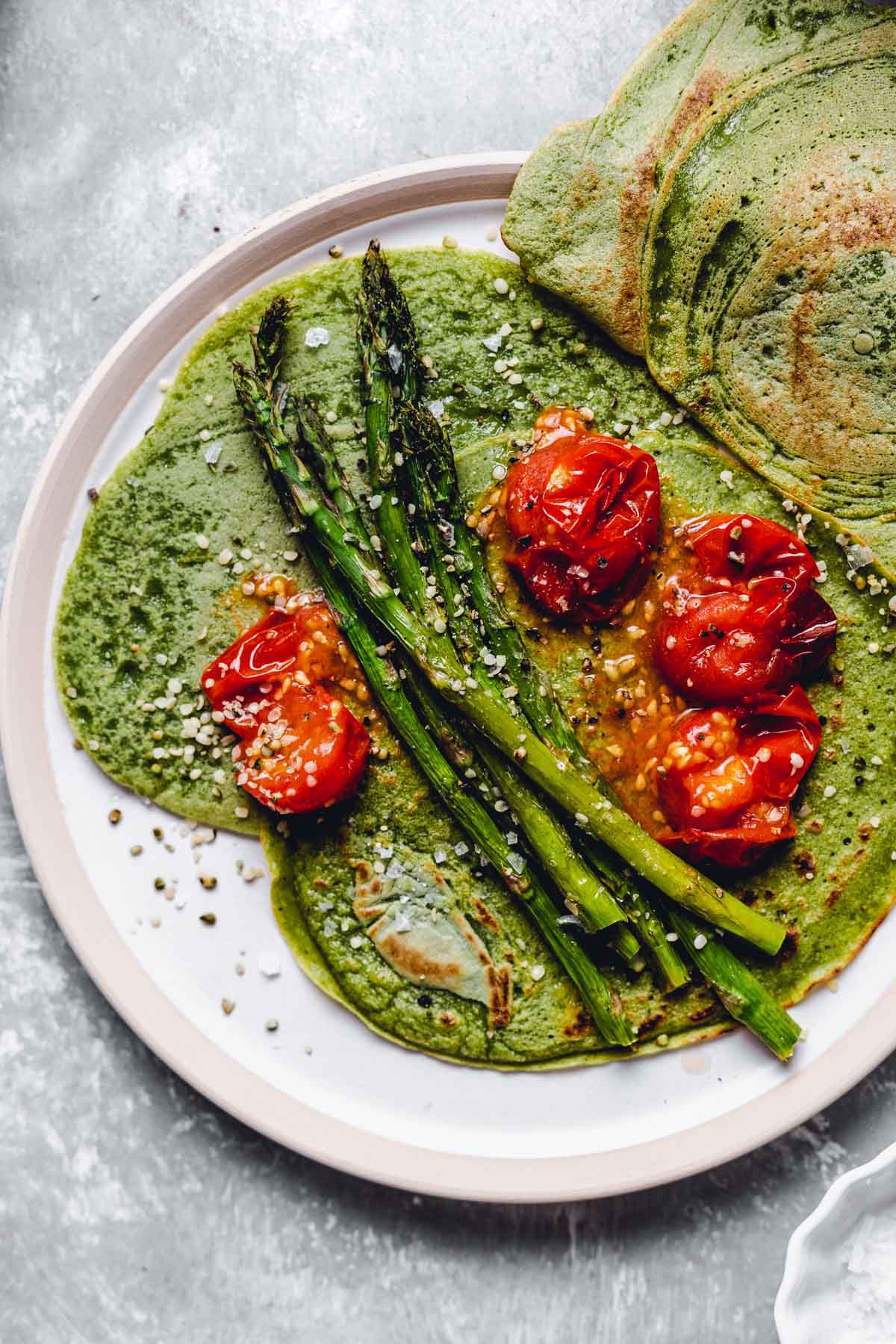 Jump to:
Why You'll Love This Recipe
Just a slight, subtle spinach flavour
Dairy-free, vegetarian & vegan
A veggies-packed alternative to sweet crepes
They keep well and are perfect on-the-go
Can be prepared ahead & stored for later
No crepe pan needed, just use a frying pan
Goes so well with my homemade hummus
A great way to use up spinach
Make it gluten-free by using gluten-free flour
Plus, I've prepared brilliant step-by-step photos & a recipe video to help you nail these in your first go!
Did you know? Savory crepes are usually called galettes. To make this recipe easier to find for users on Google I refer to them as crepes throughout this post.
Ingredients
Here are the ingredients you'll need to make these easy spinach crepes.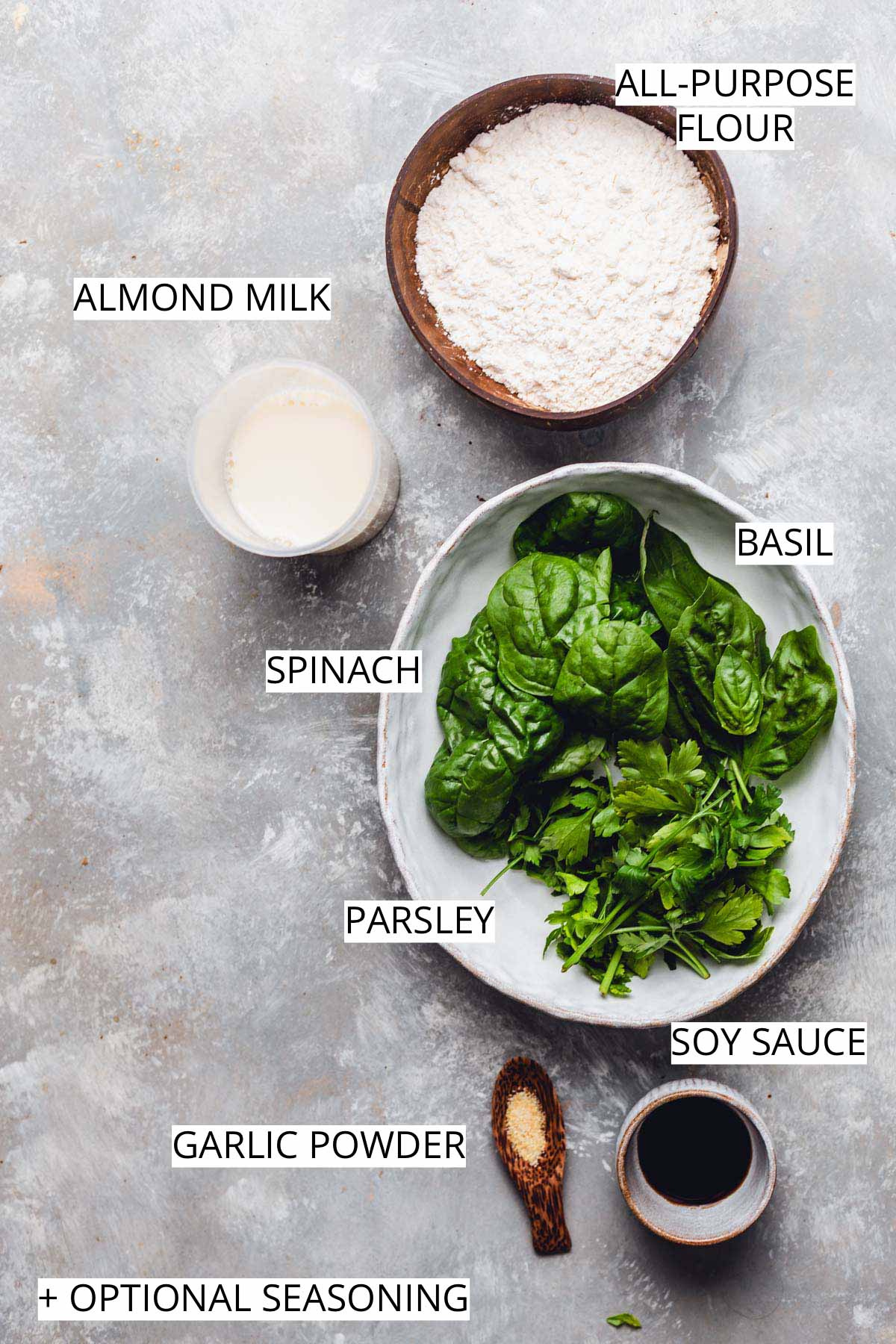 Ingredient notes
Spinach - I used fresh baby spinach. Make sure you're using fresh spinach, basil & parsley (not frozen/dry).
Seasoning - I added dry oregano which works so well to complement the other flavours.
Almond milk - important that you use unsweetened almond milk (with 0g sugars).
Soy sauce - both dark or light soy sauce work. Can be substituted for tamari.
Don't have a certain ingredient? See below for ingredient substitution ideas.
Step-by-Step Photos
This is a quick & easy visual overview.
For more detailed instructions & exact ingredients scroll down to the bottom of this page!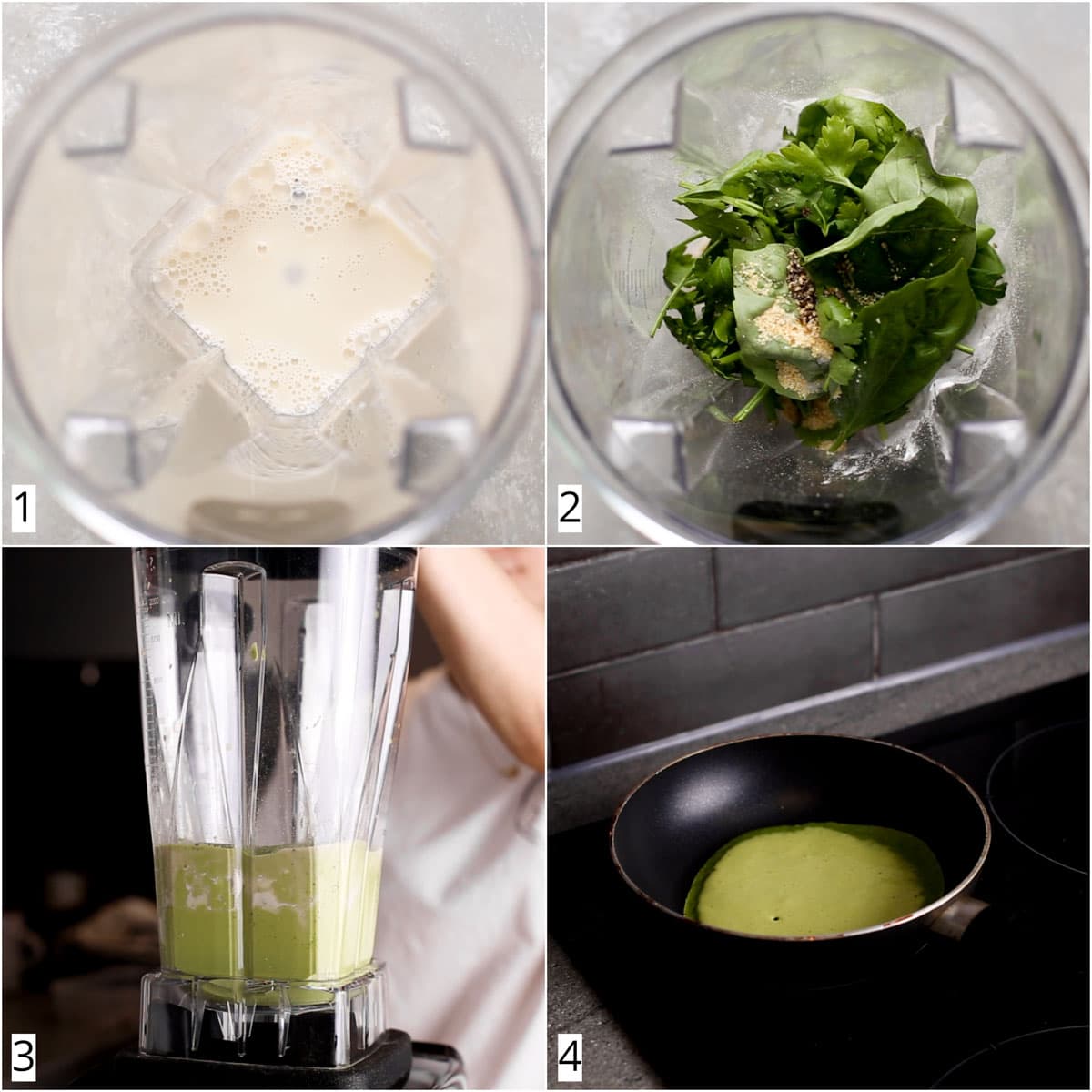 Add milk to your blender. I used an Optimum blender by Froothie (gifted).
Then add the rest of your ingredients.
Blend until smooth!
Add ¼ cup of batter to your pan. Cook on each side for about 1 minute.
Tip - This batter might be a little bit thicker than your usual crepe batter, but don't worry, it's meant to be!
Top Tips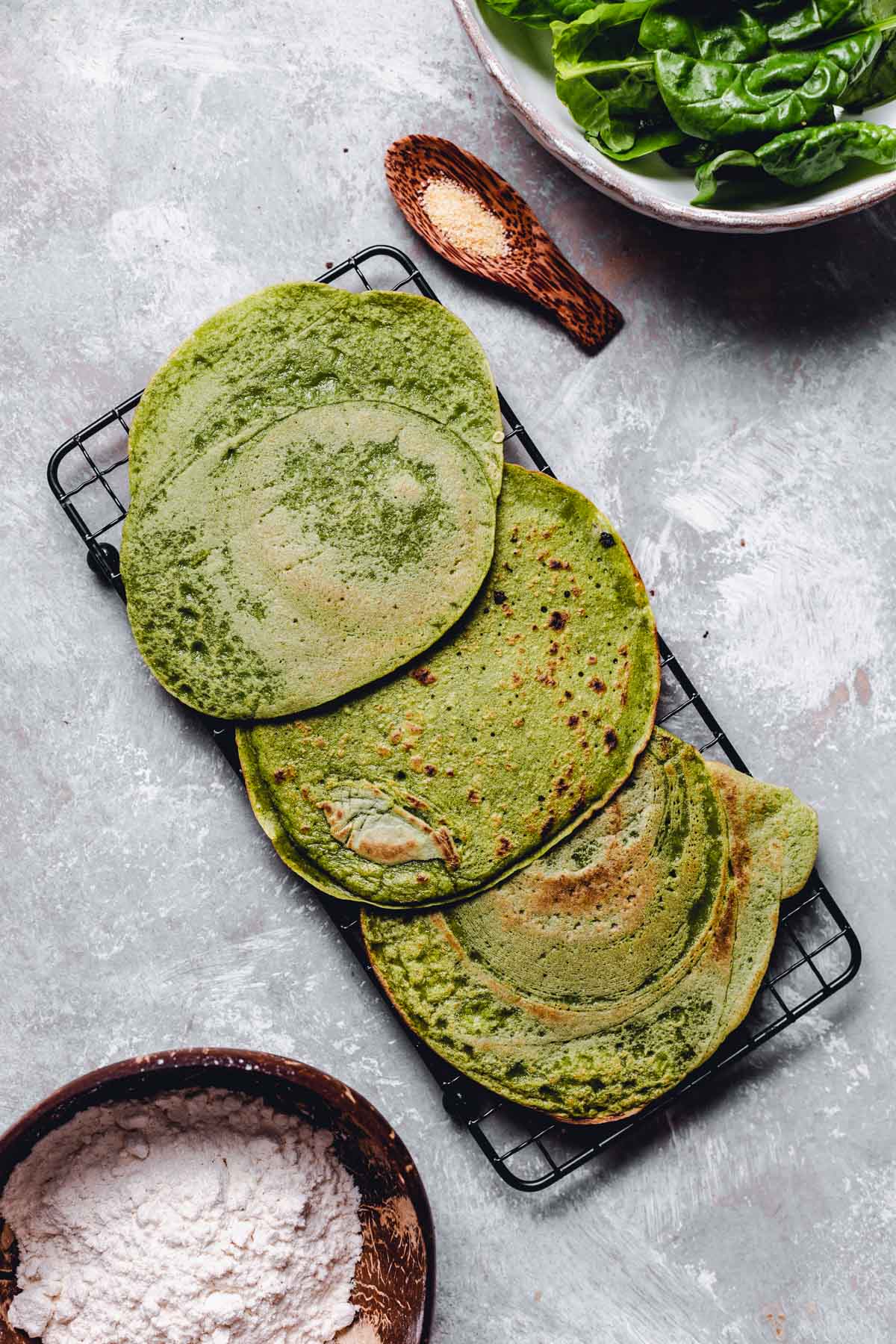 ​​Make sure your pan is lightly oiled and fully heated before adding the batter.
Prepare the batter the night before for a super easy (& healthy) breakfast
I recommend stirring the batter well before adding each crepe to the pan
I find these taste better if you let the batter rest for about 30 minutes before cooking them
If it's ready to be turned, the crepe will start to fold up around the edges.
Keep them warm by placing a lid or a large plate on top.
Don't worry if you can't get your first one right - you'll get the hang of it!
FAQ
What pan should you use to make spinach crepes?
Either a crepe pan, cast iron pan, or regular large, non-stick frying pan. I used a 28cm Tefal non-stick pan.
When should I flip the crepe?
If your crepe is ready to be turned, it will start to fold up around the edges. 

When you attempt to turn it, the bottom side shouldn't stick to the pan. If it does, it means the crepe isn't ready to be turned yet. 

This is a great video on how to flip thin pancakes.
Why are my crepes rubbery?
This can mean several things.

First, your crepes might be undercooked.

Secondly, they might be overcooked or cooked too slow.

And lastly, you might have added too much flour to the recipe.
Ingredient Substitutions
All-purpose flour - can be substituted for other flour such as wholemeal, buckwheat, oat, etc. However, I strongly recommend that you keep at least half of the total flour all-purpose. For example, you could use ½ cup of all-purpose and ½ cup of wholemeal.
Almond milk - can be substituted for other plant milk such as oat and soya. I would stay away from coconut milk due to its overpowering flavour. Make sure you are using unsweetened milk or your crepes will have a sweet undertone.
Olive oil - To oil the pan you can also use sunflower, hemp, or other oil instead. You can also use plant-based spread or butter.
Basil, parsley & cilantro - can be substituted for other green herbs of your choice such as chives, parsley, oregano, thyme.
Serving & Filling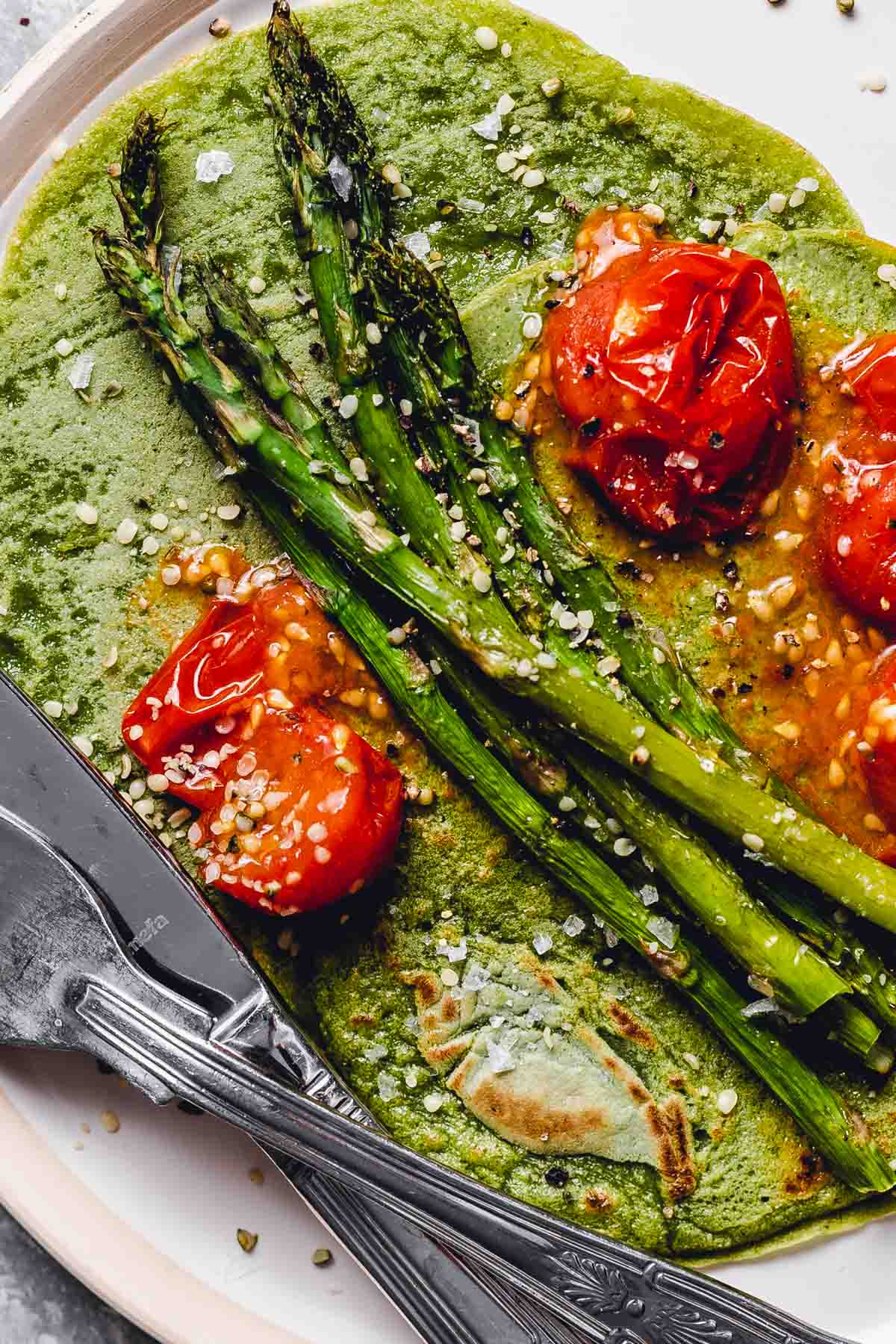 There are SO many ways you could eat these!
In the photos above I served mine with oven-roasted tomatoes & asparagus.
Simply coat the veggies in oil, add any seasoning of your choice, and roast them in the oven for 15 minutes on 180°C/356°F. I then topped off the crepes with a sprinkling of hemp seeds & salt flakes. So irresistible!
It's almost impossible to compile a full list of serving ideas, but here are some of my suggestions:
With other oven-roasted veggies like peppers, corn & kale
With simple pan-roasted vegetables like garlic, mushrooms, courgette/zucchini
With any plant-based cheese
Topped off with a soft tofu scramble or vegan scrambled eggs (or normal eggs if you're not vegan)
Filled with hummus, pesto or a herb spread, then topped off with fresh veggies, avocado, & lettuce
Serve it with sweet toppings like fresh fruit, syrup or cream.
Tip - These crepes are meant to be served with PLENTY of toppings. I would not recommend eating them as is, but if that's your thing, go ahead.
Storing & Freezing
If you want to store these crepes for later, simply stack them and place them in an airtight container in the fridge. They will keep for about 3 days.
To freeze, let them cool down first, then stack and freeze in an airtight container. They should keep for about 1 month.
Once you're ready to eat them, simply remove them from the freezer & let them thaw gently. I recommend heating them up in the microwave for about 20 seconds.
That's it! Thanks for stopping by! If you enjoyed my recipe please do let me know in the comments below. Or reach out with any questions - I'm here to help you!
🍴Recipe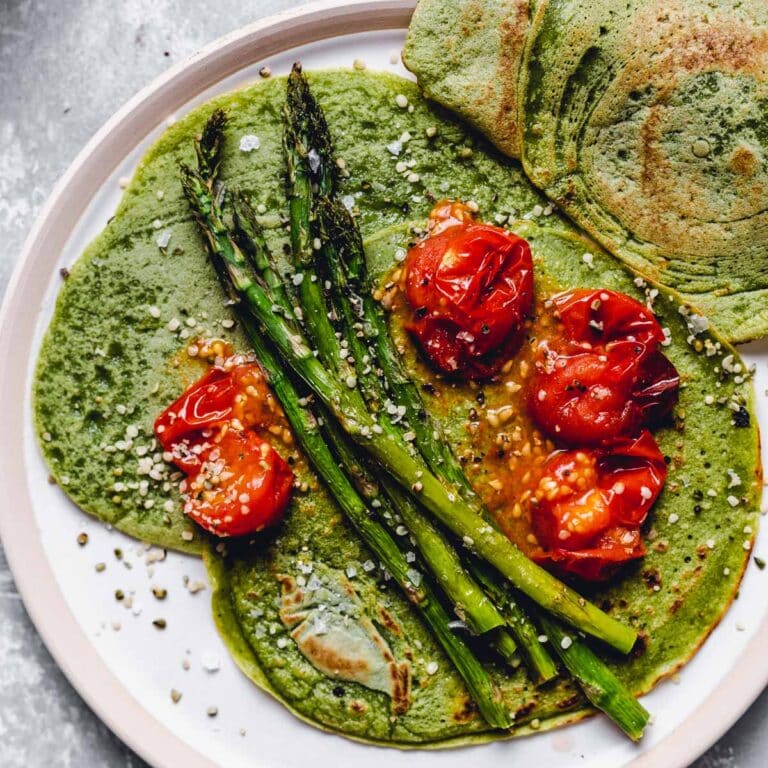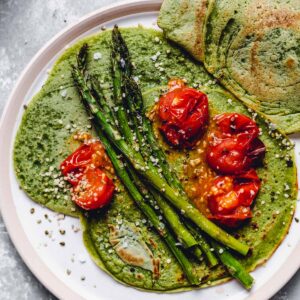 Super Green Savory Spinach Crepes (Thin Pancakes, Vegan)
Savory green spinach crepes with basil, parsley & herbs. Super easy and made within 10 minutes.
Print
Pin
Rate
Equipment
Frying pan

Measuring cups or kitchen scales

Blender or food processor
Ingredients
1

cup

all-purpose flour

also called plain flour

¾

cup

unsweetened almond milk

or other milk

⅓

cup

fresh spinach

⅓

cup

fresh parsley

flat or curly

⅙

cup

fresh basil

2

teaspoon

soy sauce

or tamari

½

teaspoon

garlic powder

¼

teaspoon

salt

Optional: ½ teaspoon dry oregano, ½ teaspoon black pepper
FOR THE PAN
½

teaspoon

olive oil

or other oil
Instructions
Add milk to your blender. Then add the rest of your ingredients.

Blend until smooth.

Grease your pan with oil. Warm it up until hot.

Add approx. ¼ cup of batter to your pan. Swirl it around immediately.

Cook until the edges start to fold up and the crepe is easy to flip. If it's not easy to flip, it's not ready yet.

Then flip and cook for another minute on the other side.

Repeat until no batter is left.

Serve with your favourite vegetables or other toppings.
Notes
I tested this recipe using grams/ml measurements. They are FAR more exact than cups and will bring better results.
Both grams & cups measurements are available - simply click on US Cups or Metric under the ingredient list. 
Tip 1: Stir the batter before adding each crepe to the pan. 
Tip 2: Keep them warm by placing a lid or a large plate on top.
Tip 3: Don't worry if you mess up the first one. You'll get the hang of it
To prepare ahead - make the batter the night before, store it in an airtight container in the fridge & cook the crepes the next morning. 
To store - Stack the crepes & place them in an airtight container. Keep in the fridge for up to 3 days. 
To freeze - Let cool, then stack & freeze in an airtight container. Keeps for about 1 month.
Nutrition
Calories:
261
kcal
|
Carbohydrates:
50
g
|
Protein:
8
g
|
Fat:
3
g
|
Saturated Fat:
1
g
|
Polyunsaturated Fat:
1
g
|
Monounsaturated Fat:
1
g
|
Sodium:
759
mg
|
Potassium:
178
mg
|
Fiber:
3
g
|
Sugar:
1
g
|
Vitamin A:
1417
IU
|
Vitamin C:
15
mg
|
Calcium:
146
mg
|
Iron:
4
mg
Disclaimer: The nutritional information above is calculated automatically. The author of this post cannot guarantee 100% accuracy of this data.