These vegan dinner rolls are like pillows - fluffy, airy and super soft. This fail-proof recipe is perfect for beginners and makes the ideal snack or side dish.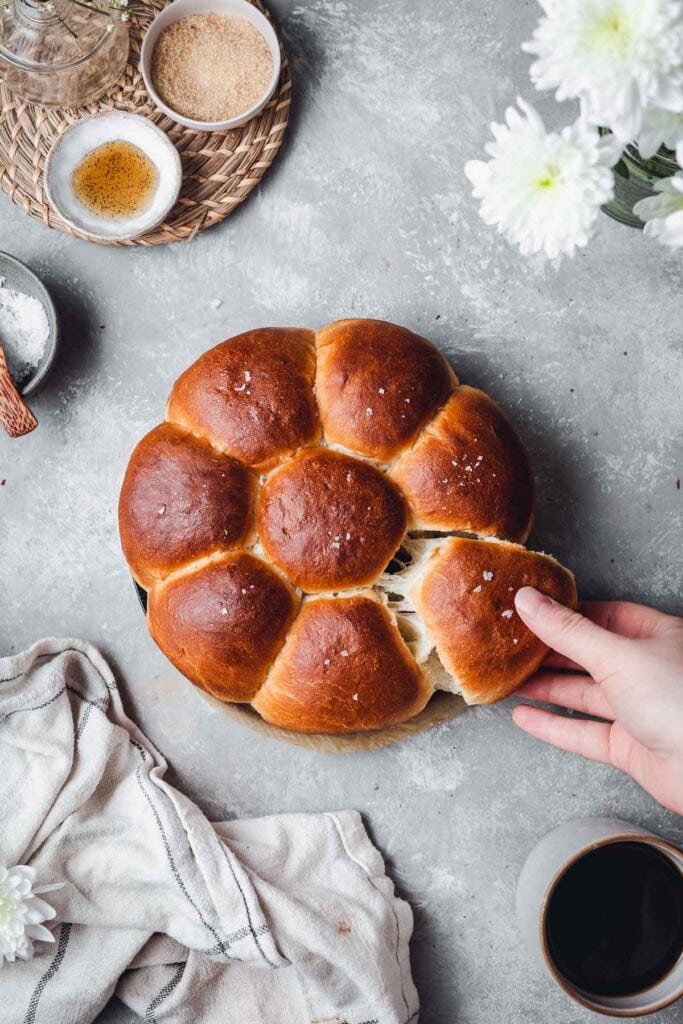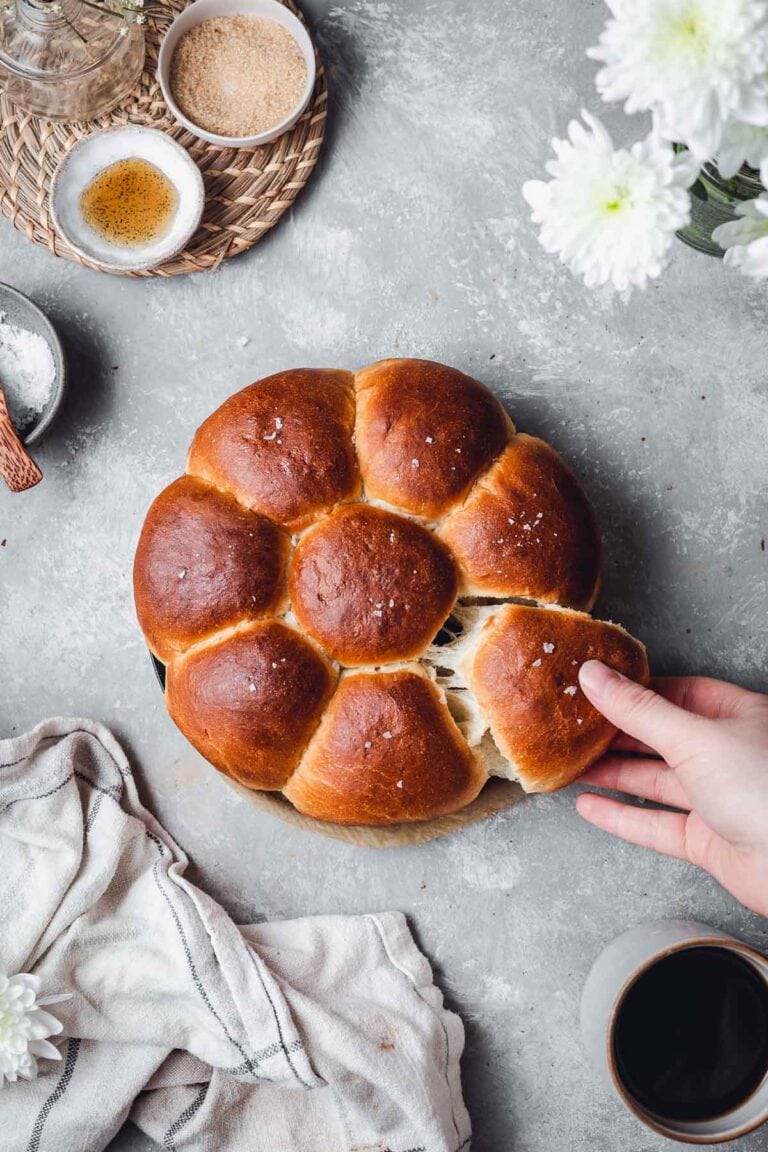 Why this recipe works
Amazing, fluffy texture.
Pillowy outside, moist inside.
Bound to impress your dinner guests.
Only use staple ingredients.
A lot easier than they look to make!
And to make things ever better, you can findUS and EU measurements below. Oh and did I mention you can adjust the portion sizes with just a click.
What goes into this recipe
This is what you'll need to put on your shopping list: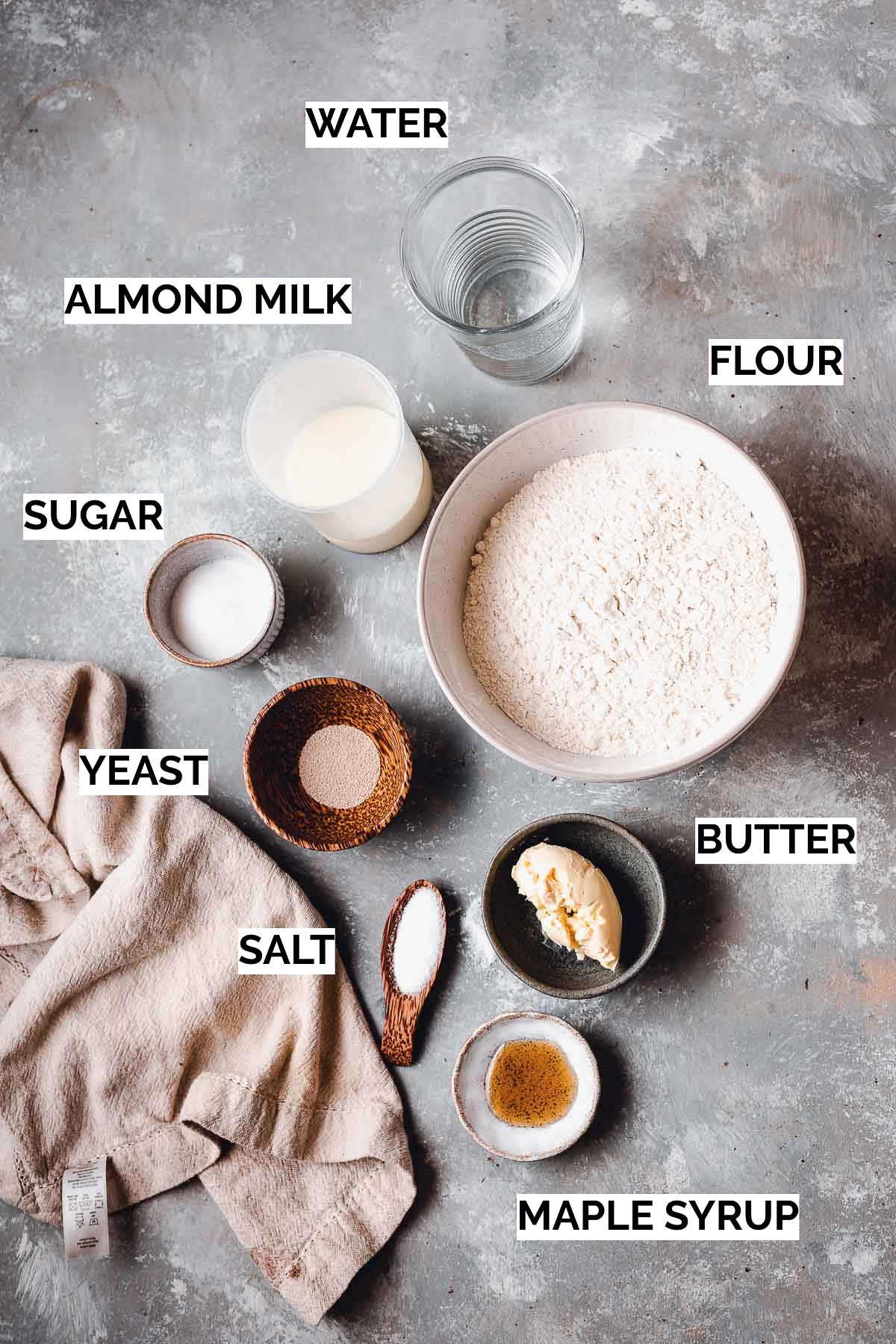 To make this recipe you will also need the following equipment:
Round cake tin
Kitchen scales
Baking paper
Step-by-step guide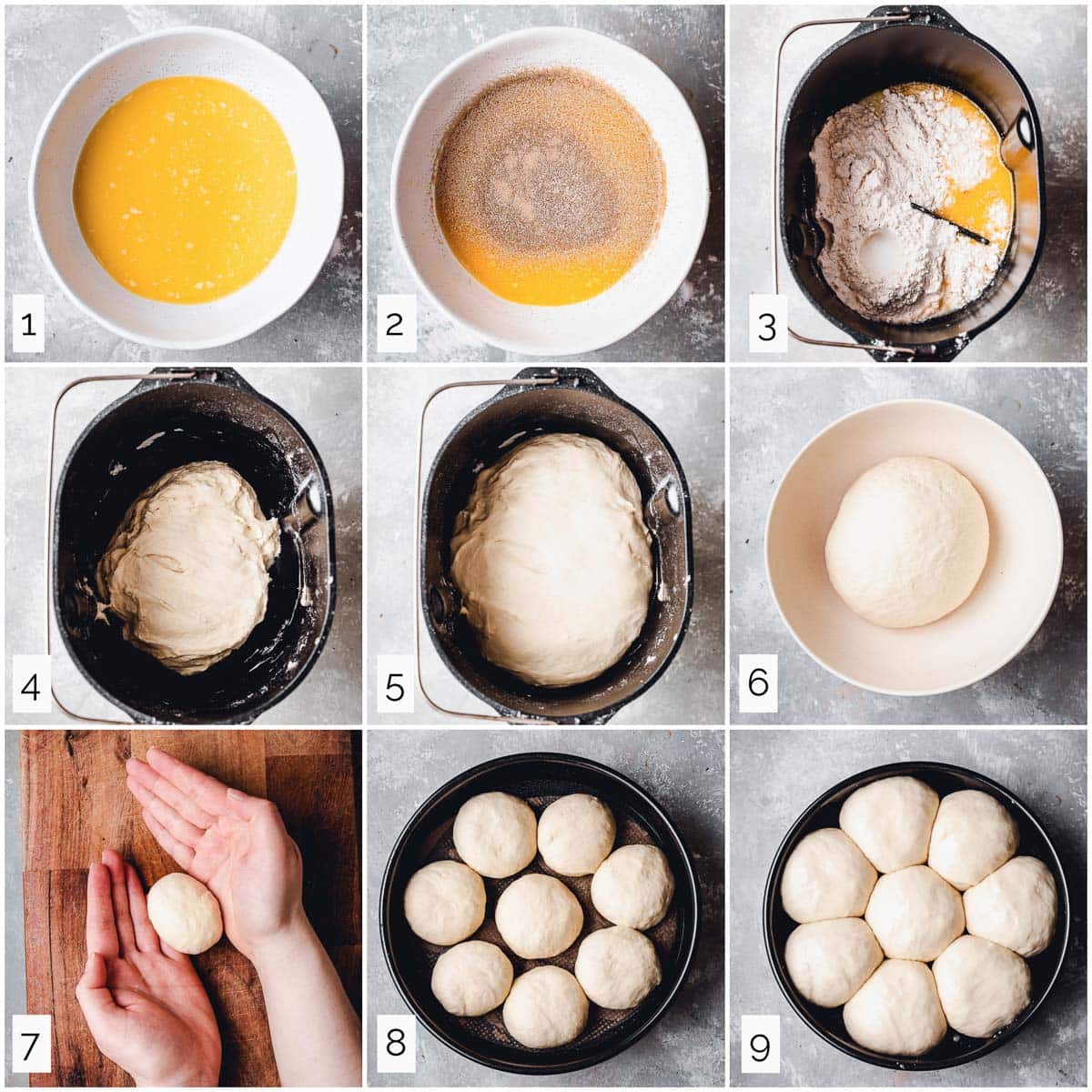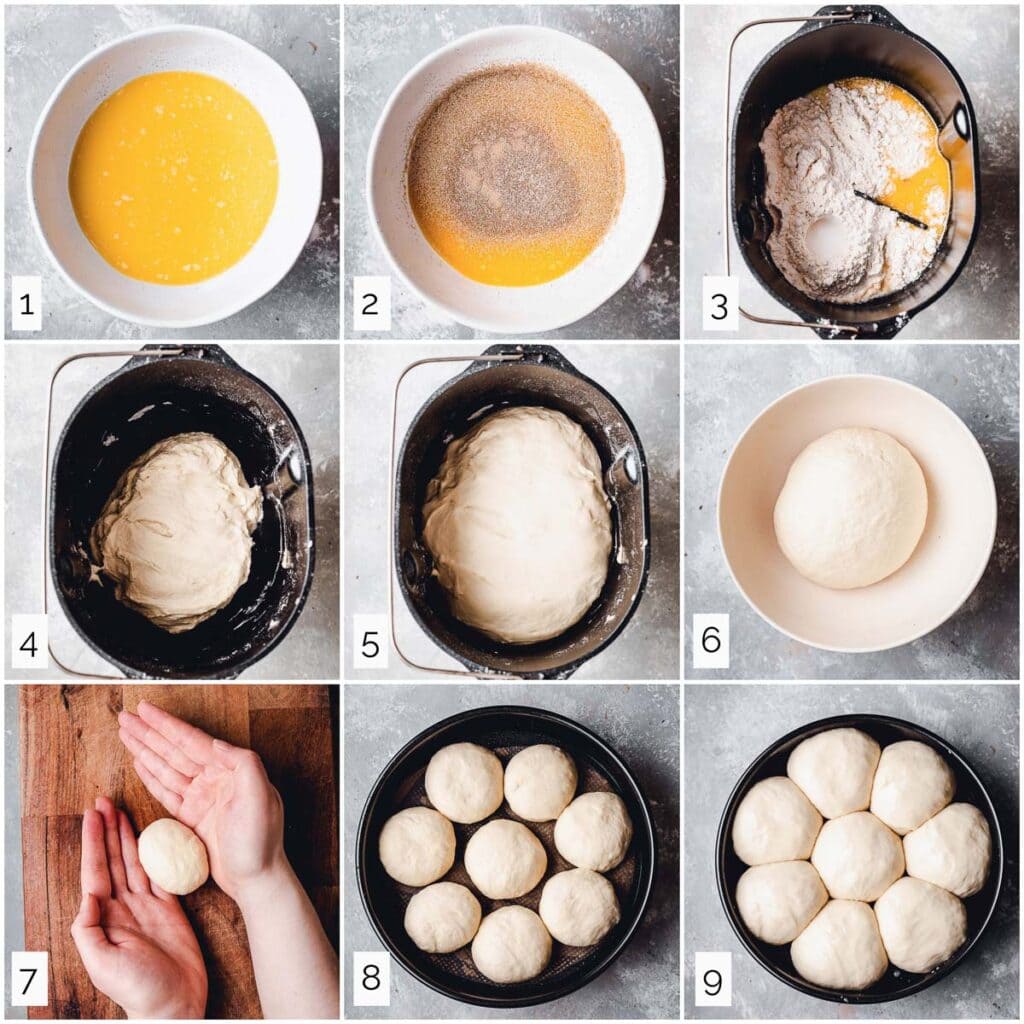 Let's break down this recipe into 9 easy steps:
1 - Combine your wet ingredients.
2 - Scatter yeast on top of your wet mixture.
3 - Add flour to your wet mixture. Then make a small well and add salt on top of flour. Make sure the salt isn't touching your yeast.
4 - Kneat for 5-10 minutes.
5 - Let rise for 1 hour or until doubled in size.
6 - Once doubled in size, divide dough into 8 equal balls.
7 - Tightly shape the balls.
8 - Placed into a greased & lined round tin. Let rise for the second time for 45 minutes.
Glaze with maple syrup and sprinkle with sea salt or salt flakes. Bake at 190°C (375°F) for 25 minutes.
My Top Tips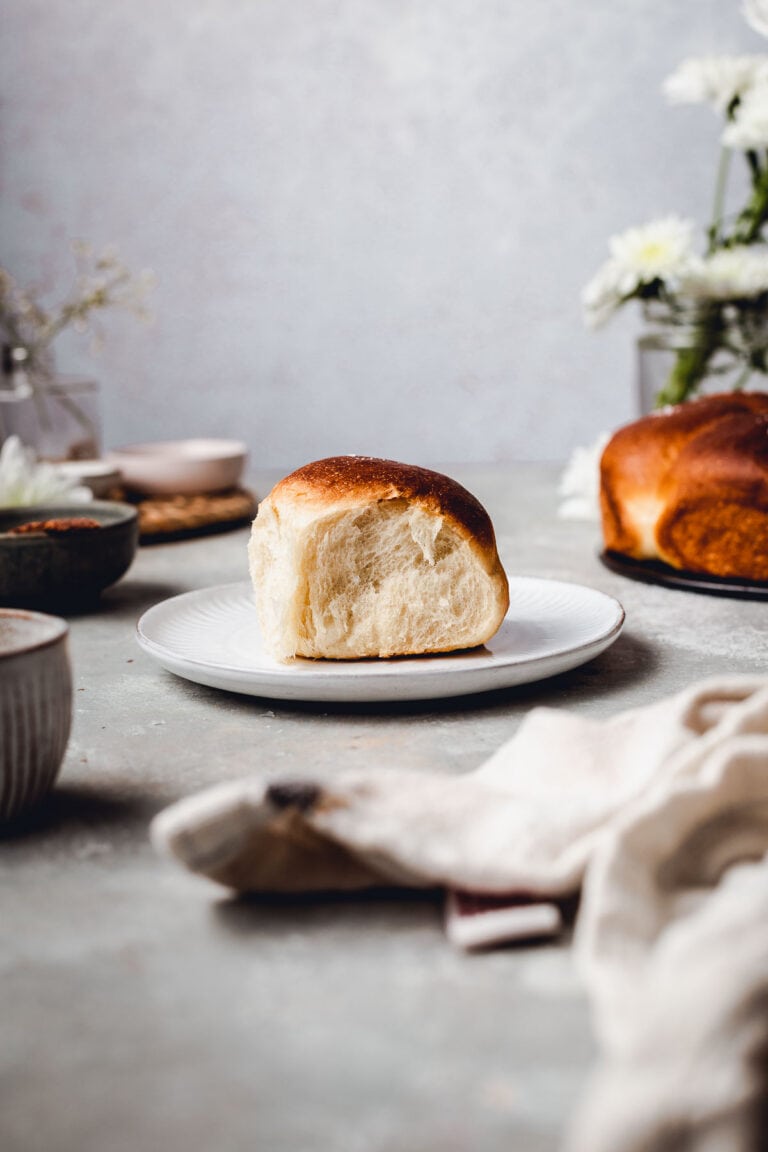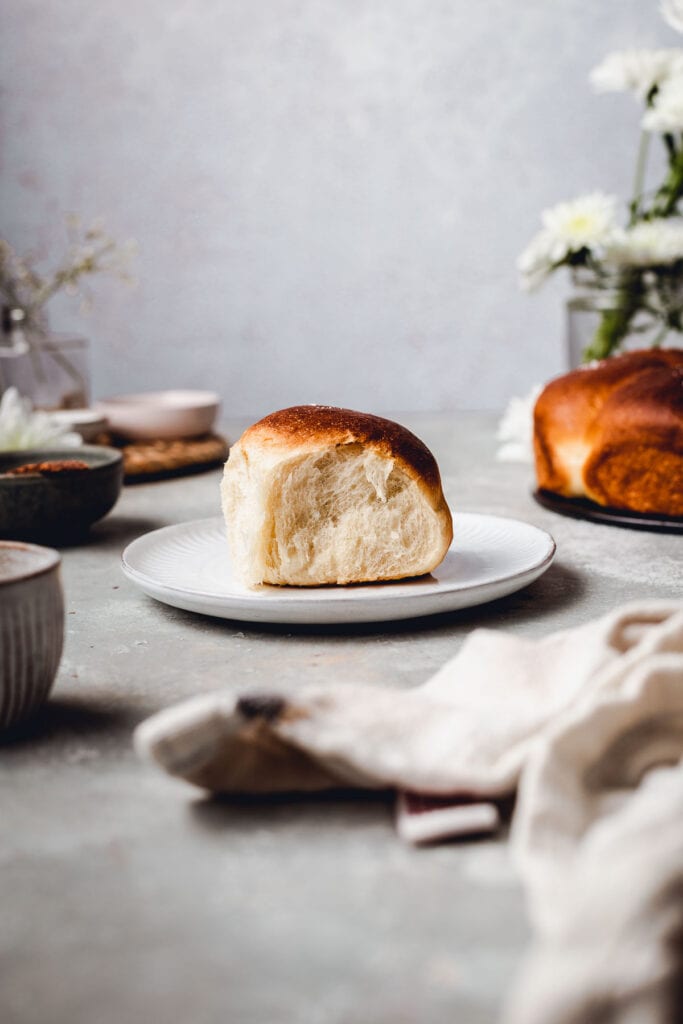 This is a really simple vegan dinner rolls recipe, but do make sure to follow the tips below.
Don't mix salt with yeast
If touching directly, the salt will 'kill' your yeast and inhibit the rise of your bread. Keep the salt separated from the yeast until you actually start mixing your dough.
Shape dought into tight balls
The dough balls need to be shaped tightly to make sure they keep their shape during baking. To check if you've shaped them tightly enough, press lightly on the dome of ball. If it springs back you're ready to go.
Knead until the dough springs back
The key to these fluffy dinner rolls is a good gluten development in your dough. How to achieve that? You want to make sure you knead the dough until it springs back when you press a finger into it. Then you can let it rise (for the first and second rise).
Don't forget your glaze
The maple syrup glaze will make the buns beautifully brown and give that extra bit of caramelly sweetness on top. It's the final touch for these dinner rolls that you really don't want to forget.
FAQs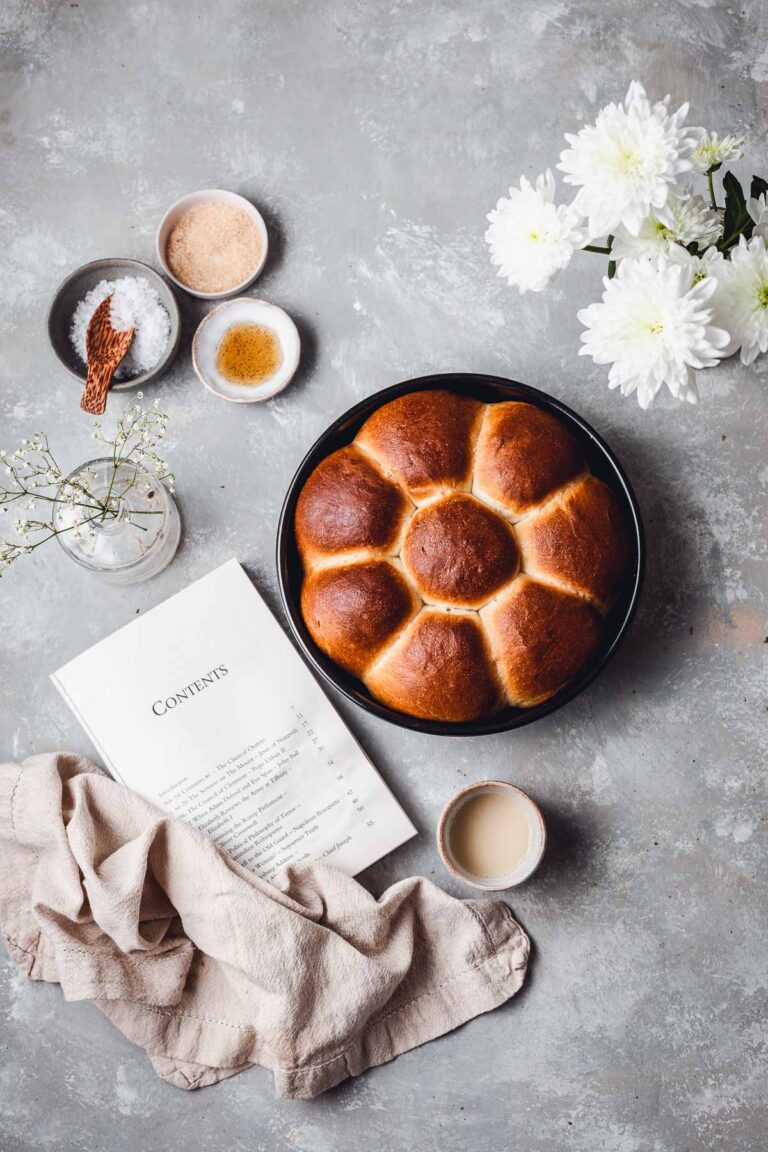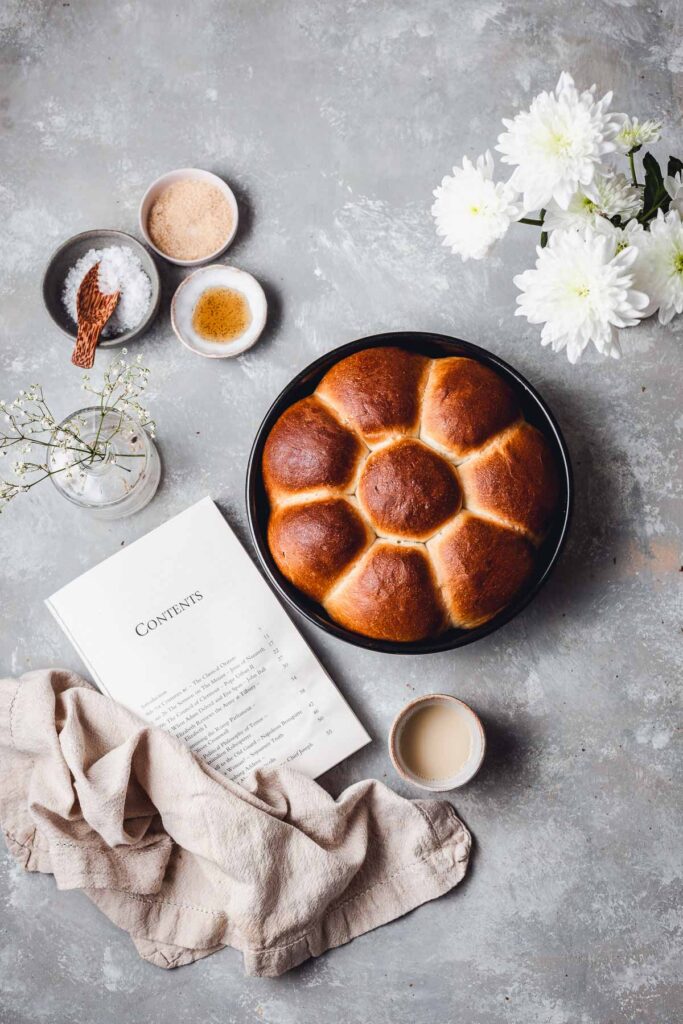 Why has my bread dough not risen?
If the dough has not risen after the first rise it is likely the yeast has not done its job well. Why? Something inhibited the yeast.

Firstly, the milk, butter, or water could have been too warm.

If any of these are too warm it will kill the yeast and stop the rise. Test the milk mixture with your finger to make sure it's around body temperature before adding yeast and then try again.

Secondly, salt can inhibit the yeast if it comes into direct contact with the yeast. Make sure you separate it from the milk yeast mixture before you start mixing your dough.

Once mixing it wont affect the yeast as every bread dough has salt in it to help keep its shape and structure and add flavour.

Find more about why bread might not be rising over here.
Why have my rolls lost their definition during baking?
The dough was likely either not knocked back enough after the first rise or not shaped tight enough when making the eight dough balls.

You want to create a tight domed top for each bun where you can feel the dough spring back when you press into it briefly.
How do I store dinner rolls?
These rolls will keep for at least 5 days in an airtight container or bread tin. If they become a bit dry, reheat them in the microwave.

If you have the time reheat them in the oven, sprinkle with water and heat them up for about 10 minutes at 150-160°C. (302-320°F).
Can I freeze dinner rolls?
Yes, you can store them in an airtight, freezer safe container after baking. Then defrost them in the microwave or overnight at room temperature when you're ready to eat them.
Ingredient Substitutions
Don't have all the ingredients in the cupboard or just want to experiment a little? Let's have a look at how you could substitute some of the main ingredients.
ALMOND MILK – You can sub the almond milk for pretty much any other plant based milk and this recipe will still turn out perfectly. I would avoid using coconut milk as that can have quite an overpowetring taste.
MAPLE SYRUP – As the maple syrup is only for the glaze, you can try plant milk only, or substitute it for agave or other syrup.
FLOUR – if you want to add some wholemeal flour feel free to substitute up to a third of the flour for wholemeal or spelt flour. The rolls might need a bit longer during the second rise (10 minutes or so) to create an equally fluffy texture.
Any other ingredients you're missing at the moment? Get in touch via the comments below and I'll see if I can find a good substitution for you!
Enjoyed my vegan dinner rolls? You'll also love my vegan matcha cookies, blueberry muffins and aquafaba chocolate mousse!
🍴Recipe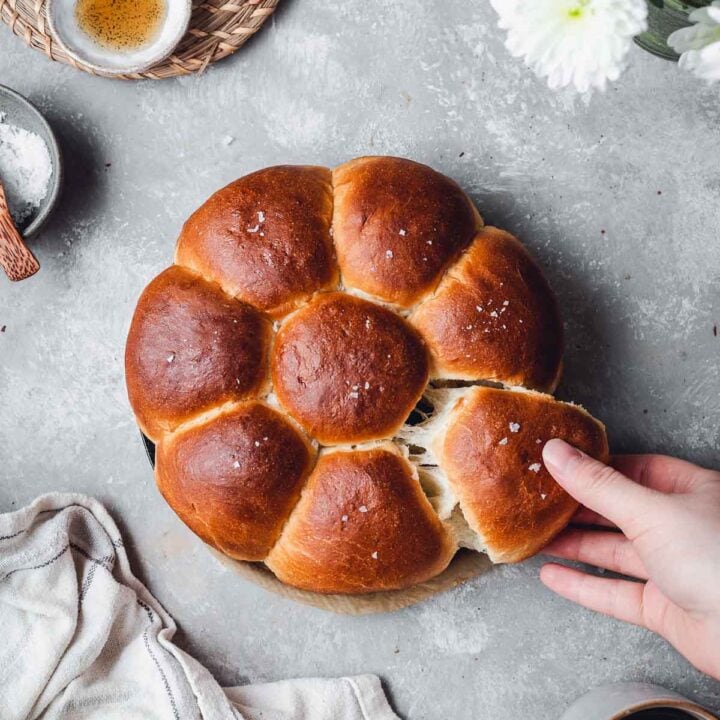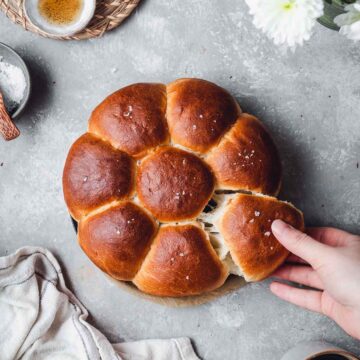 Vegan Dinner Rolls
Fluffy, airy and pillow dinner rolls that you can simply make at home.
Print
Pin
Rate
Equipment
Round cake tin

Baking paper

Kitchen scales
Ingredients
125

ml

(

4.23

floz

)

almond milk

unsweetend and unflavoured

60

ml

(

2.03

floz

)

warm water

1¼

teaspoon

(

1.25

teaspoon

)

instant yeast

30

g

(

1.06

oz

)

dairy-free butter

melted

275

g

(

9.7

oz

)

bread flour

1

teaspoon

salt

20

g

(

0.71

oz

)

sugar

½

tablespoon

(

0.5

tablespoon

)

maple syrup

¼

teaspoon

(

0.25

teaspoon

)

salt flakes

sprinkled on top
Instructions
Warm up milk in microwave for  20-30 secs until warm, and melt the butter

Mix melted butter, warm water, warm milk, and sugar in a bowl or your bread maker bread pan.

Scatter yeast on top of the almond milk mixture and let sit for 5 minutes or so.

Add your flour on top of the yeast mixture and then your salt on top of the flour. The order of adding your ingredients is important as you don't want the salt to touch your yeast until mixing your dough.

Knead for 5-10 minutes until dough springs back and shape into ball (let your bread maker knead for the same amount of time).

Put the dough in a large bowl (or leave in bread make bread pan) and cover with damp tea towel before leaving to rise for an hour or until doubled in size.

After rising place the dough on a floured surface and flatten with your knuckles. You want to remove any large air bubbles.

Knead the dough for 1-2 minutes until it springs back and divide into 8 equal balls.

Dust the ball with a bit of flour and flip over onto its floured side.

To shape the balls flatten the dough ball slightly, grab the edge of the dough and fold over that edge into the centre. Repeat multiple times along the edge to create a round tight ball.

Turn the ball back over so the pinched dough and folded centre is at the bottom.

Use the outer side of your hand to shape the balls into a smooth round shape.

Place balls onto a greased baking tray and cover with clingfilm or towel. Leave to rise for 45 minutes.

In the meantime make your glaze by combining ½ tablespoon of maple syrup and 1 tablespoon of plant based milk.

Pre heat your oven to 190°C (375°F).

Glaze the top of each risen rolls, sprinkle with salft flakes (optional) and bake for 25 minutes until crispy and brown.
Notes
If touching directly, the salt will 'kill' your yeast and inhibit the rise of your bread. Make sure to keep the salt separated from the yeast until you actually start mixing your dough.
Knead the dough until it springs back when you press a finger into it.
Shape your dough balls very tightly. Press lightly on the dome of ball. If it springs back you're ready to go.
Don't forget to glaze!
Nutrition
Calories:
167
kcal
|
Carbohydrates:
29
g
|
Protein:
4
g
|
Fat:
4
g
|
Saturated Fat:
1
g
|
Sodium:
337
mg
|
Potassium:
34
mg
|
Fiber:
1
g
|
Sugar:
3
g
|
Calcium:
25
mg
|
Iron:
1
mg
Disclaimer: The nutritional information above is calculated automatically. The author of this post cannot guarantee 100% accuracy of this data.