This is an in-depth & honest review of the Cooking with Keywords food blogging course by Aleka Shunk. See my results, traffic growth, and recommendations & get an exclusive look into the course!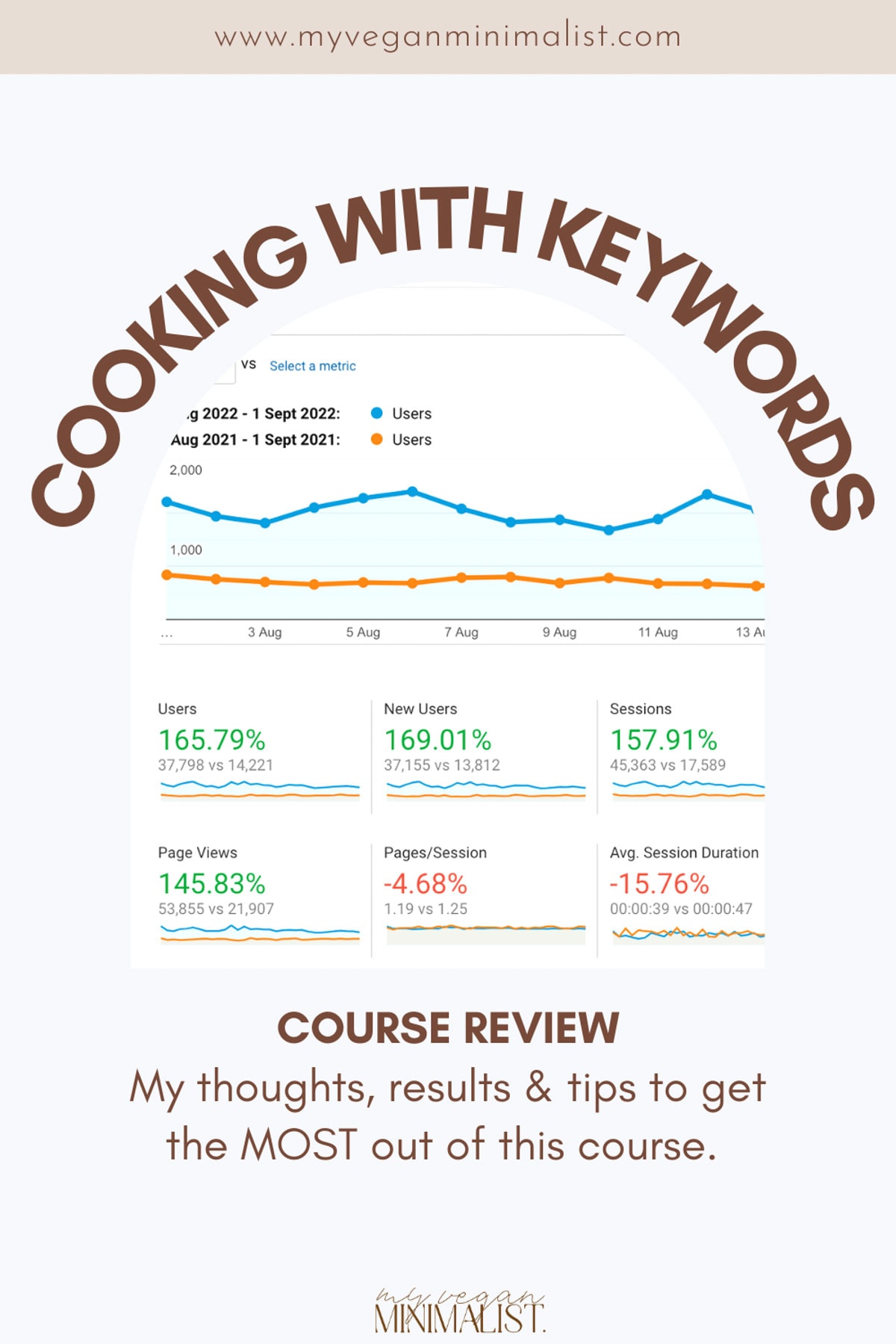 Disclaimer: This Cooking with Keywords review contains affiliate links meaning I earn a portion of every sale using my unique link. This helps support my blog and allows me to provide more free recipes and blogging resources.
Jump to:
In 2023, it's (sadly) impossible to run a successful food blog without understanding SEO (search engine optimization).
I've learned that the hard way. From starting my blog in 2017 until late 2022, I made exactly ZERO ad income from my blog.
I reached a point when I realized I needed to give it one more final push or give up on this (increasingly expensive hobby) altogether.
Then, I decided to take Aleka's course, which paid off big time.
Thanks to this course:
I qualified for Mediavine about 12 months after watching the last unit.
My traffic increased by over 150%
My Top 10 posts are all new recipes developed using Aleka's keyword research method.
I FINALLY understand how to find the specific keywords that bring in traffic.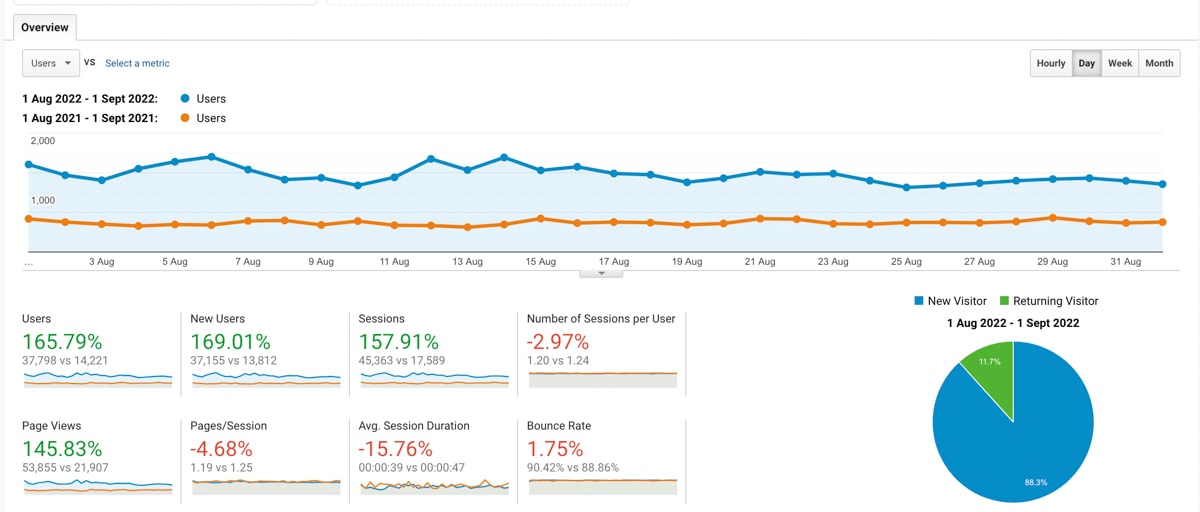 In addition to Foodtography School (which I've also reviewed & can recommend), this course has helped propel my career forward more than anything else.
A few weeks ago, I put up a little Q&A on my social media inviting you to ask me ANY questions you might have about this course. This helped me create the structure for this blog post!
If there's anything I didn't cover or isn't explained in as much detail as you'd like, please feel free to comment under this post. I'm always happy to help!
At Glance
If you're a food content creator who wants to publish high-quality content and find the right keywords to grow your organic traffic, you might have come across this course recommended in one of the food blogging FB groups.
Cooking with Keywords (CWK) is an online food blogging school teaching you:
The best way to conduct keyword research,
How to find low-competition keywords for YOUR niche,
The easiest way to optimize blog posts for search engines.
How to correct any mistakes from your old posts.
It also helped me understand my target audience and taught me the easiest way to appear as high as possible in Google search results.
Wondering what makes my Cooking with Keywords review trustworthy?
It's SUPER thorough and up-to-date (as of 2023!).
It covers every single question my audience asked about this course.
I'm a full-time food blogger and photographer and have taken over a dozen online courses. Having spent so much time (& money) on courses, I can tell the good from the bad.
You can get an exclusive look into the course thanks to the in-course screenshots I share below (with Aleka's permission).
It's consistently updated with new information to reflect any changes in the course (e.g., price, new units, bonus material, etc.).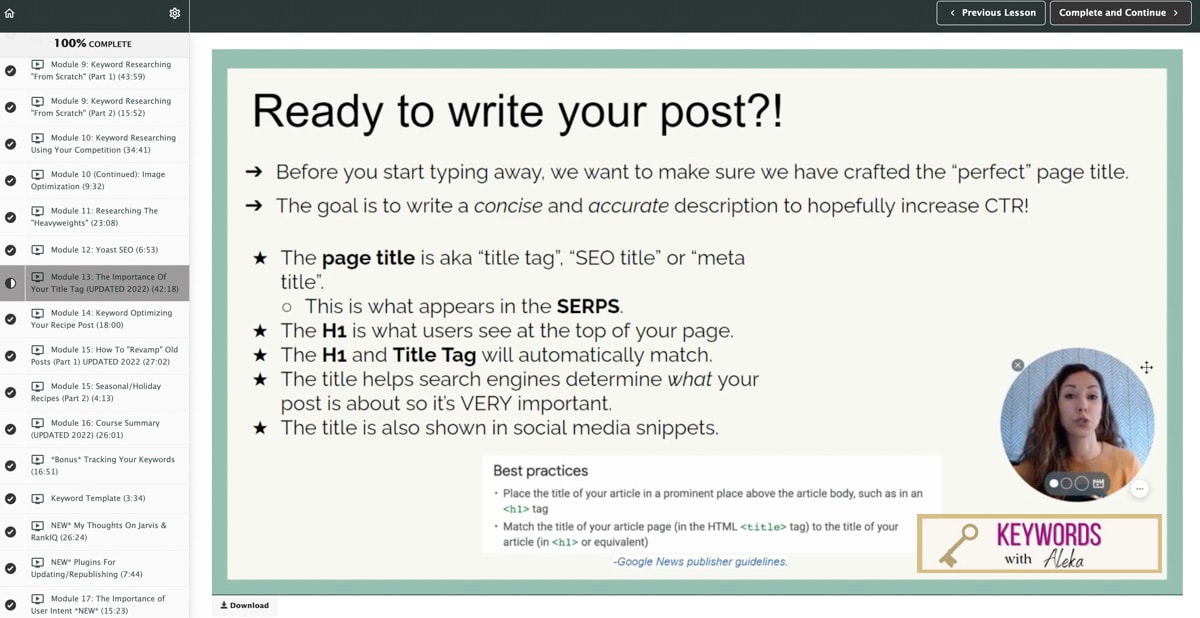 Here's a little sneak peek into the course. This is what you'll see inside the course if you sign up. Thanks, Aleka, for letting me share these!
Time
How many hours does it take to go through the CWK course?
Aleka's course comprises over 420 minutes (7 hours) of pre-recorded videos.
This means that watching the videos will take you:
- 1 week to finish: if you spend one hour on it each day
- 2 weeks to finish: if you spend half an hour each day

However, remember that to get the MOST out of this course; you'll need to do MORE than watch the videos.
I recommend tackling one unit at a time and then putting what you've learned into practice.
This means doing a round of keyword research, running reports, analyzing your competitors, etc.
If you don't try to put it into practice right away, you might waste more time in the long run because you'll need to re-watch it.

How long are the videos in each unit?
There are 16 units (plus a few bonus videos) of varying lengths. The shortest takes around 8 minutes, and the longest takes around 42 minutes.
You can see the exact time each lesson takes if you scroll down to the Course Outline section on CWK's website.
Can I take the course in my own time?
Yes, absolutely! You can finish it in a week or take months (or even years).
There is no time limit, and everything can be completed at your own pace.
Are there any live videos?
No, all the videos are pre-recorded. Think of it as a YouTube video you can watch repeatedly.

Can you rewatch the modules, or are you unable to access them once you've completed them?
You can rewatch them as many times as you'd like. There is no time limit either - you get lifetime access.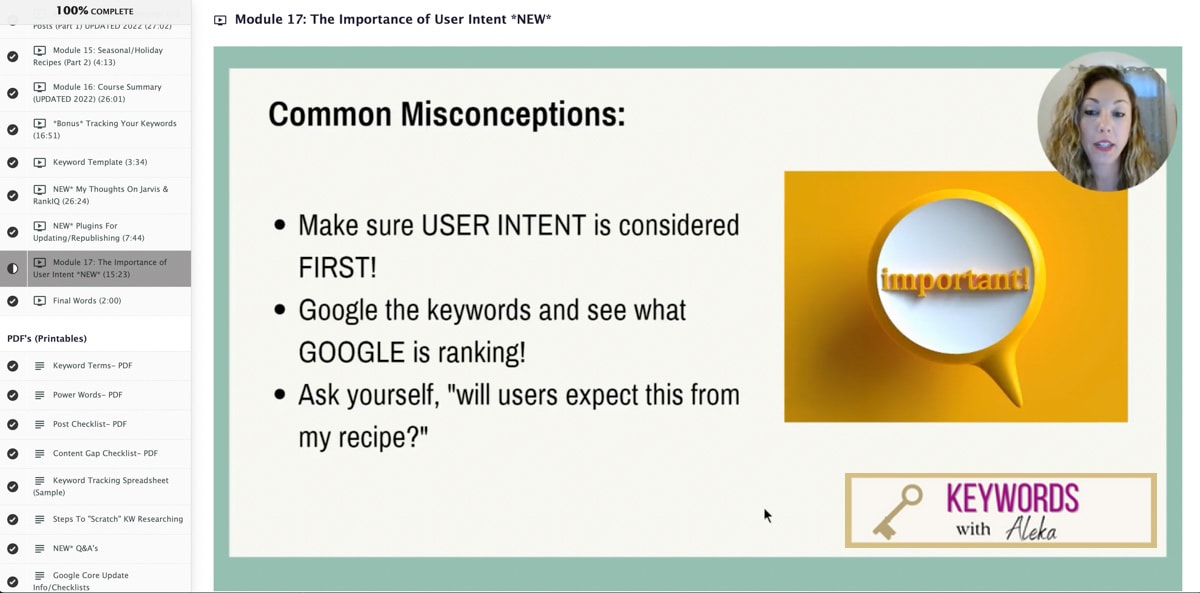 Who is it for?
Is this course suitable for someone with a solid SEO knowledge base?
Yes. It's super in-depth and specific.
You'd be surprised just how many details Aleka covers, and I think this makes it helpful even for bloggers with years of SEO experience.
Is it for bloggers with little experience or those with 5+ years of experience?
It can genuinely be helpful for everyone - whether you're a budding home cook or an experienced blogger.
Remember, just because you've been blogging for over 5 (or over 10) years doesn't mean you're performing keyword research correctly.
By the time I took Cooking with Keywords, I had blogged part-time for over four years.
I even had a comprehensive mini audit with the food blogging SEO expert Casey Markee. The course still provided significant value to me.
If you're entirely new to food blogging, that's even better - you won't spend years making the same mistakes I did when I first started!
Is it specifically relevant to food blogging or other types of blogging too?
Yes and no.
Yes, it is specifically relevant to food bloggers, and no, you won't find it very useful if you're in a different blogging niche.
However, Aleka did launch an alternative course called Blogging with Keywords. It costs the same as CWK and is geared toward bloggers in any niche.
Cost
Cooking with Keywords currently costs $393.25.
Remember that the course price went up in 2022 and can change. For example, many courses I have taken over the years have increased in price.

Are there any Black Friday, Boxing Day, or other discounts available?
Aleka occasionally offers small discounts to celebrate special days like Black Friday. To my knowledge, no discount codes are currently available.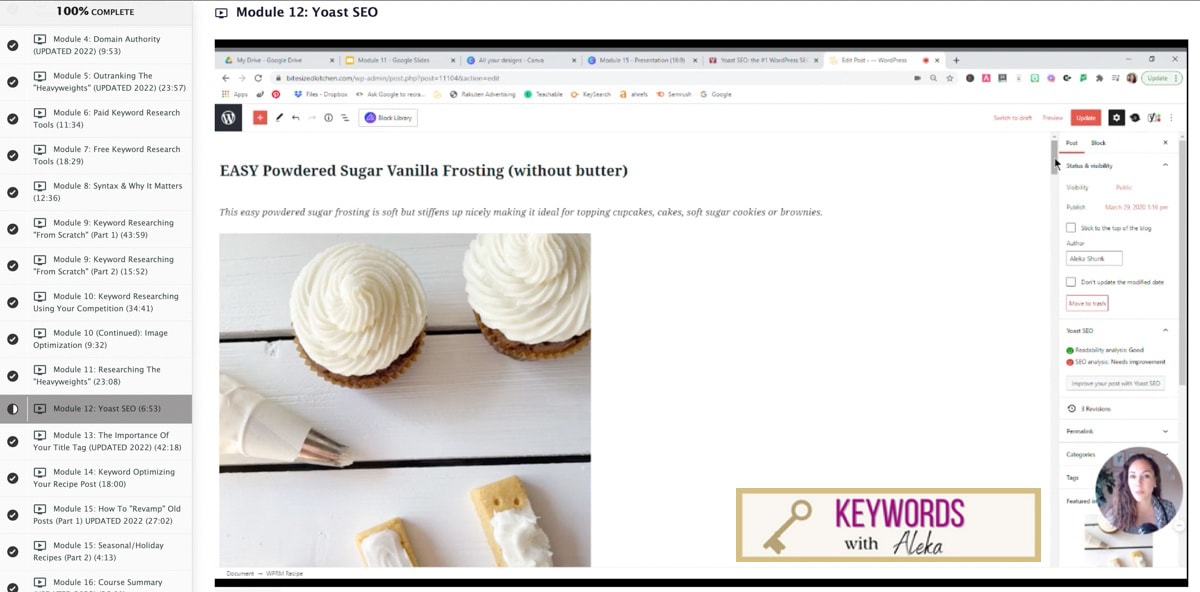 Other Costs
Do you need any specific paid keyword subscription services for the course to work?
You need KeySearch ($17 a month or $169 a year) or SEM Rush ($119.95 a month).
Aleka talks us through some additional free plug-ins and services you can use. She's a big fan of free tools like Google Search Console and Keyword Surfer.
Do you need SEM Rush for this course, or is KeySearch (the cheaper option) enough?
KeySearch is enough! Aleka explains her step-by-step keyword research process using SEM Rush and KeySearch separately. You can have one or the other or both.
I've been using KeySearch since before taking Aleka's course, and in addition to RankIQ, it's still the only keyword research tool I use.
Do you still find Cooking with KW useful even if you're using Rank IQ?
Yes! I have been using both to conduct my keyword research for years.
Teaching Style
What were the instructions like?
Aleka is a fabulous teacher.
I've taken countless online and in-person courses as a self-thought full-time photographer and found Aleka's way of delivering information incredibly easy to follow.
You can notice that she has a background in education and has worked as a teacher for several years.
While she comes across as professional, to the point, and HIGHLY knowledgeable, she still manages to keep the lessons entertaining and short enough to follow.

Is CWK accessible to something with absolutely no SEO knowledge?
Yes. It's suitable for a complete newbie.
SEO might seem complicated or technical at first glance, but once you're a few videos into the course, you'll get the hang of it. I can't stress this enough - it is completely beginner-friendly.
Free Alternatives
What are some free alternatives to CWK?
The first thing that comes to mind is the Top Hat Rank webinars. These feature renowned SEO experts discussing different topics every webinar, and they're a fabulous resource for any food blogger.
I've also written an extensive guide on this blog showing 20 steps from creating to publishing a new blog post.
If you're into podcasts, I can't recommend Food Blogger Pro and Eat Blog Talk podcasts enough (fun fact, I've even been interviewed on an Eat Blog Talk episode to talk about my food photography career!)
They both interview different experts within the food blogging industry and cover various themes.
If you want to be a part of a free & friendly blogging community, check out the Food Bloggers Central Facebook group. It's a group of over 9 thousand food bloggers helping each other and sharing their ups & downs.
Remember that as great as these free resources are, they don't teach you what Aleka teaches you in her course. In blogging (as in every other business), you usually need to spend money before seeing profits.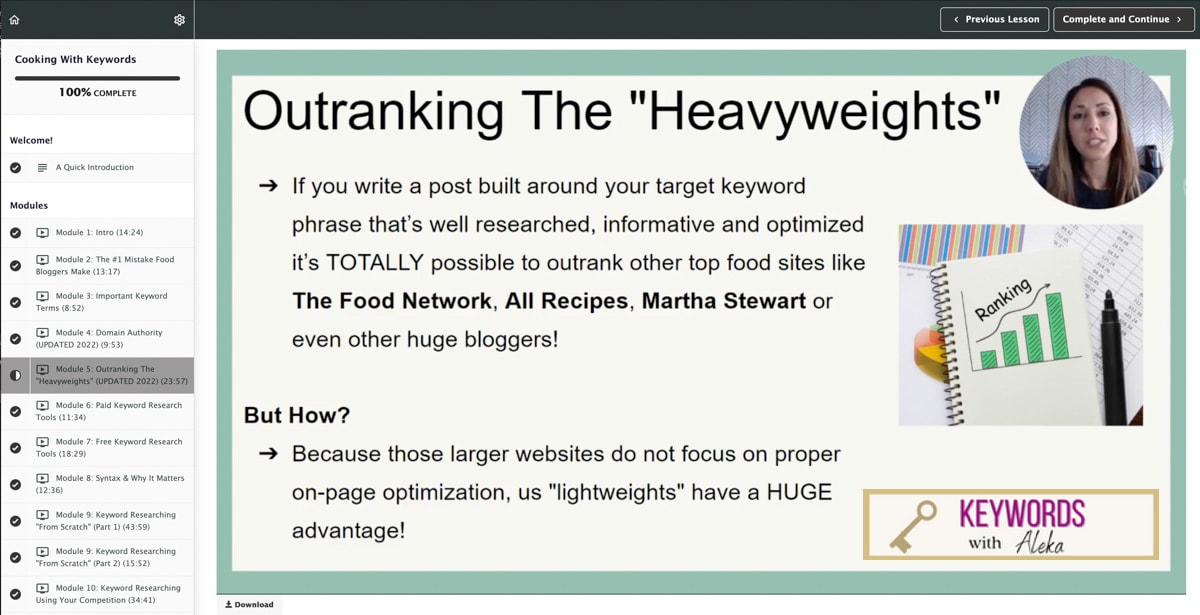 Casey Markee
I had an audit with Casey Markee - will the course still be helpful?
Yes! I did a mini audit with Casey Markee in 2020 (about a year before I took the course) and still found the course immensely helpful.
While Casey investigates the blog posts already on your blog, Aleka explains in detail how to write new posts from scratch.
There is a slight overlap. For example, Casey also lays out the best structure for blog posts. However, they are both beneficial in entirely different ways.
If you're torn between the two, remember they are entirely different products and will therefore deliver different benefits to your blog.
If you have any questions about my audit with Casey, please ask me anything in the comments section below this post.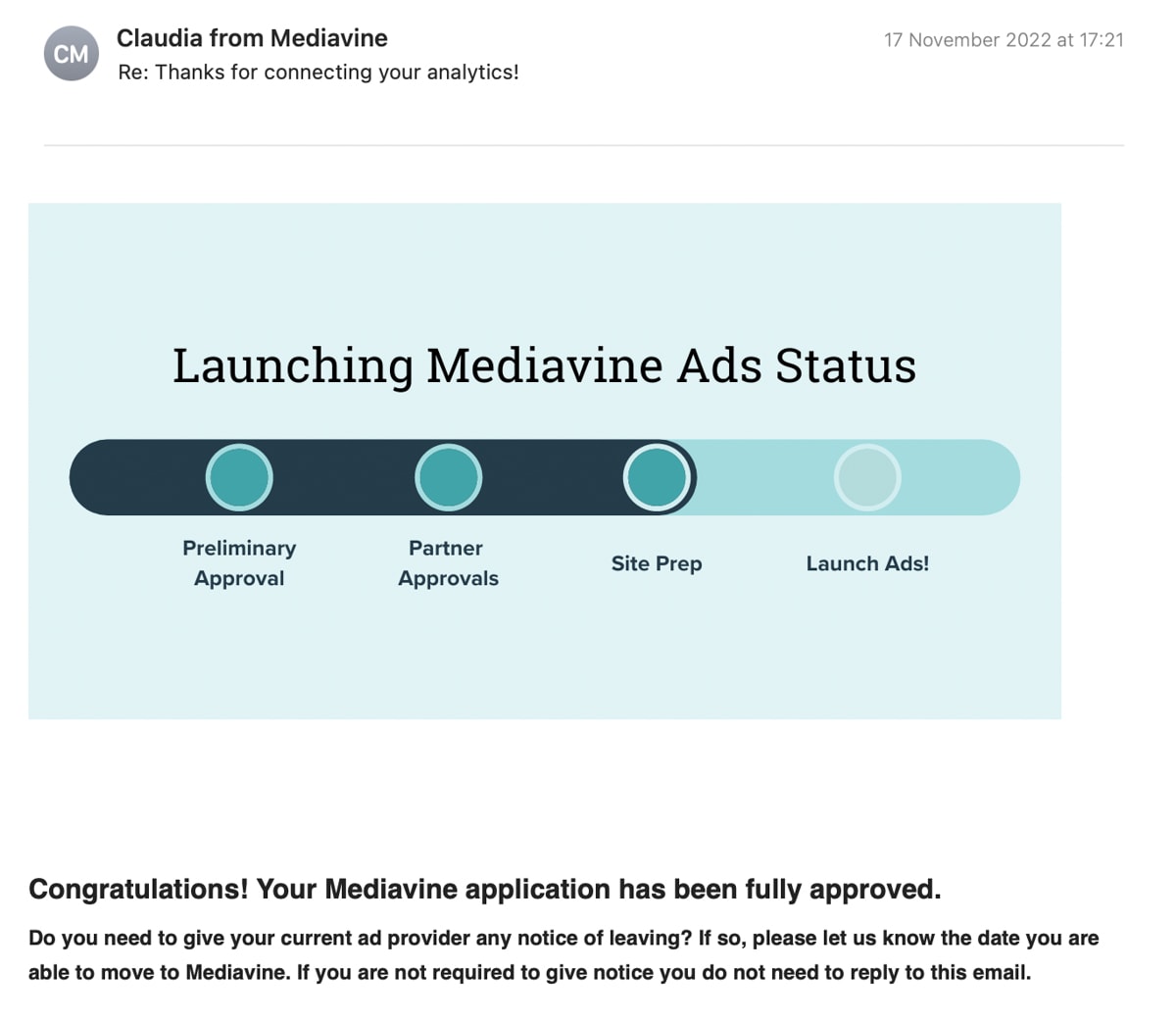 My Verdict
Is the course worth its price?
For me, it was.
I earned back the value of this course within the first few WEEKS of being on Mediavine, which was about a year after the course (more about that below).
Rarely has anything I purchased for my food blog been SUCH an undeniably good investment.

Is Cooking with Keywords the best SEO course out there?
I can't claim it's the best as I haven't taken all of them. All I can show are my great results after completing the course.
What I can say, though, is that I've never come across a course that would be so widely recommended as this one. It feels to me that the food blogging community is unanimous about how much of a game-changer this course is.
Who is this course NOT for?
This is NOT for anyone looking for quick, overnight success.
It's not for lifestyle, finance, fashion, etc., bloggers. Remember, it's meant for food bloggers specifically.
It's not for anyone who thinks blogging will make them a quick buck with little effort.
Personal
In the section below, I will cover my own experience with the course in more detail.
If you'd like to know anything I haven't included, don't be shy - leave a comment below, and I'll answer as soon as possible. All questions are welcome!
When did you take KWC?
I took the course in the fall (autumn) of 2021. By then, I had been food blogging for about four years.
Why did you take this course?
It was recommended to me in an audit with Casey Markee, and I was SUPER frustrated by my lack of growth.
I started my food blog in 2017 and have made ZERO ad income in the first four years, which was beginning to become SO frustrating.
I had spent A TON of money on my blog on:
- every paid WordPress plugin you can think of
- the not-cheap audit with Casey Markee
- photography, Pinterest & business courses
- super fast hosting with BigScoots
And yet I still hadn't reached Mediavine. I was hoping Aleka might help me change that (spoiler alert - she did!)
Biggest Wins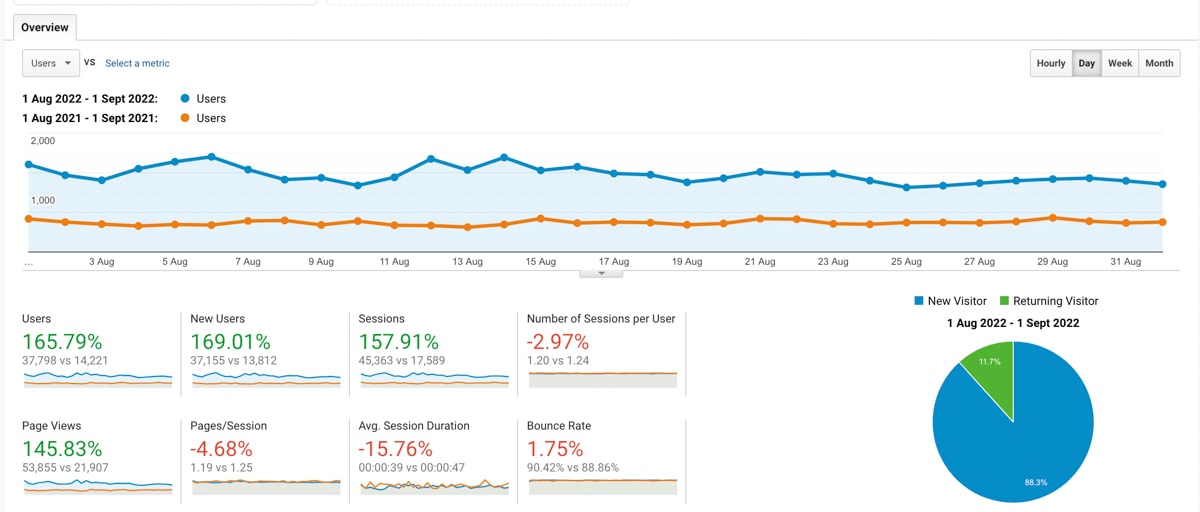 What were some of your wins after taking the course?
My traffic grew by over 150% in the year after I took the course.
Below is a comparison of my monthly traffic just before taking the course (orange line - 1 August to 1 September 2021) and the monthly traffic a year after (blue line).
When I took Cooking with Keywords, it was essentially my last try to make this whole food blogging thing happen, as I was very frustrated with the lack of growth.
I didn't take any other SEO course or audit that year, so I attribute my traffic growth to Aleka's course.
I made it to Mediavine roughly 12 months after finishing the course. This might sound like a long time to someone, but I'm super pleased with that result. I worked full-time in my photography business, and blogging was just a side project, so reaching MV in 12 months was a great result.
I'm sure that without taking Aleka's course, I still wouldn't meet the requirements needed to join Mediavine.
How long does it take to see the results?
There is no black & white answer to this question - it entirely depends.
Numerous bloggers have seen their traffic increase just a few weeks after implementing Aleka's suggestion.
For me, the increase in traffic took a couple of months. It was slow but STEADY.
I couldn't devote more than a few hours every week to the blog, so the fact that I still saw results is fantastic.
How can I see the results faster?
Publish new posts regularly (as many as possible) and update all old (non-optimized) posts.
Takeaways
What was the most important thing you learned from the course?
I learned how to find my ACTUAL competitors. I realized that not every food blogger is my direct competitor.
Aleka helped me understand who my competitors are and how to use that information to skyrocket my traffic.

Dislikes
Is there anything you didn't like about the course?
In some ways, I think it makes the food blogging niche a little bit more competitive.
The course is reasonably affordable compared to other resources like personalized SEO audits.
This means that a LOT of food bloggers have taken it, and the quality of recipe posts overall has increased as a result.
When I took the course in 2021, it still felt like a relatively unknown course. Because many people who first took the class were amazed by the results, its popularity spread, and I see it recommended everywhere (understandably!).
My Final Tips
To get the MOST out of this course, make sure you:
Make extensive notes as you go along (I opened Google Docs in a separate tab and wrote down EVERYTHING I found helpful)
Have signed up for either KeySearch or SEM Rush,
Put things into practice as SOON as possible (don't wait until you've finished all the units)
Be ACTIVE in the Cooking with Keywords Facebook group - ask questions
Reach out to Aleka personally if you're stuck at any point.
Rewatch the course yearly and keep up with any updates.
This wraps my Cooking with Keywords review. Don't forget to ask me any questions below if you're unsure about anything - I'm always happy to help!