Jump to Recipe
The one creamy vegan pasta to BLOW your mind. A true explosion of flavours. Packed with nutrients. Rich in fibre & protein. Loaded with macronutrients. Everything you every wanted from a pasta sauce.
The nutrient density of this creamy vegan pasta is UNBELIEVABLE. You will be loading up on
manganese
magnesium
dietary fibre
vitamins
thiamin
protein
copper
niacin
folate
iron
zinc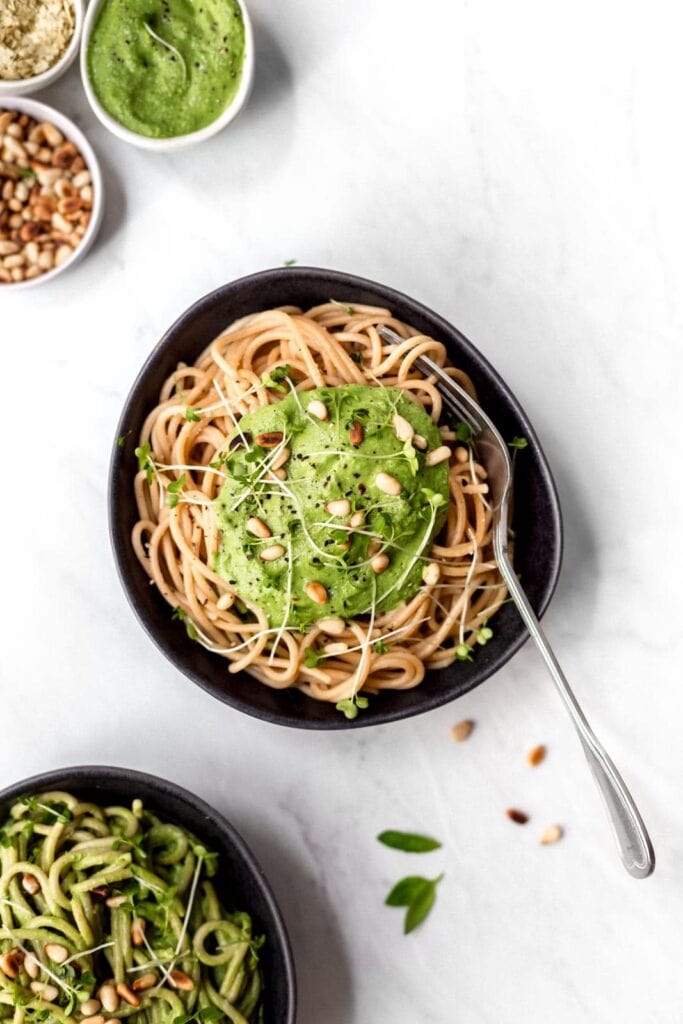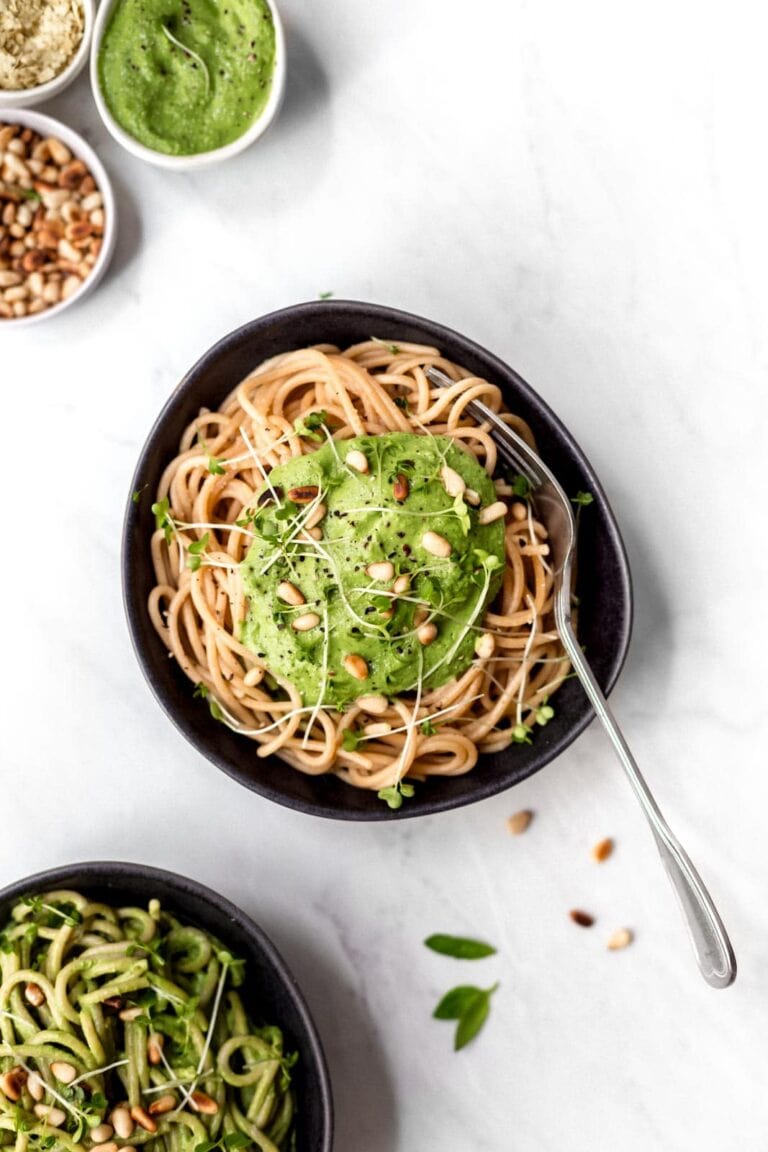 This super healthy creamy vegan pasta recipe is
- loaded with vitamins
- creamy, yet light
- versatile and refreshing
easy to make
- gorgeously green!

To make this pasta even healthier, I love to use some delicious wholemeal spaghetti. It really helps bring out the slightly nutty undertones and add some fibre. In comparison with plain pasta, wholemeal is an obvious choice if you're trying to eat healthy. Apart from being higher in fibre, whole-grain pasta is also rich in selenium, copper and phosphorus. Moreover, eating whole grains has been linked to a lower risk of certain diseases like diabetes, heart disease and colorectal cancer.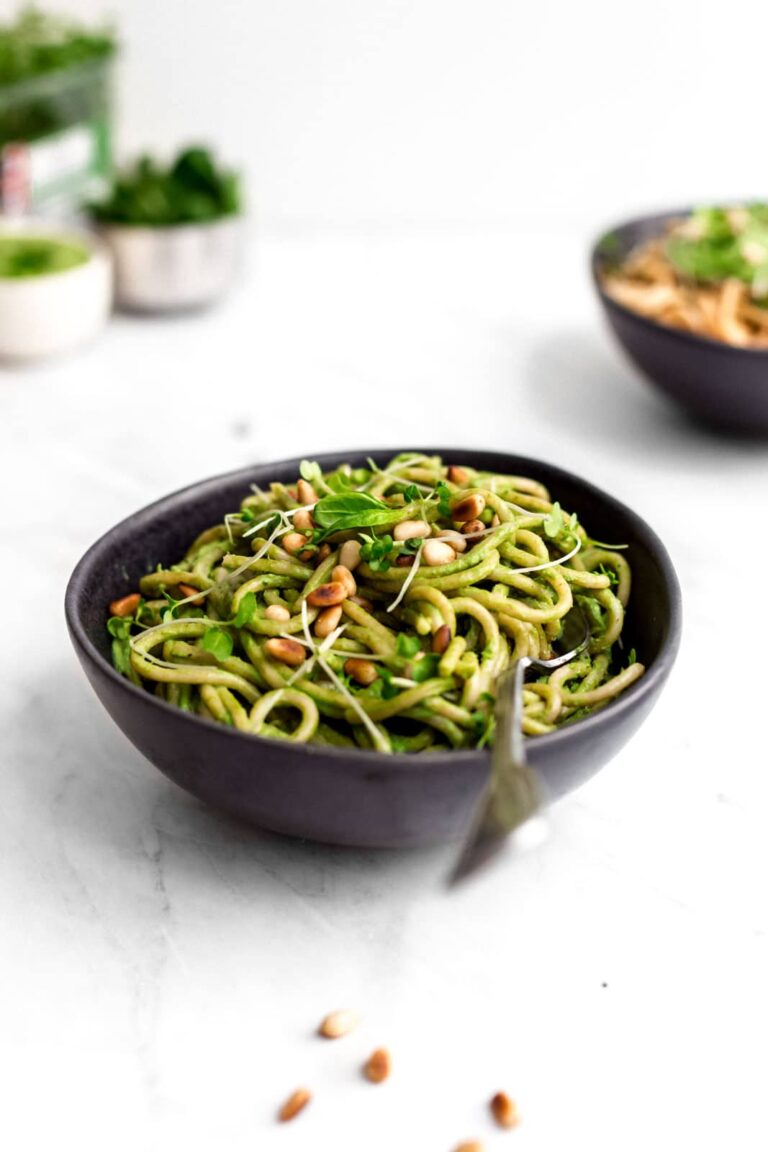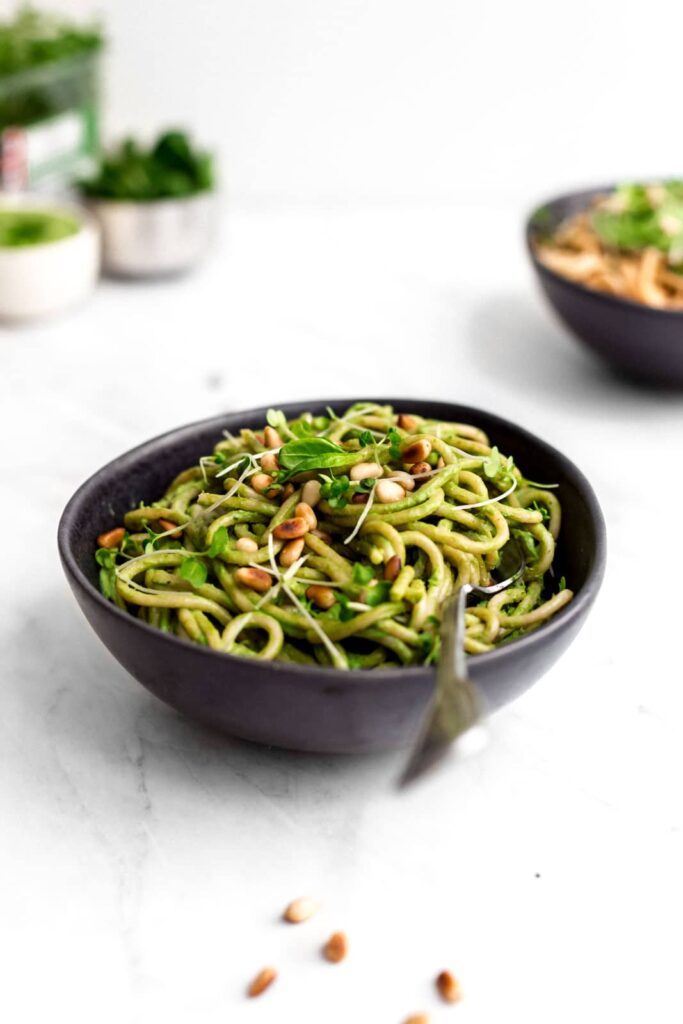 How To Make A Creamy Vegan Pasta Sauce HEALTHY
This creamy basil pasta is absolutely BURSTING with nutrients. Anyone who says creamy pasta is just comfort food is 100% wrong (yes, that's a scientific fact). A pasta sauce like this can be incredibly nourishing not only to the soul, but to the body.

Wondering what each ingredient adds to this drool-worthy vegan pasta?
TOFU: helps make it protein-rich and ensures the creamy consistency.
BASIL: is a potent antibacterial, low in calories and rich in nutrition
SPINACH: is incredibly low in calories, made predominantly out of water, yet super rich in iron, calcium and vitamin K.
NUTRITIONAL YEAST: is a rich source of B-complex vitamins and a significant source of fibre.
PINE NUTS: to top it all off, pine nuts are a great source of several micronutrients. Amongst others they contain manganese, magnesium and vitamins E, K and B.
SALAD CRESS: low in calories and super rich in vitamins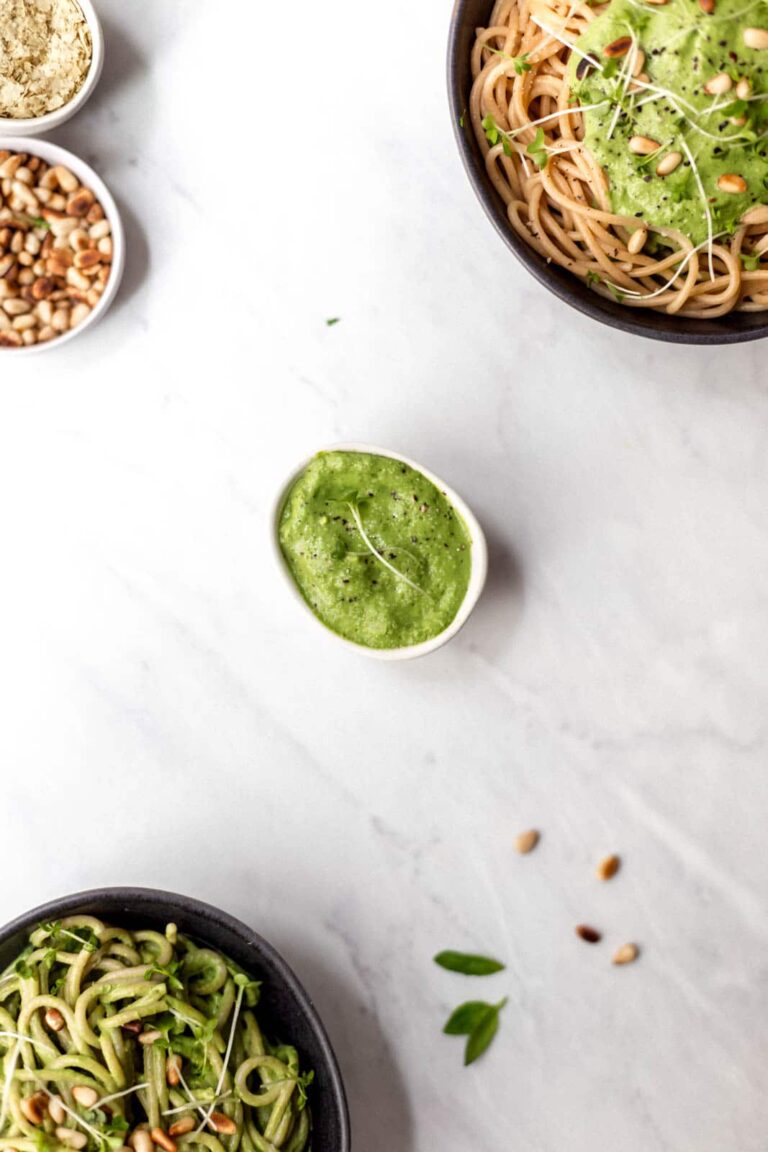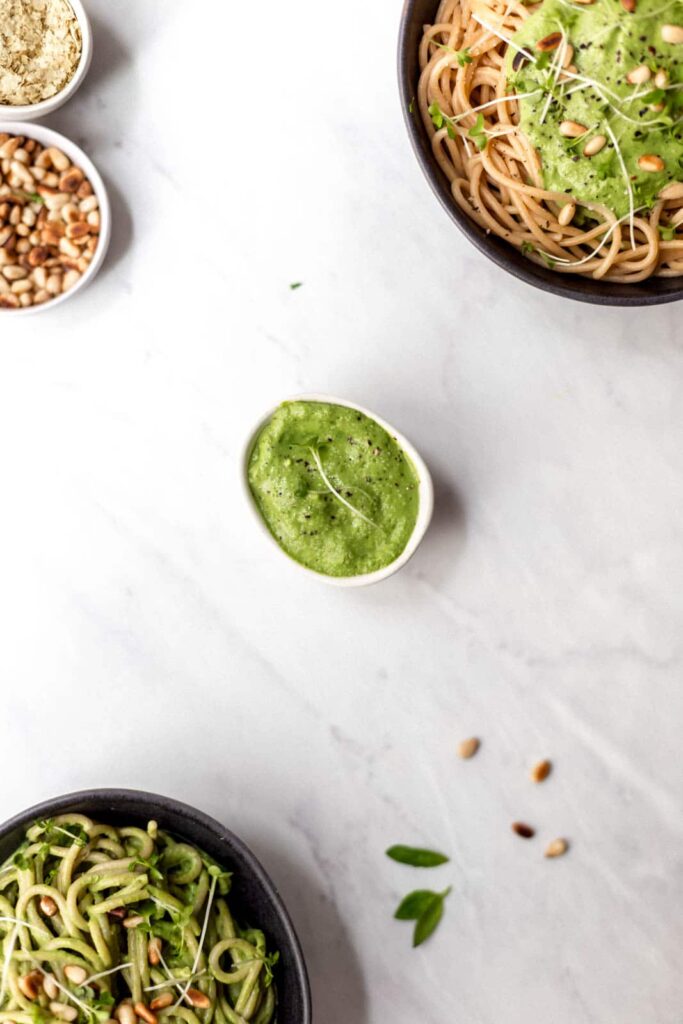 Tips For Making The Creamiest Vegan Pasta
And yet, just because something is healthy, it doesn't mean we will in any way compromise on taste. Oh dear, no. If you're new to My Vegan Minimalist you will know that PLENTY of my recipes celebrate taste and nutrition at once.
- My crunchy, nutty, rainbow salad is FIRE.
- The lazy gal's pasta is fab, fun to make and super healthy.
- Last but not least, my butternut squash soup is THE ONE soup you NEED in your recipe book!

But let's get back to this for a moment.
Our beautiful basil pasta is based on a version of scrambled tofu. This provides a rich base that helps make the sauce creamy and filling. Find a full recipe for the sauce below and don't forget to be SUPER generous when it comes to seasoning. Tofu doesn't taste like much on its own and it's up to you to change that!
You will then need either a blender or food processor. I tried both and it worked super well. If using a blender, make sure to place the wettest ingredients at the bottom and scrape off the sides every now and again. If you're having trouble blending it, add a little bit of water or unsweetened almond milk.
Once you've whizzed all your ingredients, you should be left with a perfectly creamy sauce. This is when you will need to transform it to a pan and warm it up.
If you've added too much liquid, make sure to heat it up slowly and let water evaporate.
Once your pasta sauce and spaghetti are ready, don't forget to serve it with a handful of roasted pine nuts and fresh salad cress. You will thank me later 😉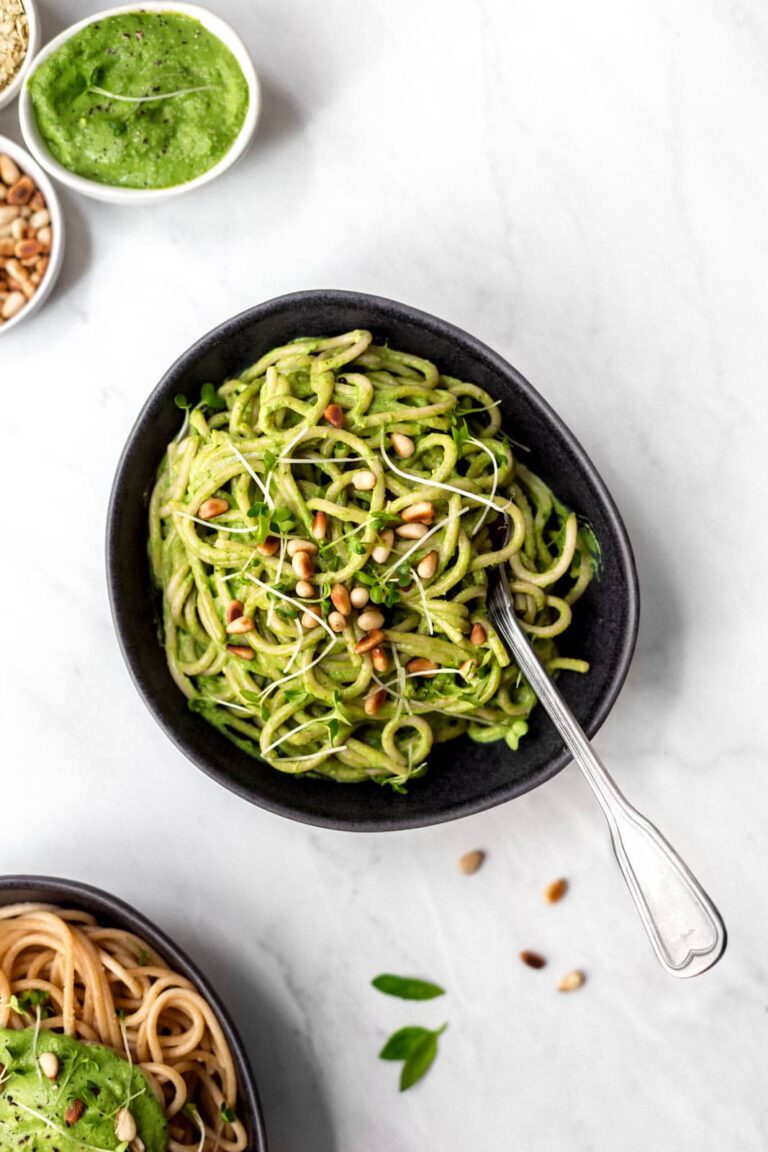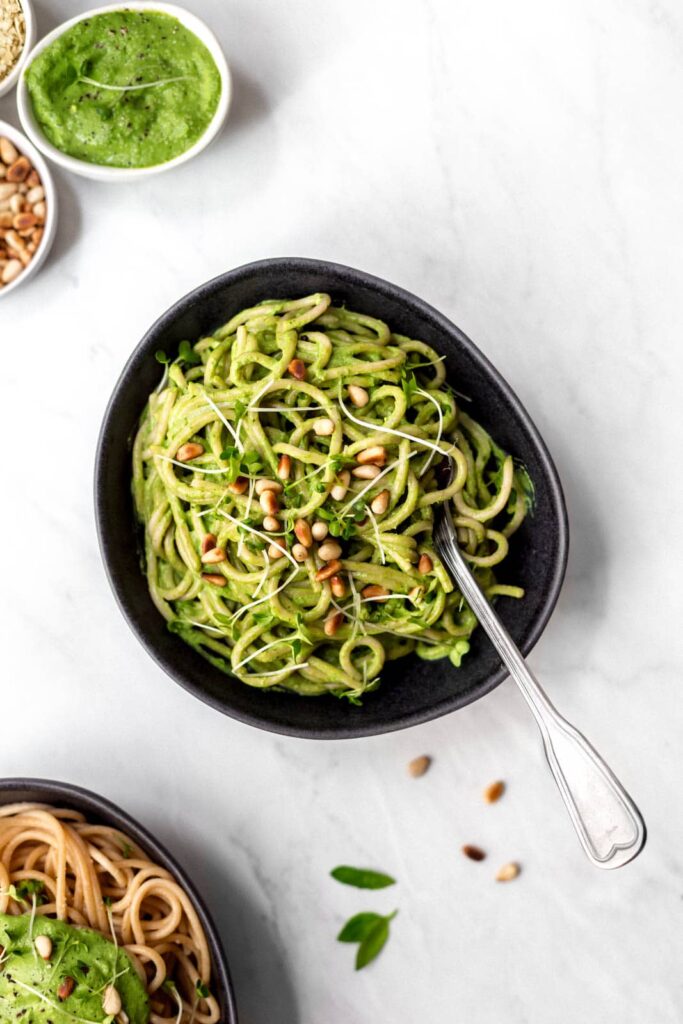 ---
🍴Recipe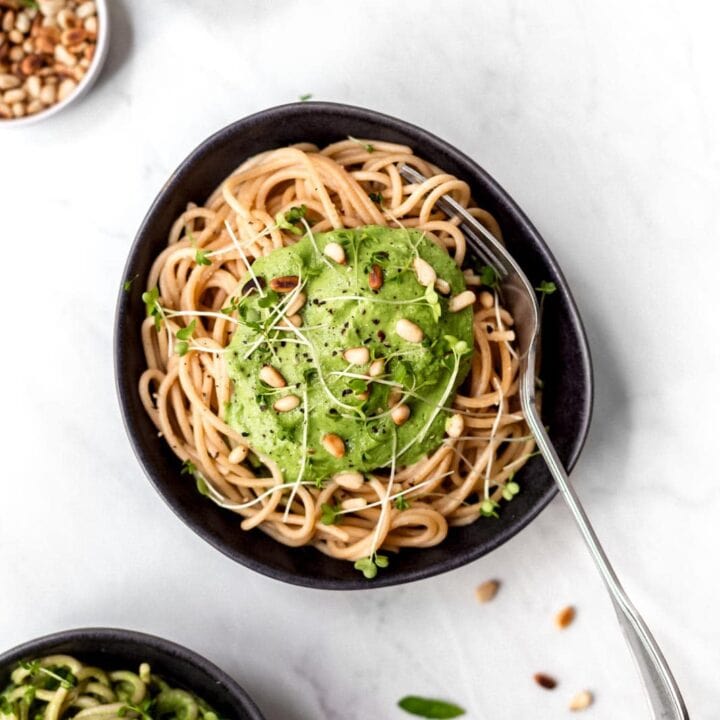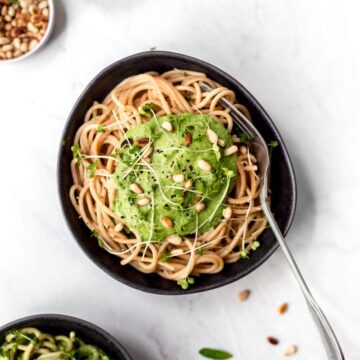 Healthy Creamy Vegan Pasta
A healthier spin on creamy vegan pasta with fragrant basil.
Print
Pin
Rate
Equipment
Food processor or blender
Ingredients
350

g

tofu

(use silken tofu)

1

cup

basil

2

cups

spinach

2

tablespoon

nutritional yeast

½

cup

pine nuts

(roasted)

½

cup

water cress

200

g

wholegrain pasta

To taste

garlic, salt, black pepper, paprika

A splash

water or unsweetened almond milk

(OPTIONAL)
Instructions
Press out all the water from tofu and crumble it up.

Heat up a non-stick pan. Add tofu. Mix and add seasoning to taste – garlic, salt, black pepper and paprika.

Keep stirring until all water has evaporated (roughly 4 minutes)

Transform tofu to high-powered blender or food processor.

Add basil, spinach and nutritional yeast.

Pulse until smooth, scraping off the sides if needed. 

If mixture is too thin and runny, add to the pan and heat up until more water evaporates.

If mixture is too thick, add a splash of water or unsweetened almond milk.

Roast a handful of pine nuts in a non-stick pan. 

In the meantime, cook your whole-grain spaghetti.

When your pasta is cooked, add the smooth sauce and stir well. 

Serve with pine nuts and a handful of salad cress.
Nutrition
Calories:
537
kcal
|
Carbohydrates:
40
g
|
Protein:
31
g
|
Fat:
32
g
|
Saturated Fat:
3
g
|
Sodium:
38
mg
|
Potassium:
626
mg
|
Fiber:
10
g
|
Sugar:
3
g
|
Vitamin A:
3717
IU
|
Vitamin C:
14
mg
|
Calcium:
300
mg
|
Iron:
7
mg
Disclaimer: The nutritional information above is calculated automatically. The author of this post cannot guarantee 100% accuracy of this data.
Don't forget you can grab a free vegan booklet containing 90 vegan meal ideas below.


[penci_recipe]