This is my in-depth, honest Pranamat review, including why I started using this acupressure mat and how it benefited me (plus my BEST Pranamat cleaning hack).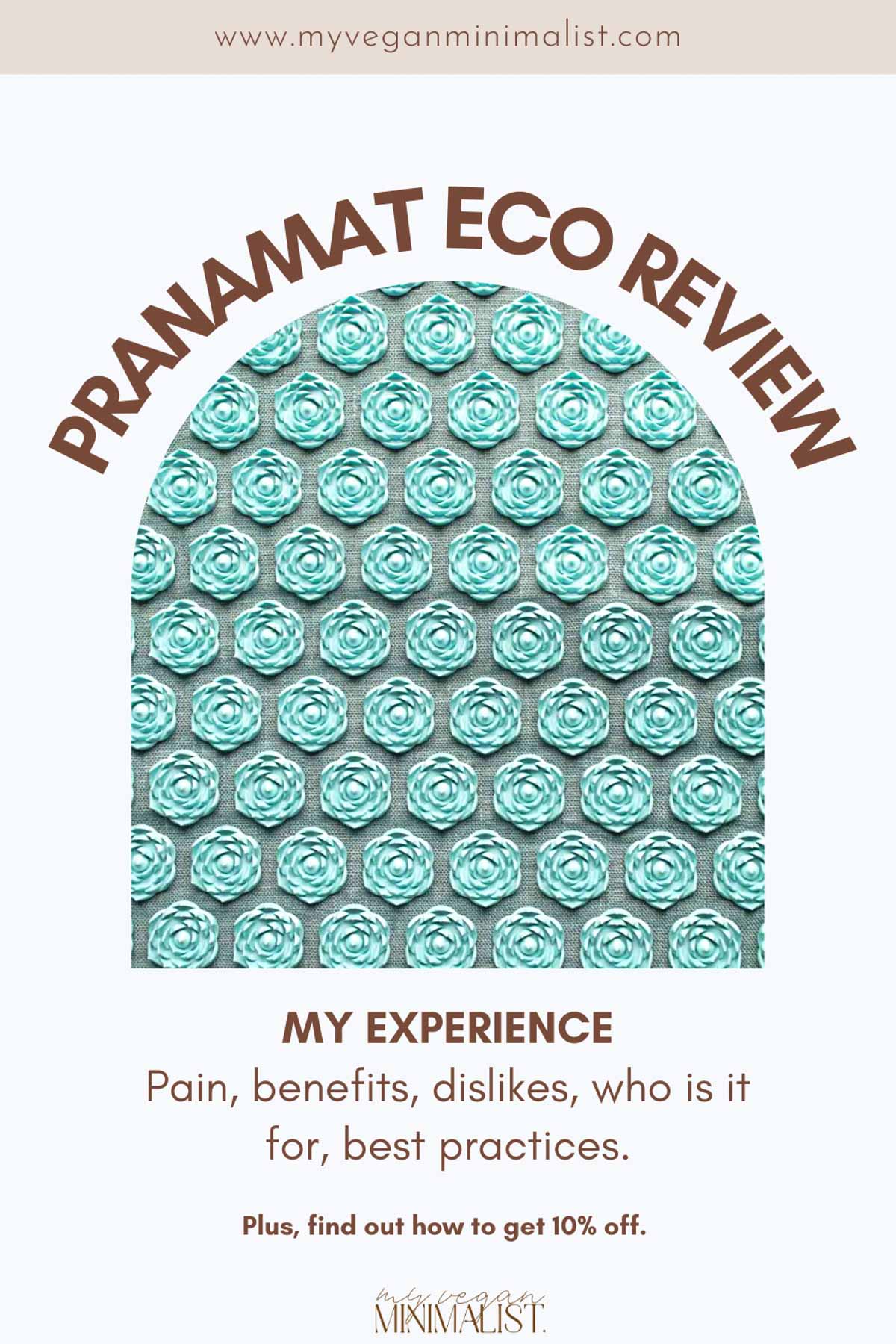 If you've stumbled upon this Pranamat review, you might want to hear my super quick backstory.
As a former competitive gymnast, I've used my Pranamat for months to help relieve my chronic back pain.
My current job as a food photographer additionally strains my body. Think long hours spent on my feet, preparing food, kneeling and bending over to get that perfect shot. After LOTS of success with shiatsu back massage, I've been looking for a solution to target my whole body.
This was when I came across acupressure massage, a traditional Chinese medicine practice. It has been linked with improved blood circulation and immune system, increased energy levels & many other benefits like improved sleep and mental health (Source: VeryWell Health).
With Pranamat, you can enjoy ALL these benefits in the comfort of your own home (which is a BIG plus for an introvert like me!).
Disclaimer: This review is NOT sponsored by Pranamat, and I have NOT received it from them free of charge. However, it does contain affiliate links (meaning I get a very small reward if you use the code myvegan).
Jump to:
Basic Use
How many times a day can you use Pranamat?
You can technically use it as many times a day as you'd like.
Remember, to experience its benefits, you only need to use it for about 20 minutes daily.
If you feel the need to use it several times a day to manage your pain, stress, or discomfort, you can absolutely do that.
Should you use it before or after a workout?
The mat can be used at any time. Using it after a workout is recommended to help relax the body and alleviate muscle pain.
It all depends on your preference and what works best for you. If you want to use it before a workout, then go ahead! 
How long should one typically use the Pranamat ECO for each session?
When first starting, you can limit your sessions to up to 10 minutes. As you gradually get used to the mat, you'll feel more relaxed and can extend your sessions.
It's completely up to you! I like to limit the sessions to 20 minutes when using it on my back.
If I'm only using it on my legs or sitting on it during work, I can use it for up to an hour.
Do you lie on it naked?
You can, but you don't have to!
For peak effectiveness, I like to use it on bare skin. This way, the lotus flowers on the mat can really dig into my skin and get my blood flow going.
If I use it for pain relief (for example, to reduce my lower back pain or muscle tension), I always use it on bare skin. However, if I'm just relaxing and using it while reading a good book or listening to a podcast, I don't mind wearing a thin layer of cotton clothing.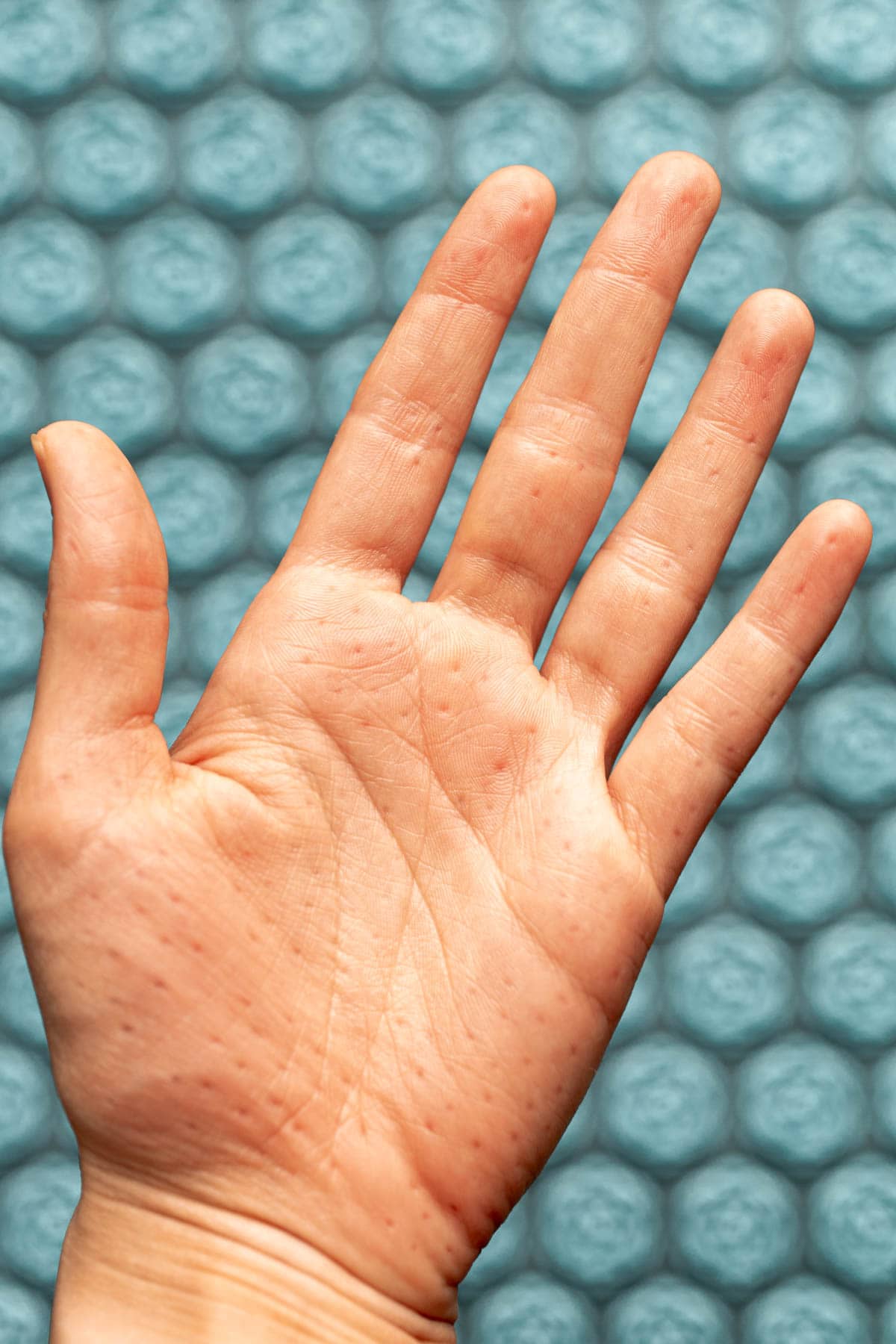 Who is it for?
Can people of all ages use the Pranamat ECO?
No, Pranamat shouldn't be used by children under five and during pregnancy.
Is it safe during pregnancy?
No, it's not recommended to use Pranamat during pregnancy.
Is it safe for children?
Pranamat doesn't recommend their mats to children under five years of age. If your child is older than that, you can gradually introduce them to the mat. However, I'd recommend starting with a layer of clothing between the child and the mat. Kids' skin is super soft, so using the mat on their bare skin will likely be too intense and uncomfortable.
Is the Pranamat ECO suitable for use during meditation or yoga practices?
Yes! It's a great way to deepen your practice and add another element. Remember that using it during yoga practices might not be suitable for beginners - it takes a little while to get used to it.
Pain
Does using the mat hurt?
I'd say it definitely hurts when you first lie down. However, it doesn't feel like lying down on a bed of nails - it's more like discomfort and intense heat mixed into one. If you're worried about the pain, you can wear a thin layer of fabric, making it much less painful.
The initial pain usually lasts about 4-5 minutes (in my experience) and then feels more like a warm softness spreading through your back. The more you relax the body onto the mat and remember to keep breathing, the less pain you'll feel.
Is there a chance your skin would get punctured?
If you're wearing clothes, there's almost no chance of your skin getting punctured. I've been using this mat daily for months and have never had any kind of skin damage or puncture related to it. The only thing that does happen is you'll see red dots where the lotus petals touch your skin. They'll go away within minutes.
The only way your skin could potentially get punctured is if you used the mat incorrectly, for example, by moving on it aggressively. However, this seems very unlikely to happen. On closer look, you can see that the lotus flowers, while being spiky, are slightly blunt on top, making them highly unlikely to puncture your skin.
Using the Mat
Can the Pranamat ECO be used on a bed or a chair?
Yes! Using it on a softer surface like a bed or sofa will absorb some pressure and make the mat slightly less intense. This is great if you're worried about pain.
I often use it on a chair to relieve my thigh or lower back discomfort. I work from home, and I like to keep it near my work area - this way, I'm always reminded of it, and using it becomes part of my 'work' routine.
Does the Pranamat ECO require any assembly or setup before use?
Absolutely none. Simply open the box it got delivered in and any other packaging. Voila! Your mat will be there & ready to be used right away.
Is it possible to adjust the intensity of the acupressure points on the Pranamat ECO?
It's not possible to adjust the plastic spikes in any way. However, if you want a less intense massage, wear a layer of clothing and place the mat on a soft surface (sofa, bed, etc).
Benefits
How long does it take to experience the benefits of using the Pranamat ECO?
I experienced the benefits almost instantly during my very first use. The first time I used Pranamat, I was blown away by its instant pain relief.
While it's great for managing physical pain, its benefits are immediately felt regarding stress, anxiety, and emotional pain.
Because the experience of using the mat is so intense, it forces your mind to stay present and helps 'wake you' up from unwanted anxious thoughts.
Would it help with neck and shoulder pain?
Yes, it's ideal for neck and shoulder pain. The lotus 'needles' dig deep into your skin and provide almost instant relaxation. The best item for this is the Pranamat pillow which comes in a standard set.
The mat is a wonderful solution, even if you're experiencing only slight discomfort in that area.
Travel
Is the Pranamat ECO suitable for travel or on-the-go use?
Yes! That's one of the benefits of Pranamat that I didn't quite realize when I first bought one.
It's SUPER light, meaning it won't add much to your total baggage allowance. You can fold it in half easily, which barely takes up space.
The mat should fit most carry-on suitcases, making it perfect for flights.
Does the Pranamat ECO come with a carrying bag or case?
A starter set contains a small mat, a big mat, a pillow, and a bag. However, not all sets contain the bag, so make sure to double-check before buying.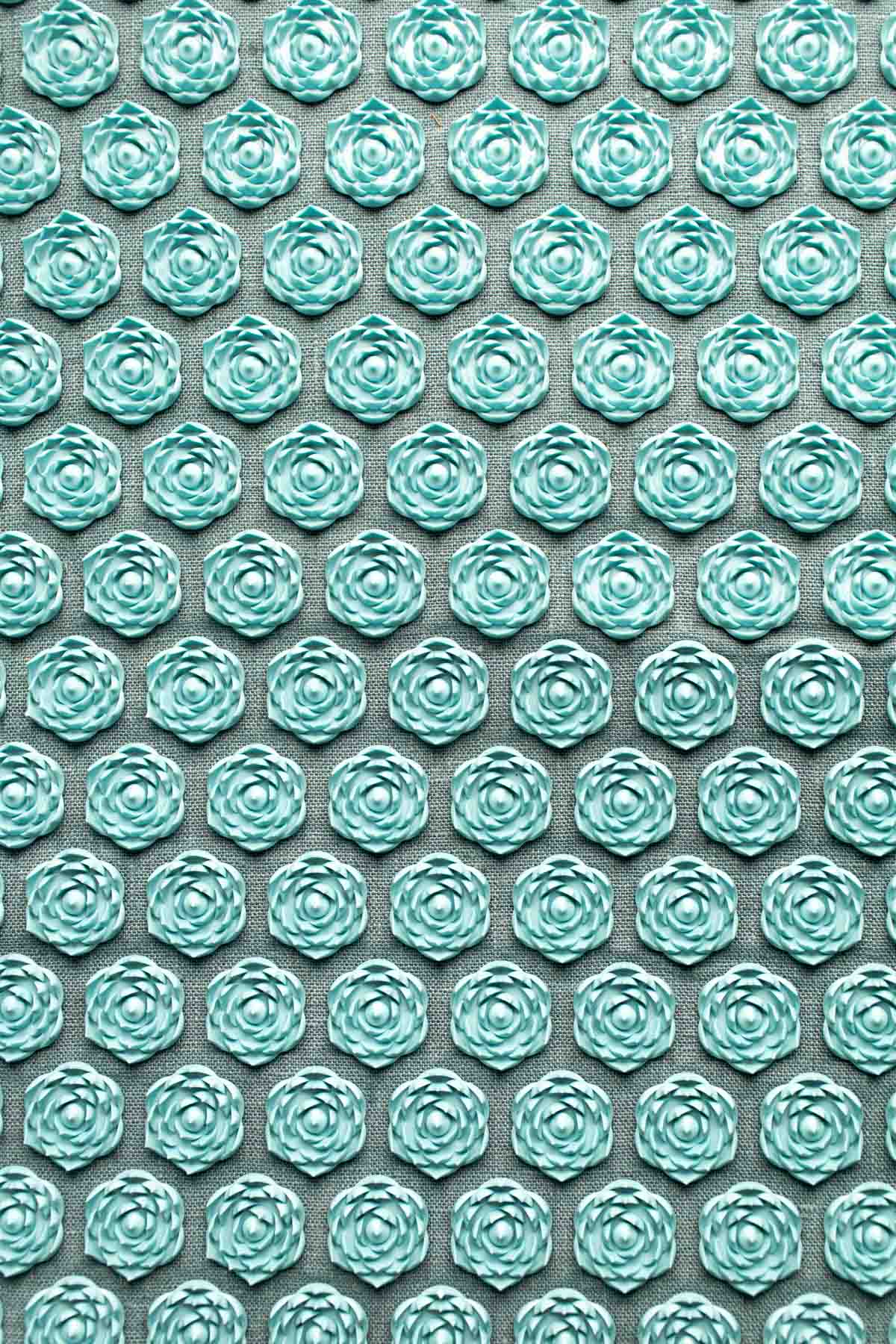 Price & Discounts
How much does Pranamat cost?
The regular price of the standard mat set is 185 GBP (or 235 EUR).
Are there any discounts available for Pranamat?
Yes! You can get 10% off EVERY set on their website with the code MYVEGAN. Unfortunately, the code can not be applied to single items.
Is the mat only available in sets?
Yes, Pranamat is normally available in sets only. However, you can choose the set you'd like; for example, the smallest set only contains the mat and the pillow.
Cleaning
Is the Pranamat ECO easy to clean?
Honestly, the mat seemed a little bit difficult to clean at first. However, I learned a few tricks once I used it for a while. Their official website recommends removing the inner coconut fiber and washing the cover in cold water using a mild detergent.
However, it's not realistic to wash the cover every week or so (at least not for me!), so I found an easier way to clean it between regular washes.
I spray it with an antibacterial or disinfectant spray from about 15 inches (40cm) away. This way, the entire mat gets clean in under 30 seconds. I aim to do this after every session. 
Can you machine wash the mat?
Nope! I definitely wouldn't recommend that under any circumstances. It could end up harming both the mat and your washing machine.
Comparison
Does the Pranamat ECO have additional features or benefits that set it apart from other acupressure mats on the market?
I haven't tried all the acupressure mats out there. However, one thing to remember is that Pranamat's signature lotus design is patented. 
This means that no other acupressure mat company in the world can copy it exactly.
In my opinion, this is where the big difference between Pranamat and its competitors lies.
While other aspects of the mat can be replicated, the most important one cannot be. In short, you can't expect the same quality and result if you grab a 30-dollar acupressure mat from your local store. 
Having said that, I understand that Pranamat is not affordable for everybody, and a cheaper mat might still provide benefits compared to not using the mat at all.
Body Parts
Can you use it to target calves and hamstrings?
Yes, you can target specific problem areas. For example, you can place the mat under your legs (while seated and legs extended) to target the hamstrings and calves area. You can move or rotate the legs to target different areas or target one leg if desired.
Can you lie on your stomach?
I get this question A LOT! It's possible to use it on your stomach. Many people use it this way to relieve stomach cramping or bloating.
Even though I get stomach cramps during my period, I found that using the mat on my lower back actually helps my cramps even more than using it on my stomach. It sounds strange, but you should try it out if you're in the same boat! 
Does your hair get tangled in it?
I have medium-length & curly hair, and I've never experienced that problem. The way the lotus flowers are designed, they don't cause small items like pieces of hair to get caught in them.
Of course, that could depend on the length and type of your hair. If you're worried, I recommend wearing a low ponytail to minimize any chances of tangling.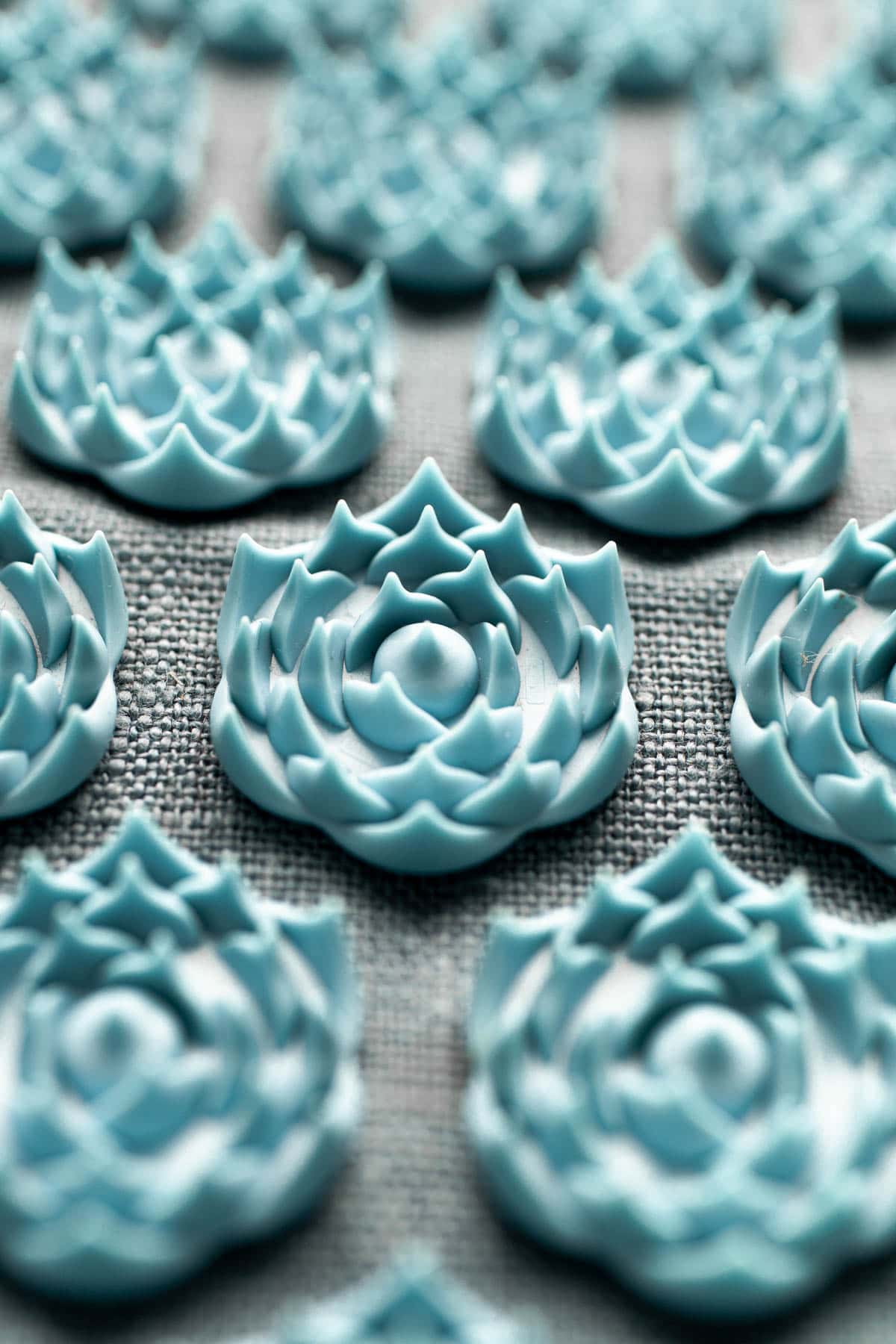 Dislikes
Are there any things you disliked about the mat?
At first, I felt like washing the mat regularly was a chore. It requires handwashing and thus might not be ideal for people struggling with chronic pain.
However, I can now minimize the number of times I handwash it by spraying it with a disinfectant spray after every use. It's super low effort and does the job.
The second thing I disliked was that one of the lotus flowers on the mat was damaged. Not the whole flower, but just one spike on one of the lotus flowers.
You don't notice it visually and definitely don't feel it when you're lying on the mat, but it's something to keep in mind.
Having said that, I know people who have used this mat for over 15 years, and as mentioned above, it does come with a warranty, so things like this shouldn't be much of an issue. 
Sleep
Can the Pranamat ECO be used for relaxation before bedtime to promote better sleep?
Yes! Pranamat helps aid stress reduction and can be used to start or finish your bedtime routine. I don't personally have problems with sleep, so Pranamat isn't a part of my sleep routine.
However, MANY Pranamat reviews mention its benefits in promoting better sleep and helping people wind down after long days at work.
If you lack sleep and need some stress relief to help you get more restful nights, then this might just be the item you're missing.
Environment
Is the Pranamat ECO environmentally friendly or sustainable?
Pranamat's website contains a section that explains its approach to sustainability.
It looks like they are taking steps to make the mat as environmentally friendly & ethical as it gets.
Some of these steps include:
sustainable production using 100% renewable energy,
all products are handmade in the European Union (Latvia)
no outsourcing to ensure ethical production.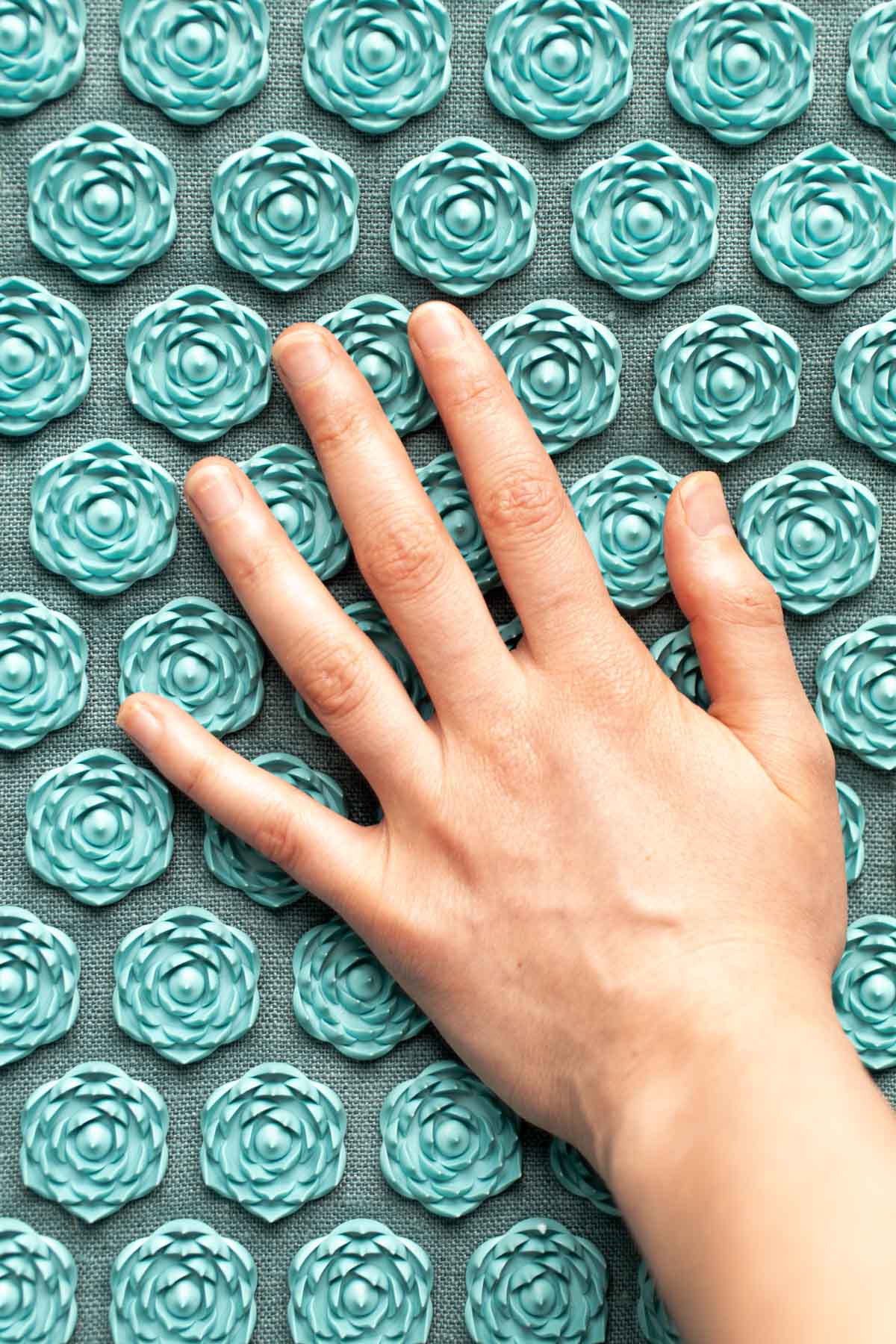 Other Therapies
Can the Pranamat ECO be used in conjunction with other therapies or treatments?
Yes, if this is your thing, you can continue to get your monthly massages, acupressure, or acupuncture treatments just like you did.
Please remember that if you have a healthcare condition, this mat does NOT replace your treatment.
Are there any known side effects or risks associated with using the Pranamat ECO?
You can check out Pranamat's medical disclaimer if you have any pre-existing medical conditions.
Returns & Warranty
Does the Pranamat ECO come with a warranty?
Yes. All their products come with a 5-year warranty.
Does the Pranamat ECO come with a satisfaction guarantee or return policy?
Yes, it comes with a no-questions-asked 30-day money-back guarantee.
Studies
Are there any known studies or research supporting the effectiveness of the Pranamat ECO?
Yes, the mat has undergone clinical studies.
The trials included 60 individuals and measured various aspects of overall health such as cytokines, blood flow, endorphins & condition of the muscles. They've shown that even a single 20-minute session can be beneficial. However, to get the most benefits, regular use is recommended.
In addition to the above, the mat is also backed up by tens of thousands of customers who have reviewed the mat.
Pranamat Review Conclusion
That wraps up my Pranamat review - I hope you enjoyed it!
If you have any more questions feel free to leave them in the comments below - I'm happy to help! Remember that Pranamat also comes with an instruction booklet that answers many frequently asked questions.
Don't forget! Grab 10% off EVERY set on their website with the code MYVEGAN.