I've had my Donnerberg back massager for over 5 years and have used it consistently to help relieve back pain. What are my thoughts, does it live up to expectations and is it worth the price? Let's find out!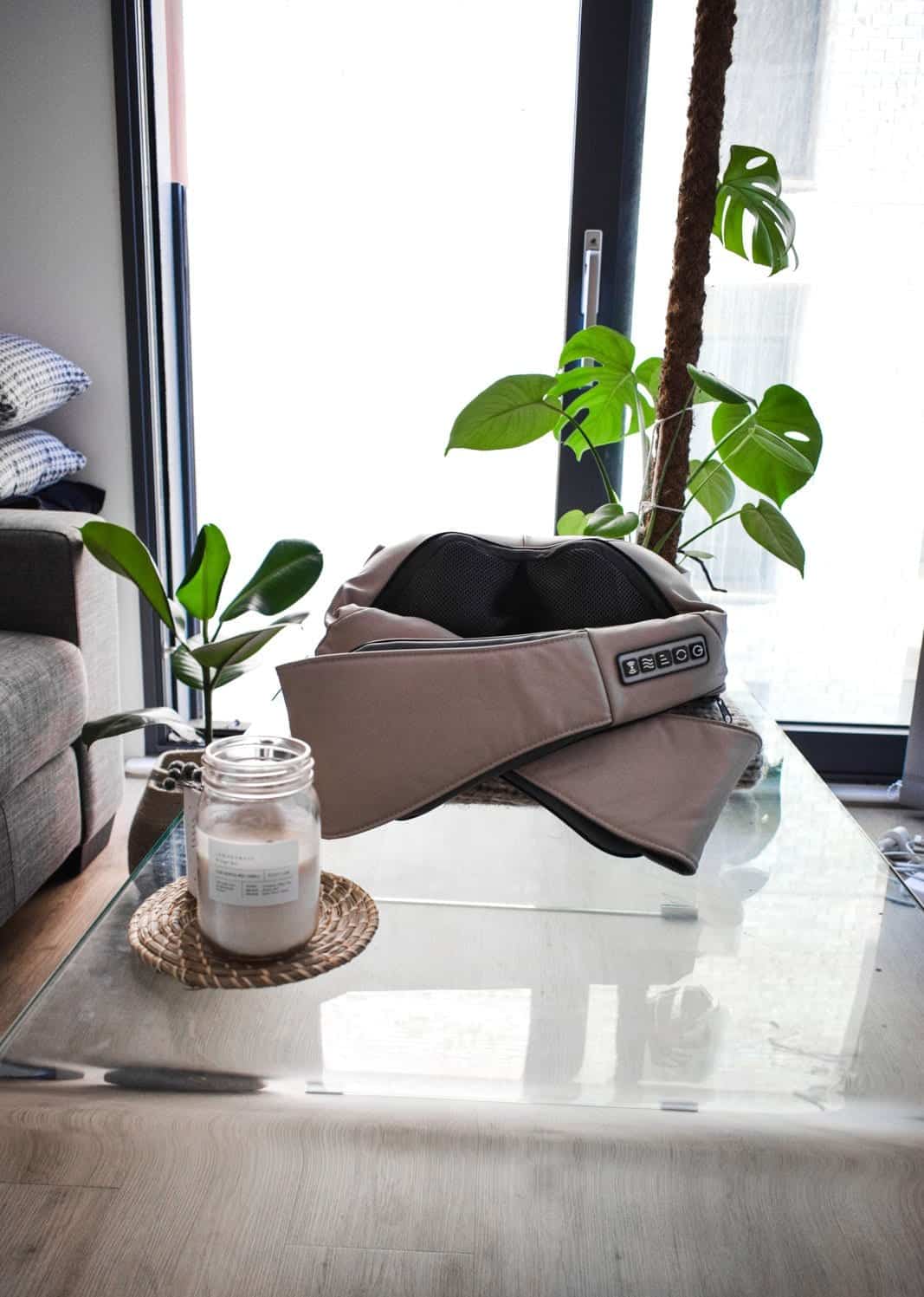 I've purchased the Donnerberg back massager over 5 years ago and I can safely say that it was one of my best purchases to this day. 
Massaging has become an essential part of my self-care routine. Plus, how brilliant it is to say I don't need to rely on anybody else to do it!
Moreover, I don't need to shell out a few hundred pounds a month for back massages. I use it in addition to my acupressure mat as part of my weekly routine.
Disclaimer: this article is not sponsored by Donnerberg and I have purchased this item myself, however, it does contain affiliate links (meaning I do get a very small reward for each purchase made via my link).
Jump to:
What can you use this massager for?
Despite it being called a neck massager, you can easily and safely use it to relieve pain just about anywhere in your body.
I find it to be particularly helpful when it comes to easing pain in my shoulders, upper back or even upper legs. You could also use it to ease pain in your feet, hands, lower legs.
Who is this massager for?
It's especially suitable for someone that's sitting behind a laptop a lot or suffers from bad posture, upper neck tension or similar discomfort.
Just as importantly, it's also a fantastic way to combat anxiety. Many of us just tense up more and more throughout a hard day's work and it can be hard to actually relieve this tension on a deep level. If you're suffering from stress and anxiety this can be a great self-care tool to help alleviate it.
Is it worth the money?
I think the massager is completely worth the money. In fact I would say it's very fairly priced and you will be amazed by the return on your investment.
Wondering why? After purchasing this massager over 5 years ago I only had one in-person massage since. The massager does a job so well that I hardly ever feel the need to book a 'real' massage. 
Can you use it as a chair massage pad?
Yes, you can place it on the back of the chair, bed, sofa, etc.
Does it have long-term benefits?
One of my absolutely favourite things about this massager was the fact that after using it for a few weeks, I didn't feel the need for constant massages anymore. My back and shoulders weren't constantly in pain and felt more relaxed, flexible and less tight.
If you're suffering from a lot of neck tension, I'd recommend using this massager every single day for a period of two to three weeks. If you're anything like me you'll notice significantly less pain.
How does it compare to cheaper massagers?
I honestly don't believe that spending more money on something automatically means getting a better product. However, in this particular case, I would encourage you to spend that little bit extra if your budget allows.
Many other massagers I found online would set me back between 30 and 60 pounds. My honest advice? You get what you pay for.
If you want the very best massager for knots, tension and shoulder pain, this is it.
I know that a cheaper option such as the Naipo massager sounds tempting, but keep in mind that the difference in price is there for a reason. Even if you don't notice a difference straight away, the Donnerberg massager will stand the test of time.
Is it painful to use?
If your back is sore and tight, it will probably be slightly painful when you're using it, but you will feel so much better once your back is all soft and rejuvenated afterward!
Overall I don't find it to be unpleasant at all. The fact that it's so strong actually makes it feel a lot more effective, like a proper deep tissue massage.
Having said that, please bear in mind that everyone's pain threshold is different. If you're suffering from conditions like fibromyalgia, this massager might be too strong for you and cause unnecessary pain.
If you're worried about the pain factor, remember that Donnerberg offers a 30-day money back guarantee.
Is it the same as getting a massage by real human hands?
I wouldn't go as far as to say it equals a massage by real human hands. However, I would definitely say that this is the closest you can get to it.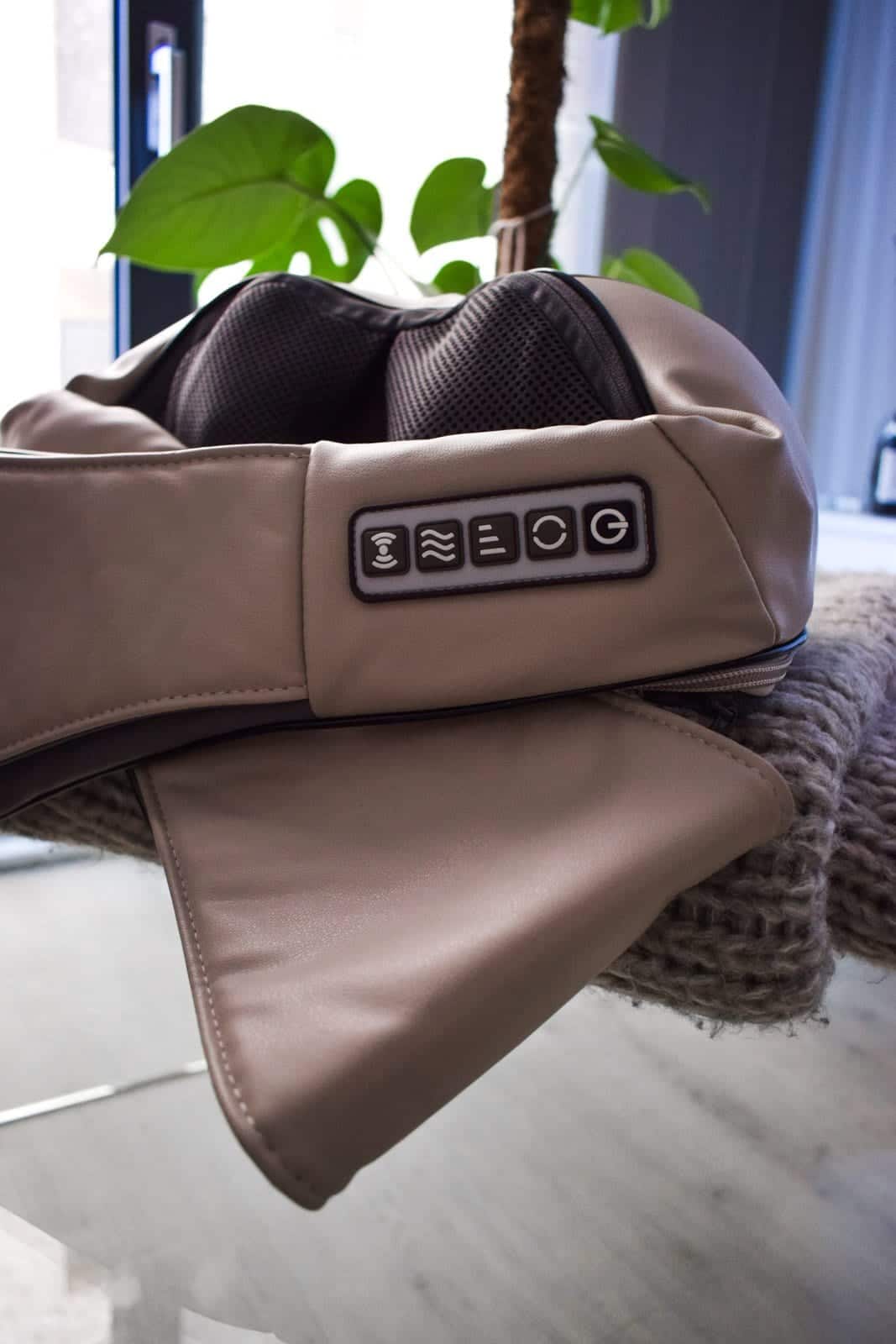 How long is the warranty on the Donnerberg back massager?
7 years.
I've had my massager since 2018 and it's still working exactly like it did on the first day. Fingers crossed it stays this way! If anything changes and if I run into any issues, I'll make sure to update this post.
Are there any downsides to it?
All in all, the Donnerberg massager hardly has any downsides at all. If I were to be very critical, the only slight disadvantage is the relatively short wire which connects to the socket.
Other than that, it's actually amazing! I wouldn't go as far as to say it equals a massage by real human hands. However, I would definitely say that this is the closest you can get to it. It's varied, there's an amazing option to add heat and it's very, very strong (but not in an unbearably painful way).
Are there any discount codes for the Donnerberg massager?
Yes! Grab 10% off when you purchase it from Donnerberg's official website. Use code TAJDA10.
Does Donnerberg offer any other items?
Yes, feel free to explore the full range of Donnerberg massage products here.
Have you ever used a similar shiatsu back massager before? Are you deliberating whether or not to purchase the Donnerberg massager and have any questions? Let me know in the comments below!