This hearty & healthy Thermomix minestrone soup is filled with vegetables and PACKED with flavor. Quick & comforting, like a hug in a bowl!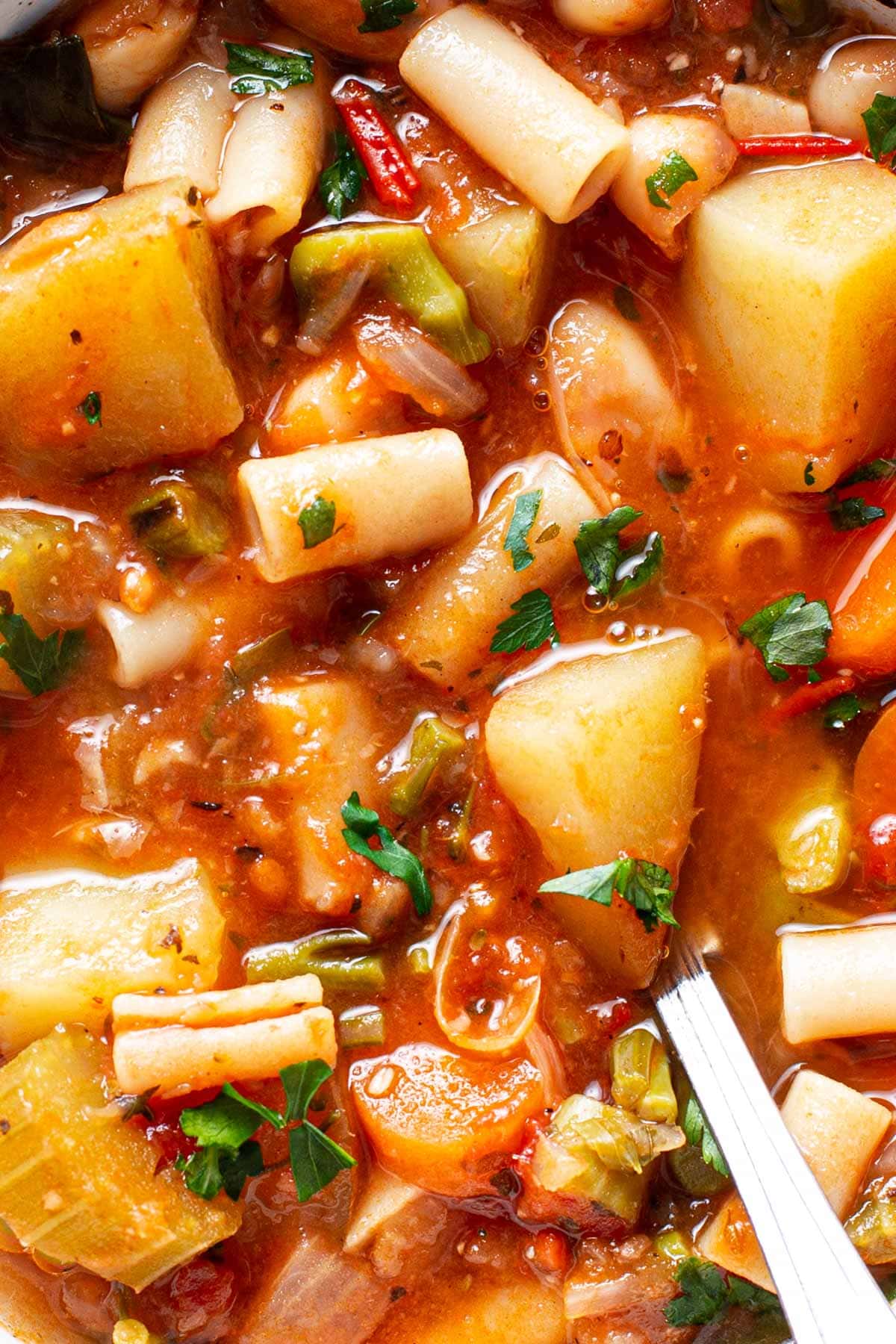 PS: This is a Thermomix minestrone recipe, however, I do provide instructions on how to make it without a Thermomix too. Just scroll to the bottom for details!
Jump to:
💌 Why You'll Love This Recipe
Fail-proof & tested to perfection
Cozy & warming
Easy to customize
Vegan, vegetarian & can be made gluten-free
Vitamin rich
Cheap & accessible ingredients
Plus, you'll be able to grab detailed expert tips & lots of options on different variations.
Let's stop wasting time and just dive right into our Thermomix minestrone.
🥕 Ingredients
You'll need the following wonderfully nourishing ingredients to make this Thermomix minestrone.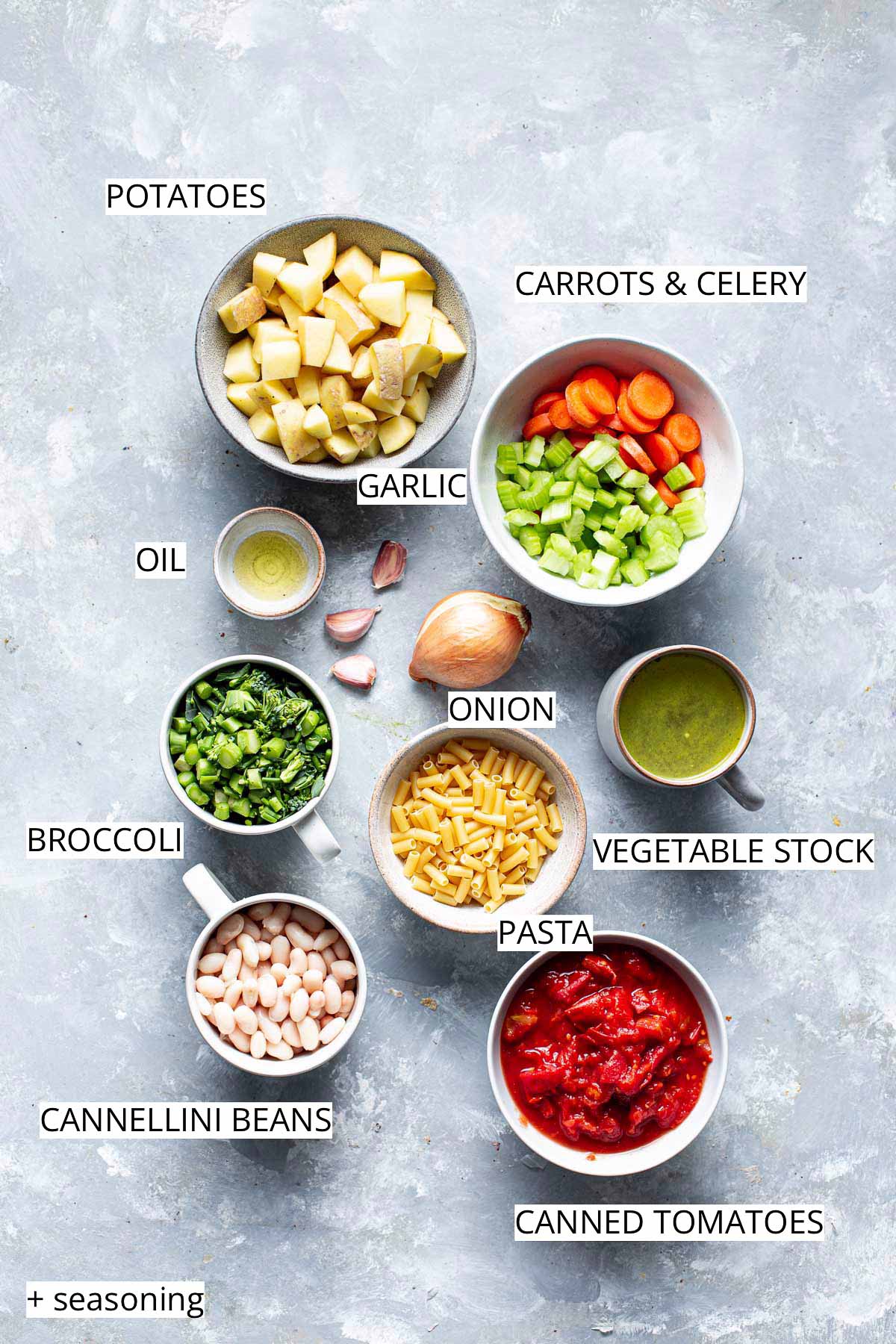 Ingredient Details
Potato - Any kind of potatoes works okay. Can be substituted for sweet potato too.
Pasta - I used a macaroni shape but any small shape is fine. Use whole grain pasta if desired.
Broccoli - I used tenderstem broccoli (aka broccolini), but this part is completely customizable - you can use any green vegetables of your choice such as kale, cavolo nero, courgette, green beans, etc.
Cannellini beans - Can be subbed for red kidney beans, butter beans, garbanzo beans (chickpeas), etc.
Dry herbs - I used oregano & thyme.
Fresh herbs - I used some fresh parsley to top this off, but you can use any other herbs of choice such as basil, dill, etc.
TIP - If you prefer the veggies chopped in large chunks or a very specific size, simply cut them by yourself. This is what I would strongly recommend doing. However, I do include tips on how to chop them in the TM (see Recipe Card at the bottom).
🔪 Equipment
Thermomix
Bowls for serving
Soup ladle for serving
💡 Top Tips
I always test the minestrone before serving & adjust the flavors to taste. You could add more salt, pepper, herbs & spices.
Adjust the veggies and herbs to your liking or to what's available seasonally.
Top it off with a generous amount of fresh herbs. 
If you're preparing this in advance, leave out the pasta and cook it separately when you're ready to serve. 
Leave out the pasta and halve the number of potatoes for a low-carb version.
Did you know? Minestrone dates back to Roman times when meat was scarce and this cheap vegetarian meal provided ideal nourishment (source).
❓ FAQ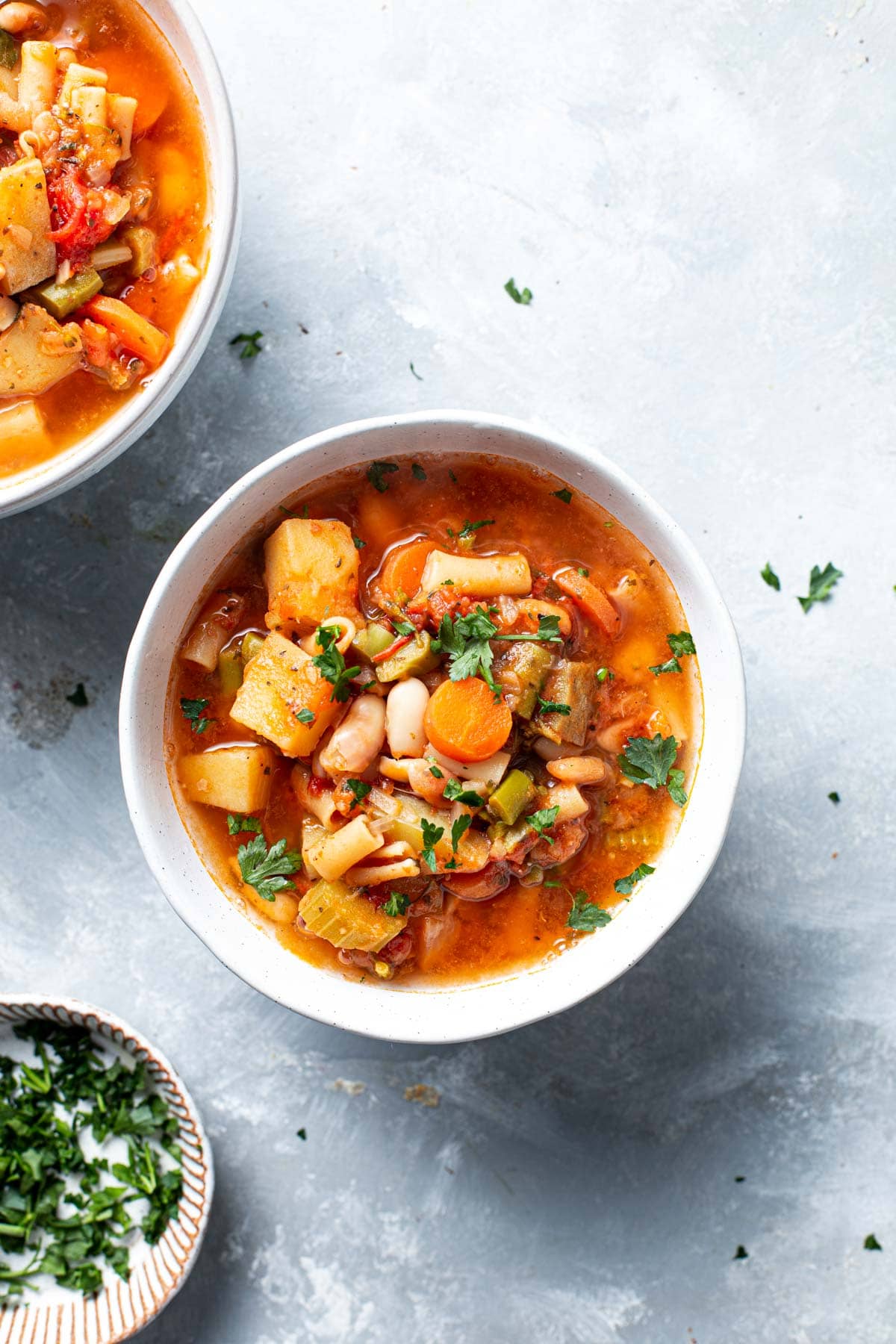 What pasta shapes are best used in Thermomix minestrone?
Any small pasta shapes will work well. Think macaroni, orzo, rotini, mini farfalle, or any other small shapes - completely up to you!
Can Thermomix minestrone be served cold?
It's usually served warm, but if you're craving it on a hot summer's day just serve it at room temperature. Tried & tested & SO delicious!
Won't the Thermomix turn everything into mush?
Absolutely not! Not if you follow the recipe. We're aiming for the perfectly cooked tender vegetables with none of that overcooked mush we all despise. If you prefer bigger chunks of vegetables, do the chopping yourself & use the Thermomix for cooking.
🌱 Variations
There are SO many ways you could spice up this Thermomix minestrone to make it a little bit more special.
Spicy - Give it that extra hot kick of spiciness by adding some jalapeños, or a few pinches of cayenne pepper.
Savory - If you want to add that feel-good factor, add some mushrooms. Dry mushrooms work particularly well as they won't overcook, but will add heaps of flavor.
Umami - Not a traditional recipe, but if you want some of that gorgeous umami flavor, add two teaspoons of white miso paste. It's PACKED to the brim with flavor & really good for you!
Herbs - Just like with many savory dishes on this blog, this one is meant to be customized according to your own taste. The best thing about herbs & spices is that you can just add them at the end (or towards the end). Some of the best options for minestrone are oregano, thyme, basil, coriander, and bay leaves.
Gluten-free - Not only is this soup accidentally vegetarian AND vegan, but it can also be made gluten-free. Simply opt for gluten-free pasta or leave out the pasta altogether.
🍽 Serving
This dish is so filling & satisfying you probably won't need much else to serve it with.
You can serve it for either lunch or dinner - it's super filling and works well as a standalone meal.
You could go for a slice of sourdough bread, and top it off with some fresh herbs like basil and some freshly grated cheese. I used some vegan parmesan which worked like a treat! 
Alternatively, you could also top it off with a good drizzle of olive oil.
📦 Storing & Freezing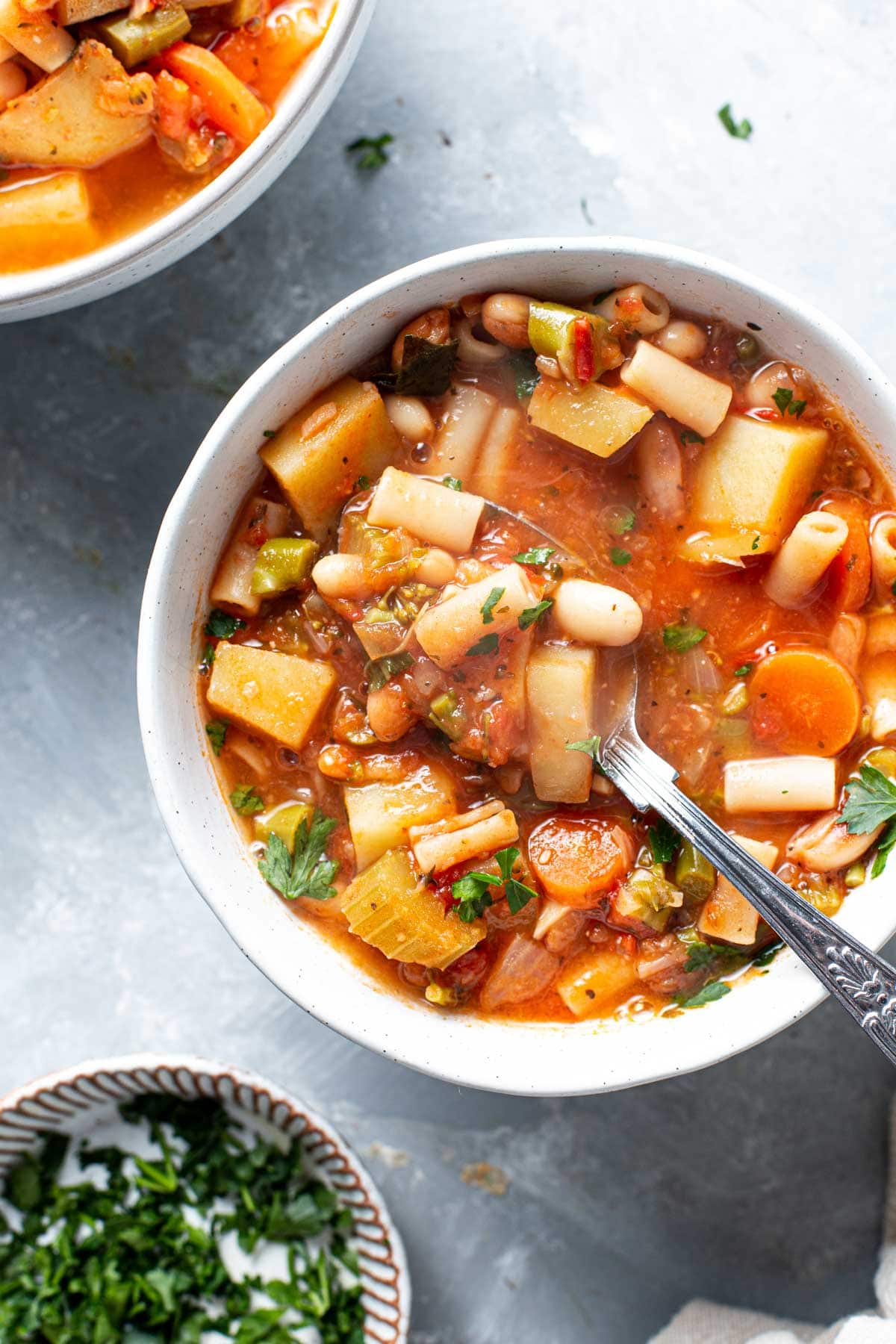 I won't lie to you.
I think minestrone is by far the best when eaten fresh - mostly because the pasta soaks up lots of liquids. This leaves you with mushy pasta and a dry minestrone - not what we're going for.
If you do want to store it for later, don't add the pasta to your Thermomix. Simply cook the minestrone as is (without pasta) and then store it in an airtight container.
Keep it in the fridge for up to 2-3 days.
Once you're ready to serve, add a splash of liquid and heat it up thoroughly (until piping hot). 
In the meantime, cook the pasta in a separate pan until al dente and add it to the dish when serving. 
To freeze - do the same, but store in a freezer-safe container for up to 2 months. When serving, let it thaw at room temperature and heat up on the hob until piping hot. I recommend cooking fresh pasta (in a separate pan) when serving.
🍲 Similar Recipes
Do you want to try out more nourishing meals that are good for your body & the soul?
Then don't miss my:
That's it, you've made it to the end - yay!
Did you try out this Thermomix minestrone yourself? I'd SO love to hear your thoughts & feedback!
Every time I receive a comment or see a remake of my recipe, it truly instantly makes my day!
If you've made the recipe, leaving a rating or a comment down below really helps me out and makes it easier for new viewers to find this lil blog of mine!
🍴Recipe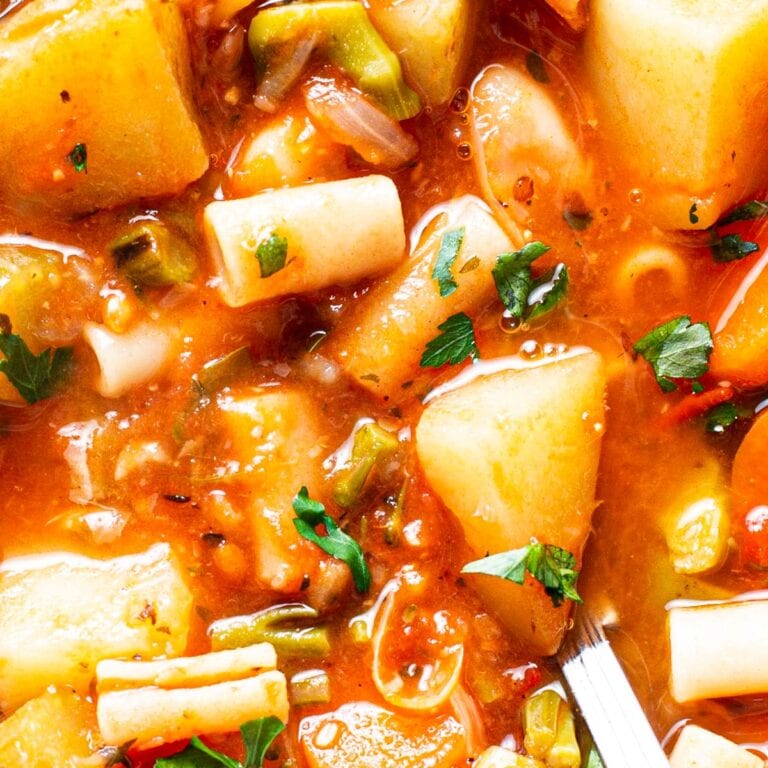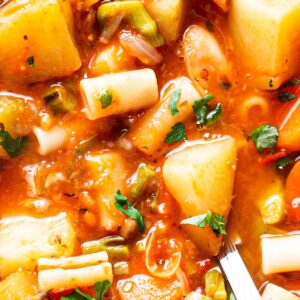 Thermomix Minestrone Vegetable Soup
A hearty Thermomix minestrone soup with plenty of vegetables and flavour!
Print
Pin
Rate
Ingredients
3

cloves

garlic

1

onion

halved

1

tablespoon

olive oil

200

g

potatoes

150

g

celery

120

g

tenderstem broccoli

or other green vegetables

2

carrots

700

ml

vegetable stock

add more if required

1

can

canned tomatoes

75

g

soup pasta

like macaroni, orecchiette, elbow pasta, etc

1

can

cannellini beans

or other beans like kidney, butter, garbanzo beans, etc
Dry herbs
1

teaspoon

oregano

1

teaspoon

thyme
To serve
salt & pepper

to taste

2

teaspoon

fresh parsley
Instructions
Add garlic & onion to your TM bowl. Chop for 3 seconds/speed 7.

Add oil and gently saute for 3 minutes at 100°C, speed 1.

Add chopped vegetables - potatoes, celery, broccoli & carrots (see Notes if you want TM to chop them).

Then add vegetable stock, canned tomatoes, and dry herbs. Cook for 15 minutes at 100°C on reverse speed 2 (and measuring cup ON).

Lastly, add pasta and beans. Cook for 10 minutes at 100°C on reverse speed 2 (and measuring cup ON).

When cooked, taste the soup and adjust the seasoning if required.

Serve with fresh parsely, a slice of bread, or other toppings of choice.
Notes
Important: Test the soup before serving & adjust the flavors to taste. Add more salt, pepper, herbs & spices if desired.
Adjust the veggies and herbs to your liking or to what's available seasonally.
Preparing ahead? the pasta and cook it separately when you're ready to serve. 
Low carb? Leave out the pasta and halve the number of potatoes for a low-carb version
Gluten-free? Use gluten-free pasta (or leave it out altogether).
To store - keep it in an airtight container in the fridge for 2-3 days (preferably leave out the pasta and cook a fresh batch when serving).
To freeze - Store in a freezer-safe container for up to 2 months. 
I recommend chopping the vegetables yourself.

To chop the veggies in

TM: Add halved potatoes, celery, carrots & broccoli to the TM bowl. Chop for 3 seconds/speed 5. Depending on how chunky you want them, chop for shorter or longer.
Don't have a Thermomix? Add oil, garlic & onion to a large pan. Saute for 3 minutes. Then add the rest of the vegetables, stock, canned tomatoes, and dry herbs. Simmer for 15-20 minutes. Then add beans & pasta, and simmer for 10 minutes. Adjust to taste and serve with fresh parsley.
Nutrition
Calories:
301
kcal
|
Carbohydrates:
58
g
|
Protein:
13
g
|
Fat:
4
g
|
Saturated Fat:
1
g
|
Polyunsaturated Fat:
1
g
|
Monounsaturated Fat:
3
g
|
Sodium:
1107
mg
|
Potassium:
710
mg
|
Fiber:
11
g
|
Sugar:
10
g
|
Vitamin A:
6257
IU
|
Vitamin C:
52
mg
|
Calcium:
162
mg
|
Iron:
5
mg
Disclaimer: The nutritional information above is calculated automatically. The author of this post cannot guarantee 100% accuracy of this data.