This vegan tomato basil soup contains THREE portions of vegetables per serving. It's packed full of flavour and nutrients, but also EASY as a breeze to make, so why not grab your favourite apron and get cooking now.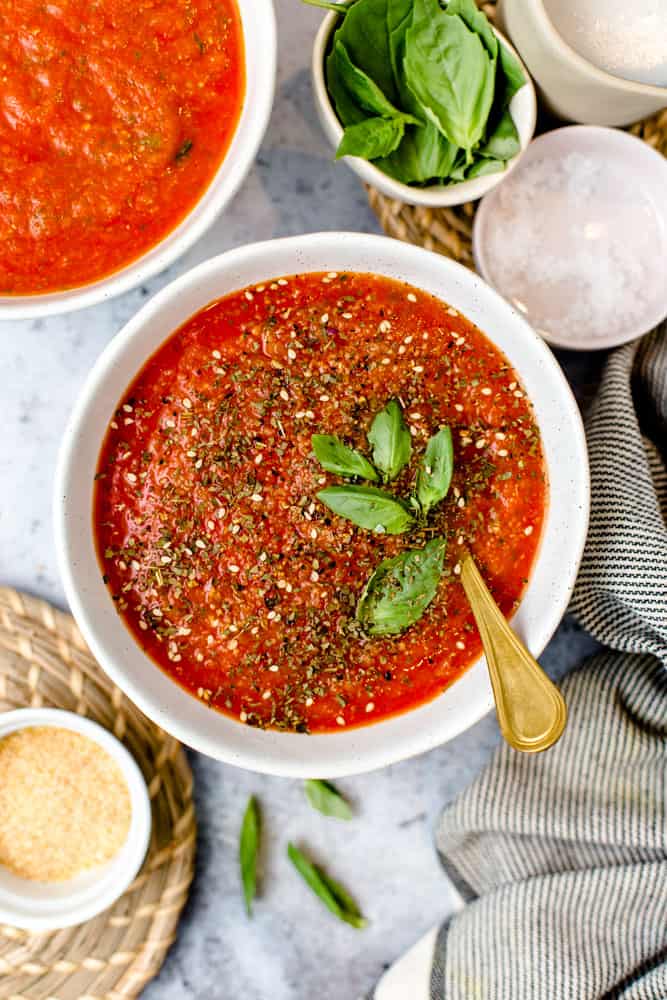 You can serve it with a delicious slice of fresh sourdough bread or enjoy it as a perfect entrée. It's the ideal vegan soup for colds, because it's packed with nutrients, warming and filling.
Why Make This
So, you've found this recipe and you're wondering – is it really worth making this? Why should I choose this one instead of a different soup recipe? Well, let's take a little look, shall we?
IT CONTAINS HIDDEN VEG.This delicious vegan tomato soup contains not just one, not two, but THREE portions of veg per serving. Packed full of tomatoes, courgette, carrots, onion & garlic, this is the one soup you need to supercharge your day.
SUPER RICH IN PROTEIN. Yep, you've heard it right. Soups are usually not the most filling and protein rich meals. But thanks to a secret portion of lentils, this is a high protein vegetarian/vegan soup that will keep you satisfied for hours.
YOU CAN MAKE IT IN A LARGE BATCH! This delightful creamy, but light soup is perfect for freezing! Pour it in an airtight container, pop it in the freezer and you've got your busy weeknight dinner sorted!
SO MUCH TASTIER THAN SHOP BOUGHT SOUPS. You'll know EXACTLY what you're putting in, so no unnecessary salt, sugar or oil. Plus, thanks to its rich base, it's packed full of flavour, making it SO much more delicious than your typical store bought soup!
EASY BREEZY. It's honestly so easy, you won't even believe it. Just throw all the veg in a large pan, cook it and blend it all up. Voila, here you have it – the most delicious soup ever.
And just in case you're completely new to vegan cooking, you'll be getting step-by-step photos with instructions. Are you ready to-meet-o your favourite new soup? Let's go.
The Ingredients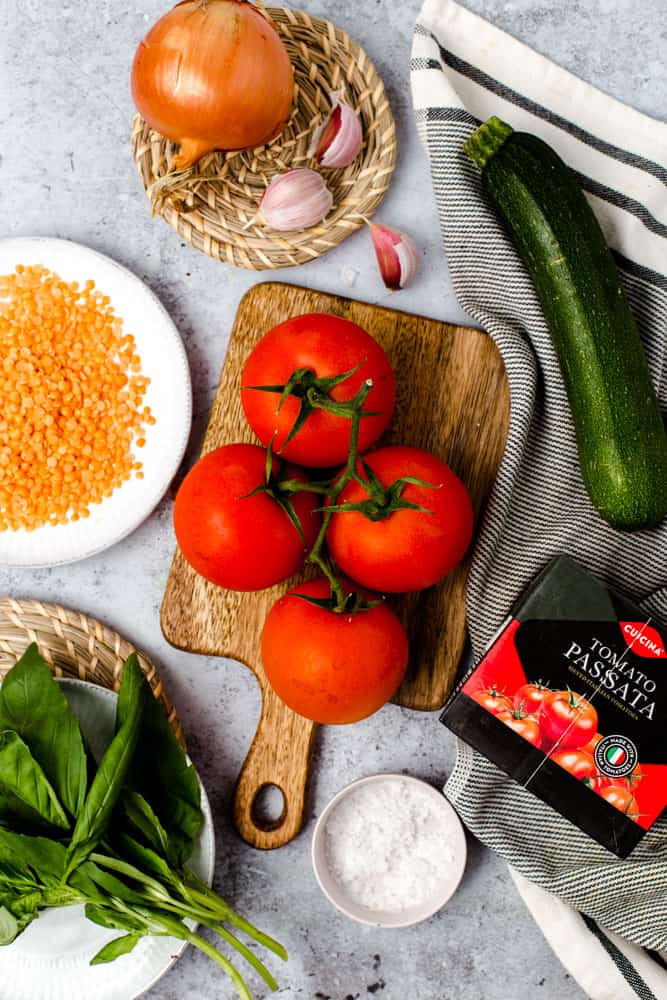 Starting with the basics, we will need to put these ingredients on our shopping list:
Tomatoes 
Tomato puree
Courgette
Red lentil
Carrot
Onion
Garlic
Basil
Olive oil, salt and vegetable stock
Spices: pepper, garlic powder, paprika, turmeric
That's it! These are all the ingredients you will need to make the tomato soup of your dreams!
Before we jump straight in with this vegan tomato soup recipe - if you're enjoying this recipe, subscribe to my newsletter below and instantly receive printable 90 Vegan Meal Ideas straight to your inbox!
Step-by-step Photos
This is a visual guide to making our tomato basil soup. If you're looking for the full recipe featuring all the measurements, make sure to check out the recipe card at the bottom.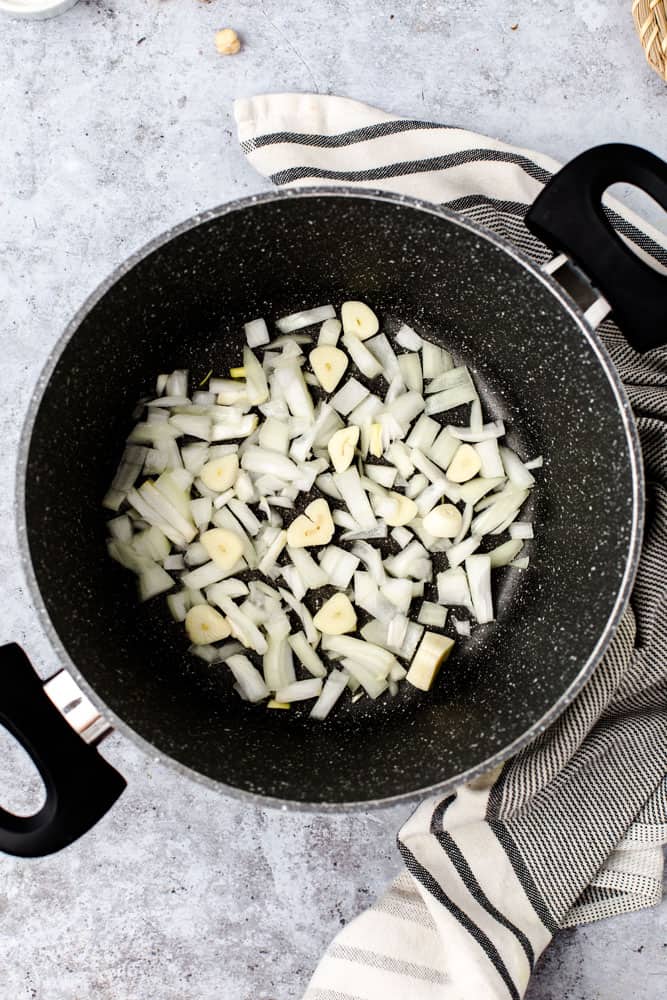 1. ADD ONION AND GARLIC TO A HOT PAN.
Peel and cut garlic and onion into small pieces. No need to be too precise with cutting as you will blend your soup later on. Add olive oil to pan and wait for it to heat up. Then add garlic and onion.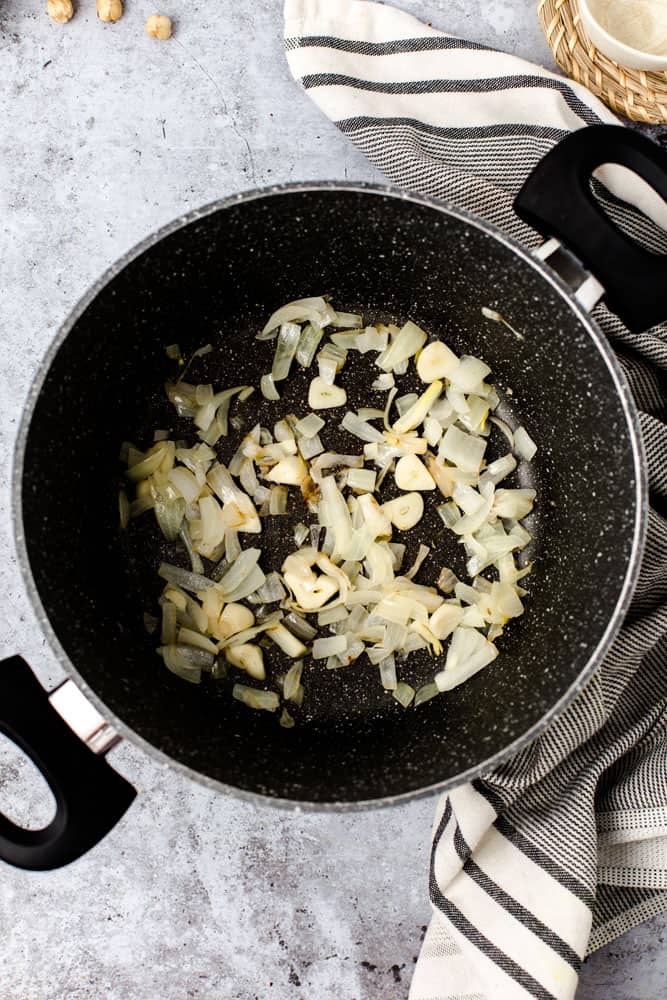 2. GENTLY FRY FOR A FEW MINUTES.
Heat on medium heat for about 4-5 minutes until the onions are translucent and starting to brown very gently. Cut courgette, carrot and tomato. Make sure to slice your carrot VERY, very THINLY as it might take longer to cook if your pieces are too big.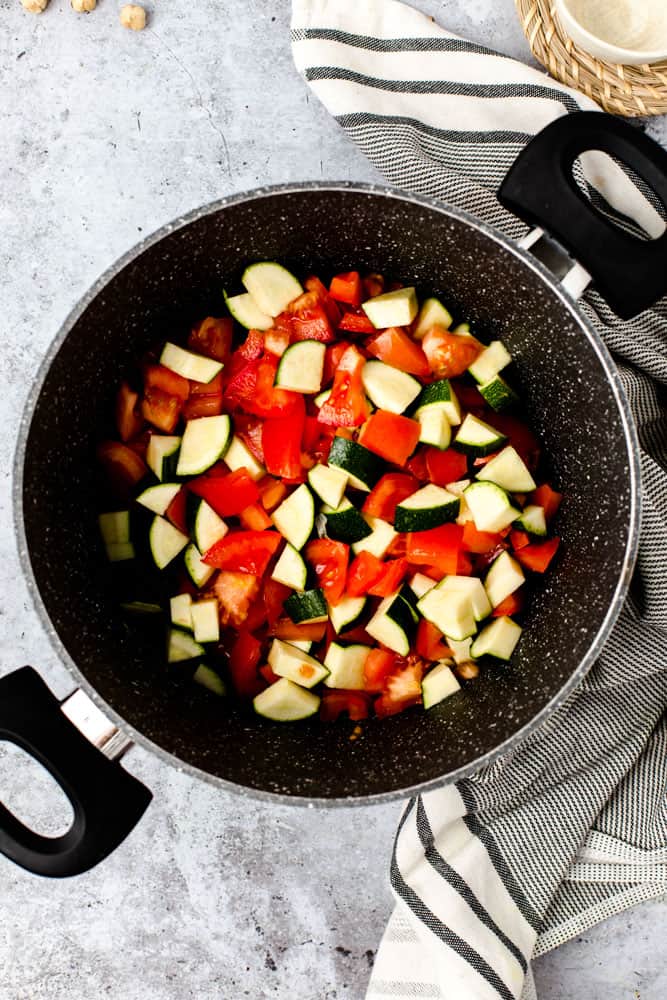 3. ADD COURGETTE, CARROT AND TOMATO.
Add the rest of your veg and fry gently for another 8-10 minutes.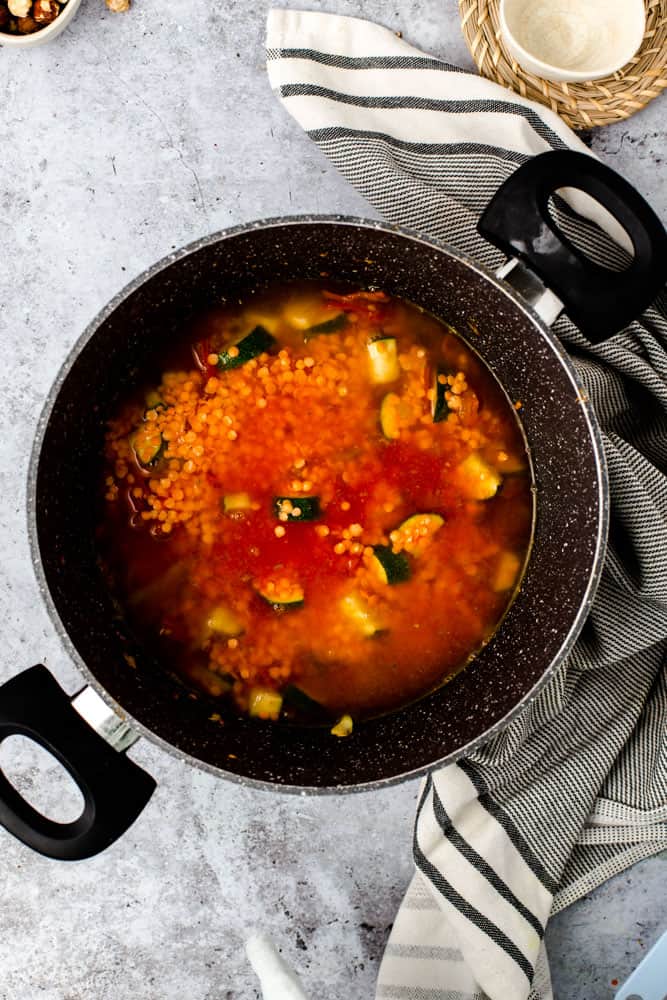 4. ADD VEGGIE STOCK, PASSATA AND LENTILS
Add the rest of your ingredients – veggie stock, tomato passata and lentils. Then bring to a boil and let simmer for about 20-25 minutes until both the lentils are the carrots are soft.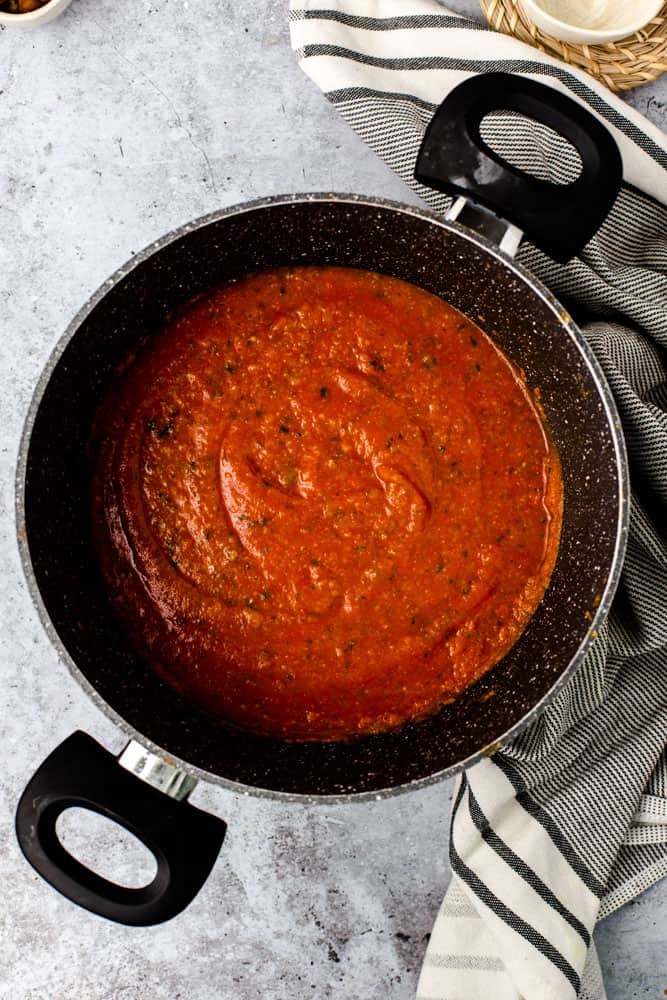 5.TRANSFER TO A BLENDER.
Transfer to a blender and add fresh basil. Blend until smooth and add seasoning: black pepper, salt, garlic powder, turmeric, paprika powder.
That's it! I've served mine with some vegan single cream and PLENTY of seasoning on top.
Expert Tips
PICK YOUR TOMATOES WELL.
If you're in the position to do that, I SO recommend using either beef tomatoes or tomatoes on the vine. They're a lot pricier in most places, so if you're on a budget, don't worry about it and just use whatever tomatoes you can get. But if you do want to splurge a little, this will be worth it. They're a whole lot more flavourful than other varieties.
DON'T BE AFRAID TO SPICE IT UP.
After you've blended your soup, it's time to spice it up a little to give that extra kick. I use garlic powder, black pepper, paprika, and turmeric. Sometimes I'll add some onion powder, oregano, and parsley too. Be extremely generous when adding spices as this will ensure a richer taste. If there are any other spices you like, don't be afraid to chuck them in as well! 
Ingredients Insight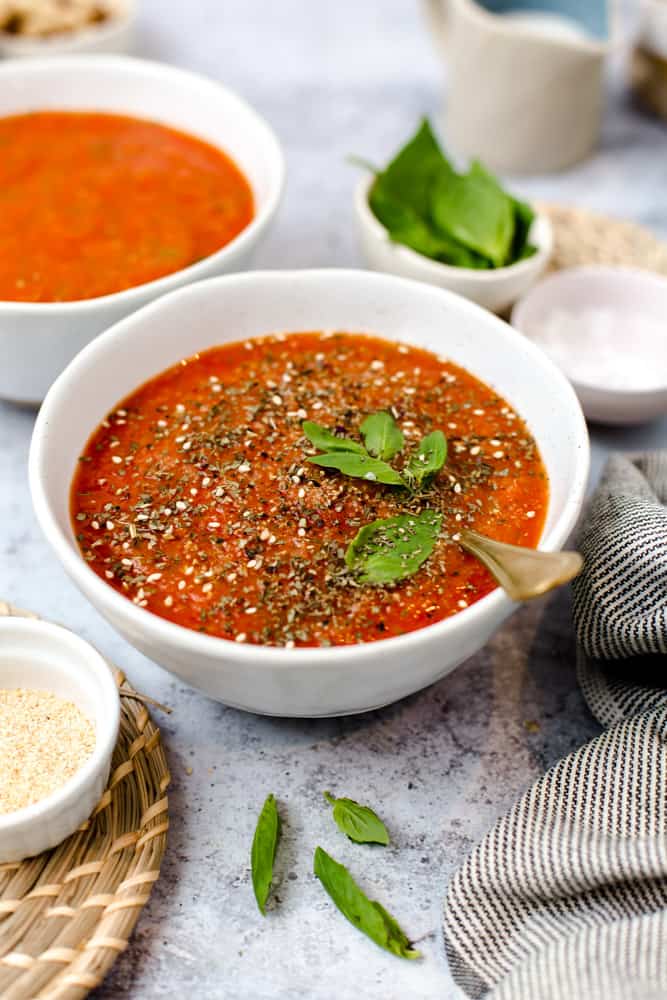 Let's take a closer look at the main ingredients for our health-boosting plant-based soup. Why is it SO good for you?
TOMATOES: These deep red beauties are full of vitamin C, one of the most essential nutrients and antioxidants. Just one tomato can provide over a quarter of your daily required intake! Tomatoes are also rich in potassium (great for your blood pressure), vitamin K1 (important against blood clotting), and folate (important for normal tissue and cell growth. 
RED LENTILS: First of all, lentils are super underrated! They offer a whole range of benefits and are super versatile. They're a rich source of fiber, folic acid, and potassium. Moreover, they're associated with a lower risk of bad cholesterol and cardiovascular disease. 
BASIL: Last but not least, basil is not only delicious but also super good for you. It's super-rich in vitamin K, manganese and iron. Plus it has decent amounts of other nutrients like calcium, copper and vitamin C. 
All in all, this is the perfect mix for anyone wanting a super healthy vegan soup that will keep them energized and full for hours!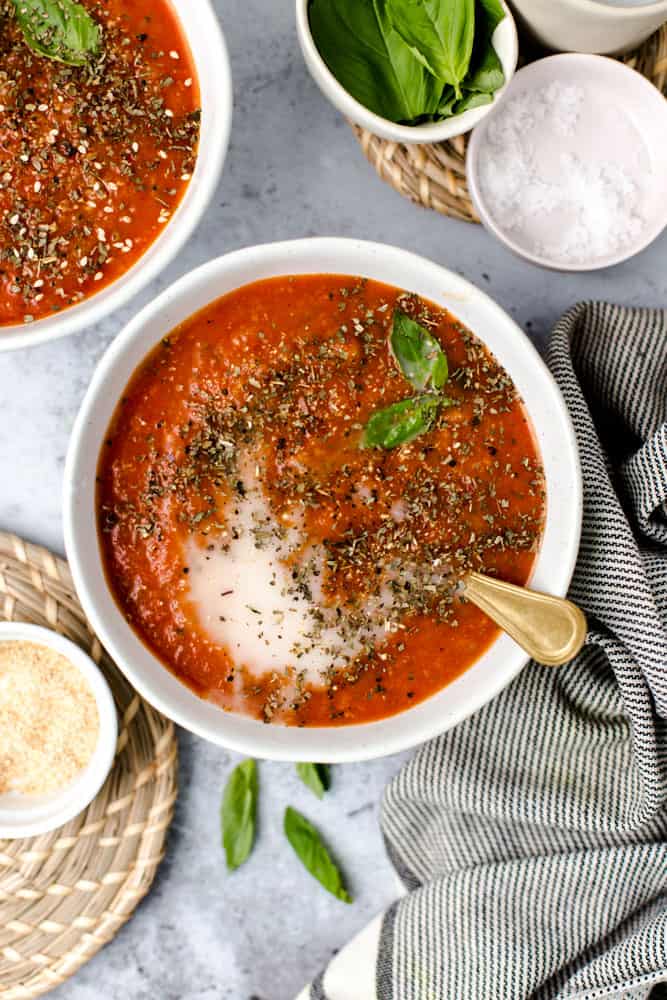 For more delicious and healthy vegan meals, make sure to check out my:
And that just about wraps up our vegan tomato basil soup! As always, if you have any trouble making this recipe, simply comment down below or message me directly on Instagram. I'll be happy to help you out in case you get stuck!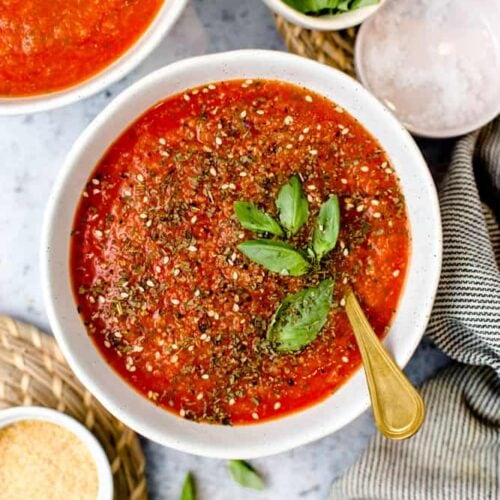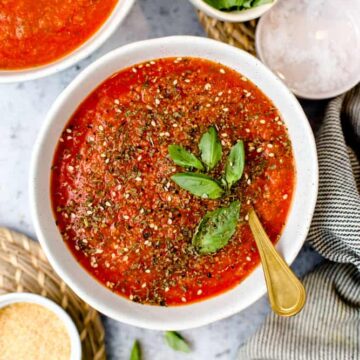 Vegan Tomato Basil Soup
Rich and filling vegan tomato soup ready to become a family classic.
Print
Pin
Rate
Ingredients
1

onion

4

cloves

garlic

½

teaspoon

olive oil

1

courgette

4

vine-ripened tomatoes

500

ml

tomato puree

3

carrots

(small)

½

l

vegetable stock

55

g

red split lentils

(about ⅓ cup)

2

teaspoon

garlic powder

¼

teaspoon

black pepper

1

teaspoon

paprika powder

¼

teaspoon

turmeric powder

10

g

basil
Instructions
Peel and cut garlic and onion into small pieces. No need to be too precise with cutting as you will blend your soup later on.

Add olive oil to pan and wait for it to heat up. Then add garlic and onion. Heat on medium heat for about 4-5 minutes until the onions are translucent and starting to brown very gently. 

Cut courgette, carrot and tomato. Make sure to slice your carrot VERY, very THINLY as it might take longer to cook if your pieces are too big. 

Add the rest of your veg (tomato, courgette & carrot) and fry gently for another 8-10 minutes. 

Add the rest of your ingredients – veggie stock, tomato puree and lentils. Then bring to a boil and let simmer for about 20-25 minutes until both the lentils are the carrots are soft. 

Transfer to a blender and add fresh basil. Blend until smooth and add seasoning: black pepper, salt, garlic powder, turmeric, paprika powder. 

That's it! I've served mine with some vegan single cream and PLENTY of seasoning on top
Nutrition
Calories:
337
kcal
|
Carbohydrates:
69
g
|
Protein:
17
g
|
Fat:
3
g
|
Saturated Fat:
1
g
|
Sodium:
1159
mg
|
Potassium:
2579
mg
|
Fiber:
20
g
|
Sugar:
28
g
|
Vitamin A:
20169
IU
|
Vitamin C:
87
mg
|
Calcium:
151
mg
|
Iron:
9
mg