Jump to Recipe
Vegan cheese pizza is the ultimate comfort food. This particular recipe guarantees love at first bite. Cheesy, creamy and bursting with flavour. Step aside, dairy cheese. We've got our new winner.
Remember the days we had to ask for no cheese if we wanted vegan pizza? Aren't we all glad those times are over? I, for one, certainly am.
Vegan cheese pizza is the real deal, right? This easy recipe is based around three essential layers:
- rich and flavourful tomato sauce
- the creamiest homemade vegan cheese
- fresh and fabulous rocket and pine nuts toppings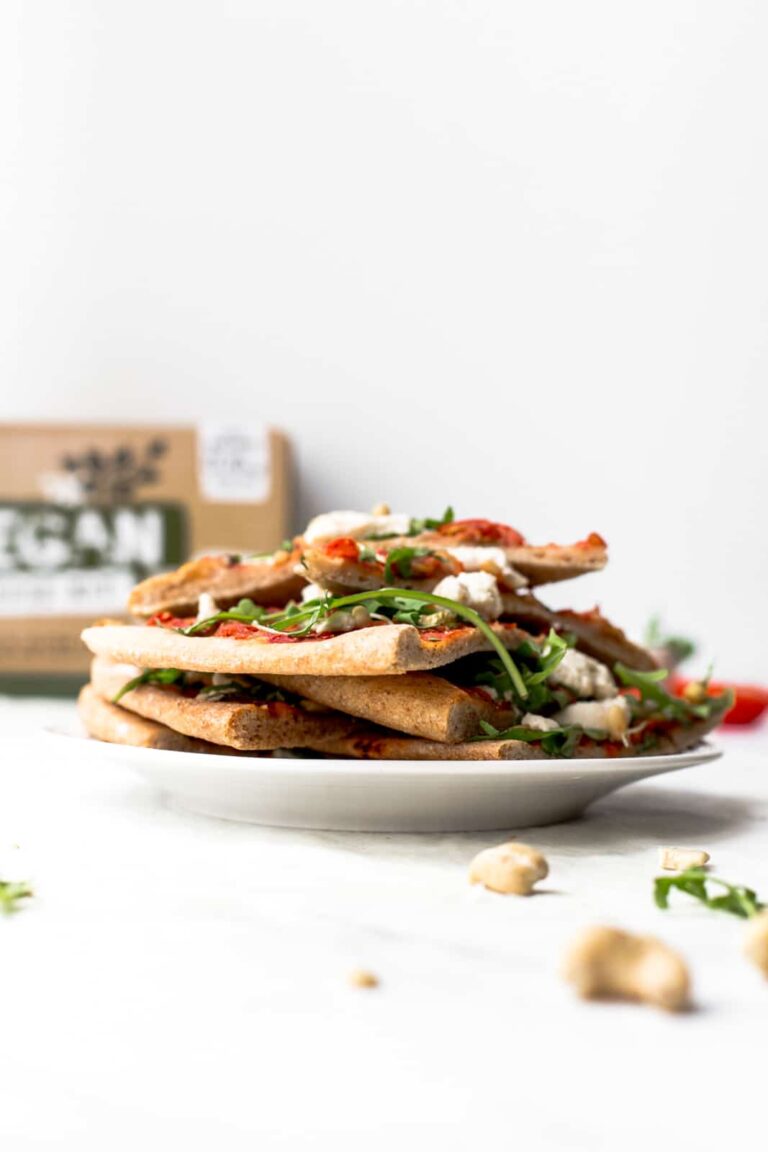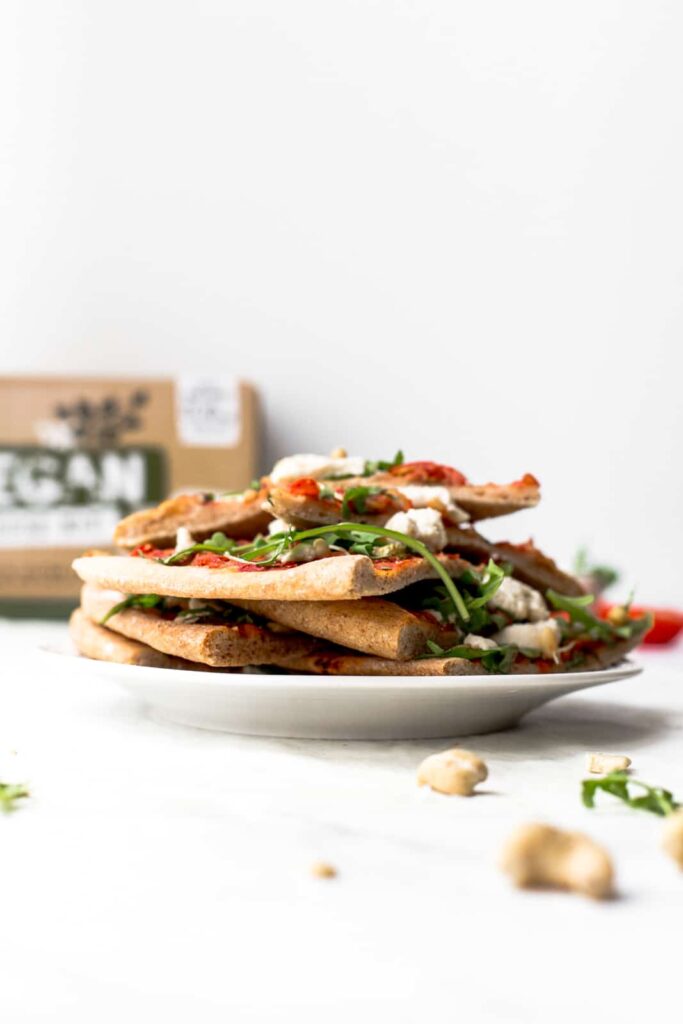 My Top Three Tips For Making Vegan Pizza
Always be generous with your toppings. There's nothing more disappointing than a bland pizza!
Add a raw, fresh ingredient like rocket or salad cress to ensure extra crunchiness!
Don't be afraid to add PLENTY of seasoning to your tomato sauce. Tomato sauce is the heart of your pizza and it needs to be packed with flavour.
Making Your Pizza Dough
Instead of making this vegan cheese pizza from scratch, I would definitely recommend getting a good pizza base. I own a breadmaker which meant I did make my own wholemeal crust pizza. Don't fret about it if you don't, though. Vegan pizza bases are easily available and will save you tons of time.
If you're making your own, these are 2 lovely vegan pizza crust recipes:
- Wholemeal Pizza Dough by One Green Planet
- Vega Pizza Dough by Vegan In The Freezer
Feel free to experiment with toppings of choice, but I wanted to keep mine simple, highlighting our star ingredient – vegan cheese.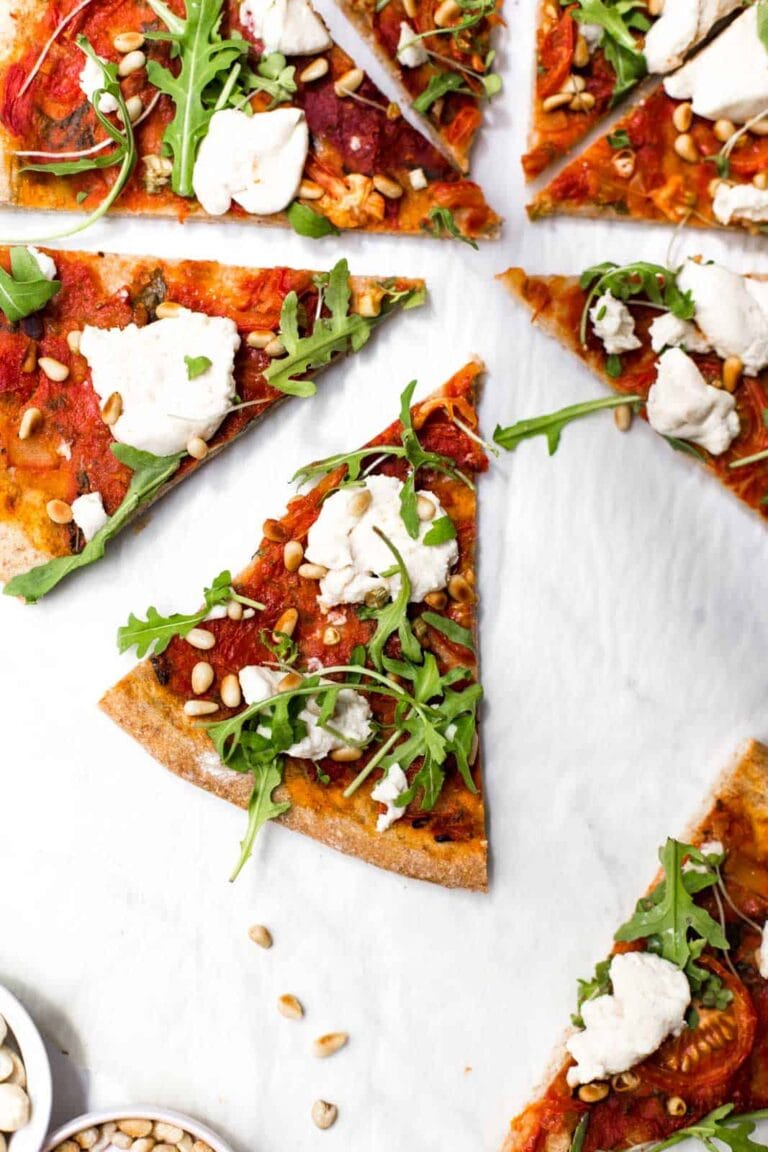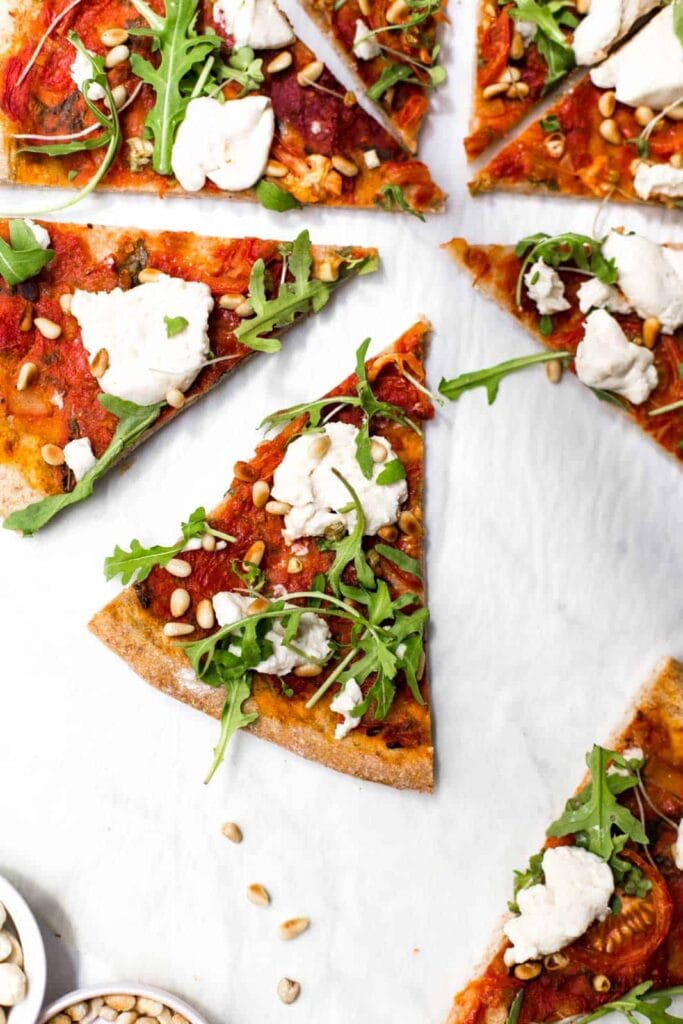 How To Make Vegan Cheese At Home
Breaking news: making vegan cheese is super duper easy. In fact, it's absolutely beginner-friendly.
A little fun fact, making my own vegan cheese for the first time was one of my New Year's resolutions this year! Guess who ticked that one off before the half-year mark? With a little bit of help from my friends at Mad Millie, my first vegan cheese-making experience was a MAJOR success.
This is an absolutely organic partnership that developed after I noticed two of my favourite bloggers (Cupful of Kale and Romy London) using their own Mad Millie vegan kits. A beautiful box that contains every ingredient and special utensil you need to create your own delightful vegan food? Sign. Me. Up.
Not every vegan loves cheese, but I'm willing to bet that many of us know a vegan that is absolutely hooked on it. Plus, there's always this one person that says: "I could never go vegan because I just love cheese so much."
Newsflash, Mad Millie Vegan Cheese Kit is here to prove you don't need dairy to make incredible cheese. I'd even go a step further and say it's BETTER than any dairy cheese I've ever tried. Heck, the Mad Millie is also the BEST vegan cheese I've ever tasted.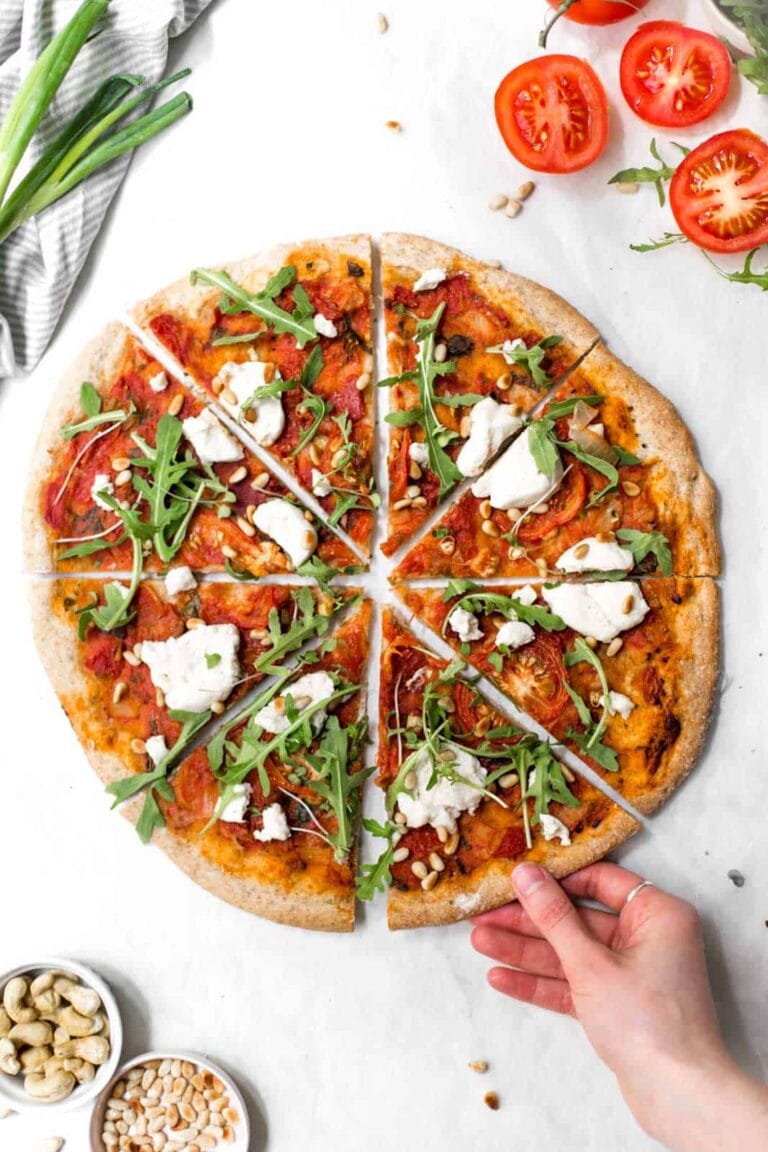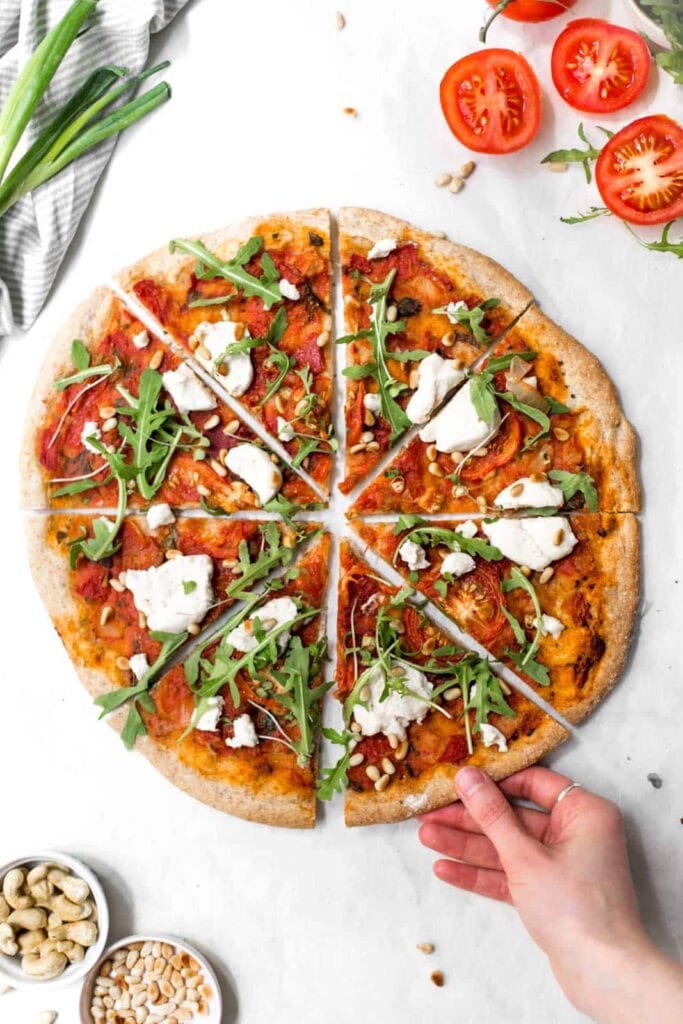 My DIY Vegan Cheese Trick
Whether you're someone that loves store-bought vegan cheese or not, this kit NEEDS to make its way into your kitchen. It's super versatile, enabling you to make ANY type of vegan cheese you can imagine.
A lover of fresh Greek salads topped off with some kick-ass vegan feta?
A fan of lavish desserts or creamy sauces based on mascarpone?
Trying to make a plant-based ricotta cheesecake?
Or perhaps just want a good old mozzarella to go with your pizza, pasta and panini?
Well, it looks like Mad Millie has you covered! I'm serious when I say that the cheeses I made using their kit surpass ANY store-bought vegan cheese I tried. And trust me, I tried DOZENS. It's the only trick you need to make the creamiest, most versatile vegan cheeses.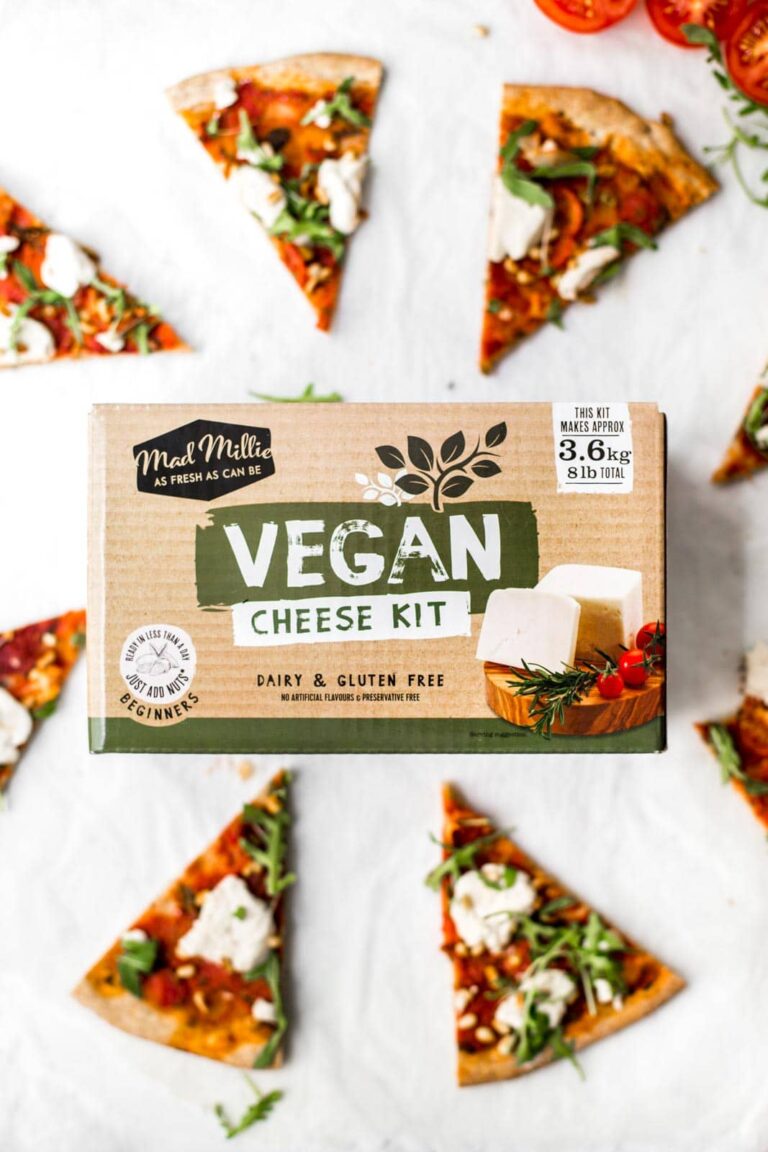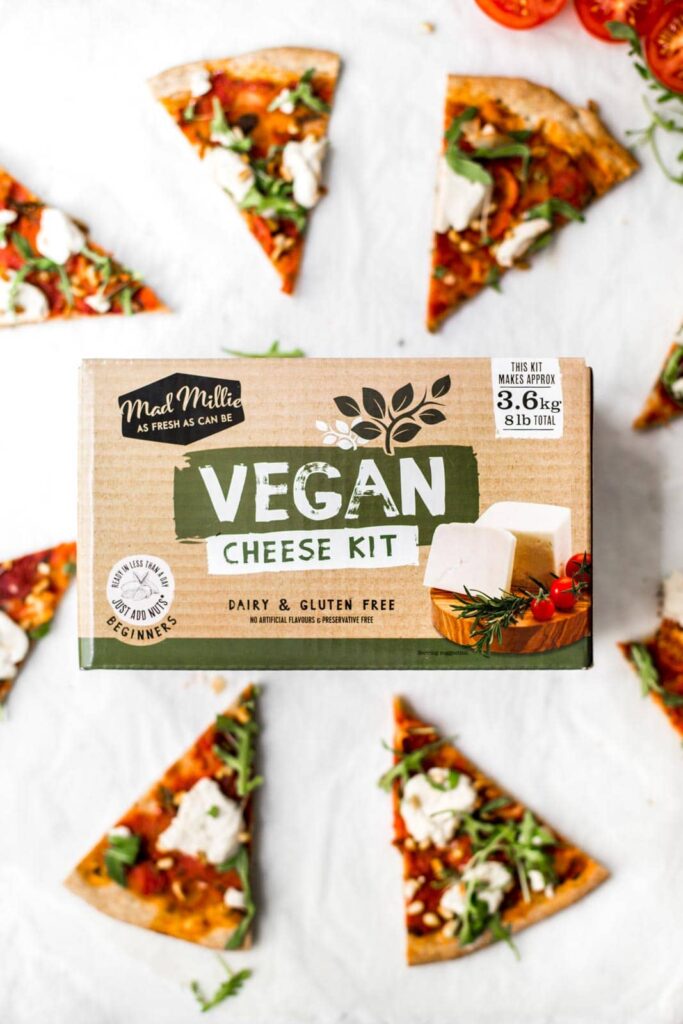 Using Mad Millie Vegan Cheese Kit
I know what you're thinking. Why shouldn't I just buy all the vegan cheese ingredients instead of getting the kit? Let me tell you that this kit contains A WHOLE LOT MORE than just all your ingredients.
You receive a SUPER HANDY booklet which includes recipes for 6 DIFFERENT TYPES OF VEGAN CHEESE. Spoiler alert: you can even make your own marinated feta and isn't this just every vegan's dream?
It's SUPER GENEROUS – you can make 3 batches of each recipe (about 3.6kg of vegan cheese!) before needing to buy additional ingredients. Now that's quite a lot even for a cheese-lover like me!
It even contains a thermometer and cheese cloth, bringing your cheese-making game to the next level.
I absolutely mean it - it is the BEST vegan gift around! Can you see how excited I am about them? If you're not a cheese person, you could grab your own vegan chocolate, kombucha or even gin kit.
It's FAIL-PROOF. There's even video tutorials made by Mad Millie on Youtube. This will make sure you get a great idea of the cheese-making process.
Last but not least, it includes ALL the ingredients you need in ONE BOX. Yup, no need to go to several specialist stores. The kit contains ingredients like artisan's salt and tapioca flour which will ensure your cheese turns out incredible.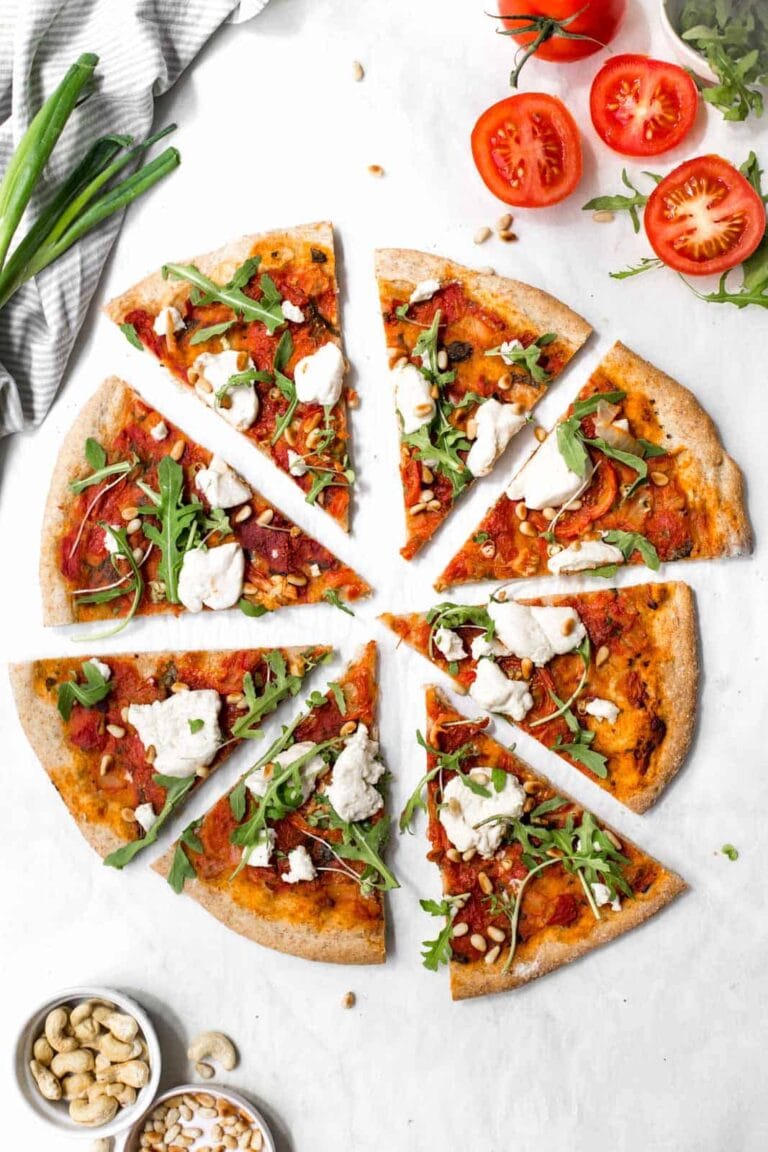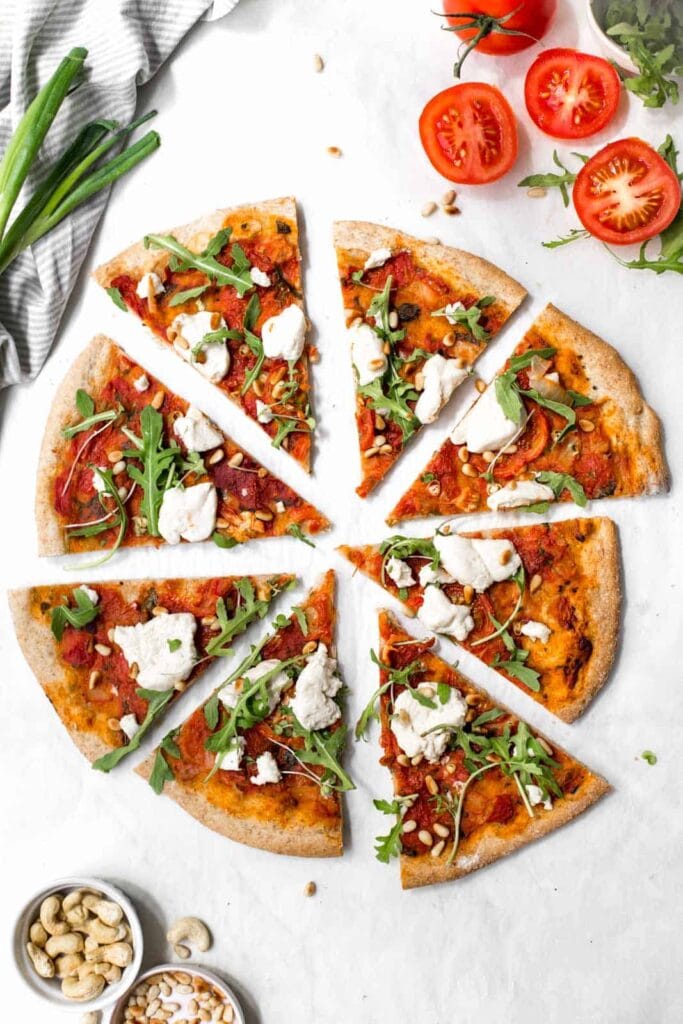 ---
If you're starting out as a vegan or just want to discover simple vegan recipes make sure to follow me on Pinterest, Instagram and Facebook.
Ready to make your own vegan cheese pizza? Let's get started!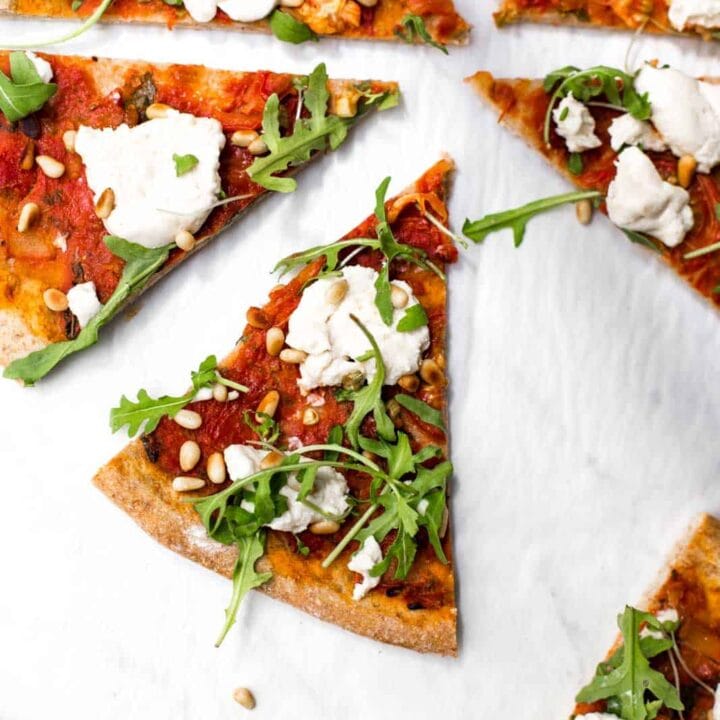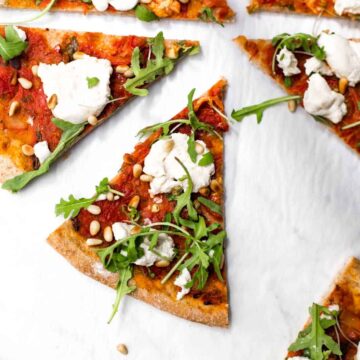 Vegan Cheese Pizza
Delicious and rich pizza with DIY vegan cheese!
Print
Pin
Rate
Ingredients
FOR THE TOMATO SAUCE
1

onion

1

tsp

sesame oil

(or other vegetable oil such as sunflower or light olive oil)

1

can

chopped tomatoes

2

tbsp

basil

(cut into small pieces)

Seasoning: garlic powder, onion powder, oregano, basil

(add to taste)
FOR THE CHEESE
80

g

cashews

(raw)

125

ml

almond milk

(make sure to use UNSWEETENED almond milk or other unsweetend plantbased milk)

1½

tbsp

tapioca flour

⅛

tsp

citric acid

½

tsp

artisan's salt

½

tbsp

agar

½

tray

ice cubes
TOPPINGS
2

large

tomatoes

½

cup

pine nuts

(roasted)

2

cups

arugula

(a.k.a. rocket)
Instructions
FOR THE TOMATO SAUCE
Cut onion into small cubes.

Heat up oil in a medium-sized pan.  

When warm, add the onion cubes. 

Gently fry for 5-7 minutes until translucent.

Add a can of chopped tomatoes.

Generously add your seasoning: garlic powder, onion powder, oregano, basil

Simmer for 5 minutes and add cut basil.
FOR THE VEGAN CHEESE (full recipe credit goes to Mad Millie)
Place raw cashews in a bowl and fill with water until they are covered completely. Soak overnight (approximately 8 hours).

Drain and rinse the cashews.

Place nuts in a blender or food processor and add remaining ingredients (except for the ice)

Blend until a thick paste is formed.

Pour mix into a non-stick cooking pot and slowly heat to 60°C (140°F) on a low heat. It is important that you continuously stir this to ensure that the mixture doesn't stick/burn or separate.

When the temperature reaches 60°C (140°F) you will notice the mixture thicken up. Keep stirring on the heat for a further 1-2 minutes to ensure the agar is activated and the cheese sets.

Prepare an ice bath by using half a tray of ice cubes and 2 cups (500 ml) of cold water in a large bowl.

Scoop the mozzarella into small balls and dunk in the ice water mixture. Allow to chill for 10 – 20 minutes before eating.

Cut mozzarella into slices, ready to be used for your pizza.
FINAL STEPS
Grab your pizza base and generously spread tomato sauce over your base.

Add freshly sliced tomatoes, spreading them equally across your pizza.

Add other toppings of choice (or leave as it is) and bake at 200°C (fan oven) for 20 minutes. If you're using a pre-made pizza base, follow the baking instructions on the box. 

In the meantime, roast a handful of pine kernels in a non-stick pan (no oil). 

Once baked, take the pizza out of the oven and generously spread with pine nuts, sliced firm (vegan) mozzarella and fresh rocket.
Nutrition
Calories:
595
kcal
|
Carbohydrates:
44
g
|
Protein:
17
g
|
Fat:
44
g
|
Saturated Fat:
5
g
|
Sodium:
399
mg
|
Potassium:
1437
mg
|
Fiber:
8
g
|
Sugar:
16
g
|
Vitamin A:
2337
IU
|
Vitamin C:
51
mg
|
Calcium:
230
mg
|
Iron:
8
mg
Looking for more vegan comfort food? I've got you. Don't miss out on my:
Don't forget you can grab a free vegan booklet containing 90 vegan meal ideas below.


Disclosure: this post was sponsored by Mad Millie. Thank you so much for supporting the brands that help make My Vegan Minimalist possible. All opinions are my own.