Jump to Recipe
Would you believe it if I said this chocolate brioche bread was entirely vegan and made with a help of a breadmaker? Well, it's definitely true! Come along and explore this fail-proof vegan brioche. I'll be sharing tips on how to perfect your vegan bakes and how to make the most of your breadmaker.
This vegan chocolate brioche bread wreath is
soft and delicate
light and airy
subtly sweet
beginner-friendly
delicious, all year round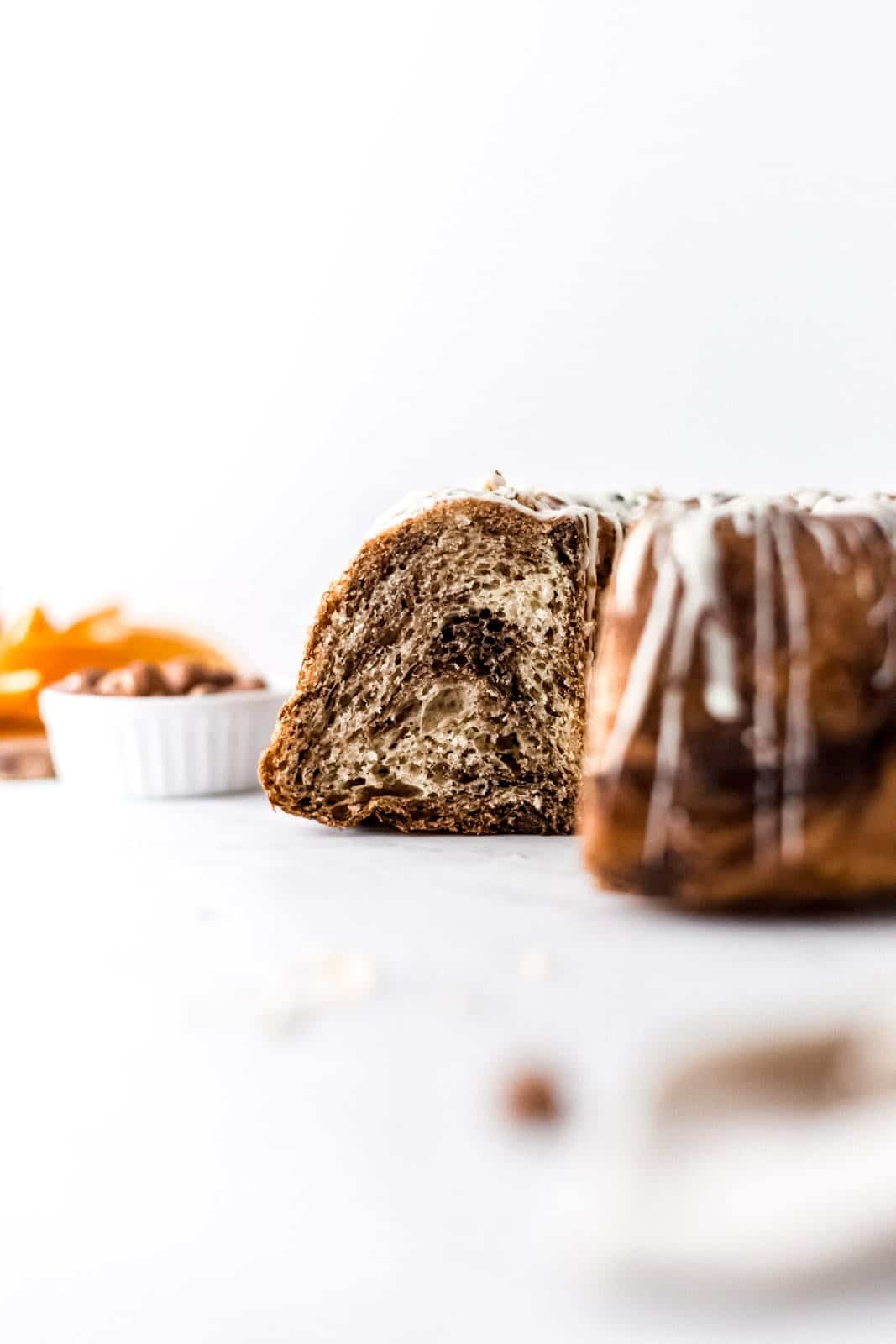 We all know the feeling when the only thing that will curb your appetite is a loaf of fresh bread. But before being able to enjoy it, you need to knead, knead, knead ... Well, not anymore, folks! By using a breadmaker you can forget all about kneading and let the machine do all the work for you.
Particularly in the case of wet dough such as brioche dough, the kneading process is absolutely excruciating. This is why I wanted to experiment by using the Panasonic SD-ZP2000 breadmaker.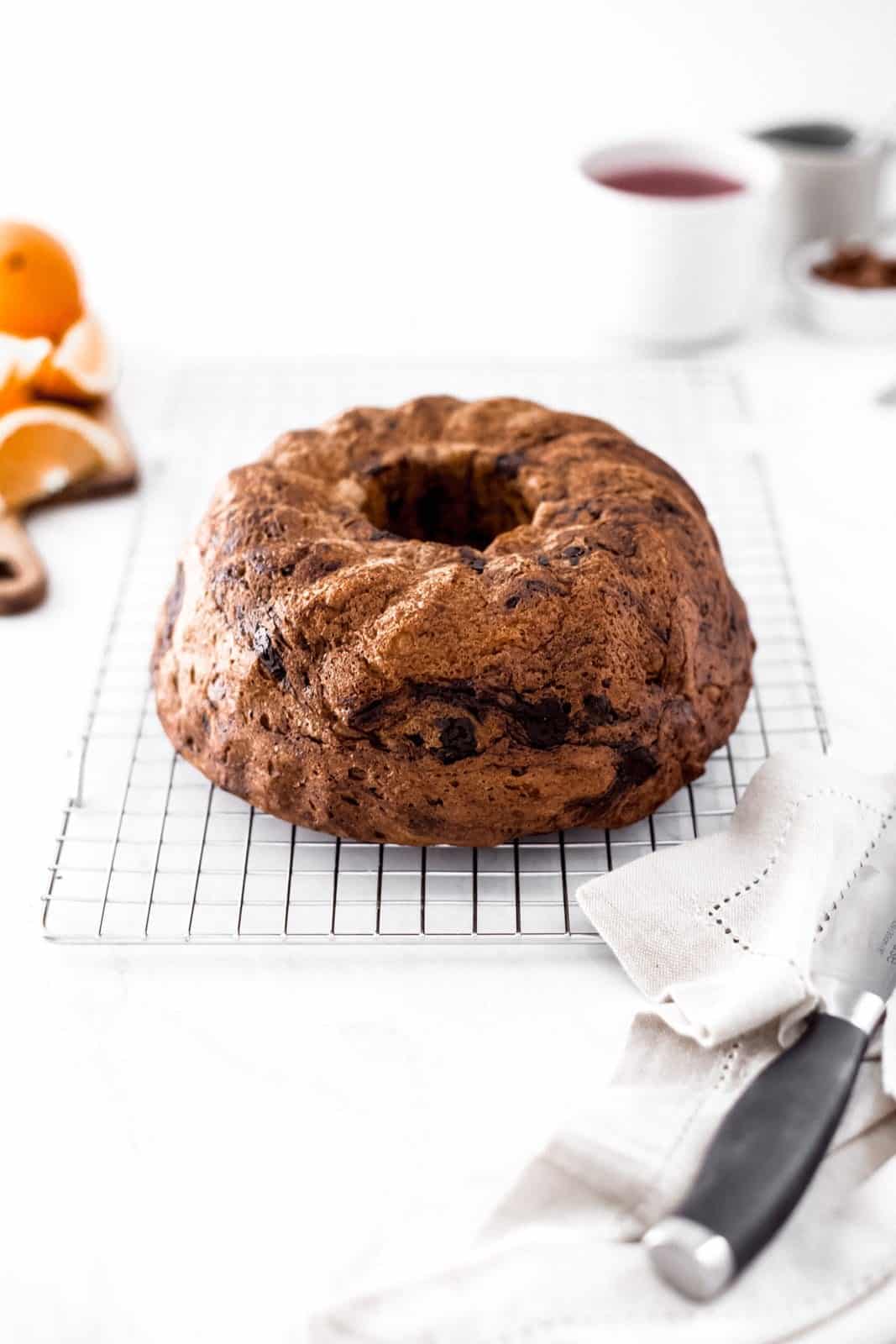 What actually is brioche bread and how to make it vegan?
It won't surprise you that brioche, just like all the best bakes, originates from France (yes, I'm being slightly controversial). It's a subtly sweet bread, which is easily customised and known virtually everywhere you go. If you're familiar with baking bread, you will know that the basic brioche ingredients are
butter
egg
and milk
Which leaves us thinking: can brioche ever be made vegan? And if yes, will it actually taste nice?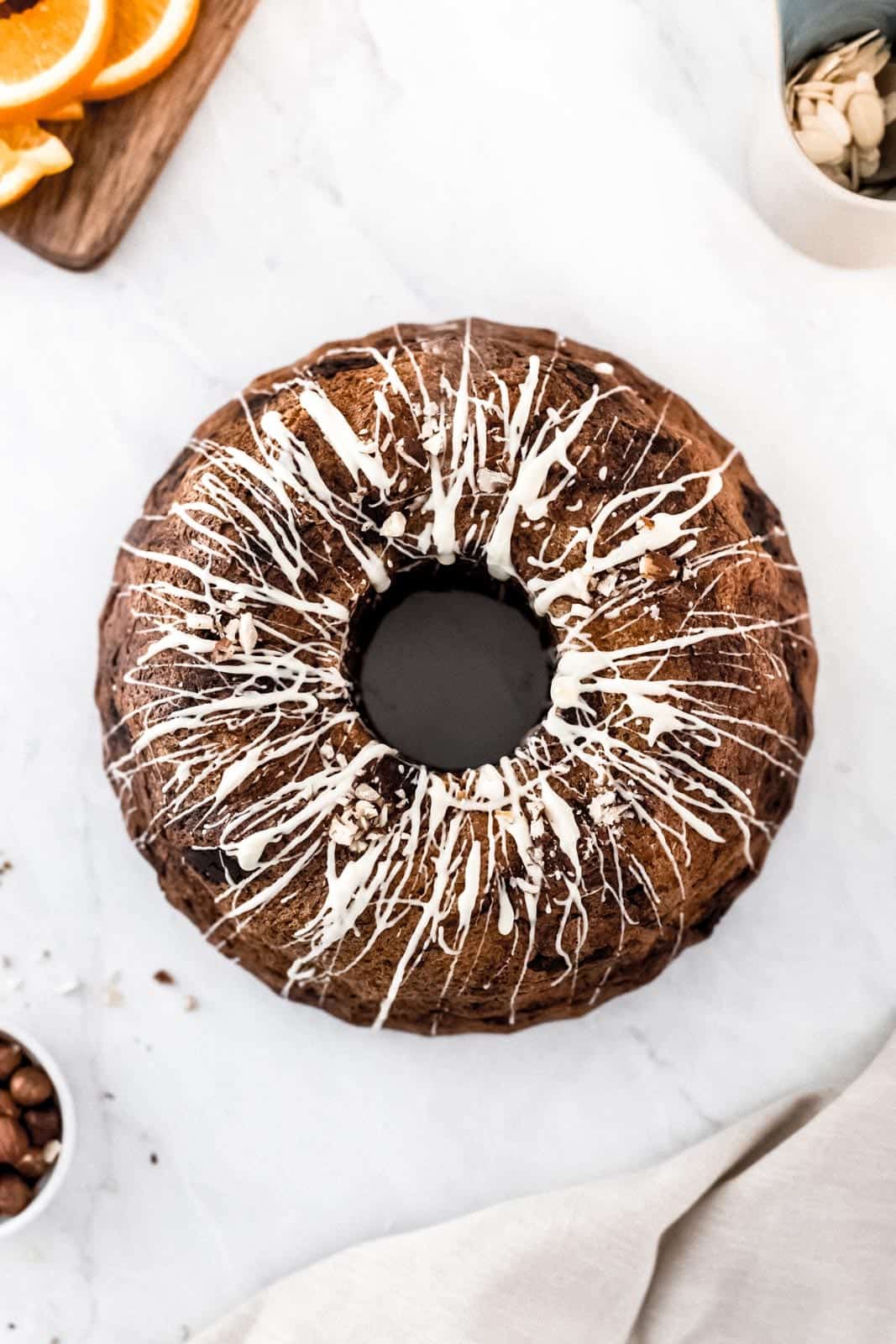 Us vegans talk a whole lot about how virtually anything can be made without using any animal products. Not only healthy snacks and main dishes, but also indulgent comfort meals and bakery-worthy desserts. And don't even get me started on the hugely growing meat substitutes market.  Vegan versions of pulled pork, fish fillet, steak, you name it.
And yet, I couldn't find vegan brioche in any of my local bakeries or supermarkets. So I decided it was time to set myself up for a new challenge and make a mind-blowing vegan chocolate brioche myself.  As you've probably gathered, the challenge proved a success and I'm happy to bring you this gorgeously satisfying vegan brioche bread.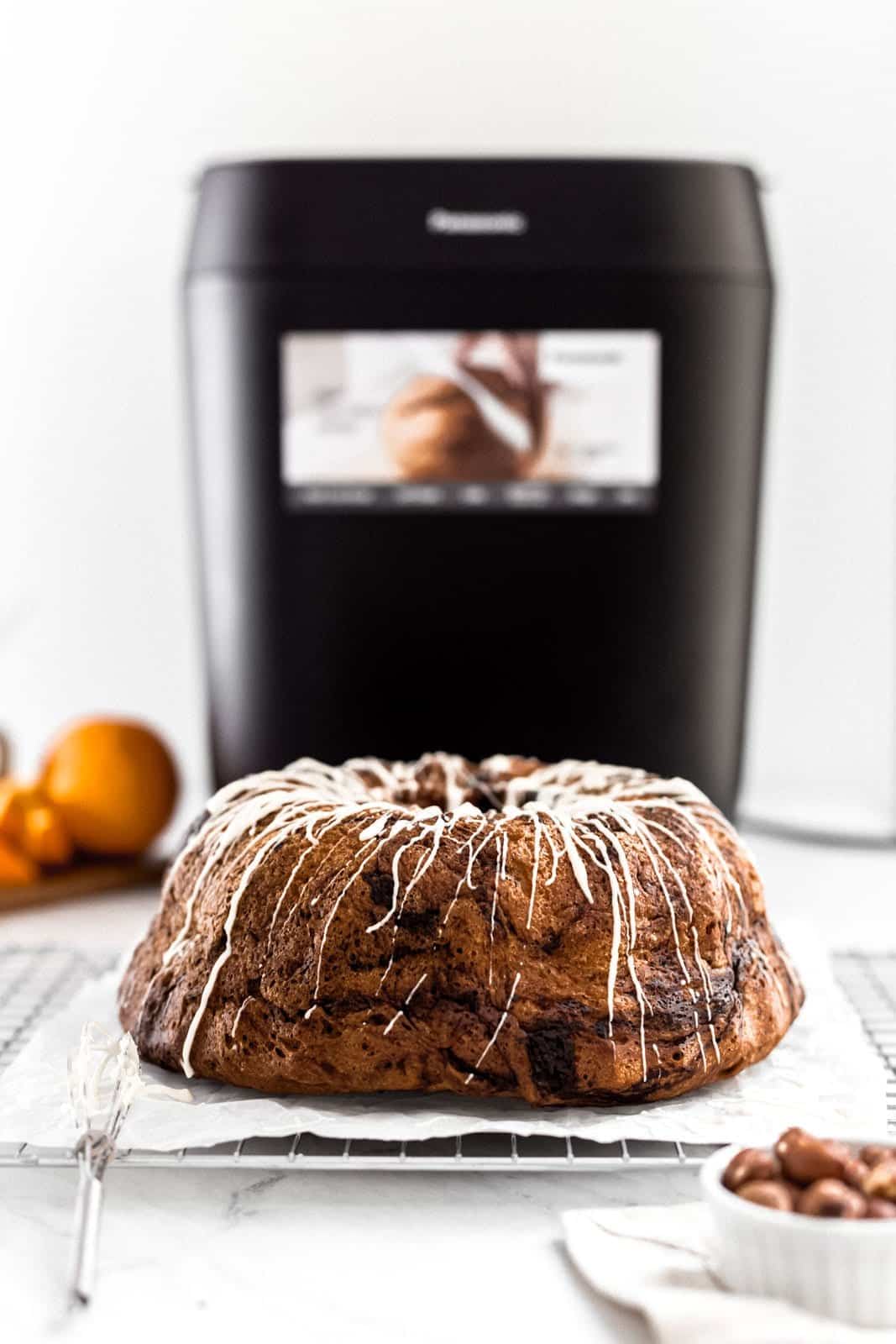 Panasonic SD-ZP2000 Croustina Breadmaker Review
If you've been around My Vegan Minimalist for a while, you know I like my reviews to be trustworthy. Before writing the full review of my Donnerberg shiatsu massager, I spent the whole summer using it on a day-to-day basis. Whilst I only received my breadmaker a month before this post going live, I did everything within my power to test it to the max. In addition to the vegan brioche, I used my breadmaker to try out various recipes, ranging from beginner to showstopper level. I taste tested & developed recipes for:
- vegan apple & cinnamon cake
- vegan cheese & onion tear 'n' share rolls
- superseed loaf
- wholemeal vegan pizza dough
- classic white bread
Panasonic SD-ZP2000 breadmaker has been an absolute and utter joy to use so far. Despite having used it nearly every day for the past few weeks, I continue finding exciting new features. When first starting out, it can be quite intimidating to see the long list of all its features, but you get the hang of it incredibly fast. I can't help but notice the versatility it allows in comparison with breadmakers I used before. It offers a variety of baking options, including white, wholemeal and gluten free bread, as well as cakes, pizza dough and jam. What makes it that extra bit special is its ability to create a super crunchy crust.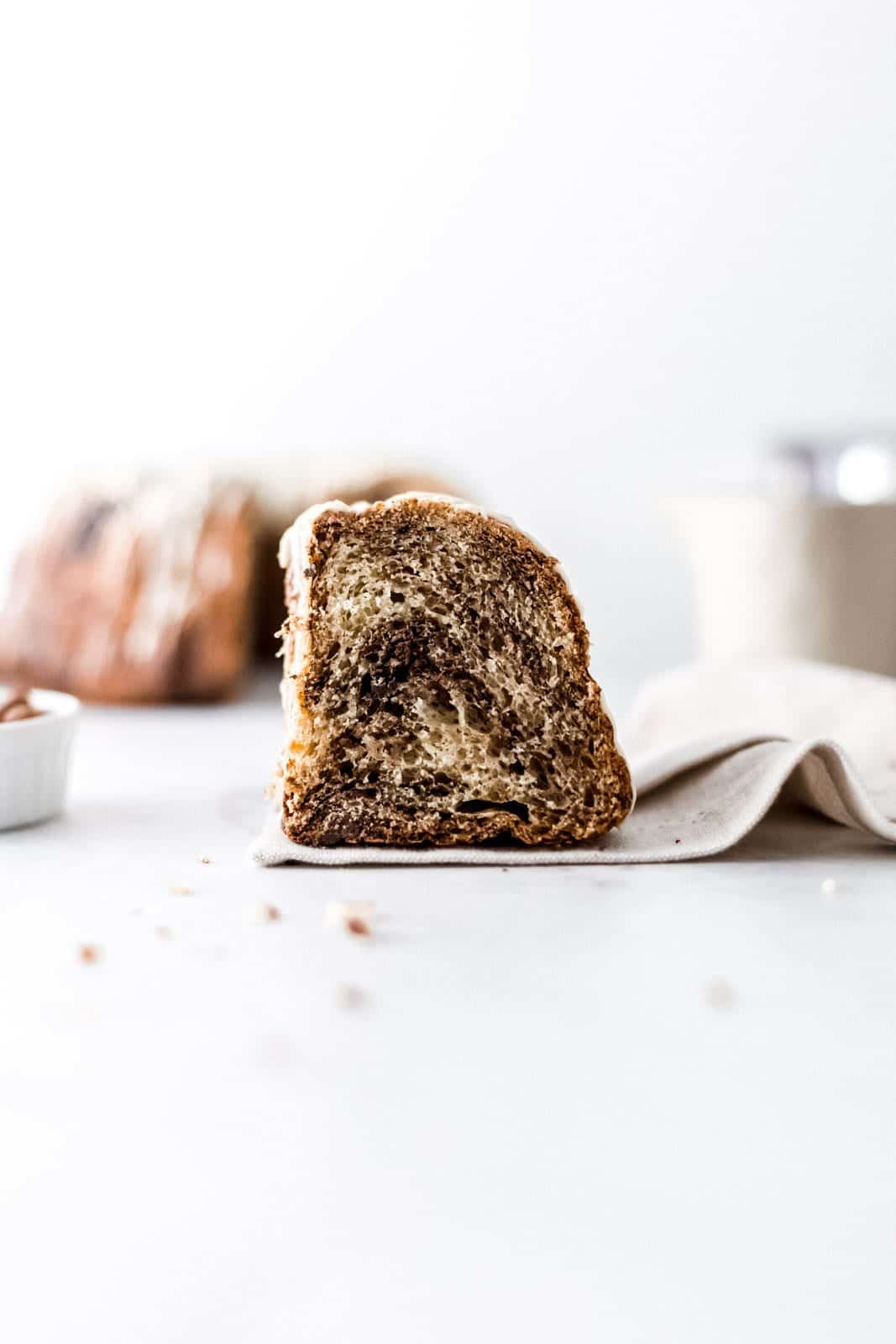 The Panasonic breadmaker is a great option for
beginner bakers that don't yet have the confidence to experiment on their own
lovers of multi-use kitchen appliances
anyone looking for healthier bread options
Even if you're an expert baker, a good-quality breadmaker will tremendously ease up your workload. Without having to waste your energy on kneading, you will be able to focus on those extra little details that make your bakes so special.
Lowering Your Waste
Last but not least, it's a fantastic kitchen appliance for anyone on a journey to reduce their waste. Breads and cakes bought in supermarkets are practically always wrapped in single use packaging, predominantly plastic. The toast you see on a supermarket shelf? Wrapped in single-use plastic. The cake you saw in the local shop? Packed in non-recyclable plastic. By using the breadmaker to make your own cakes and bakes, you are avoiding heaps of plastic waste.
To make your own bread, you can buy all your basic ingredients in bulk and enjoy your sweet bakes with no guilt.
Moreover, you will be avoiding the dreaded palm oil, which has found its way into the majority of breads and cakes you find in a supermarket. Instead, you can use olive, sunflower and sesame oil which are all much kinder to the planet.
If you don't own a breadmaker yourself, you can re-create this recipe by by kneading the dough yourself.
Disclosure: this post was sponsored by Panasonic. Thank you so much for supporting the brands that help make My Vegan Minimalist possible. All opinions are my own.
If you're starting out as a vegan or just want to discover simple vegan recipes make sure to follow me on Pinterest, Instagram and Facebook. I've also compiled a list of 90 vegan meal ideas you can download for free here. 
🍴Recipe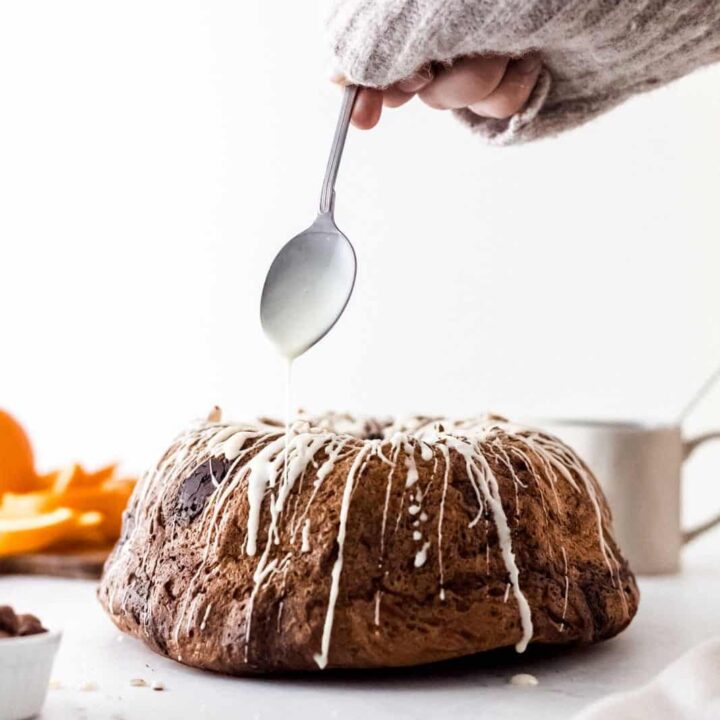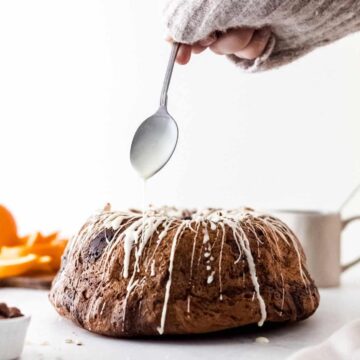 Vegan Chocolate Brioche Bread
You haven't lived until you've tried my vegan brioche!
Print
Pin
Rate
Ingredients
2

teaspoon

yeast

320

g

strong white bread flour

60

g

vegan butter

4

tablespoon

sugar

1

teaspoon

salt

2,5

tablespoon

ground flaxseed

6

tablespoon

water

lukewarm

2

tablespoon

vegan butter

added later

2

oranges

zest only

75

g

dark chocolate
Instructions
Make 2 flaxseed eggs from 2,5 tablespoons of ground flaxseed and 6 tablespoons of lukewarm water. Set aside for a minimum of 10 minutes to allow the mixture to set.

Once set, sieve your flaxseed and water mixture by pressing out all the liquid through a sieve using a spoon/spatula. Once sieved, weight the liquid (should be approx. 50-60 grams).

Add lukewarm water until you are left with 200g of flaxseed and water mixture in total.

Place flaxseed and water mixture in the breadpan. Add sugar and yeast.

Add flour first. Then add salt, then orange zest and lastly, butter. Important: Make sure the salt doesn't touch the yeast.

Turn on breadmaker (setting 12).

When machine beeps, add another 2 tablespoons of butter.

Let it finish cycle until first rise is completed.

Take breadpan out of the machine and fold in chocolate chips to create swirls.

Let prove for 45-60 minutes until doubled in size.

Bake at 160°C (fan oven or 180°C regular oven) for 40 minutes.
Nutrition
Calories:
217
kcal
|
Carbohydrates:
31
g
|
Protein:
5
g
|
Fat:
8
g
|
Saturated Fat:
2
g
|
Sodium:
245
mg
|
Potassium:
144
mg
|
Fiber:
3
g
|
Sugar:
8
g
|
Vitamin A:
329
IU
|
Vitamin C:
12
mg
|
Calcium:
21
mg
|
Iron:
2
mg
Disclaimer: The nutritional information above is calculated automatically. The author of this post cannot guarantee 100% accuracy of this data.