This vegan matcha ice cream is super easy and entirely fail-proof. Making your own ice cream might seem like a challenge, but I've broken it down to the basics and made it child-level easy! Most importantly, it's also super delicious and refreshing! 
You will need no fancy equipment, just a great quality matcha tea and absolute basics like banana, cocounut milk and maple syrup. In other words, no churning or expensive ice cream makers are required!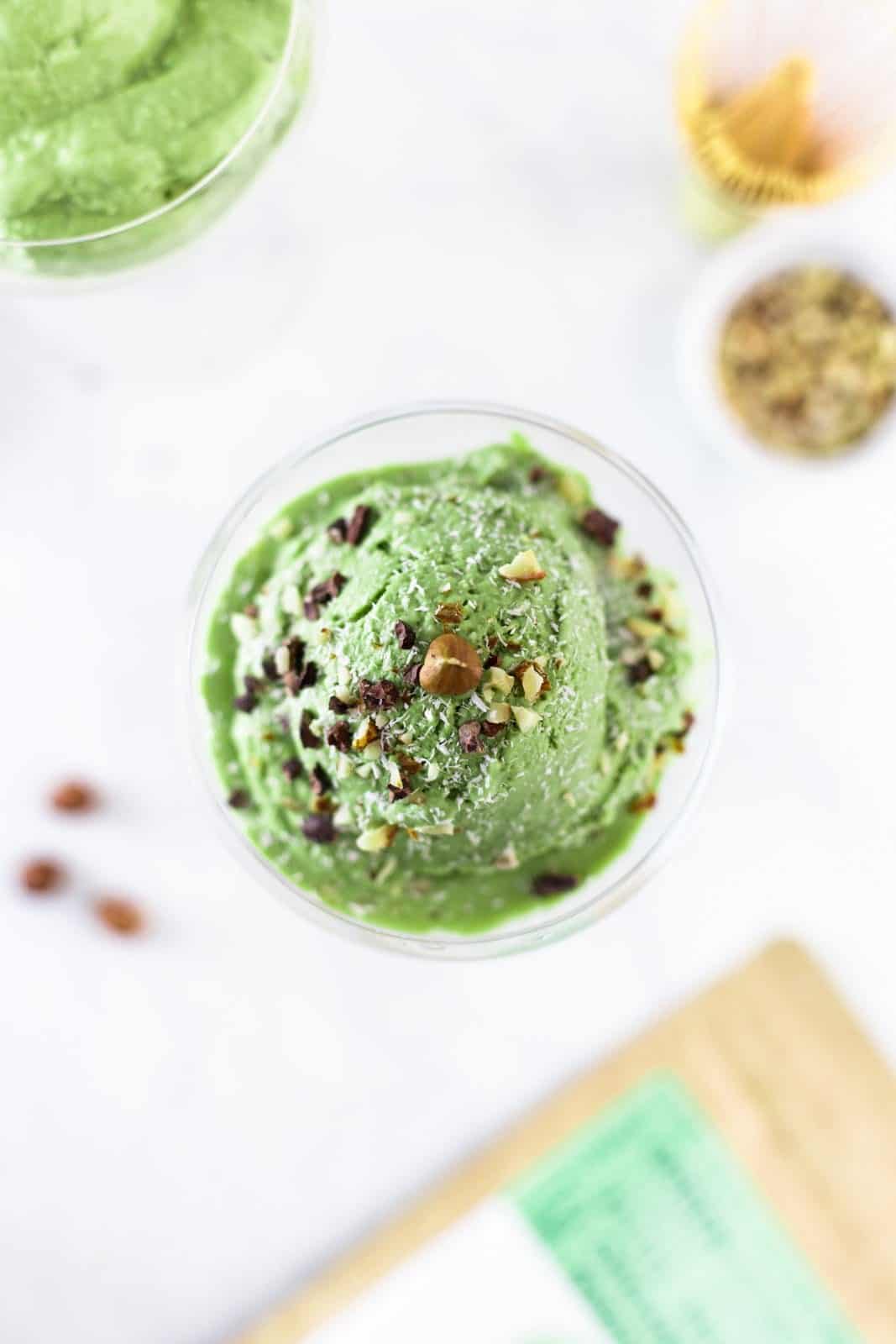 Matcha is known to be super refreshing. I wanted to use that in a fun way, keeping in mind that spring is now just around the corner! Remember those warm days spent sitting in a park with a good book or with your friends, eating ice cream, basking in the sun? Can you see i'm just a litttlee bit overexcited about spring? After a cold, rainy and grey winter, I'm one thousand percent ready for it again!
This vegan matcha ice cream is
super refreshing
packed with goodness
incredibly easy to make
the perfect base for various desserts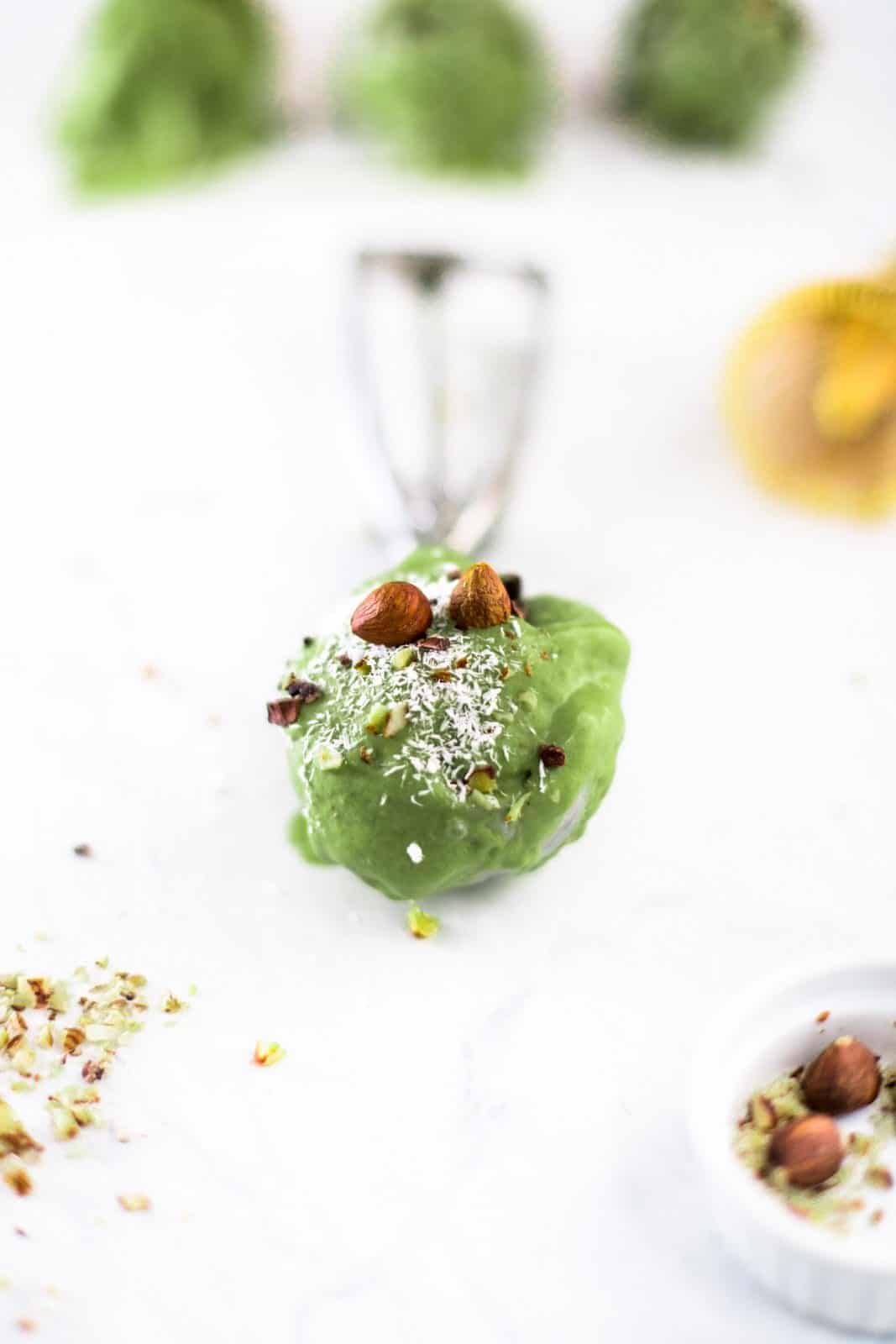 How To Serve 
This vegan matcha ice cream can be even more delightful when served in an interesting way. Let me give you some ideas ...
THE ULTIMATE INDULGENCE: Serve with whipped cream on top of a warm chocolate peanut butter brownie! Your dinner party guests are bound to love it!
HEALTHY TWIST: Fun it up with fresh fruit like bananas, mango and berries, sprinkle with cacao nibs, chia seeds and your favourite nuts! Super healthy, so easy and just a little bit more interesting!
SHAKE IT UP: Add ice cubes, your favourite plant milk and blend. Voila! Top off with whipped cream and you've got yourself the most indulgent milkshake!
I SCREAM COOKIE: Grab your favourite vegan cookies or biscuits and make a gorgeous ice cream sandwich.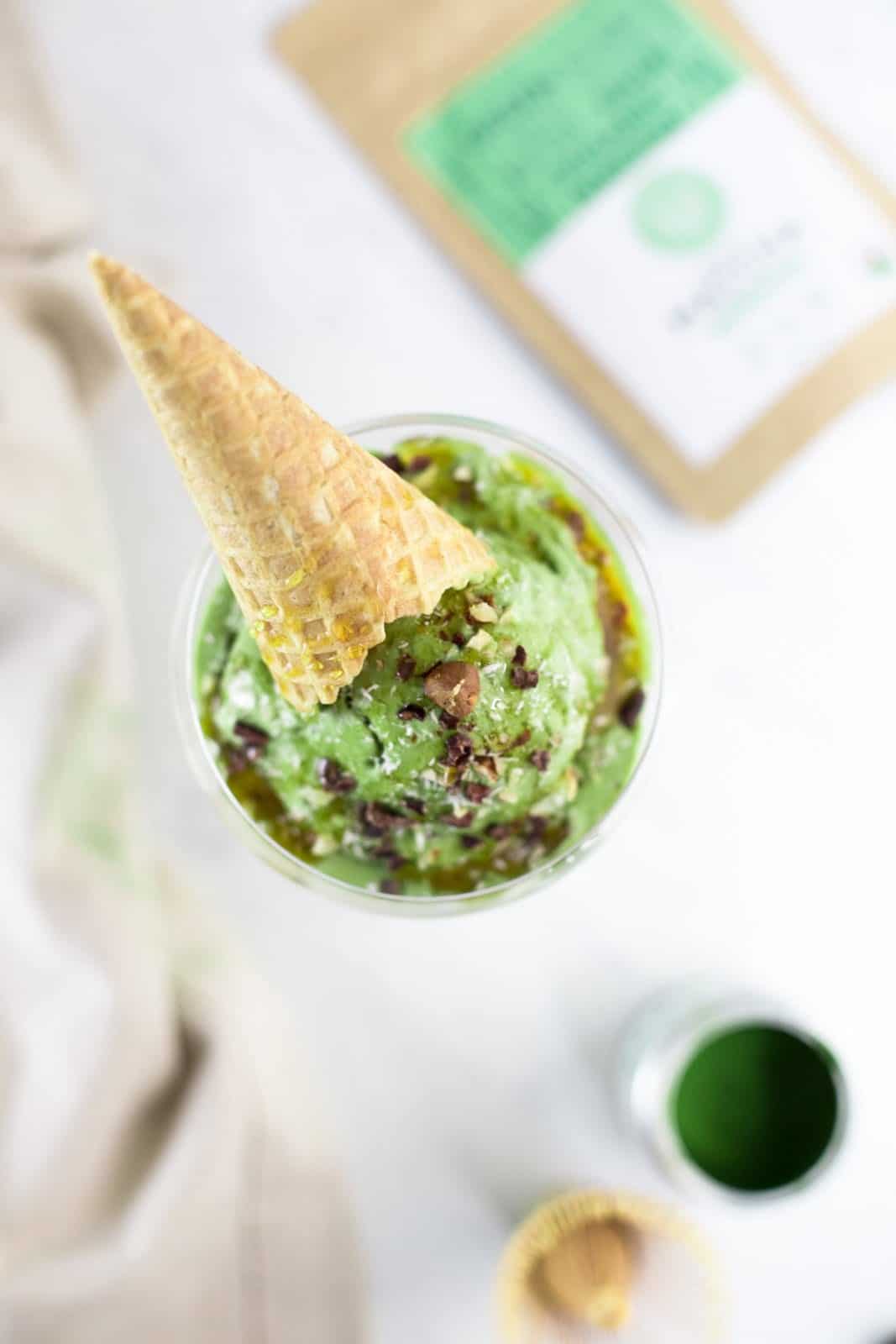 What Are The ACTUAL Benefits of Matcha Tea?
Hello Google Scholar, my old friend! I decided to dig up the old academic journals approach and tel you all about fact-checked matcha benefits! Why? I'm tired of health benefits of various foods just being thrown around without an actual source. How does matcha benefit your health?
Matcha is super rich in antioxidants: the concentration of epigallocatechin gallate (EGCG) available from drinking matcha is 137 times greater compared to regular green tea. Anderton & Weiss.
Might decrease liver damage and boost brain function. Healthline
Offers potential benefits for various skin conditions such as ulcers, wounds, rosascea, psoriasis and wrinkles as discovered by Hsu.
Read more about proven matcha benefits here.
That being said, do keep in mind the following. In order to reap all the benefits of matcha, you will need to drink properly brewed tea.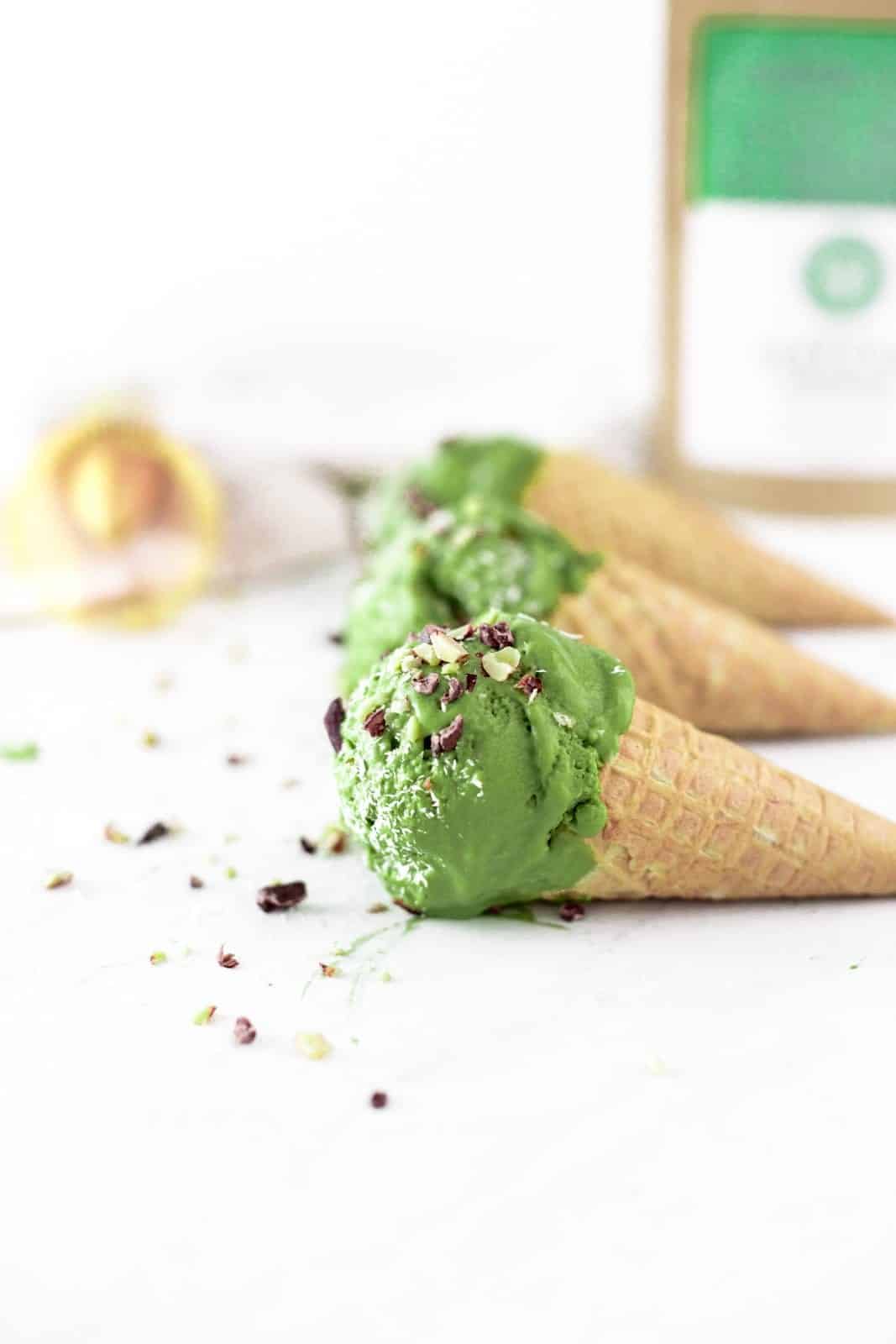 Disclosure: this post was sponsored by Soar Organics. Thank you so much for supporting the brands that help make My Vegan Minimalist possible. All opinions are my own.
🍴Recipe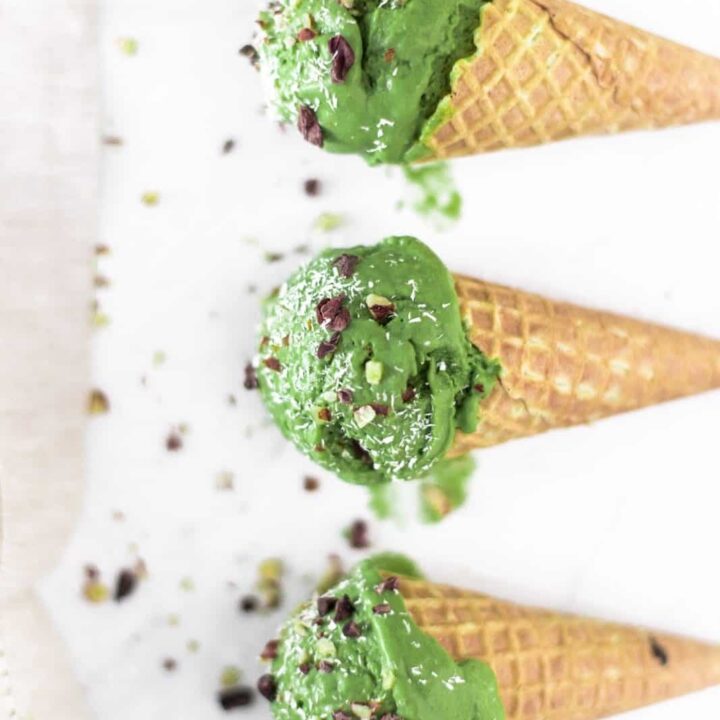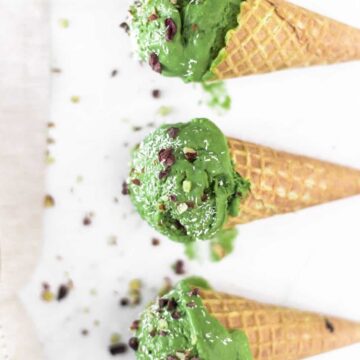 Vegan Matcha Ice Cream
Yummy vegan matcha ice cream you can make without an ice cream machine.
Print
Pin
Rate
Ingredients
3

bananas

ripe, medium-sized

4

tablespoon

maple syrup

1

tablespoon

matcha powder

2

teaspoon

vanilla extract

1

tablespoon

almond milk

1

teaspoon

light muscovado sugar

1

teaspoon

dark muscovado sugar

Toppings: chopped hazelnuts, cocoa nibs, shredded coconut
Instructions
Cut ripe bananas into slices and freeze.

Add all the ingredients (except toppings) to a blender.

Blend all the ingredients in a high-speed blender until completely smooth.

Pour the mixture into a wide, low container and place in a freezer.

To ensure the mixture freezes equally, stir every 1-2 hours.

The preparation time will depend on your freezer and freezer settings. It might take anywhere between 6-8 hours.

Alternatively, leave in freezer overnight.

Take out of the freezer before serving and let melt slightly until desired consistency.
Nutrition
Calories:
158
kcal
|
Carbohydrates:
36
g
|
Protein:
3
g
|
Fat:
1
g
|
Saturated Fat:
1
g
|
Sodium:
8
mg
|
Potassium:
362
mg
|
Fiber:
2
g
|
Sugar:
25
g
|
Vitamin A:
244
IU
|
Vitamin C:
8
mg
|
Calcium:
31
mg
|
Iron:
1
mg
Disclaimer: The nutritional information above is calculated automatically. The author of this post cannot guarantee 100% accuracy of this data.