This silky dark chocolate hummus is made in minutes using just 8 simple ingredients. Serve it with pretzels, fruit, crackers, pancakes, crepes, or bread. Healthy, easy & so versatile!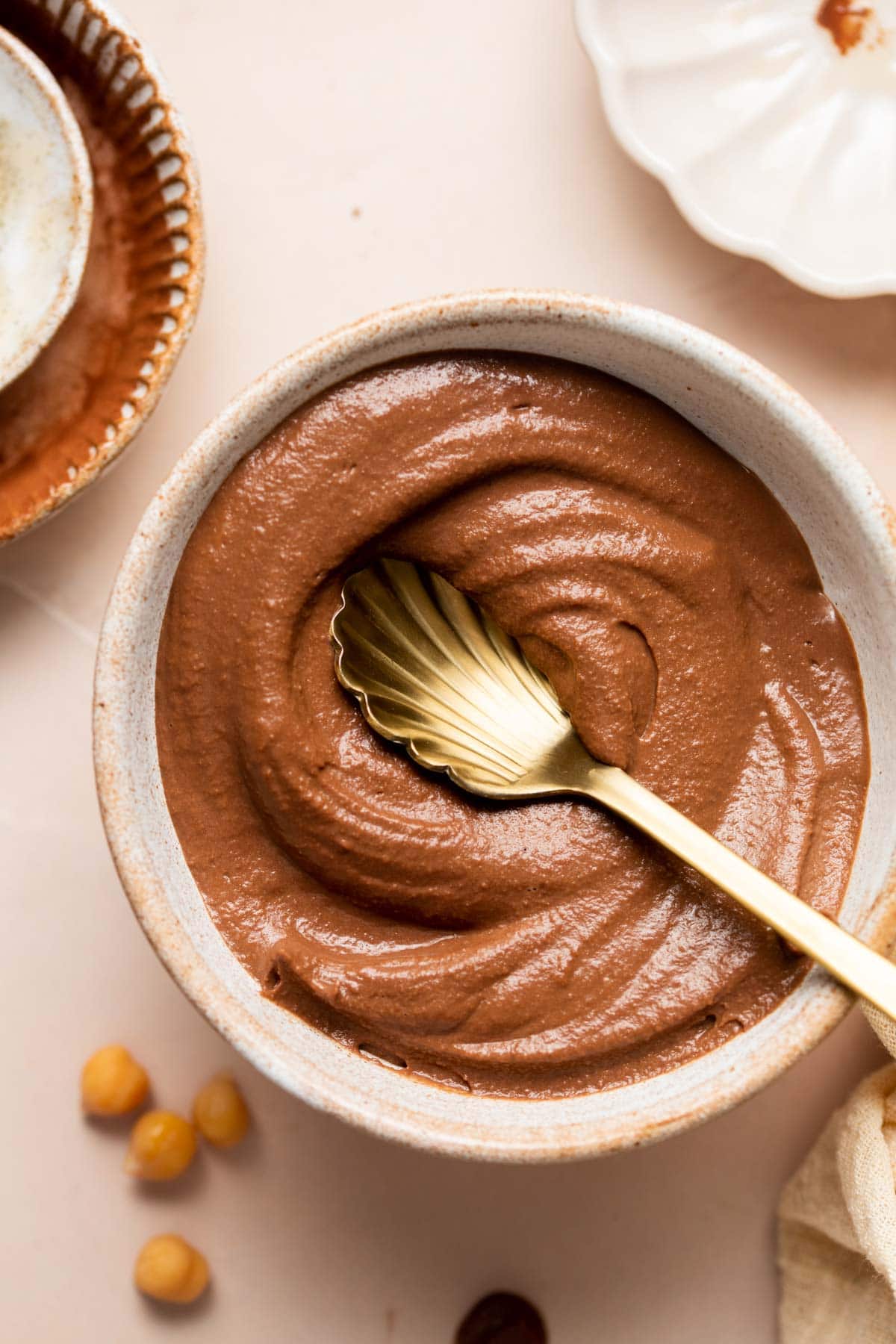 Just a little tip if you're serving this at a family gathering. I've often found my friends and family to be a little apprehensive about a dish called chocolate hummus. However, once I've started introducing it as a healthy chocolate dip, they've become a LOT more willing to give it a try. This works well with older relatives and kids alike!
Jump to:
Why I Love This Recipe
Made within minutes
No need to cook the chickpeas
Minimum preparation
Keeps in the fridge for days
Extraordinary taste
Plus, the recipe is both vegan AND gluten-free! This makes it perfect for everything from kids' parties to large dinner gatherings.
Ingredients
Here are the ingredients you'll need for this fun recipe.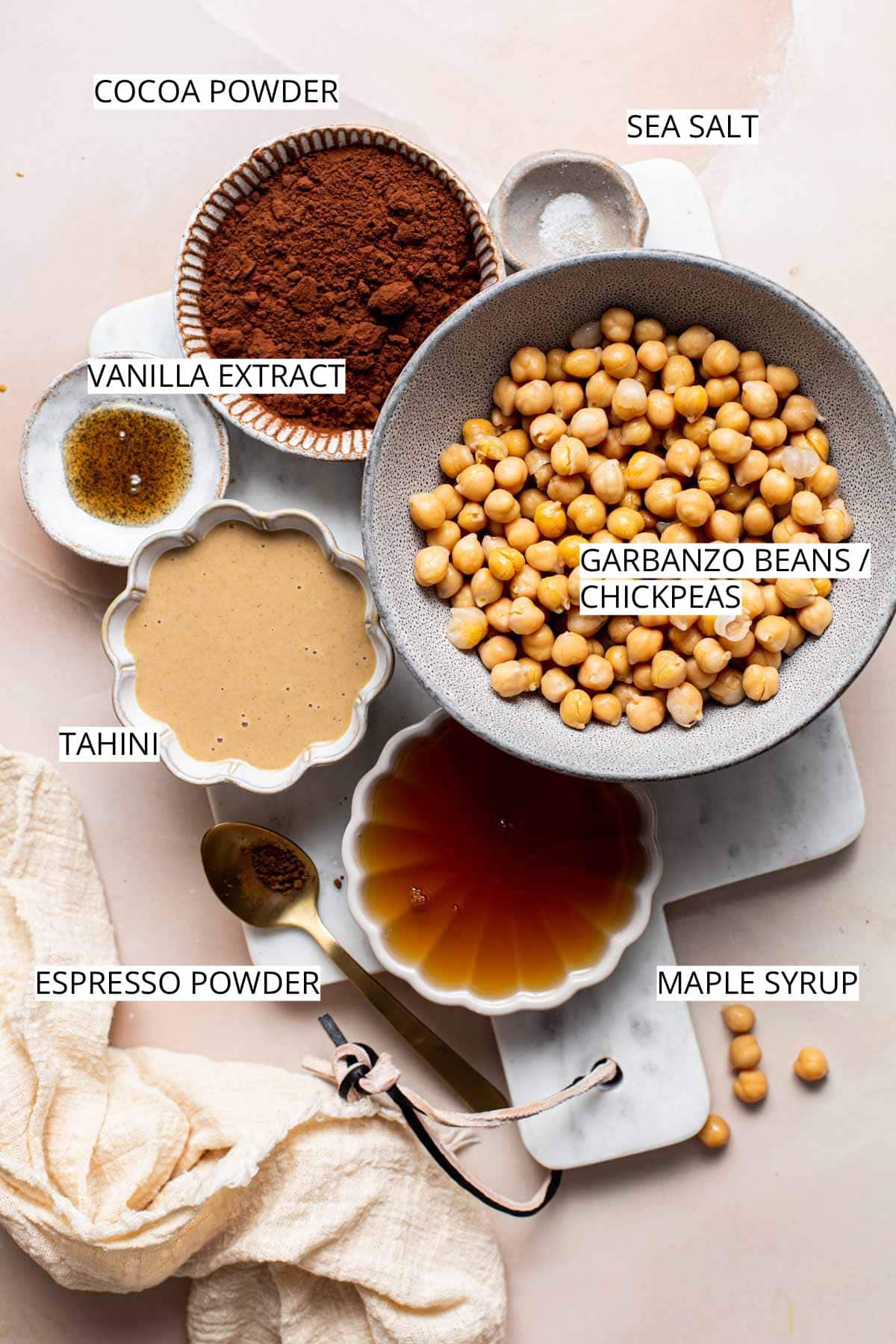 Ingredients Details
Garbanzo beans (chickpeas) - To keep things simple, I use unsalted canned chickpeas. Alternatively, you could also boil chickpeas from scratch (see instructions in the recipe card at the bottom. I find that the difference between canned and cooked chickpeas isn't too noticeable in this recipe and the extra work isn't worth it. However, this is completely up to you!
Cocoa powder - Adds an intense & deep chocolate flavor. If you can, I suggest splurging a little on this ingredient! Apart from chickpeas, this is the main ingredient so the higher the quality, the better.
Tahini - Also known as sesame paste, tahini can be found in most large supermarkets. You'll likely find it in the condiments, international foods, or healthy foods section.
Maple syrup - Adds a hint of sweetness.
Vanilla extract - Opt for vanilla bean paste if you can. Can be subbed for cheaper vanilla essence too.
Almond milk - Helps create a creamy finish while keeping the dish light and not impacting the flavor.
You'll also need a pinch of sea salt and some espresso powder. They both help bring out a more intense chocolate flavor.
Missing any ingredients? Don't worry, check the Substitutes section below for ideas.
Steps
Tip - This is just a quick visual overview. For detailed instructions & exact measurements see the recipe card at the bottom.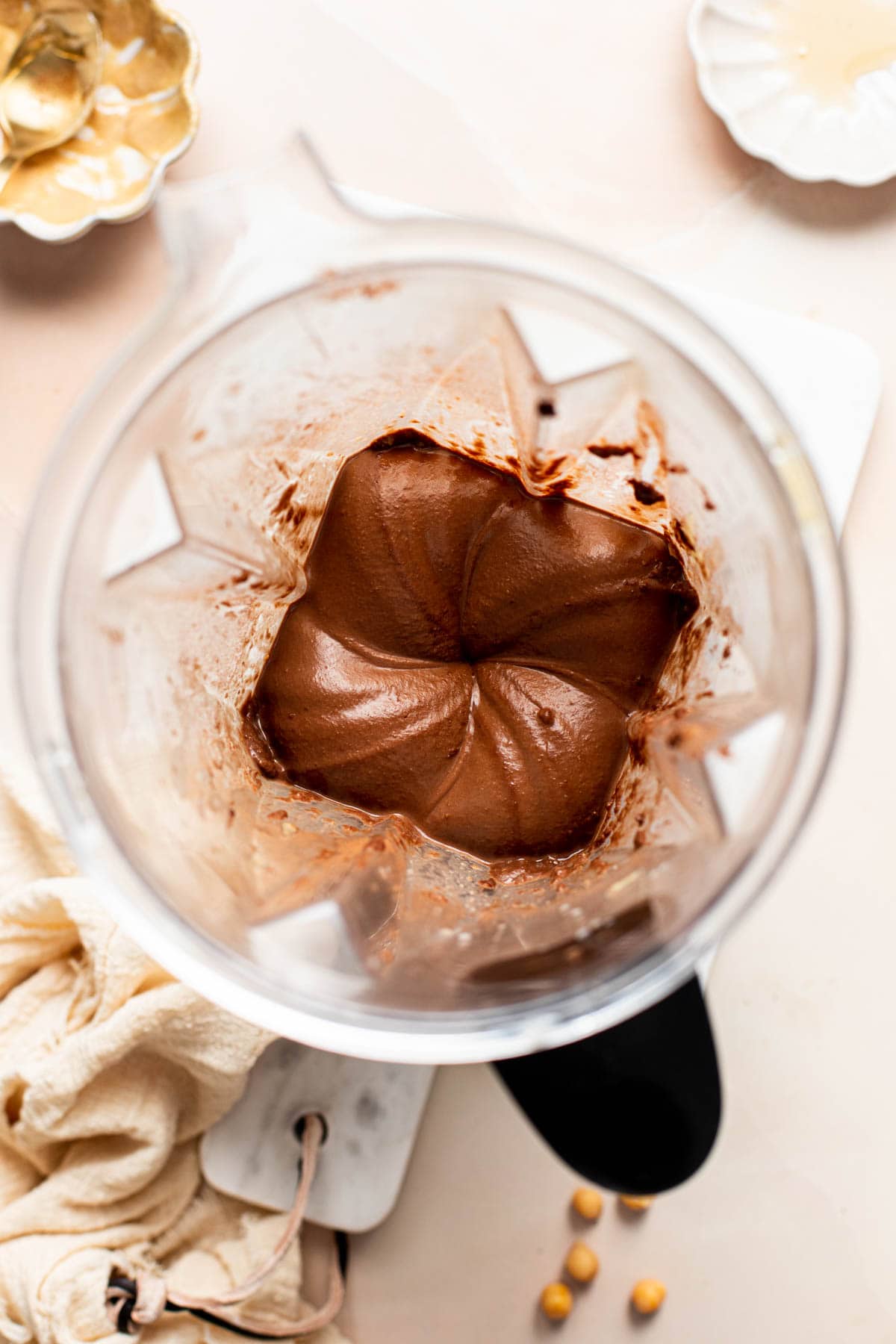 This dark chocolate hummus couldn't be any easier to make.
First, rinse the canned chickpeas under cold running water.
Then add your ingredients to a food processor or blender.
Lastly, blend at high speed for 2-3 minutes or until completely smooth.
You might need to pause and scrape down the sides from time to time.
Hint: If your hummus is too thick or too dry, simply add another splash of almond milk and blend again. Too thin? Add more chickpeas or tahini.
Top Tips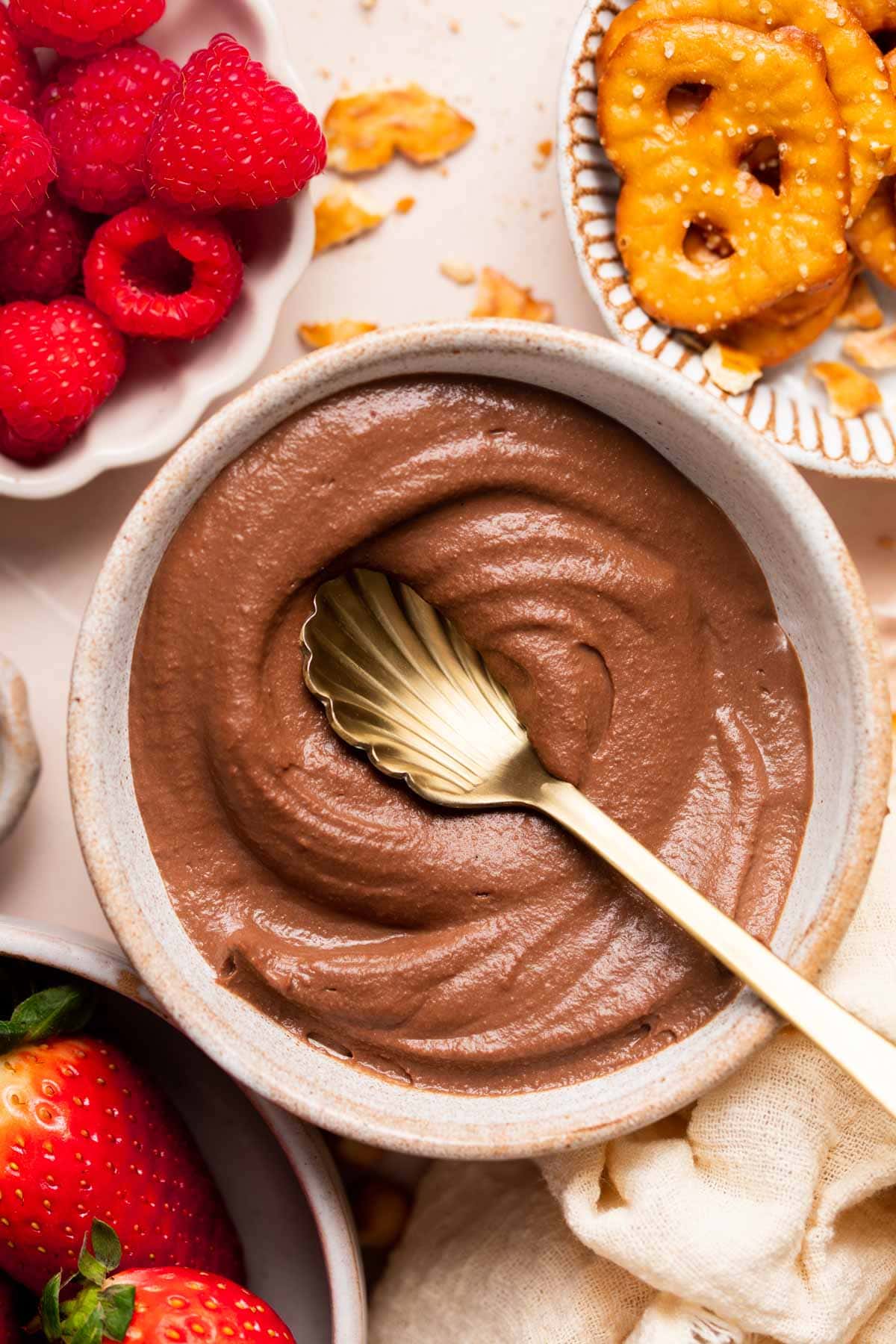 Use chickpeas with NO added salt.
Check the label - does it say chickpeas in water? If you're using chickpeas in salted water this recipe won't work. If you're unsure, check the nutritional information on the back of the can. The salt content should be negligible (less than 0.1 per 100g).
Stop & scrape down the sides.
If you're using a food processor, this mixture should blend very easily. However, if you're using a blender, you might need to pause a few times. Use a silicone spatula or a scraper to firmly remove any hummus from the sides. Mix again and repeat until the mixture is smooth.
Serve with cocoa nibs on top.
This will give you an extra satisfying crunch. It's a great complement to the creamy texture. It also gives a new dimension to the luscious cocoa flavor. If you don't have cocoa nibs you can use chocolate chips instead.
Extra tip - Don't like tahini? Replace it with peanut butter or another nut butter (such as cashew, almond, etc). I find tahini to be quite neutral, but nut butter is a better choice if you prefer a stronger, nuttier flavor. I recommend natural nut butter with no added sugar, salt, or oil.
Serving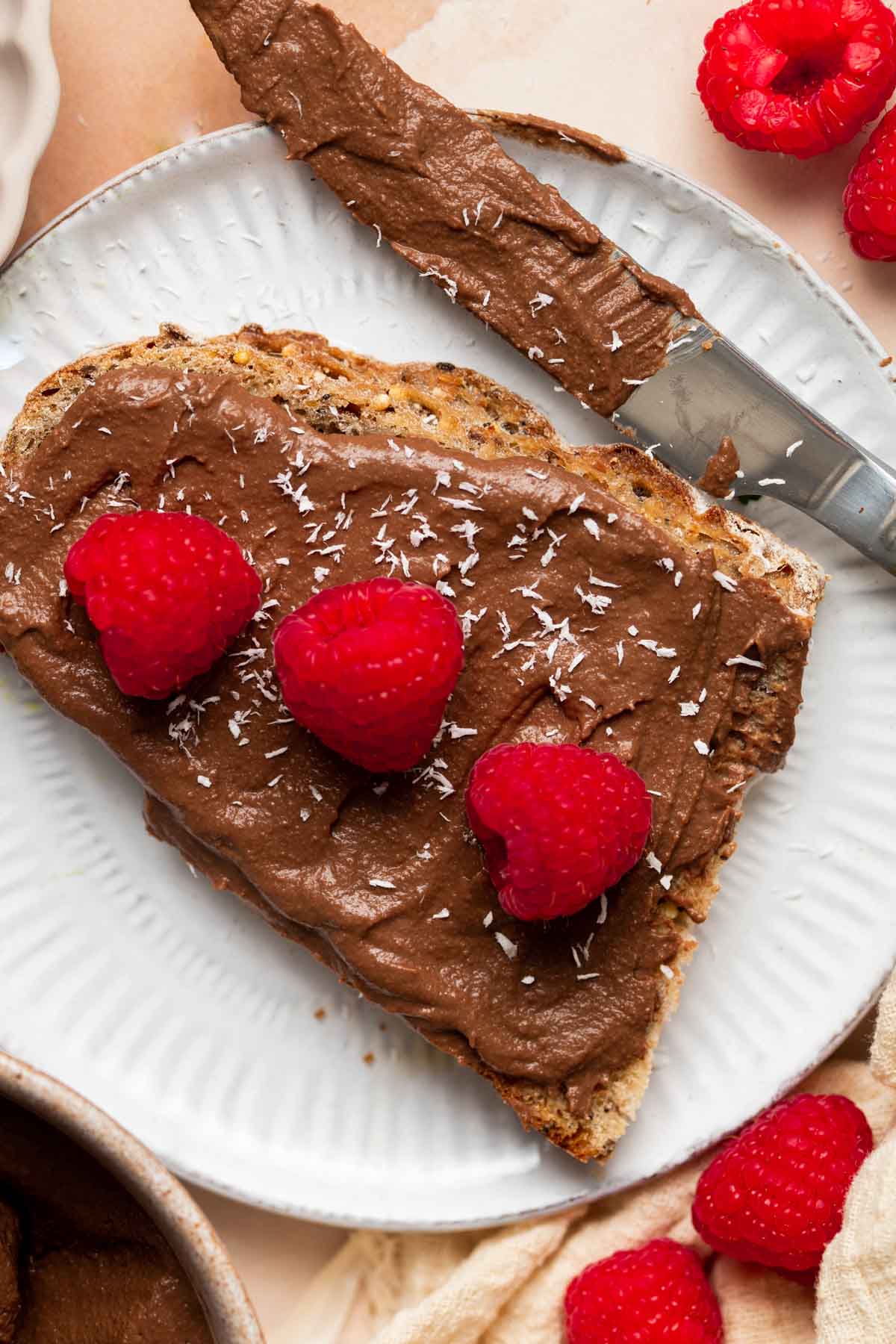 This dip is so versatile.
I like serving it with/on:
Crackers
Pretzels
Graham crackers
Fresh fruit (especially fresh strawberries, blueberries, pears, apples & raspberries)
Bread
Or simply on its own!
Substitutions & Add-ons
Maple syrup can be replaced with agave syrup, Medjool dates, or sugar. Coconut sugar and soft brown sugar work particularly well.
Almond milk can be replaced with any other dairy-free milk such as soy or oat milk. You can also replace it with water or extra virgin olive oil.
Tahini can be replaced with nut butter such as peanut, cashew, or almond butter.
I also love playing around with add-ons such as orange zest or various extracts (such as almond, orange, and peppermint).
Equipment
You will need either:
Food processor - The best tool for making this recipe. OR
High-speed blender - A great alternative. Powerful blenders like KitchenAid and Vitamix will have no issues blending this hummus. However, you might need to blend the mixture for a little longer if using a simple blender. OR
Immersion blender - (sometimes called hand mixer in the UK). Yes, you can even make this recipe using this simple tool. Keep in mind that the hummus will turn out considerably more grainy. You will also need to add more liquid (water, almond milk, or oil).
FAQ
What to eat with dark chocolate hummus?
I like pairing it with fresh strawberries, raspberries, and pretzels. You can also spread it on pancakes, toast, crepes, etc.
What does dark chocolate hummus taste like?
It's sweet, rich, and a little nutty. The texture reminds me of raw brownie batter. Some people can taste a hint of chickpeas, however, their flavor is not overpowering or savory AT ALL.
Can I skip espresso powder?
Yes, you can make this dark chocolate hummus without espresso powder. However, it does help amplify that rich chocolate flavor (see why here).
Storage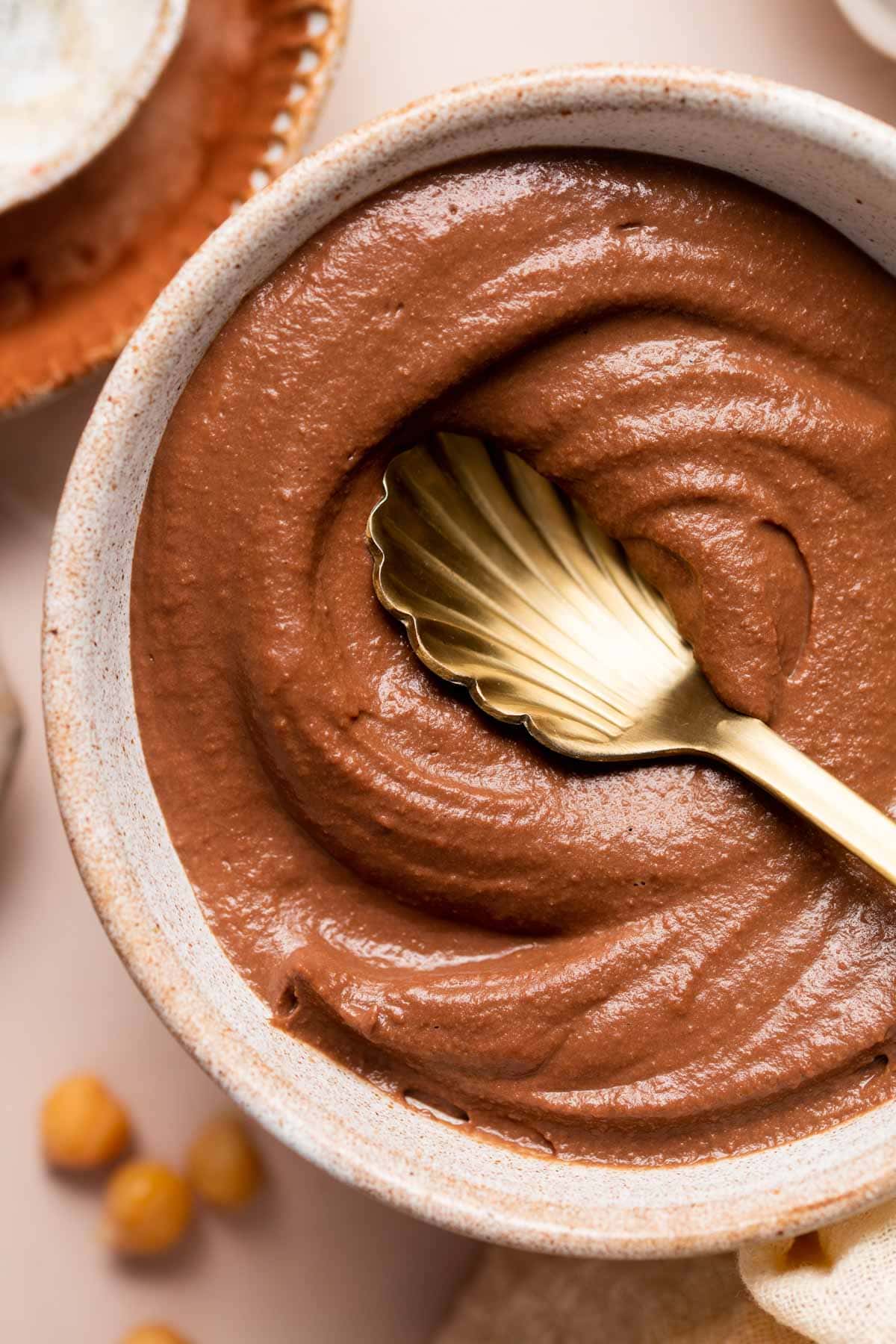 This dark chocolate hummus is SUPER easy and convenient to store.
To store - Simply transfer any leftovers to an airtight container. This will prevent the hummus from drying out. Glass or plastic Ikea containers with a secure lid work particularly well.
Keep in the fridge for about 4-5 days.
To freeze - As above, transfer any leftovers to an airtight, freezer-safe container. Freeze for 2-3 months. Let thaw completely at room temperature before serving.
Food safety
Always adhere to manufacturers' instructions when using food processors and blenders.
Never place any utensils in the blender while it's still running.
Don't leave the hummus out at room temperature for extended periods of time.
Store it in an airtight container in the fridge instead.
More Healthy Treats
If you enjoy easy & healthy plant-based desserts you might want to try out my:
Made this dark chocolate hummus? It would mean a LOT to me if you could leave a comment & star rating below - this is the best way to support my blog!
Got any questions? Simply leave a question below.
🍴Recipe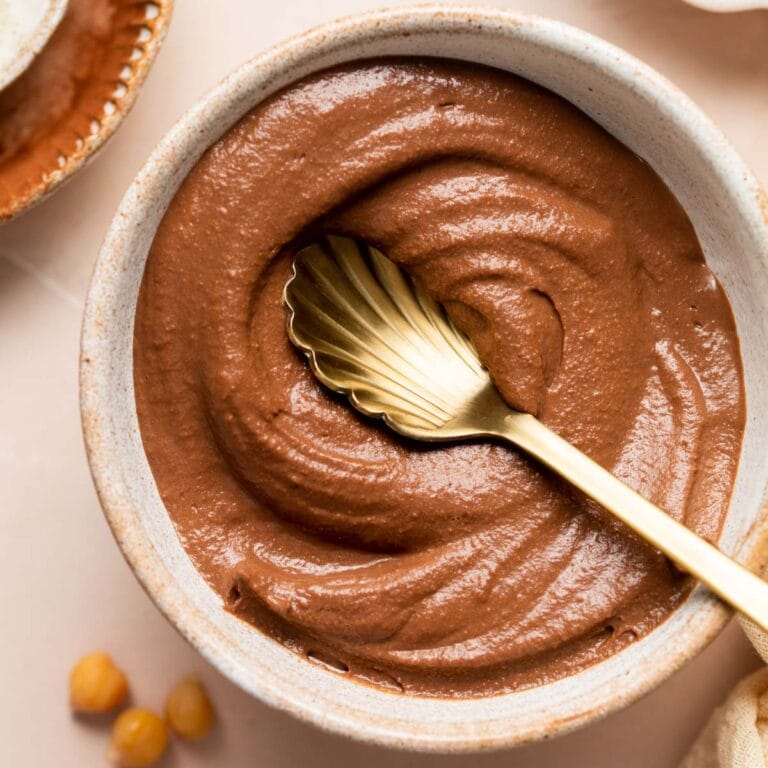 Dark Chocolate Hummus - Easy Dessert Dip
This 8-ingredient dark chocolate hummus is a lavish but healthy dessert dip made in minutes.
Print
Pin
Rate
Equipment
Food processor or blender
Ingredients
14 oz

can

(

400g

can

) garbanzo beans / chickpeas unsalted, drained & rinsed

4

tablespoon

cocoa powder

¼ cup

¼

cup

(

60

g

) tahini

⅓

cup

(

85

ml

) maple syrup

2

teaspoon

vanilla extract

1

teaspoon

espresso powder

6,5

tablespoon

(

6.5

tablespoon

) unsweetened almond milk

1

pinch

sea salt
Instructions
First, rinse the canned chickpeas under cold running water.

14 oz can garbanzo beans / chickpeas

Place all your ingredients into your food processor (or blender).

14 oz can garbanzo beans / chickpeas,

4 tablespoon cocoa powder,

¼ cup tahini,

⅓ cup maple syrup,

2 teaspoon vanilla extract,

1 teaspoon espresso powder,

6,5 tablespoon unsweetened almond milk,

1 pinch sea salt

Blend for 2-3 minutes until completely smooth.

If needed, scrape down the sides from time to time. Add more almond milk or water if the mixture is too dry.
Notes
Tip 1 - Use canned garbanzo beans (chickpeas) with NO added salt.
Tip 2 - Adjust the sweetness to your taste. I recommend starting with ⅓ cup (85ml) of maple syrup and adding more if desired.

Tip 3 - Serve with cocoa nibs (or chocolate chips) on top for an extra crunch.
No canned chickpeas? You can also cook your own chickpeas from scratch. Simply soak them in boiling hot water for about 30 minutes. Then rinse & add them to a saucepan. Fill with water, and bring to a boil. Simmer for about 45 minutes until soft & easily mashed with a fork.
Don't like tahini? Replace it with peanut butter. You could also try almond or cashew butter.
To serve - Serve with crackers, pretzels, strawberries, raspberries, blueberries, and apples, on bread, toast, pancakes, crepes, or on its own.
To store - Transfer any leftovers to an airtight container. Keep in the fridge for about 4-5 days.
To freeze - Freeze in an airtight container for 2-3 months. Before serving, let the hummus thaw in the fridge overnight.
Nutrition
Calories:
92
kcal
|
Carbohydrates:
13
g
|
Protein:
2
g
|
Fat:
4
g
|
Saturated Fat:
1
g
|
Polyunsaturated Fat:
2
g
|
Monounsaturated Fat:
2
g
|
Sodium:
25
mg
|
Potassium:
112
mg
|
Fiber:
1
g
|
Sugar:
8
g
|
Vitamin A:
5
IU
|
Vitamin C:
0.3
mg
|
Calcium:
44
mg
|
Iron:
1
mg
Disclaimer: The nutritional information above is calculated automatically. The author of this post cannot guarantee 100% accuracy of this data.