An indulgent vegan blondie recipe with the addition of toasted hazelnuts for that extra kick of flavour. A beginner-friendly and foolproof recipe that has been approved by dozens of non-vegans.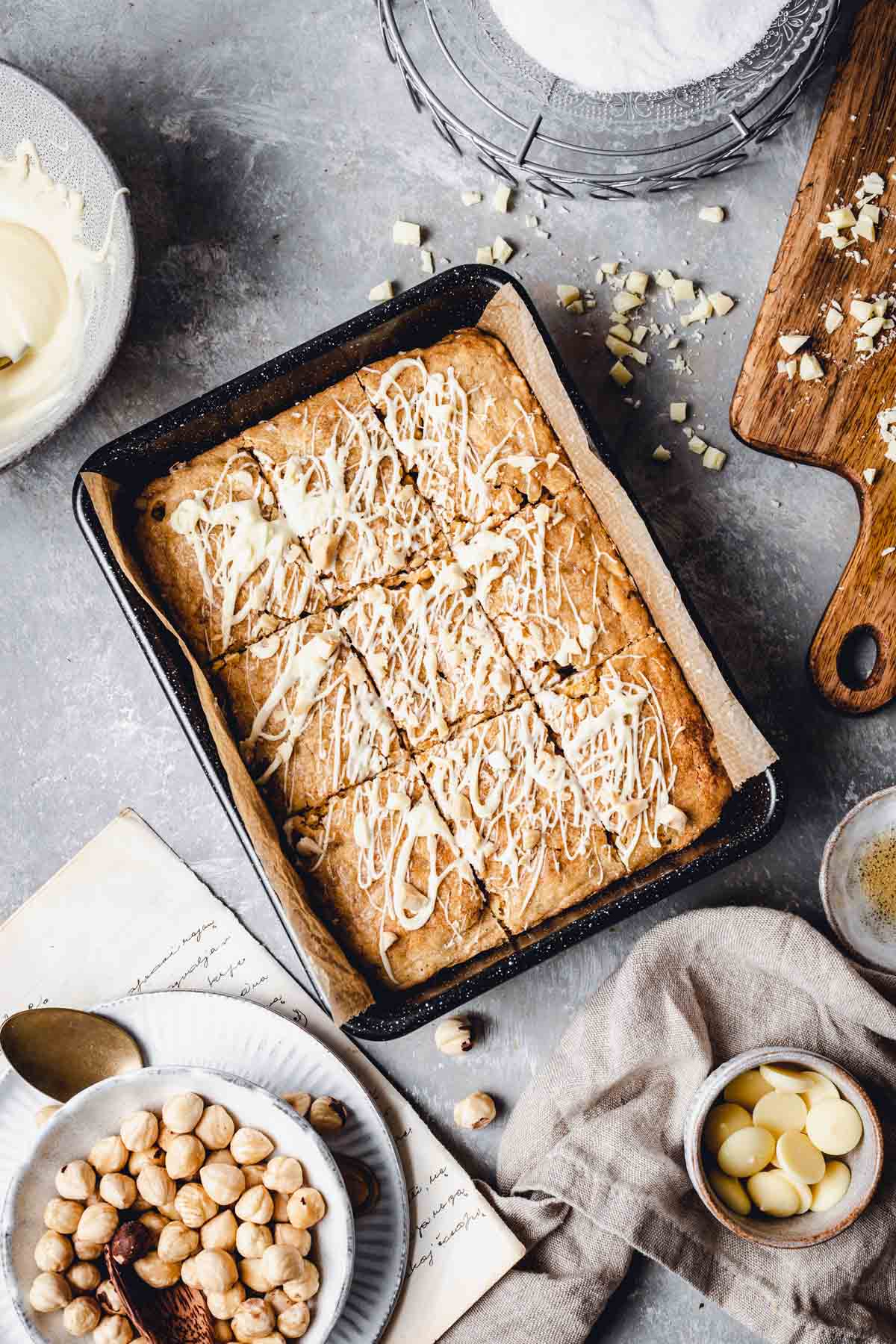 Why This Recipe Works
Looks and tastes amazing
The flaxseed egg is super easy to make and works as an extremely effective replacement for regular eggs
White chocolate and hazelnuts combine to make the perfect flavour pairing
The vanilla extract gives an added depth of flavour
A small-batch recipe perfect for tiny households (but can be doubled, tripled, etc)
A mixture of light brown and white sugar
A great alternative to my vegan brownies (or you could even make both?!)
Plus, there are step-by-step photos below to show you exactly how your baking process should look from start to finish. Ready to jump right in?
The Ingredients
You will need these ingredients to make your vegan blondie.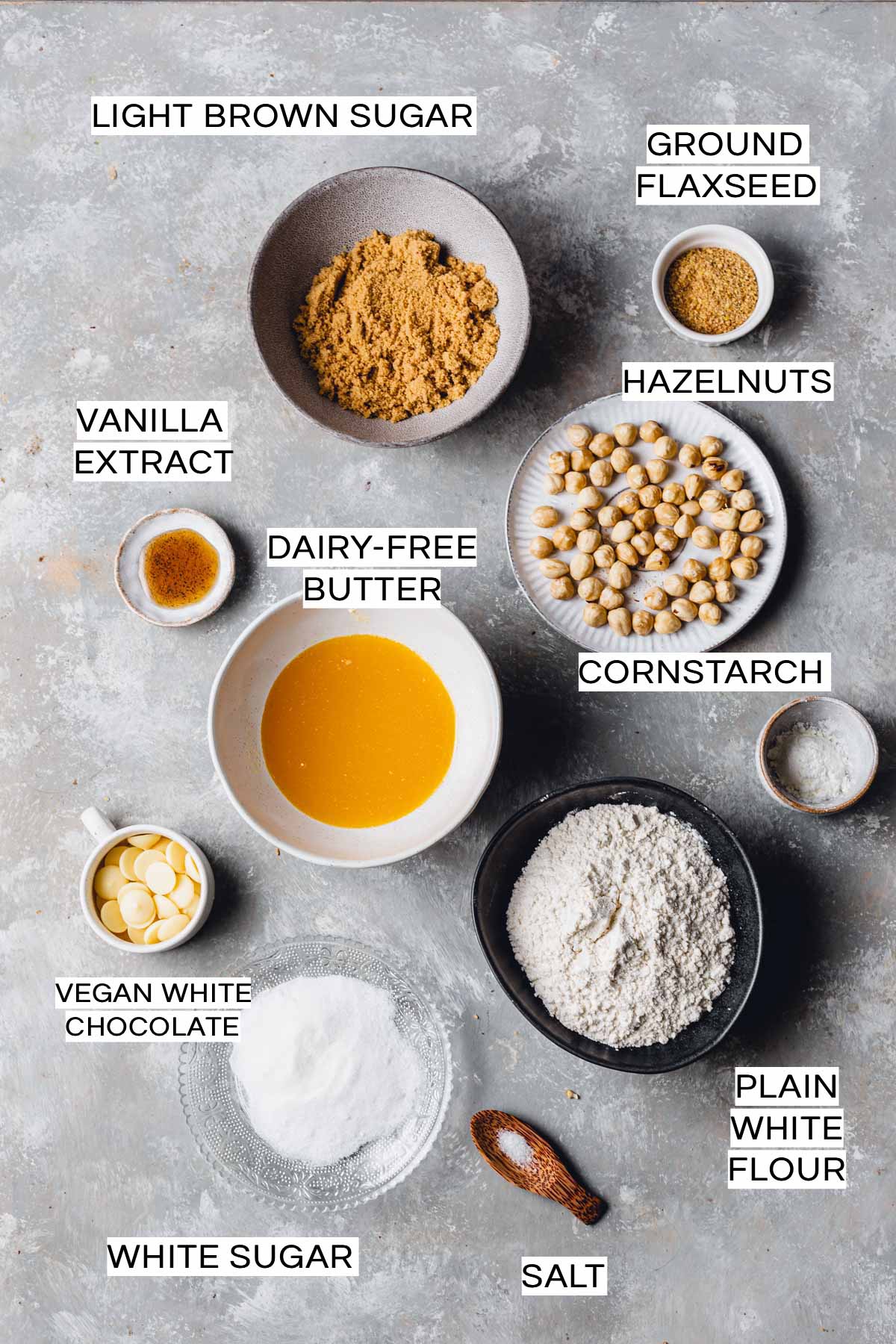 A couple of notes regarding the ingredients
Flaxseed: you will need to use ground flaxseed. You can find it in all the bigger supermarkets and most health stores. If you can't access it, simply opt for whole flaxseed and use a blender or food processor to blend it until powdery.
Vanilla extract: I used vanilla extract in liquid form (not paste or powder).
Cornstarch: Sometimes known as cornflour.
White vegan chocolate: Ideally, you will use white chocolate. However, no worries if you can't find it. Simply substitute for other vegan chocolate of choice (such as vegan 'milk' chocolate or dark chocolate).
Nuts: I used hazelnuts as they make the perfect flavour addition. Feel free to substitute for another nut of your choice (I would recommend pecans or almonds).
Step-by-step Photos
*A detailed (including measurements) recipe card that you can print is waiting for you at the bottom of this post.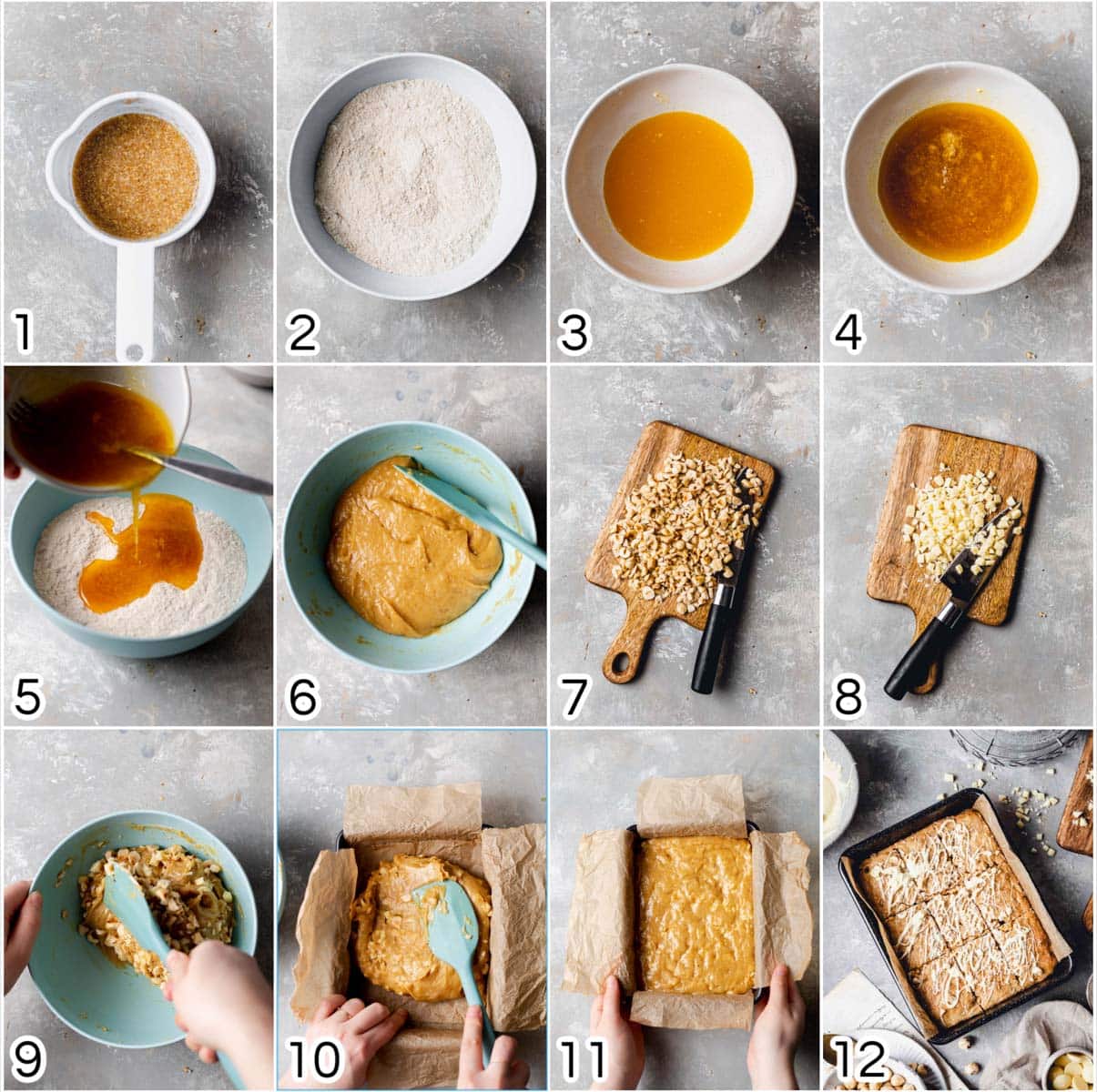 Make your flax egg and set aside.
Combine all dry ingredients.
Combine all your wet ingredients.
Add your flax egg to the wet mixture.
Slowly pour your wet mixture over your dry ingredients.
Mix until combined. Do not overmix.
Chop and gently roast your hazelnuts in a non-stick pan (2-3 mins until golden brown around the edges).
Chop up your white chocolate.
Add both to your batter.
Transfer your batter to a lined baking sheet.
Even out the top and bake for 25-30 minutes.
Drizzle with more white chocolate. Let cool before slicing.
Expert Tips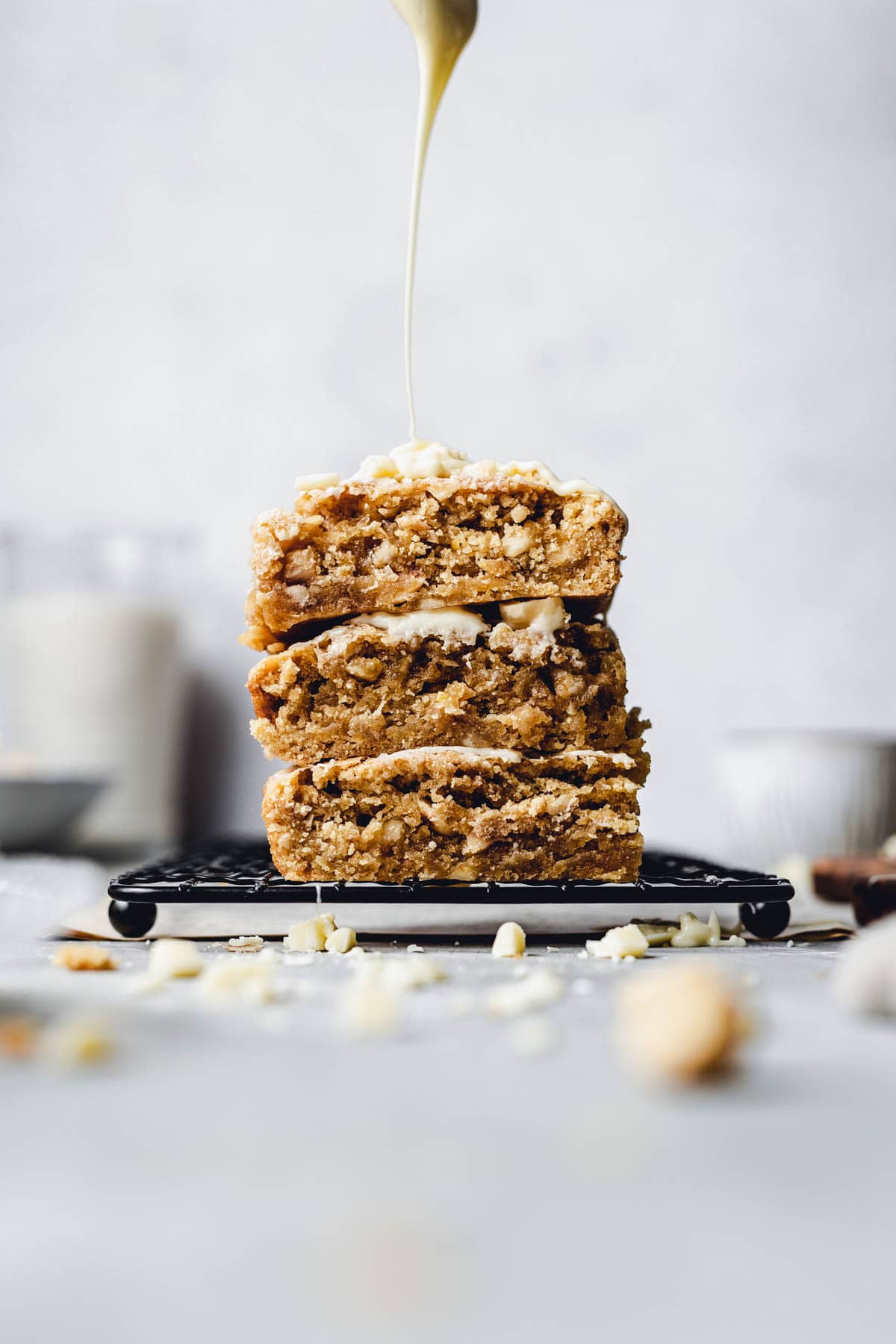 1. Do not overmix
The key to perfect vegan blondies is the batter. My friendly tip is NOT to overmix it.
The more you mix it, the more your blondie will resemble a cake. That's definitely not what we're aiming for!
2. Don't Overbake
It's important you don't over bake these. It will dry them out and change their texture, making them resemble a cake rather than a blondie.
To check they're baked, just gently shake the tin. If the batter stays in place or wobbles just in the middle, they're done.
If it wobbles everywhere, put them back in the oven for 3-5 minutes and then check again.
Remember that the blondies continue to bake even after you've removed them from the oven (especially the centre). With this in mind, you should remove them from the oven when the edges are golden brown, whilst the middle still looks gooey and underdone.
3. Don't poke with a skewer
Have you ever baked a cake? Then you will know the trick with a wooden skewer. To test if a cake is done, a wooden skewer should be inserted in the middle. If it comes out clean, the cake is done.
However, it's really important you don't do the same when baking blondies. They are meant to be gooey, so a skewer shouldn't come out clean at all. If you wait until the skewer comes out clean, your blondie will be very overbaked.
4. Slice when it's cold
I know the feeling so well. You're so excited about what you've just baked and want to slice it and try it immediately. Whoops - massive mistake here!
You should never cut baked goods whilst they're still warm. Let the blondie cool down completely and then slice it.
When blondies are still warm, they will be more gooey and messy. This will make it impossible to get those sharp edges we all love and adore.
FAQ + Troubleshooting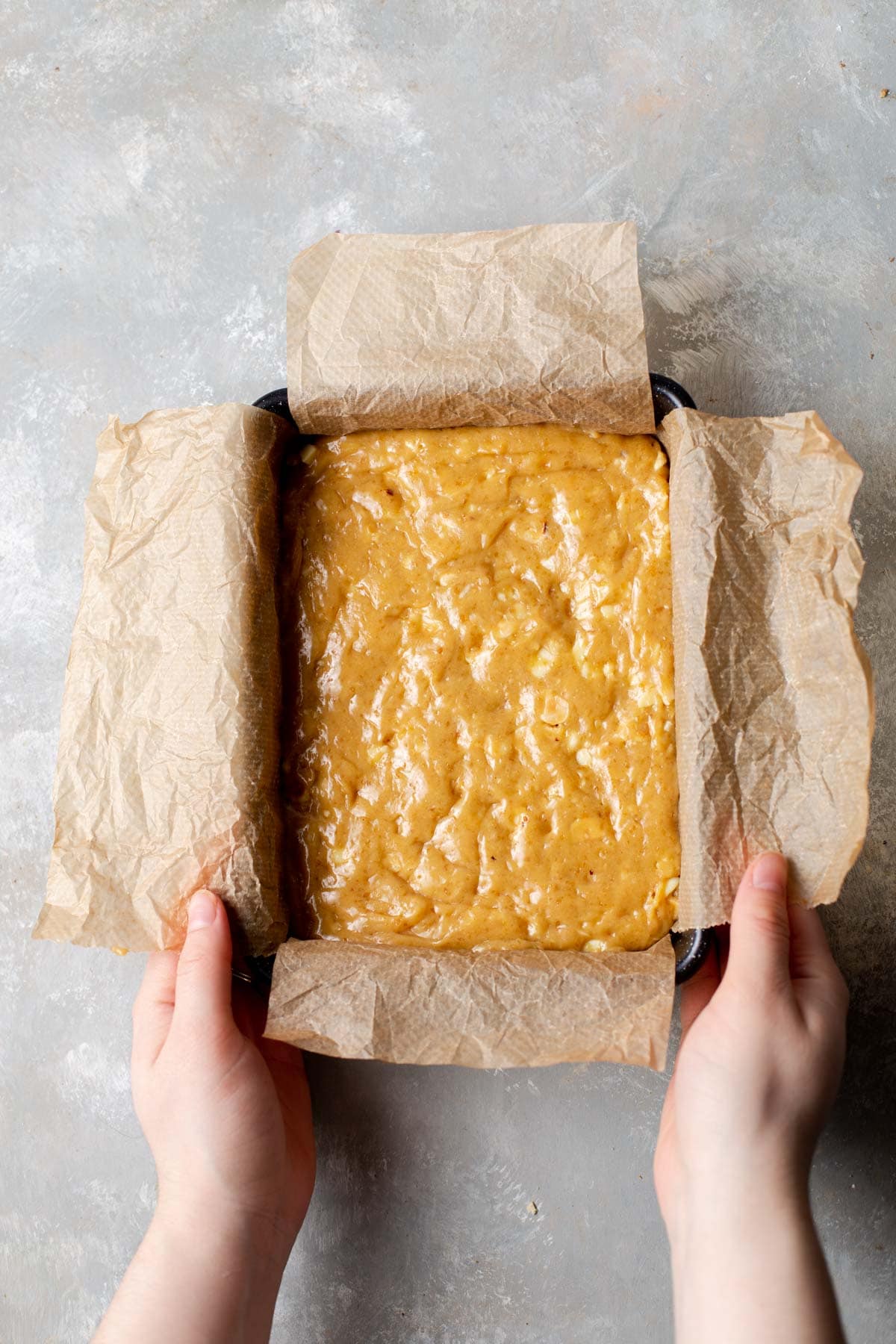 Why are my blondies dry?
The most common reason for dry blondies is over-baking. If your blondies are dry in the middle they've been baking for too long.

If this is the case, there is not much you can do about it except removing them sooner when you bake them the next time. Still, I encourage you to use the 'dry' batch in order to minimise food waste. I've got some good suggestions for you below.
How to salvage dry blondies?
To make dry blondies taste less dry you can do the following. First, you can use a bit of heat. Wrap them in a towel and microwave on medium heat for about 10 seconds.

Secondly, you could top them with some delicious ice cream. This works very well in countering the dryness.

Alternatively, you could top them with various liquid sweeteners (such as chocolate sauce, maple syrup) or whipped cream. Find more tips here.
What size tin will I need?
I used a tin that measures 8x6 in (21x16cm). This yielded 9 portions. 
How to store vegan blondies?
First, let them cool completely, then cut into squares and store in an airtight container. Do NOT refrigerate as this can dry them out. 
Can vegan blondies be frozen?
Yes, absolutely. Again, you will need to let them cool down and then cut them into squares. Place in a freezer-proof container and store for up to 1 month. 

To make sure they don't stick to each other in the freezer, place a small sheet of baking paper between each slice.
That's it, you made it all the way until the end! For more easy vegan desserts, check out my favourite recipes such as my double chocolate cupcakes, cherry pie & mug brownie.
As always, if you have any questions, feel free to ask using the comments section below. Your ratings, comments and re-makes never fail to make my day!
🍴Recipe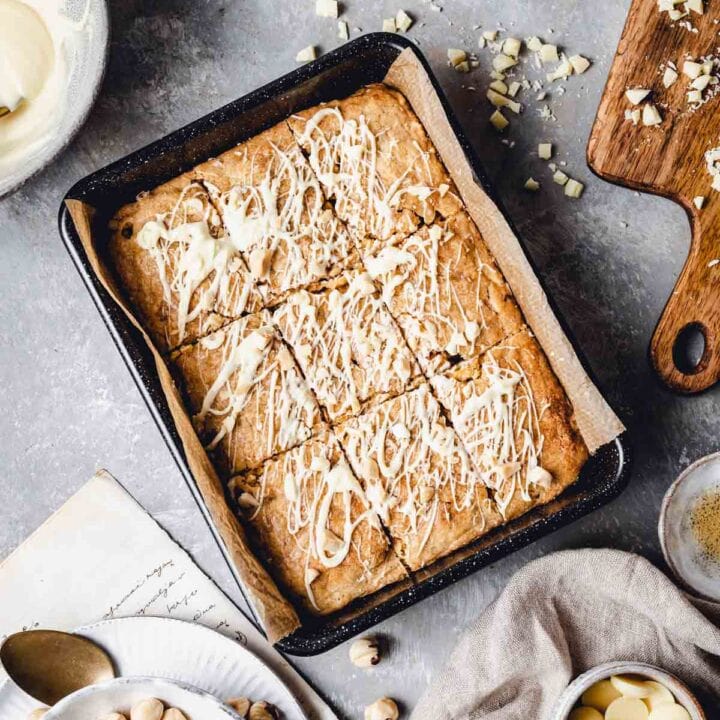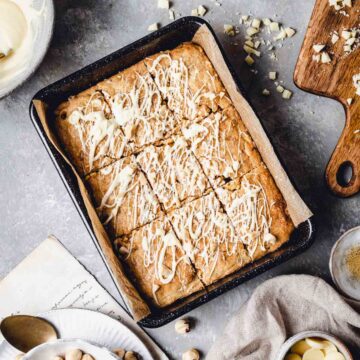 Easy Vegan Blondie
Easy, fudgy, beginner-friendly vegan blondie with white chocolate and hazelnuts.
Print
Pin
Rate
Equipment
Measuring cups or scales

Baking tin (8x6 in, 21x16cm)
Ingredients
1,5

tablespoon

ground flaxseed

3

tablespoon

boiling hot water

100

g

(

3.53

oz

)

light brown sugar

50

g

(

1.76

oz

)

white sugar

145

g

(

5.11

oz

)

plain white flour

A pinch of

salt

2

teaspoon

cornstarch

100

g

(

3.53

oz

)

dairy-free butter

1,5

teaspoon

vanilla extract

70

g

(

2.47

oz

)

hazelnuts

30

g

(

1.06

oz

)

vegan white chocolate

20

g

(

0.71

oz

)

vegan white chocolate

optional drizzle
Instructions
Boil a kettle. In a small bowl, mix flaxseed with boiling hot water and set aside. This will create a flaxseed 'egg'.

In a separate bowl mix together both sugars, flour, salt and cornstarch.

Melt butter (either in a microwave or in a small pan - careful not to burn). Add vanilla extract and stir well.

Then add the flaxseed 'egg' to the butter mixture. Stir well.

Slowly pour your wet mixture over your dry ingredients. Mix until combined and no more flour specks can be seen.

Chop up the hazelnuts. Roast hazelnuts in a small non-stick pan until golden around the edges (2-3 minutes). Do not use any oil. 

Chop up white chocolate.

Add hazelnuts and white chocolate to your batter. Gently fold them in, making sure not to overmix the batter.

Pour the mixture into a lined baking tray.

Bake at 180°C/356°F for 25-20 minutes (fan oven setting*).

Melt white chocolate (in a microwave or over a water bath) and drizzle over the blondie in quick diagonal motions.

Allow to cool before slicing.
Notes
*Not using a fan oven setting? Bake at 200°C/392°F.
Set the flaxseed egg aside for long enough. You will want it to get an almost jelly-like consistency.
Be careful not to overmix your batter.
Don't have baking paper? Use dairy-free butter to grease all the inner sides of your tin well before baking.
To check the blondies are baked, just gently shake the tin. If the batter stays in place or wobbles just in the middle, they're done. If not, place back in the oven and try again in 5 mins.
To freeze: Place in a freezer-proof container and store in a freezer for up to 1 month.
Nutrition
Calories:
277
kcal
|
Carbohydrates:
33
g
|
Protein:
3
g
|
Fat:
15
g
|
Saturated Fat:
3
g
|
Sodium:
77
mg
|
Potassium:
94
mg
|
Fiber:
2
g
|
Sugar:
18
g
|
Vitamin C:
1
mg
|
Calcium:
28
mg
|
Iron:
1
mg
Disclaimer: The nutritional information above is calculated automatically. The author of this post cannot guarantee 100% accuracy of this data.