If you ever thought waffles are reserved for special days only, think again. I'm here to bring you the crunchiest, most satisfying vegan chocolate waffles you've ever tasted. The kind that make the whole world around you stop once you bite into their sweet and fluffy inside.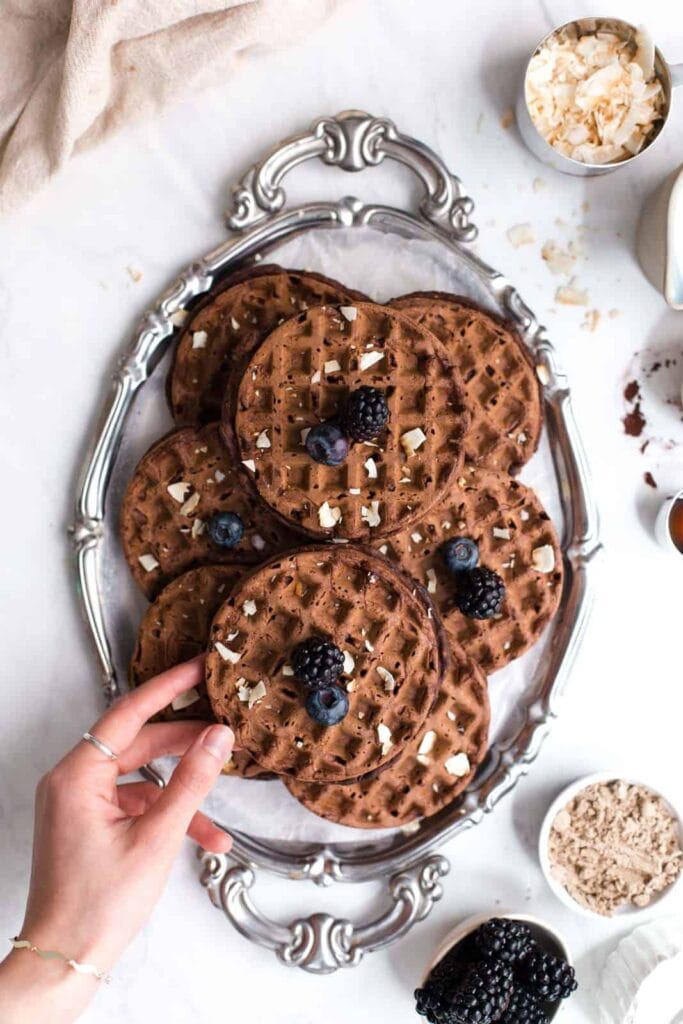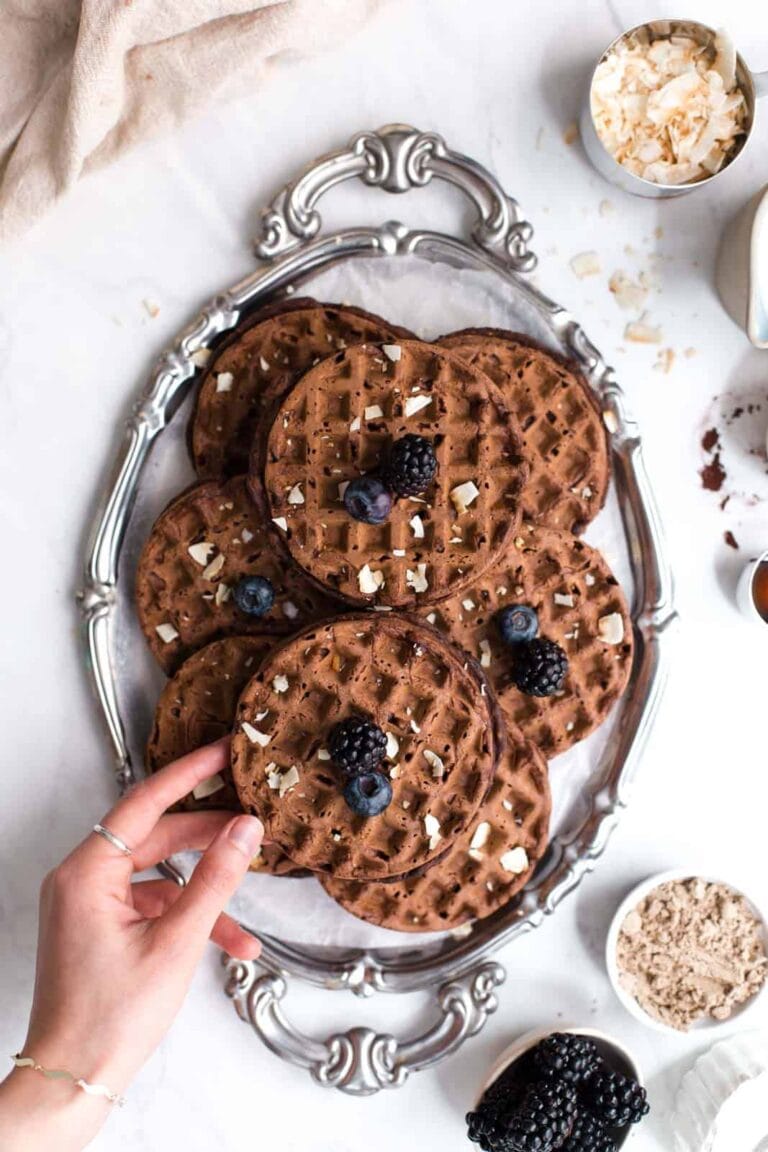 The Fluffiest Vegan Chocolate Waffles
What makes these vegan waffles so good?
They contain no added sugar
They're crunchy and satisfying
They're easily customised according to taste
The perfect breakfast, snack or dessert!
They're super easy, all you need is 1 bowl!
They stay good for up to 4 days (stored in an airtight container)
Last but not least, they're loaded with nutrients - but more on that below.

Let's first find out how to make your best ever waffles to date!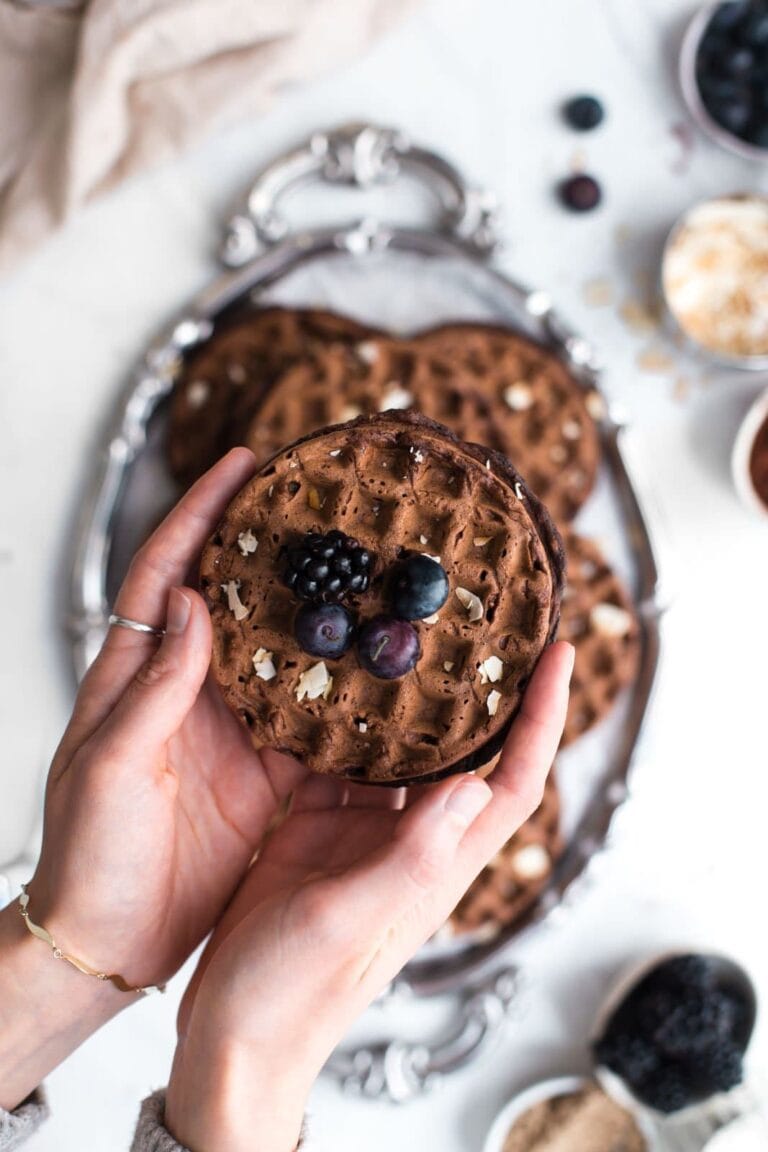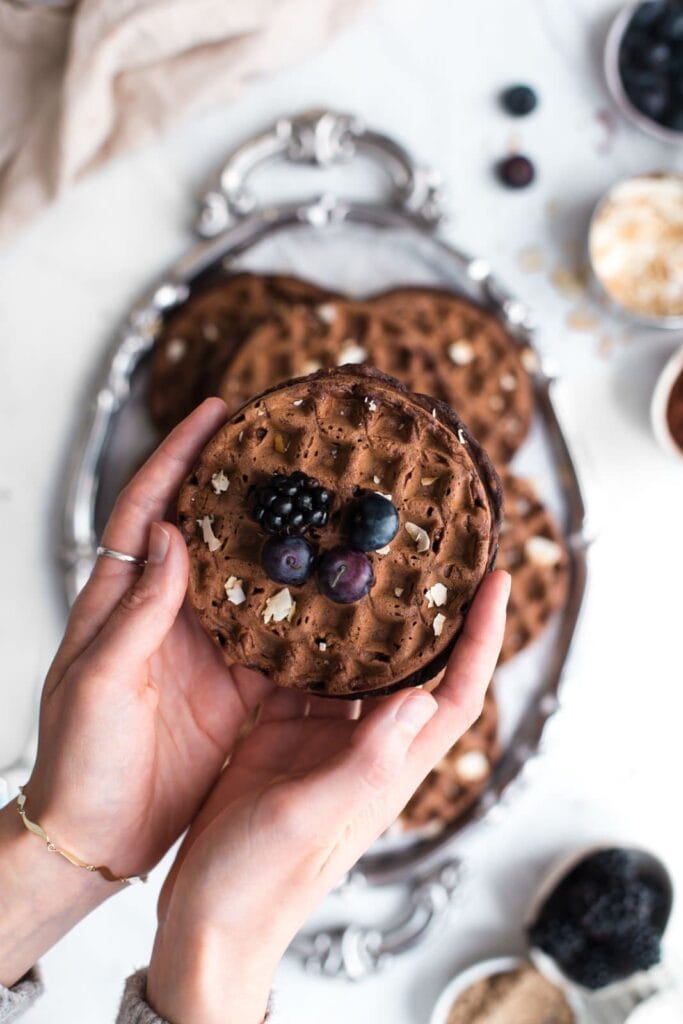 How To Perfect Your Vegan Chocolate Waffles Recipe
There are two elements to making the perfect waffle.

KNOW WHEN TO STOP: Be careful not to overwork the waffle batter. Wondering what that actually means? Why is it so often recommended that you don't stir the batter too much?
Excessive stirring will overwork the glutens and leave your waffle flat. This means your waffles won't be soft and fluffy, but hard as stone! Make sure the ingredients are just combined with no large bumps left and then stop immediately.

P.S. - this rule applies to more or less all baked goods!

TOAST IT: One of my favourite things about this waffle recipe is that you can prepare it ahead and simply pop the waffles in a toaster whenever hunger strikes again.
I love baking a batch of 10 fresh waffles, then storing them in an airtight container and simply toasting them whenever I want a snack. It's easy, customisable and entirely homemade!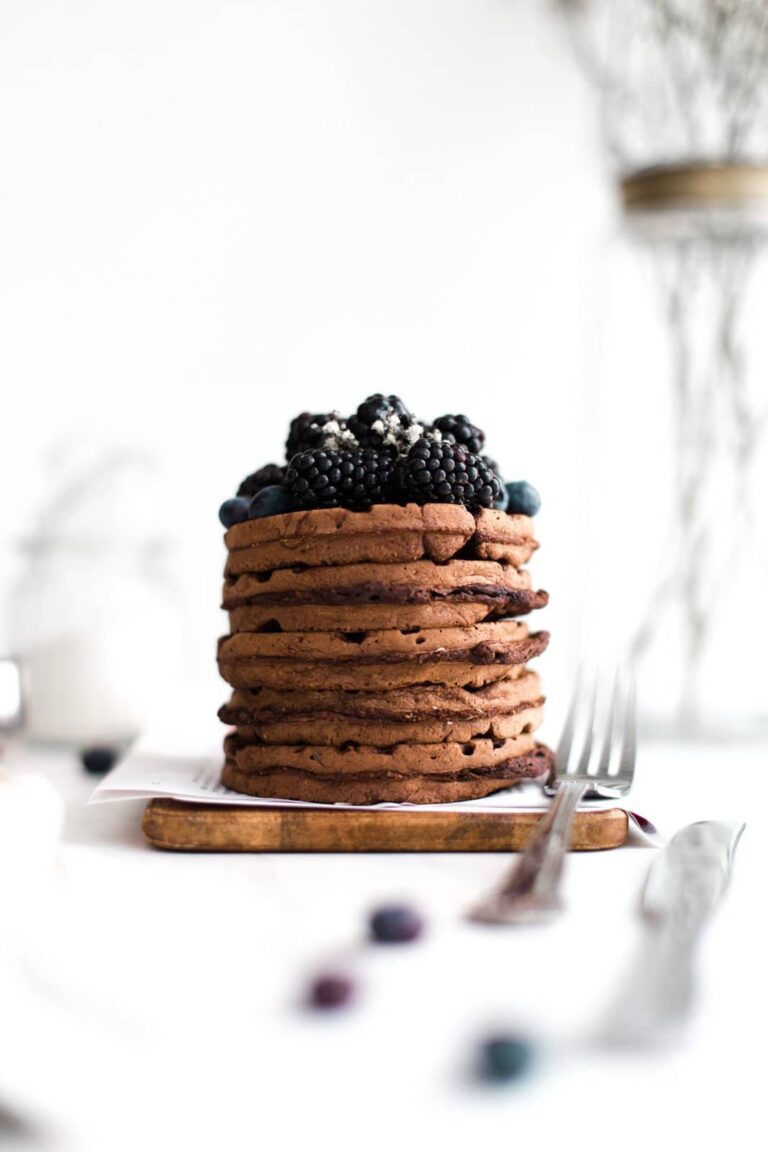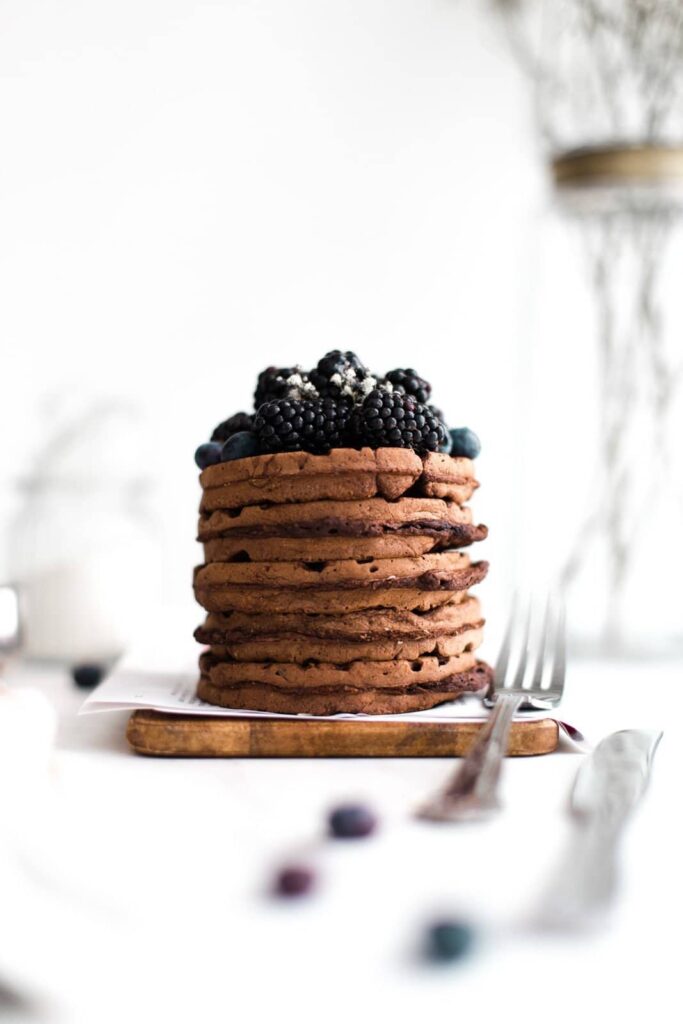 Waffle But Make It Healthy
Healthy is a word that's being thrown around a lot. Whereas I'm not a medical professional nor am I a nutritionist, I have years of experience developing and testing out TONS of vegan recipes.

I've worked with people trying to develop healthier eating habits, switch to veganism or keep their junk food hunger at bay.

What was the most surprising thing this taught me?

You can make healthier choices without compromising on taste.
You can slip extra nutrients into EVERY single meal, even those that feel like a treat.
Whereas my Instagram feed certainly doesn't hide my love for chocolate desserts, I'm definitely not a lover of things that will max out my daily recommended sugar or saturated fats intake in one go!

I love showing that going vegan doesn't mean giving up all your favourite meals, but I'm determined to make them as healthy as possible. The health benefits of a vegan diet were one of the main reasons for making my switch and I want that to reflect in ALL my recipes.

This is why these vegan chocolate waffles, despite being considered a dessert, are actually packed with vitamins.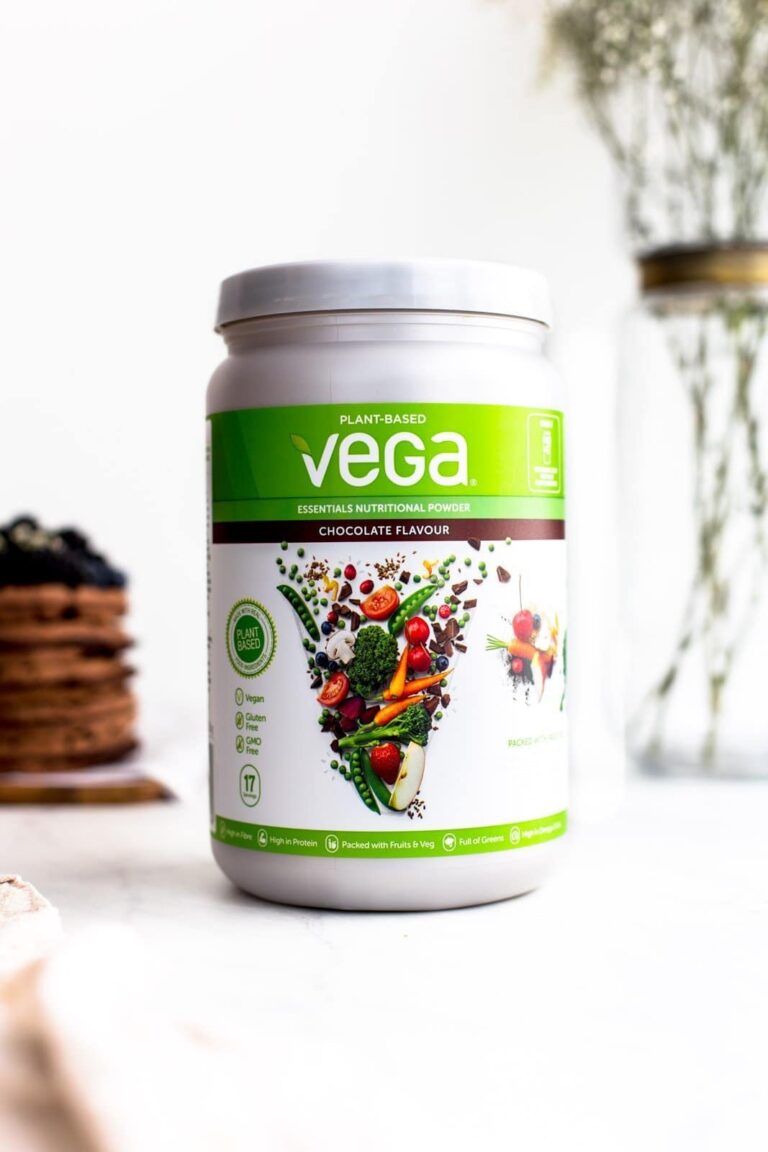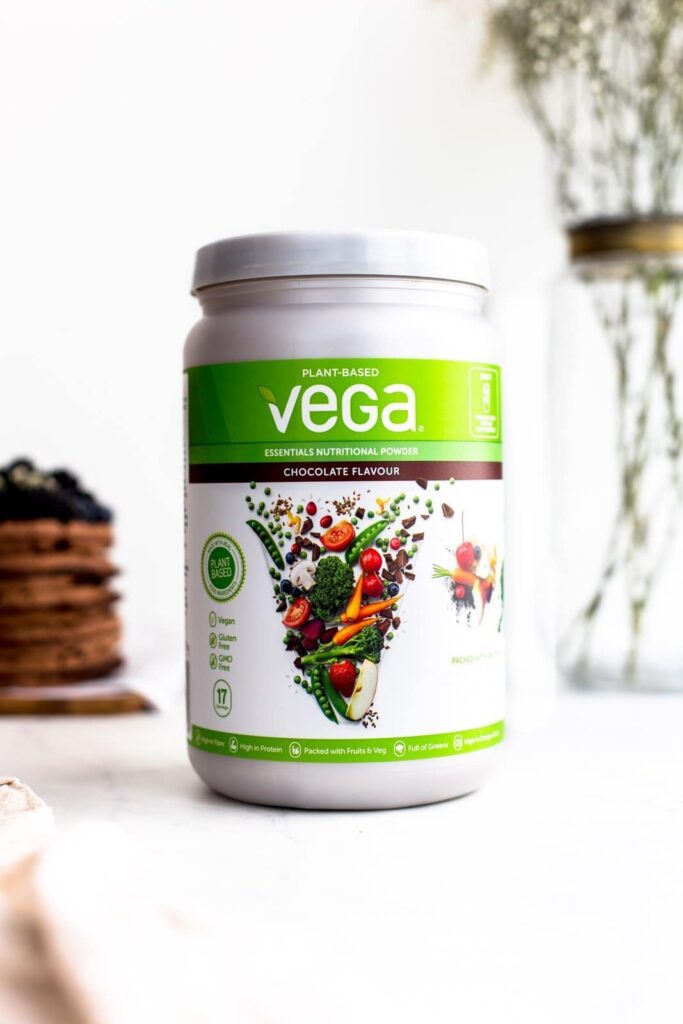 The Best Healthy Waffles
Thanks to the Vega Essentials Nutritional Powder that I used, these waffles are:
Packed with fruit, veg and greens!
High in 16 essential Vitamins and Minerals.
Loaded with protein, thanks to a multi-source plantbased blend of pea, flaxseed and hemp.
Last but not least, high in fibre!
And guess what? They're still bursting with that rich chocolatey flavour and will satisfy your sweet tooth without any added sugar, thanks to fruit and stevia!

It's impossible to overstate just how important vitamins are for a balanced and nutritious diet. Now that winter is just around the corner, the nutritional powders are a great way to add a vitamin boost to your diet. Especially important is Vitamin C, one of the safest and most effective nutrients.

I've been particularly mindful of my vitamin C intake lately, taking every opportunity to really load up on it. This is why I love how easy it is to pair these nutritional powders with all my favourite snacks, drinks and even desserts. Hassle-free way to up my vitamin C intake? Sign me up!

All it takes is simply just a scoop of Vega and your meal is suddenly bursting with nutrients.

Moreover, they're loaded with Calcium, a mineral that's absolutely essential for healthy bones and teeth.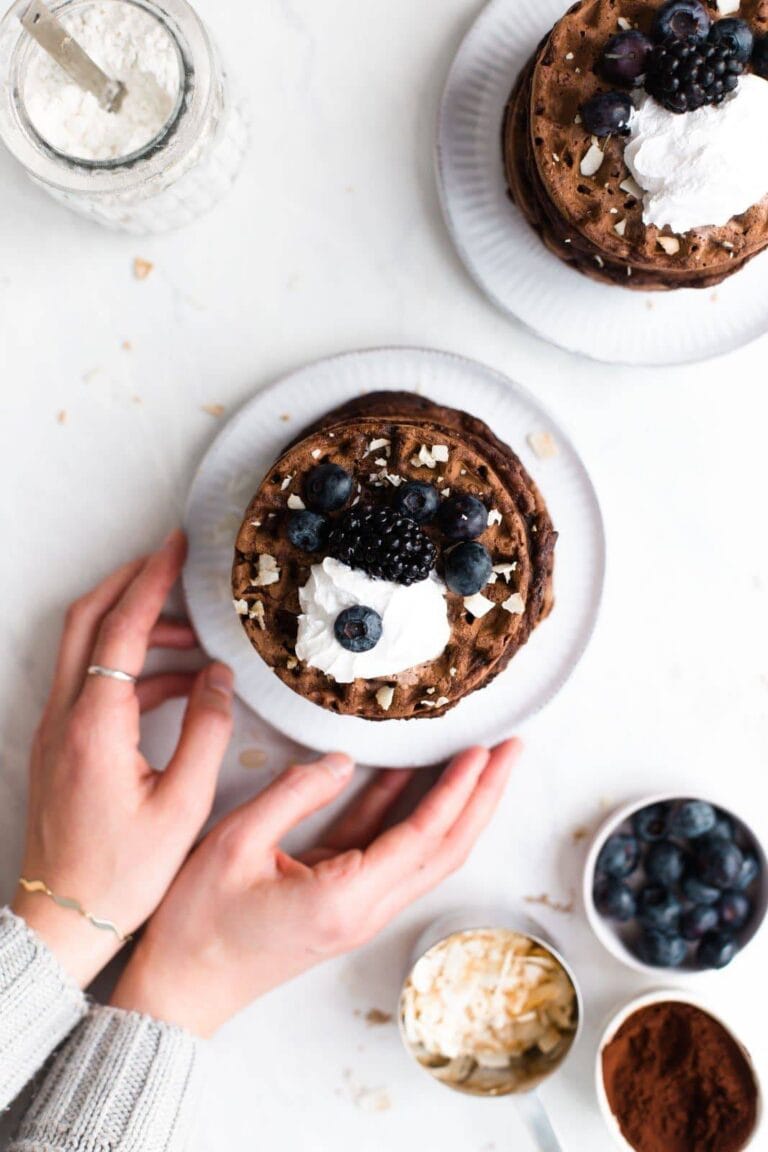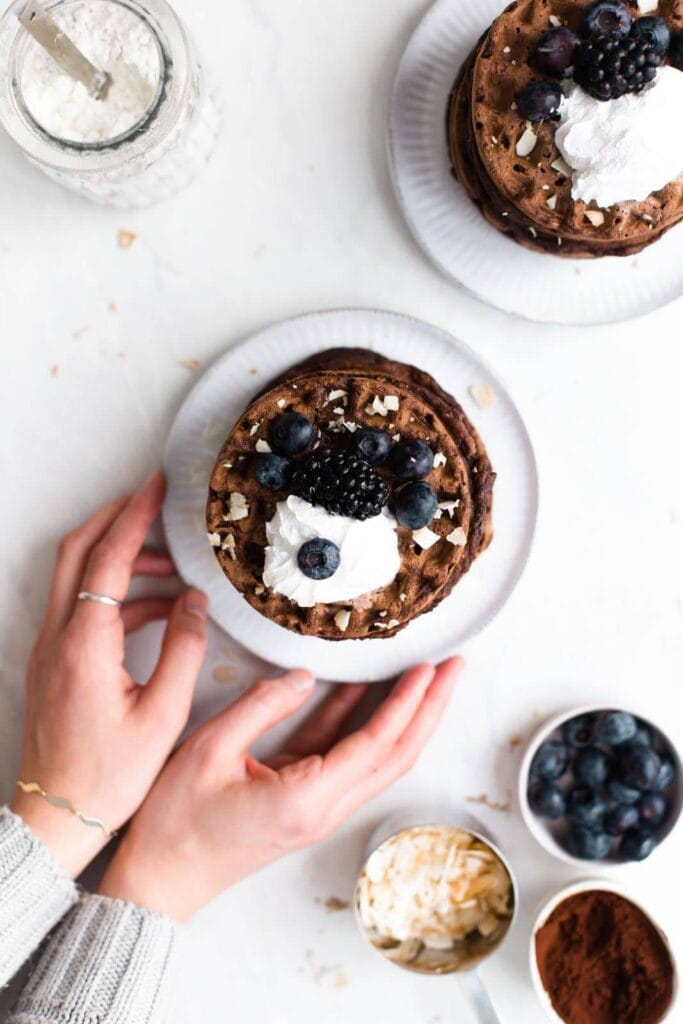 LOOKING FOR MORE?
Ready to taste my favourite new dessert, snack and breakfast ALL IN ONE? Let's get started and whip up this delicious vegan chocolate waffles !

Looking for more simple, but tasty vegan desserts?
🍴Recipe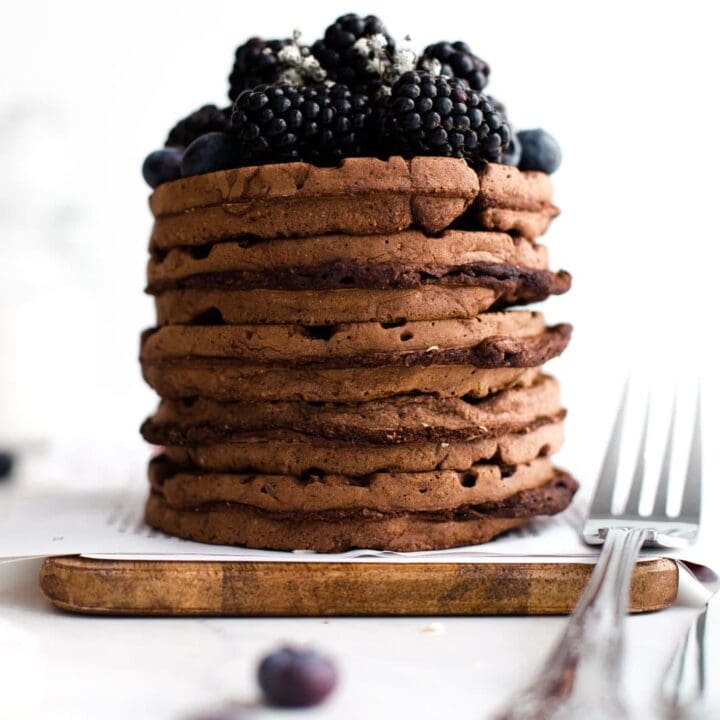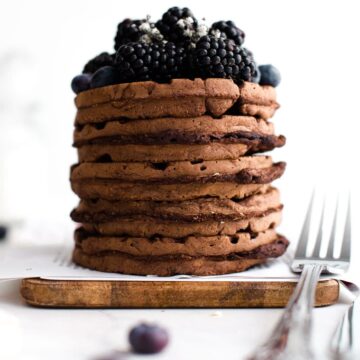 Ingredients
2

tablespoon

ground flaxseed

6

tablespoon

water

1,75

cup

unsweetened almond milk

(feel free to substitute for a different type of plant-based milk)

1

tablespoon

vinegar

(i used organic apple cider vinegar)

1,5

cup

flour

(i used 1 cup of wholemeal and 0,5 cup of plain white flour)

1

tablespoon

baking powder

0,5

tablespoon

salt

2

tablespoon

cocoa powder

1

scoop

Vega Chocolate Essentials

(omit or substitute with a different vegan chocolate protein/vitamin powder)

2

tablespoon

olive oil

1

tablespoon

vanilla extract
Instructions
Combine flax seed and warm water in a small bowl to create a 'flax egg'. Set aside for 10 minutes.

In the meantime, combine almond drink (or other plant-based drink) andvinegar in a measuring cup. Stir thoroughly and set aside.

Combine flour, baking powder, salt, cocoa powder and Vega Chocolate Essentials in a medium bowl and mix well.

Add oil, 'flax egg' and vanilla extract to your almond almond drink + vinegarmixture. Stir well. 

Finally, slowly add your wet mixture to your dry ingredients and stir until few lumps remain (but do not over whisk!).

Pre-heat the waffle iron and cook the waffles according to your waffle-maker's instructions. My mini waffles needed 8 minutes to cook and I used approx. ⅓ cup of batter for each waffle. 

Eat straight away, or let cool and toast later for maximum crunchiness. Don't forget to serve with plenty of fruit and natural sweetener of choice. Enjoy!
Disclaimer: The nutritional information above is calculated automatically. The author of this post cannot guarantee 100% accuracy of this data.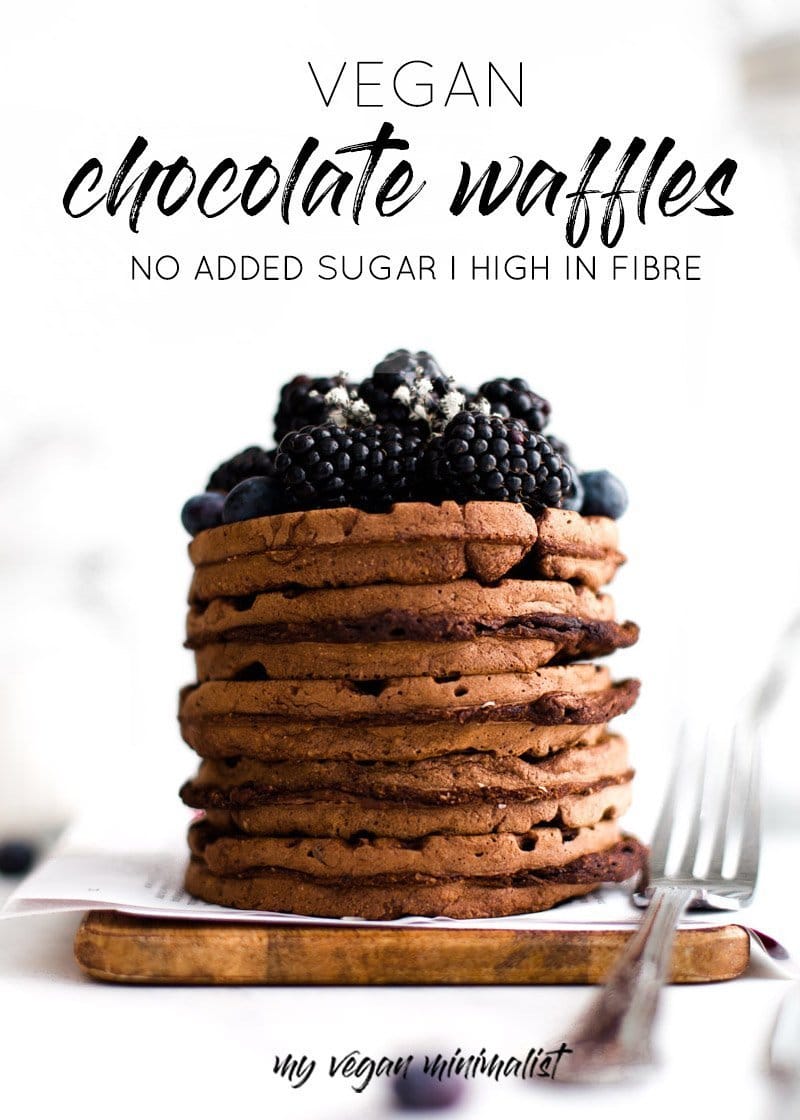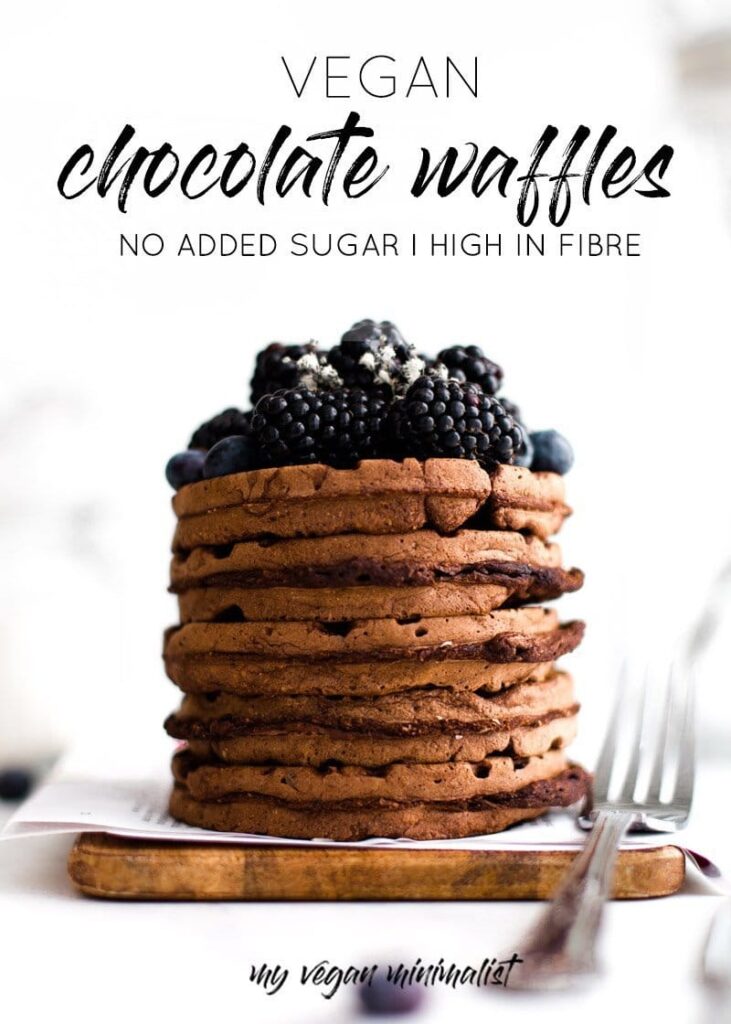 Disclosure: this post was sponsored by Vega. Thank you so much for supporting the brands that help make My Vegan Minimalist possible. All opinions are my own.
---
Don't forget you can grab a free vegan booklet containing 90 VEGAN MEAL IDEAS below.