Jump to Recipe
Super refreshing vegan iced coffee to keep you cool all summer long. This easy recipe requries 2 INGREDIENTS ONLY (yup!) and you can whip it up in no time. There's PLENTY of options to customise it and jazz it up to make into a real dessert.
Making vegan iced coffee is super easy. Heck, you can even make it in batches and enjoy for days.
This vegan ice coffee is
refreshing
SO easy to make
contains no sugar
better than the coffee shop
quick & delicious
easily adjusted to taste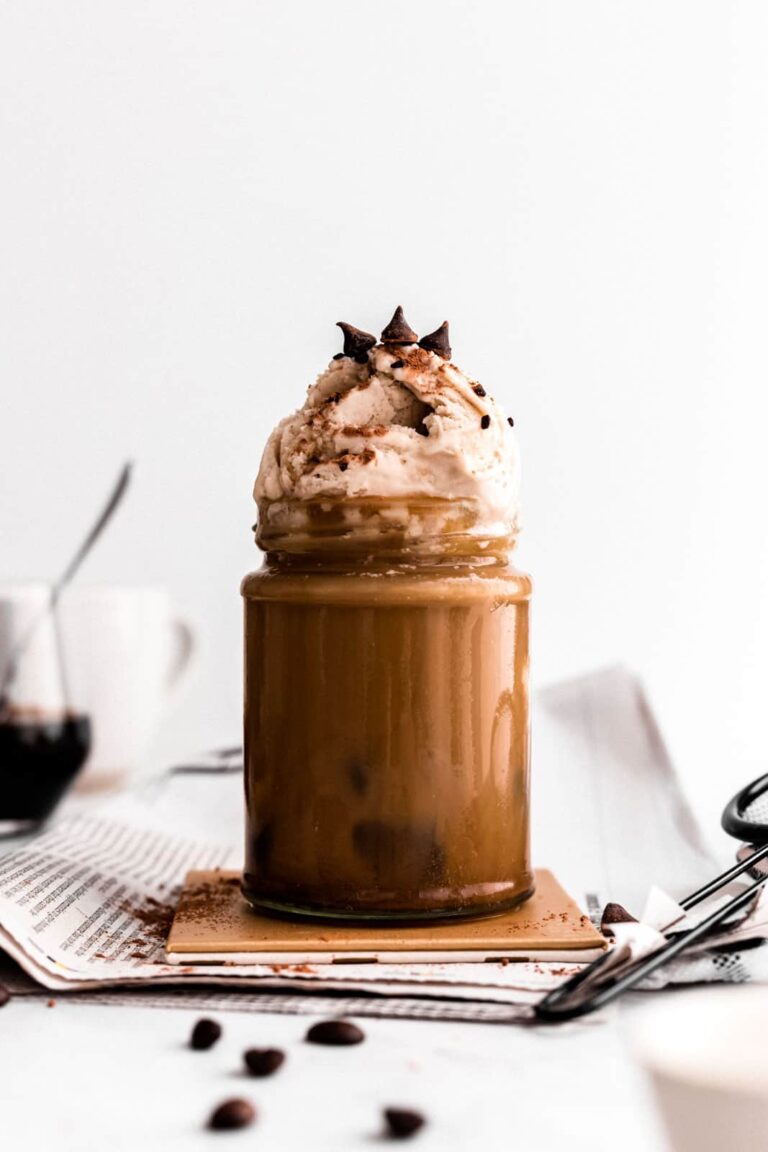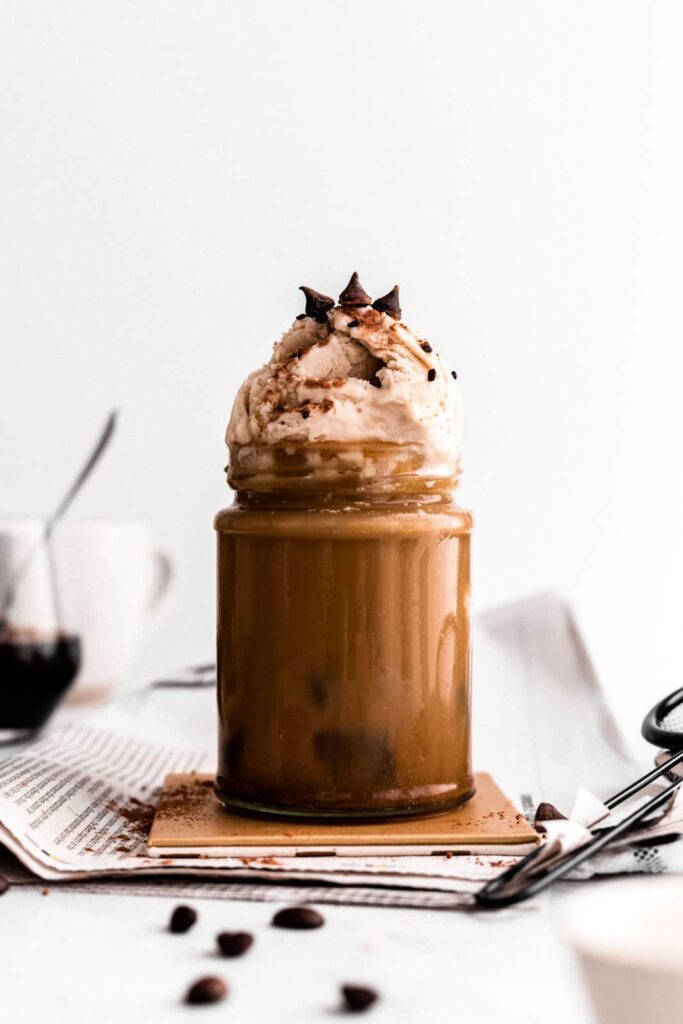 Coffee Ice Cubes For the Best Iced Coffee
Once you've started making your iced coffee this way, you're never going back. It's SO easy and delivers amazing flavour. I love no-fuss recipes. 9-minute cookies? YUP. 3-ingredient chocolate truffles? Sign me up. 3-ingredient hot chocolate? I've got you.
And now, I've taken it a step further with this 2-ingredient ice coffee. I definitely encourage you to add as many extras as you wish! Some of my top serving suggestions are listed below, but in its essence, this vegan iced coffee only needs two ingredients – coffee and almond milk.
The 1 Trick For Perfect Vegan Iced Coffee
Your favourite vegan iced coffee is just an ice-tray away. Why? I love using this next little handy little iced coffee trick.
Yep, get ready for your mind to blow. This SUPER EASY trick is absolutely priceless. The trick is in using VERY strong coffee (I used 4 teasponns of Nescaffee Rich & Creamy instant coffee) per cup. You definitely don't need instant coffee, just make sure that whatever way you make it, the end result contains absolutely no grains.
Once you've made your super duper strong coffee, let it cool. Then divide it into 2 halves: pour one half into ice cubes and the second half in a jar to store in a fridge overnight. As you're making your coffee cubes, make sure to also freeze some regular ice cubes. These will come in super handy when sprucing up your vegan iced tea.
Once your ice cubes are frozen, it's time to whip up your homemade iced tea. There are SEVERAL ways of dong that. Feel free to choose what's easiest for you or what you prefer.
I poured half a glass of chilled coffee and half a glass of almond milk over 2 ice cubes and 2 coffee cubes. Alternatively, you could simply blend all your ingredients to make a super bubbly ice coffee.
Decaf Ice Coffee – Keeping It Cool
Not a fan of caffeine? Hello there, friend! I've always struggled with how caffeine makes me feel. It makes my heart rush, my thoughts wander and my body super restless. I only recently discovered that caffeine can massively affect anxiety, which is why I try to stay away from it. Moreover, it can have other side effects, including insomnia, reduced coordination and increased blood pressure. The only problem is, I do genuinely ADORE the smell and taste coffee. The solution?
Decaf, of course! This gorgeous iced coffee works just as well if you're using decaf versions. Just make sure to make your coffee super duper strong!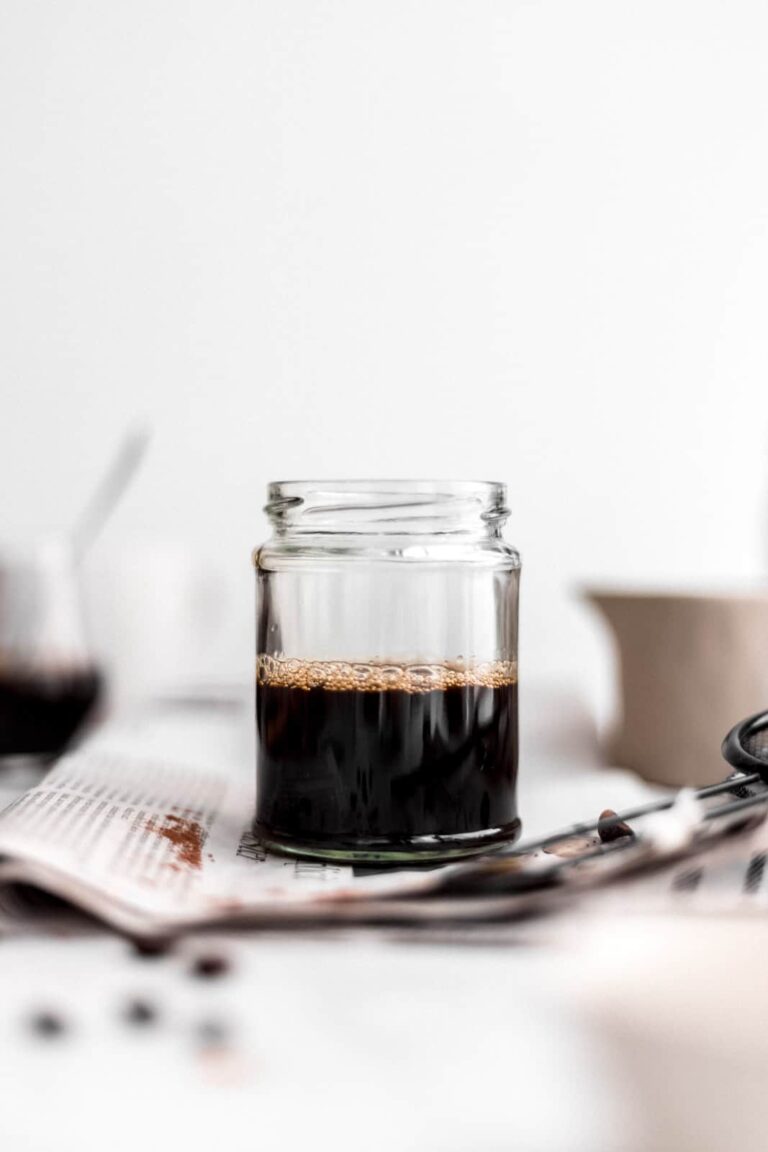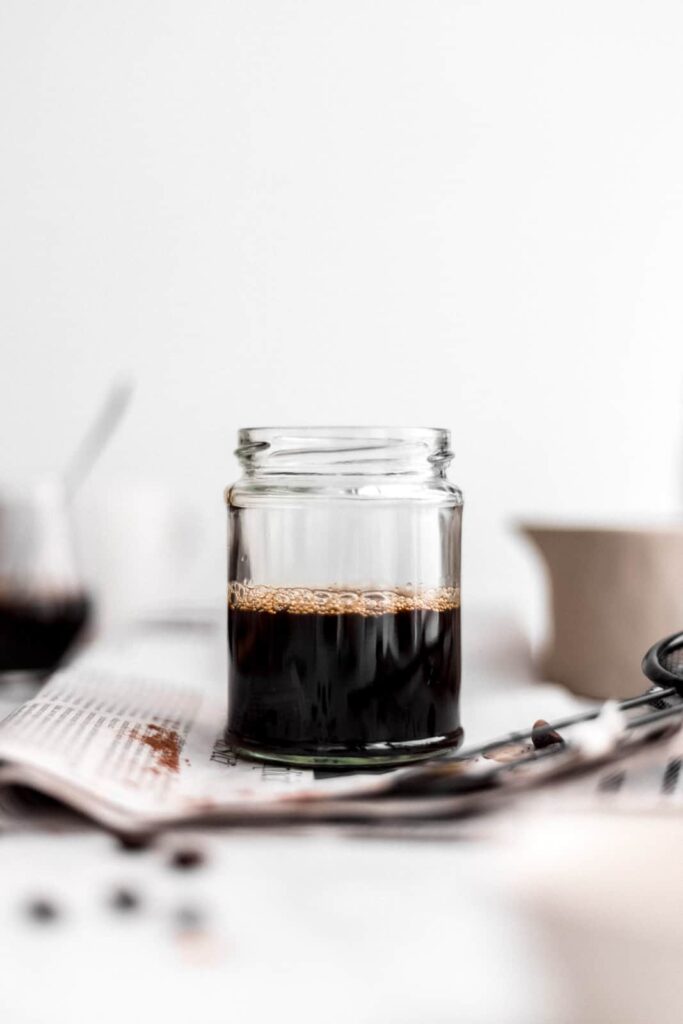 Vegan Ice Cream Topped Iced Coffee
Want to take it a step further? I hear you.
If you're here for a refreshing drink that's low in calories and has no sugar and very little fat, you might think your job here is done. However, there might be occasions where you san serve this gorgeous coffee as a dessert.
Top it off with a generous spoon of ice-cream! Don't forget to drizzle it with some chocolate sauce or just a spoonful of peanut butter. I also suggest scattering it with cacao nibs or chocolate chips. If you want to bring in an extra flavour you could even play around with shredded coconut or a delightful fruit sauce. The options are endless!
Some of my favourite ways to enjoy this vegan iced coffee are:
GOOD MORNING DRINK: I know many of you love a cosy warm drink in the morning. However, whilst developing this recipe I discovered that iced coffee is the perfect wake me up drink! It's light and tasty, as well as much more refreshing than regular coffee.
CHEAP FRIENDS MEET-UP: Love meeting your friends but don't want to pay for coffees every time you meet up? Why not make this lovely iced coffee for them! Your friends will appreciate the effort and you'll all be out much cheaper!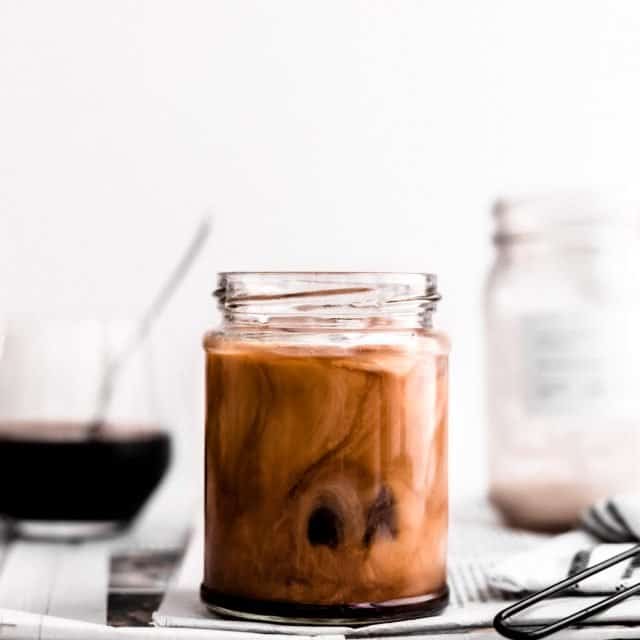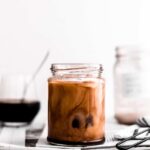 Vegan Iced Coffee
All you need is two basic ingredients and optional toppings to make this vegan iced coffee.
Ingredients
8

tsp

instant coffee

150

ml

almond milk

(or other unsweetened plantbased milk)

vanilla extract, dairy-free ice cream of your choice, whipped coconut cream, chocolate chips, cacao nibs, shredded coconut, chocolate sauce

OPTIONAL
Instructions
Make coffee using 8 tsp of instant coffee and 2 cups of water. 

Pour half of your coffee into an ice cube tray and store in the freezer. 

Store the other half of your coffee in the fridge.

Once your ice cubes are frozen, prepare your iced coffee. There are 2 ways of doing that.

1.) Pour half a glass of chilled coffee and half a glass of almond milk over 2 ice cubes and 2 coffee cubes (THE ARTSY OPTION)

2.) Blend half a glass of coffee, half a glass of almond milk, 2 ice cubes and 3 coffee cubes (THE BUBBLY OPTION)

Top off with toppings of your choice (see Ingredients for suggestions). 
Nutrition Facts
Vegan Iced Coffee
Amount Per Serving
Calories 12
Calories from Fat 9
% Daily Value*
Fat 1g2%
Sodium 49mg2%
Potassium 71mg2%
Carbohydrates 2g1%
Protein 1g2%
Calcium 48mg5%
Iron 1mg6%
* Percent Daily Values are based on a 2000 calorie diet.
Don't forget you can grab a free vegan booklet containing 90 vegan meal ideas below.