This vegan iced coffee latte is refreshing, simple and made within minutes. You won't need a blender or other fancy equipment.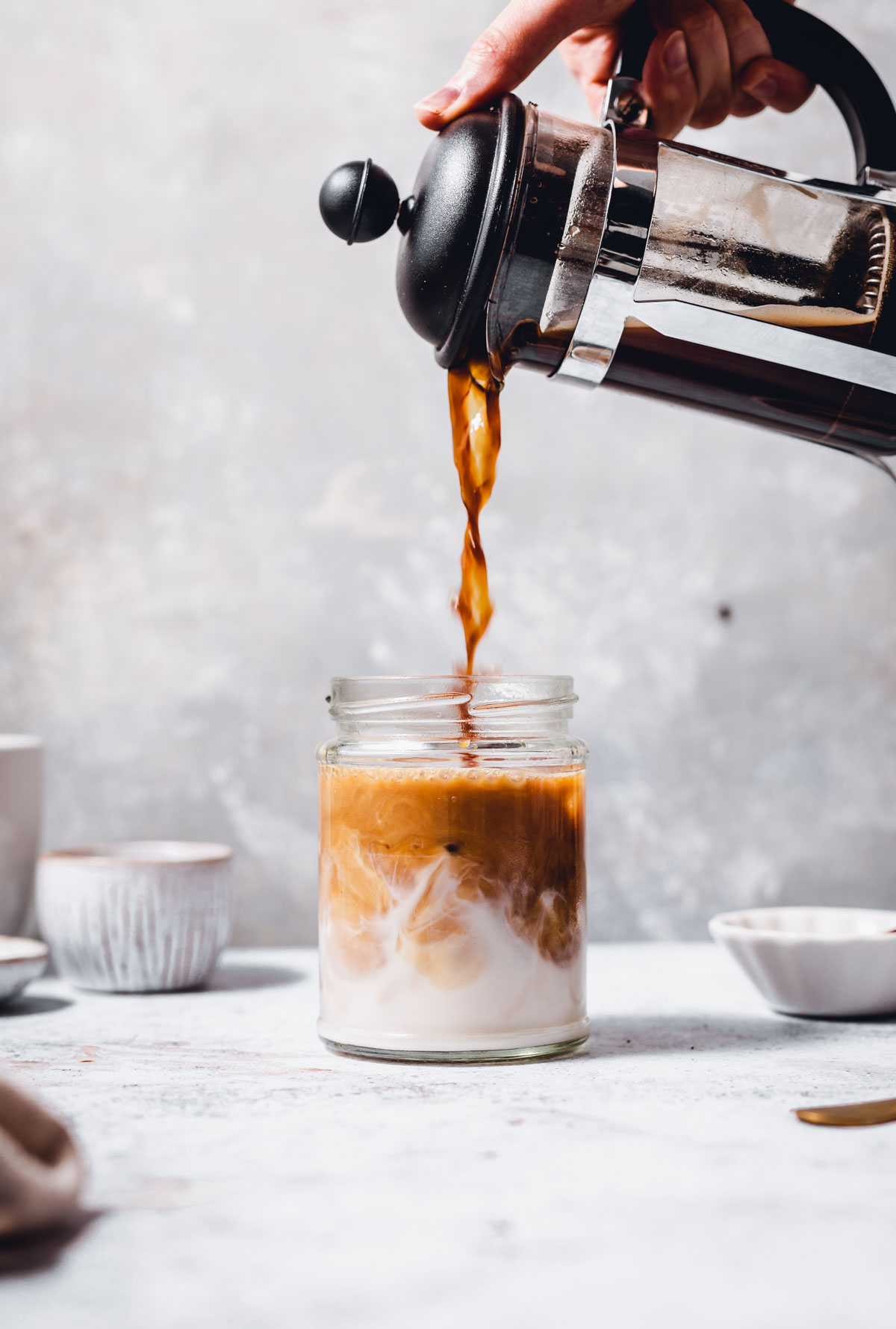 Why Choose This Recipe
So easy
Made within minutes
Doesn't require freezing your coffee
No blender needed
You'll learn a technique used in coffee shops
Contains little or no sugar
Super refreshing
No special equipment needed
Rich coffee taste with a hint of cold plant milk
Ingredients
You'll need just a few simple ingredients to make this vegan iced coffee latte.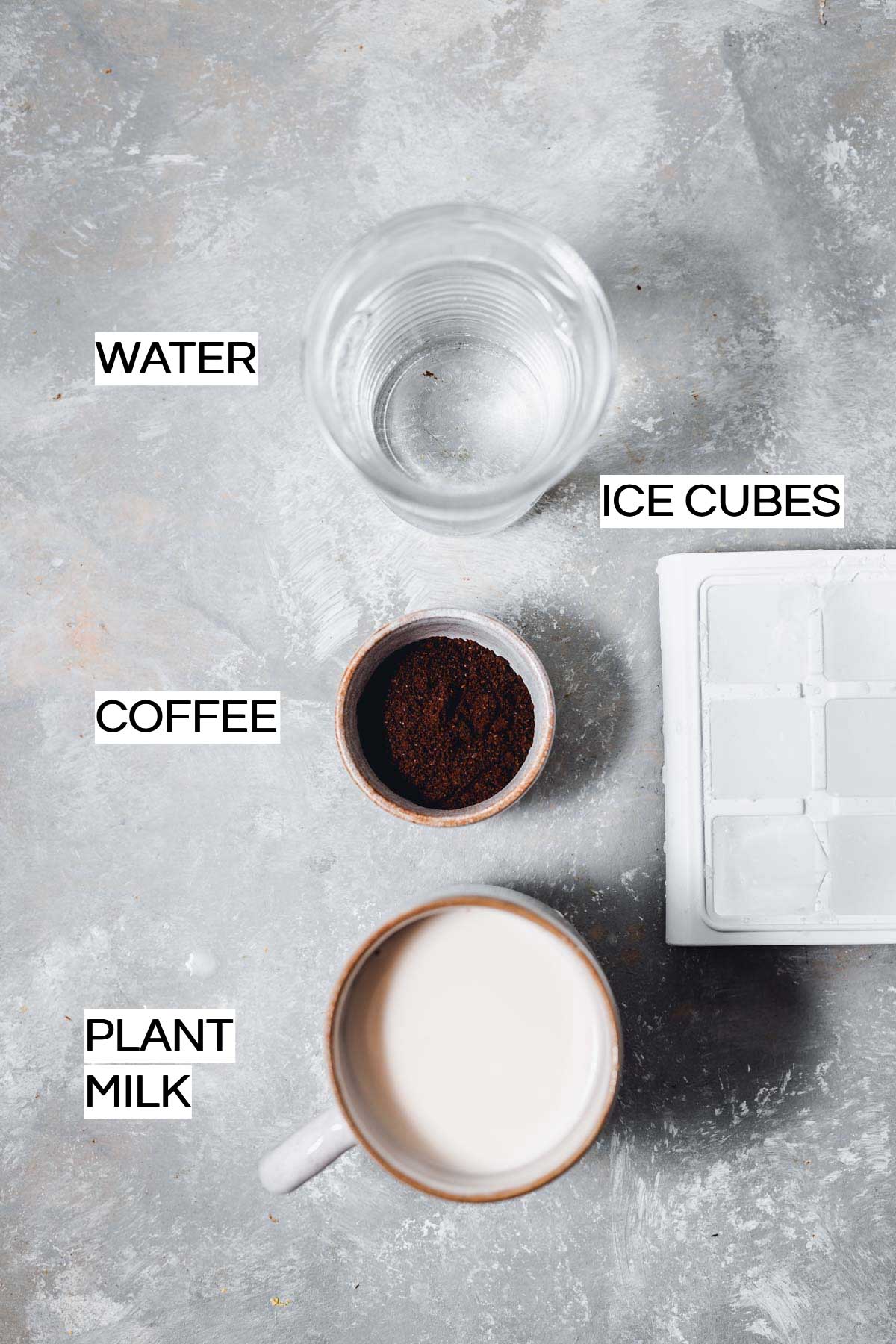 Coffee: I left this out completely open to you. This is because coffee is something that can be made in a myriad of different ways. You might prefer one over the other or you might not have certain coffee-making equipment available.
Plant milk: I tend to use hemp or oat milk, but any plant milk will do. If possible, I recommend choosing barista versions of plant milk. Those are considerably thicker and creamier.
To make this recipe, you won't need any special equipment.
Step-by-step Photos
Here's how easy it is to make this drink.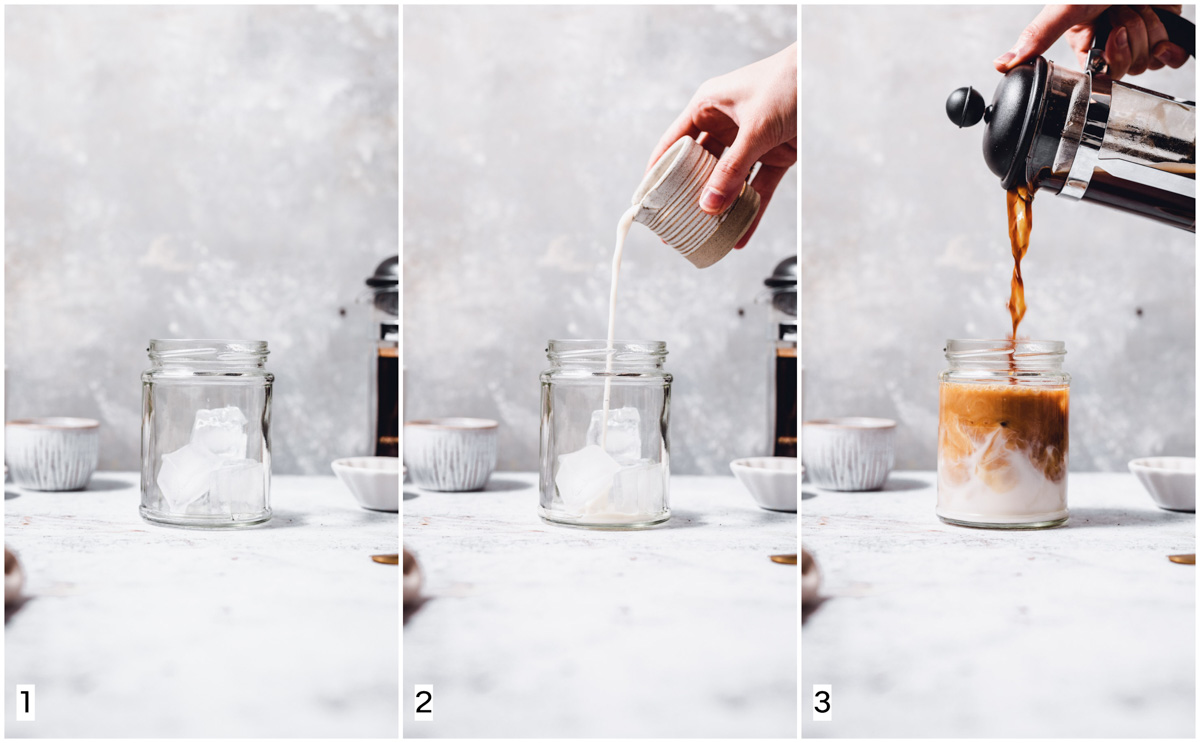 1. Make your coffee (any method is fine) and let cool. In the meantime, fill a glass with ice cubes.
2. Add chilled plant milk (any milk will do).
3. Pour chilled coffee over your milk and ice cubes.
Stir and enjoy!
When adding coffee, you don't need to wait for it to cool down completely.
Expert Tips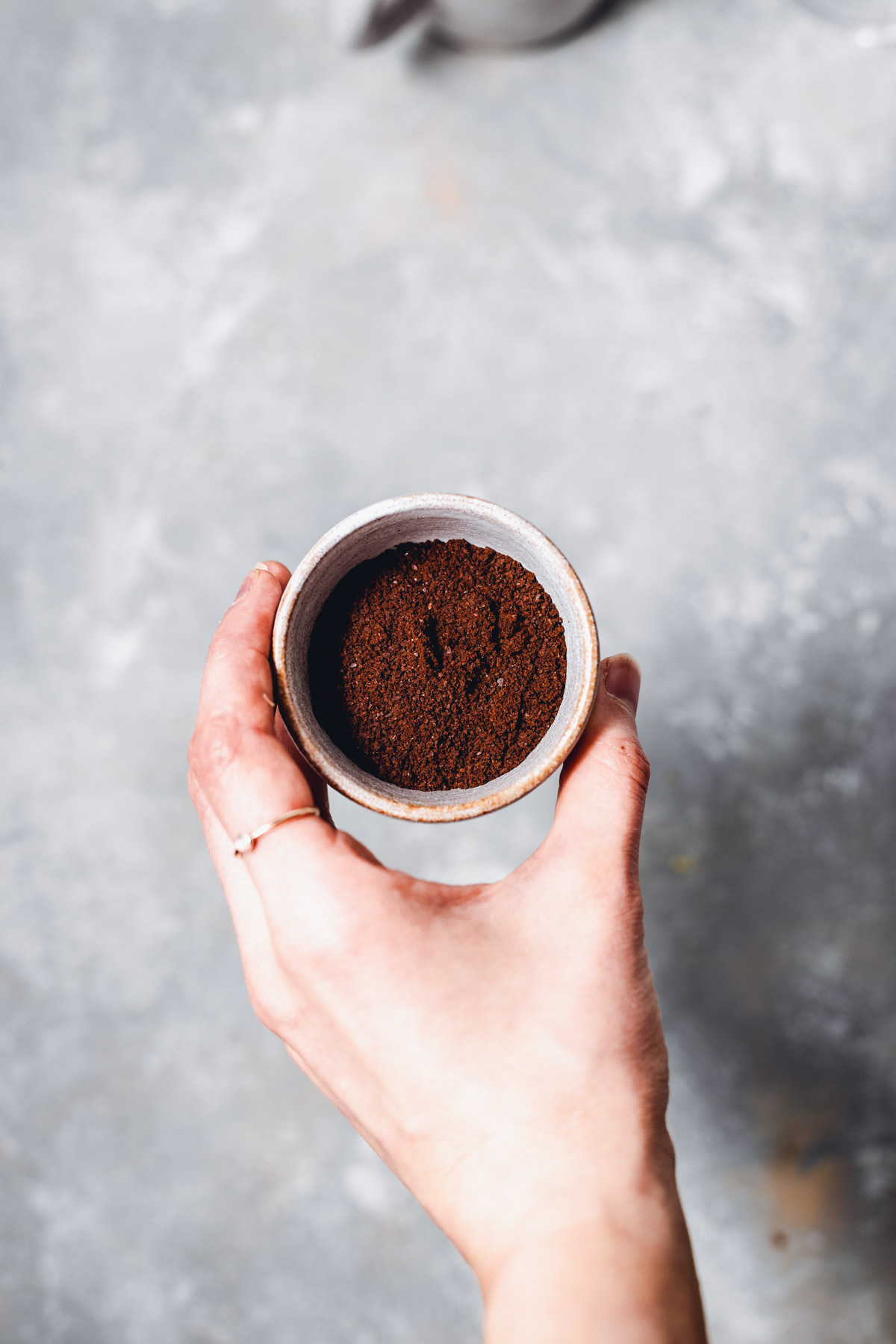 1. Make in batches
If you'd like to make the process even easier, you can brew a larger batch of coffee and refrigerate in an airtight container for 1-2 days.
Whilst I always recommend serving coffee as fresh as possible, this is still a good option for anyone wanting to speed up the process as you won't have to wait for the coffee to cool the next time.
2. Adjust the ratio
I've made iced coffee using this recipe for several of my friends and family members. One big thing I learnt?
Everyone's flavour preference is different. Some will prefer stronger coffee, less milk, more milk, additional sweetener, Barista plant milk, fewer ice cubes, more ice cubes, etc.
Whereas the base recipe is meant to provide a balanced version that will delight most, I invite you to experiment with the flavour.
3. Plenty of ice cubes
Be sure to add plenty of ice cubes - the more the better.
Especially for those that don't like waiting for their coffee to cool down fully (me!), extra ice cubes can make all the difference.
F.A.Q.s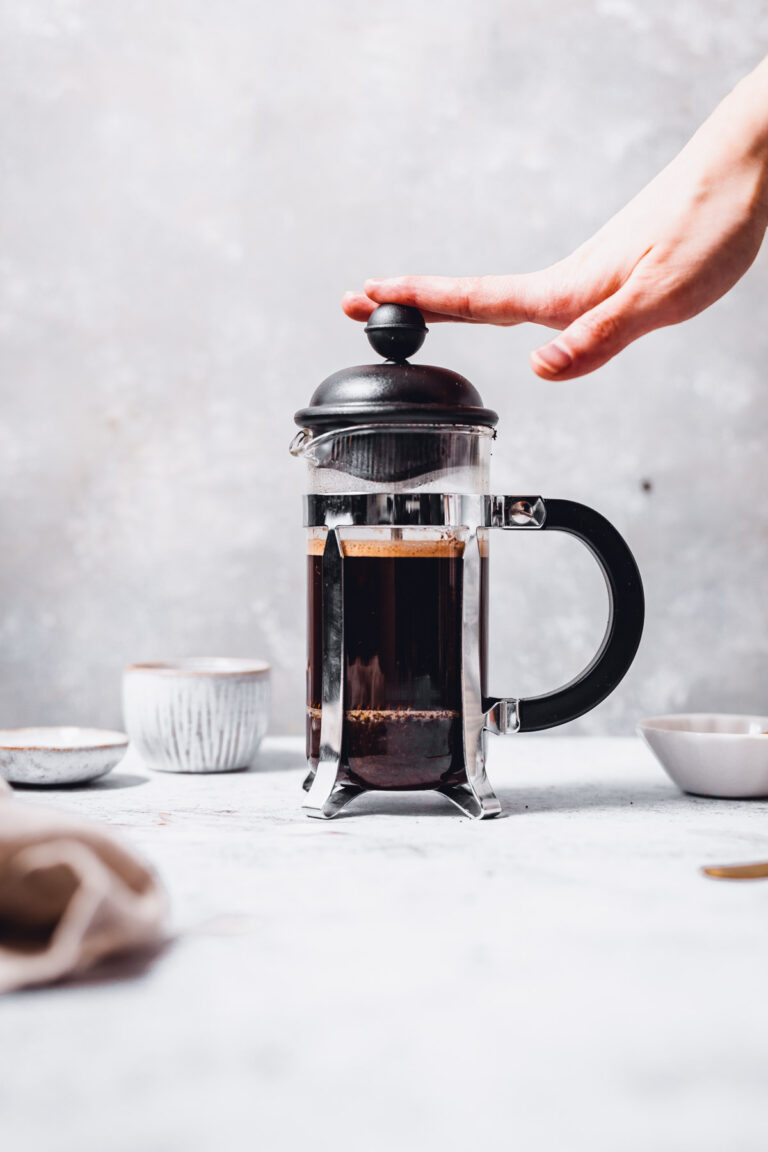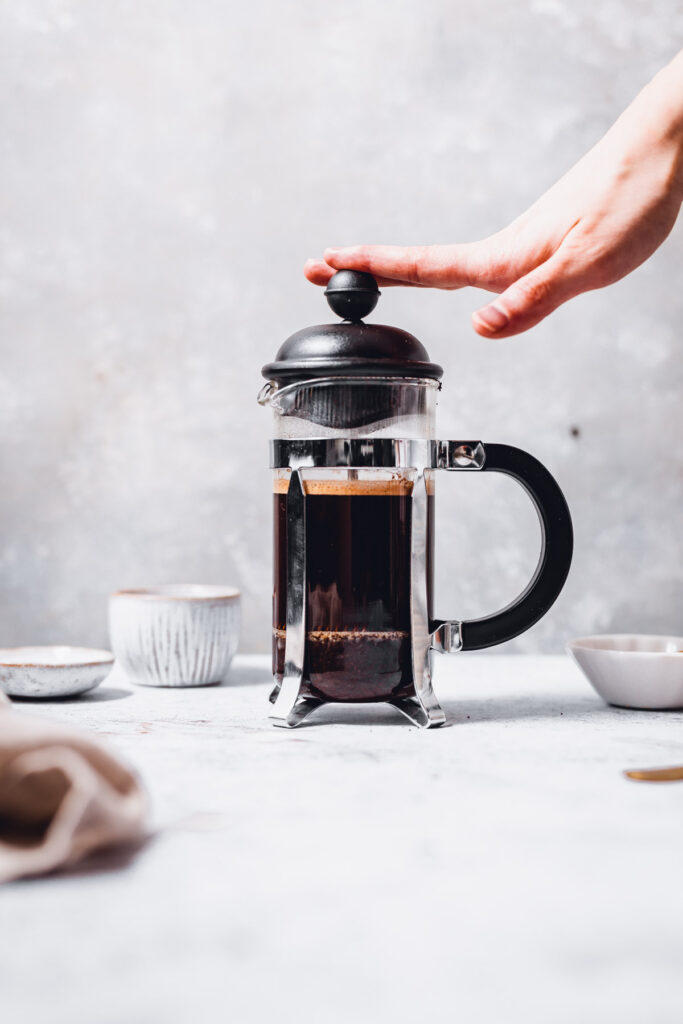 How do coffee shops make iced coffee?
Exactly the way you just made it yourself if you followed my recipe.

A lot of homemade iced coffee recipes will require you to freeze coffee using an ice cube tray. This is not the method used by most coffee shops.

I cannot speak for the entire world, but where I'm based (Manchester, UK) many of the local independent cafes will use this technique. They will pour slightly cooled down coffee over your ice cubes. This way they are able to preserve optimal flavour.
What types of coffee can I use to make iced coffee?
Any type! 

As long as you make sure there are no grains in your coffee when serving, you'll be fine. You can make it using decaf coffee, too.

Learn more about how to pick good coffee here.
How do you make iced coffee with hot coffee?
As mentioned above, you'll need to use plenty of ice cubes and plant milk straight from the fridge. This way you'll be able to use hot coffee and still get that refreshing cold drink.
What is the difference between iced coffee and an iced latte?
Iced latte contains considerably more milk whereas iced coffee only has a tiny amount or no milk.
Does this recipe contain any sugar?
Depends on what plant milk you use. There are no additional sweeteners used in this recipe, but there might be some sugar in your milk depending on what kind you're using.

If you're looking to avoid sugar, make sure you purchase unsweetened plant milk (such as unsweetened soy, almond or oat milk). 
Serving suggestions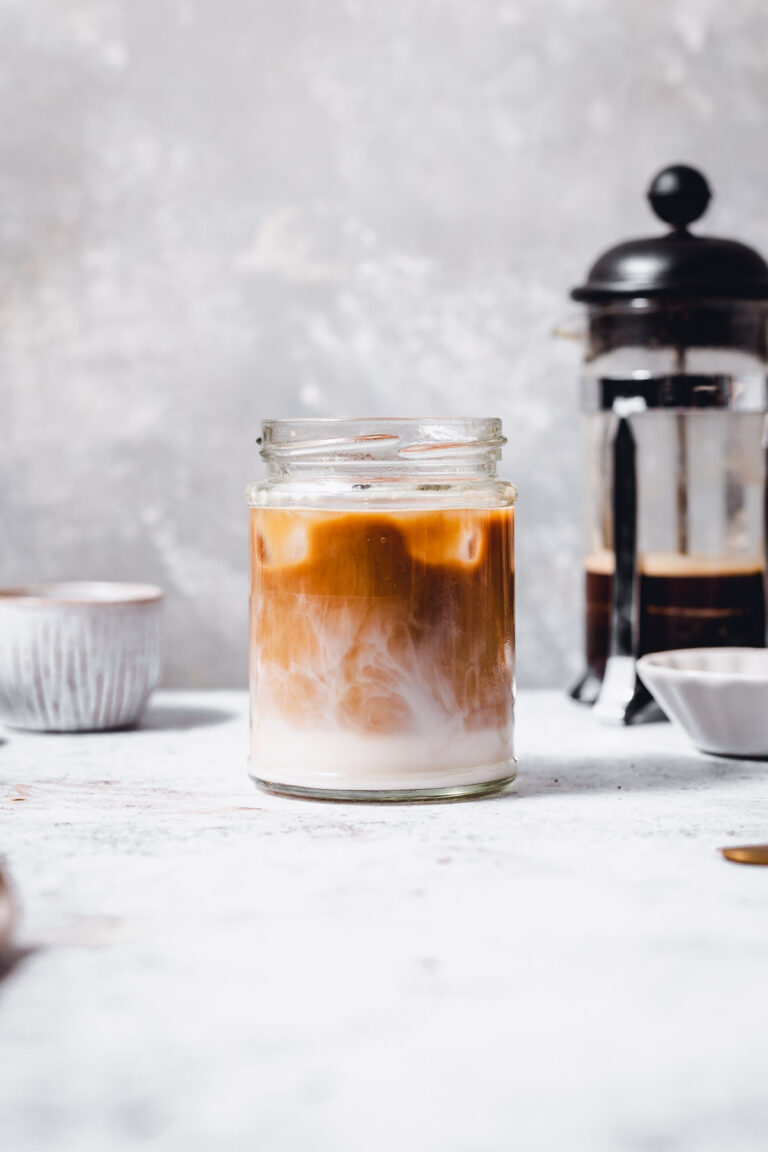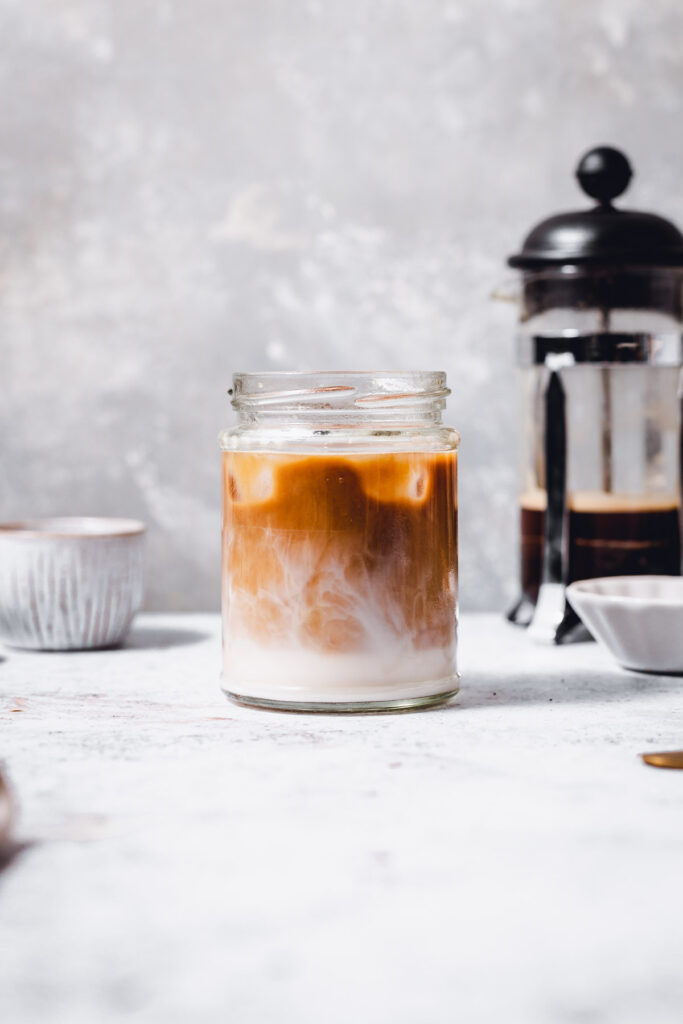 One of the reasons why I'm so enthusiastic about iced coffee lattes is because there are so many ways to serve them.
Here's how I've used them in the past - and really enjoyed it!
1. Wake up drink. I know many of you love a cosy warm drink in the morning. However, whilst developing this recipe I discovered that iced coffee is the perfect wake me up drink!
It's light and tasty, as well as much more refreshing than regular coffee.
2. Save some pennies. Love meeting your friends but don't want to pay for coffees every time you meet up? Why not make them this lovely iced coffee.
Your friends will appreciate the effort and you'll all be out much cheaper. Plus, this recipe is based on a method they use in my local cafes so nobody would ever tell it's homemade.
3. Serve it as dessert. Top it off with a generous spoon of ice-cream. Don't forget to drizzle with some chocolate sauce or a spoonful of peanut butter.
I also suggest scattering it with cacao nibs or chocolate chips. If you want to bring in an extra flavour you could even play around with shredded coconut or a delightful fruit sauce. The options are endless.
If you enjoyed my vegan iced coffee latte I invite you to check out some of my other delicious vegan drinks. My personal favourites are this iced vanilla chai latte, oat milk hot chocolate and almond milk latte.
Liked this recipe? Do let me know by leaving a review or a comment below! Seeing your remakes of my recipes never fails to make my day instantly better!
🍴Recipe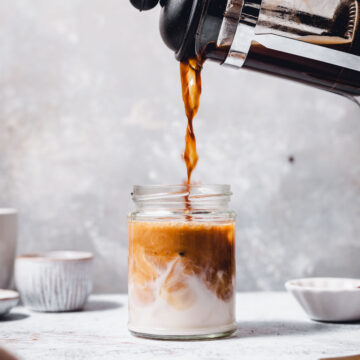 Vegan Iced Coffee Latte
Easy, refreshing, fail-proof iced coffee based on a cafe-approved method.
Print
Pin
Rate
Ingredients
250

ml

(

1.06

cups

)

coffee

left to cool - equals just over 1 cup

200

ml

(

6.76

floz

)

plant milk

chilled - equals ⅞ cup

10

ice cubes

or more
Instructions
Prepare your coffee (any method is fine) and set aside to let cool.

In the meantime, fill a glass with ice cubes.

Pour chilled plant milk over the ice cubes.

Once cooled down, pour coffee over your milk and ice cubes.

Stir and enjoy.
Notes
If you'd like to make the process even easier, brew a larger batch of coffee and refrigerate in an airtight container for 1-2 days. 
Be sure to add plenty of ice cubes - the more the better.
Feel free to use any type of coffee and any plant milk (almond, soy, hemp, coconut, etc).
Serve with ice cream, chocolate sauce and other toppings as a dessert.
Nutrition
Calories:
15
kcal
|
Carbohydrates:
1
g
|
Protein:
1
g
|
Fat:
1
g
|
Saturated Fat:
1
g
|
Sodium:
136
mg
|
Potassium:
61
mg
|
Fiber:
1
g
|
Sugar:
1
g
|
Calcium:
120
mg
Disclaimer: The nutritional information above is calculated automatically. The author of this post cannot guarantee 100% accuracy of this data.