Foamy, airy, barista worthy and soft as a cloud. This beginner-friendly almond milk latte requires zero barista skills and is made within minutes.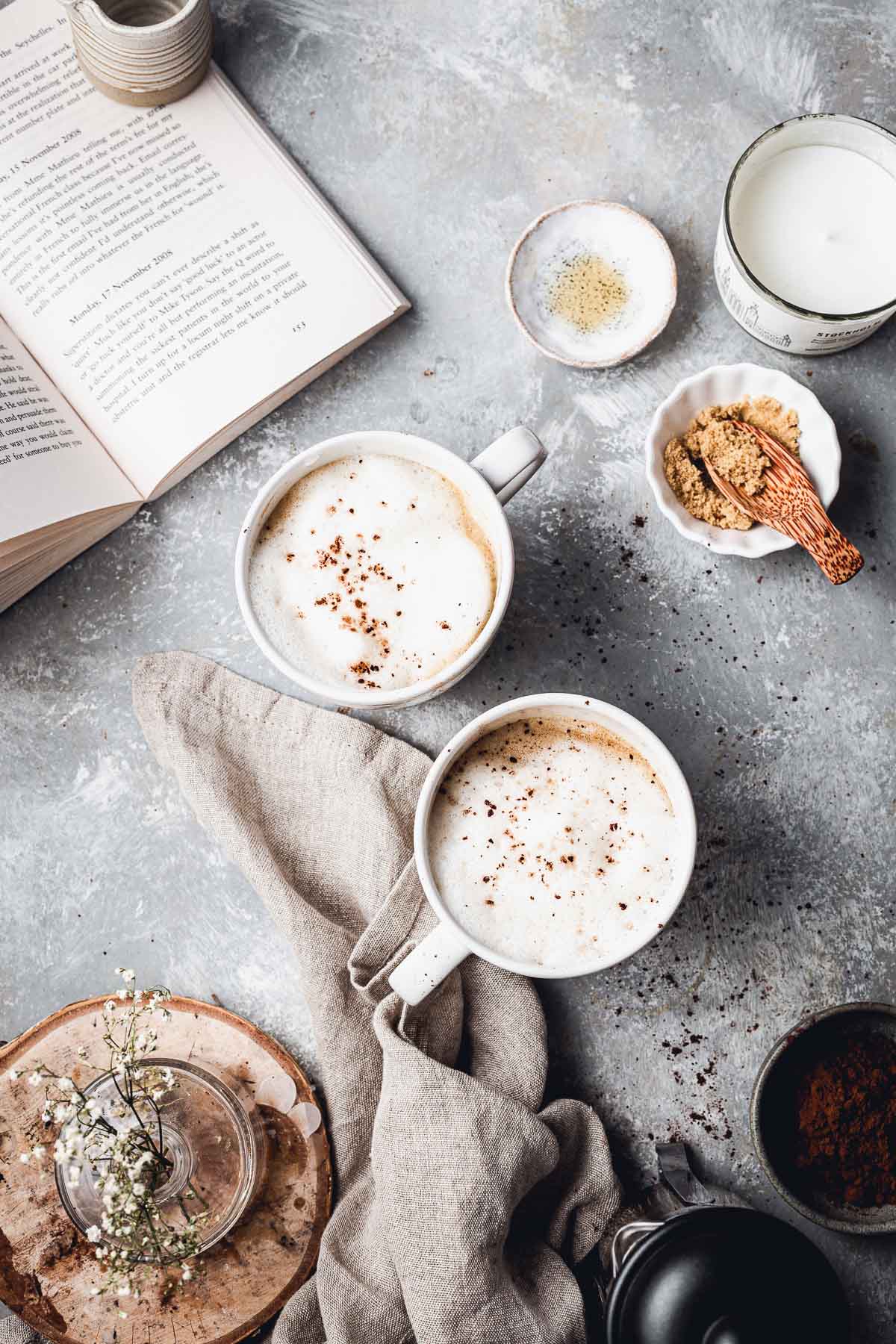 Why this recipe works
You can use any almond milk - homemade or store-bought.
It's perfectly foamy and airy
Way cheaper than a takeaway latte
Easy to customise
Enriched with a slight hint of vanilla
You won't need a blender
Now let's see what you need to turn your latte dream into reality.
The Ingredients
Here's what you will need: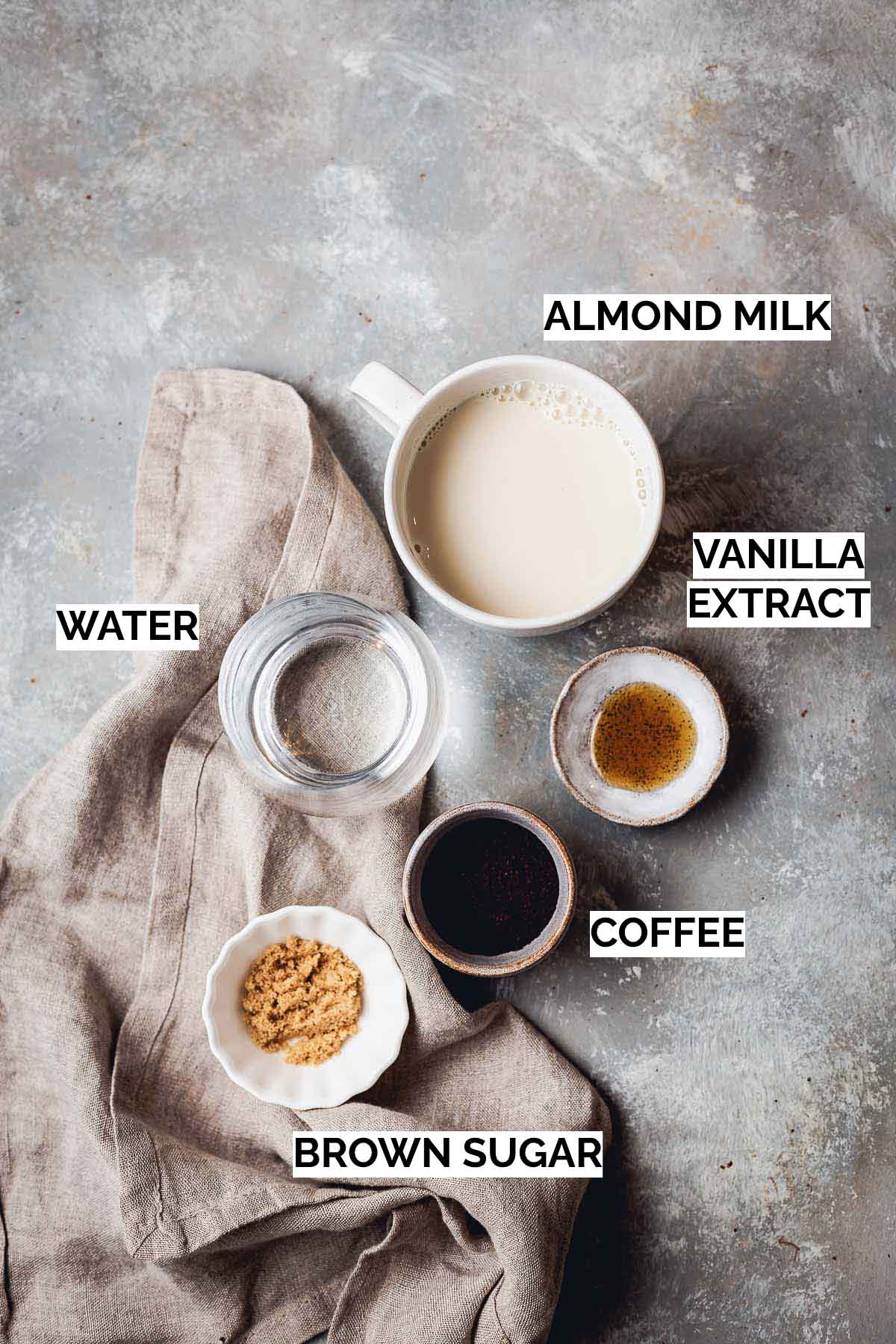 Vanilla extract: this is optional, but highly recommended. You can use any type of vanilla, but liquid vanilla extract works best.
Brown sugar: can be substituted for any other sugar, adjusted to taste or left out altogether.
Almond milk: you don't need to buy fancy almond milk for this. I actually used the cheapest almond milk I could find (Tesco supermarket own brand almond milk for 85p) and managed to get it super foamy and delicious. It's all about the technique!
Step-by-step Instructions
Here's your visual step-by-step guide to making this latte. Find all the measurements in the recipe card below.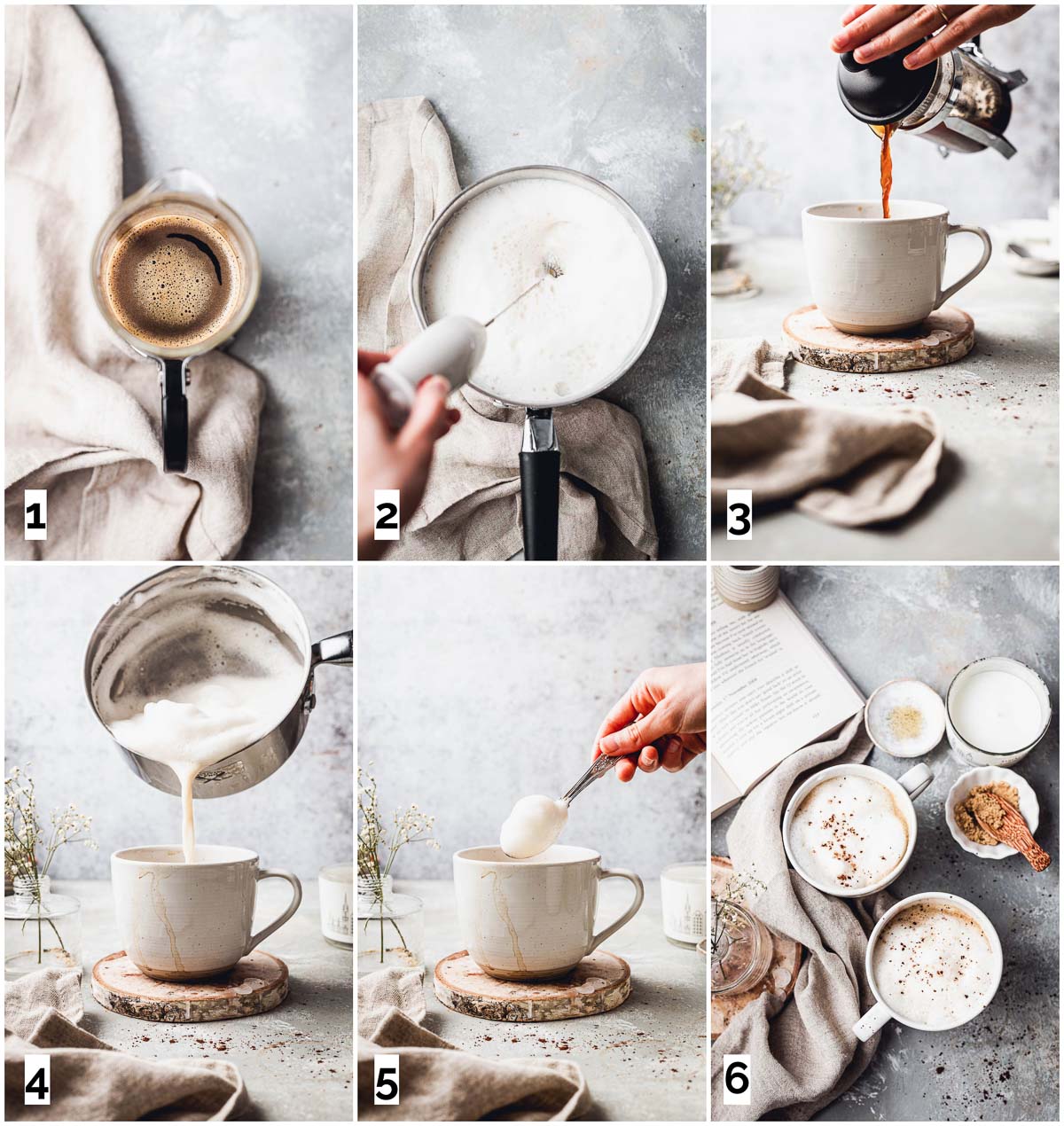 You'll first make your coffee. You're not making regular coffee, you're making espresso, so it needs to be almost black in colour when you pour.
Pour your milk into a medium-sized pan. Add vanilla and brown sugar. Then foam until you can clearly see steam coming out of the pan. Use an electric milk frother to froth your milk (or blender if you don't have a frother).
Pour coffee into your mug.
Pour milk over your coffee.
Use a spoon to spoon out the foamy part of your steamed milk on top.
Top off with cocoa powder (optional) and enjoy!
Expert tips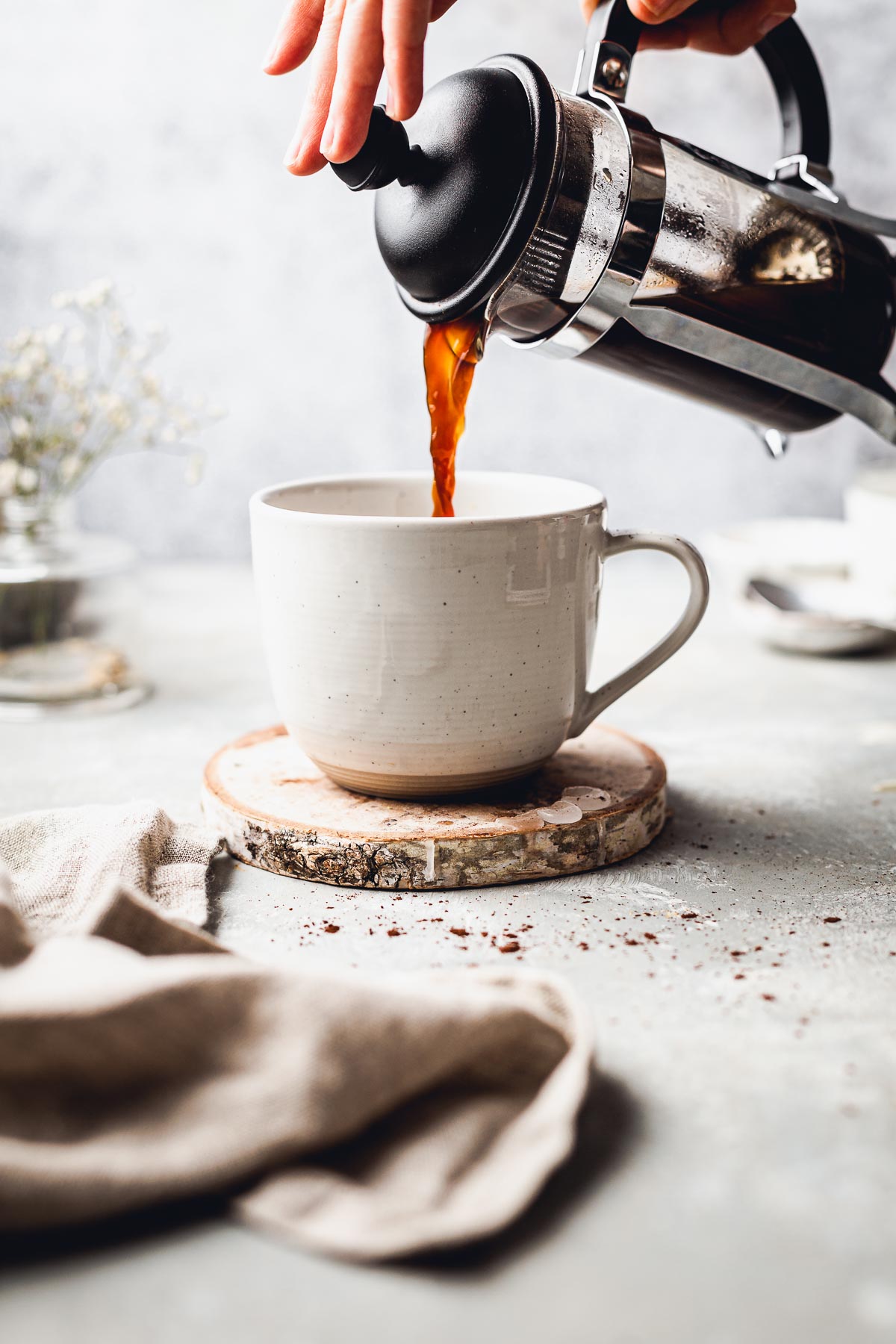 1. Use strong coffee
I'm leaving the coffee-making process entirely up to you. You can use a French press, coffee machine or simply just instant coffee powder. There's only one thing to remember. Make it very strong.
I cannot stress this enough. You'll need to make your coffee super strong. When you pour it, it needs to be nearly black in colour. If not, it will be overpowered by almond milk and you'll get a bland tasting latte.
According to a barista, you'll need to use three times the weight of water to coffee for the perfect espresso. This means that for two shots of espresso (150ml) you will need about 37,5g coffee.
3. Don't burn your coffee
This is a great tip to remember when making any coffee, not just lattes. You'll want to boil the water first and then wait before pouring it over your coffee.
Boiling hot water will burn your coffee, making it taste bitter. Make sure to wait at least 30 seconds after it's finished boiling before pouring it over coffee.
2. Steam then froth
I find that almond milk foams up better once you've steamed it. Make sure to heat it up properly and wait until you clearly see steam coming from the pan. Then use your milk frother to foam it up.
Froth well for about 2 minutes, making circular movements in your pan.
Remember that a latte is cappuccino's less foamy sibling, so you won't need to make it super fluffy.
4. Make 2 portions
If it makes sense for you and your household, make at least two portions of this latte. Why? Your almond milk will be much easier to froth if you're using a larger volume of it.
Extra tip - people are often asking me what's the best vegan milk for coffee. My answer? The one you like the most! There is no universally accepted answer. It's simply just your personal preference and, if done right, practically any milk can foam up enough to make a delicious latte.
FAQ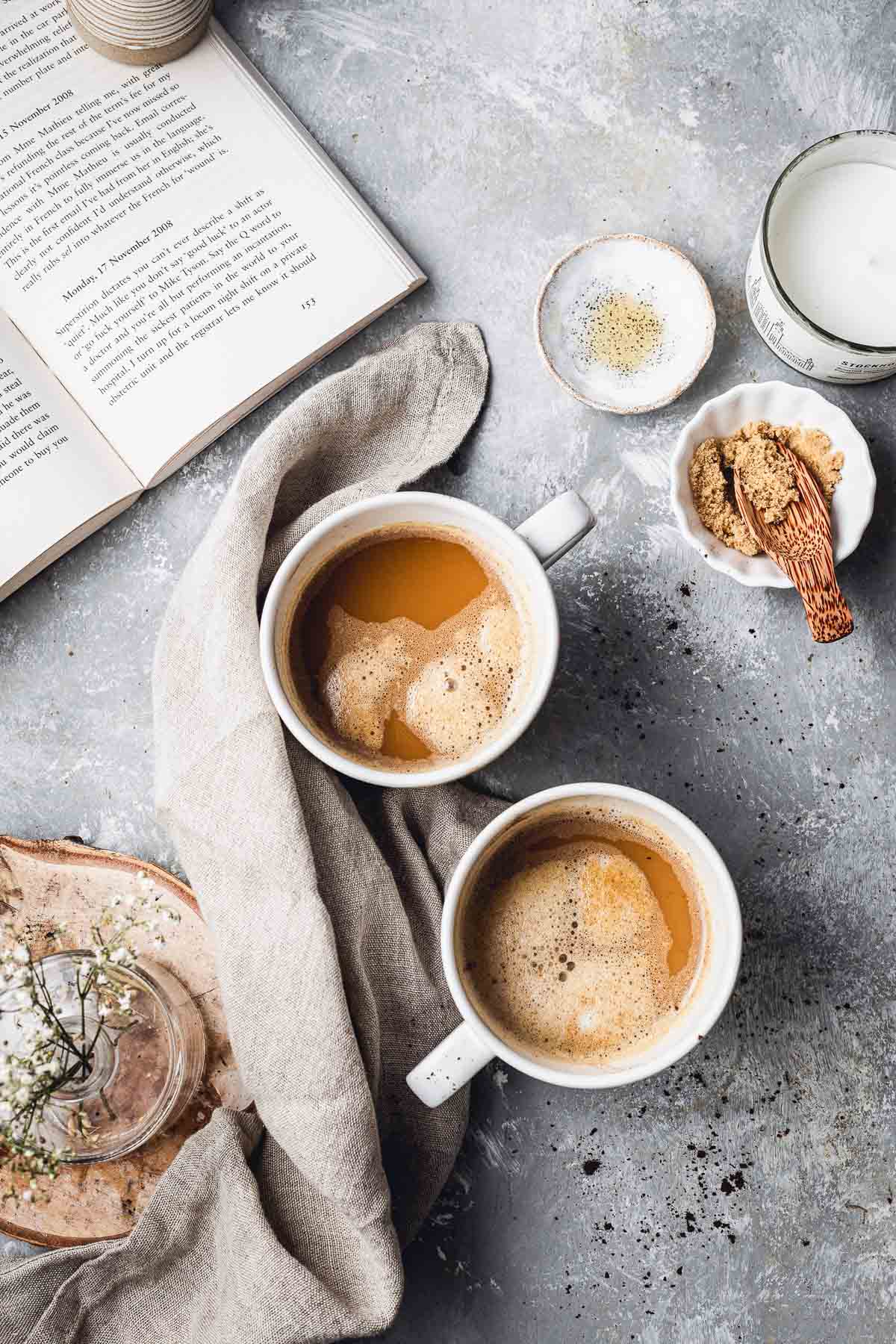 What is the best almond milk for lattes?
Practically any almond milk works well! For this recipe, I've used the cheapest possible almond milk and it turned out fabulously well.

You can also use your own homemade almond milk if preferred, but it's not necessarily better than store-bought.
How to froth your latte without a steamer?
If you don't have a steamer, blender or milk frother, you can use a cafetière (French press) to make frothy milk. Simply pour the milk into your cafetière and plunge for 1-2 minutes.
Can I make frothy milk in a blender?
Yes, there's nothing at all wrong with frothing your milk in a blender if there's no other way. Again, remember to steam it first, then transfer to a blender and blend for full 2 minutes.
Can I use a different plant/nut milk for this recipe?
You can definitely experiment with plant milk. For an oat alternative, check out my oat milk latte recipe here. Alternatively, you could use soy, coconut, pea, hemp or other plant milk.
My latte tastes bland, how to fix this?
You probably used coffee that wasn't strong enough. You could fix this by adding another shot of espresso to your latte.
Can you make a latte with regular coffee?
Yes, you can use any type of coffee you have on hand. Ground, instant, decaf or capsule, everything will work well. The only thing you need to remember is to make it strong enough.
What is the difference between latte and cappuccino?
Cappuccino is a smaller drink and has a lower ratio of coffee to milk (1:2 as opposed to 1:3 coffee to milk). Moreover, cappuccino is a lot foamier.
That's all! Hope you enjoying my almond milk latte making guide. If you'd like to see more easy vegan drinks check out my chocolate milkshake, turmeric ginger tea or oat milk hot chocolate. You can also discover my full drinks section here.
If you enjoyed this recipe, I would really appreciate it if you could comment or leave a review below. Seeing you remake my recipes never fails to make my day!
🍴Recipe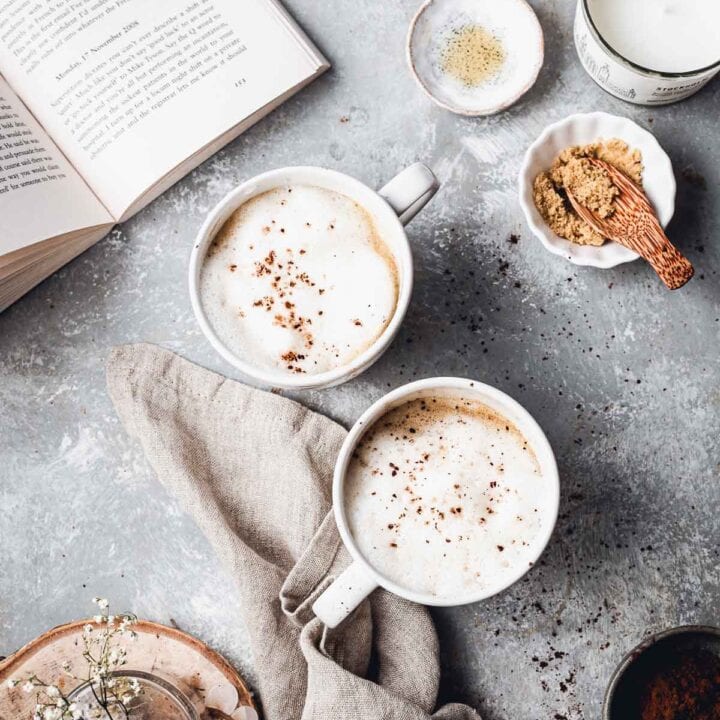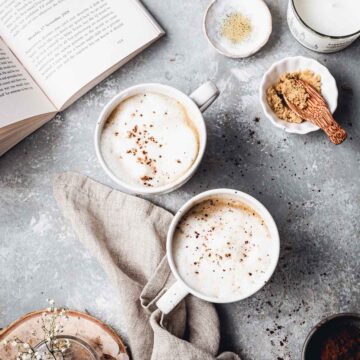 Almond Milk Latte
Airt, frothy, delicious and affrordable almond milk latte.
Print
Pin
Rate
Equipment
Milk frother or blender

Measuring cups or scales
Ingredients
150

ml

(

⅔

cups

)

strong coffee

strong espresso

450

ml

(

2

cups

)

almond milk

2

teaspoon

brown sugar

optional

2

teaspoon

vanilla extract

optional
Instructions
Make two strong espresso coffees. For best results, use 1:3 ratio of coffee to water*.

Pour milk into a medium-sized cooking pan.

Add sugar and vanilla extract. Stir well.

Heat on medium to high heat until you can see steam rising from your pan.

Using a milk frother to froth your milk until foamy and airy.

Divide coffee between two mugs.

Pour milk over your coffee.

Use a spoon to spoon out the foamy part of your steamed milk on top of your latte.
Notes
* Using a 1:3 ratio of coffee to water means that you'll need about 37.5 grams of coffee for 150ml of water.
- Make sure to heat up your almond milk properly. Wait until you clearly see steam coming from the pan. Then use your milk frother to froth it.
- I recommend making two portions (this means using the exact same measurements as above) as this will make it easier to froth your milk.
- Serve with a dusting of cocoa powder if desired.
Nutrition
Calories:
57
kcal
|
Carbohydrates:
5
g
|
Protein:
1
g
|
Fat:
3
g
|
Sodium:
295
mg
|
Potassium:
37
mg
|
Fiber:
1
g
|
Sugar:
4
g
|
Calcium:
270
mg
Disclaimer: The nutritional information above is calculated automatically. The author of this post cannot guarantee 100% accuracy of this data.