This cinnamon ginger turmeric tea is something we could all use. It's packed with vitamins, easy and made within minutes. Miles better than any store bought tea, this one is truly bursting with fresh flavour. If you're looking for a new favourite immune boosting tea, you've come to the right place!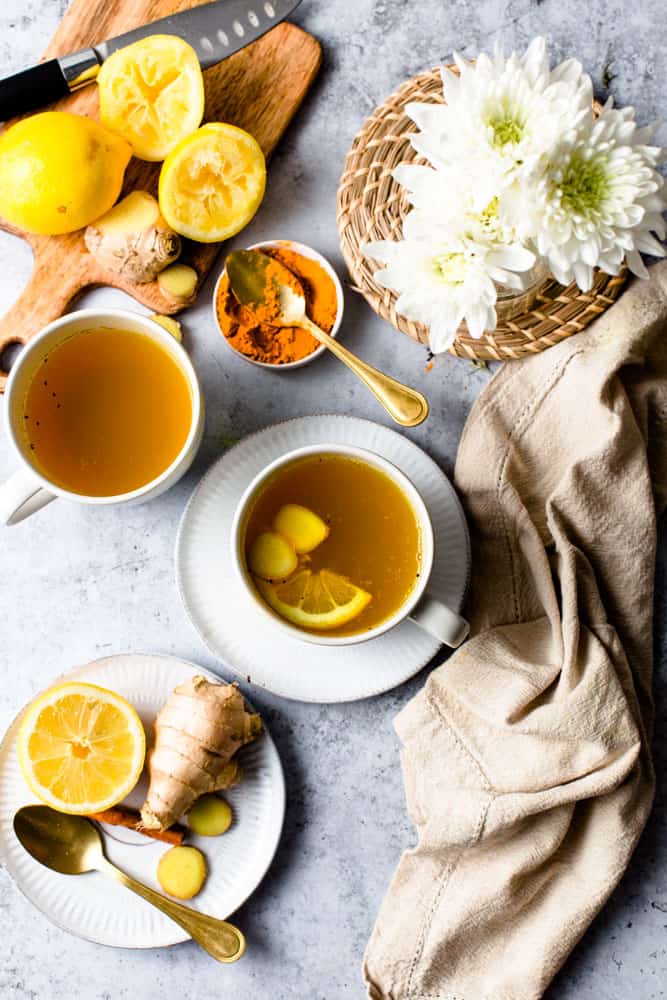 What makes this cinnamon ginger turmeric tea SO YUMMY
Let me tell you.
HELPS YOU GET IN THOSE DAILY VITAMINS: This is an amazing tea to boost the immune system. It's not only packed with vitamin C, but is also rich in antioxidants, refreshing & comforting.
IT'S SO CHEAP! You've probably noticed that a lot of special herbal tea blends are not cheap at all. Making your own is a great alternative. Plus, this particular recipe only requires staples that you might already have at home: ginger, turmeric, cinnamon, lemon, black pepper and some sweetener of your choice.
PERFECT IN SUMMER AND WINTER. Another huge perk of this recipe is that it's equally good hot or cold. In the colder months of the year, I recommend making it hot to maximise that cosy factor. And yet, you can still enjoy it in the summer by popping in some ice cubes. Full instructions on how to turn this into a cold tea are below.
IT'S EASY PEASY. You honestly can't go wrong with this one. It requires little to no prep. All you need to do is juice a lemon, grate some ginger and bam, you're pretty much done. Plus, if you want to make things even easier, you can make it in a large batch!
YOU CAN ADJUST IT EASILY. Last but definitely not least, this immune boost tea is so amazing because it's so easily adjustable. Swap agave nectar for your other favourite sweetener, double the ginger for that extra kick or add another lemon juice shot to double the Vitamin C dose. You can play around with it endlessly.
And to top it all off, you'll be getting step-by-step photos below. If you're looking for the best herbal tea to boost your immune system, this is your hero!
The ingredients you need for my ginger and turmeric tea recipe
Here is what you need to stock up on to make this delicious vegan tea.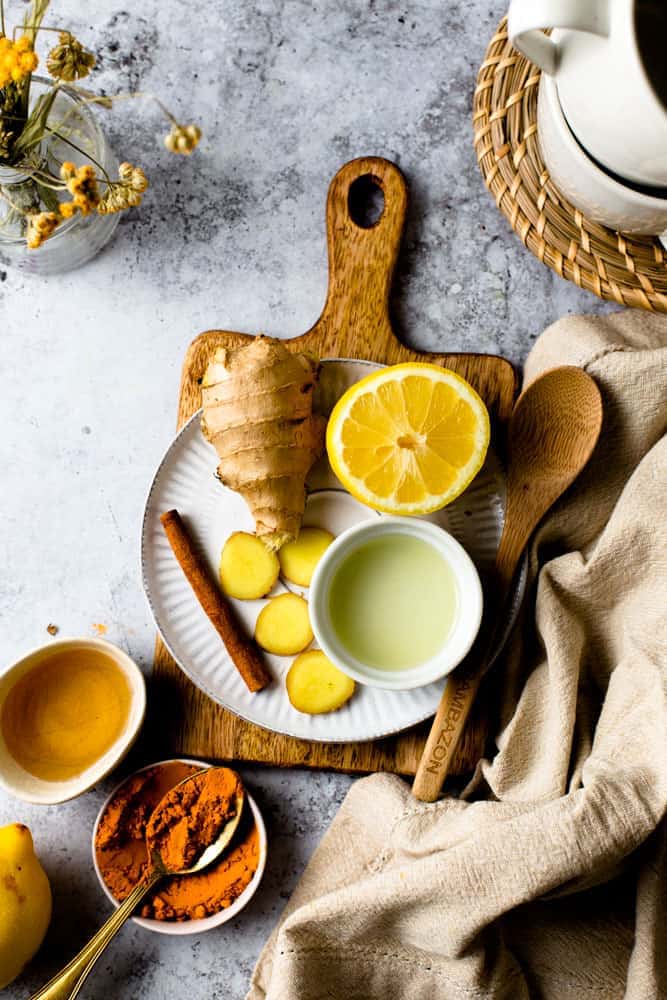 Lemon
Ginger
Turmeric
Cinnamon
Sweetener of choice (I recommend agave syrup)
Yep, that's all. Now let's move on to our step-by-step photos to make sure you really don't get anything wrong 😉

Before we jump straight in with my ginger and cinnamon tea – if you're enjoying this recipe, subscribe to my newsletter below and instantly receive printable 90 Vegan Meal Ideas straight to your inbox!
CINNAMON AND TURMERIC TEA: STEP-BY-STEP INSTRUCTIONS
All measurements can be found in the recipe card below. Ready?

1. GRATE YOUR GINGER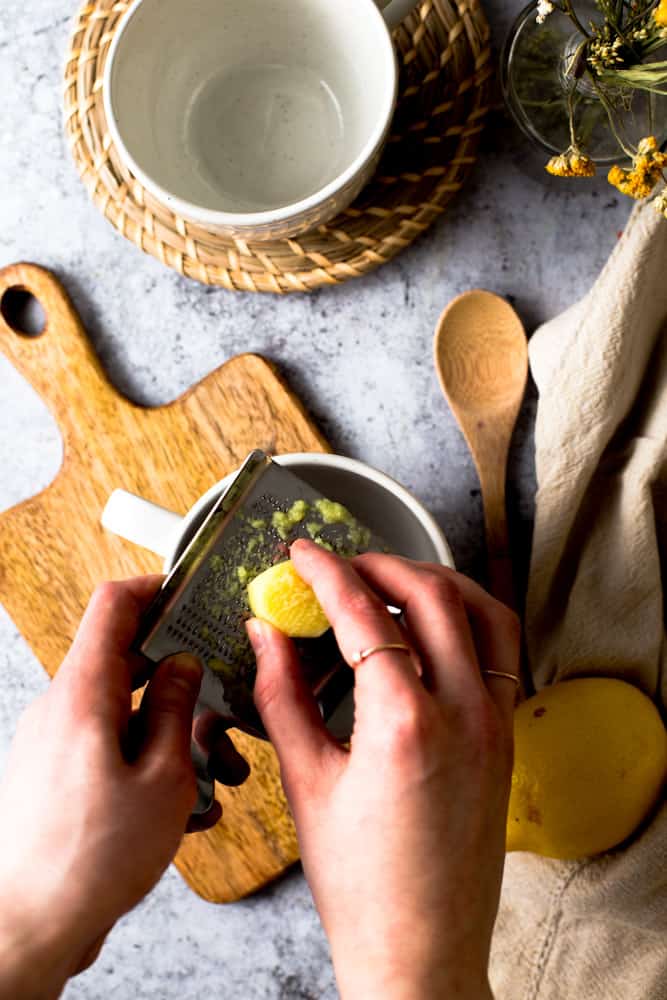 Peel the ginger and grate it straight into your medium-sized pan.

2. ADD LEMON, TURMERIC, CINNAMON, BLACK PEPPER & SWEETENER TO A PAN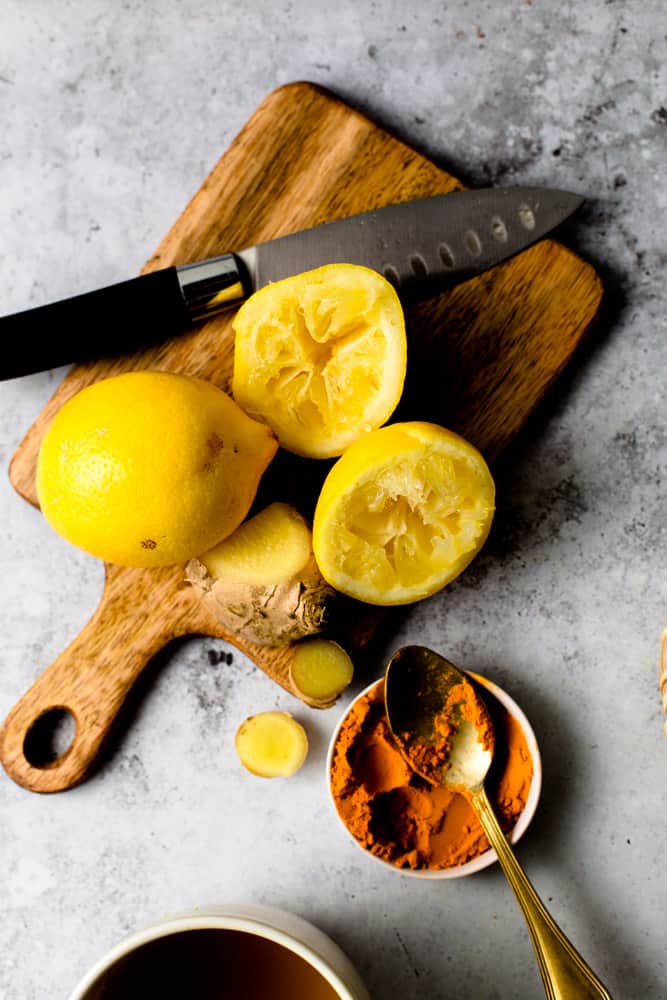 Add the rest of your ingredients to a pan. Pour 500ml of water into the pan.

3. HEAT & WHISK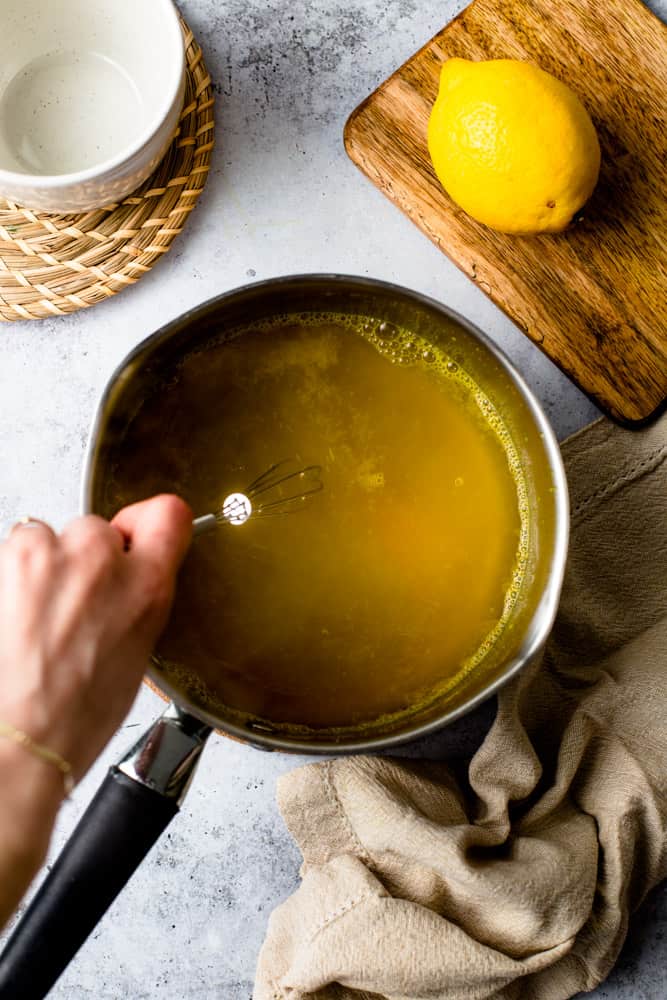 Heat up for about 4 minutes until you can see steam rising out of the pan. Make sure to keep whisking as this will help cinnamon & turmeric dissolve.

4. ENJOY!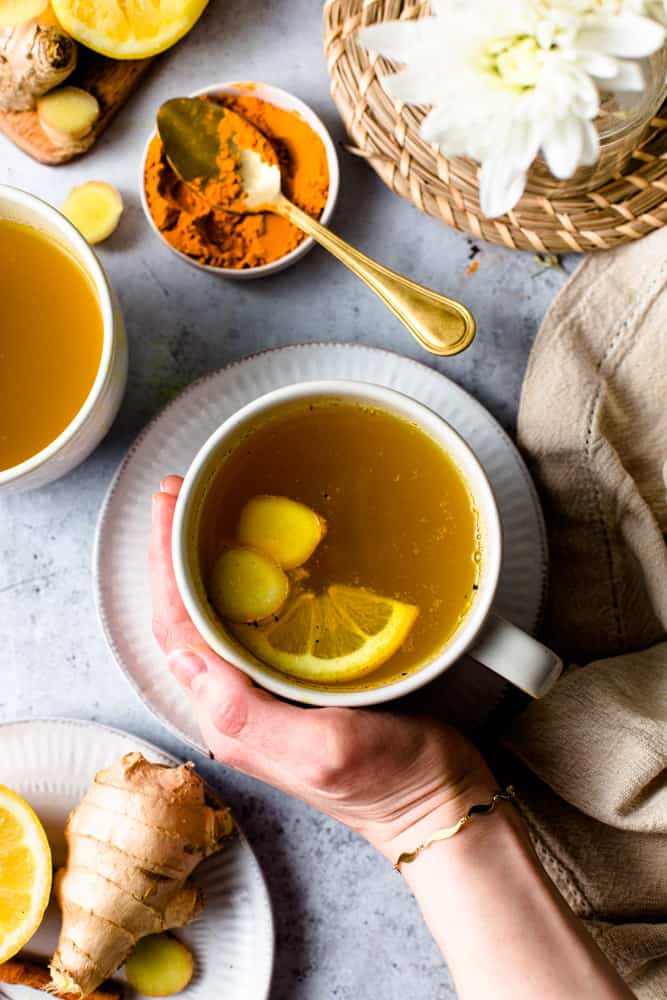 Serve with an extra slice of fresh lemon and some ginger.

Couldn't possibly get any easier, could it?

Lover of healthy but SUPER EASY drinks you can make at home? I've got some other delicious recipes that will keep your belly warm, healthy & nourished.
Oat Milk Latte – This barista-style vegan latte is the one recipe you need to kick-off your day in style without spending a ton of money.
6 Plant Based Smoothies – My 6 easy vegan smoothies will get you energised bright and early, plus you can make them in batches!
Oat Milk Hot Chocolate – This dairy free treat will instantly lift up your mood and is basically like a hug in a mug! It's creamy, rich, indulgent, but healthy too!
HOW TO MAKE YOUR CINNAMON & TURMERIC TEA EVEN BETTER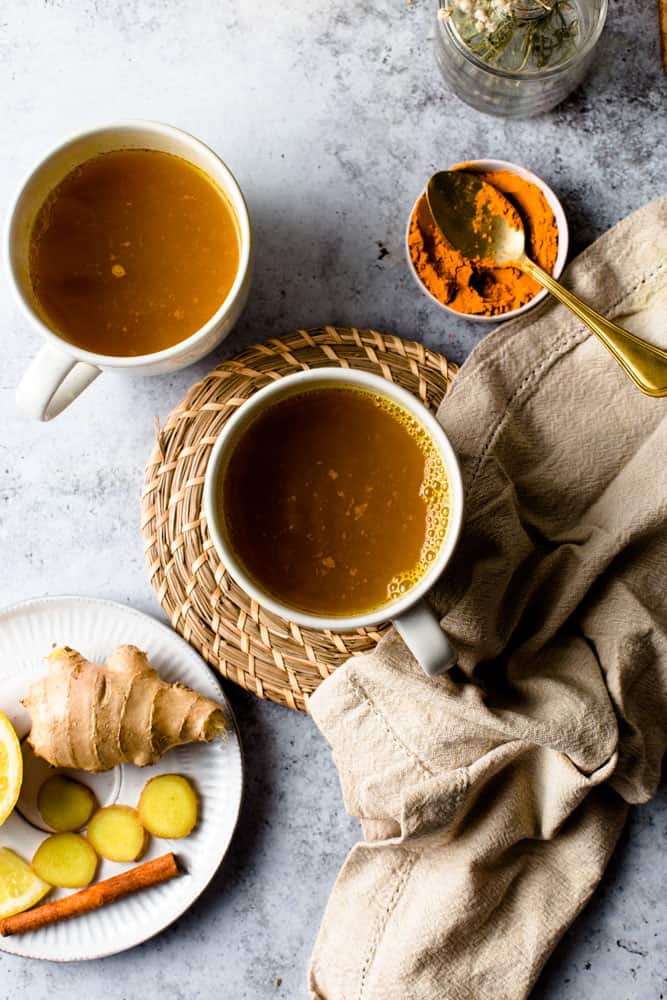 I hope I've made it clear by now that this recipe is super duper easy. It's a really must-try, but there are always some tips that could prove useful to someone. Here they come:

ALWAYS GRATE THE GARLIC
Don't just peel the garlic and chuck the whole thing into your pan. Grating it is super important as this is the only way to make sure all the juices come out of it. If you're just chucking in a whole garlic thumb, there will be a lot less flavour!

STRAIN TO MAKE IT FREE FROM ANY BITS
Just before serving, make sure to strain the tea which will make sure the grated garlic pieces of garlic are not floating about.

MAKE IT ICED!
Want to make it cold and refreshing? Make it into an iced tea. This wouldn't be easier. Simply just prepare the tea as you would usually, add plenty of ice cubes and place it in the fridge. You'll know once it's cold!

MAKE IN A BATCH AND STORE IN A THERMO BOTTLE
Make a huge batch in the morning, then pour it into an insulated thermo bottle and voila, you're sorted for the day!
CINNAMON GINGER TURMERIC TEA: BENEFITS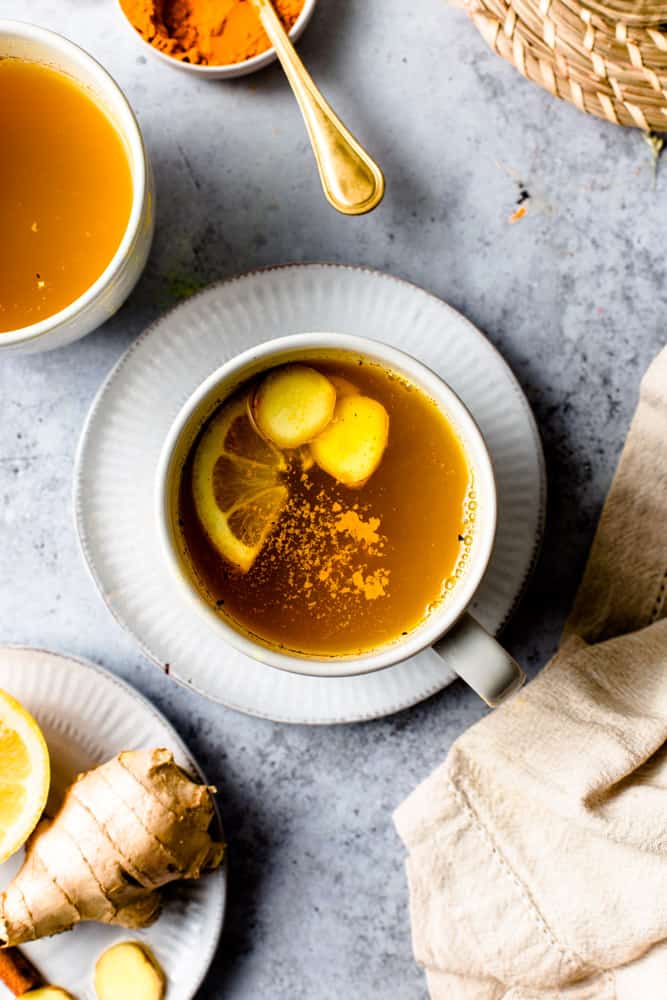 If you find yourself making this recipe, then you're probably someone that enjoys healthy food and cares about nutrition. I always love giving you a short insight into every main ingredient behind my recipes.

LEMON: High in Vitamin C, fibre, and may help support heart health. They contain several compounds that might help lower cholesterol.

GINGER: Can help ease flu and colds. It's also an amazing source of antioxidants. Moreover, it might help reduce inflammation, support cardiovascular health and relieve nausea.

TURMERIC: Contains curcumin which is naturally anti-inflammatory and may play a role in treating depression.

CINNAMON: A natural breath refresher, cinnamon also has antibacterial and antimicrobial properties. Might help slow the absorption of sugar into the bloodstream.
For more nourishing vegan recipes make sure to check out my:
This is it, folks! You've now got yourself a lovely healthy vegan tea. As always, if you have any trouble making this recipe, simply comment down below or message me directly on Instagram. I'll be sure to help you out in case you get stuck!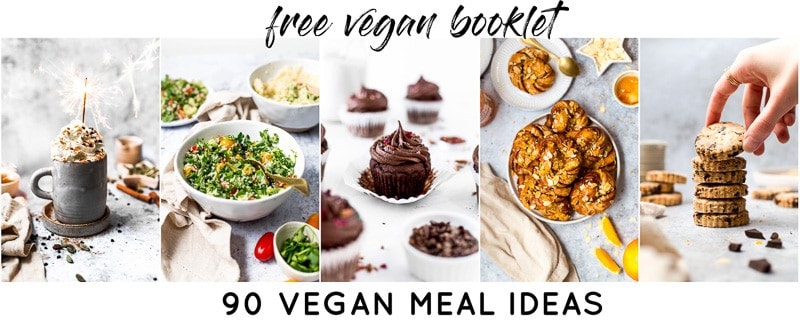 Don't forget you can grab a free vegan booklet containing 90 VEGAN MEAL IDEAS below.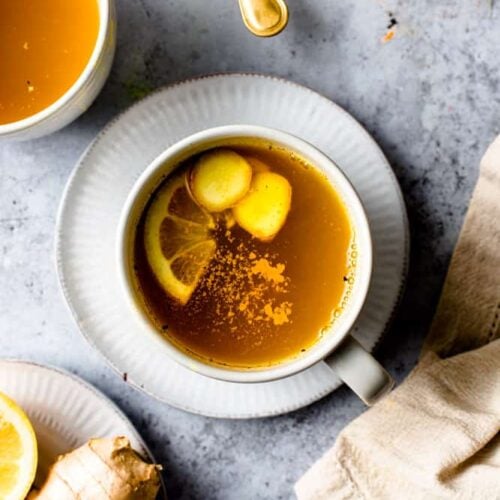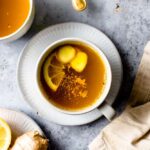 Cinnamon Turmeric Ginger Tea
This is pure sunshine in a mug. Refreshing, nourishing and SUPER healthy.
Ingredients
8

g

ginger

freshly grated (equals to 1 very large thumb)

3

tbsp

lemon juice

2

tbsp

agave syrup

(or other sweetener)

¼

tsp

turmeric

⅛

tsp

turmeric

(add as an extra to 1/4 tsp turmeric above)

½

tsp

cinnamon

500

ml

water

A

pinch of

pepper
Instructions
Peel the ginger and grate it straight into your medium-sized pan.

Add the rest of your ingredients (lemon juice, agave syrup, turmeric, cinnamon, pepper) to a pan. Pour 500ml of water into the pan. 

Heat up for about 4 minutes until you can see steam rising out of the pan. Make sure to keep whisking as this will help cinnamon & turmeric dissolve. 

Remove from heat and strain to remove any leftoever ginger bits. Serve with an extra slice of fresh lemon and some ginger.
Nutrition Facts
Cinnamon Turmeric Ginger Tea
Amount Per Serving
Calories 76
Calories from Fat 9
% Daily Value*
Fat 1g2%
Sodium 14mg1%
Potassium 23mg1%
Carbohydrates 19g6%
Protein 1g2%
Vitamin C 9mg11%
Calcium 8mg1%
Iron 1mg6%
* Percent Daily Values are based on a 2000 calorie diet.