Bringing you the 6 best plant based smoothies! These are tried & tested, ready for you to drink over and over again. Using staple fruit and veggies, these vegan smoothies are an easy way to get in your daily dose of plant goodness.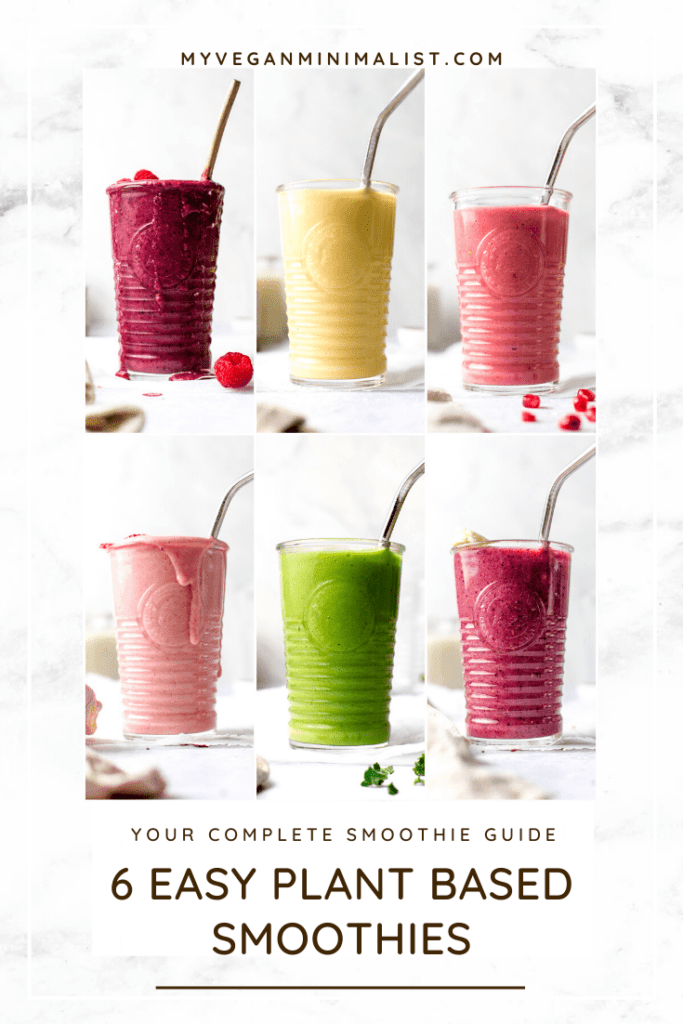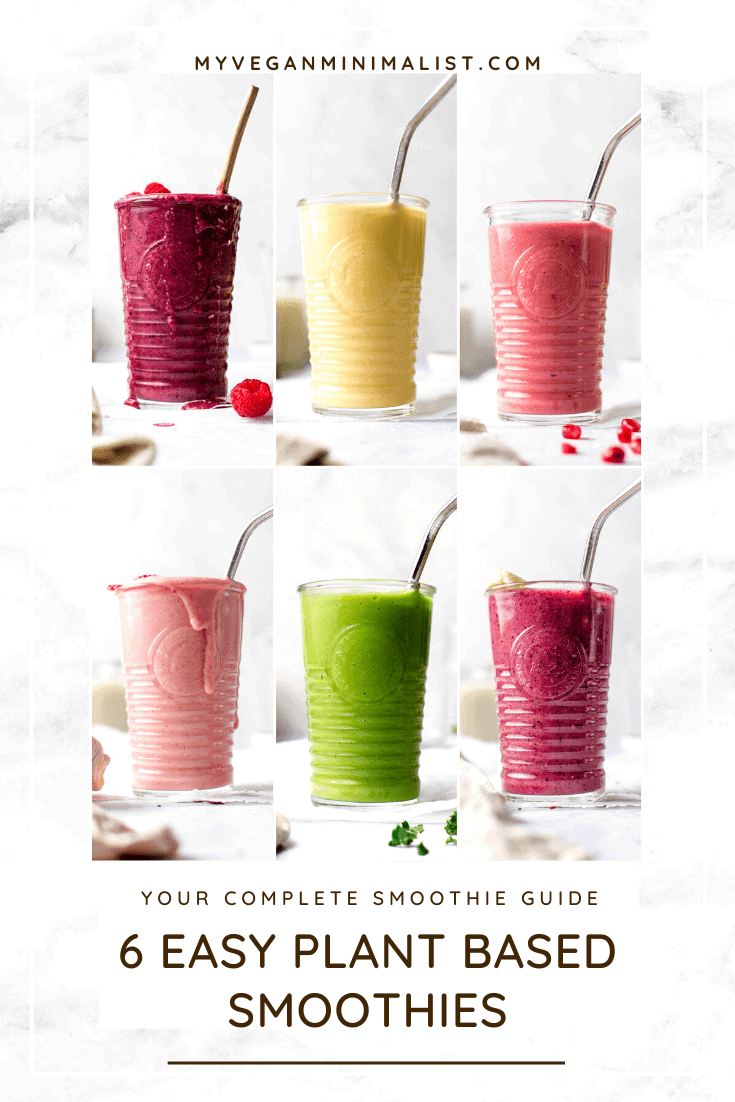 Ready to dive in?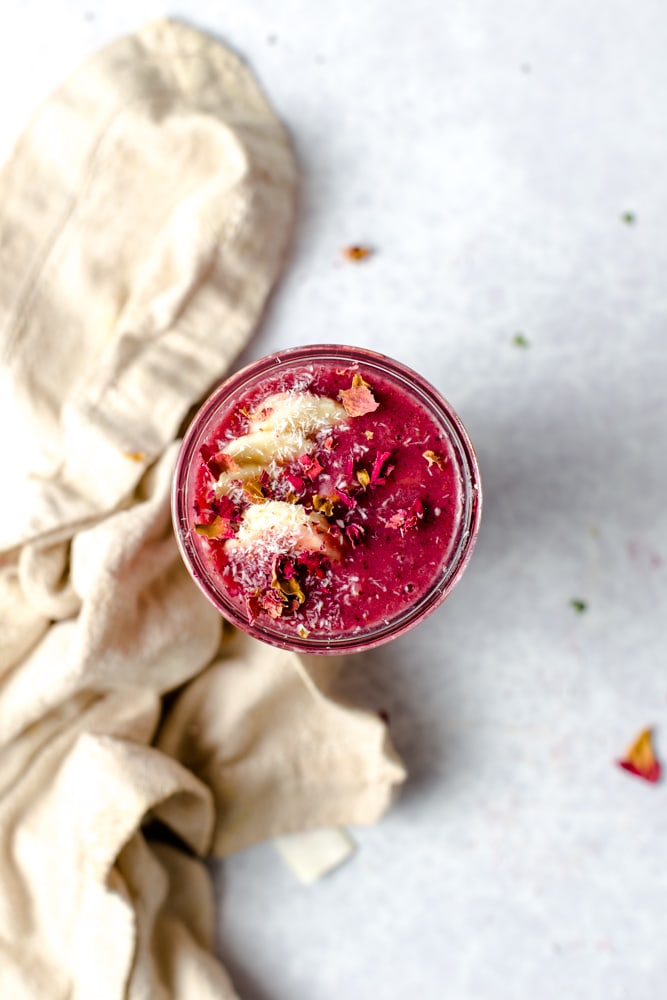 What makes these plant based smoothies so special
1. They all require just 5 ingredients.
Who wants to do a grocery run to pick up 20 rare or expensive ingredients just for a smoothie? I, for one, like to keep it simple. These all require a maximum of five ingredients.

2. They're made up of easy-to-find fruit.
I like to celebrate simple ingredients that are often overlooked. The world of smoothies can be very pretentious and include ingredients such as dragon fruit, lychee and avocado that are simply not accessible to everyone.

Moreover, it sometimes calls for ingredients such as ashwagandha, wheatgrass powder and pink pitaya powder. I mean, seriously? I kept it nice and simple with ingredients such as apples, bananas, pears and frozen raspberries
3. These are all 1 portion smoothies
No need to make a smoothie for the whole neighbourhood. All these recipes are perfect for just one (large) portion of your favourite smoothie.
Alternatively, if you're making these with a friend or relative, you can simply adjust the portion size in the recipe card below. This way you won't have to add anything up or calculate the ingredients yourself. Ain't nobody got time for that, right?
Without further ado, here they come.

MY 5 FAVOURITE PLANT BASED SMOOTHIES

1. APPLE BANANA STRAWBERRY SMOOTHIE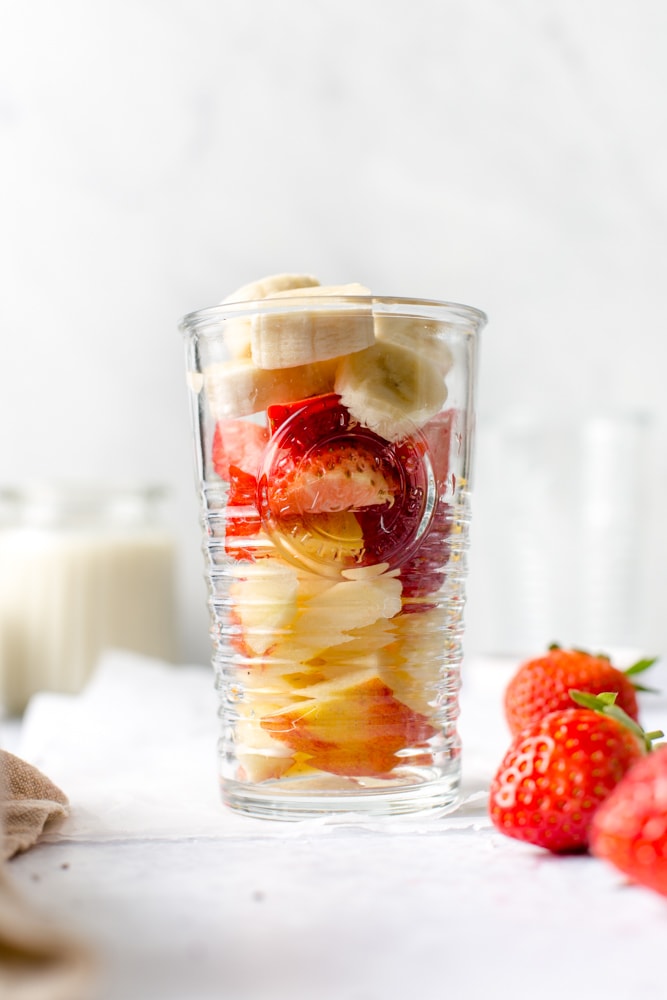 This one is a real crowd-pleaser. It's a classic mix of some of the most beloved fruit with just a little dash of almond milk to help make them richer and creamier.
It's bound to be a hit among young and old alike. Plus the gorgeous pink colours made it very Instagram friendly, right?
Despite being made up of staple fruit, it also has its own surprise ingredient - peanut butter. This adds a touch of rich creaminess and a lovely kick of flavour.
Wondering what you'll need to make this apple banana strawberry smoothie? (the clue is in the name, hah)
ripe banana
frozen strawberries
apple
almond milk (or other plant based milk)
smooth peanut butter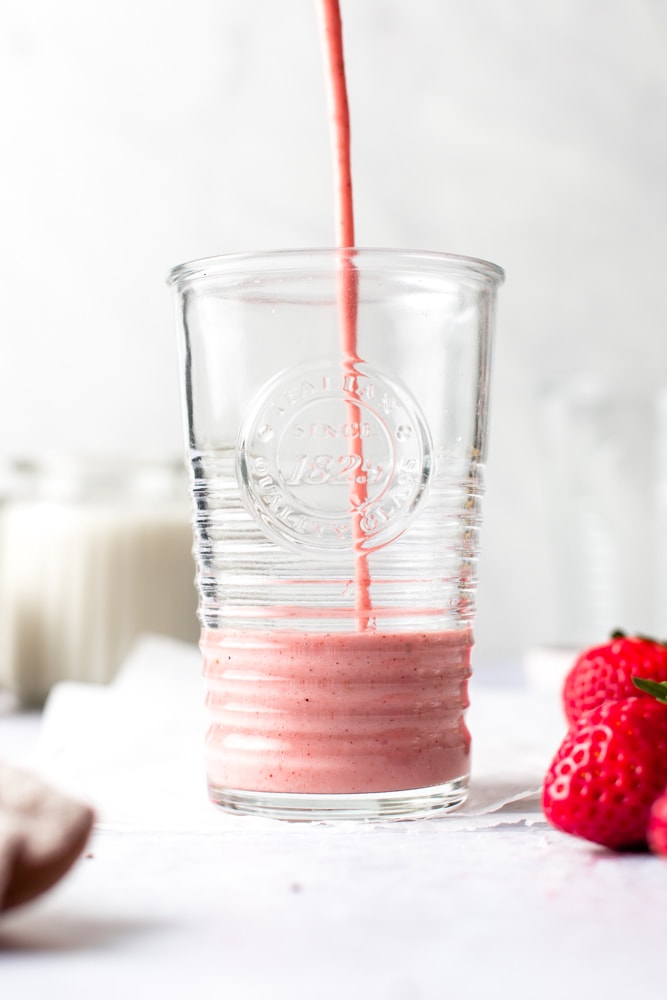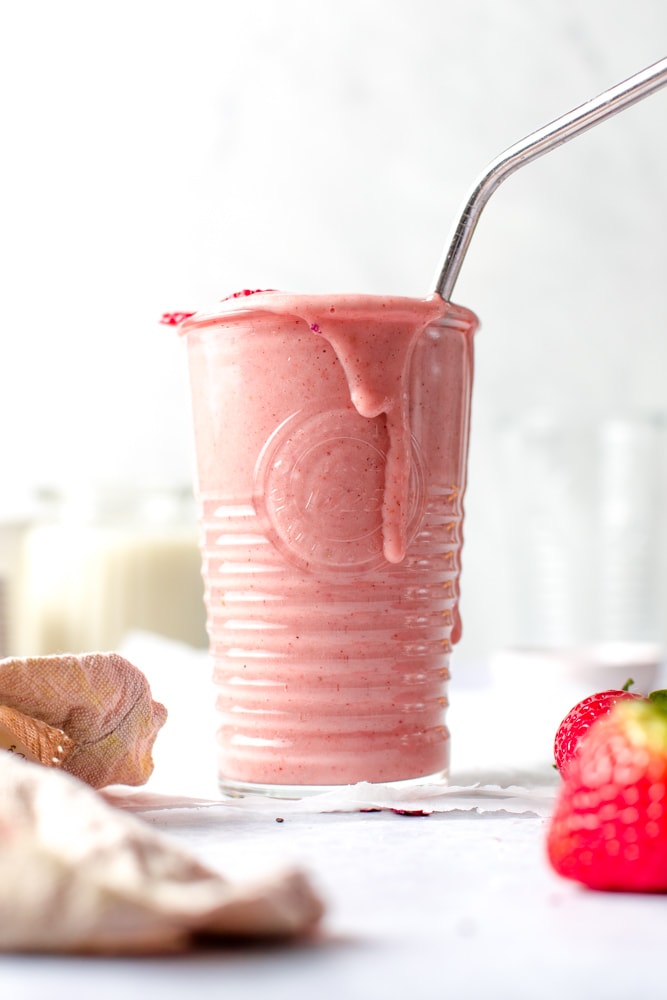 2. MIXED FRUIT SMOOTHIE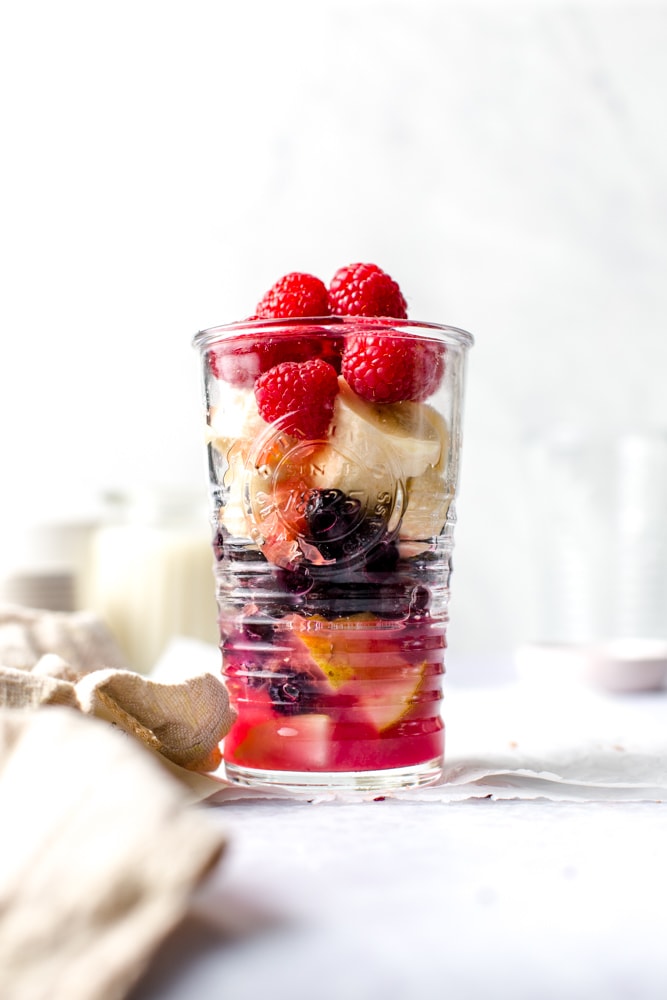 I call this one my 'leftover fruit' smoothie. It's the one you make when you've got and old banana and half of a grapefruit just lying around and some frozen fruit in the freezer.
The fact that it's made up of all these different fruits makes it extra nutritionally dense. The surprise ingredient this time is grapefruit juice, which adds a fantastic
To make our lovely mixed fruit smoothie you will need:
grapefruit
frozen raspberries
banana
pear
frozen blueberries
cold water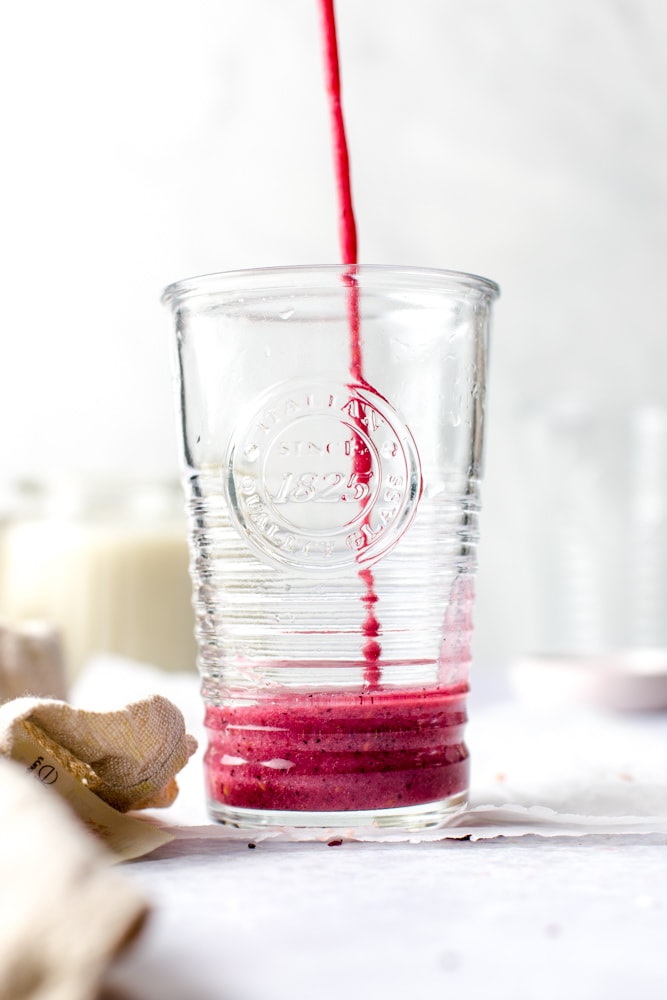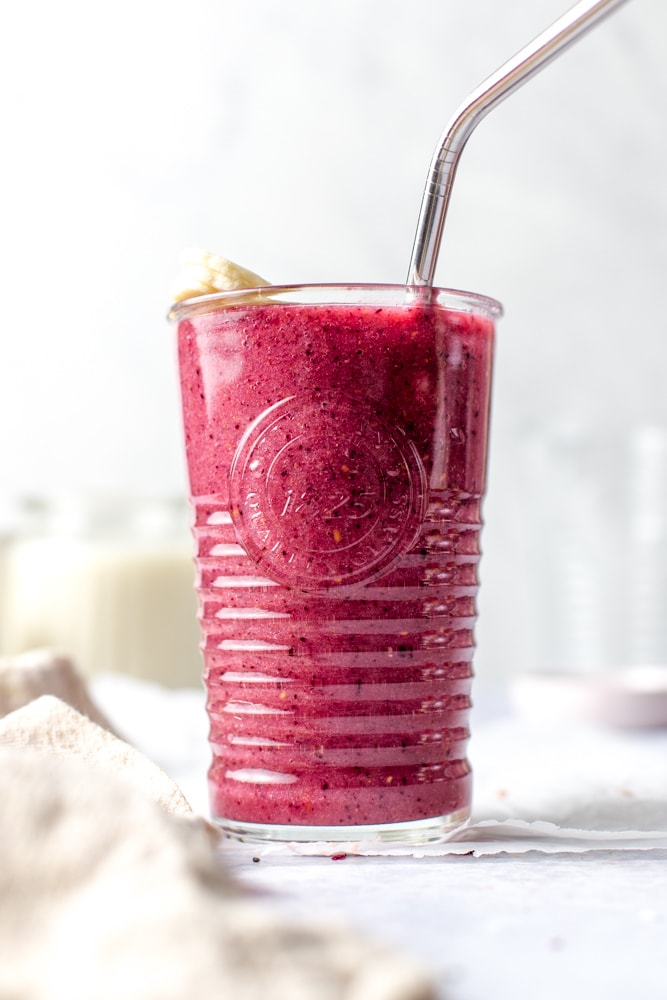 Once you've got all these, it's time to blend!
3. MANGO AND KALE SMOOTHIE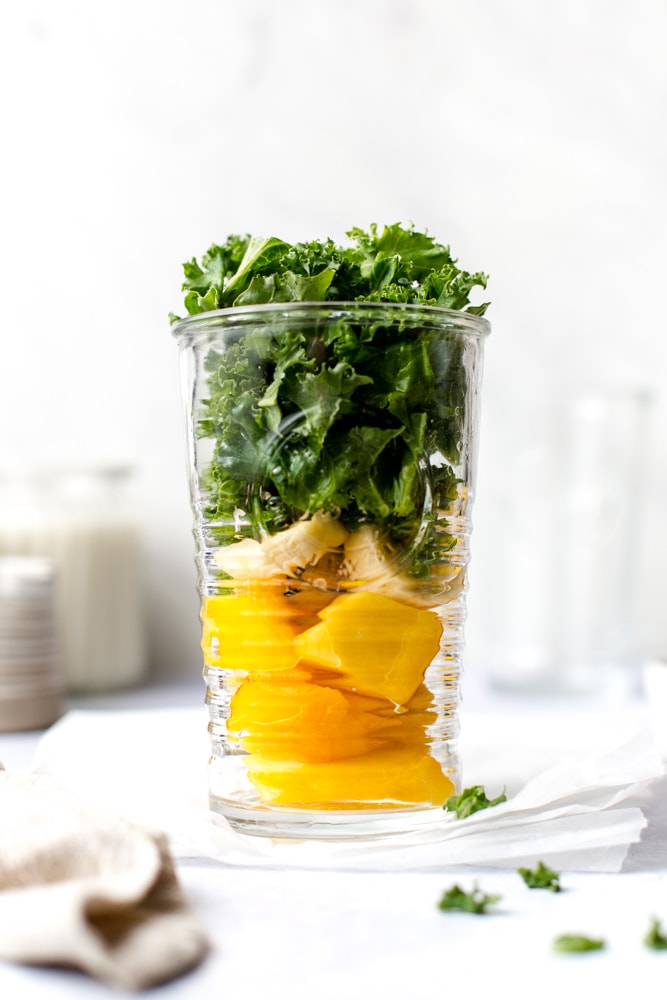 This one is for the brave ones, for those daring to try out something a little bit more adventurous! Despite its hero ingredient being kale, this one still goes down like a treat thanks to sweet mango, yummy banana and just a little bit of vanilla extract.
This green smoothie is punching with nutrients and is essentially like an entire meal in 1 glass - some fruit, some veg, some plant milk and something sweet.
To make your mango and kale smoothie, you will need:
curly kale
ripe banana
frozen mango
oat milk or other plant based milk
vanilla extract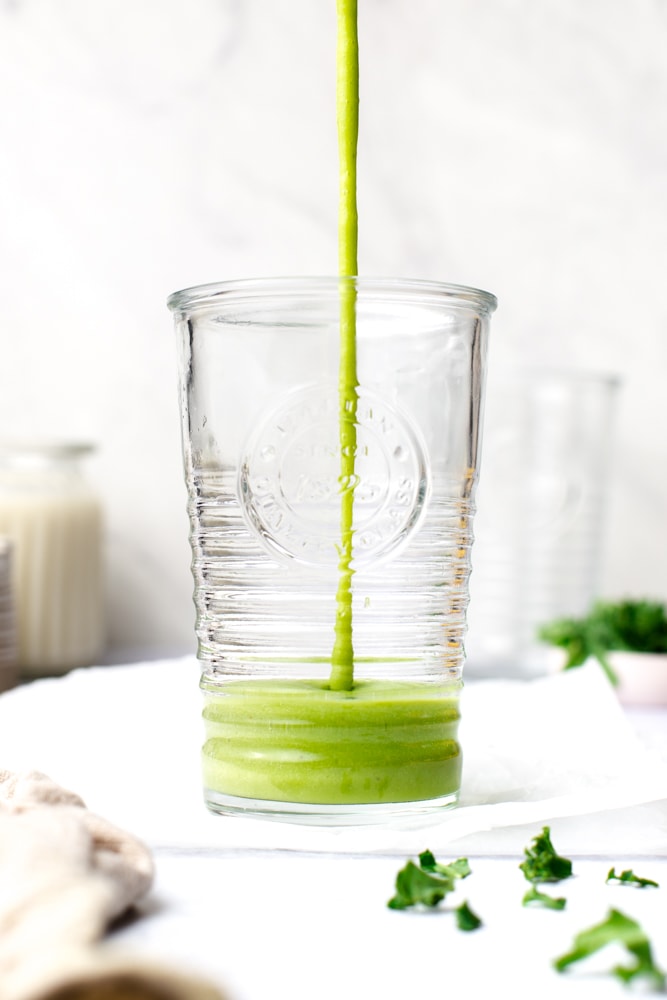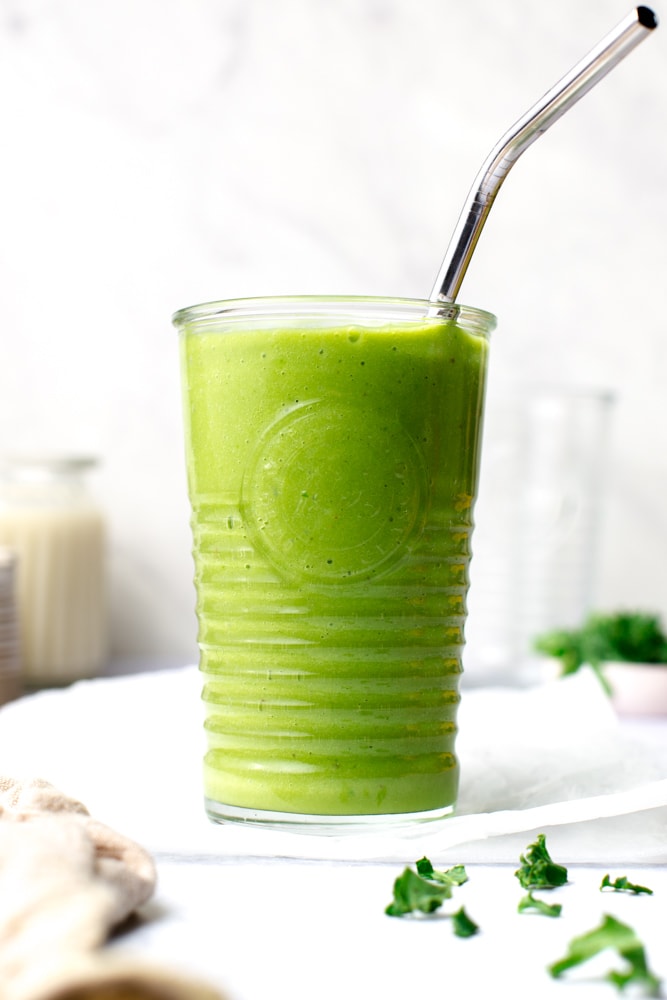 Find out the full instructions below!
4. RASPBERRY AND BLUEBERRY SMOOTHIE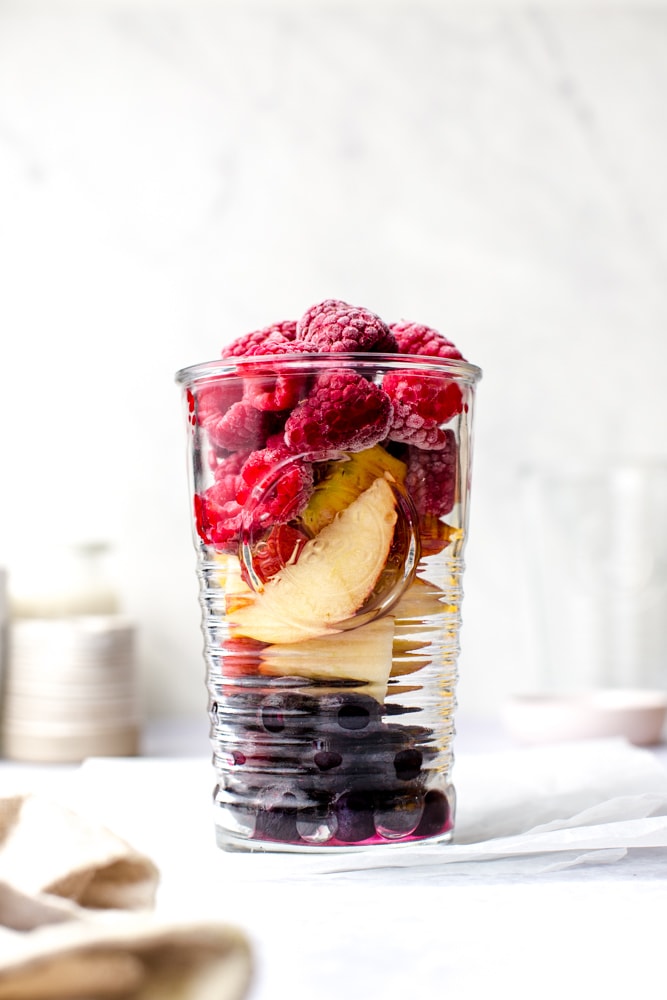 We all need a good old mixed berry smoothie in our recipe books. If you're someone that just loves berries, you NEED to make this beautiful drink.
And more, this is great for anyone that hates bananas as the base of the smoothie is made of up apple cubes instead of the standard ripe banana.
To make your delicious raspberry & blueberry smoothie, this is what you'll need:
apple
frozen raspberries
frozen blueberries
oat milk or other plant based milk
agave syrup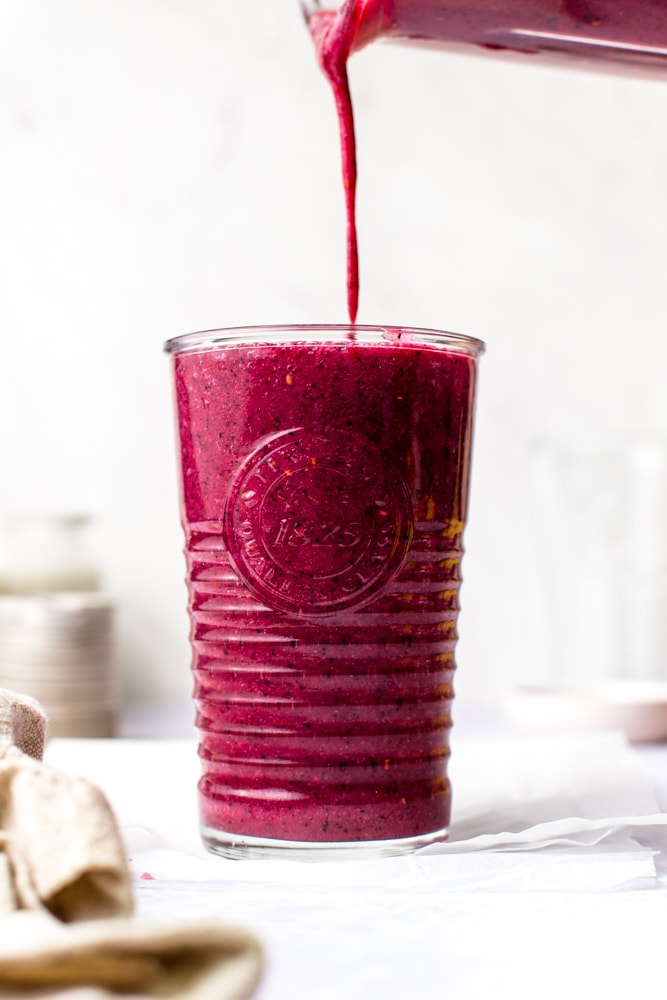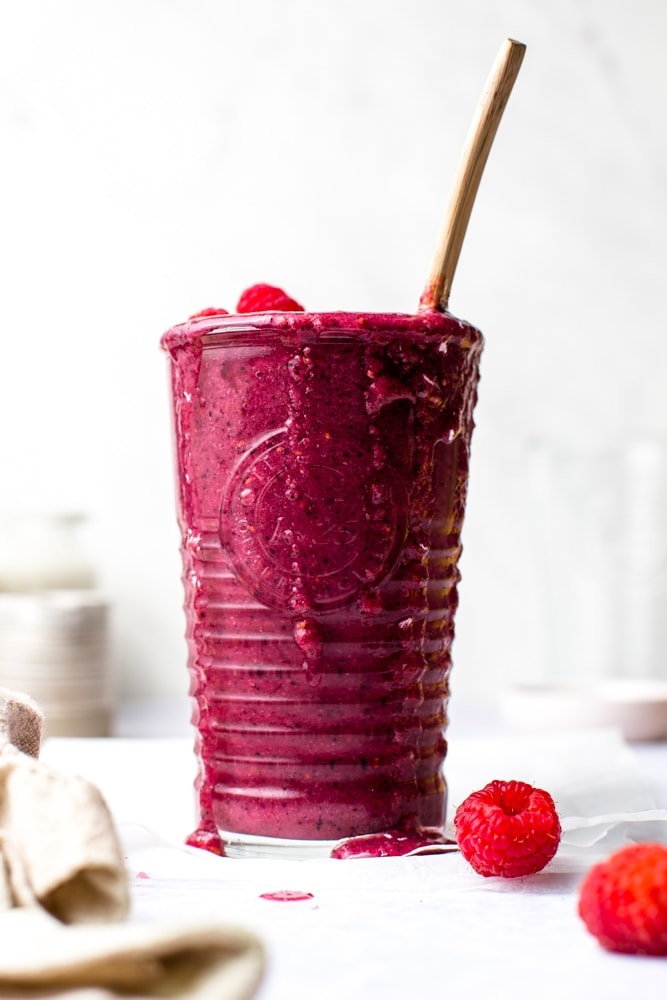 5. COCONUT WATER SMOOTHIE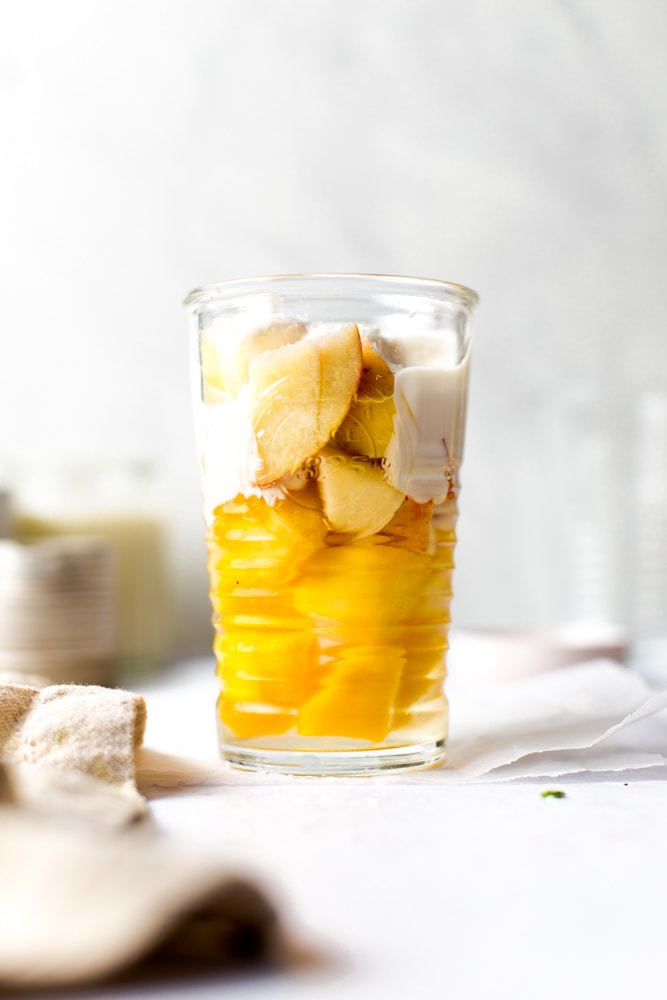 This is my favourite one of the whole lot! It's subtly sweet and bursting with flavour.

It's a perfect addition to your plant based breakfast or just a nice & healthy midday snack.

Moreover, it contains a drool-worthy mix of two exotic fruits that compliment each other better than anything - coconut and mango.

To make your coconut water smoothie, you will need:

coconut water (duh…)
frozen mango
shredded coconut
ripe banana
vanilla extract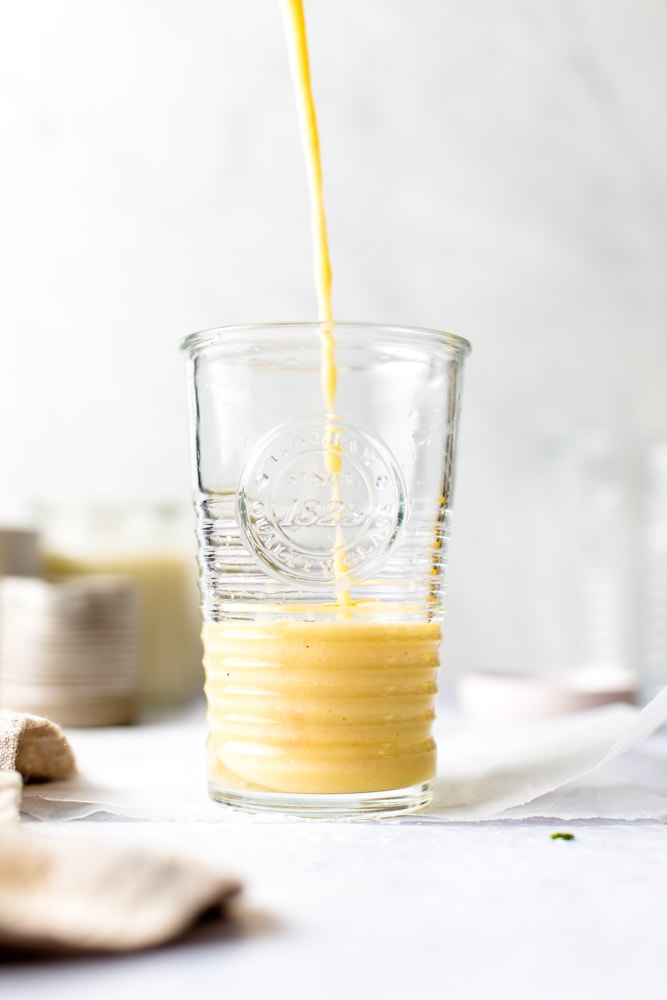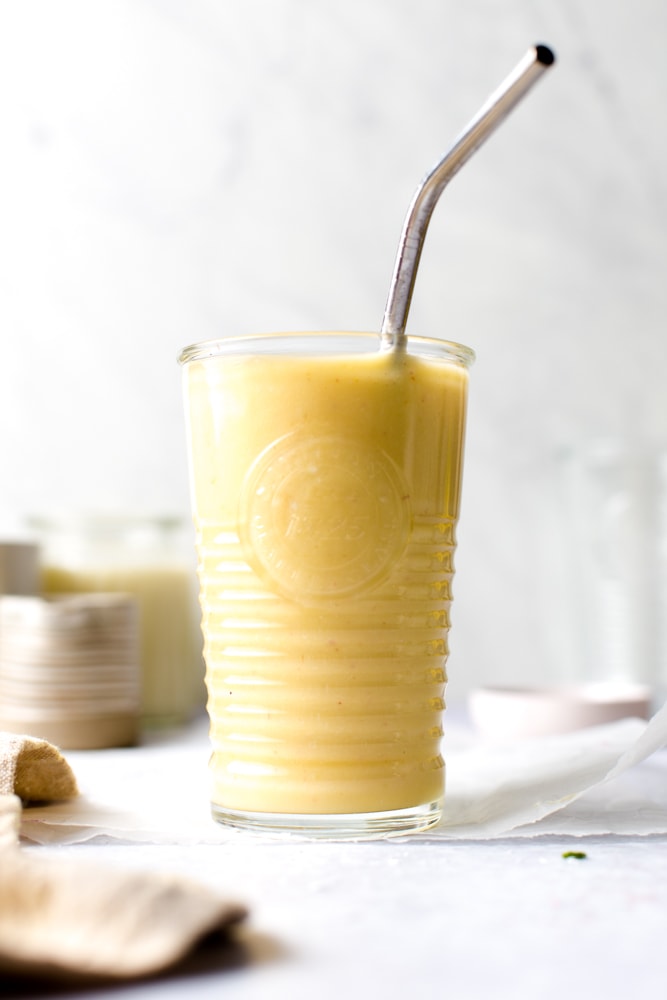 Yep, that's all!

6. POMEGRANATE SMOOTHIE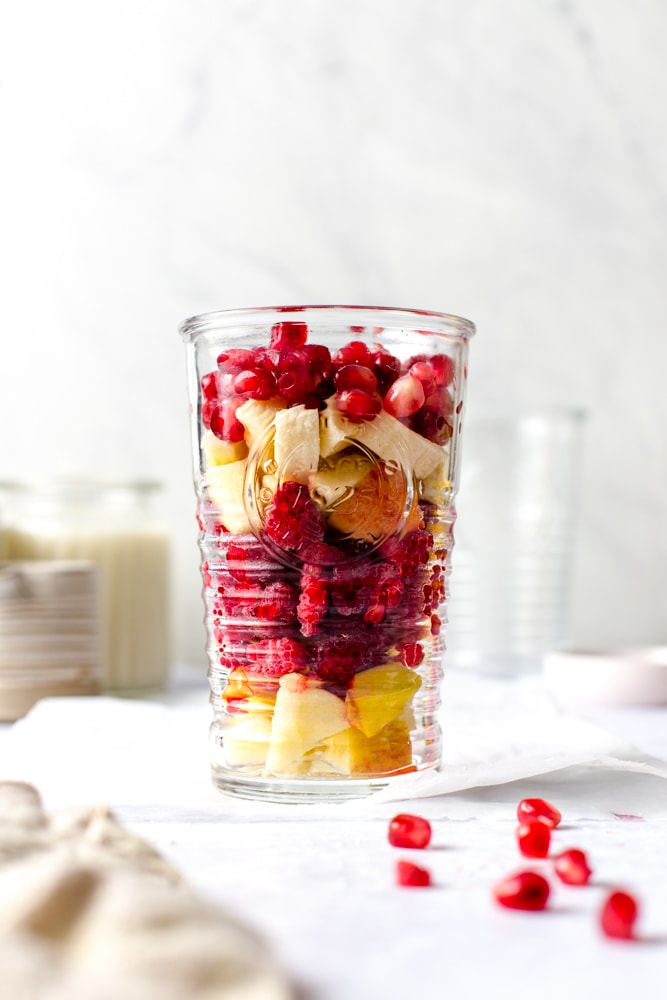 This gorgeous pink smoothie is packed to the brim with vitamins, instantly refreshing and super good for you!
It's a lovely plant based breakfast idea for those of you that don't enjoy warm breakfast or just want something cooling, particularly during the warm summer months.

To make this delicious non dairy smoothie you will need:
ripe banana
pomegranate seeds
almond milk or other plant based milk
frozen raspberries
apple
optional: 2 teaspoon agave syrup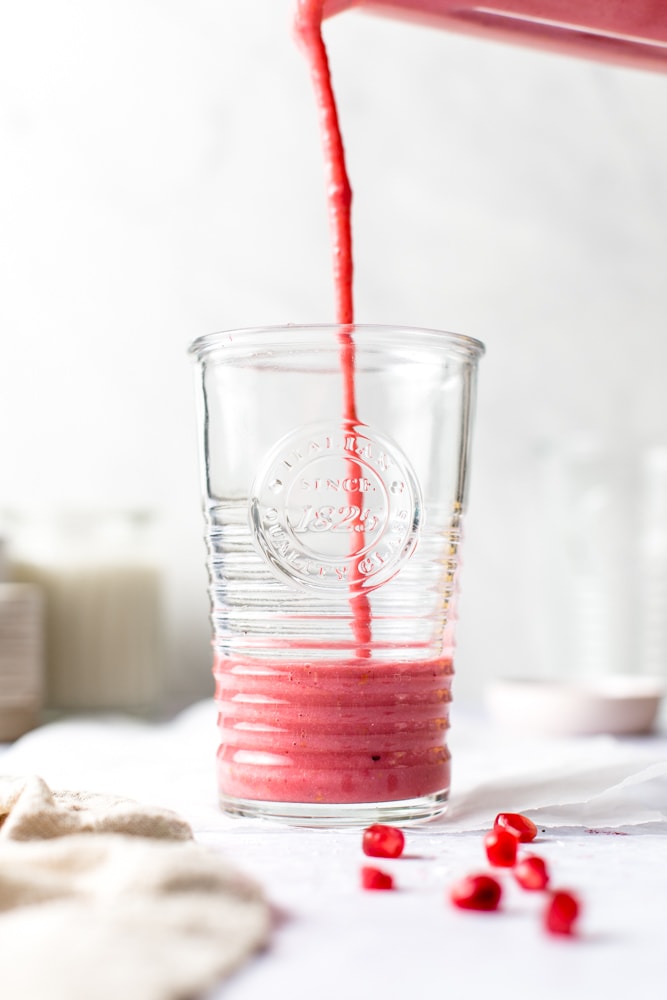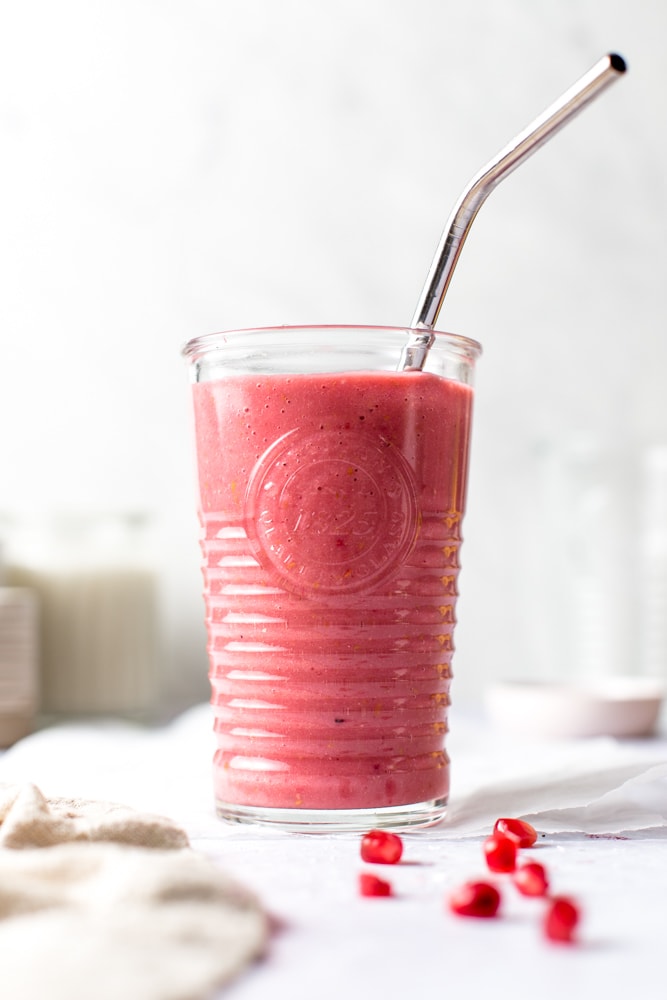 Before we jump in with all the details - if you're enjoying my site, feel free to subscribe to my newsletter below and instantly receive printable 90 Vegan Meal Ideas straight to your inbox!
HOW TO STORE SMOOTHIES
I know the feeling. You've made a big smoothie, realised you can't drink it all at once and you're panicking. After all, smoothies do go bad VERY quickly when let out in a glass at room temperature.

Just like I did when I first started making them, you might be wondering:
Can I freeze smoothies?
Can I simply just leave them in a glass?
But how long will they keep?
Good news? There are several ways you can store them and still preserve all their goodness. Find all the answers below.

COOL THEM IN THE FRIDGE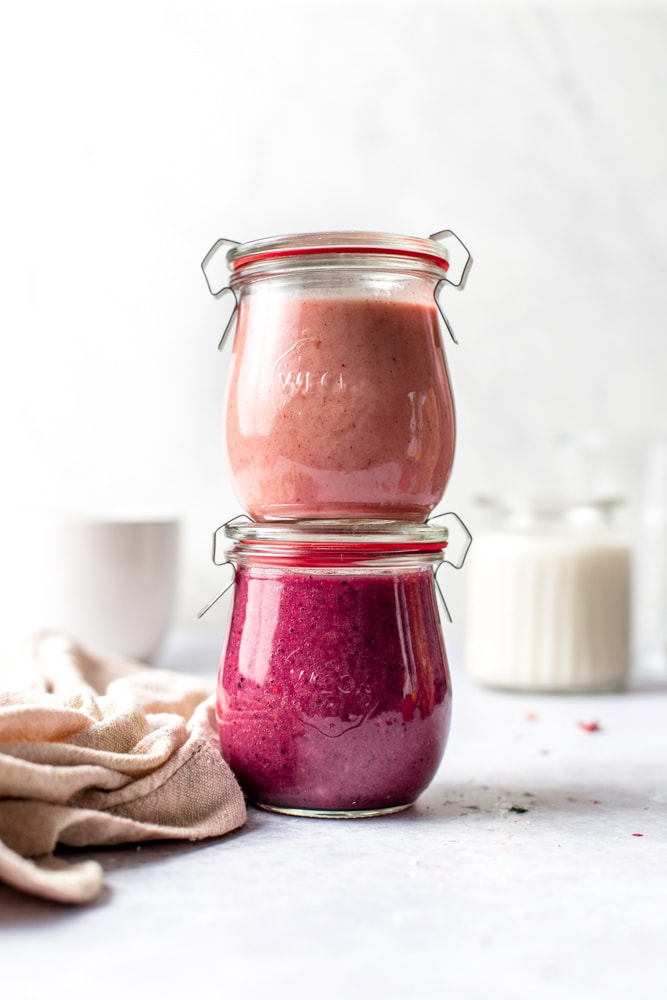 You can simply pour them in an airtight container and pop them in the fridge. The important words here are AIRTIGHT container. Do not simply refrigerate them in a glass. I know what you're thinking - but is it really this bad?
Well, apart from the fact your smoothie might absorb any other smells in your fridge, the air will also oxidise the ingredients in your smoothie, making them less nutrient-rich.
How long does it keep? Opinions are divided. Some say your smoothie keeps for up to 12 hours while others claim up to 2 days. I'd generally aim to consume them within 24 hours.

FREEZE THEM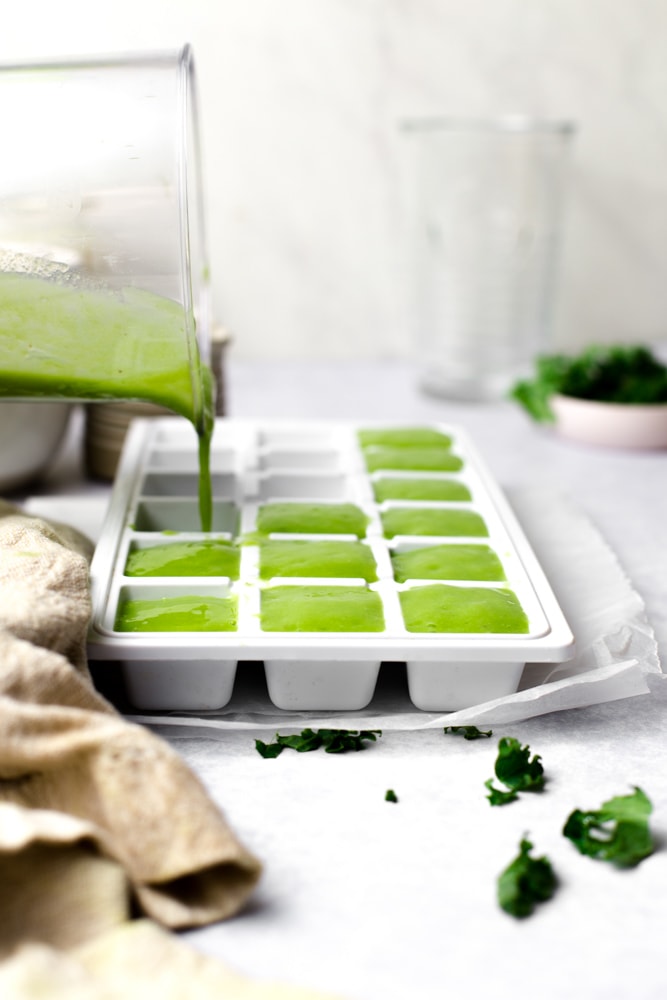 Freezing smoothies is the better option if you've made a huge batch. It's also perfect for anyone meal prepping for the week (or month) ahead. Wondering how to freeze smoothies?
Carefully pour them in an ice cube tray and pop them in the freezer. Make sure your tray is level, because nobody wants a half frozen mushy smoothie all over their freezer drawer. Yes, I learnt this the hard way.

Another thing to keep in mind is that a standard ice cube tray will only fit about 1 large smoothie portion. So, make sure you've stocked up on those trays if you're making a big batch.

IMPORTANT: Make sure you NEVER fill your ice cube tray all the way to the top. Liquid expands as it freezes.

How long does it keep? Anywhere between 2 to 3 months! Woop woop! This means you can treat yourself to a smoothie batch making day once every few months and you're all stocked up for months to come.

Having said all of the above, do keep in mind that smoothies taste best when they're FRESH.
MY 3 EXTRA TIPS: HOW TO CUSTOMISE YOUR PLANT BASED SMOOTHIES
Just like many drinks, smoothies are super easy to customise according to taste.

BOOST THAT PROTEIN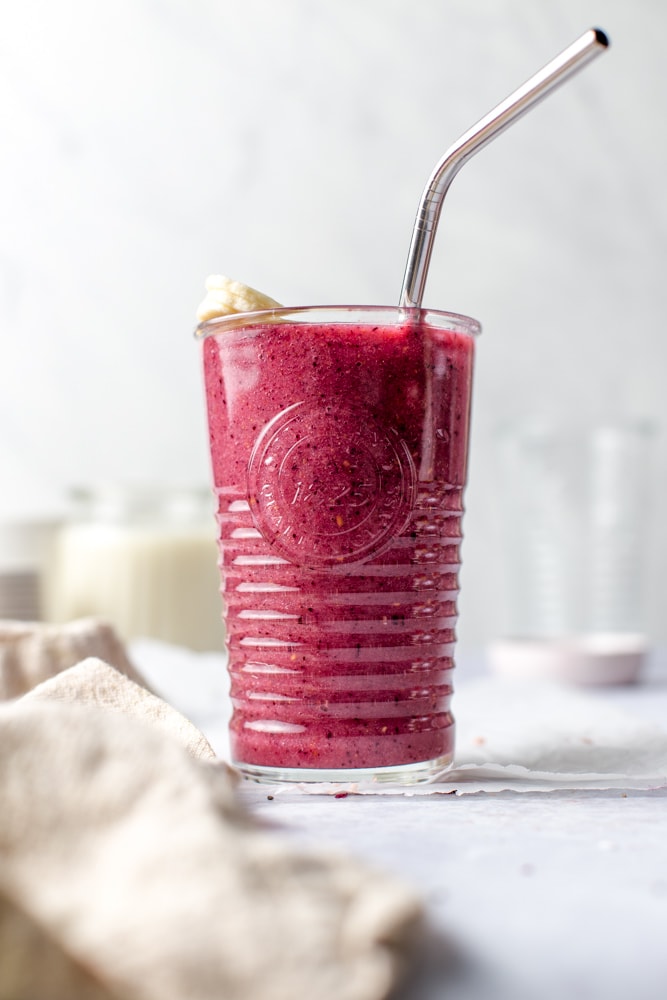 Go ahead and add a tablespoon of your favourite vegan protein powder. You could go for something like hemp or pea protein. This is a very low-effort way of getting in your required daily protein intake.

If you don't have any protein powder at hand, I would recommend adding a dollop of nut butter (peanut, cashew and almond all work super well).

By adding these extra ingredients you can turn your smoothie into a beautiful vegan protein shake!

Find more tips on how to add protein to your smoothies on Tasty (not all of these are vegan, but there are some great suggestions).

FIBRE IT UP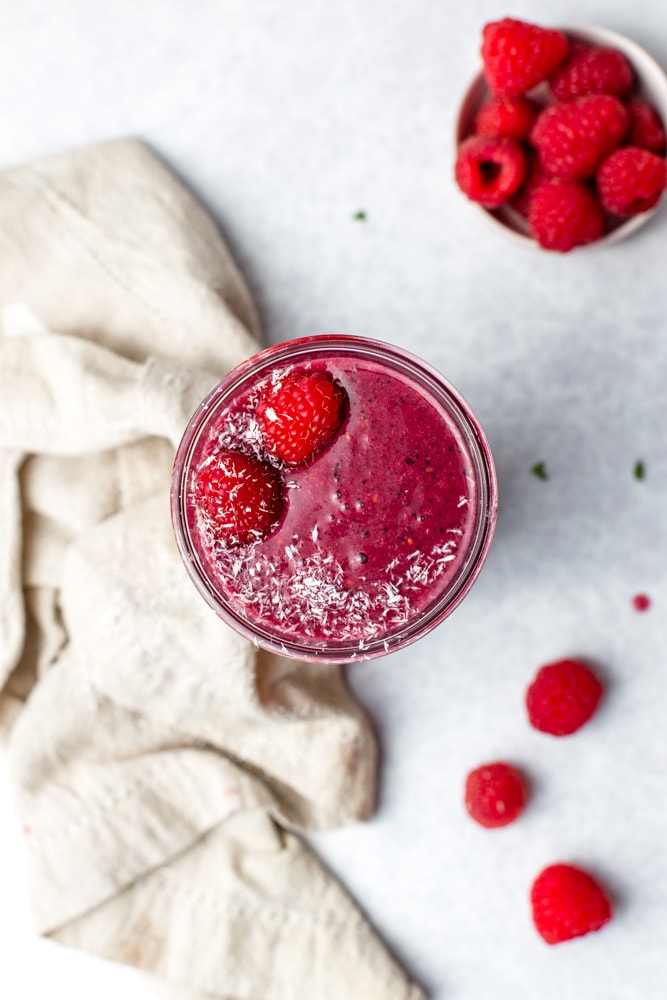 The more fibre, the better, right? Dietary fibre is super important as it can help lower your blood cholesterol and balance blood sugar levels.

Smoothies are naturally high in fibre, thanks to all the fruity goodness. However, you might be wanting even more.

Why not add a spoon of ground flaxseed or sprinkle some chia seeds just before serving. You could also add some of your favourite nuts and seeds.

Last but not least, you could even add some oats!

SWEETEN IT UP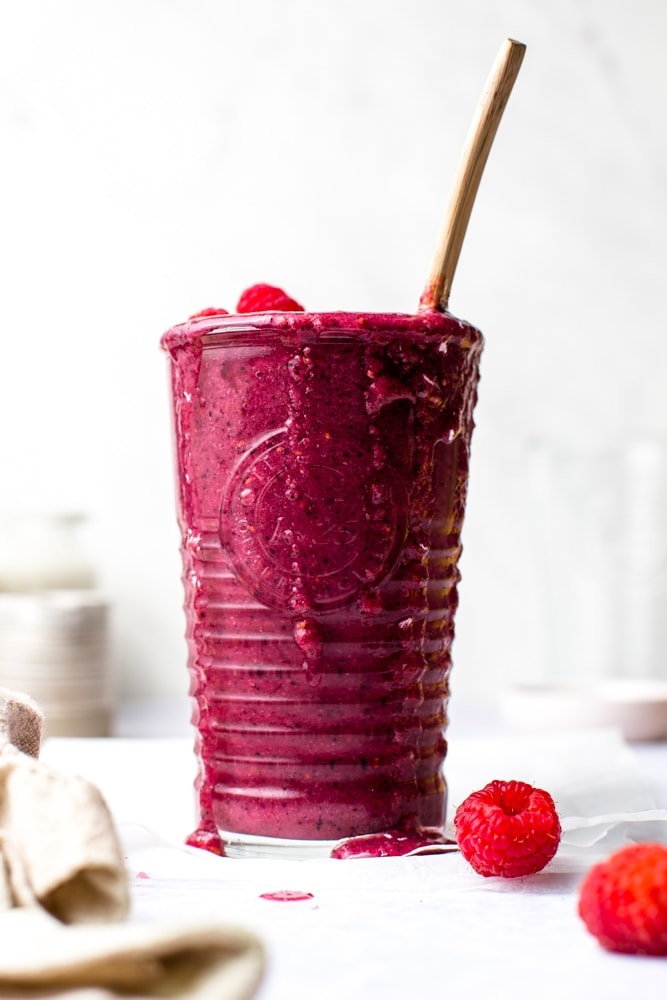 I find smoothies to be naturally very sweet, but you might be different. I kept all the recipes free from any added sugars, except in a few cases where adding a small amount of agave syrup was necessary to add that rich flavour kick.

However, if you're looking to sweeten them more, there's plenty of ways you could do that.

Go wild with all your favourite sweeteners like maple syrup, agave nectar or perhaps even chocolate sauce! This way your smoothie will become a quick & simple plant based dessert!

Don't want to add any extra sugar? No problem! Simply sweeten with liquid or powdere stevia. This will add a sweet kick to your smoothie, whilst not adding as many calories as sugar would.

For more delicious and healthy vegan meal ideas, make sure to check out my:
This just about wraps up my favourite fruit & vegetable smoothies! As always, if you have any trouble making these, simply comment down below or message me directly on Instagram. I'll be sure to help you out in case you get stuck!
---
Don't forget you can grab a free vegan booklet containing 90 VEGAN MEAL IDEAS below.
🍴Recipe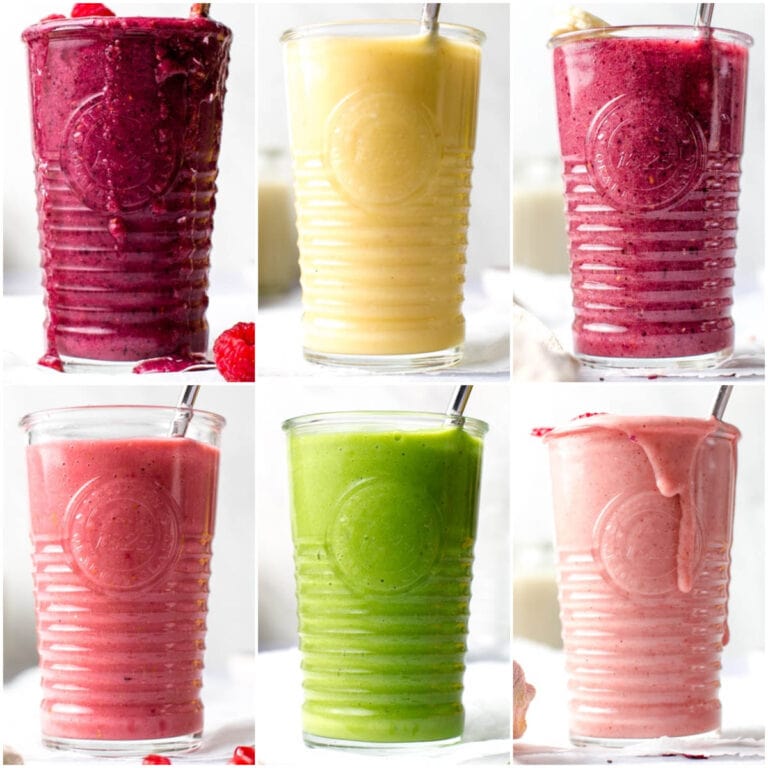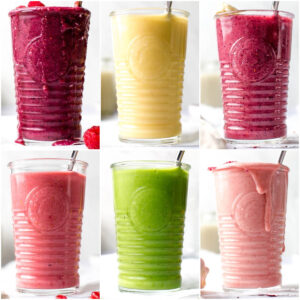 6 Easy Plant Based Smoothies
Bringing you the best plant based smoothie recipes to satisfy all your vegan smoothie desires!
Print
Pin
Rate
Equipment
Food processor or blender
Ingredients
MANGO KALE SMOOTHIE
1

ripe banana

(80g)

15

g

curly kale

100

g

frozen mango

200

ml

oat milk

or other plant milk

1

teaspoon

Madagascar vanilla extract
RASPBERRY AND BLUEBERRY SMOOTHIE
1

apple

(92g) - I used red British apples

75

g

frozen raspberries

75

g

frozen raspberries

200

ml

oat milk

or other plant milk

½

teaspoon

agave syrup
POMEGRANATE SMOOTHIE
1

ripe banana

(80g)

50

g

pomegranate seeds

200

ml

almond milk

or other plant milk

100

g

frozen raspberries

1

apple

(92g) - I used red British apples

2

teaspoon

agave syrup

(OPTIONAL)
COCONUT WATER SMOOTHIE
200

ml

coconut water

100

g

frozen mango

2

teaspoon

shredded coconut

60

g

apple

I used red British apples

1

teaspoon

peanut butter

(use natural peanut smooth butter with no added salt, sugar or oil)
MIXED FRUIT SMOOTHIE
30

ml

grapefruit juice

40

g

fresh raspberries

45

g

banana

50

g

frozen blueberries

100

ml

very cold water
APPLE BANANA STRAWBERRY SMOOTHIE
1

banana

equals roughly 76g

200

ml

almond milk

160

g

frozen strawberries

60

g

apple

cut into cubes

1

tablespoon

peanut butter
Instructions
Add all your smoothie ingredients to a blender.

Blend until completely smooth.

Transfer to a glass and enjoy.

See storing suggestions above.
Notes
Please note that the Nutitional Info refers only to the blueberry & raspberry smoothie. 
Nutrition
Calories:
281
kcal
|
Carbohydrates:
63
g
|
Protein:
6
g
|
Fat:
3
g
|
Saturated Fat:
1
g
|
Sodium:
99
mg
|
Potassium:
521
mg
|
Fiber:
16
g
|
Sugar:
41
g
|
Vitamin A:
514
IU
|
Vitamin C:
48
mg
|
Calcium:
340
mg
|
Iron:
3
mg
Disclaimer: The nutritional information above is calculated automatically. The author of this post cannot guarantee 100% accuracy of this data.