If you haven't tried tabbouleh salad yet, you're seriously missing out. It's a traditional Lebanese dish that lifts up any meal while being absolutely packed with nutrients. Best of all? It's SO. EASY.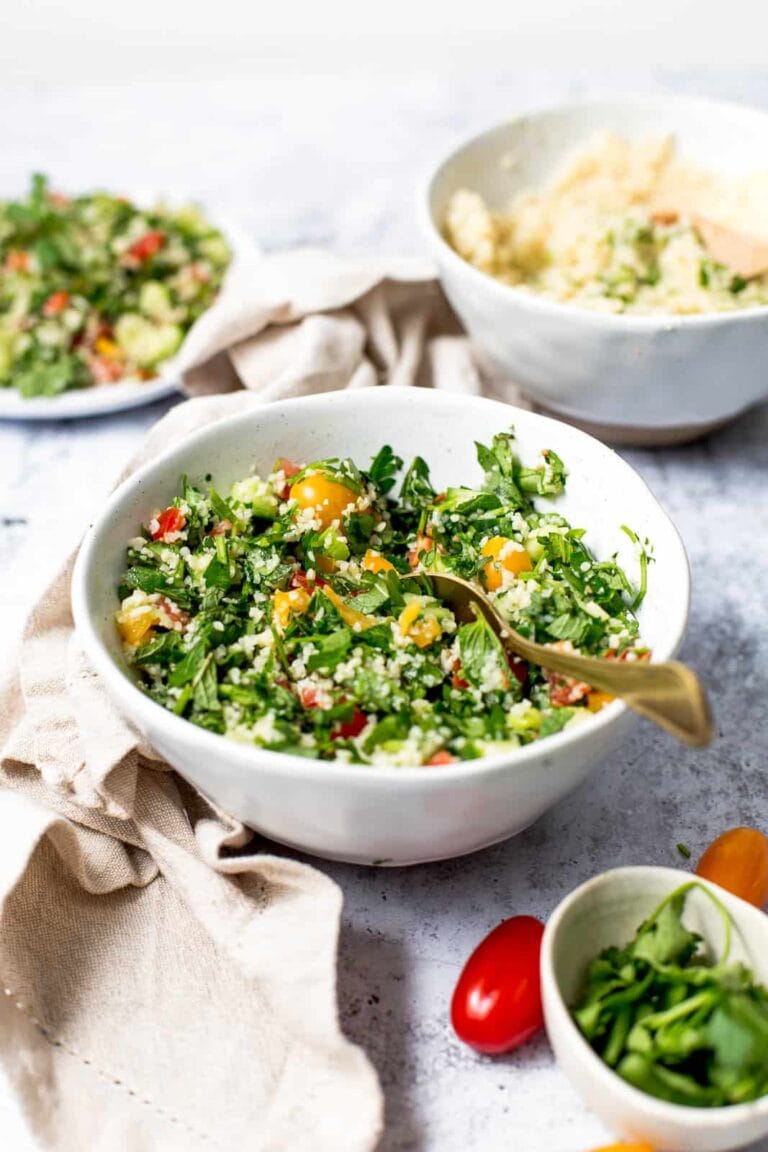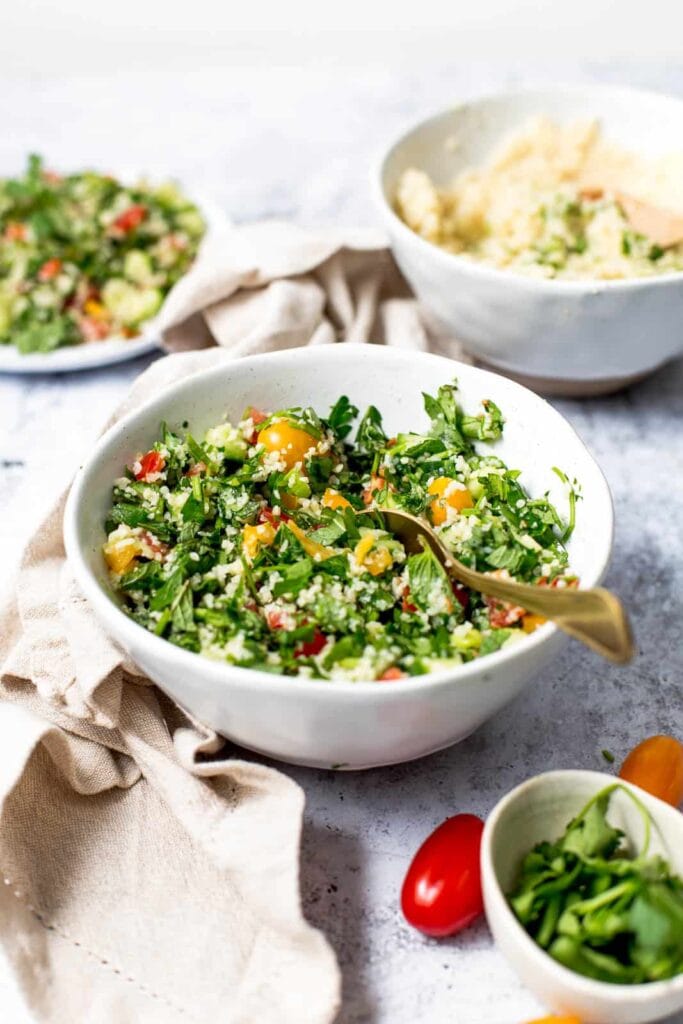 Here's why you should totally make this tabbouleh salad.
Firstly, it's so VERSATILE. You can eat it with falafel and some fresh pitta bread. It's good warm or cold. You can serve it as a refreshing side or as a light main meal.
Secondly, it's EASY PEASY. No, seriously. You can't possibly mess this one up, that's how easy it is. You can wake up in the middle of the night and nail this recipe without ever trying it out before.
Thirdly, it looks nothing short of GORGEOUS. Just a heads up, your dinner party guests might think you've turned into Jamie Oliver. This tabouleh is vibrant, full of texture and looks irresistible.
Next, it's SO HEALTHY. Yes, I know healthy is a buzzword. But if this beautiful salad isn't healthy that I don't know what is. Don't believe it? Scroll down for nutritional info.
Last but not least, you can CUSTOMISE it so easily. Not a fan of bulgur? Throw in quinoa or couscous instead. Want an extra kick of flavour? Spice it up with fresh chillies.
In conclusion, if you haven't tried it yet, what are you waiting for?
Now that we've made it clear you absolutely SHOULD make this salad today, let's dig into some details. I've made it super easy for you and attached step-by-step visual instructions(told ya). The 4 main steps are outlined below and will be your guide.
How do you make the best tabbouleh salad?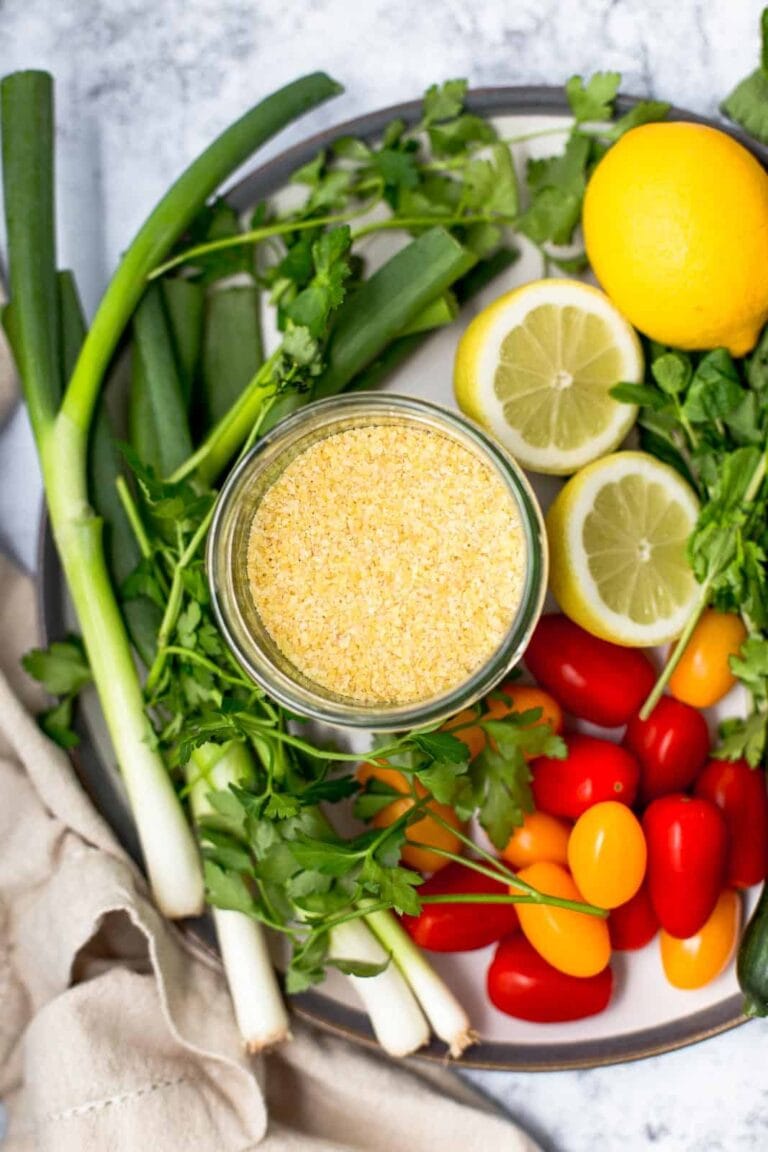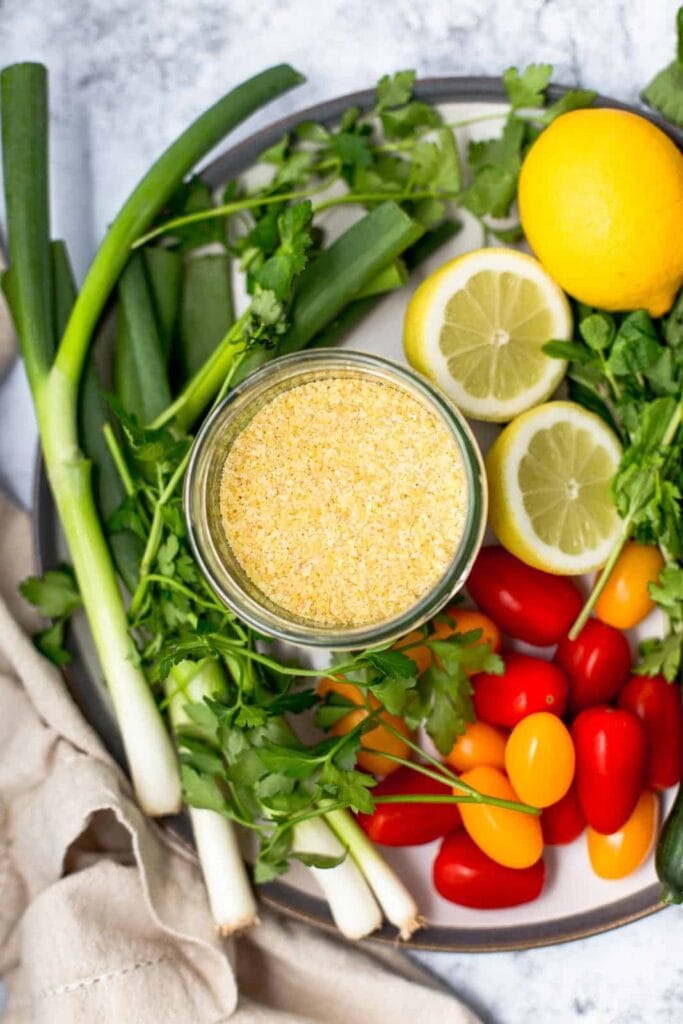 Making a tabbouleh salad is honestly the easiest thing in the world. Ok, maybe not as easy as eating it, but it's seriously kid-level easy.
These are the ingredients you will need:
Parsley
Mint
Coriander a.k.a. cilantro
Cherry tomatoes
Cucumber
Bulgur wheat
Lemon
Olive oil
Vinegar
Salt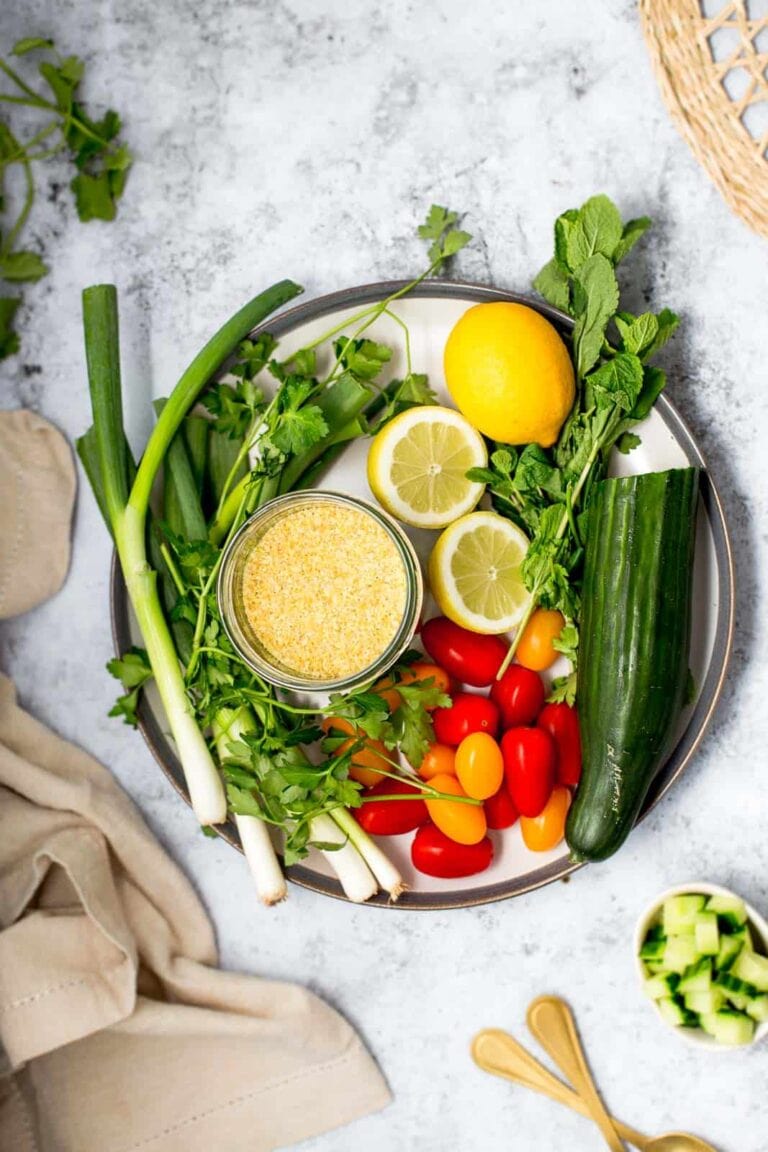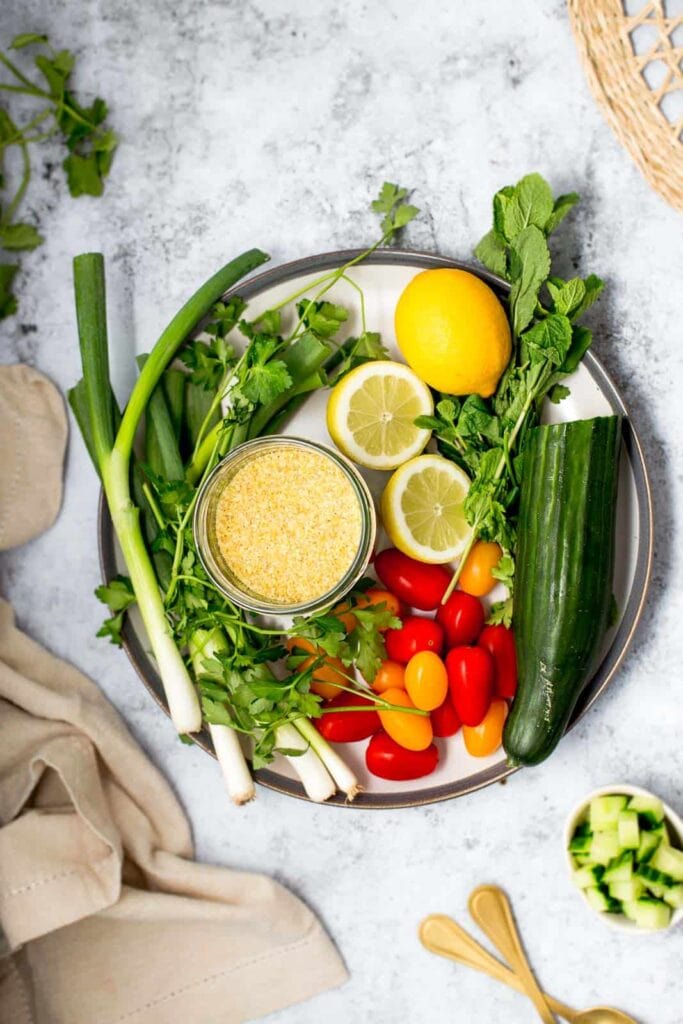 STEP-BY-STEP TABBOULEH INSTRUCTIONS
You've emptied the shelves of your local greengrocer's and bought all your ingredients. Your home smells amazing thanks to all the fresh herbs. Well done. Now it's time to get closer to making our tabbouleh dream come true.
STEP 1 - Firstly, wash and cut all your ingredients. If you're hoping for a great presentation, it's worth putting in an extra effort and chopping your ingredients very finely. You don't want large pieces of tomatoes or cucumbers, so be particularly careful to cut them into very small cubes. In short, 'the smaller the better' is our philosophy here.
STEP 2 - Secondly, prepare the bulgur. This will serve as the main source of complex carbohydrates and protein. Bulgur is considered a whole grain and had a subtly nutty flavour. It's super healthy, packed with fibre and protein and just generally wonderful.
STEP 3 - Lastly, make the dressing and pour it over all your ingredients. Details on how to make tabouleh dressing are below. Once that's finished, give it a good stir. Ta-daa! Your salad is ready.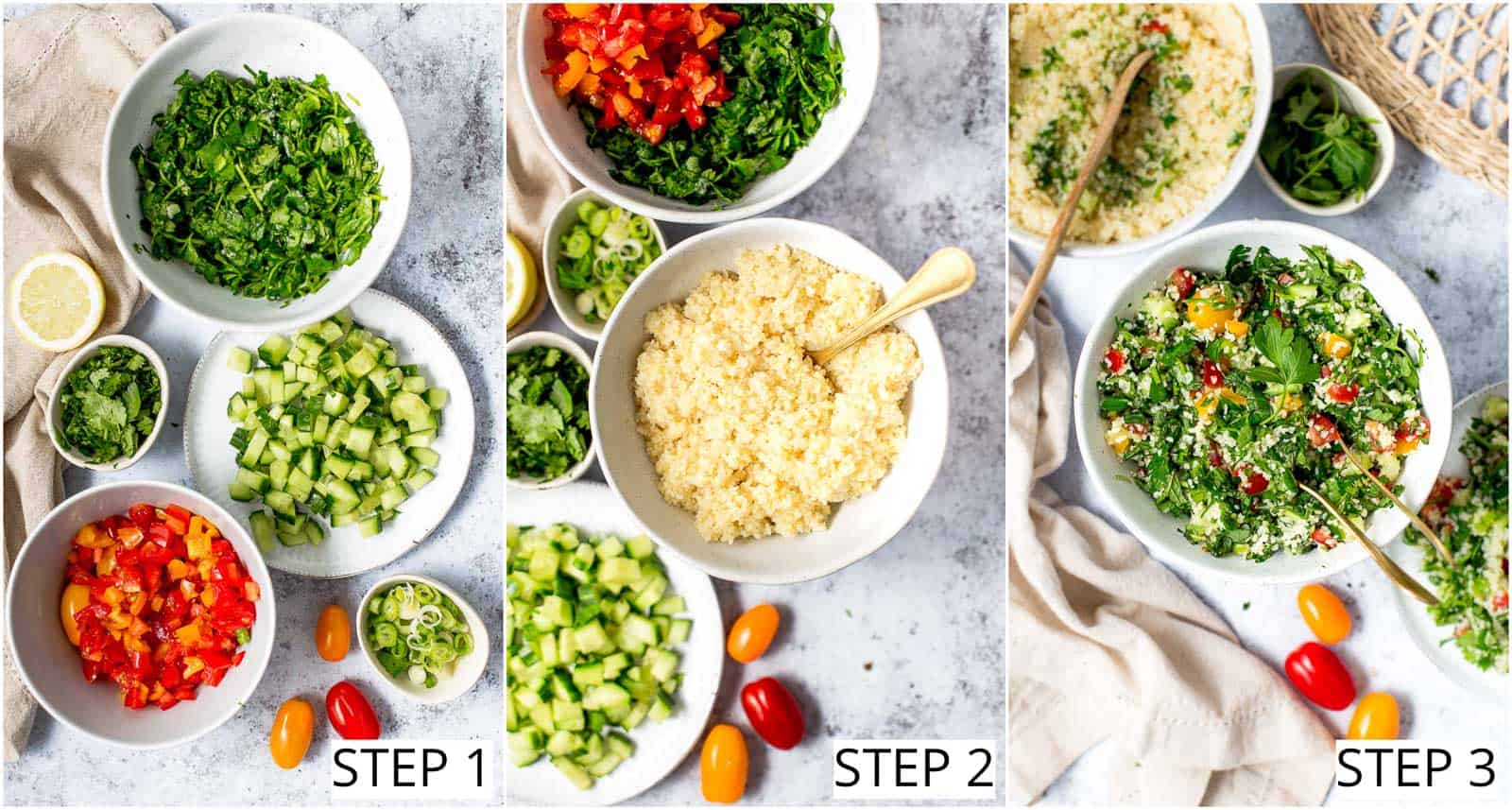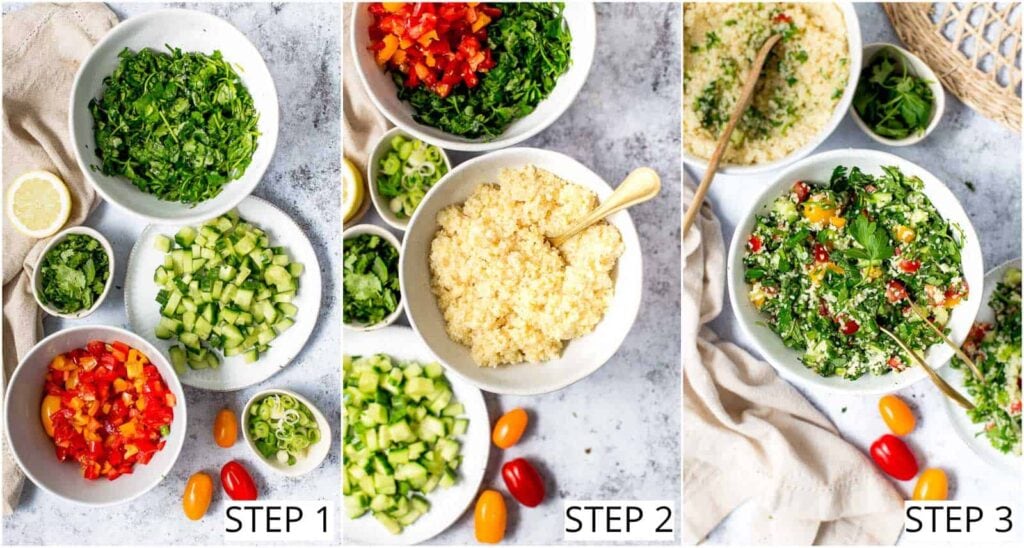 How do you make the DRESSING?
A good dressing is at the heart of every salad. You want it to be packing with flavour, but not too overwhelming as to overpower the rest.
Here's how to make it:
START WITH OIL. I used light olive oil, but if you prefer something heavier, choose extra virgin olive oil. All we need is just a teaspoon.
ADD A JUICE OF LEMON. Add freshly squeezed lemon juice to your oil. If you don't have a citrus squeezer, feel free to use a fork. Simply press it into the halved lemon and twist it tightly to get all the juice out.
AFTER THAT, ADD VINEGAR. This is my secret ingredient. A lot of Lebanese dishes feature pickled vegetables, and what's better at recreating that juicy pickled flavour that a bit of vinegar?
LASTLY, FINISH OFF WITH SALT. Either use the recommended amount or salt it to taste.
Is tabbouleh best served WARM or COLD?
You can do both! However, I personally prefer colder salads and would definitely recommend serving it cold. Even sticking it in the fridge for just 20 minutes before serving can make all the difference.
HOW LONG will it stay good for?
Technically, you can pop it in an airtight container and store in the fridge for 4-5 days. However, I can assure you it's never going to last that long, because you will have eaten it all within a day or two. Oops. You've been warned!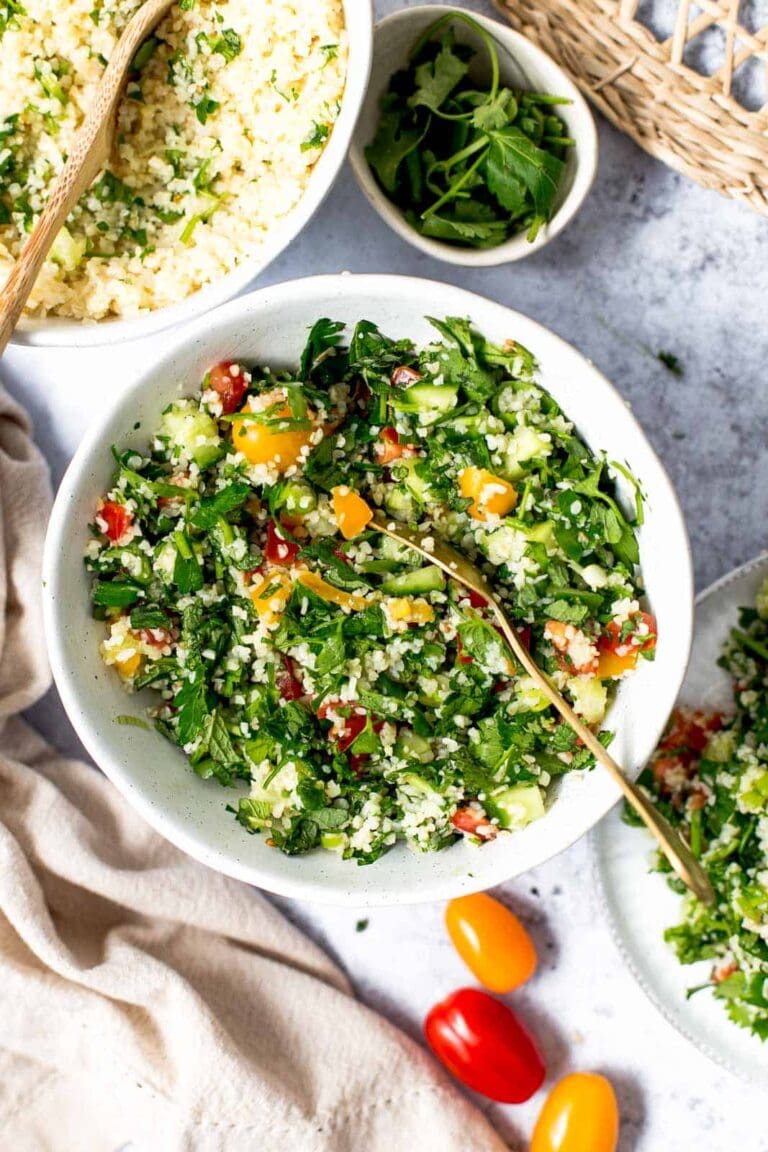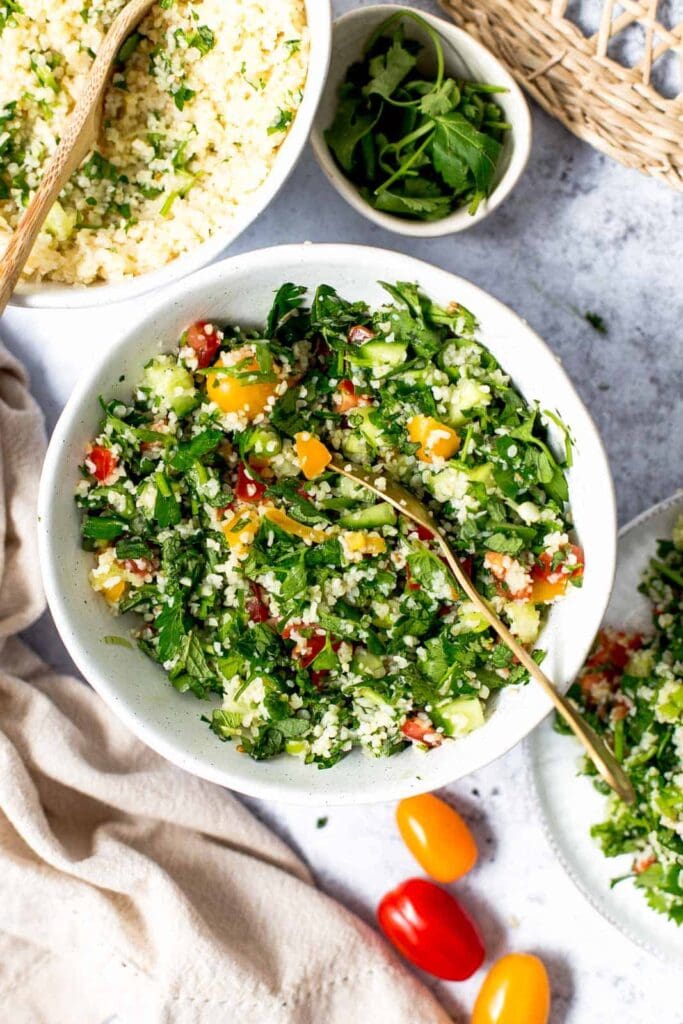 ---
On the hunt for more healthy vegan recipes? I've got you covered!
Now that we've covered all our main steps, it's time to get cooking!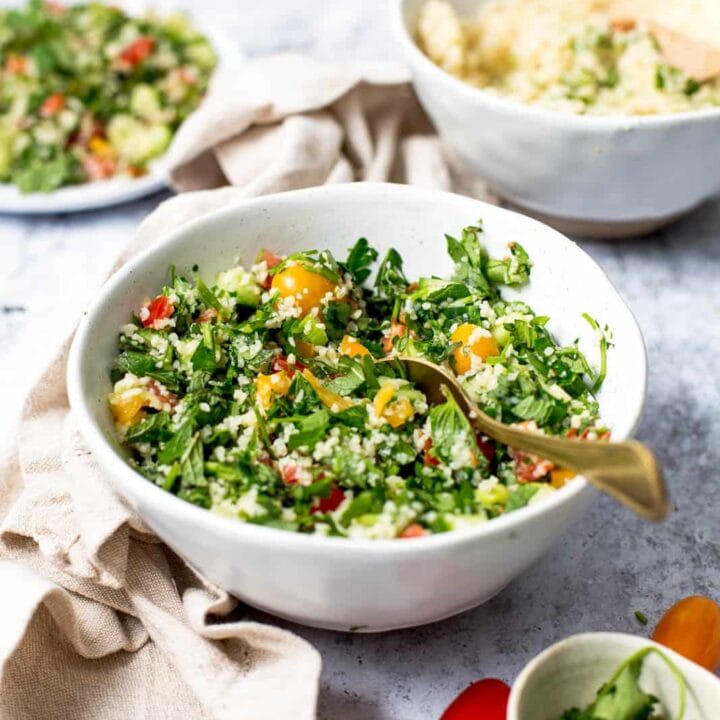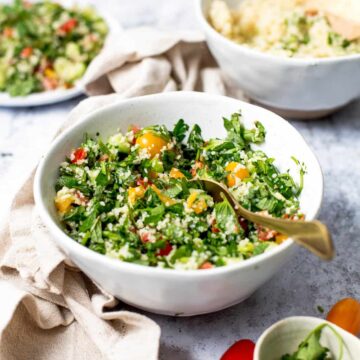 Easy Tabbouleh Recipe
Juicy and colourful tabbouleh salad. Every mouthful is punching with flavour.
Print
Pin
Rate
Equipment
citrus squeezer (optional)
Ingredients
FOR THE SALAD
200

g

cucumber

(about ½ medium-sized cucumber)

100

g

cherry tomatoes

(about 10 cherry tomatoes)

60

g

parsley

20

g

coriander

30

mint leaves

(medium-sized leaves)

½

cup

bulgur
FOR THE DRESSING
½

lemon juice

1

tsp

olive oil

½

tsp

salt

4

tbsp

vinegar

(I went for apple cider vinegar)
Instructions
Start with the salad ingredients (cucumber, cherry tomatoes, parsley, coriander and mint leaves) and chop them finely. Set aside.

Mix lemon juice, oil, salt and vinegar to create your salad dressing. Add more salt to taste and mix.

Prepare bulgur wheat by placnig it in a bowl and pouring just enough boiling hot water to cover it. Let steep for 10 minutes. Taste after 10 minutes and add an extra splash of hot water if you prefer a softer texture. Once you're happy with the texture, set aside to let cool.

Transfer all salad ingredients to a large bowl. Add bulgur.

Pour dressing over the salad ingredients and bulgur. Mix well.

Optional step: place it in the fridge for 15-20 minutes to let cool.

Remove from fridge and enjoy!

Store in an airtight container for up to 4 days.
Nutrition
Calories:
257
kcal
|
Carbohydrates:
48
g
|
Protein:
11
g
|
Fat:
4
g
|
Saturated Fat:
1
g
|
Sodium:
645
mg
|
Potassium:
1563
mg
|
Fiber:
13
g
|
Sugar:
9
g
|
Vitamin A:
4318
IU
|
Vitamin C:
130
mg
|
Calcium:
283
mg
|
Iron:
9
mg
Don't forget you can grab a free vegan booklet containing 90 VEGAN MEAL IDEAS below.


---