This refreshing vegan taco salad is packed to the brim with veggies, crunchy and super easy to make. Can be made with no oil and gluten-free.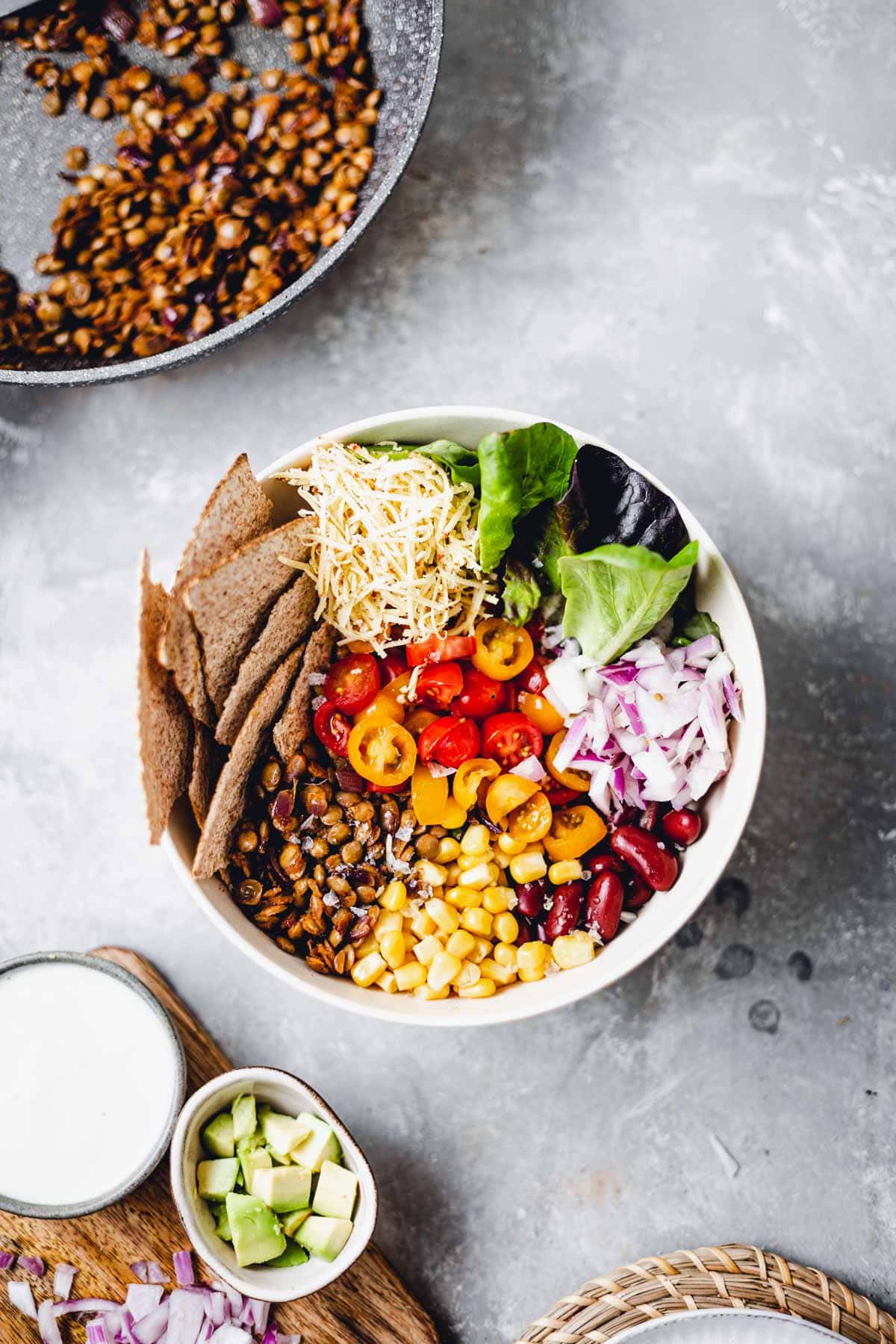 Why Choose This Recipe
Super easy to customise
Can be made oil-free
Use gluten-free wraps to make it gluten-free
Very light dressing
Perfect on-the-go
No fancy ingredients or equipment needed
The Ingredients
I've used the ingredients from the photo below to make this vegan taco salad.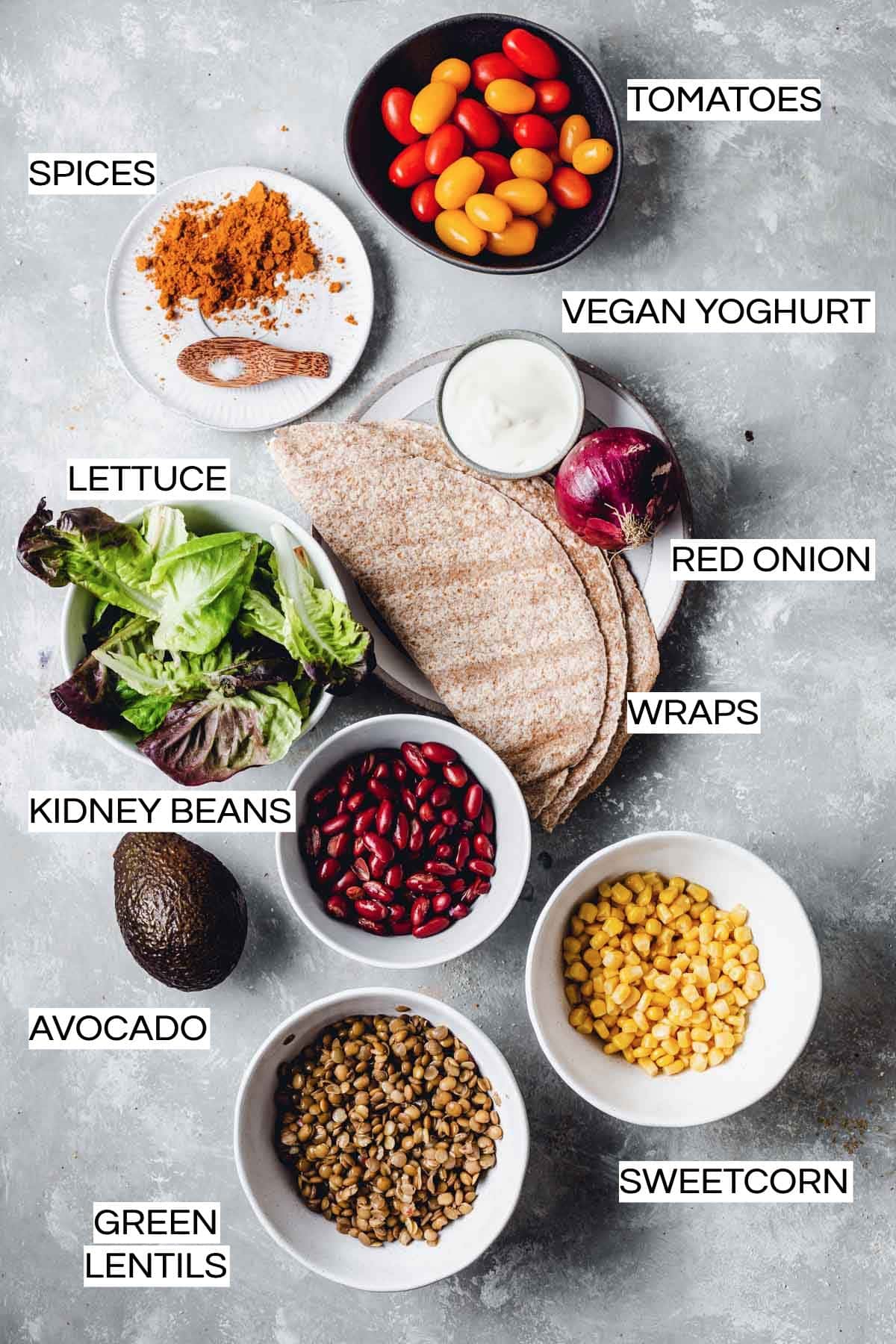 Remember that this recipe is meant to be customised according to your taste so don't worry at all if you don't have or don't like a certain ingredient.
Vegan yoghurt: it's super important that you use unsweetened yoghurt or else this dressing won't work. My favourite is Alpro unsweetened soy yoghurt. Can be substituted with a different dressing (ideas below).
Red onion: can be substituted for white or spring onion (scallion in the US)
Avocado: Can be left out entirely.
Kidney beans: can be substituted for black beans
Spices: I used taco spice mix. Can be substituted for fajita, BBQ or other similar spice mixes. They are usually found in the Mexican section of the supermarket next to ingredients like fajitas, tacos, tortillas, etc.
Vegan cheese: No worries if you don't have it. This can be left out altogether.
Lentils and beans: I bought these in a can which means they were already cooked.
Step-by-step Photos
The photos below will serve you as a handy visual guide when making this lovely salad.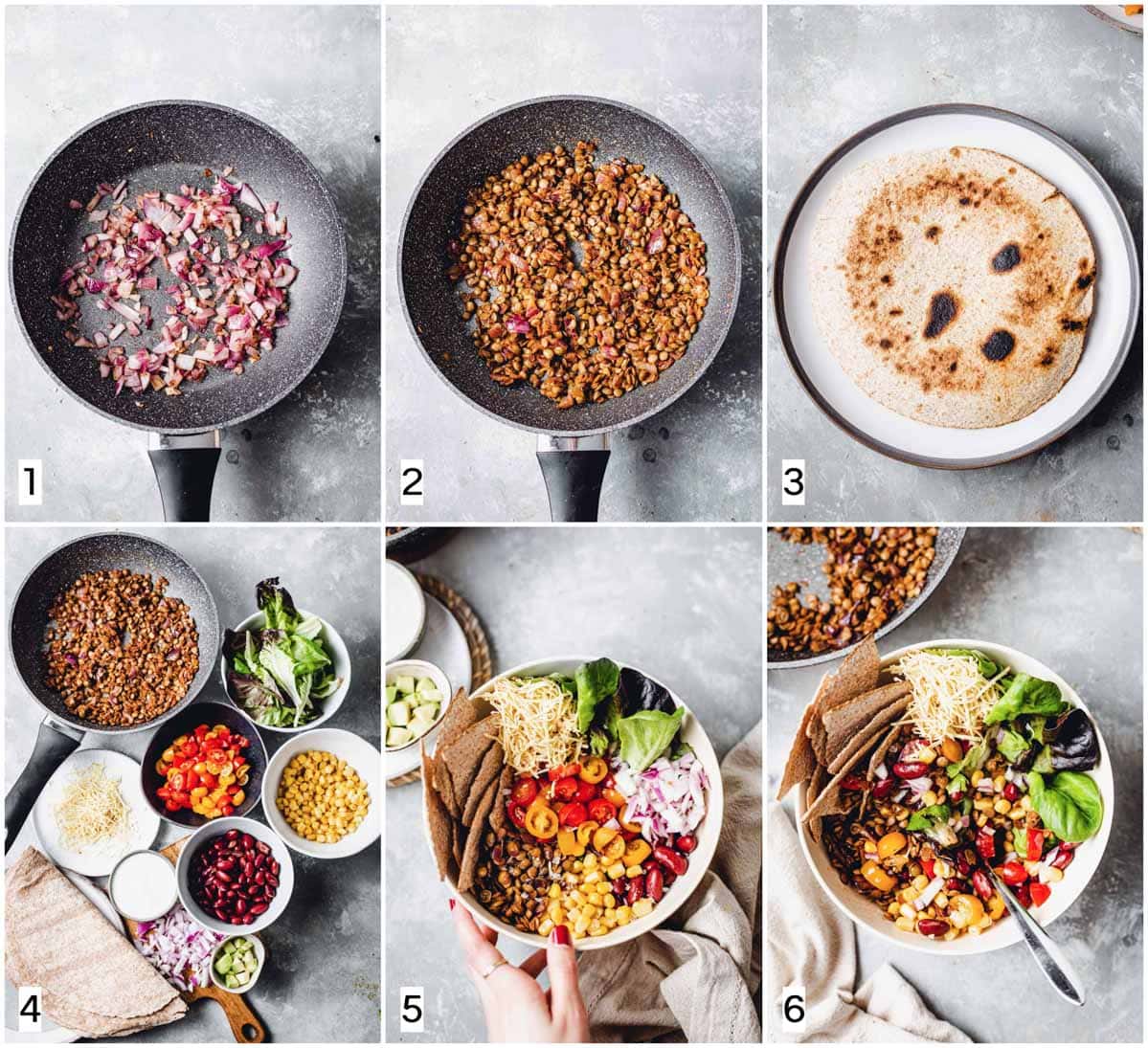 Find the full recipe with exact measurements and detailed steps in the recipe card at the bottom of this page.
Chop and gently fry your onion.
Add cooked lentils and spices. Fry for 15 more minutes, then add more spices to taste.
In the meantime, chop your tomatoes and avocado. Heat up tortilla wraps on a non-stick pan until hot and crispy.
Assemble all your ingredients to start creating your salad.
Grab a large bowl and serve your salad with some easy yoghurt dressing.
Mix and enjoy. Can be stored in the refrigerator for 3-4 days.
Expert Tips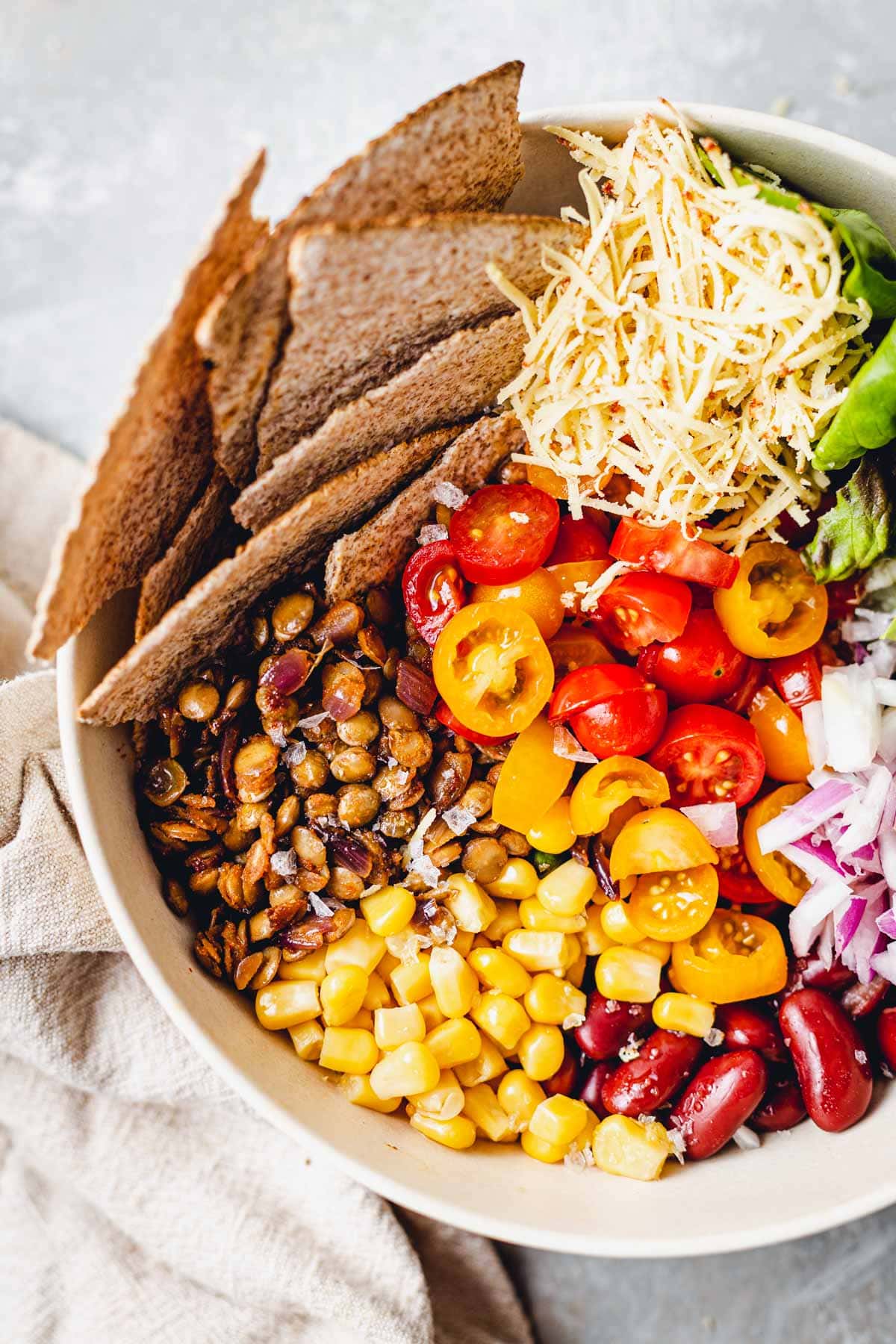 1. The Dressing
As mentioned above, definitely use unsweetened vegan yoghurt. I like to go a step further and add a good pinch of salt to it. This creates a dressing similar to sour cream.
Another tip of mine is to chop up some fresh chives or very thinly chopped parsley. Stir it through your yoghurt and enjoy a refreshing dressing made in just about 30 seconds.
2. Customise
I can't stress this enough. As is the case with any taco salad, this one is meant to be customised according to taste.
Not a fan of corn? Use less of it or leave it out altogether. Want to add some hot chillis for an extra spicy punch? Go ahead and spice it up!
Not a fan of yoghurt dressings? Use sriracha mayo or make your own creamy avocado dressing.
3. Be Generous
I'm a firm believer that 'be generous' is a piece of fantastic life advice. However, it's also particularly relevant to this salad!
What I have in mind is being generous with spices. Mexican cuisine is known all over the world for its spicey dishes full of rich flavour.
This doesn't mean you need to add tons of red chillies or spicy cayenne pepper if you don't want to.
However, you'll want to be generous when adding mild spices (described thoroughly in the recipe card below), adding just enough salt to your veggies and adding a good kick of flavour with your salad dressing.
F.A.Q.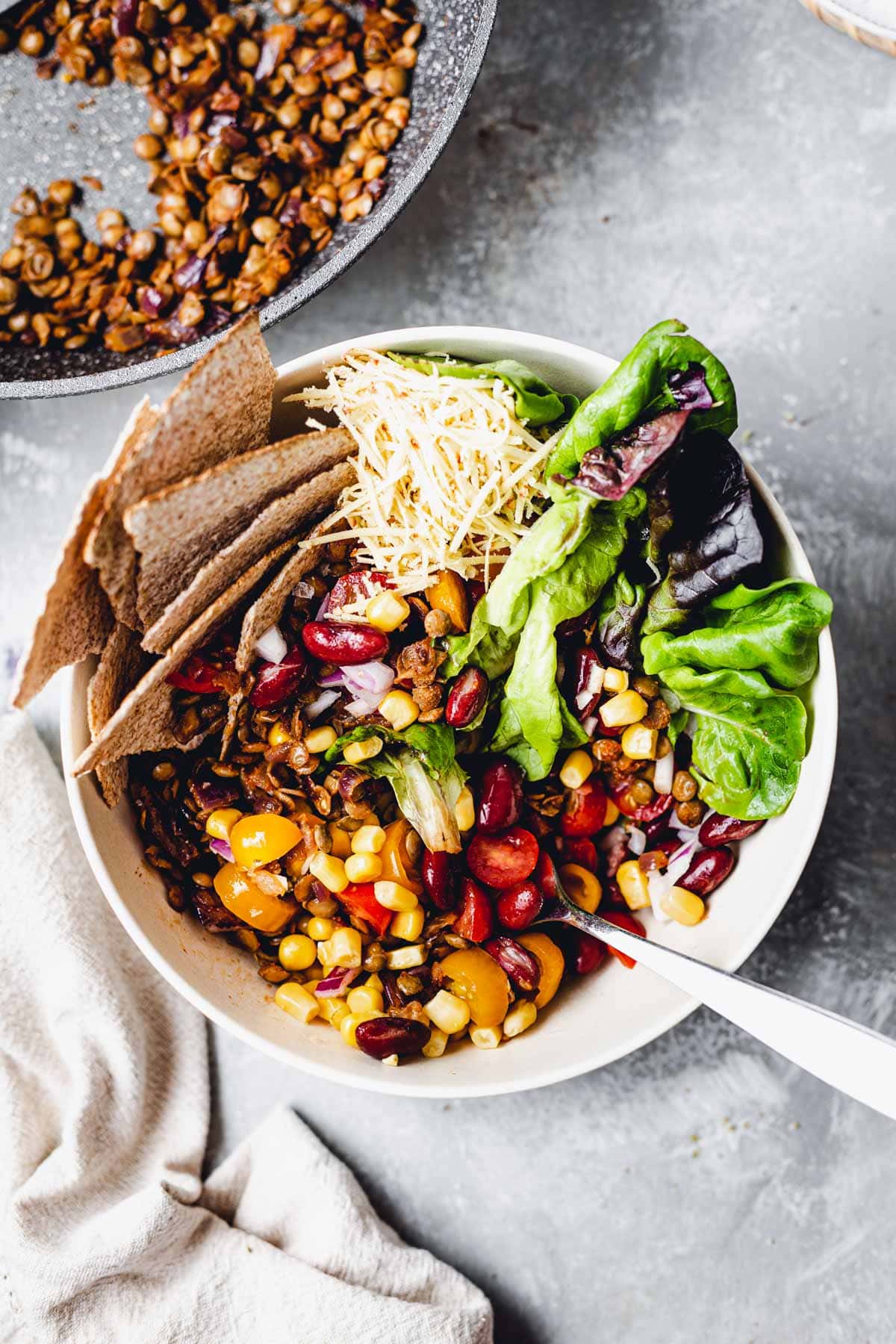 What goes with taco salad?
Taco salad is super versatile and goes with a huge variety of other foods. Pair it with crunchy tortilla chips or serve it with hot and spicy soup. 

If you're serving it at a dinner party (which I do recommend - it's always a big hit!), make sure to have various dressing options. You could try yoghurt dressing, guacamole, tahini, spicy salsa, BBQ dressing, etc. 

You can also serve it with fries, rice, vegan minced meat and slaw.
Check out this page for lots of vegan Mexican food ideas. 
How do you make vegan meat for taco salad?
You can grab your favourite vegan minced meat, but I know that's not easily accessible to everyone. This is why I made mine with two very simple ingredients - onion and green lentils.

After gently frying the onion until slightly golden around the edges, I added the cooked lentils and plenty of taco spice.

Then continue frying gently until the flavours have absorbed beautifully. Add more salt or spices according to taste. 
How many calories are in vegan taco salad?
This salad has approx. 500 calories per 1 large portion. Find out the full nutritional info below the recipe card at the bottom of this page.
Can you make vegan taco salad gluten-free?
Yes, definitely. You can use gluten-free tortilla wraps.
Can you make taco salad oil-free?
Yes. Simply just leave out the vegan cheese and substitute oil for water when frying your onion.
Can taco salad be stored for later?
Yes. Leave out the dressing and refrigerate in an airtight container for 3-4 days.
If you liked this vegan taco recipe, check out some more healthy vegan dishes such as my vegan orzo salad, homemade green pesto or my broccoli potato soup.
Or perhaps you'd like to check out my entire mains section here.
The form you have selected does not exist.
Last but not least, if you liked this recipe please consider leaving a comment or review which helps me run this blog. Thank you!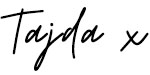 🍴Recipe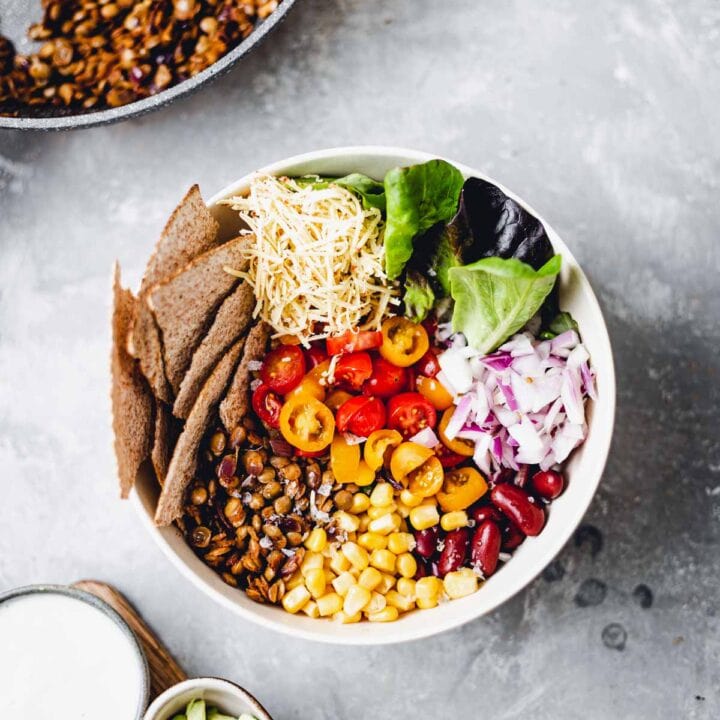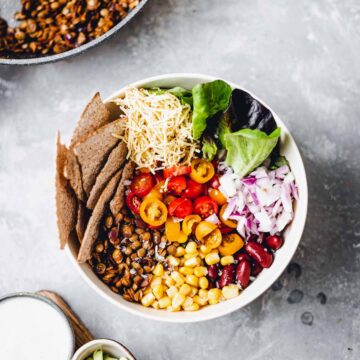 Vegan Taco Salad
Refreshing, crunchy and colourful vegan taco salad for the perfect rainbow dish.
Print
Pin
Rate
Ingredients
1

teaspoon

olive oil

or other light vegetable oil

1

red onion

1

cup

green lentils

from a can

3

tablespoon

taco spice mix

can be substituted for other spice mix such as fajita, BBQ, etc

20

cherry tomatoes

75

g

lettuce

250

g

kidney beans

equals 1,5 cup (from a can)

250

g

sweetcorn

equals 1,5 cup (from a can)

8

tablespoon

vegan yoghurt

unsweeetened

1

avocado

6

tortilla wraps

salt and pepper

to taste
OPTIONAL
40

g

shredded vegan cheese

optional

chives, parsley

optional
Instructions
Finely chop ½ red onion.

Heat up oil in a medium-sized frying pan. Add the chopped onion and gently fry for about 8 minutes until transluscent and starting to gently brown on the outside edges.

Add lentils and taco mix to your pan. Then fry gently for another 15 minutes.

Taste and add more taco mix or salt/pepper according to taste.

In the meantime, finely chop the remaining onion, tomatoes and avocado.

To make your vegan dressing, mix unsweetened vegan yoghurt and a good pinch of salt. Mix well. Add thinly chopped parsley or chives (ot both).

Warm up your tortilla wraps in a non-stick pan until crispy (about 1-2 minutes on high heat).

Once you've finished frying your lentils and chopped your ingredients, serve your salad.

Gather all the ingredients and place them neatly in a large bowl. Tear up your crispy tortilla. Add salt and pepper according to taste and top off with your salad dressing.
Notes
Make it gluten-free by using gluten-free tortilla wraps.
Make it oil-free by frying in water instead of oil.
For your yoghurt dressing, make sure you use unsweetened vegan yoghurt.
Not a fan of yoghurt dressings? Serve with guacamole, tahini, spicy salsa, garlic mayo or any other dressing of your choice.
Feel free to customise according to taste.
I used wholewheat tortilla wraps.
The wraps can be substituted with tortilla chips.
Can be refrigerated in an airtight container for 3-4 days.
Nutrition
Calories:
522
kcal
|
Carbohydrates:
77
g
|
Protein:
28
g
|
Fat:
13
g
|
Saturated Fat:
3
g
|
Cholesterol:
2
mg
|
Sodium:
134
mg
|
Potassium:
1449
mg
|
Fiber:
29
g
|
Sugar:
9
g
|
Vitamin A:
788
IU
|
Vitamin C:
34
mg
|
Calcium:
118
mg
|
Iron:
8
mg
Disclaimer: The nutritional information above is calculated automatically. The author of this post cannot guarantee 100% accuracy of this data.